When was the last time you reviewed your Twitter bio? Don't remember?
According to social media statistics, 353 million people use it daily. So, it is high time to re-furnish your Twitter bio.
But you might be in a dilemma, what is the use of improving your bio on Twitter, right?
Let me clear your doubts…
Twitter bio is indexed by search engines, such as Google and Bing. Using these to your advantage, you can add searchable keywords in your bio for getting recognized by more people.
If your bio is unique from others, that's it! You're good to go because Twitter is a huge platform with millions of users and if out of those million users, your profile is unique, it is going to stand out from the crowd.
Your Twitter bio is the face of your persona. No matter, it's your business page or personal, your bio will replicate your identity, so it is important to not only have a good bio but a smarter one for your Twitter account.
Now, you might have a clear idea, why it is important to improve your bio.
So, what you're waiting for?
Let's grow Twitter followers by using the most of Twitter and following these amazing Twitter bio ideas for increasing more engagements, likes, shares, and followers.
1. State your business upfront in the bio
You might have come across some Twitter accounts with unclear bio, but do you seriously think that bio without clear description can work?
It is always better to go with a descriptive Twitter bio, which covers "what exactly you do".
Let's take an example, which can help you get an idea!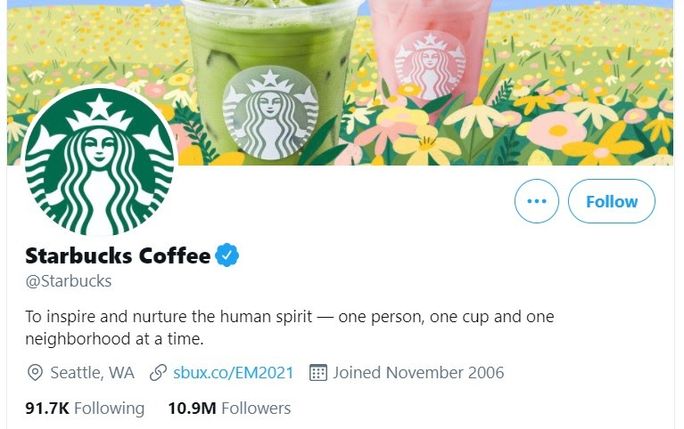 We all are familiar with this well-known brand called "Starbucks".
Starbucks has very intelligently created its bio. They have used common and simple words, which are very easy to understand. The sentence structuring is easy and within the limit of 160 characters, including the information about what the company actually does.
In fact, Starbucks is inspiring people around by adding emotional and motivational words in the bio. Well, it is a great way to grab people's attention towards your brand.
2. Do Not Forget to Add Location
If you use Twitter for business, what according to you is the most important information that will build greater trust amongst your audience?
Of course, your business location. The location setting is particularly important for all businesses no matter how big or small.
If you have got a physical storefront like a restaurant or a retail shop, it is always a good idea to include the geographical location in your Twitter bio. And if you don't have a live store or shop, you can definitely mention the city in your Twitter bio from where you're running the business.
Want to get a clear view?
Let's take the example of Salesforce.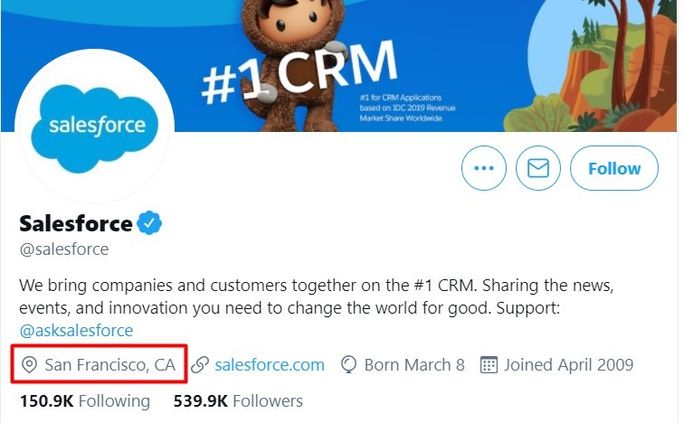 Here Salesforce has mentioned its geographical location in the Twitter bio. By adding the location, it has increased the chances to build their audience's trust because this creates a legitimate impression on the targeted audience that the business is legal and assured to work with!
So, if you haven't added a location in your bio, let's do it now!
3. Hashtags – A Great Idea!
Adding relevant hashtags in your Twitter bio helps people to understand easily who you are or what your business is all about.
But while using this approach, you need to digest certain important things like…
Never load a number of hashtags in your Twitter bio.
Avoid using irrelevant hashtags that can create a wrong image.
Choose your hashtags wisely because one wrong hashtag can lead to decreasing your followers.
An example will assist you to get the entire idea!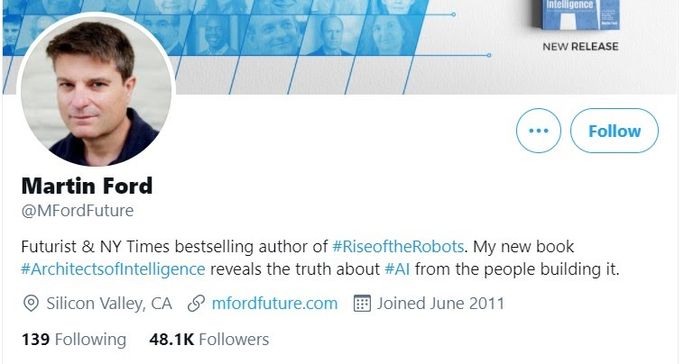 Martin Ford, an author, uses hashtags to describes his work instantly to the audience, dropping on his profile. He cleverly included his book names as hashtags that encourage people to use them further. It is an excellent way for Martin to boost social proof while promoting his latest work.
Isn't it a smart move for increasing more followers? I think it is!
4. Add a Personal Touch to Your Twitter Bio
There's nothing wrong to be a little personal with your Twitter bio. Yes, indulging your personal touch to your Twitter handle can help you attract more attention from people.
Let's take the example of Pam Moore, who has very brilliantly added her personal details in her bio.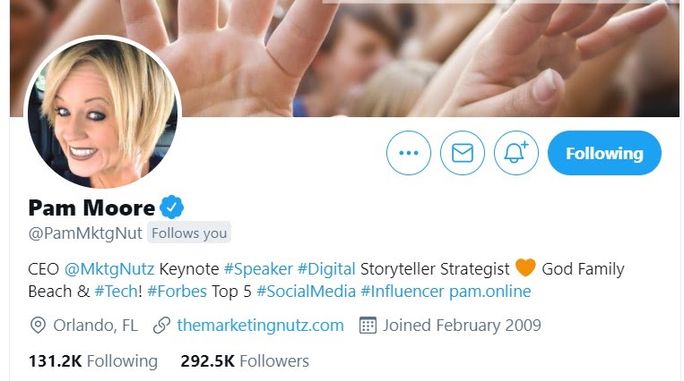 In her bio, Pam tells us she loves God, friends, the beach, and tech. Take her or leave her, this is who she is.
This simple addition has flourished more followers to her account because her account seems to be true and that includes the description of both her work as well as her personal tastes.
So if you also want to add a personal touch to your Twitter account, don't be afraid – go ahead! Share your likes, interest, or beliefs in your bio because you never know, by reading your bio more people can be interested in your account and can turn to be your followers.
5. Add your Achievements to Highlight your Bio
The saying, "If you have it, flaunt it" is perfectly suitable for this idea. Why be afraid of showing your own praises in your Twitter bio?
In fact, it is a great way, which can help you attract more audience to your Twitter handle because you've presented your potential in your bio.
In simple words, adding your personal accomplishment is great social proof for the audience at large to check it out on their own!
For a clear viewpoint, check out Neil Patel's Twitter bio.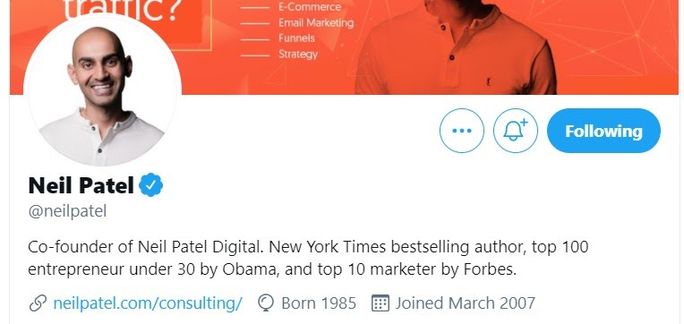 In the above example, Neil Patel has added his accomplishment in his bio, such as he is an awarded author, an entrepreneur, and a co-founder.
Basically,
Adding accomplishments to your bio increases the credibility and value of your Twitter account. So, if anyone is checking your account, they can easily start following you by noticing your achievements and success.
So, don't forget to add your accomplishments in your Twitter bio, who knows you can get akin results as Niel Patels!
6. Add your Website Link to the Bio
It is astonishing to know, but social media drives 31% of all website referral traffic. And by adding a link to your Twitter bio, it becomes even simpler to grab some of those targeted audiences you're looking for.
It is not a compulsion to add a link to your website, as you can also add a link to your blog posts or landing page.
But if you want to track the traffic that comes from your Twitter handle, it is recommended to use a trackable link in your bio. There are plenty of Twitter automation tools that can help you with this.
Let's see what Burger King has added to make its Twitter bio more relevant…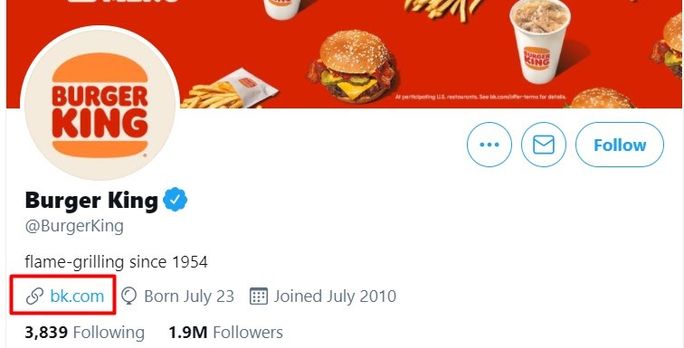 Can you see the link attached to Burger King's Twitter bio?
Well, this link ultimately helps them to grab more visitors because the ones who are visiting the account will eventually click on the link attached, and on clicking the link, it will direct those Twitter users to the website or the landing page.
Similarly, you can also add the website link in your Twitter bio, so that your targeted audience can easily visit your website with just a click!
7. Popularize your Products in your Twitter Bio
Do you have any of your books, podcasts, or publications to promote on social media? Well, a Twitter bio can be an awesome place to flaunt it!
Adding your products to your bio can help you increase social media engagement because your targeted audience can directly check out your work and may reward you back by following your Twitter handle.
Check out, John Lee Dumas's Twitter bio, where he cleverly highlighted his podcast -Entrepreneur of Fire.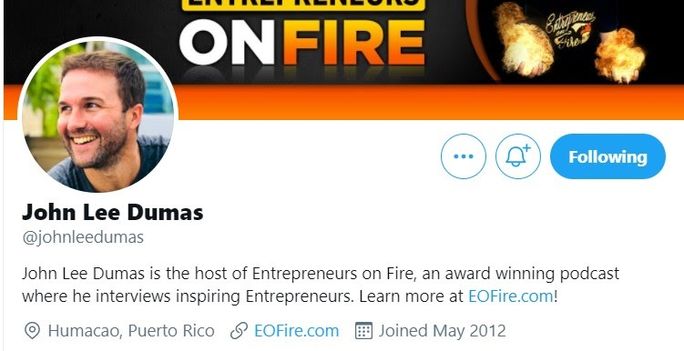 Yes, the bio looks very simple and up to the mark, but it is effective as well. The ones who are checking his Twitter handle can trust him because his work speaks for him in the bio.
Well, if you have something of yours to share, don't hesitate! Add your work to your bio for inviting the audience at large!
8. Use Keywords Depicting your Business in your Bio
When you target to boost your Twitter engagements and followings, adding keywords to your Twitter bio can be a great option.
Keywords are super important when people search for you on Twitter. In simple words, adding keywords to your bio makes your Twitter account stronger.
But before adding keywords to your bio, remember one thing!
Instead of using ample amounts of irrelevant keywords, go for adding keywords about what your target audience is searching for.
Here's a great example of Econsultancy's Twitter bio.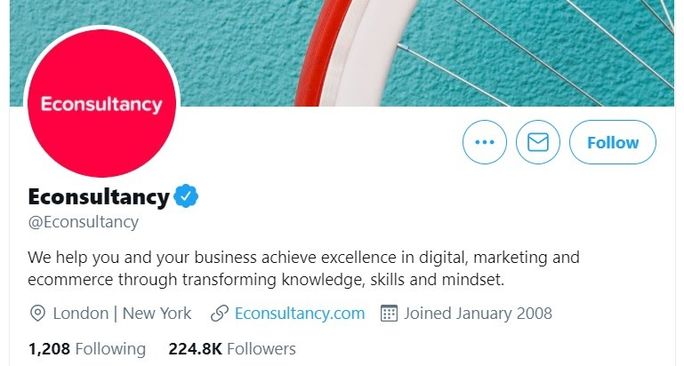 Econsultancy has used certain keywords like eCommerce, digital, marketing, and more in its Twitter bio.
By adding such keywords, the audience who are looking for the account can easily identify because here the keywords highlight your account to the public.
So, following this way and adding relevant keywords can be a great opportunity to increase a good number of Twitter followers.
It's Time to Revamp your Twitter Bio!
Your Twitter bio is the best opportunity to tell people why they should follow you. So, if you think that your bio isn't as appealing as you wanted, then a refresh can help you get back on track!
Following these smart Twitter bio ideas can help you figure out, what is the important ingredient your bio is lacking. Take some time to look at your bio and see if you can implement any of these ideas for more effective results.
But remember – Your fate lies in 160 characters!
Now, once you are done creating a kickass Twitter bio the job is half done. The next is to leverage it to start communicating with your audience by creating engaging tweets, sharing your products, recent content, or your thoughts. Here, SocialPilot – a Twitter management tool can help you efficiently manage your Twitter account by scheduling your tweets at the right time.
Experience it yourself- Start your free trial.