Rowing the boat of popularity on Twitter needs some serious efforts. With consistent posting and being constantly aware about the hot trends often scare even the best of social media marketers.
But let's admit it, it's worth the chase.
Social media statistics suggest that Twitter has 353 monthly active users. That's why despite the hurdle, 67% of all B2B businesses are using Twitter as a digital marketing tool already.
Their secret weapon, Twitter management tools! They aid right from managing the character limit, finding relevant hashtags, garnering constant engagement, posting consistently, to interacting with potential prospects,
Twitter tools help you cope with all this tweeting madness. We have listed the top 11 paid and free Twitter management tools to make your tweeting life easier and much more effective.
Let's have a look at each one!
11 Top Twitter Management Tools
SocialPilot is undoubtedly one of the best Twitter management tools out there. It lets you connect over 50 accounts, discover relevant and evergreen content from across the web, and schedule posts. It allows you to analyze and report your Twitter performance and exports all data into a presentable PDF report.
The magic doesn't stop here. It lets you manage all your social media channels from Facebook, Instagram (Direct Publishing), Twitter, LinkedIn, Pinterest, TikTok, Google My Business, Tumblr to VK.
This means your social media team can strategize easily as everything is in one place. They no longer have to deal with information overload that comes from using too many tools.
Features of SocialPilot
Advantages of using SocialPilot
The comprehensive analytics provided by SocialPilot is a powerful feature as the content analyzed by the tool isn't restricted to just the posts that come from the system but other sources, pages, and accounts.
Bulk scheduling helps you schedule up to 500 posts in advance, which means you can plan your Twitter strategy for weeks or even months in advance and if you change your mind anytime, you can always edit, delete or move your scheduled posts.
Dan F.
SocialPilot's ability to bulk schedule content is a giant time-saver. Having all of your content in the right place, on the right date and the right time, that, my friend, is magic! it's peace of mind.
Cindy C
What I like most about SocialPilot software is that it saves me time! This software is smart and easy to use. It is designed in such a fantastic way that anybody can learn to use it. It is so easy to schedule posts to my various social media platforms ahead of time. I just love the efficiency of SocialPilot!
Christopher C.
The benefits are ongoing; the best part was the ease of onboarding team members and the high level of support we continue to receive from SocialPilot's team. The significant increase across the board in social engagement, increase in followers, and conversion from social to our primary destinations.

---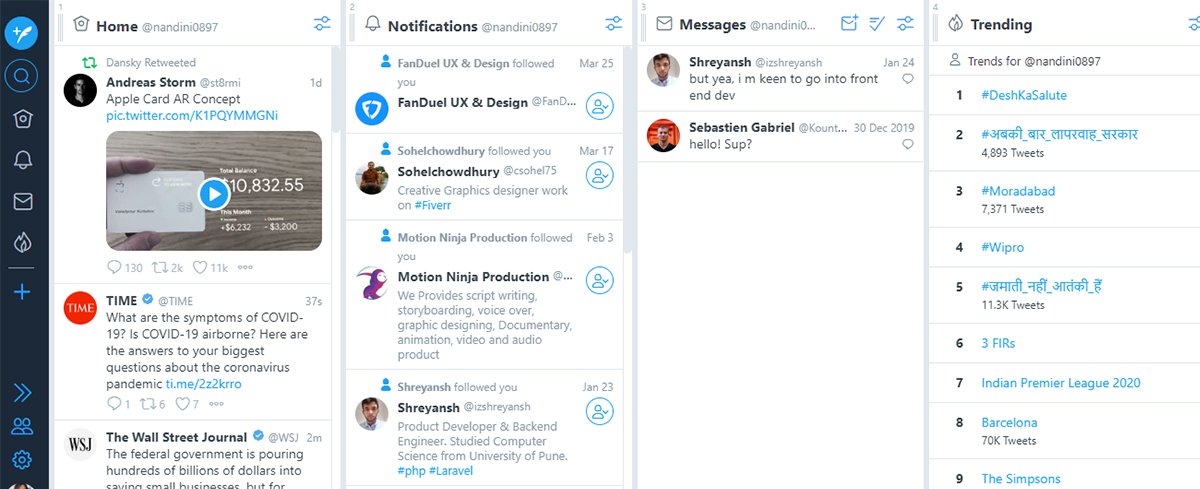 TweetDeck is one of the free Twitter management tools that make work easier. It is owned by Twitter itself and helps you schedule and monitor posts. Its interface allows you to keep your scheduled, active, trending, and DM content neatly organized in columns, and you can also search for specific keywords or media types.
Pros
Link and manage multiple Twitter accounts from one dashboard
Watch, share, and record video clips in the tool
Segment Twitter audience into groups for targeted marketing
Nicole G.
I think my favorite part about TweetDeck is that it gives you the ability to feel so organized when it comes to Twitter accounts. I love the ability to move easily throughout the program and manage my accounts in a timely manner.
Cons
You can't change the auto-scheduling settings. For example, if you set a tweet to be sent out today in the evening, you won't be able to modify it later. You have to delete the tweet again and recreate it.
Many users find the experience overwhelming as information is abundant.
The user interface isn't great, and it takes some time to get used to this tool.
Matt C
I think that TweetDeck can be extremely confusing at times. There is a lot going on with Twitter, and the constant refreshing of content can be too much to handle. TweetDeck gets too congested, and it needs to be simplified. It can be overwhelming for users of the product.
---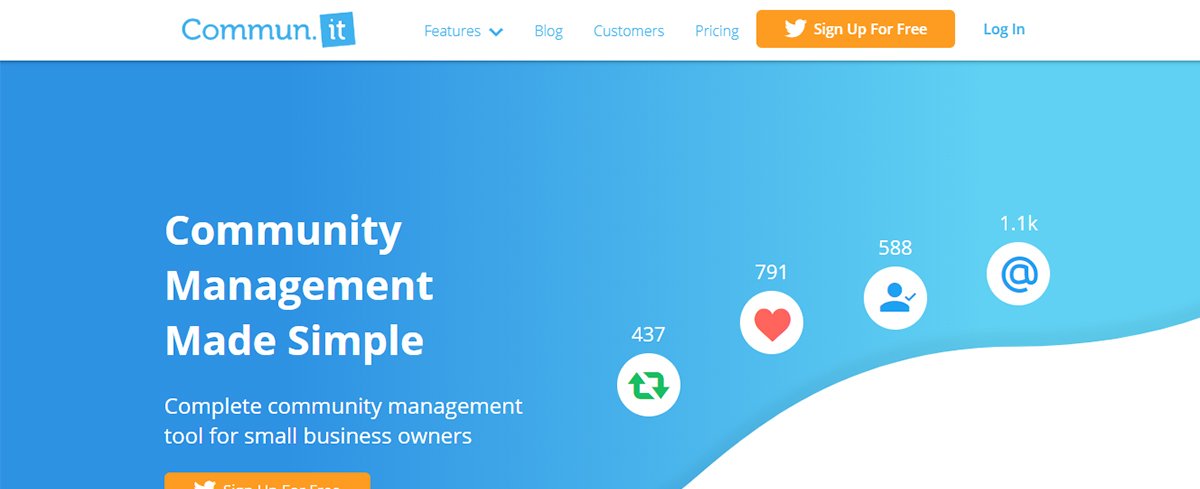 Commun.it allows you to review all your conversations in one place. It garners insights about your followers, finds out your most engaged followers, and sends them thanking notes. This Twitter management app also curates content and shares it across. You can automate a lot of other things that manage your Twitter account easily.
Pros
You can analyze competitors, their followers, stats, and influencers. This report can be easily downloaded to your desktop.
You can filter out ghost followers and focus on those taking the time to read and interact with your posts.
James R.
Actively monitors your followers, quick and easy route to engaging with influencers, and identifies where to spend your (limited) time.
Cons:
The user interface isn't intuitive, and there is a steep learning curve, particularly when users have to manage multiple accounts.
The support staff doesn't resolve problems satisfactorily.
Many users vouch that the tool has several bugs and errors.
Boni Wagner-Stafford
Used to be really good. Now there is always a function or two not working, and they are VERY slow at responding to support-related requests; often we get NO response at all.
---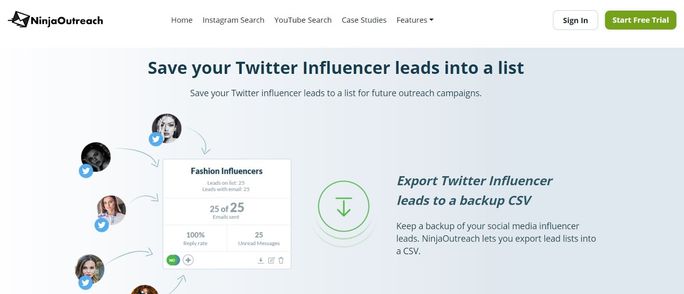 This Twitter management tool allows you to find influencers in your industries and get their contact details. Furthermore, it connects you with influencers for campaigns. Ninja Outreach is mainly used for influencer marketing as a relationship-building tool.
Pros
You can also use the tool for link-building campaigns, partner outreach, and various SEO and content marketing purposes.
You can set up auto-follow-ups, so you don't have to remember a lot.
They have pre-built templates which you can use for your marketing purposes.
Felice L.
I like that this software presents all influencer metrics at a glance, such as country, email address, engagement rate, etc. It helps me a lot in deciding whether an influencer is a keeper.
Cons
The user interface isn't that intuitive, and many functions could be improved.
Many user reviews state that they were charged for the entire month even when they canceled before the end of the trial period.
The tool is very expensive, especially considering that it takes care of just some of your social media needs.
Nathan V.
I tried to cancel my subscription on the very first day of my free trial, and despite my efforts, they have billed me for an annual pro account and refused to cancel my subscription.
---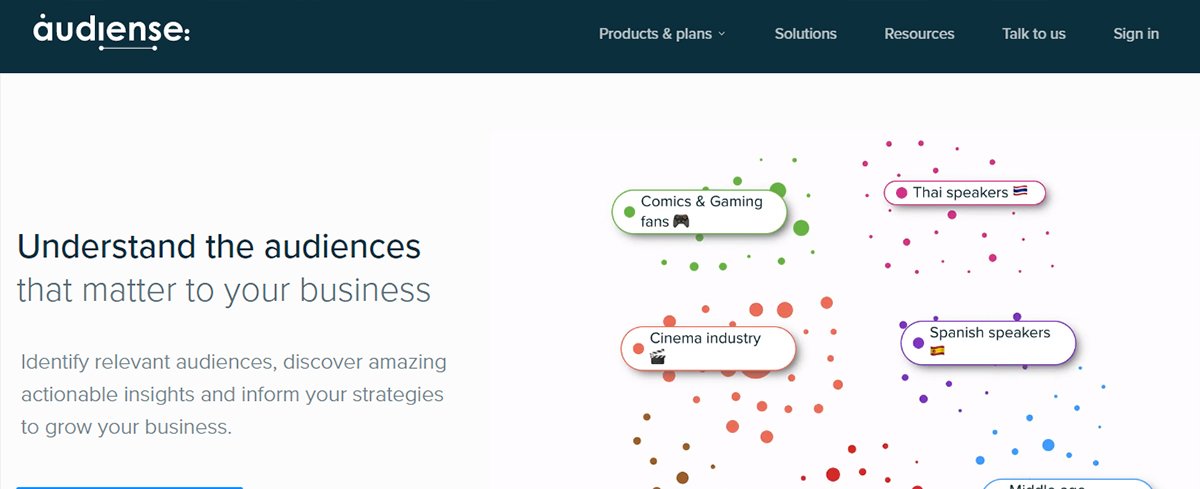 Audiense is an enterprise-level Twitter management tool that helps you discover influencers you can connect to, find the right time to tweet to gain maximum engagement, run automated direct message campaigns, bulk follow or unfollow Twitter users, understand your audience and gain valuable insights.
Pros
Audiense helps in targeted marketing as the insights help you better understand your audience and craft posts that appeal to them.
You can input customers' email addresses to see if they have Twitter accounts, thus making it easier to follow and engage, turning them into your loyal customers.
The dashboard can be customized as per your requirements.
Stephen R
A very clear way to view engagement and target the most effective influencers.
Cons
Sometimes, the information gathering takes a lot more time than it should.
The learning curve is steep, and initially, the users may find it overwhelming and complicated.
If you want to access all features, the price model is very expensive, considering that this tool doesn't handle all your social media channels.
Emily S.
Although there is entry-level pricing, it is pretty limited. If you are not interested in entry-level pricing, the tool is pretty expensive. This is a substantial drawback since the return from this investment may not always be evident.
---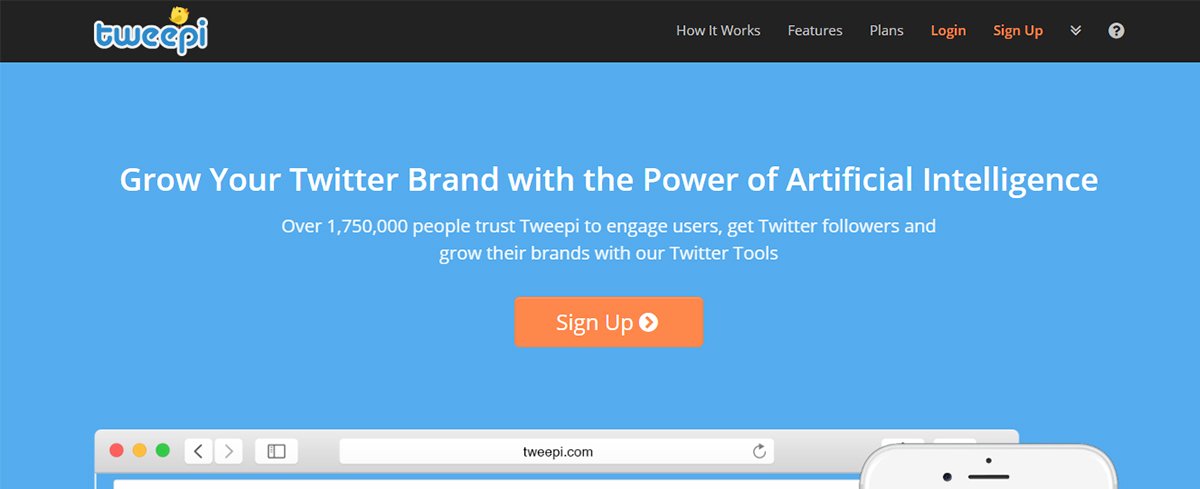 Tweepi asks you for hashtags and users relevant to your topic of interest. This Twitter management app then monitors your profile to find the best tweets and users for engagement with the help of artificial intelligence. It also helps you remove irrelevant and inactive users.
Pros
This Twitter management tool has a wide range of filters that you can apply to get just the right fit of the audience for your brand.
The interface is simple and easy to use.
Verified Tweepi User
It suggests and automates pretty good accounts to follow/unfollow or message. The interface is simple enough, with just 3 actions, resulting in easy-to-understand instructions even for a first-time user.
Cons
Due to the change in Twitter's terms of service, the follow and unfollow process that earlier was automated now needs to be done manually, which can be quite time-consuming.
As the tool works with just Twitter, one would expect a comprehensive list of features, but that's not the case with Tweepi.
Verified Tweepi User
Recently, Tweepi enforced some new rules and restrictions (I guess enforced by Twitter) that took away some of their best features, such as unfollowing people who don't follow you, etc. Now, this process has to be sorted manually.
---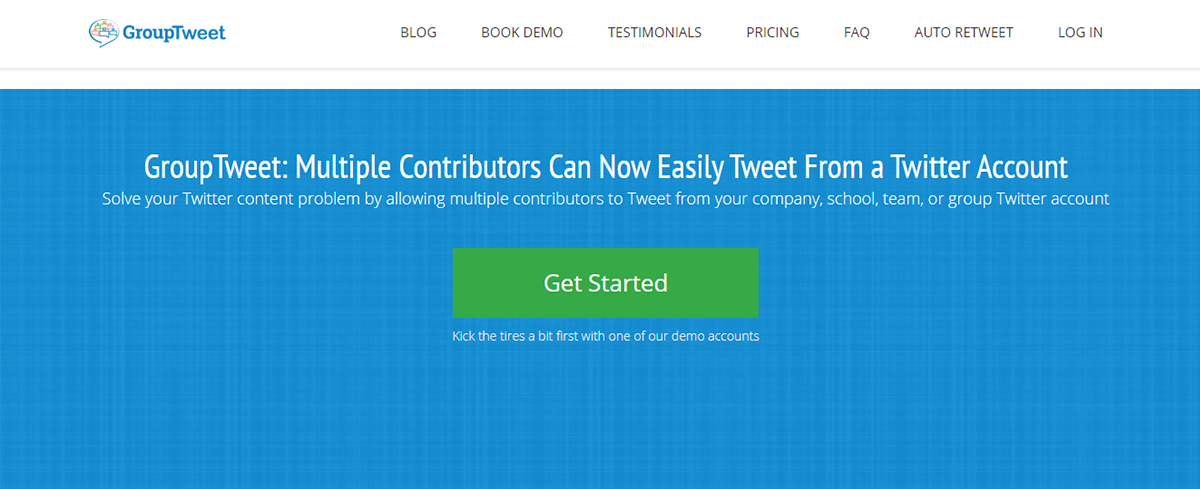 With the help of GroupTweet, you can have multiple contributors easily tweet from your Twitter account without having to share your password with them. With this Twitter management tool, you can have full control over your account and approve contributor tweets via email before posting on Twitter.
Pros
You can schedule smartly by sharing contributors' tweets throughout the day.
You can download all your contributors' tweets at any time for analyzing or data archiving.
Verified GroupTweet User
We don't want to have to share our credentials constantly, so this is a nice option for us. You can approve tweets so we can intervene with the negative ones.
Cons
There are minor bugs in the working, which makes the user experience unsatisfactory.
This tool could be very expensive for the limited features it provides, especially for small businesses that need a comprehensive solution for all of their social media channels.
Adham H.
Sometimes tweets are published after some time, and it takes a while to tweet, especially when using a bad internet connection.
---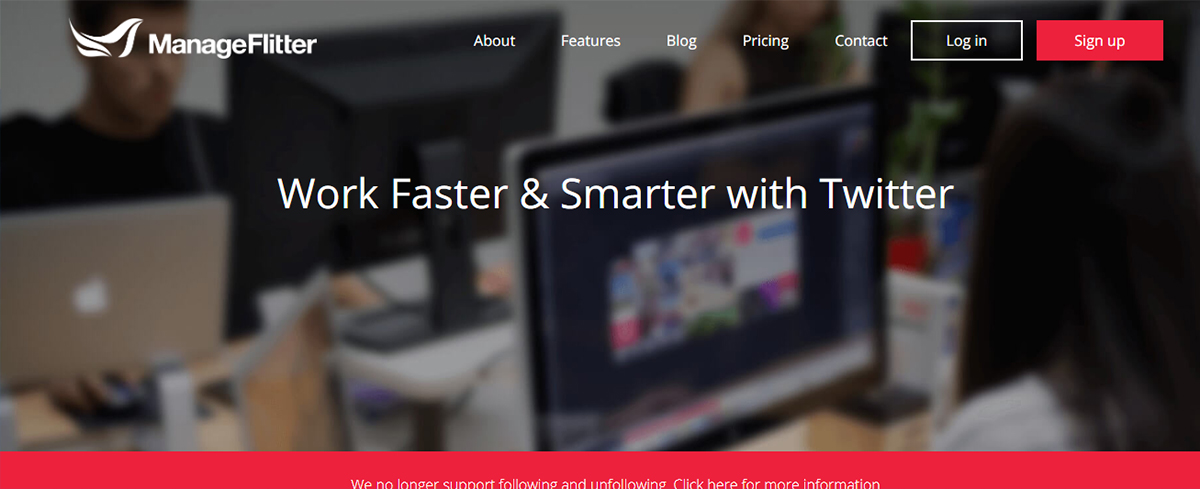 This Twitter management tool lets you find relevant people to follow for your account with the help of filters like bio, location, keywords, latest tweet, and more. With the help of ManageFlitter's Twitter analytics, you can also understand what kind of content gains more engagement and so on.
Pros
You receive a daily or weekly email report that summarizes active Twitter accounts' most important activity.
Its Powerpost feature lets you schedule your most important tweets for optimal visibility and engagement.
It shows you when most of your followers are online, which is the best time to tweet to reach your target audience.
Victor Fernandez
It is used by the marketing department and mainly helps us to follow our community of followers on social networks, allows segmentation by different criteria, and carries out our policies of follow-up on Twitter.
Cons
The presentation and usability of reports aren't that great.
It offers a limited set of features which means you'd have to resort to a different tool if you want more results from your social media efforts.
Its main features, follow/unfollow, have been removed as per Twitter's request, thus making the tool very limited in its functionality.
---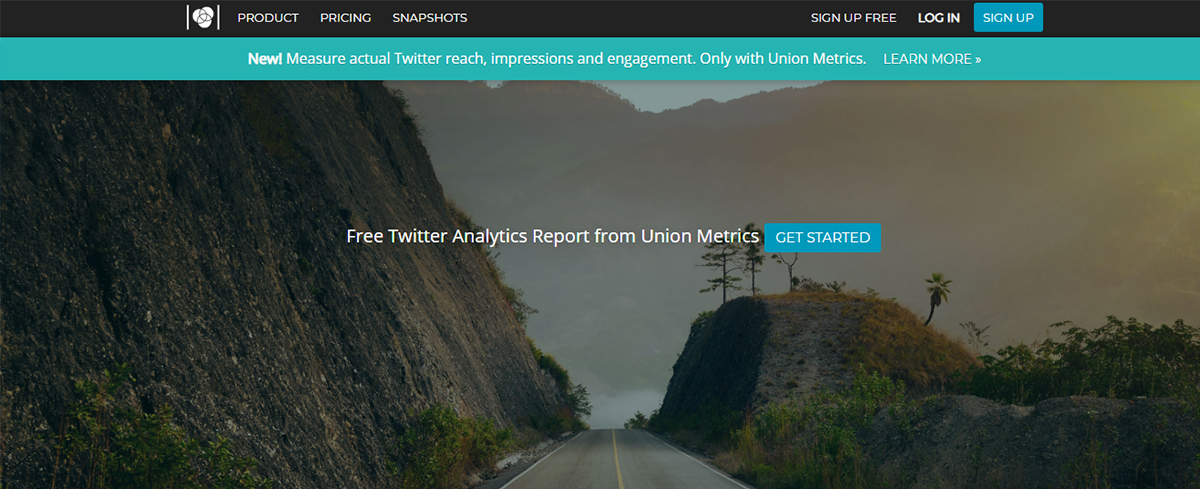 TweetReach provides you with in-depth analytics and helps you strategize effectively. You can find out how your posts are performing, what's the best time to post, identify top hashtags and URLs that drive engagement, measure the potential reach of any hashtag, and so on. TweetReach helps you know about the true reach of your tweet and how to improvise on it.
Pros
You can analyze your competitor's profile and learn from what works or doesn't work for your competitors.
You can easily share the analytics with all your relevant stakeholders.
Verified TweetReach User
Our marketing department currently uses TweetReach to track potential and actual metrics. It fills the gap of having to pull top-performing posts individually in each platform.
Cons
Unavailability of other social networks like LinkedIn, Tumblr, etc.
The tool is quite pricey as compared to other Twitter management tools.
Verified TweetReach User
More platform integration. I would love for Union Metrics to be a "one-stop shop," but LinkedIn and YouTube are not available to track.
---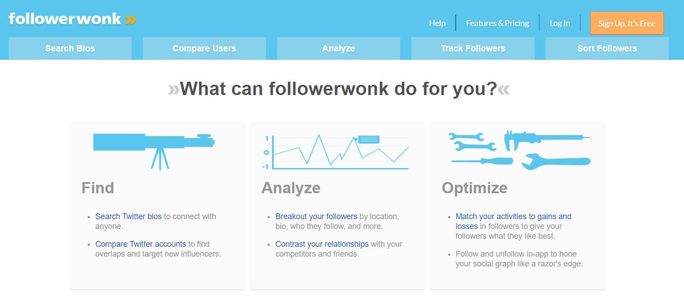 FollowerWonk is another great Twitter management tool that helps with Twitter hassles. Optimize your efforts with Twitter analytics. You can also search for bios with its advanced search functionality.
Segment newer target audiences with keywords and expand your loyal base with relevant followers. You can also categorize followers with several filters to get the status of your current audience.
Pros
It is amazing for research and content curation.
Audience demographics make target-based marketing easy.
Export followers with profile details in CSV files.
Natalie C. W
You can search Twitter users by a variety of factors, and you can check out your competitors' followers and sort them by all sorts of characteristics. It has been an invaluable tool in growing my clients' Twitter presence.
Cons
FollowerWonk's design isn't intuitive, and users take time to learn it.
Analytics provided aren't always real-time, and many consider them pretty generic.
Paige G
To me, Followerwonk is more complicated and less effective. First of all, the free features are extremely limited, so it's tough to grasp the software until you start a paid account. You cannot follow anyone in the app, you get a limited amount of searches, and the search capabilities are not advanced.
---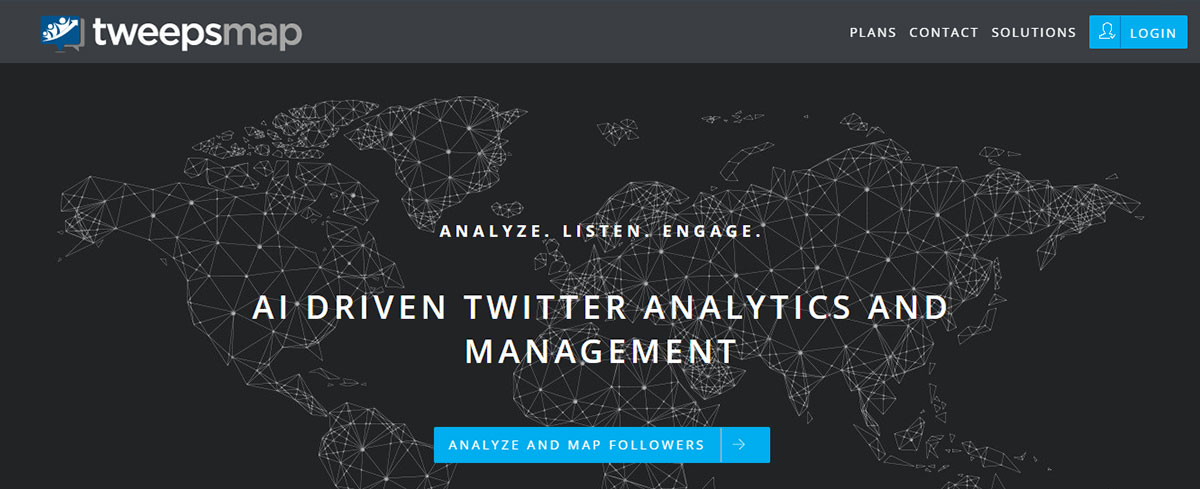 Tweepsmap is one of the well-known Twitter management tools that picks up crucial analytics and metrics. Some of its key features are influencer tracking, campaign analytics, customer targeting, and keyword filtering.
You can even manage multiple Twitter accounts with Tweepsmap. It also tracks conversions and engagement, which comes in handy to assess the effectiveness of your campaigns.
Pros
The tool has on-point scheduling and analytics capabilities.
Customer targeting with conversion tracking is a valuable addition to the tool.
Campaign management is relatively easy with Tweepsamp.
Keith K
There are a lot of handy features with this software. It really is an "ALL IN ONE" solution for anyone that uses Twitter as part of their marketing mix.
Cons
The interface needs improvement from a UI/UX point of view.
It doesn't support other social media platforms.
Susan T
It is not the most intuitive software and is not necessarily easy to use. There are elements that would be improved by a bit of a UI/UX with some customers who are not as technical — I'd be happy to do this type of focus group with the team b/c I believe in the platform.
Twitter is a platform that can grow your business in leaps and bounds if leveraged right. But the amount of dedication it requires can tremble even the most experienced marketers.
A pro Twitter management software like SocialPilot lets you manage a total of 9 platforms, including Twitter, Facebook, Instagram, LinkedIn, Pinterest, and TikTok. It saves you time by automating tasks, helping you strategize effectively.
So, what are you waiting for? Activate your 14-day trial period and let SocialPilot work its magic.