Before we begin, we should clarify something from the outset: it is never a good idea to buy YouTube subscribers online or elsewhere.
If you came here searching for a quick hack to launch your channel towards easy success, you'd be inevitably disappointed.
Growing your YouTube subscribers count demands dedicated efforts over time.
We understand that you may be too busy to set time aside for working on your channel, which is why buying subscribers might seem like a tempting escape route.
But you need to pause and reflect. Is buying YouTube subscribers worth the money?
This article will explain why purchasing fake subscribers will hurt your channel. Furthermore, we shall resolve all your doubts about how to get more subscribers on YouTube and expand your channel's presence.
Why You Should Never Buy YouTube Subscribers
So, without further ado, here are the top reasons why you should never buy YouTube subscribers.
1. YouTube Deems it Illegal
Don't believe us?
Check out the highlighted text from YouTube's Terms of Service below. It explicitly states that any attempts at manipulating YouTube's algorithm for tracking user engagement through paid subscribers are in violation of its Terms of Service.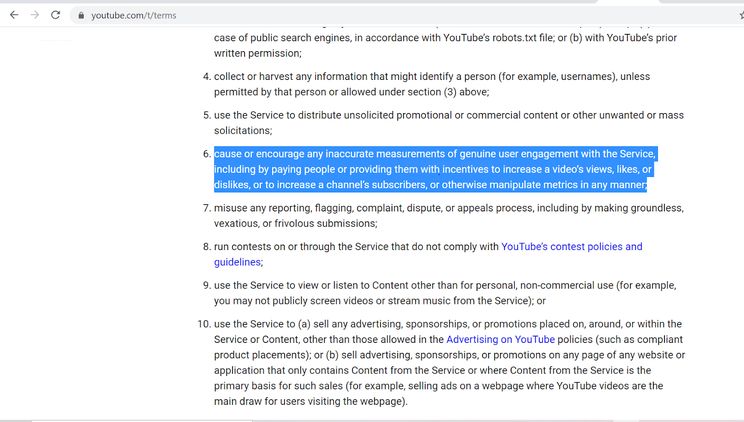 And most of us are well aware of how YouTube can get very upset with those who undermine its authority. From outright account suspension for a few months to your channel's complete deletion from the face of the earth, you would rather not want to test YouTube's wrath.
2. Online Providers give you Bot-Generated Subscribers
If you browse the Internet for sites that promise increased engagement and subscribers for your YouTube channel, you can discover a plethora of choices.
That being said, the vast majority of them will provide you with bogus subscribers and participation, which will only damage your channel instead of helping it expand.
In reality, several of these providers develop bots that are programmed to automatically access your account and inflate the subscriber count that you so desperately want to see boosted.
Nonetheless, all of this bot-generated engagement would not improve the visibility of your account or carry it to the attention of newer audiences, which is the primary goal of gaining more subscribers. Engagement from genuine people, not bots, is the secret to your channel's growth.
3. You will end up buying an Uncaring and Unsupportive Audience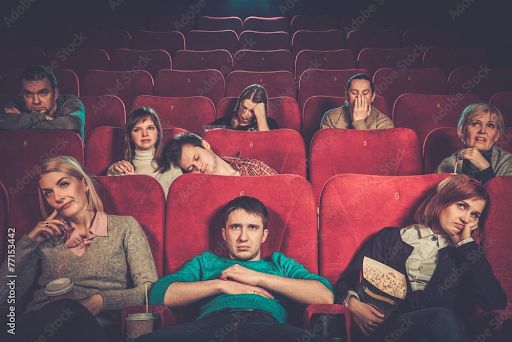 If you want to build a profitable YouTube channel and make it your primary source of revenue, you must first attract a broad audience that is genuinely interested in the content you offer; from the very beginning. This is absolutely the only way to get more people to invest their attention in your content, donate to your crowdfunding campaigns, purchase your merchandise and subscribe for the long term.
When you buy YouTube subscribers from a provider that is unconcerned with your channel's offerings in the first place (and most of them are), you will receive an audience that will be utterly uninterested in your channel.
An uninvolved audience is the same as getting no audience at all. As a result, it's critical for you to instead divert your attention and time on growing your channel through other means.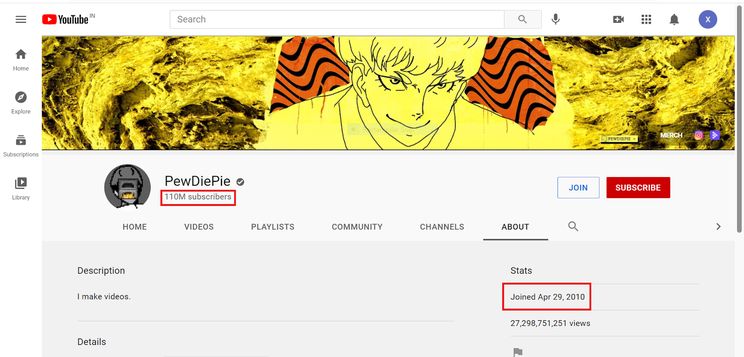 PewDiePie's channel that started in 2010 has grown considerably successful over the years, boasting 110 million subscribers today. Hence, this proves that long-lasting success on YouTube takes time and effort.
4. Paid Subscribers will Affect your Channel's Monetization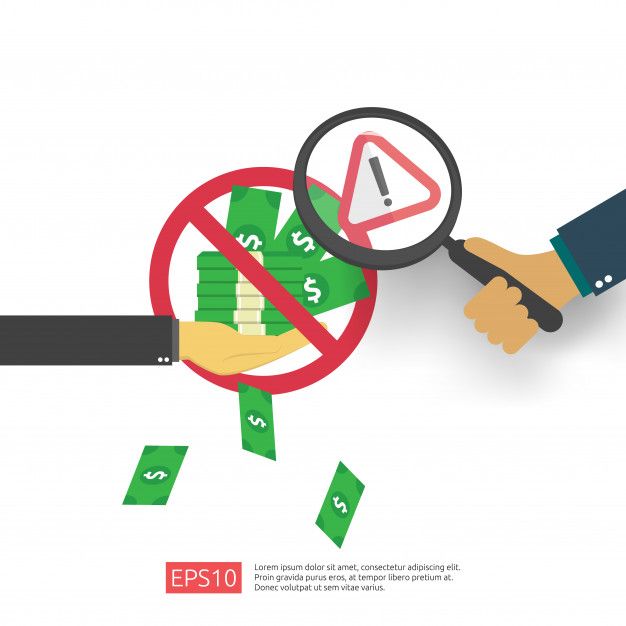 Some YouTube creators wrongly assume that increasing the views on their videos would result in a more significant revenue through their channel's monetization.
This, though, is not the case.
Your Google AdSense earnings will be higher if your views originate from real people (more on this later). Furthermore, brands may not want to fund you or advertise on your channel because they would wish for YouTube channels with high levels of engagement, something that your inactive subscribers can never provide.
5. Your Reputation and Credibility will be put at stake
Trying to pass off your subscribers as "genuine" could not only incite public backlash but also jeopardize your professional career for the long term.
People despise getting manipulated. No matter how "true," "secure," or "simple" the service you're contemplating that promises to inflate your audience. Once genuine users discover you tried to hoodwink them with your burgeoning yet vacuous social media following, all your audience-building efforts will go down the drain forever.
6. Other YouTubers have already tried it, with no success

From the comments section of Ryan Walsh's YouTube video titled "BUYING YOUTUBE SUBSCRIBERS EXPERIMENT, Here's what happened…"
Don't be fooled by providers' opulent-looking websites. Even if they offer you upwards of a thousand subscribers every day, YouTube will not mind deleting them if they are of poor quality — as Ryan Walsh discovered in his attempt to buy subscribers for $40.
Many top providers also offer "refill" schemes applicable when your channel's subscriber count falls below 20% of the count you paid for. It just goes on to prove that such businesses offering paid subscriptions are willing to be vulnerable to YouTube's heavy crackdowns.
Long story short, buying YouTube subscribers will hurt your channel sooner or later. Avoid completely.
But don't lose hope just yet. If you want to go down the paid route to get YouTube subscribers, we have just the right strategies for you!
How to get More Subscribers on YouTube the Right Way
You've spent a lot of time perfecting your videos' plot while paying equal attention to storyboarding, casting, filming, and editing. The result? A spectacular video that all viewers so far seem to love.
But, you can't just hyperlink your video on a website; or share it on social media and hope that someone would watch and circulate it.
Excellent content will inevitably be discovered, but you must attract and inform prospective audiences who are otherwise unfamiliar with your channel.
This section will look at the different investment routes available to you for increasing your YouTube subscriber base (and audience) legitimately.
1. Invest in different types of YouTube Ads
Suppose you're considering where to spend your video ad budget. In that case, YouTube has a broad scope and robust targeting tools that make it a handy resource in your audience attraction and retention journey. You should be confident that devoting a little more time to learning the basics now will pay off in the long run.
Running multiple YouTube ad campaigns is one way to ensure that more of your intended audience discover your YouTube channel.
To start, let's go over the three main categories of YouTube ads, both video and otherwise:
Skippable aka "mid-roll" or "pre-roll" in-stream Ads
Such ads appear before, after or in the middle of a video. Their distinguishing characteristic is that audiences can skip them within the first 5 seconds of their run-time. To qualify for this category, your advertisement must be at least 12 seconds long (though the recommended upper limit is under 3 minutes).
You will be billed for the ad only if a viewer either interacts with it or watches at least 30 seconds of it. However, most viewers prefer to skip the ad after the first 5 seconds. Thus, you must create an ad compelling enough to retain your audience's attention despite the appearance of the "Skip Ad" button.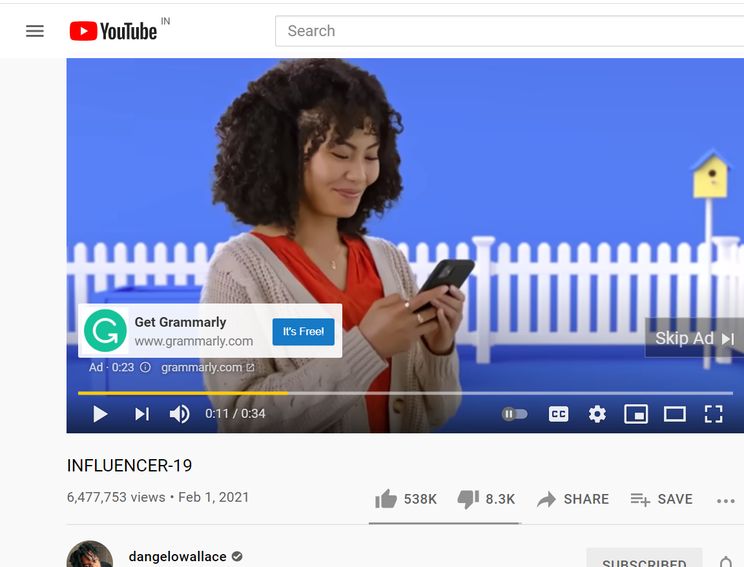 An example of a skippable in-stream ad from Grammarly
Non-Skippable Ads (Including In-Stream Bumper Ads)
Since 76% of people say they skip ads immediately, some advertisers opt to run ads with no option to skip at all.
When is it appropriate to do this? When you want to increase your channel's recognition and are entirely sure that your ad can retain the audience's focus for the entire 15 seconds. To qualify for this category, advertisers pay for CPM, aka cost per thousand impressions (or 1000 viewers).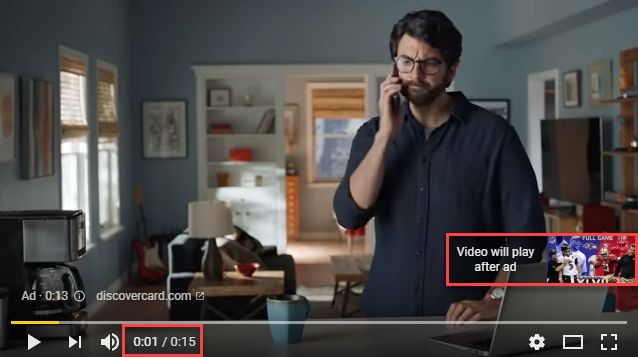 Non-Video Ads (i.e., Banners and Overlays)
Banner ads on YouTube are displayed above the suggested videos section beside the YouTube video player.

Example of a banner ad from Udemy (enclosed within the red box at the top right corner)
YouTube overlay ads are 480×70 pixel images that are visible at the bottom of an ongoing YouTube video. When viewers start watching a video, the overlay ad emerges on screen.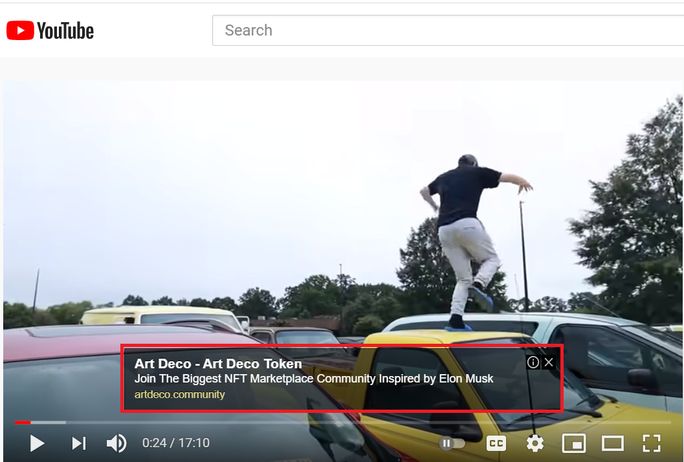 Example of an overlay ad (enclosed within the red box)
Video Discovery Ads
Video discovery ads appear right on top of the YouTube search results for a particular content category. They are visible alongside other videos with content that is identical or similar to your videos.
Such ads feature a thumbnail and a brief summary that entices audiences to click on them. Ultimately, visitors are redirected to the ad owner's original website.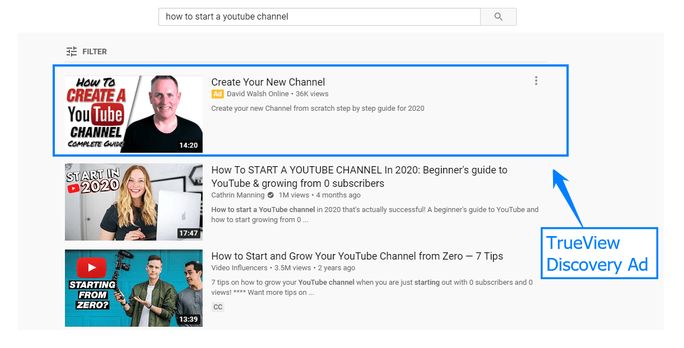 2. Promote your Video through Google Ads
The YouTube video ad campaigns that you set up with Google Ads' help are run not only on YouTube but also on websites associated with Google.
But to avail the service of Google Ads for increasing your YouTube subscribers, you would first need to set up a Google Ads account. And then, link it with your YouTube channel.
How to link your YouTube channel to your Google Ads account?
For this, you would need to first click on the "Settings and Billing" tab. Next, click on "Account" and from the drop-down menu, select "Linked accounts."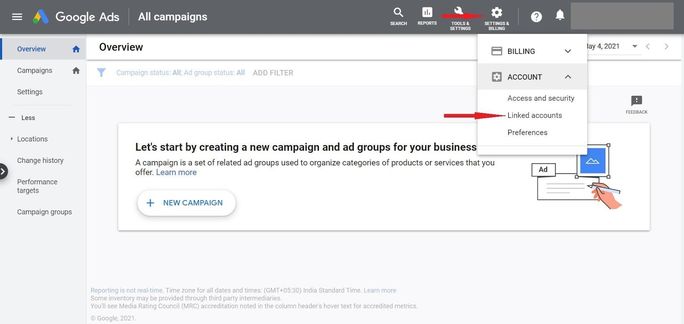 Now, from "Linked Accounts," select YouTube, and you're good to go! Your YouTube channel and Google Ads account are now linked.
Once you are through with linking the two, your Google Ads account will run ads based on your channel's interactions. Permissions can be given to the linked account for:
accessing analytics for video ads
displaying advertisements to users who visit and connect with your channel
gaining insights into how people engage with your channel after watching your ads
Furthermore, you can set up personalized ad campaigns depending on your budget, demographic preferences, and overall marketing objectives.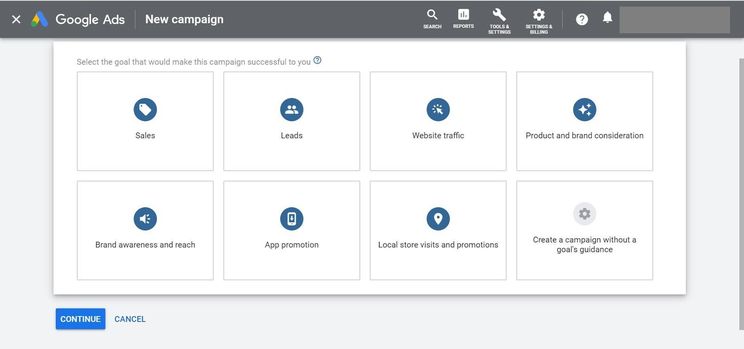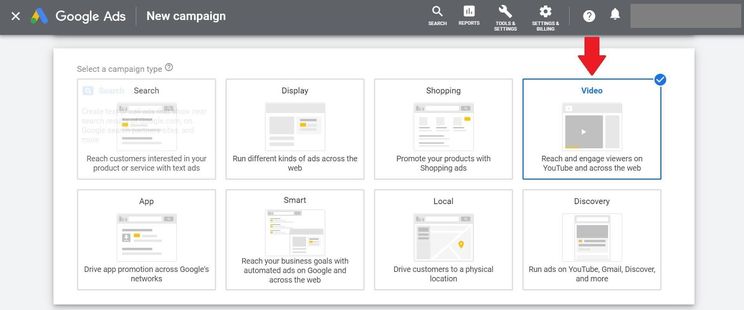 Since your ads would be displayed on YouTube, selecting the video format for your campaign would be most suitable.
3. Incentivize future Subscribers through YouTube Giveaways
About every significant YouTube channel has held a giveaway contest at some point. Giveaways are enjoyable, immersive, and entertaining campaigns that can result in significant success. Although many generous YouTubers enjoy doling out freebies to their viewers, other more pragmatic ones aim for tangible rewards that hosting giveaways reap.
And those rewards are increased subscriber count and engagement.
You can set up giveaway campaigns factoring in your budget, area of residence, and your core audience's interests.
MrBeast is the best example of a YouTuber who leveraged giveaways to become a star on the platform.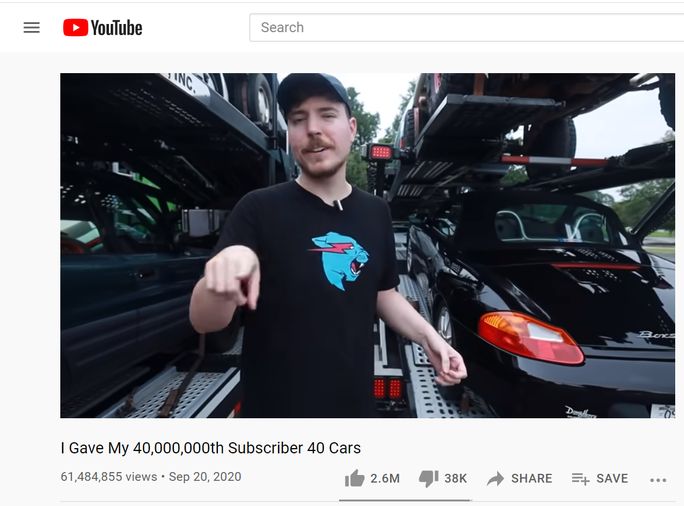 A screengrab from MrBeast's giveaway video titled "I Gave My 40,000,000th Subscriber 40 Cars"
4. Give Influencer Marketing a try
An influencer on YouTube is a trendsetter that social media users depend on to recognize the latest trends and products within their niche or area of concern. YouTube influencers listen to and engage with their followers, forming communities more akin to families than fandoms.
According to research undertaken by Carat, Nielsen, and YouTube, influencers had accounted for 86% of the top 200 videos within the beauty genre, thus becoming the driving force behind contemporary "influencer marketing."
You, too, can reach out to either established or up-and-coming names within your genre to generate viewership from an undiscovered but interested audience.
Like how James Charles collaborated with major influencers of the YouTube beauty community.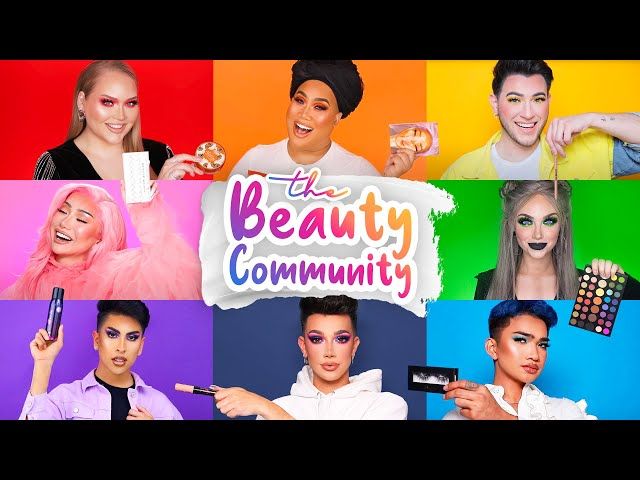 The video thumbnail of James Charles YouTube video titled "The Biggest Beauty Collab in History"
Conclusion
YouTube is a fantastic platform for generating significant revenues with a relatively low barrier to entry. However, to make the most of it, you will need to get some skin in the game.
Use different permutations and combinations of paid tactics mentioned above to reach new subscribers regularly. Hopefully, this article will nudge you in the right direction for doing precisely that.
Also, you can check out SocialPilot's video marketing features supported across multiple social media platforms for a smooth marketing strategy.