Success on YouTube is all about viewers and subscribers.
Of course, if you already have an active YouTube channel, you don't need us to tell you that. Everyone knows the success of a channel on YouTube boils down to its viewership. And that viewership is highly influenced by the channel's YouTube subscribers list.
A YouTube channel's subscriber count is one of the single most straightforward metrics to determine its future success. And if you are a marketing professional trying to organically grow your brand on YouTube, your channel's subscriber count comes directly into play.
But beware of purchasing subscribers to pump up your subscriber count! Doing this will not contribute to any real growth for your channel (as we shall learn during the course of this article.)
If you are here to learn how to get YouTube subscribers for your channel, you're in the right place. You are going to learn it all, from the nitty-gritty details to the vantage overview.
But first, let's clear up some basics!
How to see your Subscribers on YouTube?
To know how to see your subscribers on YouTube, find and click on "Your Channel" on YouTube. From there, locate your username (shown in the image below for your reference.) The total number of subscribers to your channel can be found right beneath your username.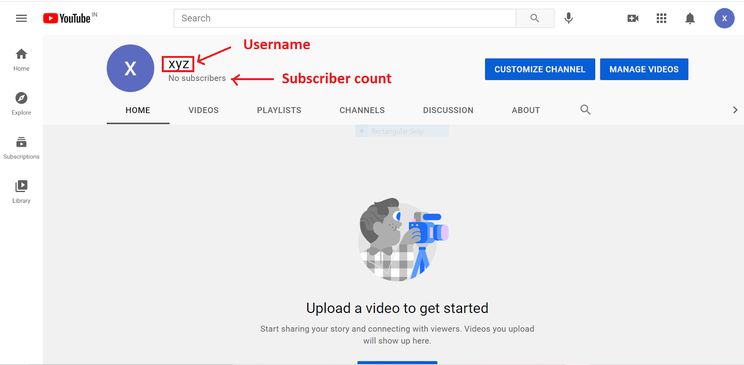 Now that the basics are done and dusted, let's get down to business.
10 ways to get FREE YouTube Subscribers
We will discuss crucial methods by which you can gain free YouTube subscribers on the internet's second-largest search engine. Hitting subscriber targets is particularly important to unlock exclusive monetization features on YouTube. But to compete with 500 hours worth of video content uploaded every minute, you need a well-defined strategy. Do not worry. We will help you with that right from the start.
We will discuss crucial methods by which you can gain free YouTube subscribers on the internet's second-largest search engine. Hitting subscriber targets is particularly important to unlock exclusive monetization features on YouTube. But to compete with 500 hours worth of video content uploaded every minute, you need a well-defined strategy. Do not worry. We will help you with that right from the start.
We will discuss and teach you how to apply various media marketing techniques in your YouTube content creation process.
By the end of this article, you will have a clear idea of creating a solid plan for expanding your YouTube presence.
Let's get started.
1. Decide on a Centralized Theme for your Channel
If you look closely, you will find nearly all successful YouTube channels adhering to the same pattern; i.e., catering to a single broad theme in all of their videos.
Wisecrack's (with 3 million subscribers) quick scroll-through reveals that the channel revolves around entertainment and pop culture.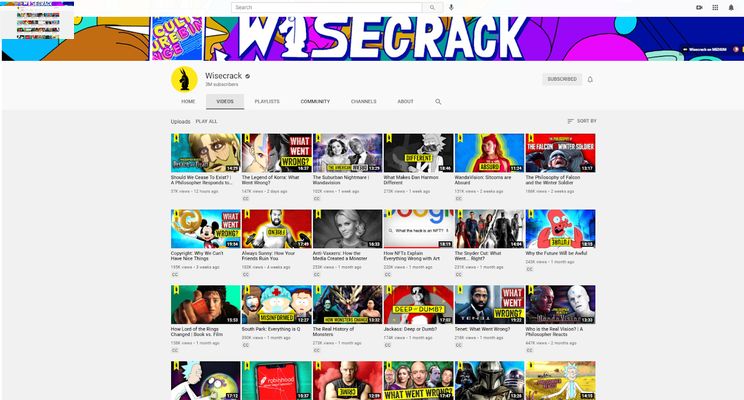 Quick side note: Entertainment, gaming, beauty, vlogging, and lifestyle channels tend to garner a more significant number of subscribers in a shorter duration than educational and informational channels. However, there are certain exceptions to this rule as well.
With a theme in mind, creating YouTube content is more effortless.
In addition, you can become the "go-to" channel for your niche audience. It is the ultimate purpose of an excellent social media platform.
If you create videos catering to a particular niche, your viewers would be inclined to subscribe to obtain more information through your channel in the said niche.
2. Convert your Passive Viewers into Long-time Subscribers
Seeing your YouTube videos' view-count blow up is a good reason to celebrate. But when that is not followed by a proportional growth in your channel's subscriber count, your celebrations might be sadly premature.
If your viewers are not subscribing to your YouTube videos, it's high time to address the elephant in the room. Your video creation and formatting strategy need some tweaking for the better.
Here's how you can go about doing that:
Include compelling hooks and CTAs strategically
A "CTA" (call to action) is an interactive region placed within your YouTube video, that your viewers can click to either subscribe to your channel or take any other desired action. They're the "Subscribe now!" or "Watch more of my videos!" messages at the beginning or end of any video.
"Hooks" on the other hand, are storytelling devices to capture and retain the audience's imagination. It's the "Once upon a time…" "That's just the beginning…" "Stay tuned and find out" of a YouTube video's script.
Let your viewers know that you care about their expectations and tastes. Assure them of great content ahead addressing their demands upon getting subscribed. Make sure you include clickable regions and CTAs at strategic points in your video.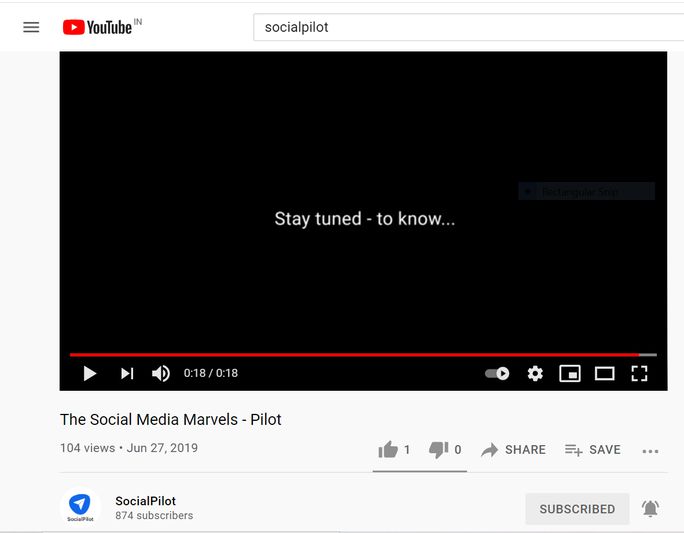 For instance, in the image above, SocialPilot's video titled "The Social Media Marvels-Pilot" consists of an intriguing "hook" at the video's end to titillate its subscribers' imagination about the kind of content in the pipeline.
Create Subscriber Milestones
Set a realistic goal for an absolute subscriber count you intend to meet by a specific date. Clarify to your viewers that you wish to reach that subscriber milestone before uploading your next video.
Your top YouTube subscribers would also encourage their friends to do the same. If they don't already follow you, there's a good possibility that they'll want to help you out, particularly if they liked your previous videos.
Hot tip: Ensure that your content is compelling (and suspenseful) enough to draw future subscribers. You can leave your last video in a cliffhanger to be revealed only at the hitting of the subscriber milestone.
3. Collaborate with other YouTube Creators
Keep a close tab on content creators within your niche. You don't necessarily have to compete with them! Collaboration can act as a mutually beneficial incident.
Find other YouTubers that create content close to yours and plan to host them on your channel. In return, they would almost certainly want to promote you on their channel as well. Thus, both of you can prosper from the additional exposure to an audience that already loves your type of content.
Take, for instance, SocialPilot's collaboration video with Shane Barker. Both channels are stalwarts in internet marketing, and each of their respective audiences loved their collaboration discussion on pertinent issues.
YouTube collaborations are the easiest way to increase your subscriber base.
4. Incorporate Keyword Research in your content creation process
You might be wondering what keyword research has to do with a platform primarily dealing with video-based content?
Well, everything!
Keyword optimization is necessary for YouTube SEO. If you want your video to appear in search results or users' YouTube homepage for your content niche, you must include relevant and high-ranking keywords in your video title and transcript.
Your designated audience will be able to discover your videos far more quickly if you incorporate keyword research in your video creation process. And for them to find you means more chances for your content to be shared.
Here are the two most popular methods for keyword research on YouTube:
Use appropriate Keyword Analysis Tools
You may use keyword analysis software (such as Ahref's) to determine what people search concerning your video's content. Ahref's "Keyword Explorer" can be set for YouTube's search patterns, thus making your keyword research more straightforward.
YouTube auto-suggest used with Google Trends
Start by entering a seed keyword into the YouTube search bar, and a list of similar queries will appear. These are the 'autosuggest' findings, which are a fantastic source of keyword ideas.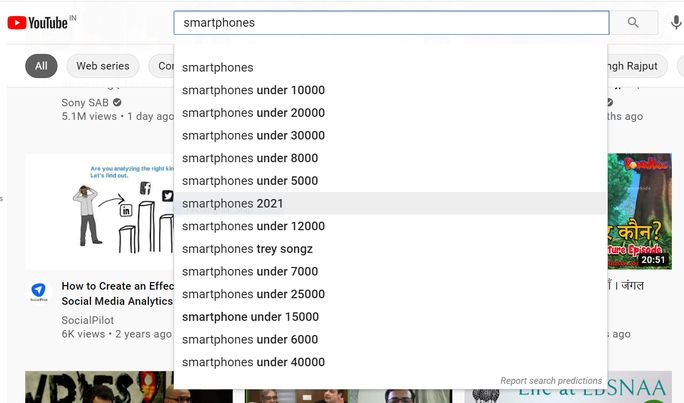 If you come across some intriguing ideas, enter them into Google Trends and change the dropdown menu to "YouTube search" to see how famous they are.
Accordingly, depending on the keywords' popularity displayed on Google Trends, you can incorporate them in your video's title and transcript.
5. Keep up with the latest YouTube Trends
Dive further into YouTube's different trending portals to learn more about audience behavior and viral trends. It would aid you in creating content that appeals to the highest number of viewers (and potential subscribers).
There are several readily available resources to find real-time data on YouTube. Given below are some of the most popular ones: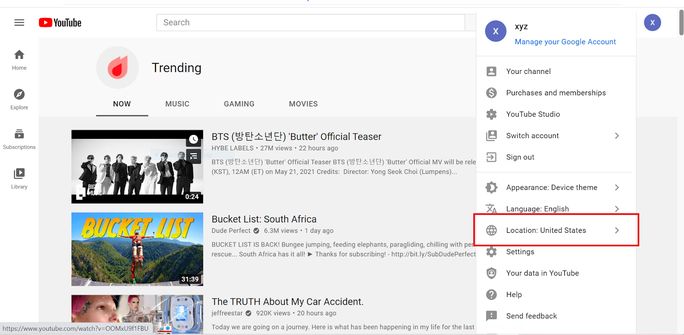 Popular on YouTube page (does not depend on user's country)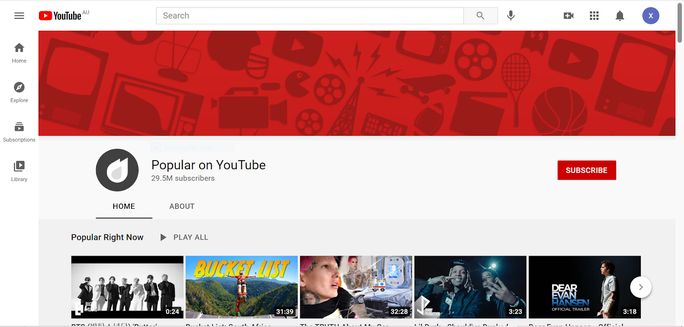 Given below are Google Trends results for the keyword "social media marketing" defined by the parameters such as:
Graphical representation of search volume over the last 12 months for the keyword 'social media marketing'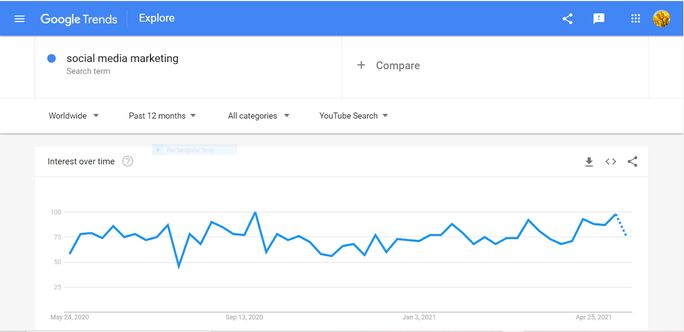 Interest by region for the search term "social media marketing"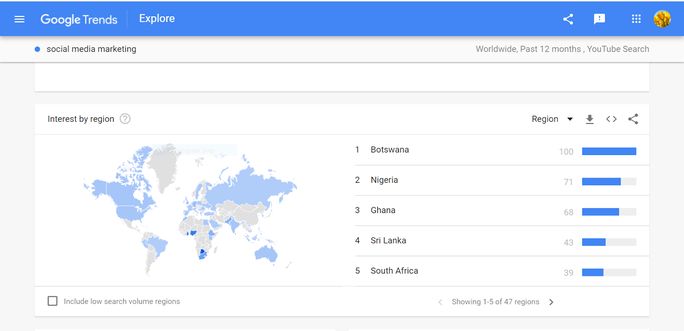 Related topics and queries suggested for the search term "social media marketing"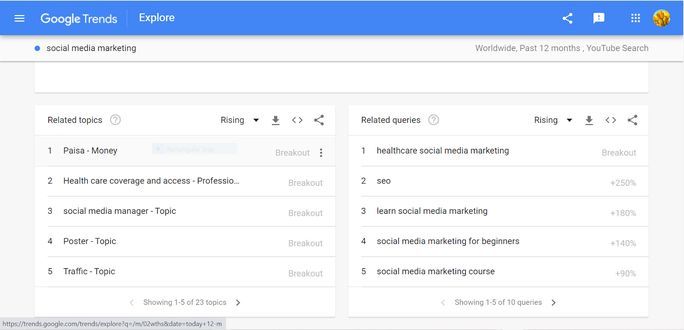 Moreover, YouTube's Culture & Trends page is the ultimate resource to be in the loop about everything that's been trending so far.
Thus, by combining these resources, you can catapult your channel's subscriber list to higher altitudes.
6. Jump onto the "Viral Trends" bandwagon
There is no better way to expand your YouTube subscribers list than to capitalize on YouTube's latest trends. Tastes evolve, and information today spreads faster than ever before. It has become critical for creators and brands to create timely and meaningful content, especially on viral trending topics.
Now that you have learned everything about discovering YouTube trends in the previous section, let's see how famous brands used it to inflate their reach.
National Geographic's "Harlem Shake"
Remember 2013's wildly popular "Harlem Shake" trend? Well, National Geographic created its rendition that people simply couldn't get enough of! Thus, a brand generally known for its educational ventures and scholarly journalism brought out its fun side; and everybody loved that!
Apple's "Work from Home" woes
2020 (and even 2021 in some cases) consigned most of us to transport our work-from-offices to homes with egregiously outlandish results. As we struggled with our domestic life melding with our work life, Apple Inc. latched onto this sentiment to create a relatable, hilarious video titled "The whole working-from-home thing." The video raked in millions of views and thousands of likes as evidence of its success in no time.
Rick and Morty toying around with PS5
Gamers tend to be an edgy bunch, and so do Rick and Morty fans. Therefore, when PS5 was all set for a worldwide release in November 2020, their commercial ad featuring Rick and Morty subverted all ad-making conventions with its meta edginess. This left their audiences commenting, "I wish more ads were like this. YouTube take notes," while others said, "This is the type of ad that we actually enjoy."
7. Talk about your Channel's work in progress
Although we briefly discussed viewer anticipation earlier in this blog, there is some more info we'd like to cover in this section. Viewers subscribing to their favorite YouTube channel enter a waiting game of sorts. Those who have just seen what your channel is all about are primed to seek similar content from you, that is if you have done your work correctly.
The most natural way to inspire viewers to subscribe is to hype your upcoming content to such an extent that they would not want to miss it. Of course, this necessitates getting a firm grasp on your content calendar and prepping for video ideas in advance.
For instance, this announcement video by Valkyrae about her collaboration with YouTube Gaming received massive appreciation from her fans.
And remember: ALWAYS be consistent with your video uploading schedule. It goes without saying.
Maintaining consistency in your video uploading schedule is easy when you only need to manage one YouTube channel. But what happens when you have multiple YouTube Channels to handle at the same time?
SocialPilot is at your service. Connect all your YouTube channels to a single dashboard and use SocialPilot to schedule your Youtube videos and Shorts with ease. Automate your YouTube publishing tasks complete with custom thumbnails, hashtags, video tags, privacy settings, video title and description, and more.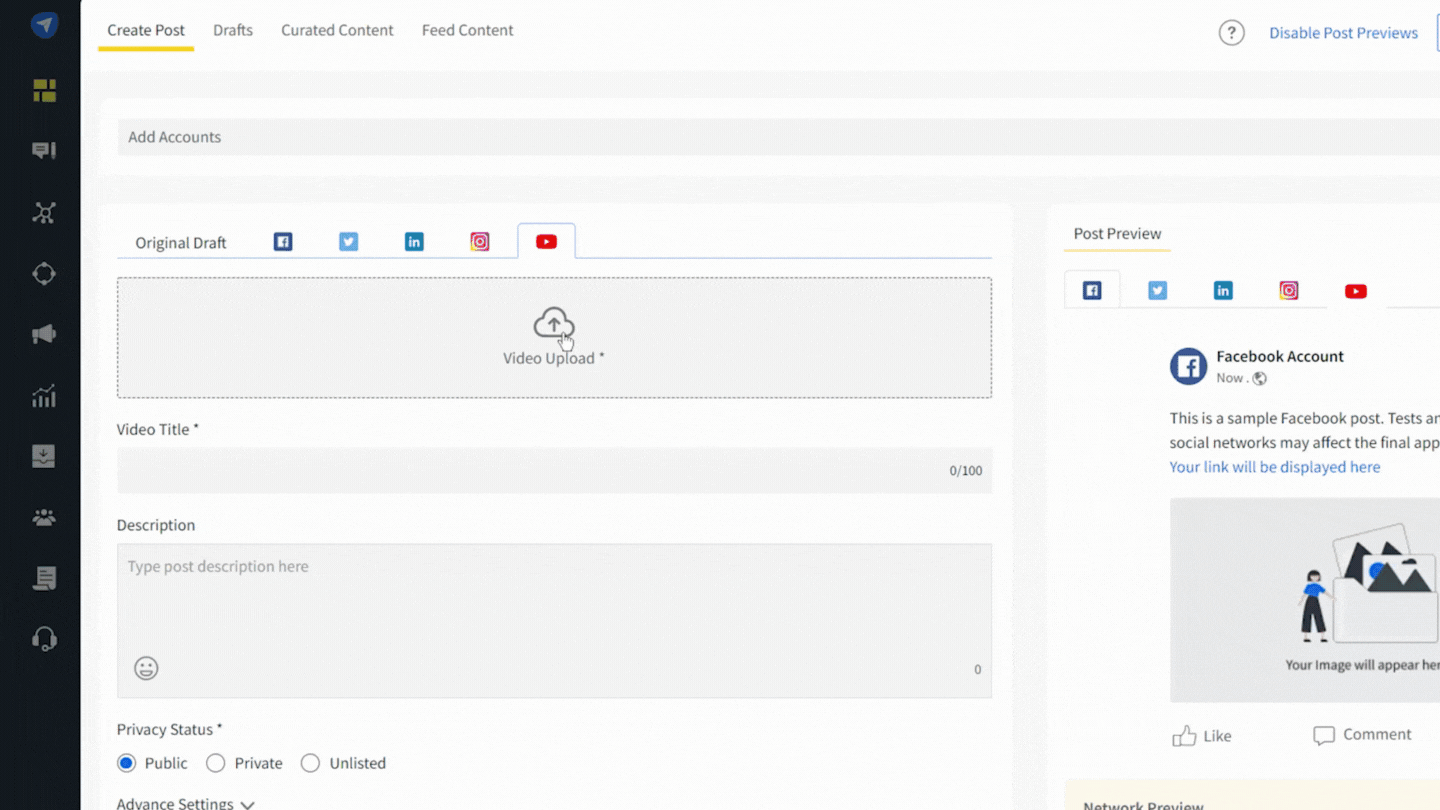 Be Responsive
If you build relationships with your viewers and subscribers, they would be more likely to continue watching your upcoming videos. React, reply to, or pin their comments. Follow their channels in return. Your interactions with your viewers would amplify your channel's unforeseen growth. Plus, it's fun to directly talk with people in the comments every once in a while.
See how SocialPilot did it in one of their video's comment sections: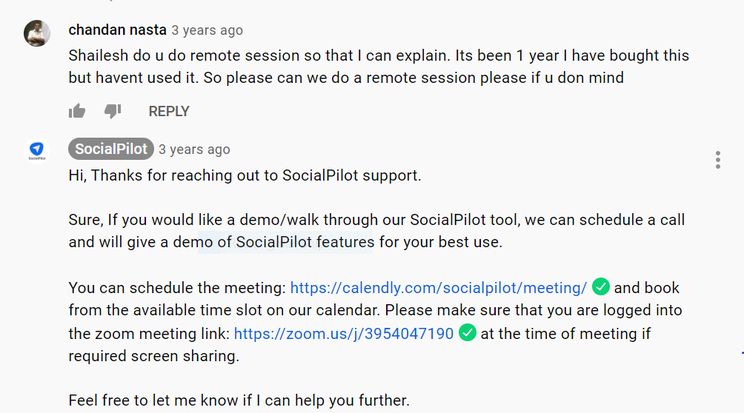 And how Veritasium chipped in one of those infamous comments section arguments: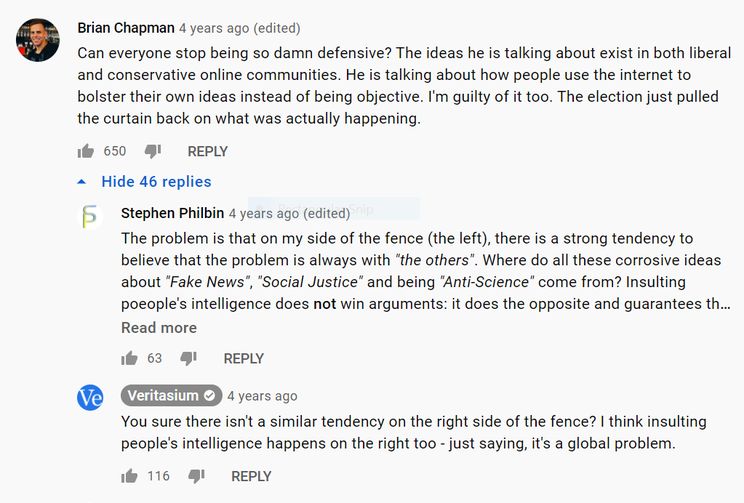 Quick tip: Ensure that your interactions are minimal, to the point, and possibly neutral. Excessive responsiveness may come across as desperation for better reach, thus being counterproductive to your efforts.
8. Cross-Promote
Use your Facebook, Instagram, Twitter, Snapchat, Pinterest, or any other social media following to promote your YouTube channel.
It can be as simple as hyperlinking your YouTube channel on your Instagram or Twitter bio. Like how Rosanna Pansino did it with her Instagram bio.
And how Lilly Singh did with her Twitter bio.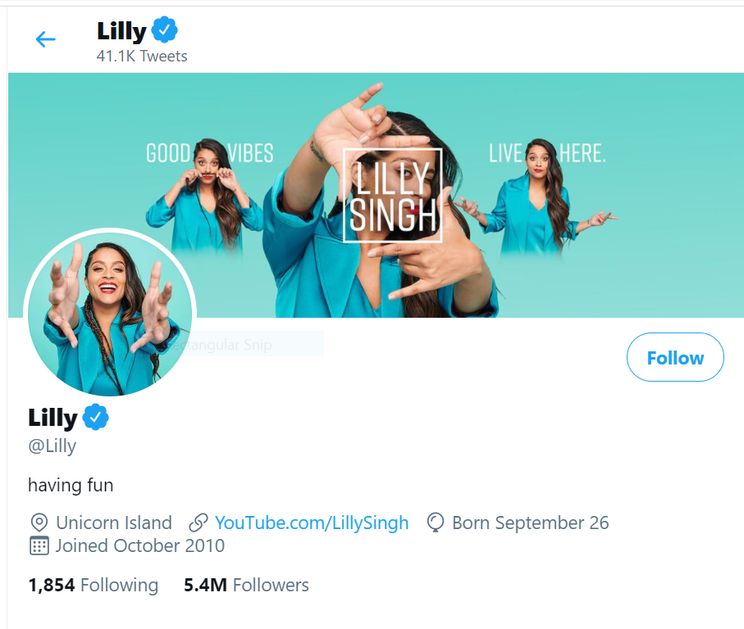 9. Curate Playlists for your Channel
Playlists are an excellent way to maximize the amount of time people spend watching your channel. They also encourage users to subscribe as you line up all of your best content in one location (or, instead, your loosely associated content from many places under one topic.)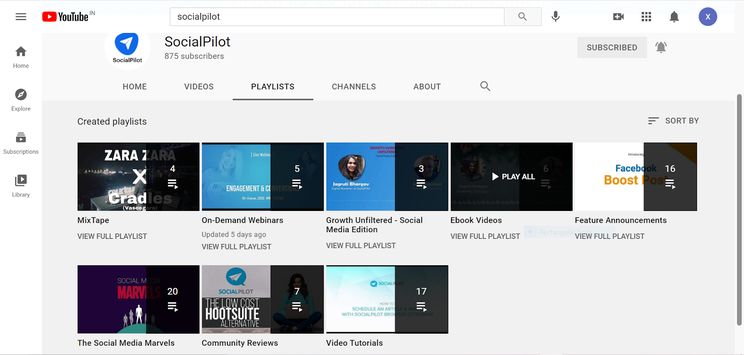 Take a hint from SocialPilot's playlists created for different purposes.
10. Organize Live Streams
With everyone sitting bored at home in these post-pandemic days, getting a notification "ting" can rev up the dullest of moments. A notification from your favorite YouTuber live-streaming can act as a source of some much-needed dopamine.
This is one of the best times for YouTube channels to routinely organize real-time live streams to interact with their loyal supporters. Your fans will get to interact with an unscripted and "real" version of their favorite content creator. Meanwhile, you get to garner massive value for your channel while cultivating a friendship with your attendees.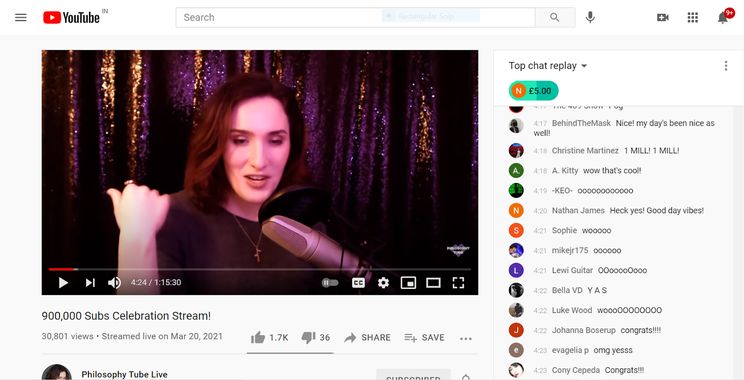 Here's Philosophy Tube Live's live stream recording for your reference
Conclusion
Growing your subscription count is a necessary means to gain steady popularity on YouTube — so don't fall for those shady 'buy YouTube subscribers' scams.
Instead, focus on producing unique content that will have your viewers returning for more.
Now, roll up your sleeves and get to work on increasing your YouTube subscription count. Hopefully, this article has provided you with enough ideas for the same.
Meanwhile, you can always check out SocialPilot for automating your YouTube publishing tasks. Never miss uploading another video for any of your YouTube channels again!