"You need to create ridiculously good content – content that is useful, enjoyable and inspired" – Ann Handley, Digital Marketing and Content Expert.
I agree with Ann. However, creating ridiculously good content is easier said than done.
Your audience's perception of your business or brand online greatly relies on the social content you share.
For this reason, taking the time to produce content that would appeal to your target audience should be a major practice to consider.
Many business decisions rely on who your customers are.
Crafting a smart social content strategy around them will make you take one step further and could prevent your business from randomly posting links and articles, or crafting content that wouldn't be interesting for potential customers.
Let's see how you can create good social media content:
Who Are You Trying to Reach?
Similar to SEO, social media is in constant growth.
Simply setting up accounts and following an outdated content strategy wouldn't let you follow updated algorithms or trending topics within your niche.
As of 2019, some of the channels with the most MAUS (Monthly Active Users) to use depending on your niche are Facebook, Twitter, Instagram, Pinterest, and LinkedIn. Others include Tumblr, Snapchat, Pinterest and more.
Each platform has a different demographic, they also have unique features to offer.
Understanding who your audience is, where they are and what they're expecting to see on social channels are three essential elements for you to create and distribute content.
Alright… So what are you supposed to do with this information?
A good modality to follow is not making assumptions.
Up-to-date social media statistics and analytics provide useful, accurate information for you to work with, from there, you can start making reasonably accurate guesses on who your target customer is, based on research and information.
Pro-tip: A few target market tools such as Facebook Audience Insights and Google Trends could help you narrow down your business's ideal social media persona to direct to.
Creating a persona is a great way of defining who you're trying to reach exactly, and how you'll try to do it. Having a clear idea of who your ideal customer is will allow you to get a better picture and easily spot them in the places they hang out online.
Up next, I'll share with you three slick tactics to track down your ideal community members on social platforms:
1. Review audience behavior
This is convenient when you aren't starting from scratch and already have some content spread through different platforms. Evaluate user behavior on shared content using the analytics tools on each network.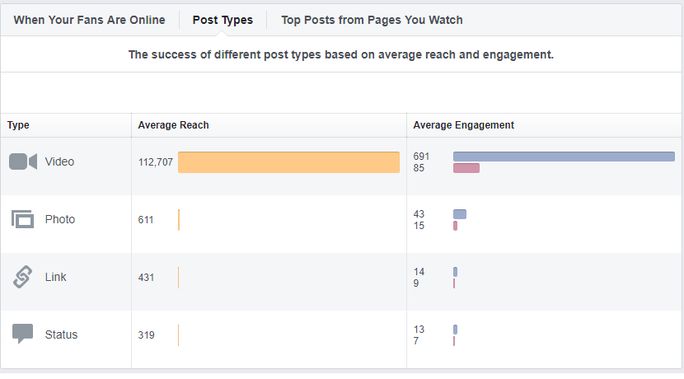 In the above example, it's clear that for this Facebook Page, posts that contain videos and images have been getting more attention compared to posts with no visual content.
To check this yourself go to your Page's Insights → Posts → Post types.
2. Investigate who engages with your (direct) competitors
Identify the social media profiles of the competitors that offer the same products or services your business does, or that (at least!) share a noticeable similarity.
Think about it. If they're thriving with their social strategy, you could as well.
A few questions to ask yourself at this point are: Who are they following and trying to market to? Which networks show the highest engagement? And others, depending on the necessary details you want to obtain.
3. Use social listening
To discover potential customers, and where your current customers are, monitor discussions associated with your target keywords, topics relevant to your business, and even your competitor's interactions.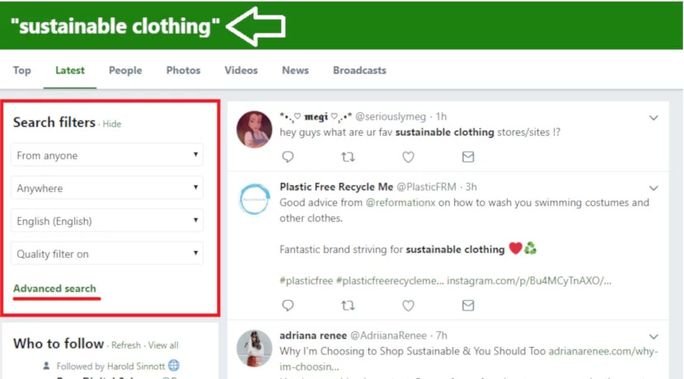 Twitter's advanced search feature is a useful resource for monitoring brand mentions, competitors, and keywords and phrases important to your business.
Absorb as much as you can from the data. Read users' bios (see their gender, perhaps find their professions, or favorite hobby, for example), see the conversations and interactions they have to know what they like (and whatnot), what they care about, etc.
What Makes Your Business Stand Out?
Brand authenticity is the key to a business that aims to differentiate itself from competitors. Establishing a brand voice and setting clear core values is extremely important for your social media strategy at all stages, including content writing, designing, posting and responding.
To gain insight into this, let's say we're working with a fashion brand whose selling proposition is offering environmentally-friendly clothing suitable for use by vegetarians on a global level.
Sounds pretty specific… Right? That's good! Now, let's review a few of their (fictional) core values:
They're committed to enrich and not exploit people or nature by supporting ethical and sustainable practices.
They like making things differently, somehow breaking the mold and having a strong voice heard to stand out from the crowd.
Making false promises isn't accepted for their company under any circumstances, they aim to work with transparency and constantly improve their products.
Leaving a positive, powerful footprint on the world through ethical fashion is one of the most important reasons the brand came to be.
There could be way more, but these are little examples of what could be the foundation for crafting powerful content that will reach (and be well-received) by the ideal people that share the same values your organization has.
Here's the deal, after having an in-depth knowledge of the goals, mission, and values your business supports, it's time to take a look at what the competitors are doing on social.
Yes, you might catch great ideas, after all, there's a reason these businesses are successful. But, keep in mind that creating duplicate content isn't a good thing to do, instead, learn from them and focus your attention into finding content gaps and bringing value to the conversation!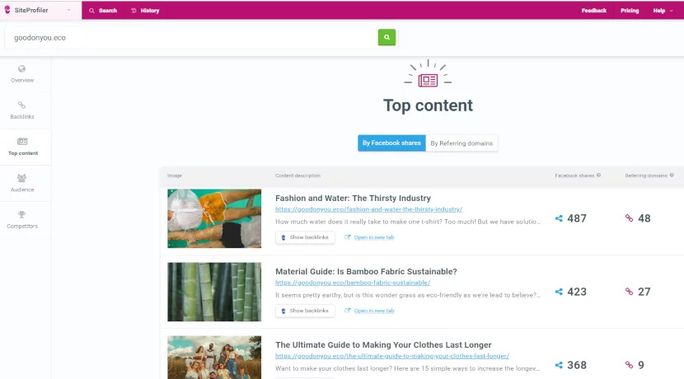 Tools like Siteprofiler can help you find the most popular Facebook posts from your competitors.
Crafting Smart Content for Each Social Channel
Sharing content and engaging with your audience hold equal importance – it's 'social' media after all.
Once you know where the people that would purchase your products or services are online, you can share customized content for each platform along with personalized, human interaction with the help of SocialPilot's AI Assistant feature. With this feature you can insure that all your social media copies are highly creative and engaging for the audience.
Remember our fictional ethical fashion brand? We'll use it as an example to build content that will be relevant to the target audience. We can start off by finding frequently asked questions around our focus keyword "sustainable clothing":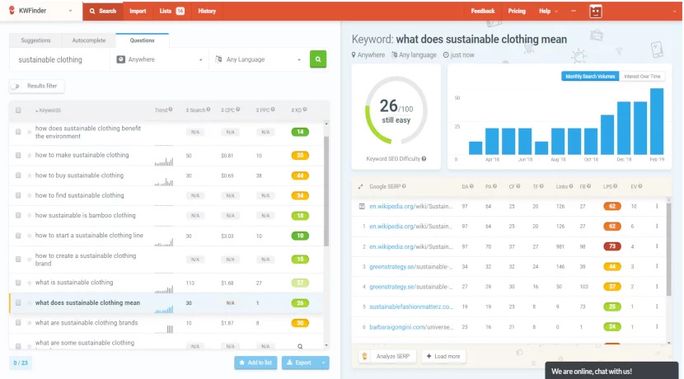 A keyword research tool could make this process easier, in spite of that, you could also go the old-fashioned way and take advantage of Google's "People also ask" featured snippet if possible.
See that?
Let's take "what does sustainable clothing mean" as a starting point. A post related to this question would bring awareness to the company's mission, at the same time, it could reach users that support the same cause.
Pro-tip: Whether it's for blogs, social media or more, to find relevant topics for posts to be based on, you should have a place to start. Previous keyword research is a must for putting together a successful content strategy.
It's time to get creative and brainstorm ideas. To begin, let's turn our attention to what would be a great Instagram post on this topic: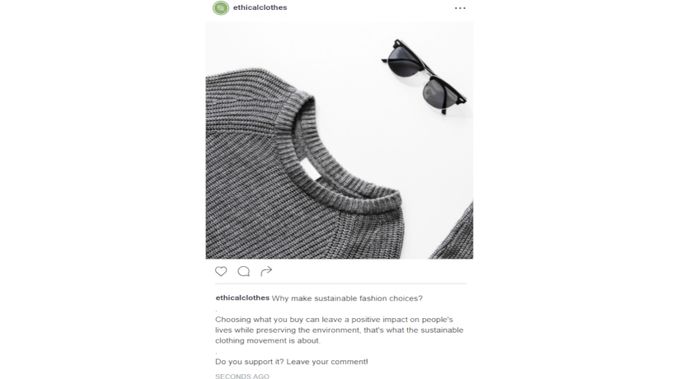 Let's dissect the example above. Instagram is all about choosing the perfect visuals, you'll notice that this high-quality image is simple yet appealing, it shows a clothing item and what could turn into a great outfit.
Next, the well-written caption that ingeniously answers the question we've researched. This is important to capture the attention of users and get them to stop scrolling.
Did you notice the call to action at the bottom? It entices users to take the next step and share their thoughts.
Depending on the networks your brand plans to be socially active on, it's a best practice to modify posts to suit each different channel.
Moreover, it's important to keep a nice ratio of created and curated content.
Creating your posts could demonstrate your skills, unique voice, and give your credibility a boost. Curated media can help you build and strengthen online relationships, and provide your followers with alternative sources of advice or facts.
Look at useful info as the star of the content you distribute on social. Coming off pushy and strictly sticking to self-promo rarely works on customers.
Adopt best practices, and include a healthy mix of posts that deliver what your customers need to know in a relevant and compelling way.
Your social media marketing strategy should support the business's current goals whilst bringing value to the community on a specific channel.
Demographics can vary significantly and that the posts format and optimal content length could change according to what works best for each platform.
For example, while thoughtfully composed videos are a great type of content for Facebook pages or YouTube, they'll most likely not work as well on Pinterest. The latter one is a place where infographics or step-by-step, visually appealing guides would interest the community the most.
Pro-tip: CTAs or Calls To Action are essential for enticing users to engage. Add one per post, think about it carefully and confirm that it clearly tells your followers what to do next. You could ask for suggestions, opinions, bits of advice or create a poll.
Before Clicking "Post"
Posting at optimal times is critical for getting the maximum results from your efforts. To encounter your community at the right time, start by experimenting which posting times work best on each platform.
Afterward, check the analytics reports for each of your social accounts and determine the hours that work for your niche.
Bear in mind that there's no golden rule around this matter because every page and audience can be pretty much unique.
Take the time to study updated guides about the best times to post on social media, especially if you're dealing with a business that's building an online presence from scratch.
Let's say, posting times between 12 p.m. – 1 p.m on Saturdays are considered to be ideal if you're trying to target more readers on Facebook. Let's put that statement to test with a sample Facebook page that has already tested several posting times: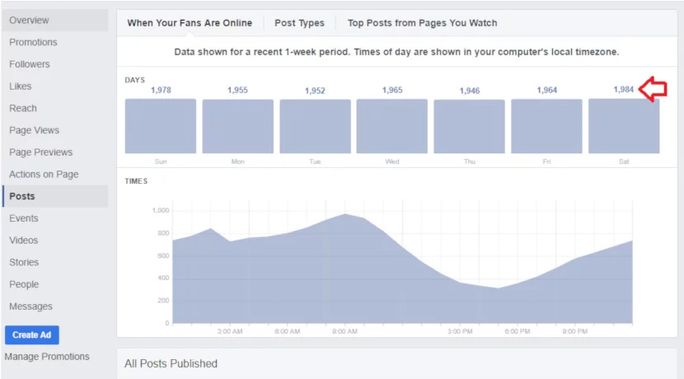 Take a closer look at the insights, the best day to post for this page in particular would be on Saturday at 9 AM.
Okay… What's the bottom line?
Testing is necessary to eventually adjust your optimal posting times and meet the maximum number of active followers within that day and time.
As you may have noticed at this point, analytics are highly relevant. So don't forget to use some of the best social media scheduling tools to help in testing your data.
Additionally, they'll be useful for setting KPI's or Key Performance Indicators. This is a crucial step for you to know what a winning post will look like (additionally, the type of content that's working the best), so you should do it before publishing.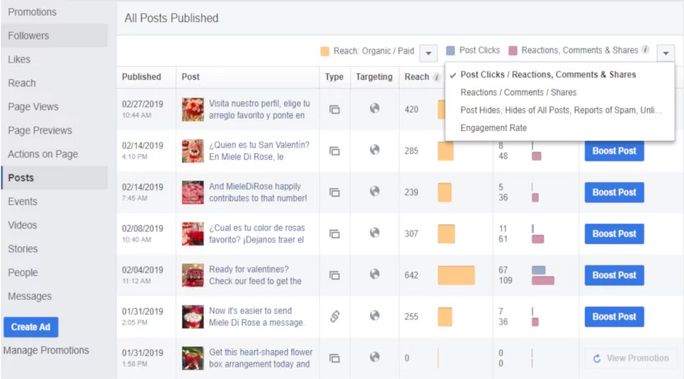 Facebook posts insights will let you choose the KPI's you've set and easily check which content pieces have/haven't met them.
Choose useful metrics that you (and your team, if applicable) have complete control over. Set realistic, yet ambitious targets, these should also influence the achievement of bigger business objectives.
Lastly, to avoid duplicates and organize a consistent posting schedule, consider building a social media calendar. It doubles as a great technique to help you keep track of holidays or events relevant to your business, and give you some anticipation to create valuable posts related to it.
Based on your company's size, you can invite other teams to the calendar. In this manner, they'll know what's next on social media.
As a best practice for large or medium-sized companies (where different people take key roles related to social networking), a calendar would allow them to contribute.
Key Takeaways
Having an active presence on the appropriate social media sites relevant to your business is important to meet your target audience where they are. Analyzing demographics in depth using social analytics tools will greatly influence your decisions for this use-case.
Using social listening is key for sharing content based upon your customer's interests, needs, beliefs, lifestyle, skills, challenges (and more) and this could result in a loyal community.
Preparing visible values, a mission, and settings business objectives related to them is the basis for crafting powerful content for people that support the same cause.
Organizing a healthy mix of posts customized to each social channel and that support business goals while somehow "adding to the conversation" is key for reaching an active community. Adding a call to action per post allows users to know what to do next.
Setting controllable KPIs will help you swiftly identify successful pieces of content and could work as a starting point to improve posts that haven't been as profitable.
Following these best practices can help you grow an engaged online community that could wait for your next moves on social. View each comment as an opportunity to help potential customers, support, and, of course, engage with them to build a strong, long-lasting relationship.