Twitter is one of the best online communication tools available today.
It has become more than a mere social media platform. Today, it is considered more of an indispensable tool for gathering data.
Did you know that…
There are around 6,000 tweets posted every second
500 million+ tweets posted daily
And, in a year, 200 billion tweets per year (200 billion+) were posted
However, have you observed that Twitter's regular search features won't allow you to find precise information?
Thankfully, Twitter's advanced search can, and that's important if you want to know how to search Twitter like a pro.
Twitter Advanced Search is a bonanza for marketers and small company owners as it allows them to identify new consumers and search for tweets effortlessly.
Although, an advanced search is more complex than a standard one.
Let's help you understand how you can master Twitter's advanced search.
Where Is Twitter Advanced Search Located on the App?
You can access Advanced Search on Twitter's website by visiting the below link:
https://twitter.com/search-advanced
Alternatively, you can input your query into the search box on Twitter's homepage and tap on 'Advanced Search.' You can find this in the search filters' upper-right on the results page.
Unfortunately, a user cannot access the comprehensive Twitter search function directly from the Twitter mobile app. You may still access it via the web browser on your mobile device.
Now that that's clear, let's look at the various methods of how to search Twitter via advanced search.
1. How to Do an Twitter Advanced Search via Search Tool?
Twitter includes an extensive search engine that allows you to discover specific tweets. It is one of the best features available on the Twitter web, not on the phone.
Here are the steps for an advanced search.
Step 1 : First, open Twitter, type the search query on the search tool, and press the enter key.
Step 2 : When the search result page opens, you can find two search filters 'People and Location.' They will help you with tweet filtering. Alternatively, choose the advanced search option given under the search filter.
Step 3 : You can search for anything using the advanced search box by using keywords, hashtags, and the minimum number of likes, dates, etc.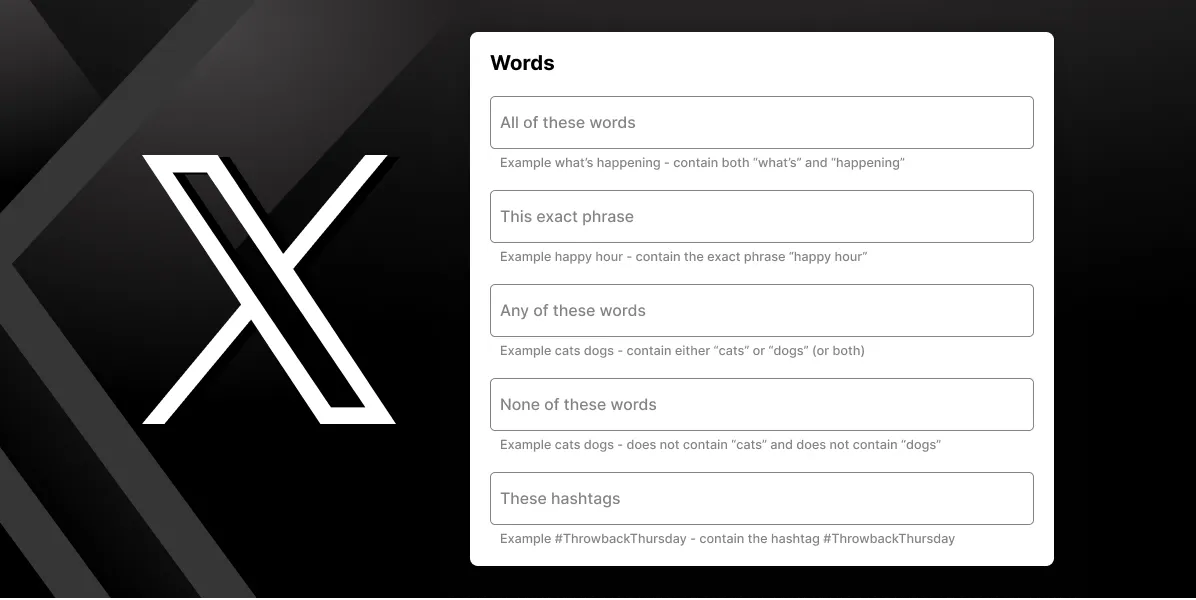 2. How to Do a Twitter Advanced Search With Words?
You can use this field to find tweets that include words or phrases you type. Put two or more phrases in this form to begin seeing tweets that match those terms.
You may search for one or more terms by separating them with quotation marks, such as 'social media' and 'social marketing.'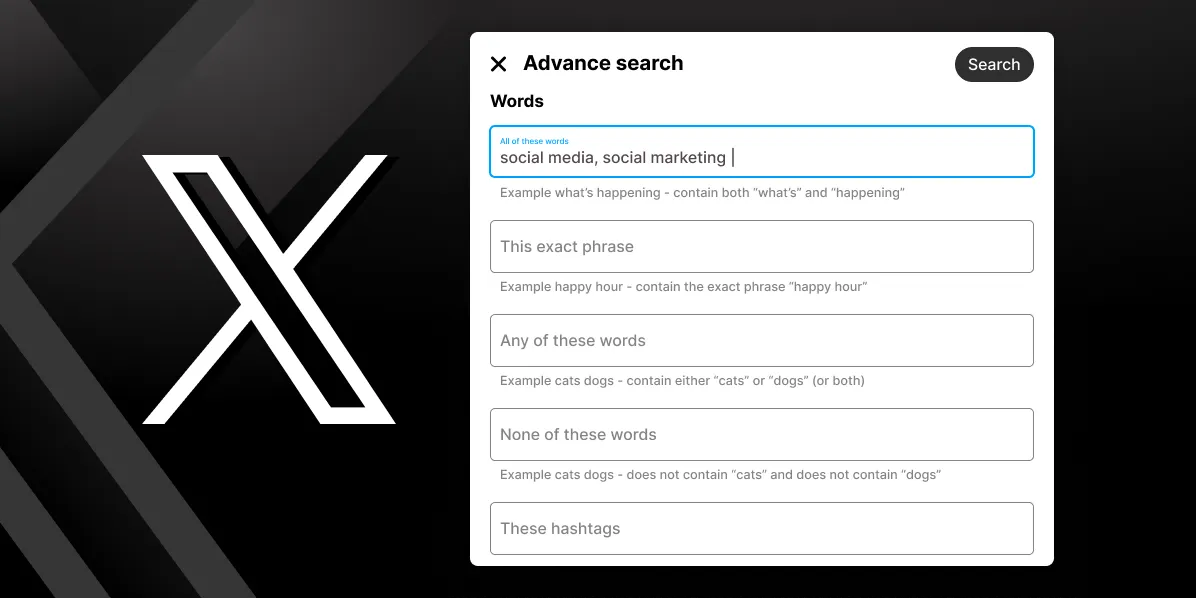 Phrase Extraction
This field is best if you want to search for only one phrase.
For example, if you googled 'Good Morning,' the outcomes would include tweets with the words' Good Morning' rather than 'Good' or 'Morning' individually.
Any of These Words
The field makes it simple to search for several terms. For example, use Social,' '@Social,' and '#Social when searching for anything Social-related.
None of These Words
Coming back to the topic of 'how to search Twitter efficiently?', this is a vital yet easily overlooked field. Whatever keyword or word you provide here will remove Tweets that mention that term or phrase from your search results.
You can use this box to filter away tweets containing a competitor's name or marketing hashtag. Alternatively, you can clarify things (perhaps you're looking for 'tea' but not 'tea party'). This is an excellent strategy for cutting through the clutter and focusing on what is essential for you.
3. How to Do a Twitter Advanced Search Using Hashtags?
You can find a particular tweet by using relevant hashtags.
Simply search by typing that particular keyword in the search bar; for instance, typing '#Android' would bring up tweets with that hashtag.
Alternatively, you can click on the hashtag in any tweet and find more tweets corresponding to the same hashtag.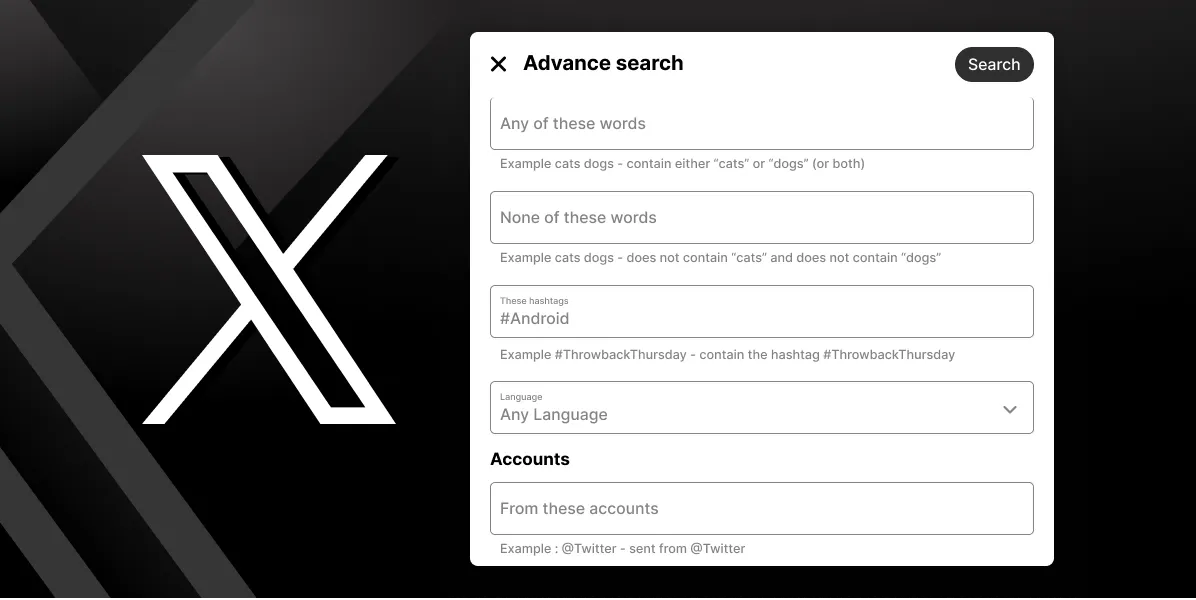 Tip: You can choose which language you want your search results in. Simply click 'advanced search' and scroll down to 'Language.' There are nearly four dozen listed in this drop-down section. We selected 'French' to show an example.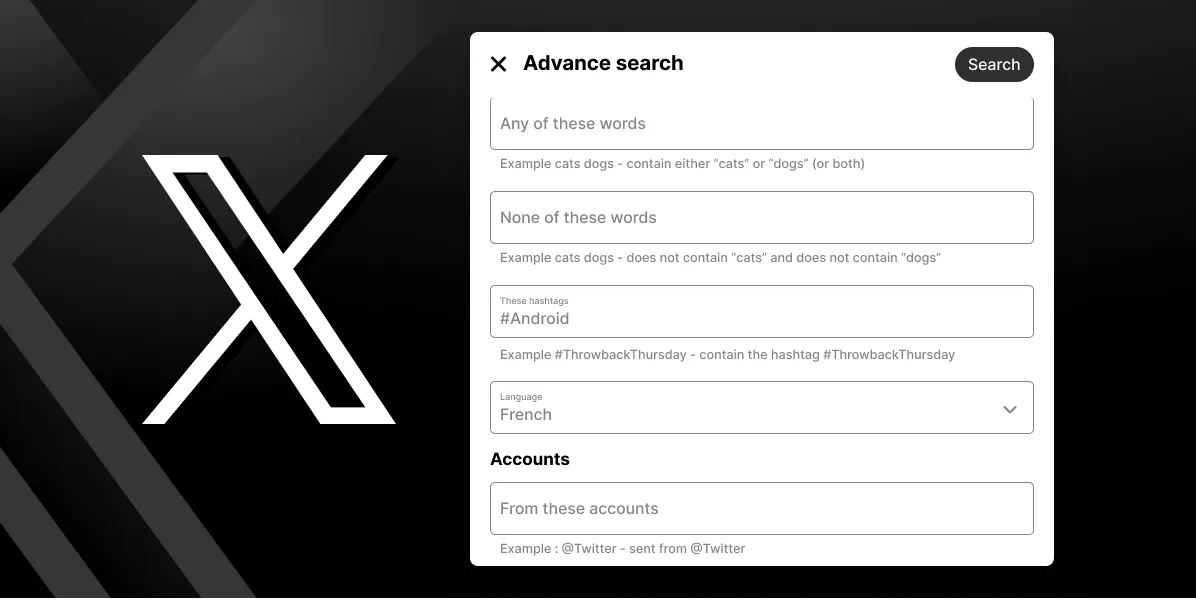 4. How to Do a Twitter Advanced Search for One Specific User?
The following three fields in Twitter allow you to search for one specific user, either the author or recipient of the tweet.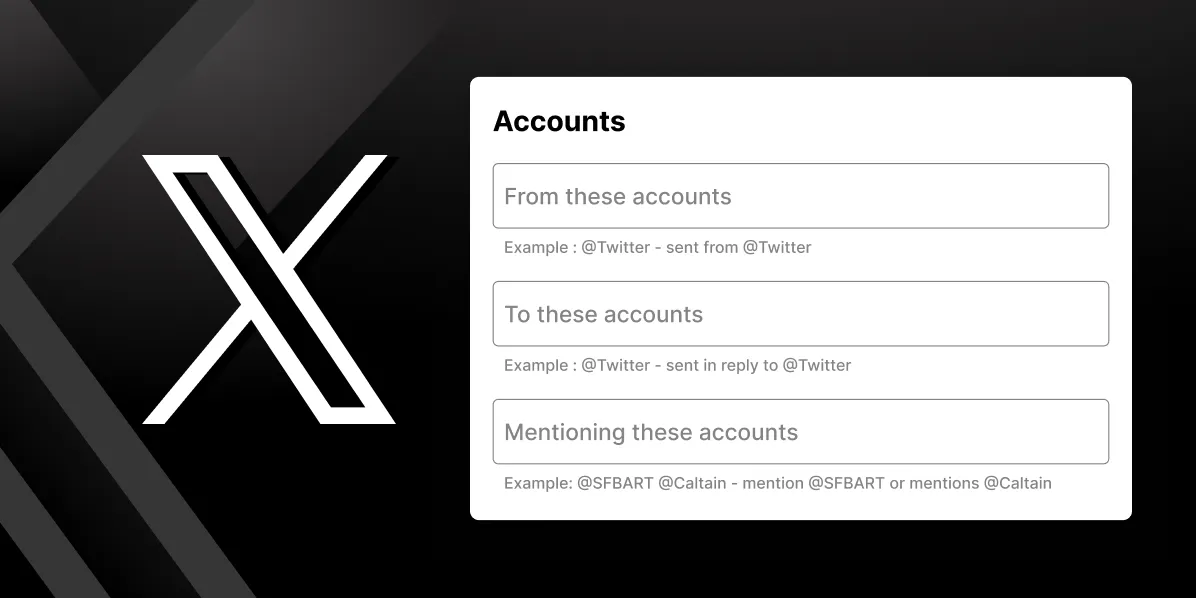 From These Accounts
If you are looking for old tweets, including your own, this query box might be of great help. Just fill in the name with or without @ symbols.
To These Accounts
This section of Twitter is ideal for looking into someone else's profile and finding out what people are saying about them. However, provide the accounts' usernames here to see the tweets posted in response to your significant competitors' tweets.
Mentioning These Accounts
Do you want to know what others think of your brand or competitors? Fill in all of the Twitter handles to see a list of comments that mentions them.
5. How to Do a Twitter Advanced Search Using Replies and Links?
The advanced Twitter search has various basic criteria that allow you to specify whether you want to view reactions or tweets with links.
You can change options as per your preferences. If you wish to read original tweets, disable the responses altogether.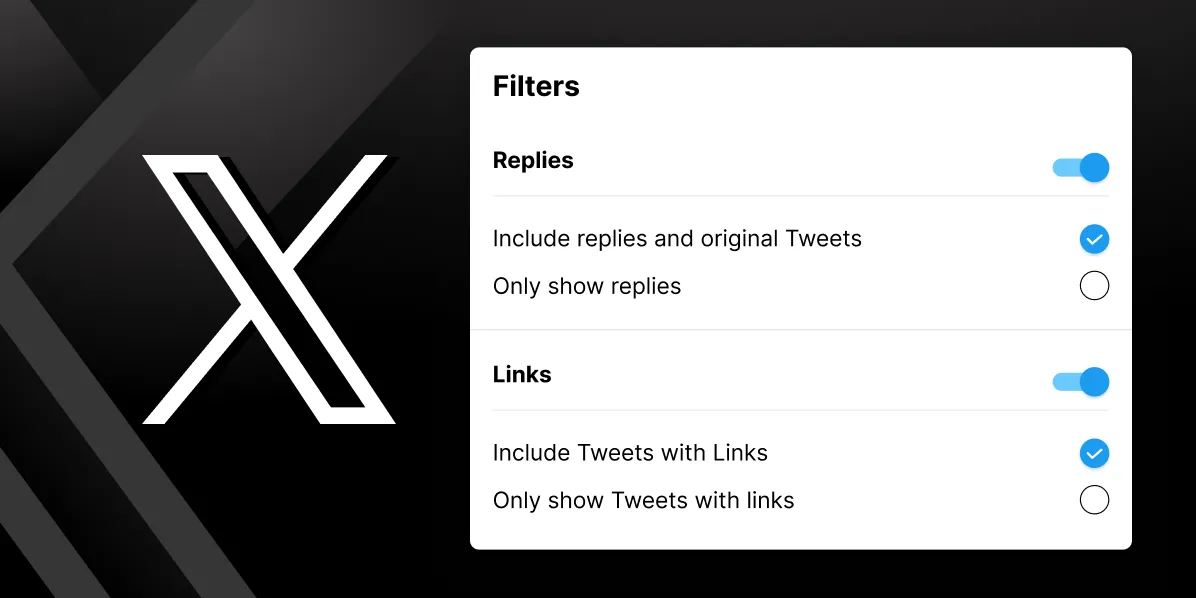 6. How to Search a Tweet With a Specific Level of Engagement
You can filter tweets based on metrics like minimum responses, likes, and retweets. This tool comes in handy when examining tweets with a certain level of engagement.
You can use this search criterion to find what has got the most interaction from your intended audience in your tweeting approach.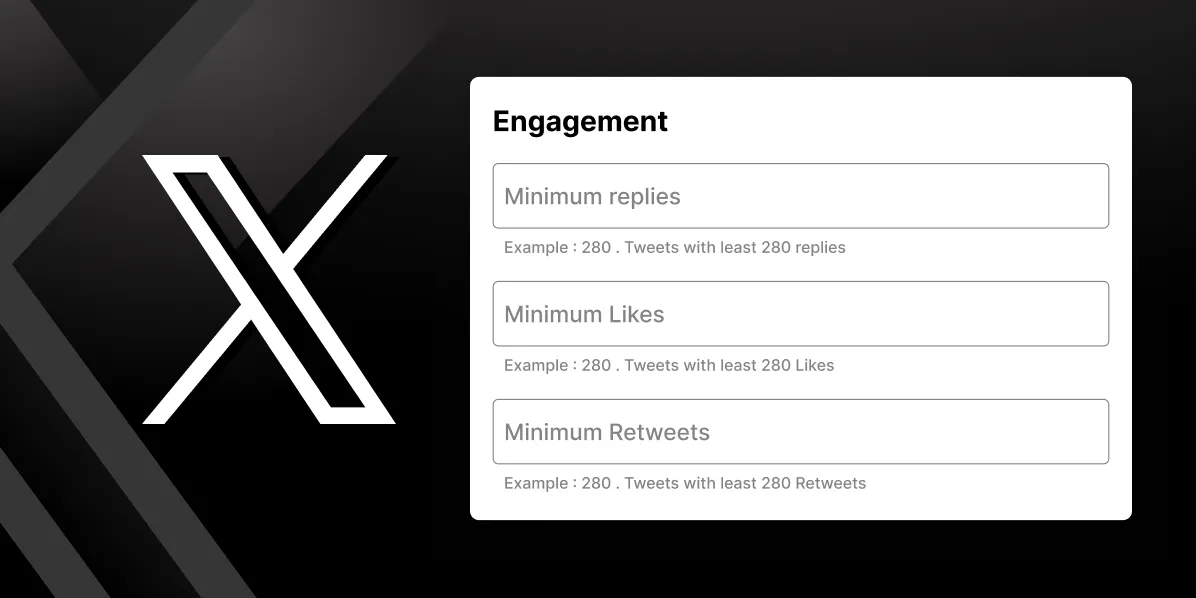 7. How to Search Tweets by Dates
With this search feature, you can set a date range for the tweets you wish to see. This allows you to delete any previous tweets that are no longer useful.
To use this, set the exact range for the date, month, and year in the "from" and "to" section. It can assist you in searching for tweets relating to a specific event that occurred in that particular time range.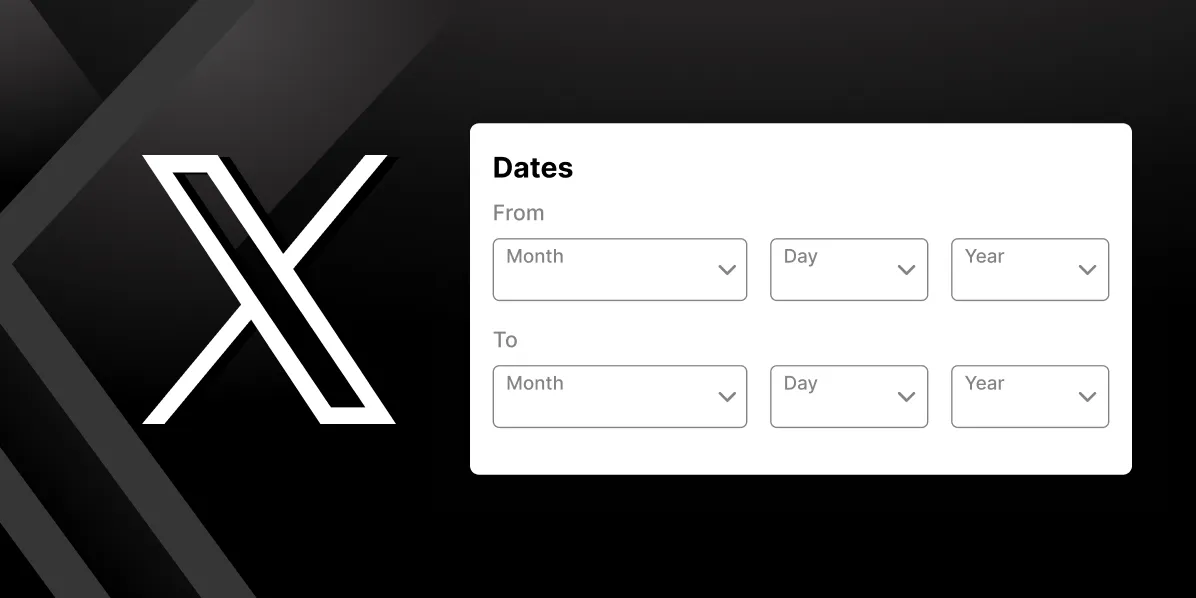 Benefits of Using Twitter Advanced Search Tool
1. Understand Your Audience Behavior
Using the Twitter advanced search, you can easily find people's likes and dislikes, which can help you know your audience's behavior and what they have to say about your product and services.
Are they satisfied with your product or services? What are they like to see in your product? Are they referring your product to others? These are the things with which Twitter's advanced search can help you.
You can format or make a marketing plan with the information you gather.
2. Finding Out Industry Influencers
If you are looking for an influencer for your product marketing, then Twitter is where you can find one.
Use the Twitter advanced search tool's hashtag function to discover industry influencers. Filter out those with genuine followers and can portray your brand's message appropriately to the audience.
3. Increases Brand Authority
Twitter is where people come to share their opinion about anything and everything. In fact, they tweet merely to ask for customer assistance or to provide feedback on a product or service.
Find consumer concerns by searching for phrases like "help," "support" and your brand's keywords. Look for any complaints, suggestions, or even praises that individuals make and respond quickly to them.
4. Finding Media Opportunities
Most journalists, PR companies, and reporters are always looking for brands on which they can carry out case studies. Grabbing an apt media opportunity can do wonders in promoting your brands to users around for free of charge.
You can leverage this by looking for as many chances as possible to promote your brand's products and/or services.
Final Words
In conclusion, we can say that Twitter is the best place to find specific tweets that can increase business leads and improve sales.
Twitter's advanced search lets you target the right audience with the appropriate tag.
You can also use Twitter to search tweets by sentiments using emotions like ":)" after writing the word or phrase in the search section.
The main benefit of using the advanced search engine is easily finding your user's behavior with the likes and dislikes in your comment post.
Moreover, you can find influencers for your business using the hashtag tool in the search section. You can increase brand authority and find suitable media opportunities.
So, if you're not using Twitter's advanced search yet, now would be a great time to begin!