YouTube is not just about the content that you put in your video, it is also about the bits of content across your channel.
Whether it is the description of a video, or the description of your channel, or even the thumbnail – everything matters.
The description that you write should resonate with what your channel is about. Do not get confused between a video description and a channel description.
While a video description is specific to a video, a channel description stays on for the long haul.
But, we would suggest you update your channel's description as the content you share evolves.
So, without any further ado, let us start your visual/textual tutorial on how you can craft an engaging YouTube channel description.
How to Create a YouTube Channel Description
We know you want your channel description to stand out. At the same time it is crucial to be discoverable and relatable.
So what exactly should you do?
1. Use Keywords in the right way
Your channel's description conveys to your viewers what your channel is all about. It should also pop up in the search results. This is why it is crucial to use the right keywords. Not only can these keywords increase your views, they can also enhance the watch time.
While we strongly recommend you to use keywords, we also wish for you to use them sensibly. Do not simply flood the description with keywords.
We suggest using a maximum of two words in both the description and the title.
To find the most popular keywords you can use a keyword research tool. There are many such tools out there. Some good ones are SEMRush, KWFinder, Google Keyword Planner, and Google Trends.
2. Make sense with the description

Descriptions that do not make sense to your viewers are a huge turn-off. Your description should speak volumes about the content of your channel; it should also not bore them.
Tell them what your channel is about concisely and include something like a playlist or time stamps to videos.
We strongly recommend against using click baits. They might work to get you clicks but the viewer would not stay on your channel or video for long.
If your channel description does not match with what your channel is about, the viewers will either not subscribe or unsubscribe after their expectations are not met.
3. Use friendly language and be relatable
You must understand what your audience wants. There is a process to doing this. Firstly, you should know who your audience is and then do your research about what they like and dislike.
Based on this knowledge, create your content. It is preferred to use language that the viewers will understand. While we are all pro about embellishing your content, putting too many fancy words can be a buzzkill.
Try to stay relatable, understandable, and natural.
You can also use writing resources or hire someone to do the job for you. Or take a few classes on writing well.
Always remember, less is better. You need not be very descriptive in your description. Keep it short and sweet. Break it down into smaller parts and make them want more.
4. Front-load the keywords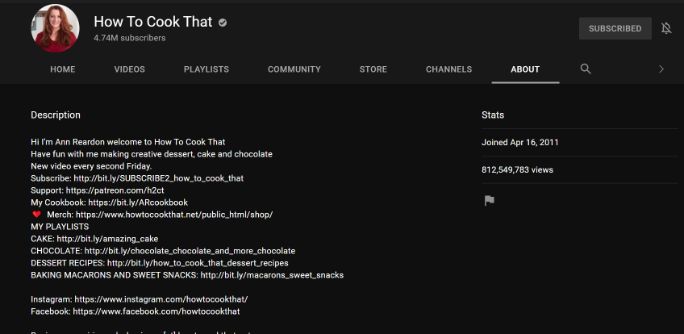 The first few words of your channel description are important. This is because they display in the search results under your channel name and alongside the thumbnail. These 100-150 words will become the reason for people to click on your channel.
Not only should you try to make this part sound good enough, you should also put your keywords here. When we say front-load, we mean placing the keywords at the very start of the description.
Ensure your keyword pops up at least once in the first 150 characters. Even the algorithm on YouTube gives first preference to the initial part of your description for SEO.
Work on this to ensure your viewers click on "Show more" to see the rest of the description of your channel.
5. Add a CTA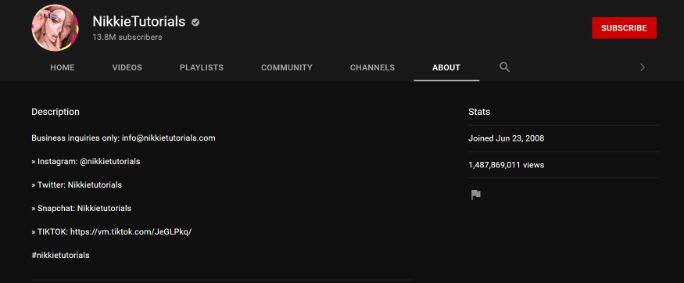 Once a viewer reads your channel's description, they should be prompted to act. And the one way you can make them act is by giving actionable CTA.
The best call-to-actions are those that include something that will benefit the reader. You can give them a link to your playlist, add a link to your social media handles, or your website. The possibilities are plenty.
Use YouTube Video Description Templates for Ease
Whenever you are clueless about how to write something exquisitely well, go for templates.
Luckily, for YouTube descriptions, templatizing is an option. To create great descriptions, either for videos or for channels, you can use a template.
The use of a template ensures that you write the right thing and ensures you show up in search results with what you write and the way you write it.
To find the right template for you, there are a few things that you can do:
1. Look at what the big guns are doing
By this, we are suggesting you check out the channels of famous people in your niche. How have they written their description? From here, you can gather some insights. This applies to both video descriptions and channel descriptions.
While some famous YouTubers like PewDiePie like to keep it simple by saying – "I make videos", others prefer to be more detailed.
It is not always necessary that what works for them will work for you, and they may have changed their channel description many times over the years, but it is still a good strategy, to begin with.
So whenever you choose a template, ensure that it carries some of the crucial features included in the channel descriptions or video descriptions of famous YouTubers.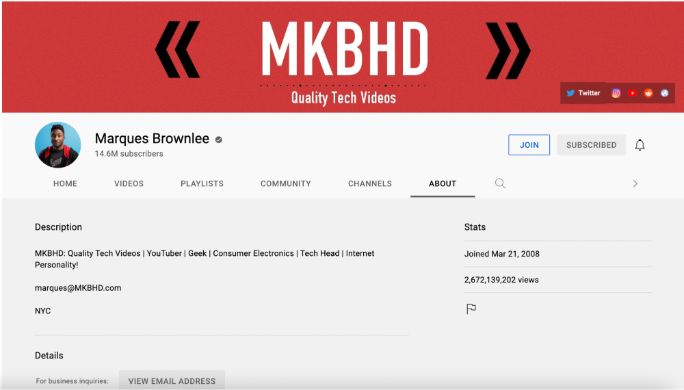 Marques Brownlee did a great job with his YouTube channel description. He has a crisp and short description that gives the viewers the idea of his channel and what the audience can expect from Marques.
You can use this template for your channel description or come up with something creative on your end.
2. Choose between a snippet and a detailed description
There are two types of templates out there. One is short, and we call it a snippet. And the other is a more detailed version.
Before you choose the final template out of either, understand the need of your channel or your video. If details are indispensable, go for the detailed version but in every other case, opt for a snippet.
Snippets are usually more focused on creativity because you are already using a few words, so you might as well use the right ones. Detailed descriptions rely heavily on information.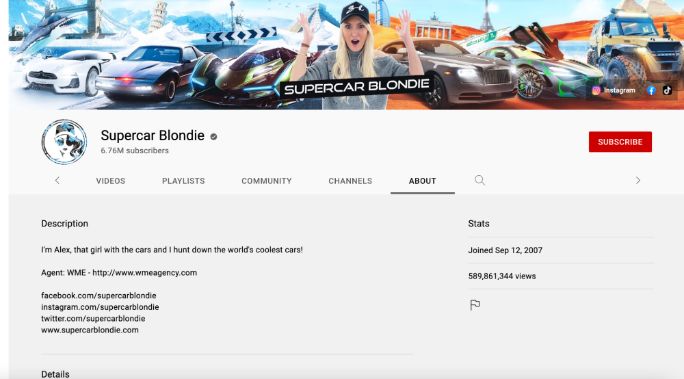 For example, one of the famous YouTubers, Supercar Blondie, didn't use any detailed description, instead, she has a creative snippet that represents her love for cars and her content related to exploring the world's coolest cars.
3. Choose between subscription CTA or website/social media CTA
If you're wondering how to add clickable links to YouTube video descriptions then choose a template that suggests a subscription CTA or a website/social media CTA.
If you are active on social media, give that as your CTA. If you want traffic to your website, give that. Or if you plan on going by a subscription-based model, give that. But if you have the best of both worlds, then decide on what ranks higher on your priority scale.
For YouTube videos, if there is a brand link or another link that you want your viewers to access during or after the video, then include that. For longer videos, look for a template that has time stamps on it.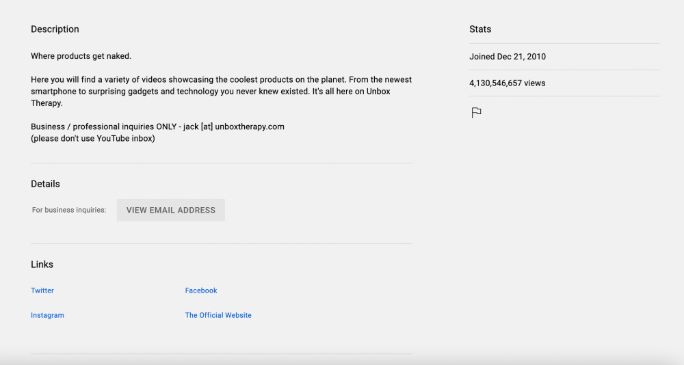 CTA is a crucial part you can include in your channel description. Like in the example above, Unbox Therapy has placed an email CTA so that if there is any professional or business inquiry, they can get in touch with the team at Unbox Therapy.
For the viewers, there are specific links placed at the bottom to the website and other social media handles
4. Go for one that includes copyright, if necessary
Some may find it better to include copyright in their channel description. If you are among those "some," then, by all means, opt for a template that includes copyright details of your brand/company/channel.
For a channel that has just begun its journey, the inclusion of copyright is not necessary.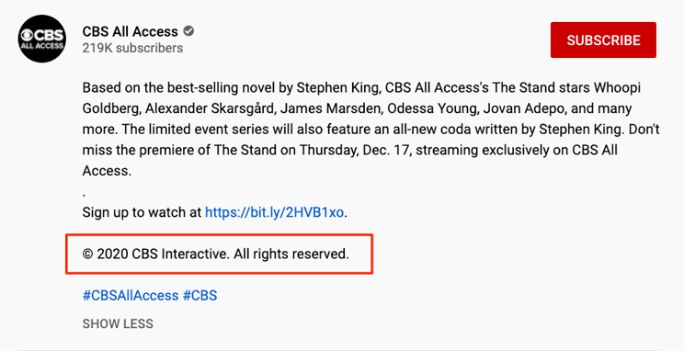 You can use the above template to include copyright. Listing out copyright is ideal for businesses and brands if they don't want other content creators to use their content. But in the end, it all depends on what you want for your YouTube channel.
The Don'ts of YouTube Channel Description
You must have realized by now that writing a good YouTube channel description is not too demanding. While there are some things you should certainly do, there are also some things you should certainly avoid doing.
Wondering what those are?
Do not be too wordy
We know it feels good to tell the world that you are good with words. But if people loved words, they would rather read a book!
Using way too many fabulous yet tiresome words can cost you clicks. Remember, people rarely read the content on the web, they like to skim through things. This is where your simplicity is highly appreciated.
Do not use too many keywords
So, you did keyword research and thought it best to include as many keywords as you can. Well, you have taken the wrong approach.
While keywords are indispensable for good ranking, they are not all that there is. Overloading your description, be it for channel or video, with too many keywords is certainly not a good practice.
Keyword density should stay at 2% of your content. So, take a look at the final word count and see if the keywords comprise 2% of it or not.
Do not violate YouTube Community Guidelines
YouTube has exhaustive community guidelines in place, and they would be really mad if you were to violate them.
While you can always Google what is considered "acceptable" in their guidelines, the general notion is to steer away from any abusive and demeaning language. Do not use CTAs that redirect to spam websites or promote violent and sexual content.
If found in violation of Community Guidelines, your channel can be terminated right away.
Do not be too lengthy
We get it if you like being detailed, but there is a spot between being too detailed and rightly detailed.
Sure, YouTube allows you a maximum of 5,000 characters in your description, but there is no need to use all that space. People are not on your channel to read; they are there for your videos. Therefore, writing to the point that beholds your viewer is enough.
Go on, Craft your Channel Description already!
Channel descriptions give a complete overview of your YouTube channel, they help to attract new audiences to look into your content. Now that you know how to create eye-catchy channel descriptions, you are good to go.
Make sure you keep in mind all the major aspects listed above before you craft your channel description.
If you need to solidify your social media marketing efforts, you can make use of SocialPilot to smoothen the process. With features like content scheduling, content calendar, and content customization – managing and optimizing a social media campaign becomes super easy.