Do you know what is one of the most underrated and underutilized features by businesses on YouTube?
YouTube Playlists.
It is a feature that a YouTube business channel can use to maximize its results.
With tons of benefits hidden under its belt, it requires a proper understanding and learning to extract its most fruitful juices.
We have tailored the most result-oriented tips and strategies that you can use with your YouTube playlists and make the most of them.
But before we get into that, let's understand all the basics about YouTube playlist and why playlists are important for business channels.
What are YouTube Playlists?
YouTube playlists are simply collections of videos that play orderly and are related to a common subject.
You have the freedom to create a playlist with your videos, curate other creators' videos, or combine both options. You can manage all your playlists on YouTube Studio and even share them with your viewers, team members using multiple social media channels.
You have the option to create, edit, and delete your playlist whenever you want to. Some of the most common playlists around YouTube are tutorials, music playlists, how tos, among others.
But what makes a simple feature of combining multiple videos such a powerful marketing asset for business channels?
Curious? Let's find out.
Why are YouTube Playlists Useful?
If you want to enhance the odds of people discovering your video on YouTube, a playlist can help.
It helps to increase the time duration of people engaging with your business channel and consuming your valuable content. If you have set the sequence of your video pitch-perfect, your audience will be drawn to the slippery slide of your videos.
Let's see what other magical things it offers:
Increased Watch Time
The watch time of your videos is one of the deciding factors that the YouTube algorithm checks to increase your reach and visibility on the platform.
With people watching a video in your playlist, chances are they'll watch other videos related to the topic. It will boost the viewer's time and engagement on your videos and channel, thus making the algorithm help you reach a wider set of audiences.
Enhanced Discoverability
Playlists appear separately compared to any individual video in the search results and your channel profile. They also pop up in the suggested videos. Why? Because YouTube also wants its users to spend more time on the platform, playlists help achieve this goal.
So the algorithm gives more importance to video playlists. You can also target specific keywords while creating a playlist to improve the visibility and discoverability of your videos in search results.
Improved Marketing Efforts
With the algorithm helping boost the reach of the playlists, it minimizes the marketing efforts and maximizes the results you'll gain from a playlist.
With playlists popping up on every other suggestion segment of users on YouTube, it makes it easier for businesses to fulfill all the goals by creating intuitive and engaging playlists, so the user remains glued to the screen.
If your subscribers are watching multiple videos in a row, it will help you enhance your search results and boost your marketing efforts.
But creation is just one side of the coin; you need to be aware of all the strategies and tricks to make the most of that creative part.
It is about time we discuss all the tips that can help you manage YouTube playlists in the most effective way possible.
8 Tips and Tricks on How to Create a YouTube Playlist
Like using all the tips to manage your YouTube channel and YouTube videos, you also need to know all about your YouTube playlist.
1. Tell a Story
One of the first things you need to keep in mind is that your playlist should be a long video divided into short videos linked to each other. It should feel like episodes of a TV show so that the viewer is eager to know what's in for them in the next episode. It should tell a story through every episode the viewer clicks.
Doing so can help make the viewer watch every episode from the start. Try to keep an open loop at the end of each video, so they become eager to know what's in the next episode.
Even if viewers land on a video placed in the middle, they want to know the story's beginning.
This will boost the watch time and help increase engagement in every single video of your episode.
2. Rank on Popularity
You set the flow of your playlist by easily managing the order of your videos in your video manager on YouTube. Powerful analytics helps you refine your marketing strategy, and it also helps you amplify the power of your playlists.
How?
By selecting the order of your videos according to the performance of your videos.
Go to playlist settings, and then under the ordering section, select the most popular video. Once you are done, try to interlink all the videos to the most popular video in your playlist.
It will help to channel your audience towards the underperforming videos in the playlist. It will help you boost the views and engagements on all of your videos in the playlist.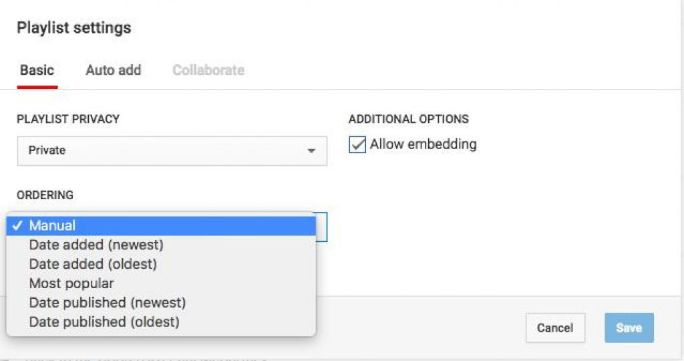 3. Optimize for Search
Optimizing your videos for SEO is a key ingredient to rank your playlists in YouTube and Google search rankings.
Optimizing a playlist is easier than optimizing videos, as the work to be done is minimal in comparison. Go to the playlist page and write an enticing title and description of your playlist.
Don't forget to add SEO-optimized keywords so that Google and the YouTube algorithm love your playlist and rank it higher in the SERPs.
4. Add an Intro Video
It is not a compulsion to add an intro video to every playlist, but you should not back off from the playlist that demands an intro.
It gives a brief idea about the playlist and what a user can expect from your playlist.
Suppose you created a playlist related to Yoga practice. Intro video can include an instructor giving a brief about the training and welcoming all the viewers to the playlist.
Besides giving a brief idea about the playlist, an intro can also make the viewer feel welcomed and important, increasing the viewer's retention rate throughout the playlist.
5. Check your Privacy Settings
Just like selecting the privacy options of an individual video, you can set and edit your playlist's privacy setting to public, private, and unlisted.
If we talk about the public playlists, they can be seen by anyone using the YouTube platform
Private playlist can only be viewed by you or anyone you choose to invite
Unlisted playlists can be viewed by you or anyone who has the link to your video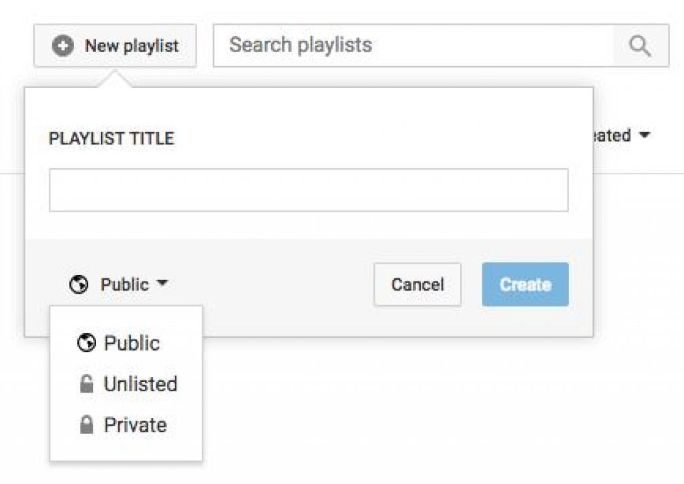 You can also tweak all the general playlist settings by clicking the gear icon. You can add the feature of the activity feed for display when you update or add a playlist.
6. Add Optimized Thumbnail Images
Thumbnails can also play a decisive role in viewers clicking your video and watching it.
Apart from the title, they are another important thing visible before the viewer clicks the video.
Choosing eye-catching thumbnails for your playlist can spark the fire in your playlist success. Use a powerful tool for creating amazing thumbnails and make sure that you have placed an attractive thumbnail on each of your videos in your playlist.
You can also choose to add similar effects and text layovers on your thumbnails to make sure that you represent uniformity in your playlist. One popular platform for thumbnail creation is Canva.
7. Trim excessive Information
You don't want to bore your viewer by talking about irrelevant content on your playlist. It will result in breaking the interest of the viewer and the flow of your videos, hence failing to fulfill your YouTube marketing goals and gaining huge engagement on your videos.
You will minimize the effect of your playlist if you choose to do something out of the box. Keep your content tailored to the subject of the playlist. Don't go off the track.
8. Engage with your Audience
Consistently engaging with your audience will help you gain the trust of your audience and make them choose your content over your competitors.
You can also ask them for some content ideas for your playlist, which will ultimately help you gain more watch time and improve your playlist because your viewers wanted that content from your end.
Ask them how they like the videos or playlist and address their problems with professionalism. Don't get carried away with negative comments and make a mess of your brand image. Remember, it's the overall brand you are representing on YouTube.
Time to Sync your Playlist!
We hope you understood the importance of having a playlist on your YouTube channel and learned how to manage and extract the most from your YouTube playlist.
Use these tips and strategies effectively and see your YouTube channel scale to a new height outshining your competitors and gaining a huge subscriber base.
You can use other social media handles to promote your playlist and channel. And if you need a helping hand in managing and optimizing your social media handles easily, there's always SocialPilot to assist you.
With an intuitive and easy-to-use platform, you can create your content calendar, schedule your content, curate your content and use multiple social media marketing features.
All the best!