With over 2 billion people using YouTube every month, it's the virtual hang-out zone.
YouTube is the second-most visited website on the internet, and businesses across the globe are using YouTube marketing strategies to grab their target audience's attention.
Even with big guns making a great impact on the YouTube audience, there is still room for small and medium-scale businesses to impact.
The right YouTube marketing strategy and tools can help any business scale in the crowded YouTube space.
Many businesses jump into the Disneyland of YouTube marketing and somehow get lost without achieving their business objectives.
You don't want to fall into that space, right?
We got you covered.
Now, you can kick-start your successful YouTube journey with this detailed and insightful guide on YouTube marketing.
It doesn't matter whether you are new in the business or are an established brand. Our 360° guide will help you implement and even polish your existing YouTube marketing strategy.
So without further ado, let's get the ride started.
YouTube for Business
With YouTube rolling in updates regularly, the entire space has created many opportunities for businesses. YouTube consistently removes hurdles for brands and companies and makes it simpler to help them market their products or services using YouTube.
But before you get excited and start taking action, you should be crystal clear about how YouTube works for businesses.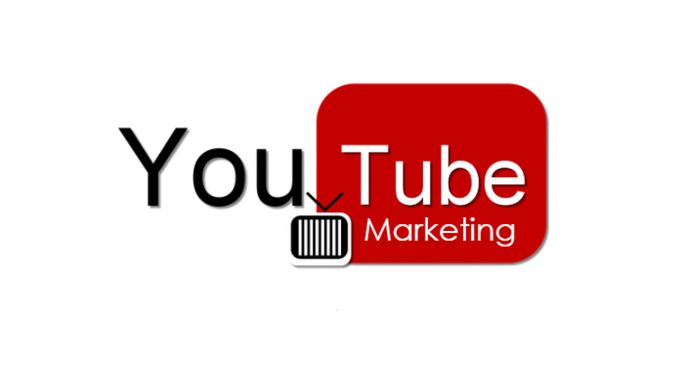 Here are the key steps you need to take to get started with promoting your business on Youtube:
Learn how to set up your YouTube channel for businesses and brands
Verify your business on YouTube, and
Use YouTube marketing tips and strategies to extract the desired revenue and business growth using the platform.
YouTube Videos
So you create your online presence, run through all the latest algorithm updates, and are ready with your YouTube marketing software, but all this is just the first step of your YouTube journey.
You need to be reliable and consistent with your YouTube videos and regular content uploads if you want to strengthen your brand's presence and boost your subscriber base.
With YouTube videos, we mean videos specifically created to match the standards set by YouTube. They are not the regular video content posted on other social media platforms.
You need to be aware of the YouTube video guidelines, YouTube video dimensions, YouTube video thumbnails, YouTube video upload limits, YouTube playlists, and many more basic things surrounding YouTube videos.
All these understandings will help you significantly impact your business and solidify your YouTube marketing approach.
Once you learn the art of creating valuable, high-quality YouTube videos that make your audience fall in love, then there's nothing that can stop you. Also, take some time to understand the best time to upload your YouTube video to reach out to as many YouTube users.
YouTube Channel
YouTube is one of the most significant platforms to kick-start any social media marketing campaign. With 500 hours of regular video uploads every minute, there's no denying the fact that a brand or business must build its presence on YouTube.
Creating a YouTube channel takes a lot more than it seems. From all the basics about setting up your channel to the advanced management of optimizing your channel, there is multiple nitty-gritty you need to take care of.
So put on the director's hat because we will see some serious details regarding a YouTube channel.
Sign in. Create a new channel. Name it
Fill in the YouTube channel description
Don't forget about the YouTube channel art

Be aware of the niche, market, audience, and content you are about to upload
It's time for your channel teaser
Once you are done with all the basic settings of your YouTube channel, then we have to jump on to the next level.
Click the upload button the very first time
Make sure you optimize your videos for search. Fill up the title, description and tags very carefully
Make sure you remain consistent with your content uploads; you can create a content calendar for keeping track of your consistency
Don't forget to link all your other social media and website channels with your YouTube channel
Increase your audience engagement and let them know that your brand or business cares about them
Make the most of YouTube ads
Optimize. Optimize. Optimize
These vital tips related to your YouTube channel will help you grow your subscriber base, make your audience become your raving fans, and ultimately help you achieve your YouTube marketing goals.
YouTube Subscribers
YouTube subscribers are the heartbeat of any YouTube channel. Without subscribers, you can't fulfill your YouTube marketing goals.
Subscribers help you grow your channel, increase your watch time, bring in more subscribers, act on what you desire from them, and be loyal to your brand or business.
There are a couple of ways to attract YouTube subscribers – white hat and black hat. We recommend you follow ethical or white ways to gain YouTube subscribers.
You can take advantage of YouTube video SEO or paid advertisement to achieve your subscriber goals. But without consistent content uploads and hard work, you can't sustain your subscribers if you wish to grow like some of the top subscribed channels worldwide like T-Series, Cocomelon, SET India, PewDiePie, and Kids Diana Show.
YouTube analytics or any other powerful third-party tool for optimization will help you paint a clear picture of your performance and make you aware of what to improve about your channel to grow its subscriber base even more.
YouTube Music
Introduced in 2015, YouTube Music improved the way people listen and groove to music on YouTube. YouTube Music aims to provide a tailored experience for music streaming, browsing through music videos based on playlists, genres, artists, and recommendations on YouTube.
It got an upgrade in 2018, which included a web-based music player and revamp of the mobile app. It became a separate service positioned in competition with Spotify and Apple Music. It offers background audio-only and ad-free music streaming for its premium subscribers.
If your brand or business associates with the music industry, you can use this effective service offered by YouTube and scale your music videos like never before.
YouTube Live Stream
YouTube Live Stream is an interactive way to interact with your audience and create a healthy relationship with them. It is an effective way to stand out from your regular pre-recorded videos and is great for a change.
But being in a live session with your audience has some dos and don'ts you should be aware of. You don't want to bore your audience with your live sessions, do you?
So first, you need to create a buzz about your live session so that more of your audience can join in. Second, try to make it a virtual event with announcements, special guests, reveals, or Q&As.
Adding a touch of spontaneity will help you make your live sessions more engaging and fruitful for your audience. Check out the basic tips and tricks related to YouTube Live Streams:
Make sure your channel is verified
Prepare a thumbnail, title, and description
Start recording on a desktop, mobile, or an encoder
Timing is important
Your setup should be up to date
Try to promote an event
Engage with your audience
Analyze your performance
Once you master the art of YouTube Live Stream, your audience will engage with you more, which will ultimately help you achieve your YouTube marketing goals.
YouTube Marketing Strategies and Tactics
There are numerous marketing opportunities YouTube brings to the business end of things if your target audience is using YouTube, which probably is the case, because of its massive login numbers, approximately close to 2 billion per month.
Moreover, YouTube ranks amongst the top used platforms among adults in the U.S.
So making use of result-oriented YouTube marketing strategies and tactics is a must to make sure you tap into such a huge user base and make the most of the opportunity provided by YouTube.
But how to craft a successful YouTube marketing strategy tailored for your business?
Here is the most basic yet effective YouTube marketing strategy you can make use of on YouTube:
Make your business YouTube channel
Be crystal clear about your audience
Know everything about your competitors on YouTube
Learn from the best and top YouTube channels
Optimize your videos – Title, meta, descriptions, and tags
Schedule your video uploads
Optimize your YouTube channel – channel art, channel description, channel trailer, social media links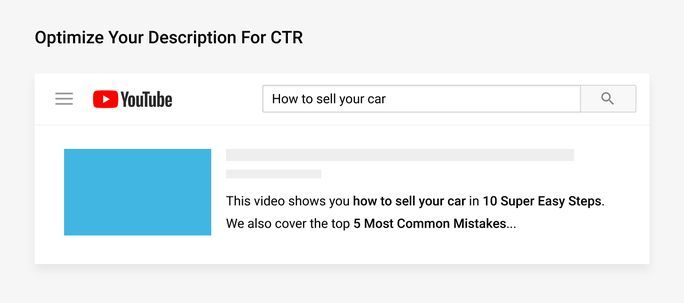 Scale with YouTube ads
Associate with influencers
Adapt and analyze your every single move
Mold it according to your business and YouTube goals, add or remove any of the above-listed points, and you are now ready with your YouTube marketing strategy.
YouTube Marketing Software
YouTube marketing software assists and speeds up the process of your marketing strategy. YouTube marketing software and tools are necessary for any successful YouTube marketing campaign.
They can help you grow your audience, attract viewers, help you stand out from your competitors, and help you achieve your YouTube marketing goals with ease and finesse.
From editing videos to analytics, from making attractive thumbnails to scheduling your Youtube videos and Shorts, there is a tool for every aspect of your YouTube marketing strategy.
Have a look at some of these effective and powerful tools that can help you with your marketing:
SocialPilot
Canva
VidIQ
Social Blade
TubeBuddy
BuzzSumo
Apart from these, you'll find numerous YouTube marketing tools that you can try to figure out which suits your business the best and that helps you achieve your YouTube goals swiftly.
YouTube Analytics
You can pick out any successful YouTube marketing strategy, but it will always be incomplete without YouTube analytics. Analytics is the process of figuring out the result of your performance. It's just like the report card after the end of your semester. It helps you determine what works and what doesn't, and hence, provides you the starting point for optimization.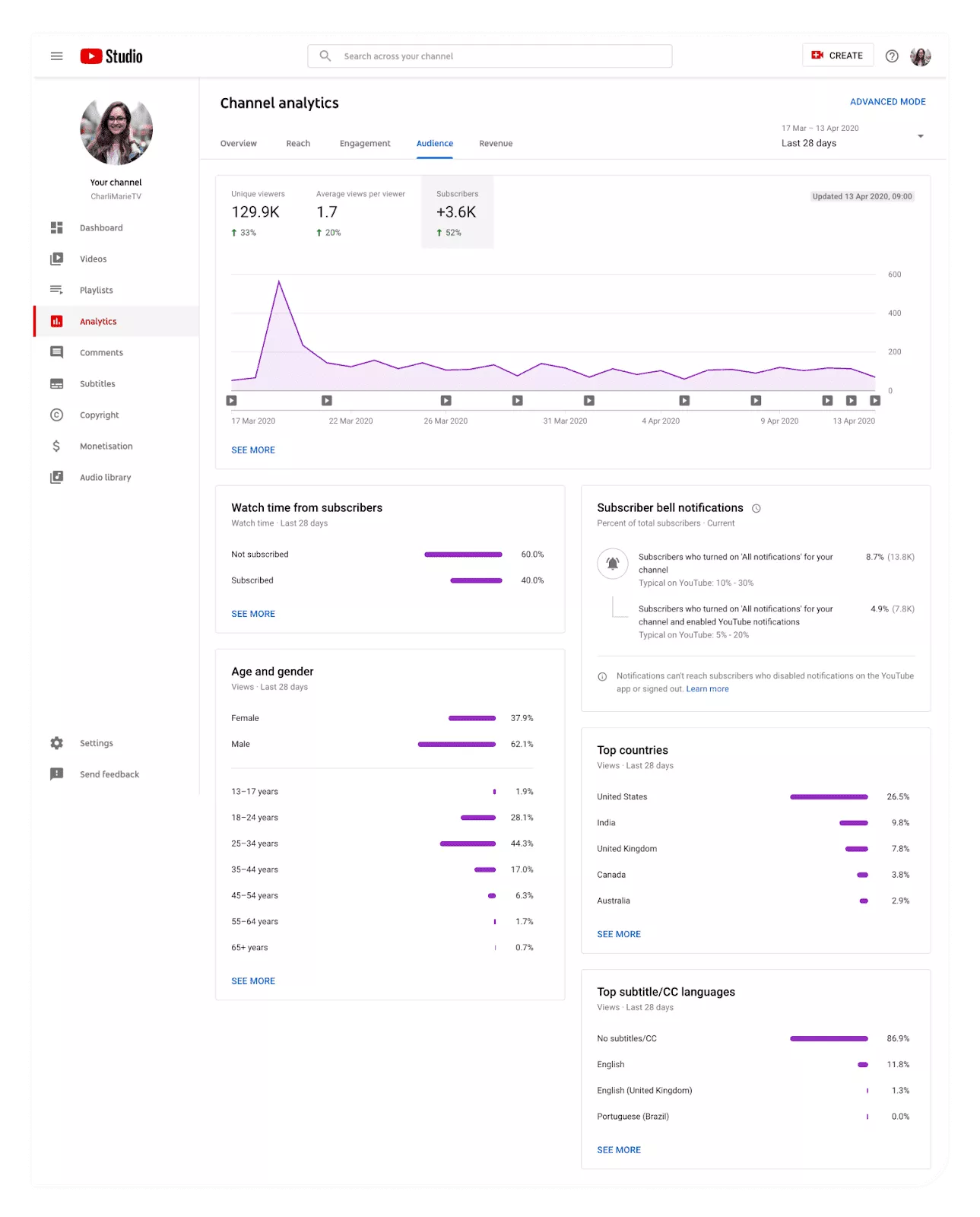 You can make use of YouTube's default analytics tool known as YouTube Studio to understand all the basic functionality of YouTube analytics. If you want to step up things a bit, you can use third-party powerful YouTube analytics tools.
YouTube analytics cover:
Video content stats
Audience
Your overall performance
Have a look at the top YouTube analytics tools you can use:
Vidooly
UnboxSocial
ChannelMeter
Unmetric
All these powerful tools are highly effective and advanced, so we recommend that you start a new journey on YouTube, get your hands on YouTube Analytics first, and then jump onto these tools.
YouTube Ads
One of the most underrated yet effective aspects of any YouTube marketing strategy is YouTube ads. It is a lethal weapon to boost your reach, engage your audience, increase your brand awareness, and attract instant subscribers.
Because big guns are taking the top spots in almost every niche and industry, the significance of YouTube ads increased like never before.
You can run a video ad campaign using YouTube ads to promote your channel, product, service, or any other purpose to fulfill your goals. It will help you gain instant engagements compared to any other form of YouTube marketing strategy.
With YouTube ads, you'll get:
Great reach and ad inventory
Unmatchable targeting options
Powerful AR tools
And much more.
YouTube ads have been consistently improving and helping businesses scale up their reach, generate great brand awareness, improve their subscriber base, and fulfill their YouTube marketing goals easily.
To wrap up our discussion on YouTube marketing, it takes a lot of effort and consistency to make any marketing campaign a success story.
But with the right set of tools and strategies, you can pull off what a lot of businesses are unable to do in the highly competitive YouTube space.
Make sure you go through this complete YouTube marketing guide thoroughly and craft your tailored YouTube marketing strategy, which contains all the vital elements to make it successful.
To schedule your Shorts and Videos on all your YouTube channels from a single dashboard, check out SocialPilot. This is one stop shop for all your YouTube Marketing needs. Opt for a 14 day free trial and execute your posting calendar with ease.