Did you know more than 720,000 hours of video is uploaded on YouTube
Well, by just looking at these numbers, you might get a little overwhelmed.
But, if you dig a little further, you would understand that getting around 500 to 700 views on your videos is already an achievement in itself.
So pat yourself on the back if you are already there.
Getting more than 2k or 10k or a million views is always a dream of YouTubers. There is a lot of effort required to reach this milestone.
However, there are some hacks that you can use to increase the reach of your videos.
In this article, we are going to tell you some useful tips and tricks on how to get more views on YouTube videos.
Tips to Get More Views on YouTube Videos
1. Gain Proficiency in YouTube SEO
YouTube operates on its unique algorithm. With the help of YouTube Search Engine Optimization (SEO), you can attain organic traffic on your videos.
The process of search engine optimization will rank your video higher in the search results. Your videos can also appear in YouTube suggestions, which are the popular means of discovering new creators on YouTube.
Here are some steps you can follow to optimize your videos:
Use High Volume Keywords
Make sure that you use high volume and descriptive keywords in your video description to reach the relevant audience.
You should also use these keywords in your video titles. You must come up with a title that sparks immediate curiosity among the prospective viewers.
But that doesn't mean they have to be clickbait. It creates distrust among your audience.
To ensure that you are using appropriate keywords, various free SEO tools are available online to help you.
Note: While writing video descriptions, make sure that you don't flood it with keywords, or else YouTube would mark your video as spam, and it won't appear in the search results.
Insert tags

You can further set your content apart by inserting some tags in your videos. The tags will help the YouTube algorithm better understand your content to recommend it to others.
Make use of various SEO tools or hashtag generators to get an idea.
Create Out of the Ordinary Thumbnails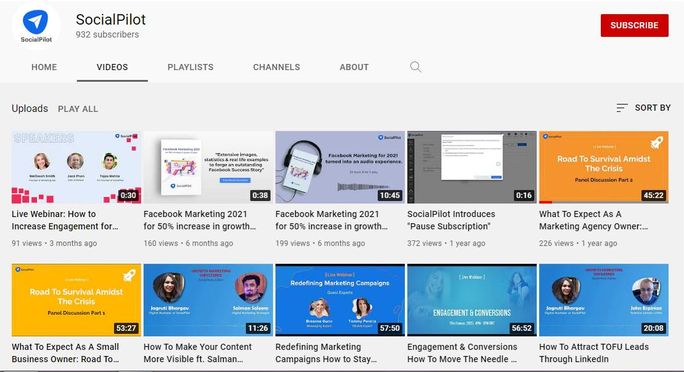 Thumbnails don't come under YouTube Search Engine Optimisation per se but are a great visual tool to attract your audience's attention.
Here you will have to use high-quality feature images. Complement your titles with their visual representation in thumbnails.
2. Find Your Niche
You need to figure out what audience you wish to target before you start uploading videos on your channel.
Everyone on YouTube is not going to be your target audience. You will see better results only when you target a specific audience rather than hoping to target everyone.
Once you have gotten to know your target audience, you can create videos that are on point.
3. Create Content that Connects
After you have figured out what your target audience is looking for, it's time to make content that resonates and connects with them.
You may have finally made the prospective viewer click on your video by following all the YouTube SEO hacks.
But if the content of the video is not engaging or entertaining or both, then there's a high chance that they will leave the video within 30 seconds, and all your efforts would go to waste.
We wouldn't want this to happen to you.
You have to make sure that your content is different from all the other videos out there, and it adds value to the viewers' lives in one way or the other.
You can also use infographics, stock videos, royalty-free music, and animation to make your content more engaging.
Here are some steps you can follow to create quality content:
Write Video Scripts
You might be an expert on something, but that doesn't necessarily mean you'd be a good explainer and presenter.
You can eliminate all the awkward pauses and be spot on with the content by making video scripts.
Before making scripts do a rigorous research on the video topic, jot down all the points you will discuss in your video, and begin writing your video script.
Maintain High-quality Sound
This is one of the most critical points that you should keep in mind. Even if you can write great content, nobody will watch your videos until the end if they cannot hear anything.
Therefore, purchasing quality microphones is to be taken into consideration by all YouTube video content creators.
Create Storyboards
Creating storyboards doesn't necessarily mean you have to draw every single one of your shots. But you should at least organize your scenes. Firstly, you should decide whether you want your content to be animated or live-action or a little bit of both.
Your audience may have a preference for a particular visual mode of video creation. So you must go with the suitable visual mode.
After establishing it, shoot/create your visuals organized and keep things as professional as possible.
Edit Your Video
This is the last part you need to do before uploading the video. Don't be in a hurry while editing videos.
The process, by its nature, is a time-consuming one. While editing, cut out the parts slowing down the video's momentum and keep your content polished and crisp.
4. Collaborate with Other YouTubers
Collaborating with YouTubers that already have a decent following is a great way to make people aware of your channel.
Make sure that you collaborate with YouTubers whose followers might be interested in watching your content.
Request the creator to add a link to your channel in their videos' description box and comments if possible.
After collaborating with other YouTubers, you can be sure there is a high possibility that your subscribers will increase.
5. Deliver Strong CTAs
Call-To-Action, aka CTA, is the concluding section of your video where you encourage your viewers to take actions like share, comment, and subscribe to your channel.
But people won't take such actions unless you deliver quality content and have compelling CTAs. At the end of every video, show gratitude towards your viewers for engaging with your content.
Apart from including CTAs in every video, you can also write CTA in the description box of your video.
6. Create Video Series and Playlist
Creating a YouTube playlist can also get you more engagement on your videos. Every video on the YouTube playlist is set on Autoplay.
It means once you have played a video from the playlist, the following videos will be played automatically by YouTube.
Therefore, creating a playlist can ensure more views on your videos. So by now, you might have figured out why you should be thinking in terms of video series.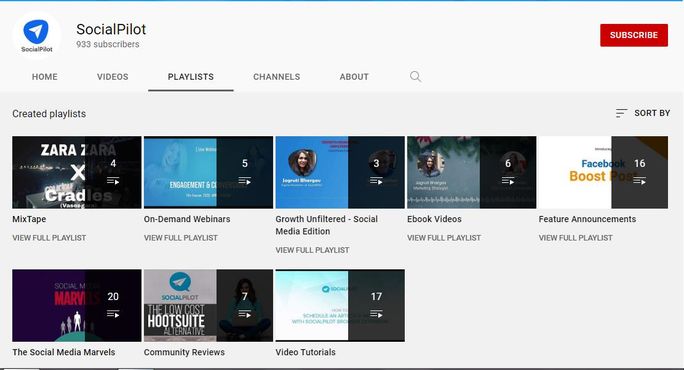 As you create more videos, it will become difficult for your audience to discover your older videos. It is again where a playlist can come in handy.
The YouTube playlist has proven to be one of the best ways of getting more views and engagement on your video. It is for these reasons why more and more top brands are promoting their self-curated YouTube playlist.
7. Use Insights from YouTube Analytics
YouTube offers its analytical tool named YouTube Analytics to show you how and what type of audience is engaging with your videos.
It also shows you how they discover your content through YouTube suggestions, YouTube searches, or other external websites.
From this data, you can then figure out where you are lacking and work on it accordingly. YouTube analytics will show you the total time spent by the viewers on your videos.
You should know that YouTube's algorithm promotes videos or ranks videos higher that have more watch time.
Hence, you should aim to gain more watch time, which is only possible if you provide quality videos.
8. Use YouTube Marketing Tools
Along with YouTube Analytics, you can also use various YouTube marketing software to give you crucial insights into your content. Many of these software are free to use. If you cannot develop a video topic, this software will also give you content ideas.
If you want to gain more views in a shorter period, using YouTube marketing software would be beneficial.
Some of the best YouTube Marketing Software you can use are:
YouTube Studios
BuzzSumo
Social Blade
Vidooly
Brand24
9. Start Blogging
You must be thinking, what does blogging have to do with YouTube views?
Writing blogs that complement your videos is a part of content marketing strategy. Driving traffic through your website blogs can also be an effective way of increasing your view counts.
Yes, you may have to dedicate some extra time to write your blog. But as you will be writing blogs around your videos, more than half of the work would have been already done, and not much time would be required.
You might attract traffic you never thought would be interested in your videos by optimizing your blogs and website.
By following these steps, there is a strong possibility that your view count would be increased.
Here are some more bonus tips that you can try out.
Bonus Tips
Try Paid ads
If you have a high budget, then you can give YouTube advertisements a shot. By running ads on your channel on YouTube, there is a high possibility that you might attract a bunch of viewers and subscribers.
Do Live streaming
Live steamers are where the audience gets to connect with the creator without any filters and script. This is why viewers love to see their favorite content creators on live streams once in a while.
Live streams can also be a source of income as the viewers can donate money to YouTubers through super chats.
Add Sneak Peak of Your Social Media Accounts
Maintaining a social media preference for your YouTube channel is essential. You promote your videos on social media channels by providing trailers, sneak peeks, or behind-the-scenes of your upcoming video.
It is a great way to increase your YouTube channel's awareness. You can do something different on your social media platforms by creating short-format videos around your YouTube video topics.
Final Takeaway
The strategies above were all answers to the question – how to get more views on YouTube for free? All of the tactics might take a while to show results. So you mustn't give up during those times because there will be no results if you don't try at all.
If you want more information on how you can scale up your marketing campaigns using social media marketing tools, then you must try SocialPilot.