Are you looking for quality music for your YouTube videos?
There are plenty of sites available on the internet from where you can download music and use it in your videos for free. But did you know that there is a vast difference between downloading music for free and YouTube royalty free music download?
The former means that you can just download the music, but they are not free to use most of the time for monetary or business purposes.
In this article, we will recommend you top 19 sites where you can find YouTube royalty free music for your YouTube videos.
Before we begin, let us dive into the importance of using royalty free music.
Why Should You Use Royalty Free Music?
Using royalty free music means your videos won't face any copyright issues, which can get your video demonetized, or your YouTube channel might face a copyright strike. In some cases, you have to pay the owner commission fees from the number of views per video.
To avoid these troubles, royalty free music is the way to go. It allows you to use the music and enjoy the profit without sharing it with a third party. To use this royalty free music, you might have to pay some amount for the track, and that's it.
Some sites also provide free royalty free music. Many sites demand credit for using their music which is far better than paying extra fees from your pocket for your content marketing requirements.
Here are the 19 best sites to find YouTube royalty free music:
1. YouTube Audio Library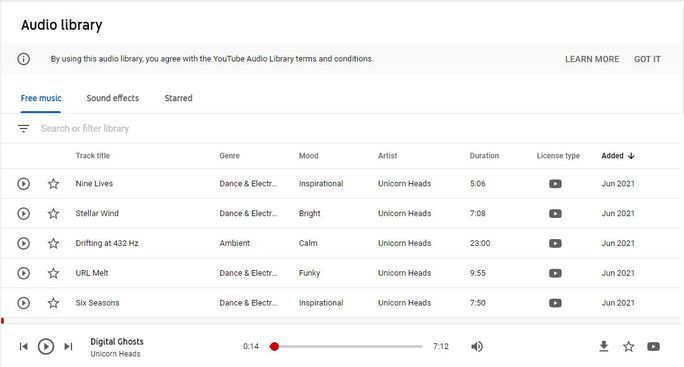 The YouTube Audio Library is a platform created for downloading free royalty free music, which YouTube itself made. This site is one of the most popular platforms among YouTube content creators.
Apart from being a YouTube royalty free music library, the site also has hundreds of sound effects that you can use in your videos. Music and sound effects can be directly added from the platform or saved offline.
You can easily find the type of music that perfectly fits the video by using the filter button on the top left. It lets you find pieces according to the mood and genre.
Note: If any sound effect or music requires attribution, in that case, you need to credit the artist in the description box to use the track.
2. Artlist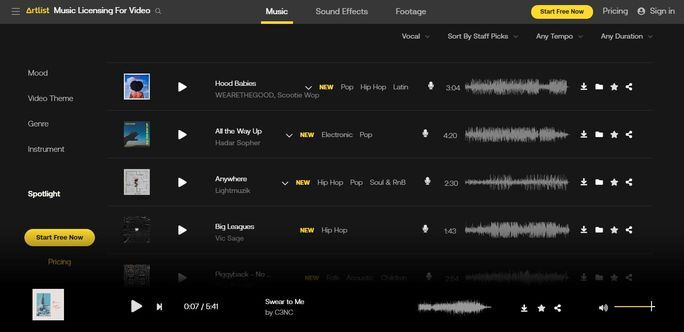 Artlist also works the same way as the YouTube Audio Library, except for an annual subscription of around $199 that you have to pay. Their library contains thousands of options from which you can select the music or the sound effects according to your needs.
Top companies like Nike, Google, Netflix trust Artlist. One of the best things about Artlist is that apart from YouTube, it allows you to use its music on different social media platforms like Instagram, TikTok, Facebook, and many more.
On this website, you can also short music according to its tempo and vocals. If you purchase an active subscription, then you can use their songs for whatever duration you want.
3. Bensound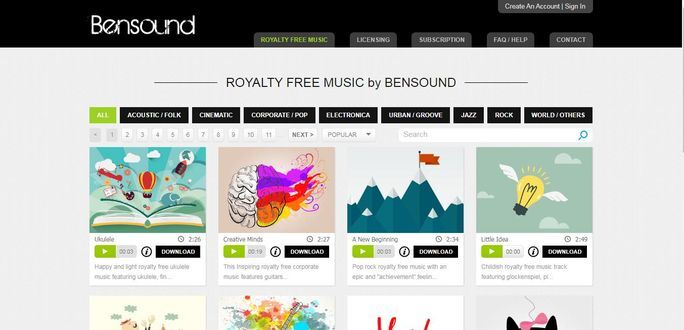 Bensound is also one of the most popular sites for downloading royalty free music. You should know that many YouTubers use music from Bensound. During its inception, the platform only had music composed by Benjamin Tissot, the owner of Bensound.
As the website's popularity increased, works of other musicians were also added to their music library.
The music on Bensound is divided into eight categories:
Acoustic/Folk
Cinematic
Corporate/Pop
Electronica
Urban/ Groove
Jazz
Rock
World/Other
You can use music from Bensound for free as long as you give the website proper credit and don't make any claims on their music. If you don't want to provide Bensound with distinction in your work and still want to use their music, you will have to buy the annual subscription plan.
It's a pretty fair deal, isn't it?
4. Mixkit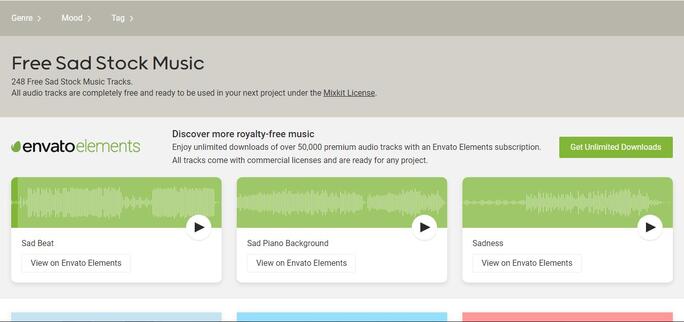 Mixkit makes the lives of video content creators easy. For those who hate to sign up on websites and enjoy getting straight to the business, Mixkit should be their go-to platform.
From Mixkit you can download royalty free music and sound effects for free. And they don't even want any credits for that! You can use their music in YouTube videos, podcasts, online marketing ads, filmmaking, and other commercial projects.
The only catch here is that claiming the site's music as your own can get you in trouble.
You can browse music as per genre, mood, and tag. Apart from free stock music, Mixkit also provides free stock footage for YouTube videos.
It would be appropriate to say that this website is a complete package for creating video content.
5. Incomptech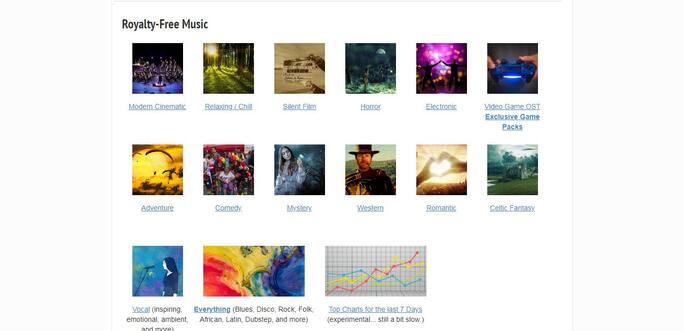 Incomptech has music for every style of video. From the simple relaxing soundtrack to terrifying horror music, Incomptech has got it all covered. You can use free soundtracks provided that, in exchange, you give credit to the artist.
If you want to make more of Incomptech, you can buy their extended license for 23.43 dollars.
6. Pixabay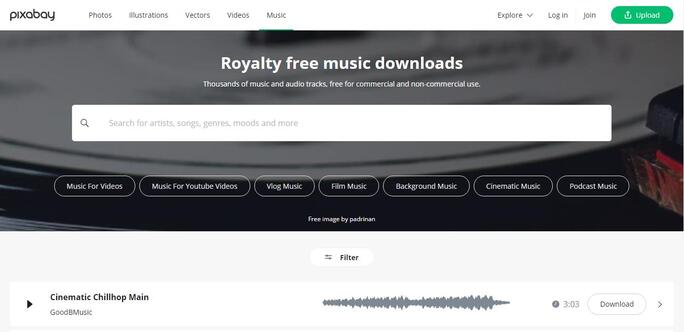 Pixabay offers royalty free music for YouTube videos, vlogs, background music, podcasts, and films. There is no need to sign up; just open the site, download the music you like, and use it per your requirement.
Even though it is not mandatory to credit the authors of the music, the site requests you to link back to the creator as a gesture of gratitude. You can give credit only if you feel like it and donate some amount to the musician as per their will.
On Pixabay, you can filter music as per its genre, mood, and artist. Along with the royally-free music for YouTube, the site also has collections of royalty free stock photographs, videos, and illustrations.
What more can you possibly ask for?
7. Chosic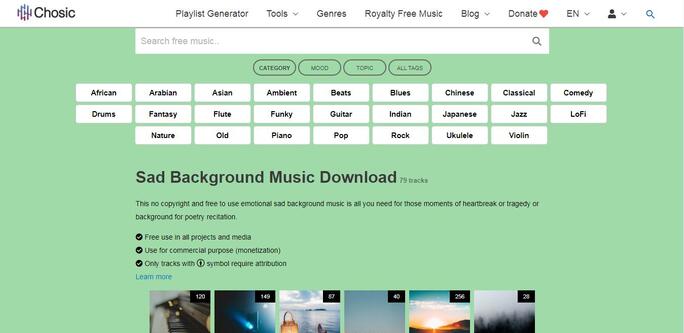 Another great platform where you can get free royalty free music is Chosic. Attribution is only required when there is a particular symbol in front of the musician's name. There is no need to sign up on this site as well.
Chosic lets you find the perfect music for your video by classifying music into different categories, moods, and topics.
8. HookSounds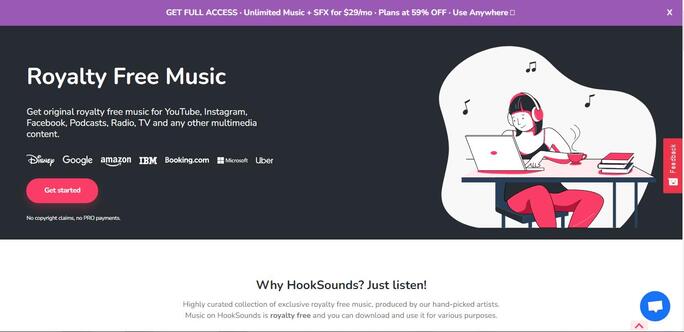 On HookSounds, you can find top-notch royalty free music composed by artists around the world. Like other sites, HookSounds also provides filters like moods, genres, and tags. To download the music, you would have to buy their monthly subscription plan for $29.
The music available on HookSounds is unique and mesmerizing. One thing is for sure, the quality of the music will never disappoint you.
If you cannot find music that suits your content, you can request and get a customized theme especially for you.
Isn't it cool?
9. Musopen
Musopen is a non-profit organization that is working to provide free music access by offering royalty free music. Music from Musopen can be used for monetary gains. If you are looking for classical music from historical figures like Beethoven, Mozart, and Franz Schubert, this site is for you.
The majority of Musopen's library has orchestral pieces. You can quickly skip through the library with the help of the filter button. Musopen has classified its music in the following categories:
Composer
Orchestra
Period
Mood
Length
10. Audio Network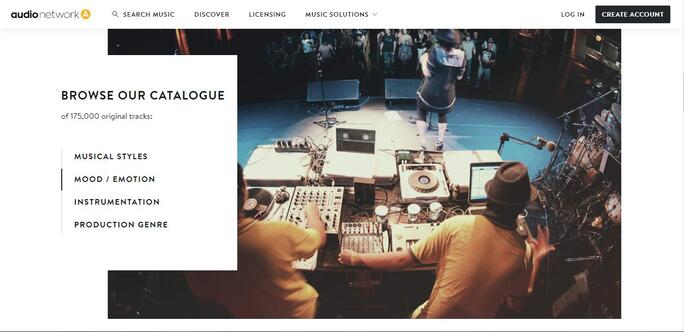 Audio Network is a reputed music solution organization that has worked with world-renowned brands like Mercedes, Vice, BBC, and NBC. Therefore, you don't have to worry about the quality of the music.
Audio Network allows you to use their music on multiple platforms. Their music library contains more than 175,000 original soundtracks. They have different types of subscription models, so you can choose one that perfectly suits you.
11. Free Archive Music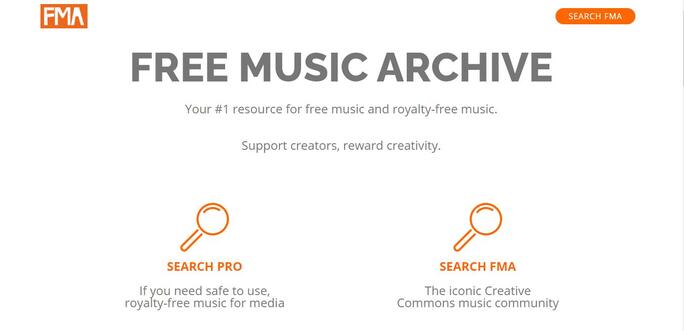 Free Archive Music, aka FAM, creates royalty free music by collaborating with radio stations, veteran artists, and aspiring professional musicians to provide the most extensive collection of royalty free music.
To download the music, you will have to sign up. Before you start using FAM's theme, please go through the License guide.
12. TuneReel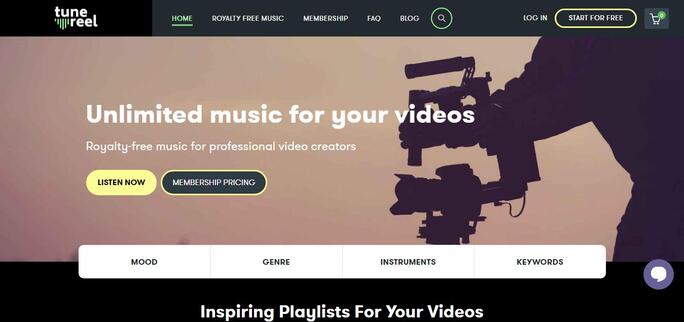 TuneReel is a platform where aspiring content creators to big businesses find royalty free music for their videos. You can search soundtracks based on their genre, mood, instruments, and keywords. There are two different types of monthly subscription plans available.
If you want to do client work, then you can't use the basic subscription plan. You would have to purchase the pro plan to do client work and other commercial projects. In both scenarios, TuneReel allows using their music on multiple platforms like YouTube and Facebook.
13. Amazon Royalty Free Music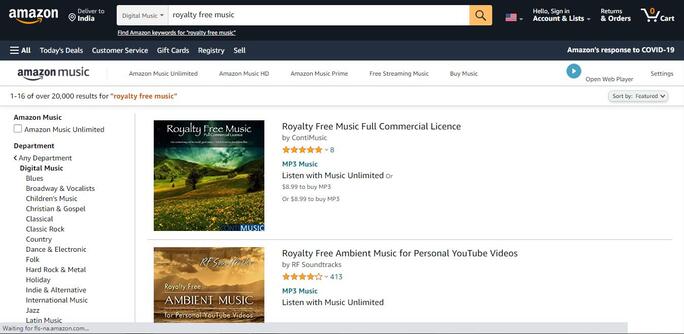 Did you know that you can also buy royalty free music from Amazon? Just open the Amazon website or app, type 'royalty free music, and you would get plenty of tracks. You can purchase these tracks for less than $1. Some of the soundtracks can also be found free of cost.
If you are running tight on your budget, buying royalty free music from Amazon would be the best option.
14. CC Mixture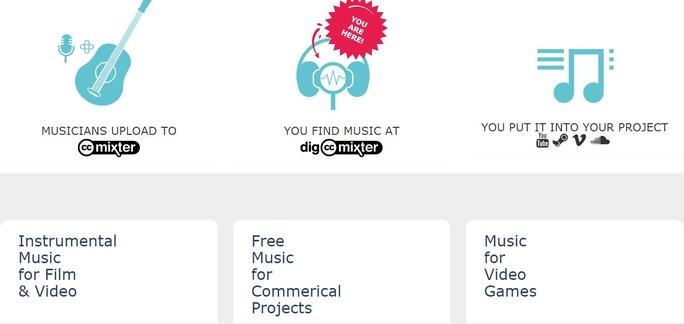 The royalty free music offered by CC Mixture is already used in over 1 million videos and video games. All the content on the website is free to use, even in commercial projects. In exchange, CC Mixture wants you to credit the musician for their hard work.
CC Mixture also gives liberty to use their music on multiple platforms.
15. TakeTones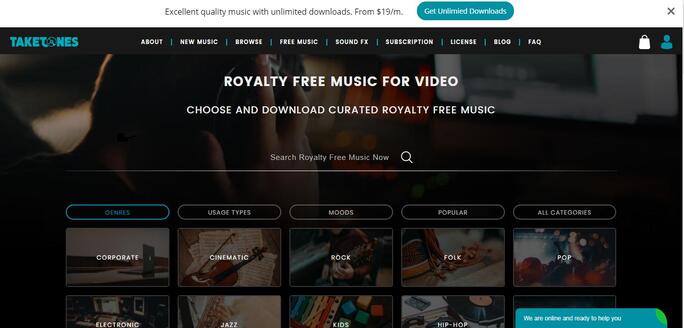 TakeTones is a very easy-to-use platform and saves you a lot of time by classifying the music into different categories. TakeTone was explicitly made to offer music for monetary and business projects. Therefore, you won't have to edit the music separately to cut short its duration.
We think TakeTones is a perfect choice for people who don't want to spend much time looking for background music.
16. Filmstro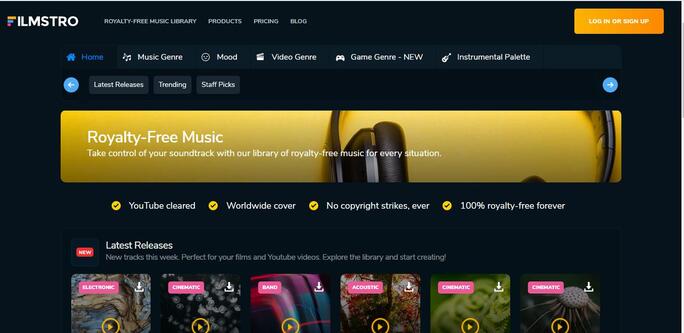 Filmstro is a little different from the other platforms. All you have to do is select the music you like. Filmstro has a category named 'Video Genre'. That means you can find the best soundtrack for your video, and most of your guesswork will be omitted.
Filmstro is a paid service. It offers different monthly plans depending on the purpose of the music. To use music just for YouTube videos, you will need to subscribe to the monthly YouTubers plan for $14.99. Similarly, there are separate plans to use Filmstro's music for online and broadcasting ads.
17. Silverman Sounds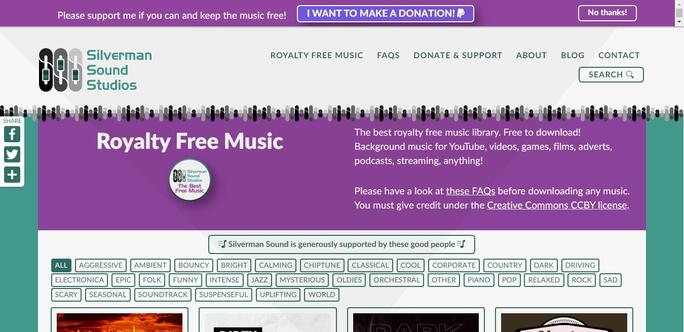 Silverman Sound is another platform where you can download royalty free music. But you can donate to musicians at your convenience. It is mandatory to give credit to the creators. There are 10+ categories of music, from which you can select the soundtrack that fits your video.
18. Audio Jungle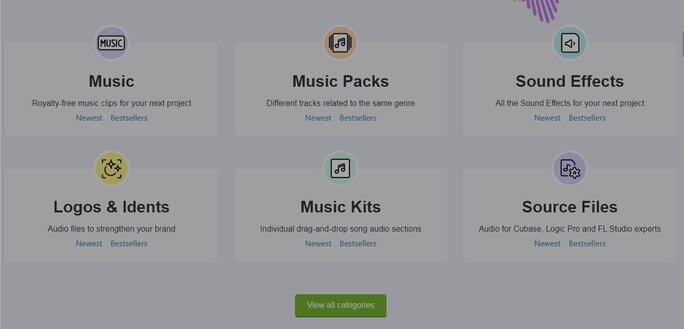 AudioJungle has more than 1700k soundtracks in its music library. New soundtracks are added to the website every week. You can purchase royalty free music from AudioJungle at a starting price of $1.
On Audio Jungle, you can find every style of music for your YouTube video.
19. Purple Planet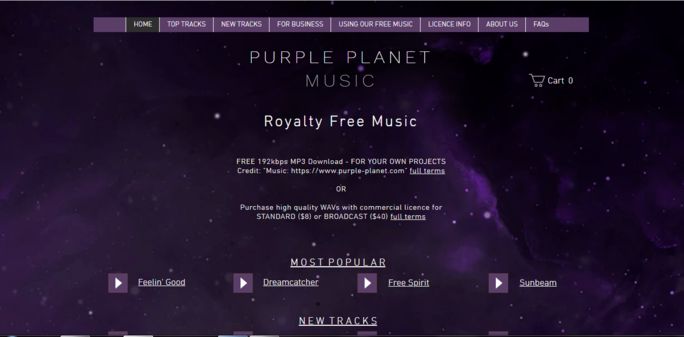 Purple Planet can offer you free royalty free music as well as paid royalty free music. If you want to use soundtracks for free, then giving credit to the website is a must. If you're going to use music for commercial purposes, then some fee is to be paid.
Final Notes
Still here? Good!
Now you are very unlikely to get in trouble with the copyright laws.
These were some of the best sites that provide royalty free music for your YouTube videos. Some of them are free of cost, while some of them have subscription plans. Remember that each of these websites has different operating methods, so choose the site you think has the best quality and style of soundtracks.
Before using any website's music, we strongly recommend that you go through their terms and conditions.
Creating original content with excellent music is key to succeeding in social media marketing. However, you must also ensure that you regularly upload content and consistently engage with your client.
For brands looking to make it big, social media scheduling tools are a must. To know more about social media scheduling tools and how it can bolster your marketing efforts, visit SocialPilot.