You've poured in hours of work to make amazing content for your YouTube channels. Won't you want to know how well it has worked?
Pretty sure you would!
It's essential to use professional analytical tools, such as YouTube Analytics, to track the performance of your videos and the viewership it has gained among your target audience.
Let's delve into the world of YouTube analytics in this post.
What is YouTube Analytics?
YouTube Studio provides YouTube Analytics tools to monitor metrics, such as ROI, watch time, views, revenue, and bundles of other such data and advanced reports that assist you in monitoring the impact and effectiveness of your videos.
Importance of Tracking YouTube Channel Analytics
YouTube has a presence in 100+ countries with a daily viewership of 1 billion video hours.
Amused? Well, you should be.
The platform is visited by more than 2 billion registered users every month who can access videos in a total of 80 languages. You may think that the site is already so popular. Can it still offer exponential growth and revenue?
It definitely can. And it does.
However, you cannot just upload your videos and expect the magic to happen. It's a universe of cut-throat competition, and you cannot afford to be lackadaisical while planning and tracking your channel's performance. You need to continuously monitor the KPIs of your videos and the response it is receiving from viewers to ensure your success.
This is where the role of analytics comes into play.
YouTube Analytics helps you:
Track the ROI of your marketing campaigns
Optimize live marketing campaigns by making decisions using real-time data
Assess if the videos have achieved specific goals
Identify what works for you and more importantly, what does not
Generate data about the target audience, customer feedback, watch-time, views for better planning of future campaigns
Use inputs of video marketing data to refine non-video marketing campaigns
5 Simple Steps to Use YouTube Analytics
Keep track of your YouTube channel's performance using YouTube Analytics features provided in the YouTube Studio.
Here's how to get started:
Sign in to your YouTube account.

After logging in, click on the Profile button on the right-hand corner of your upper screen and select YouTube Studio.
Select Analytics from the left-hand menu.
Use these primary features to thoroughly analyze your channel metrics.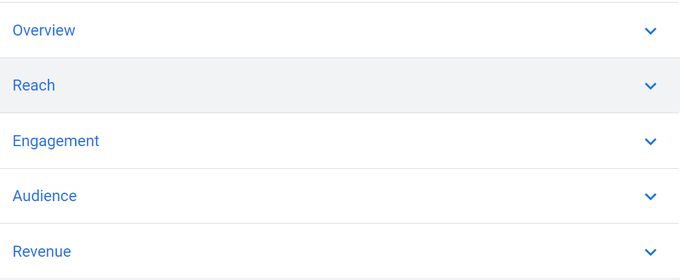 Explore several more key metrics and in-depth data points of your channel using the Advanced Mode feature displayed in the upper right corner of the Studio webpage.
History of YouTube Revenue
18 months. It is all the time it took YouTube to reach a valuation of $1.65 billion. The price at which Google bought it in 2006.
At the time of acquisition, Google's then CEO and tech visionary Eric Schmidt said:
"This is the next step in the evolution of the internet. It (video's) a natural next step."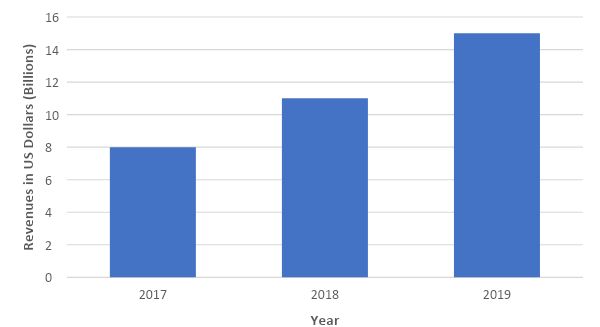 In February 2020, the first time when Google announced the numbers for its YouTube and Cloud business, YouTube alone posted revenues of $15 billion. 9x of what Google paid for the company barely 14 years ago and almost 10% of Google's revenues in 2019.
Top Sources of Revenue for YouTube
Advertisements including target-specific advertisements embedded in videos (Primary source)
Displaying featured content
YouTube Music and Premium
Revenue Potential for Partners
YouTube has a robust partner program that offers exciting opportunities for content partners to generate revenues using the platform. Not puny commissions. Big, fat paychecks.
The company shares a significant portion of its revenues with content creators. In 2021, YouTube CEO Susan Wojcicki shared that the company has paid more than $30 billion to its partners in the last three years!
According to YouTube Press, the number of channels earning six-figure sums per year have grown by 40% y/y, whereas channels earning in the five-figure range grew by 50% y/y.
The Right Metrics to keep your eyes on
With advanced tools and millions of viewers, it is easy to get flooded with tons of data that may be of no relevance to you. You will be finding water in a mirage if you try to judge the effectiveness of your video with every single metric. There are some key metrics that you should keep your eyes on to gather meaningful insights.
The dashboard of YouTube Analytics will show you metrics of the past 28 days. It is the default setting and you can take a look at a custom period by making changes in the settings.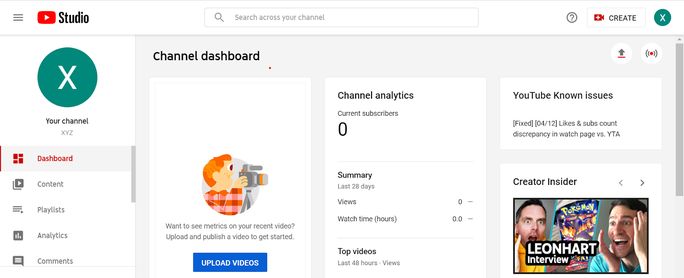 Below are some metrics that you should constantly monitor and utilize for your YouTube content strategy:
Channel Metrics
Watch Time
An essential metric to ascertain the popularity of your channel, watch time refers to the total number of minutes spent by YouTube users watching your videos. YouTube algorithms consider channels with higher watch times as better content creators and push their videos higher in the suggestions list.
Subscribers
The subscriber metric displays how many viewers have subscribed to your channel. Channels with higher subscribers enjoy more credibility and earn more revenue for advertisements and featured content.
According to YouTube, subscribers watch twice as much video as non-subscribers. Therefore, your focus should be on building the subscriber base. Higher the watch time, more the money.
You can see the YouTube subscriber analytics in the overview section of the dashboard.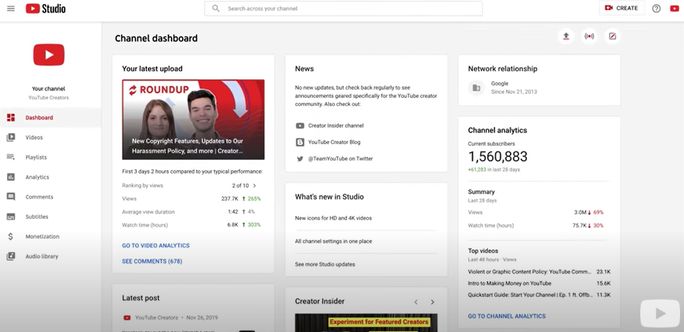 Top Videos
YouTube video analytics provides data regarding your videos that have been ranked top during a particular period based on viewership. Such data helps you ascertain what content strategy worked by filtering it against other metrics and helps in better planning of future campaigns.
Channel Views
Who would not like to know this? Channel view illustrates the total number of views your channel has received during a particular period. Popular creators with healthy channel views regularly capitalize on this metric by announcing that they will upload exciting new videos after, say, every 100,000 or 500,000 channel views.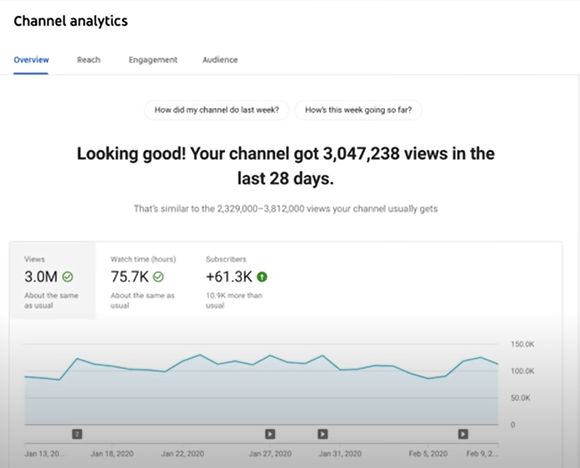 Audience Metrics
Demographics
YouTube Analytics provides demographic data related to your viewers in the Audience tab, such as their location, age, and gender. You can also check country-wise viewership, the time and day your videos have been viewed the most, and accordingly plan the content, ads and publishing date of your new videos to generate maximum impact.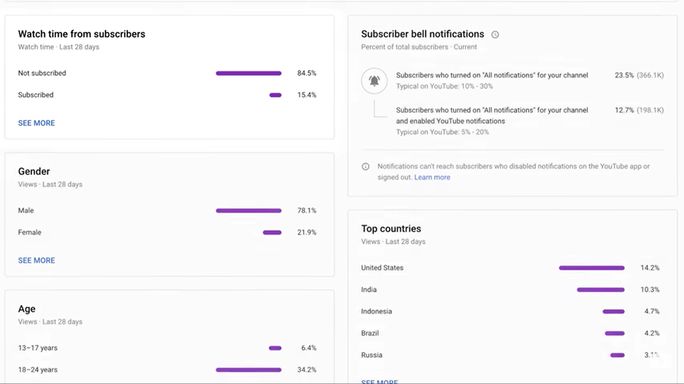 New Viewers
You can check the number of new viewers who have watched your videos during a given period and even analyze how many unique viewers have seen your video. Unique views refer to non-repetitive views of a video during a given time.
Discovery Metrics
Traffic Source
Traffic source metric indicates where viewers found the reference to view your video. It can be through suggested videos, YouTube search, website links, playlists, and more. You can check the individual percentage contribution of different YouTube traffic sources and accordingly focus your efforts towards optimizing the viewership-building sources.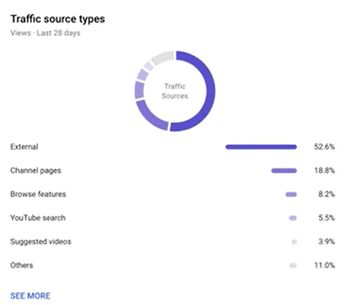 Impressions Click-Through Rate
One of the most valuable metrics in video marketing, click-through rate (CTR), refers to the percentage of viewers who clicked on the video after seeing the video thumbnail. A high CTR denotes that the video thumbnail and title are effective and that the video has the potential to become popular.
Engagement Metrics
Comments, Likes, and Dislikes
YouTube provides the like and dislike button and even allows people to comment on your videos publicly.
YouTube analytics helps you keep a tab on video engagements and accordingly respond if there are more-than-usual likes and dislikes or comments. You can read through the comments section of such videos and assess if there is a genuine concern (to which you can reply and address viewers' concerns) or take other necessary action if viewers are spamming with comments in large numbers.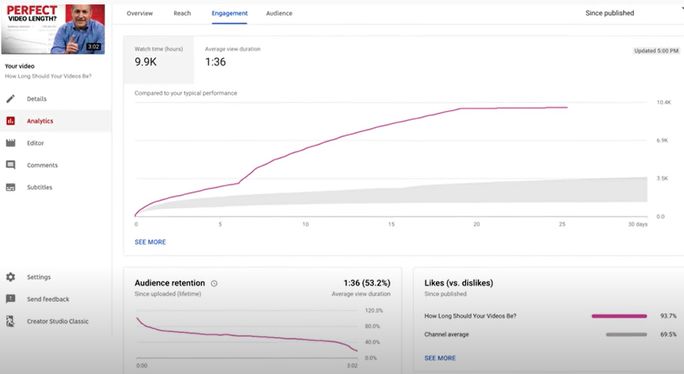 Top Cards
Top cards are available in the engagement reports of the YouTube Analytics report and help you know which cards were clicked the most across all videos on your channel. Cards allow you to promote other videos and lead the viewers to external website links.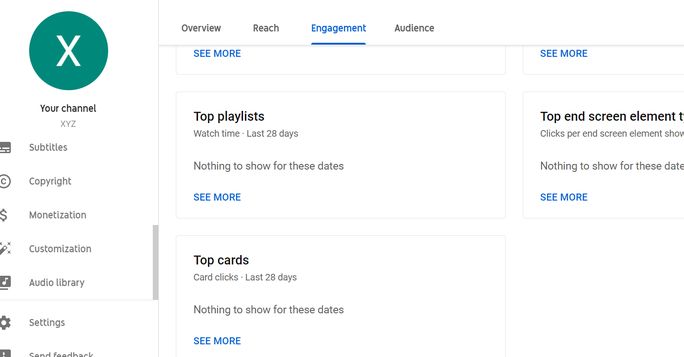 Video Metrics
Audience Retention
YouTube video analytics helps you check the length of your video that viewers have watched and determine the average view duration. You can use this data to check what view time works for your target audience and plan your future content accordingly. If you run YouTube Ads, retention data also helps decide the right time to place ads and generate revenue. You can see the audience retention data in the Overview tab of the Studio and click on See More for more specific details.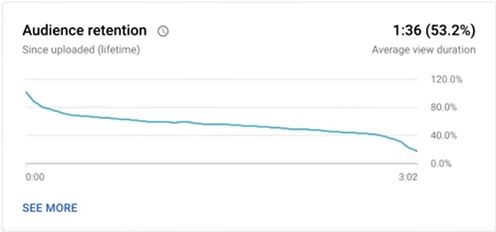 Views
In YouTube, a view is generated if a particular video is viewed for a minimum of 30 seconds. It is one of the essential metrics to check whether your target audience is viewing the video or not. The higher the views, the more successful your channel is!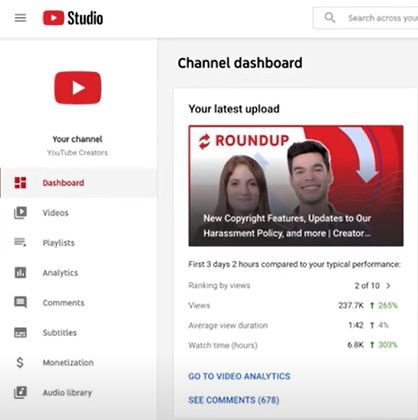 Video Subscribers
What better than the viewer subscribing to your channel after watching the video? It not only increases your subscriber base but also validates that the viewers like your content and you are on the right track. You can determine the organic growth of your channel by using the YouTube search analytics data to know how many people use YouTube search for watching your videos.
Revenue Metrics
Monitoring revenue is an indispensable part of running a YouTube channel.
You can use the YouTube analytical tools to check your estimated monthly revenue and the top-earning videos and see the break-up of the revenue sources (Advertisements, merchandise, Super Chats, YouTube Premium, and more).
You can use this data to analyze the sources, which are your highest revenue drivers, months that generate the highest revenues, and similar such data.
Tips to Grow Your YouTube Channel
These tips have not helped a billion people. But they have worked in the real world.
Let's read through some game-changing tips you simply cannot ignore.
In his initial YouTube days, Brian Dean, founder of the famous blog Backlinko, struggled to increase his subscriber base. He analyzed the watch time metric of his YouTube channel and noticed that viewers stopped watching videos at just around 30 seconds. This statistic helped him pinpoint the pain area to the first 30 seconds of his video, where he realized that he was obsessing over why his video was great right at the start.
Tip: Focus on the content, not how great your video is.
"Watch time is measured in cumulative minutes watched, and each video uploaded – as well as every channel on YouTube – is "ranked" by watch time. Channels and videos with higher watch times are likely to show up higher in search results and recommendations."
– YouTube Creator Academy
He also struggled with CTR. A low CTR is a warning sign that you should change your title and thumbnail to make it attractive enough for visitors to click on your video thumbnails. Brian shared that low CTRs drew his attention towards the fact that his title was not SEO-friendly.
Tip: Optics matter. Design attractive thumbnails and write SEO-friendly titles.
Brian used these analytical insights to optimize his content, and voila! Watch time and CTR increased with a consequent increase in subscribers. His channel, Brian Dean, now has over 5 million views and 400k+ subscribers.
YouTube personalities like Evan Carmichael use the community tab to make videos that his audience wants to see. His team puts out two titles before publishing videos and conducts a poll to know which title is liked more by the audience. Polls help them publish content with a title that will get more traction on YouTube and increase their channel's reach.
Some more tips to grow your channel:
Write a detailed About section for your channel
Use high-quality pictures for the channel page and thumbnails
Use appropriate hashtags in the video description
Do not be blinded by the short duration hype. If your content is good, it is fine to have a long video. However, avoid the fluff and be concise.
Use Pattern Interrupts to retain viewer interest
Top YouTube Analytical Tools
Apart from YouTube Analytics, you can also use some other market-leading analytical tools for crunching data to assess the performance of your channel and plan your marketing strategy.
Brandwatch Consumer Research
Brandwatch is a popular analytics and consumer intelligence tool for monitoring your YouTube data. The tool gives you performance inputs about your channel and provides information regarding the sentiments among the customers about your channel, trending YouTube themes, user reactions and more.
BuzzSumo
Used by companies and influencers alike, BuzzSumo offers several features to enhance your analysis capabilities and sharpen your YouTube content game. The tool is known for proactively tracking competitor channel data and generating video suggestions by typing in keywords to plan content pipeline.
vidIQ
A powerful tool to gain YouTube traction, vidIQ offers a host of unique features to boost your channel's presence. It allows you to bulk edit screens and cards, instantly generate thumbnails via its dashboard, access data on view velocity, determine the best keywords for your content, and a lot more.
Vidooly
Vidooly uses Artificial Intelligence (AI) to provide inputs for your channel and compare your channel's data with your competitor channels. Using this tool, you can compare the most buzzing topics in your domain and collaborate with influencers to amplify your channel presence among the target audience.
Conclusion
YouTube generates a billion viewership hours per day. Imagine the amount of data that is generated and how much you can do with it.
YouTube Analytics helps you measure the success of your videos and marketing initiatives. You may not have used YouTube analytical tools and still be publishing great content. That's no small feat! But, in a world of ever-changing preferences, you risk losing your reputation by not relying on tools that can boost your content quality.
Brands, be it individuals or companies, prefer to maintain an engaging social media presence on several other social media platforms to boost their visibility and promote growth. Wouldn't it be great to have one marketing tool that can handle multiple social media accounts?
SocialPilot can amplify your social media presence by publishing amazing content!