It's never a bad idea to start a YouTube channel.
With over 2 billion monthly active users, YouTube has become a massive force in the world of digital marketing that you can't miss to leverage.
From viral videos to educational content, there is something for everyone on this platform.
No wonder everyone is trying to make it big on YouTube and fulfill their personal goals.
Even YouTube business channels. Their aim is to attract a new audience base, generate revenue from its partner program, build brand awareness, and boost revenue.
If you are also thinking about stepping into the space of YouTube, then you won't find a better time than now.
The opportunity is huge, and you can achieve your business goals and, at the same time, generate a source of revenue for your business.
But do you have any YouTube channel ideas in your mind?
Do you know what's working on YouTube and what's not?
Well, we got you covered.
We have shortlisted some of the top YouTube channel ideas for beginners to have a fair idea of what kind of content to create and showcase it to the audience.
But before we reveal that, let's understand why YouTube is also considered a great source of revenue for businesses.
Why is YouTube Considered a Great Source of Making Money?
There are a lot of reasons why YouTube is considered a great money-making platform. For a fact, the top YouTube stars earn around $20 million per year. Let's look at different ways you can generate money from YouTube as a business channel.
YouTube Partner Program
YouTube has a partner program that offers content creators the opportunity to create a handsome stream of income from their YouTube channel. YouTube offers to pay every content creator included in the partner program a small amount of money per every ad view they receive during their entire video.
If you want to be included in the partner program, you need to have at least a minimum of 1000 subscribers and a minimum of 4000 hours of watch time on your channel.
Once you achieve this benchmark, you'll be eligible to register with YouTube's partner program.
You'll get the access to place ads on your channels; you can place them anywhere you want so that you can receive maximum views on the ad.
More the views, more the revenue generated.
But the payout differs from country to country. Creators in tier 1 countries receive more payout compared to the creators living in tier 3 countries.
Channel the YouTube Audience to Get Sales
Once you start creating quality content for your audience, you'll create your subscriber base to become your future customers. You can ask them to take a specific action by clicking towards your sales page or a landing page.
Whenever you launch a product or a service, you can ask your audience to have a look at your new launch. It will create a sense of FOMO in the audience's minds, and it will help to channel your YouTube audience to your new product or service page.
New Associations
As soon as you solidify your presence in the YouTube space, you'll open the doors to new associations and business partnerships. Other brands will love to associate with leaders in the industry, so they'll choose you over your competitors.
Now that we know how to generate new revenue sources for your business through YouTube, let's address the big fish in the ocean and understand all the top 9 YouTube channel ideas for you in 2023.
Top 9 YouTube Channel Ideas for Beginners
1. Vlogging
Vlogging is one of the easiest to kickstart your YouTube journey. You just need a recording device and shoot some of the interesting bits of your day and just interact with the camera.
You can share your thoughts, opinions, new visits, events and just open up and showcase your world to the audience out there.
But if you run a business channel, vlogging is something you add once or twice in your content calendar to showcase your workspace or a day at the office.
This is because vlogging limits privacy and is ideal for individual brands on YouTube compared to a company brand.
But on the positive side, it is a great way to engage people because your audience will love to see what's inside your workspace, and how you operate daily as a business unit.
As you can see in the example, a popular YouTube channel named Silicon Valley Girl is an entrepreneur and runs three channels on YouTube. In one of her vlogs, she gave a tour of her companies to engage the audience and give a glimpse of her business operations.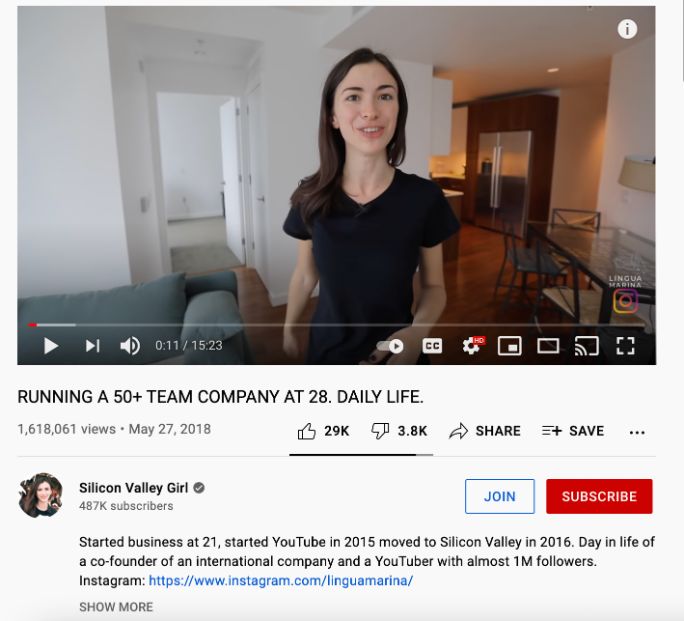 2. Unboxing
If you are into the product business, an unboxing channel can be a great idea.
Unboxing new stuff is one of the big things on YouTube with high-end consumer electronics. Whenever a new product is launched, all the top unboxing channels receive a freebie from top companies to review and help market the product.
The YouTube audience makes many buying decisions about what their favorite reviewer says about a particular product.
If you want to create a brand and are rolling out new products now and then, you can include an unboxing video in your content calendar. It is not limited to electronic gadgets; nowadays, people want a review on every product to buy, from food to garments; unboxing is trending on YouTube.
You can take inspiration for your content ideas and video script from one of the top unboxing channels like Unbox Therapy. With 18.1 million subscribers and close to 2000 unboxing videos, there's no limit to the content ideas you'll get.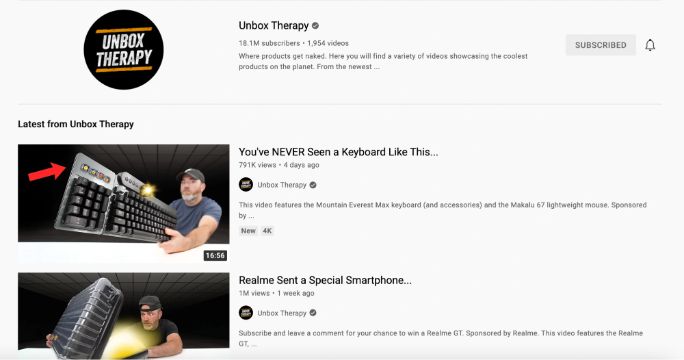 3. Video Gaming
If your business is related to gaming and gaming products, including video gaming in your content is a must. The gaming industry is one of the biggest industries in the world and on YouTube as well.
There are tons of gamers streaming live and creating entertaining content for their audience. You can invite a popular gamer to your channel and do a popular game stream, including your product.
Or just create gaming content like the Red Bull Gaming channel. You know that Red Bull's primary business is not associated with the gaming industry. Still, they are the sponsors of top gamer Ninja, and here's the video they both collaborated for.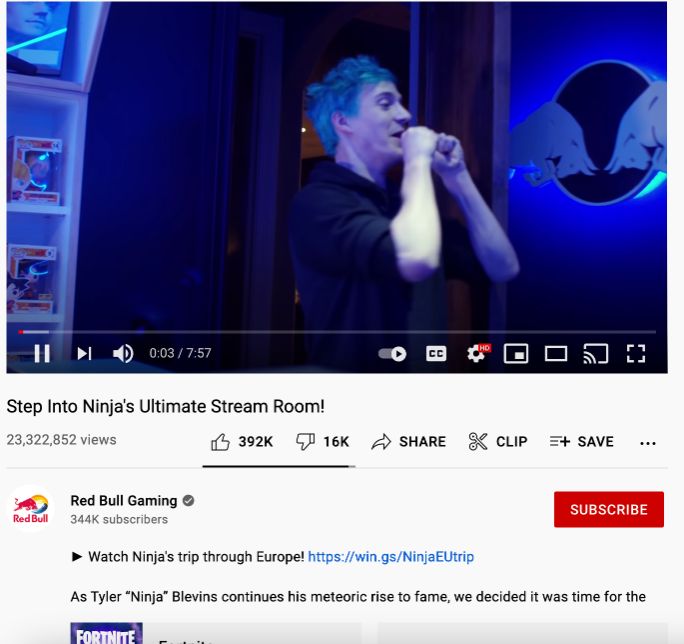 4. Tutorials
If you make the audience aware of different aspects of your industry, then having a tutorials channel is the ideal choice. It will provide immense value to your audience and also help you increase your engagement numbers.
Helping your audience through various roadblocks make them your die-hard fans, and they'll be happier to do business with you than your rivals.
Look at the example below. TheFigCo helps businesses boost their presence online. They are into the digital marketing industry. Here they can be found with content on How to make a YouTube banner; it helps people struggling with this aspect of digital marketing.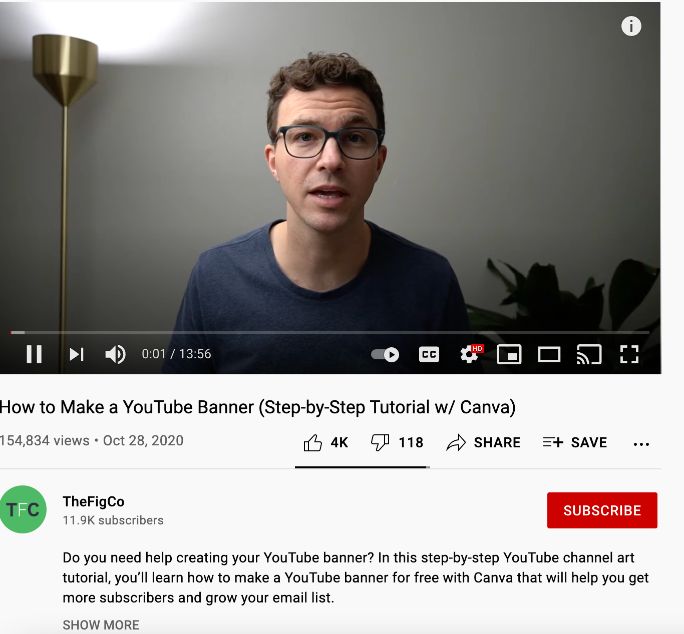 5. Cooking
If you are in the cooking industry, you should start a cooking channel and include a product or services now and then.
It will help you to attract an audience interested in cooking and your potential customers. You can also pitch in some CTA during the end of your videos to look at all the ingredients or tools you used for making a particular dish.
If you don't want to cook yourself, hire a chef or invite a renowned chef like Gordon Ramsay to your channel once you are an established YouTube business channel.
You can take inspiration from some of the popular cooking channels for your content. Here's an example of how Gordon Ramsay, a popular chef, creates his YouTube cooking content.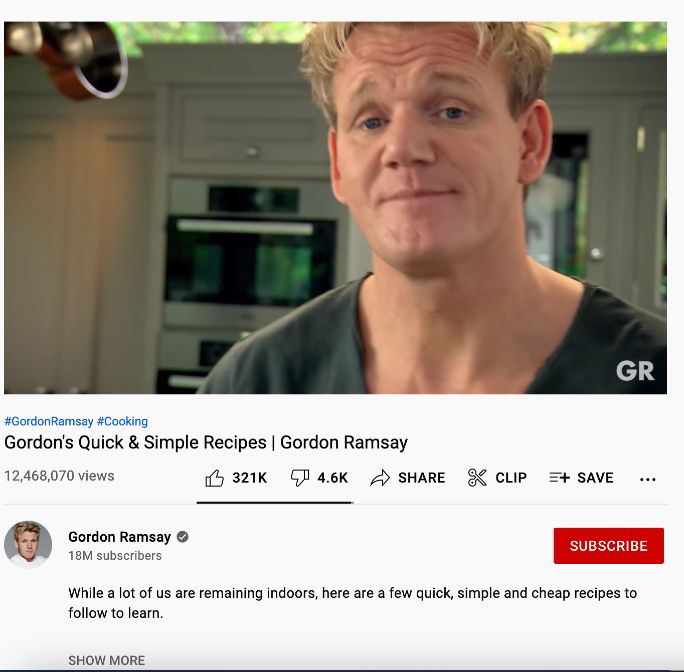 6. Traveling
Traveling is one of the most interesting and exciting niches for any content creator on YouTube. It helps you cater to all the travel enthusiasts and adventurers on YouTube. If you have a business associated with the traveling industry, having a travel channel will help you attract your target audience.
You can also collaborate with other travelers or create your traveling content on YouTube. If you have some products you want to sell, use them during your traveling videos to make the viewer aware.
Here's an example of how Expedia creates its content and caters to YouTube's audience towards its business.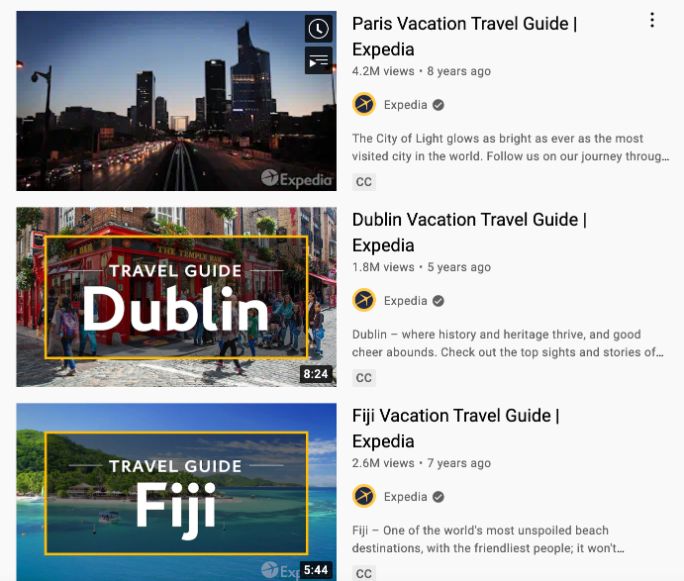 7. Photography and Videography Channels
Only a few in the world can capture moments in the most artistic form. You can be one of those creators. If you have a business-focused towards the photography or videography industry, you have the option to use your skills or product while creating YouTube content.
Here's an example of how videographer Peter Mckinnon has become one of the stars on YouTube, with his photography and videography skills. Check out his content for some inspirational new ideas for your content.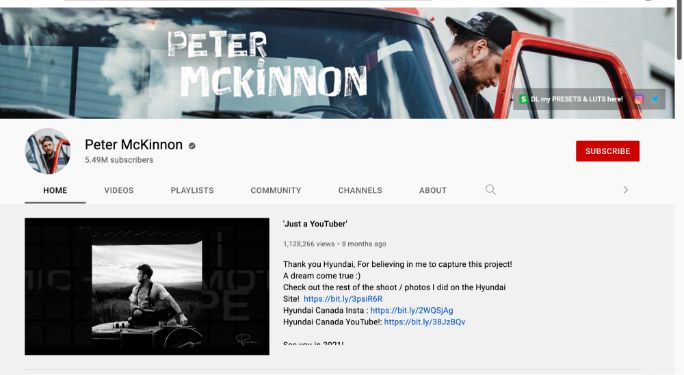 8. Fitness Channels
The fitness industry is on the verge of saturation. YouTube provides a perfect platform for businesses to stand apart from the rest and gain future customers from creating fitness-oriented content.
If your business is related to the fitness world, you should start a fitness channel. Hire a trainer for all the content creation, or do it yourself; it will help you content with the audience easily and leave a great impact on their minds.
Here's an example of Chloe Ting, a fitness YouTuber who created her brand on YouTube and now has over 20 million subscribers and tons of business opportunities knocking on her doorsteps.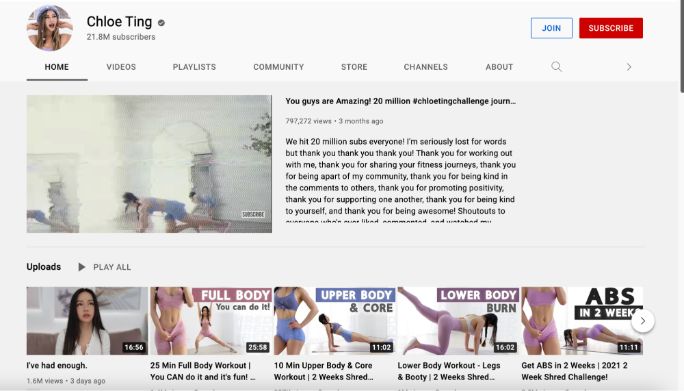 9. Makeup Channels
The makeup industry has been on the rise for a decade or so. But because of that, the competition is also rising. If your business is associated with the same industry, creating a makeup channel will help you boost your business growth.
You can use your wide range of products on your channel or even associate with an influencer to try out your product range.
If you are into the service business, you can showcase your talent on YouTube by making How-To videos, and it will turn out to be a great YouTube channel idea to make money and grow your business.
Here's an example of a popular YouTube makeup artist NikkieTutorials, you can get a creative idea about her mixture of trending and evergreen content on the channel. She has over 13 million subscribers and provides great value to her audience.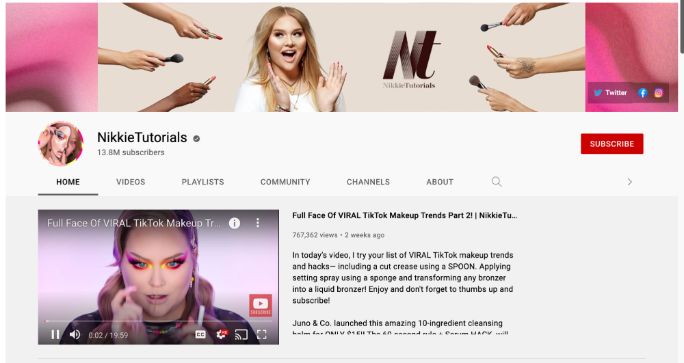 These are some of the top YouTube business channel ideas that can work wonders for you in 2023. No doubt there are a lot more ideas you can explore but do think about these first.
Are You Ready for YouTube?
YouTube provides the greatest opportunities for businesses worldwide to impact the global audience and scale their business to new heights.
You can tailor your YouTube channel and plan out the pitch-perfect content marketing strategy with all these YouTube channel ideas.
If you need assistance to help you with content scheduling or content calendar management, SocialPilot Youtube Scheduling feature is the best tool that can cover all your requirements within a few clicks. Check out this amazing tool and experience the ease of managing your social media content.