Remember how it was before the revolutionary launch of YouTube in 2005?
People used to launch their videos on their websites and other platforms that cost money.
Most people used search engines to watch videos, but the very culture of making short videos gained traction only when YouTube was born.
In a way, the inception of YouTube changed the world of video streaming for good.
Right from acting as a platform for discovering talent to serving as a platform for educational videos, YouTube grew over the years to become the second-most visited website worldwide.
While YouTubers are always scratching their heads trying to come up with new and unique content, they also have to take care of certain specifications related to the video formats.
After all, videos are not just uploaded as they are shot. They might need conversions and edits. Whatever the case may be, we know you are here to dig deeper into the intricacies of YouTube videos.
So, without any further ado, let us dive into the depth of everything you need to know about YouTube videos.
What is a YouTube Video?
You are probably thinking, "I know what a YouTube Video is!" While technically, yes, you do; there is more to it than what appears at the surface.
YouTube videos head beyond the basic definition of any video. These are the videos specifically designed to match YouTube standards.
While you can share, upload, like, and comment on these videos and access them on PCs, laptops, smartphones, and tablets, you need to be 18 years old to do that. In some countries, such as Ireland, the acceptable age is of 16 years. In technical terms, this is called the "digital age of consent."
Videos on YouTube are all-encompassing as they tend to offer resolutions as low as 144p and high as 1080p. The idea behind the low-resolution options is to accommodate restricted internet services in some countries of the world.
In 2011, YouTube also launched YouTube Live, offering live streaming services. While initially, only people with more than 1000 subscribers could stream a live video, by December of 2013, the subscriber limit was eradicated.
So, if you have zero subscribers and still want to start a live video, by all means, go ahead.
Understanding YouTube Video Formatting Specifications
While the very process of uploading a video on YouTube is not complex, there are many video and audio specifications that you must follow to bring out the finest quality of your content.
YouTube always prompts people to put up videos that match the source formatting to ensure the video plays in higher quality. Generally, YouTube encodes the video again to enhance the quality of playback.
There are different sets of guidelines for video formatting and audio formatting. Let us take you through both.
Video Formatting Guidelines
From the file format to the video resolution, YouTube gives you a detailed guidelines to follow. If adhered to, these guidelines make your video, its best version.
1. File Format Guidelines
The preferred file format for YouTube is 1080p HD, generally the original version of your video. It also expects the video to have a DVD-compliant MPEG-2 program. This should be saved with a .MPG extension. If your video does not run on MPEG-2, then you can also opt for MPEG-4. Further specifications for MPEG-2 and MPEG-4 are:
MPEG-2
Run it with an audio codec or MPEG layer II or Dolby AC-3. Go for audio bitrate at 128 kbps or better.
MPEG-4
Run it with video codec H.264, audio codec AAC, and audio bitrate of 128 kbps or better.
2. Duration Guidelines
The minimum duration for an audio-visual on YouTube is of 33 seconds. While this limit is generalized for all the YouTube channels, the limit for maximum time varies based on YouTube verification or lack thereof.
YouTube channels that do not hold a verification can upload a video no longer than 15 minutes, while channels with verification are allowed to upload longer videos. The absolute maximum time limit is 12 hours for any video.
3. Framerate Guidelines
YouTube prefers that you do not resample your video and upload it with its original framerate. In case you are uploading film samples, go for a 24 fps or 25 fps progressive master.
Generally, framerates are predetermined at 24, 25, or 30 fps. YouTube strongly recommends against any resampling to avoid the video from becoming low in quality.
4. Aspect Ratio Guidelines
The aspect ratio of the uploaded video should also be the same as the original video. YouTube suggests you do not include letterboxing and pillarboxing bars.
What are these?
Letterboxing bars are black bars that appear towards your video's topmost and bottommost edge, whereas pillarboxing bars appear at the rightmost and leftmost edge of your video.
The key reason YouTube asks you to prevent both of these is that the videos are automatically adjusted to be displayed right. You need not worry about your video getting cropped or stretched.
5. Video Resolution Guidelines
YouTube encourages you to upload high-definition videos. If you do not have that, upload the highest quality possible of your video. The better the resolution, the easier it becomes for YouTube to perform encoding and playback.
6. Video Bitrate Guidelines
Bitrate majorly relies on codec; therefore, there is no minimum value for it. Your main focus should be on the frame rate, aspect ratio, and resolution.
Audio File Guidelines
It goes without saying that the audio file that sits with your video should match the visuals in terms of duration. To yield the highest quality audio playback on YouTube, some typically supported file formats are:
MP3 audio in MP3/WAV container
PCM audio in WAV container
AAC audio in MOV container
FLAC audio
For audio tracks that come without a video, YouTube again suggests you upload the best quality. For an audio track to play on YouTube, you must use the AudioSwap program.
How to download YouTube videos?
About 300 hours of videos are uploaded on YouTube every day! That is a mighty big number. Surely, you go through your choicest videos and sometimes wish you could save them.
Don't worry. We got you!
Now that you have a glimpse of what YouTube welcomes in video and audio format, let us understand how to download a YouTube video easily on your PC or phone.
The option YouTube suggests is to buy YouTube Premium to easily download videos and audio. Since this is a paid option, you can also go for third-party apps to facilitate the download.
The guide that we are putting before you teaches you how to download youtube videos via third-party apps.
How to download YouTube videos on your PC?
You can download YouTube videos on your PC using different programs like YTD Downloader, VLC, WinX, or MacX YouTube Downloader. Let us show you stepwise guidelines for the first two:
Using YTD Downloader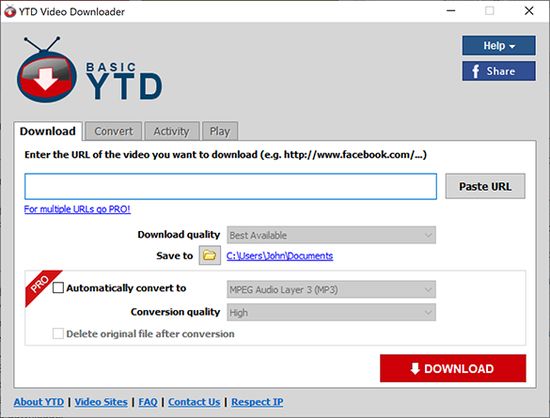 Step 1: Install YTD Downloader on your PC and search for the video you wish to download from YouTube on your browser.
Step 2: Launch YTD Downloader. After that, copy-paste the URL of the YouTube video into the URL field of YTD.
Step 3: Click on the "Download" button, and voila! You have your video.
Using VLC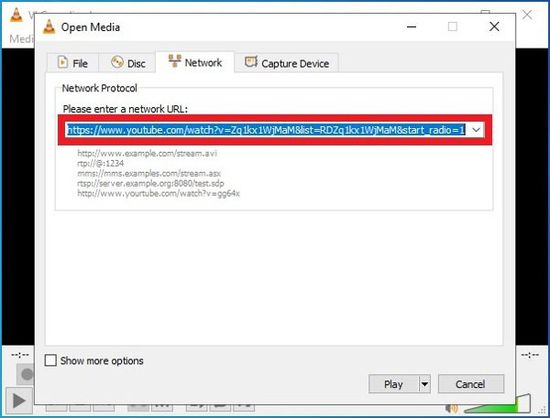 Step 1: Search for the YouTube video you want to download and copy its URL.
Step 2: In your VLC, go to "Open Network Stream" from the "Media" button at the top of the screen.
Step 3: When a box appears, go to the URL field and paste the copied URL of the YouTube video. Hit the play button, and your video will begin playing.
Step 4: Afterwards, head over to the "Tools" section at the top of the screen and then go to the "Media Information."
Step 5: From the "Location" part of the dialogue box, copy the URL and paste it to the URL field of your web browser.
Step 6: A page will open up wherein the video will be playing. Move your cursor to the three dots that appear on the top right and press the "Download" button.
You can also use YouTube downloader websites to download videos. Many of them may not work well.
How to download YouTube videos on your Phone?
For those who do not have YouTube Premium, it might be somewhat tricky to download the video directly to the mobile phone. We recommend you download it on your PC and transfer it to your mobile phone.
But that may seem like a hefty option.
So, as an alternative, you can download the videos using a third-party application. Mind you, many of the third-party applications do no work because YouTube has been tracking them down to shut them.
One app that comes to our mind is YouTube Downloader for phones. Download the app to see if it works for you.
Choosing the right Video Converter for YouTube videos
We have already established that YouTube has a well-defined video and audio format. Any video that deviates from the said format faces the problem of low-quality playback.
Even though YouTube always prompts you to keep the original settings of your video in terms of framerate, aspect ratio, and resolution, the same might not be true for the file format.
If your original video is of the file type that does not meet the defined criteria of YouTube, it might get rejected.
Generally, YouTube supports the file formats using .MOV, .MPEG4, .MP4, .AVI, .WMV, .MPEGPS, .FLV, 3GPP, WebM, DNxHR, ProRes, CineForm and HEVC (h265). If your video is of any other format, YouTube will likely reject it. If not rejected, then the quality would be significantly downgraded.
This is why you might need a good converter to turn the file format into one of the compatible versions.
Want to know about some of the choicest video converters out there? Look at the top three in the game.
Video Converter VidSoftLab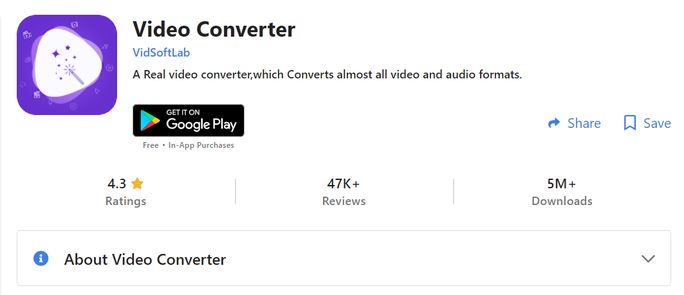 This converter supports multiple different file formats for easy conversion. It also functions as a video trimmer, compressor, merger, and DVD converter.
Video Converter and Compressor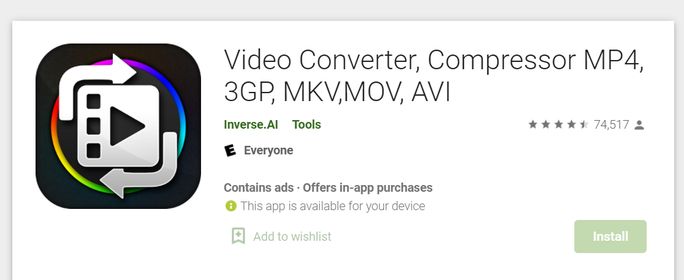 Labeled as one of the fastest, Video Converter and Compressor also help in video compressing. It also facilitates changing of video resolution and bit rate. You can also reduce the video size and still get a decent resolution with this.
VidCompact

This free video converter supports many video file formats. You can also cut, merge, trim and rotate your video with it. You can also compress the file size. It is a good bargain since it is free!
Choosing the right Video Editor for YouTube videos
The way you edit your YouTube videos adds pizzazz to it. From the point of putting in the right music at the right time to visual effects, video editing is a skill that is best tested through a helpful tool.
While free tools also do the job, you should consider your budget before purchasing any paid tools.
Let us help you with selection by telling you about these cost-effective and easy-to-use editors that come with advanced editing tools.
Shotcut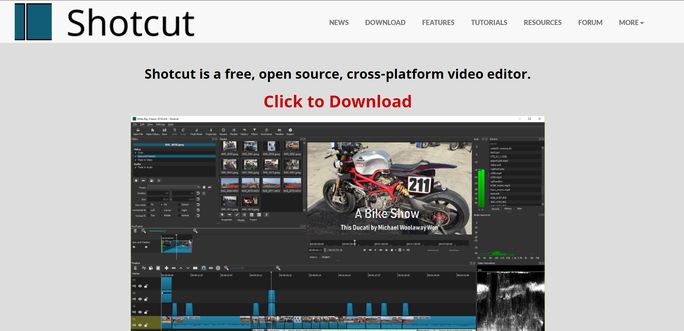 At the top of the list, we have placed this editor named Shotcut. This free software offers almost as many tools as paid ones, such as adding video and audio fragments and applying effects and captions. It is also compatible with Windows, OS X, and Linux.
The main downside of this software is that its user interface is somewhat weird.
Adobe Premiere Pro CC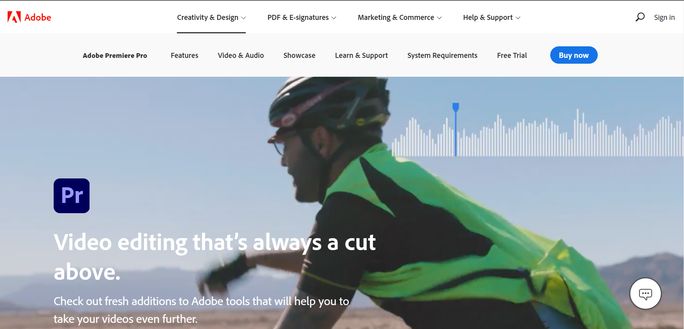 In the world of video editors, Adobe Premiere Pro CC is a well-known one. It helps in the easy adjustment of video colors, including other modifications. You can also process distinct types of media content in the original format.
The major drawback is that it carries a really high cost.
Apple iMovie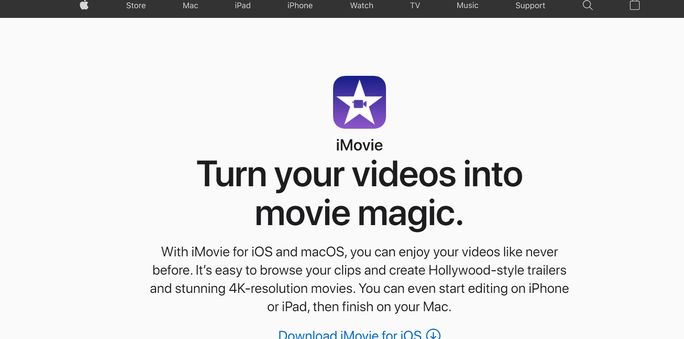 Apple iMovie is a great choice for those who appreciate simplicity. With eight distinct themes made from a combination of music, transition, and titles, this software also has ten different video filters. You can use various effects like slow-motion, fast-forward, split-screen, and more.
How to upload a video on YouTube?
After all the edits and embellishments, you are now ready to upload your video on YouTube. The only question is how?
We have a couple of ways with us in which you can effectively upload your video on YouTube and make it one of the most viewed YouTube videos.
Using the YouTube Android app
Follow the steps below to upload your video via the YouTube Android app successfully.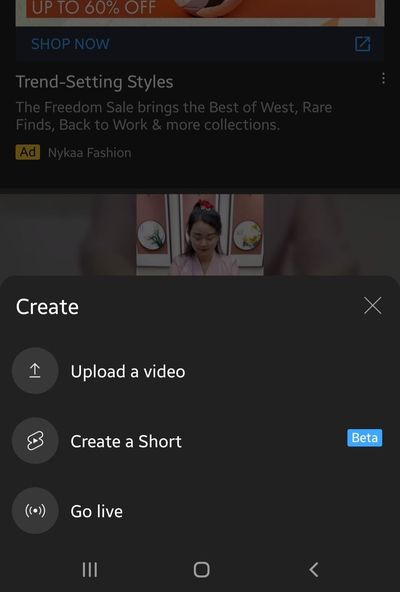 Step 1: Go to create and click upload a video. Select a video from your android phone gallery.
Step 2: Put in the details of your video and click on the "Next" button.
Step 3: Choose your audience by either going for – "Yes, it's made for kids" or "Not, it's not made for kids." Also select between, "Yes, restrict my video to viewers over 18" or "No, don't restrict my videos to viewers over 18".
Step 4: Finally, tap on "Upload" to publish your video.
Using YouTube Studio
Follow the steps below to upload your video via YouTube Studio.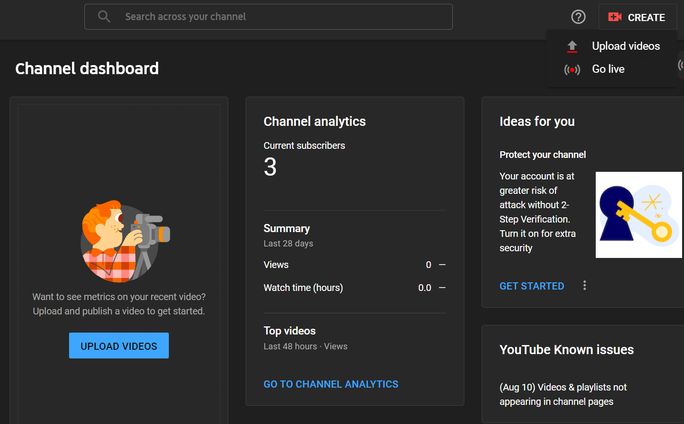 Step 1: Sign in to YouTube Studio.
Step 2: Head to the top right corner and press the "CREATE" button. After that, click on upload videos. Here, you can also opt to go live.
Step 3: Select the videos you wish to upload. You can upload up to 15 videos at once.
Using a YouTube Scheduling Tool
When you need to manage multiple YouTube channels at once, YouTube Scheduling tools like SocialPilot come in handy. You can upload your videos ahead of time and automatically publish your content as per your posting schedule.
While SocialPilot maintain the consistency of your channels, you can focus on creating engaging videos that build loyal subscribers.
Follow the steps below to upload your Youtube video using SocialPilot.
Step 1: Create a new account and sign in to SocialPilot. Make sure you connect your YouTube channels to your account by clicking on Add Account.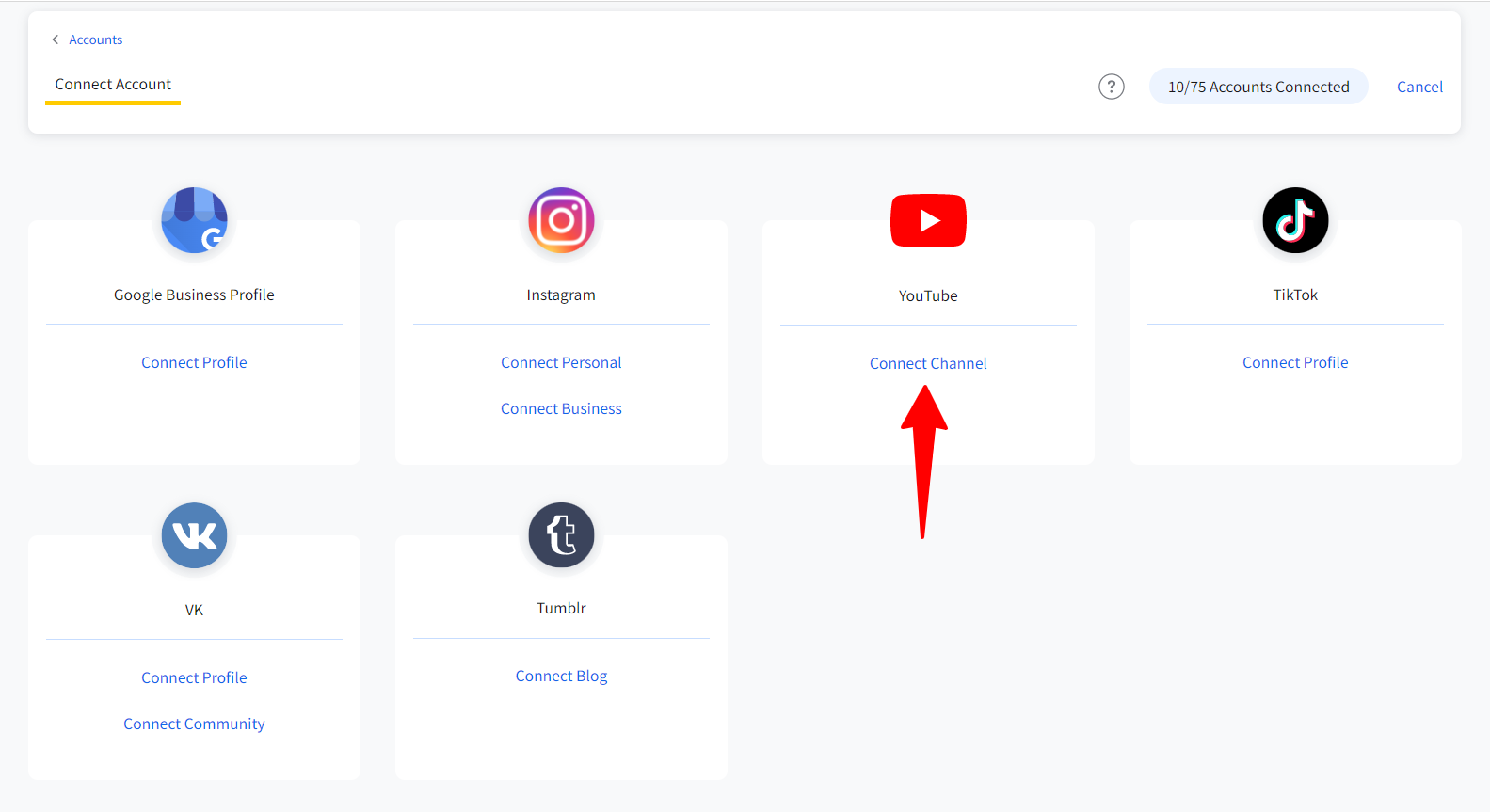 Step 2: Click on Create Post from the top-right corner. It will open up the post-composer for you. Switch to the YouTube channel tab.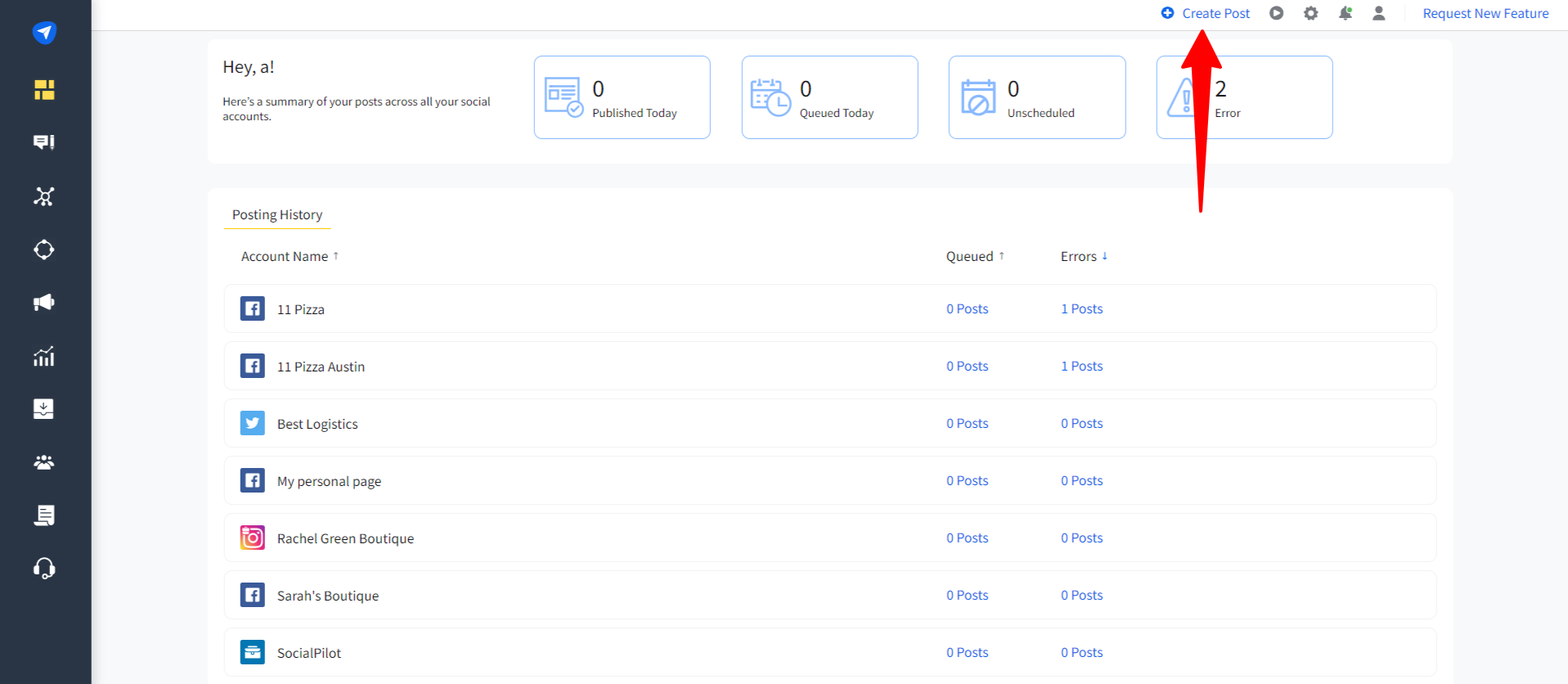 Step 3: Add your video description in the compose box and click on the Add Media button to upload your video. SocialPilot will automatically pick if your video is meant for Shorts or Feed based on the length and aspect ratio of the video.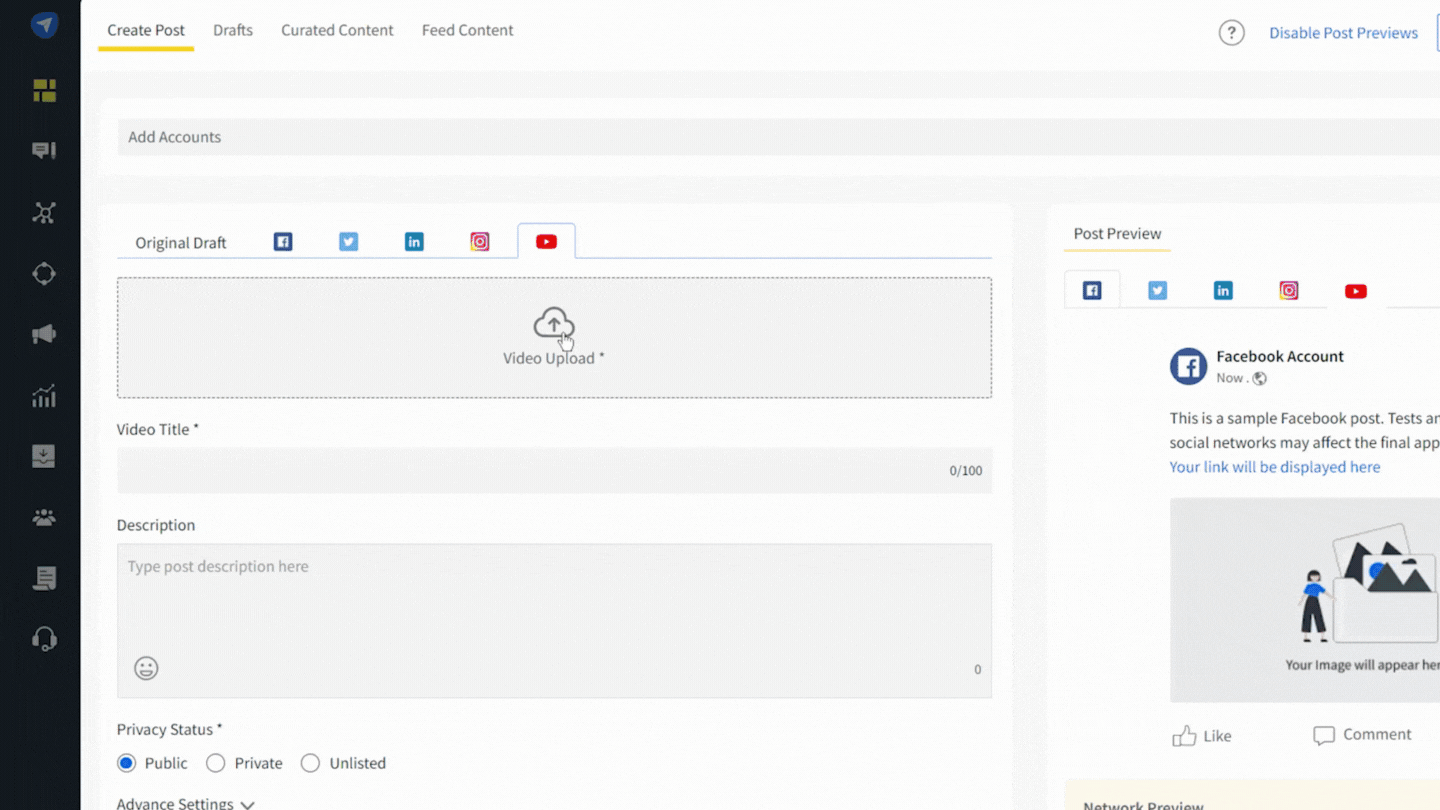 Step 4: SocialPilot allows you to add and edit the video title, thumbnails, tags, content category, tags, links, restrictions, license rights and ownership, and more.
Step 5: When your video post is ready, you can choose to publish immediately, schedule your video to go live at a certain time, or add it to the publishing queue.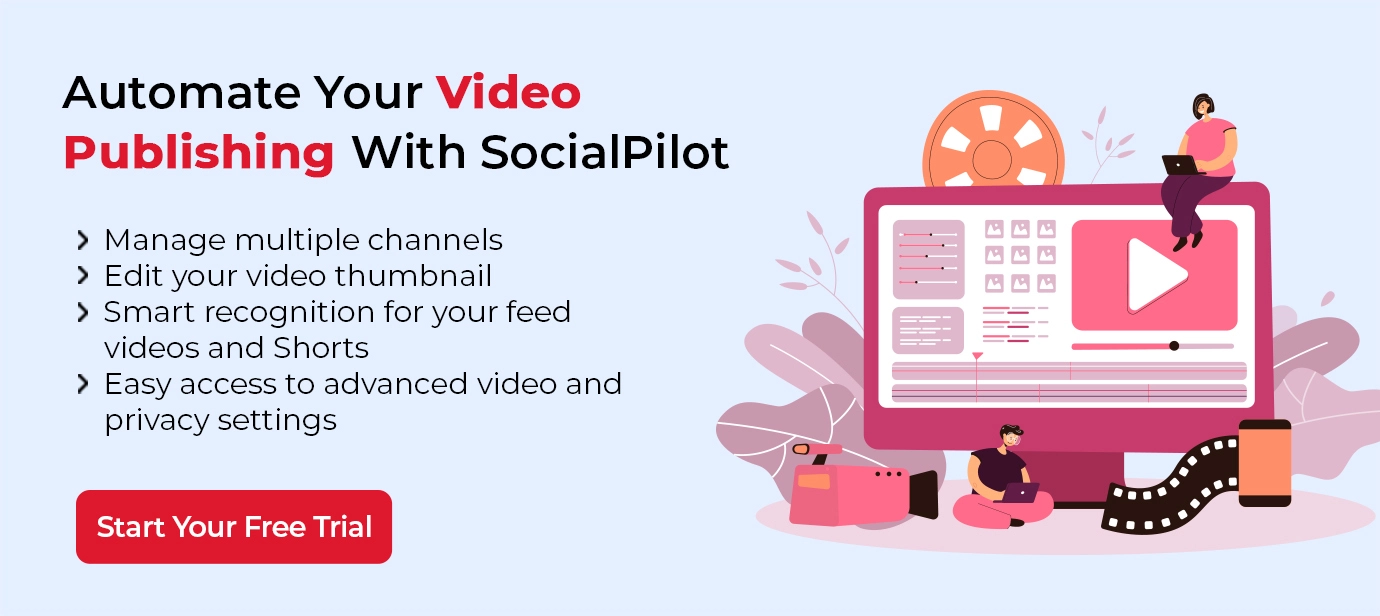 Voila! Now you are YouTube ready
From songs to lectures, it's all available on YouTube. With the platform occupying so much of our minds, the least we can do is use it to our benefit.
YouTube is no less than a marketing tool when used wisely.
Now that you know the drill, create some amazing content and make your videos one of the most liked YouTube videos!
And don't forget to use SocialPilot to plan and schedule your YouTube Shorts and videos across multiple YouTube channels. Try it for free for 14 days now!