With more than 37 million channels up and running, YouTube is a rockstar in the world of social media.
While the fame on YouTube, or the lack thereof, is highly dependent on your content, finding out whether you are scaling the ladder of success or not depends on YouTube Analytics.
So, what is YouTube Analytics?
YouTube Analytics allows you to see data about your channel, assets, and audience. It also permits you to compare different metrics.
While YouTube Analytics may seem complicated, it is a key part of YouTube marketing strategy.
YouTube analytics help you gather insights about your audience's preferences, your current performance, and audience demographics, to name a few.
To hit the goldmine of YouTube video analytics, stick with us.
5 Important YouTube Metrics to Track
Only when you know the status quo of your performance on YouTube can you plan ahead. While some may argue that looking at the number of subscribers is enough or looking at video views is sufficient, the same is not entirely true.
Surely these metrics are crucial, but there are other important metrics lined up. Here we have listed five major metrics that you can track:
1. Watch time
You got it from the name; watch time is all about the time spent by viewers on your videos. Tracked in minutes, this metric is an important one because YouTube gives better ranks to videos with higher watch time.
Such videos also rank better in the recommendations section of YouTube. For YouTube, a higher watch time indicates better engagement of the video.
On YouTube, you can generate a watch time report. In this report, you can see the watch time for your videos to find what kind of video content is more engaging to viewers.
2. Average percentage viewed
With the help of the average percentage viewed, you can find out the percentage of each video watched by the viewer on average. This gives you an insight into how captivating your video is to viewers.
If the average percentage viewed is high, it indicates that your video can attract the viewer's attention and vice versa.
Yet again, if YouTube identifies that your video has high average percentages viewed, then it climbs up your video in the search results. This metric also shows up in the watch time report generated under YouTube Analytics.
3. Average View Duration
Average view duration for a video refers to the total watch time divided by the total number of video plays. This also includes all the replays of the video. This metric also gives an insight into how engaging the video is to viewers.
So, if your watch time is high, but the number of video plays is also very high, that just means your video is not engaging enough. This implies people do not stay on your video for long and lose interest too soon.
Out of all the metrics discussed thus far, this one puts forth the clearest picture of engagement. Not to forget, this metric is also responsible for better video ranking on YouTube search. You can find this metric in the watch time report.
4. Audience Retention
With the help of audience retention, you can find out the percentage of viewers who leave your video at every minute of the video. Higher retention implies the viewers stay on till the very end of the timestamps.
YouTube recognizes videos with better audience retention and gives them higher search rankings.
By knowing the audience retention for your video, you can understand which part of your video is engaging and which part is not. You can do this by looking at the time stamp at which viewers leave the most, and this would show you what they found redundant in your video.
5. Re-watches
The number of times viewers come to watch your video again counts under re-watches. Keeping a tab on the number of people who frequently come back to a certain part of your video can tell you about their interests.
You can then focus more on those interests in your upcoming videos. To get the information for re-watches, look at the absolute audience retention graph.
How to See Analytics on YouTube?
You can easily see the metrics we mentioned above and more using YouTube Analytics to track your performance.
And it is simple to access. Whether you are on your desktop or mobile, you can head over to YouTube Analytics. Let us see how.
Guide to Access YouTube Analytics on Desktop
To head to YouTube Analytics on desktop, you can follow the below-given steps:
Sign in to your YouTube Studio account.
On the left side, there will be a menu. From there, click on Analytics.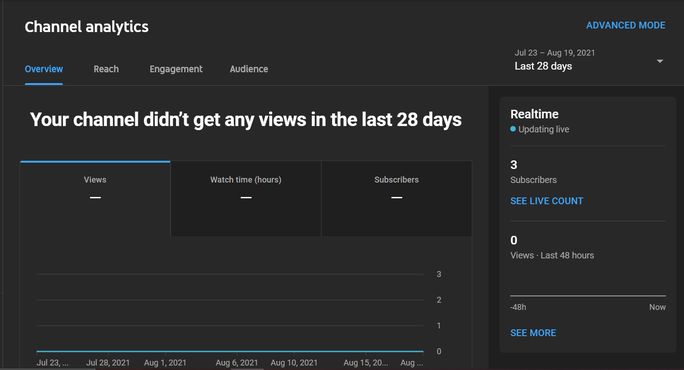 On the channel analytics page, you will find the tab selected by default giving you an overview of the channel. Here you can see the watch time (in hours), the number of subscribers, and views. A time graph will also be available on this page.
Further, if you head to the reach, engagement, and audience section, you will gain deeper insights into the overall performance of your channel.
You can also see your subscriber count updated in real-time.
To access the report at video level, follow the below steps:
Head over to YouTube Studio.
After signing in, select "Content" from the left menu.
Go to the video of your choice, and select "Analytics".
From here, you can view your most current video performance via the channel dashboard.
Simply click on the title of a video or the thumbnail.
To access an advanced analytics report, click on "See more" or "Advanced mode". This will open up an expanded version of the report, where you can access particular data and comparison charts. You can also export the data.
Guide to Access YouTube Analytics on Mobile Phone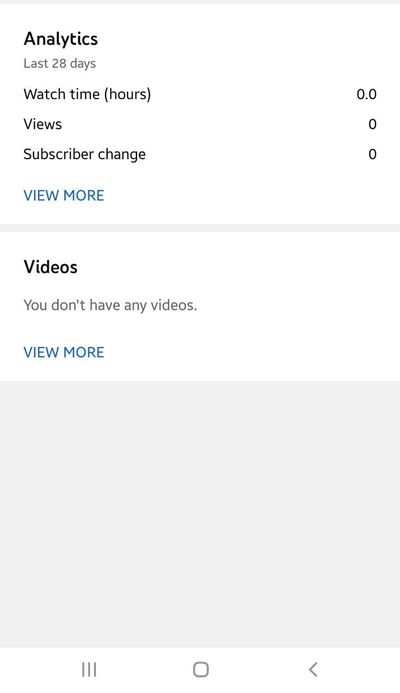 To access YouTube Analytics via your mobile phone, follow the below-mentioned steps:
Download the YouTube Studio app on your mobile phone and sign in to your account.
Once signed in, you will come across summary metrics on the dashboard. You can click on "View More" to see further details.
Here also, you will come across Overview, Reach, Engagement and Audience. Select any of these based on the information you seek.
Understanding Different Analytics Tabs
While accessing YouTube Analytics is easy, the job of understanding the metrics of the analysis is demanding.
Once on YouTube Analytics, you come across distinct tabs. Let us try to understand how you can make sense out of the components of these tabs:
1. Overview
The overview tab provides a summed-up version of channel and videos performance. Here, you can see a key metrics card that shows views, watch time, and subscribers, along with estimated revenue.
You will only be able to see the estimated revenue section if you are a part of the YouTube Partner Program.
In the overview tab, you can access the reports for:
Typical performance of your page referring to a comparison between the performance of your latest video to the general performance of your channel.
Ranks of your recent videos based on the views.
Estimates of your real-time performance over the previous 1 to 48 hours.
Performance of your 10 latest videos.
Performance of your stories over the last 7 days.
2. Reach
With the help of the Reach tab, you can gain insights into how your audience can discover your channel. Here you can find the key metrics card for impressions, click-through-rate, views, and unique views.
Some reports that you can access on the Reach tab are:
A traffic source type report to know the method by which your viewers reached your content.
An external report for tracking traffic from websites and applications with links to your channel.
A suggested video report for tracking traffic from video suggestions on other YouTube videos. Here other videos may or may not refer to your videos.
Impressions and watch time report to see how many times people viewed your video's thumbnails and the click-through rate resulting from these thumbnails.
A playlists report to tell you the traffic from the playlist featuring your video.
A YouTube search report to know the traffic to your video from keyword search.
3. Engagement
Through the Engagement tab, you can get a summary of the time spent by the audience on your videos. Here, the key metrics card shows you the watch time and average duration of view.
Some reports that you can see here are:
A report for top videos with the highest watch time in the past 28 days.
A report for top playlists for the most-watched playlist in the past 28 days.
A report for top videos by end screen to know the best end screen for your channel over the past 28 days.
A report for top-end screen element types to show the best end screen element types over the past 28 days.
A report for top posts to know about the top community posts over the past 28 days.
When you extract data for individual videos, you can also see audience retention, likes and dislikes, and end screen element click rate, among many others.
4. Audience
Via the Audience tab, you can check a summary of the kind of people who watch your videos. Here, the key metrics cards show you data on unique and returning visitors, subscribers, and total members.
Some reports that you can access on the audience tab are:
A report about the online activity of your viewers across all YouTube channels for the past 28 days.
A report on the number of subscribers who have enabled bell notification from your channel.
A report on the watch time from the subscribers and non-subscribers.
A report on the demographic details of your audience.
A report on the details of what other channels your audience watched over the last 28 days.
A report on audience geography by IP address.
A report on data of your audience subtitle preference.
5. Revenue
The details on the revenue can only be obtained when you are a part of the YouTube Partner Program. With the help of this tab, you can keep track of your YouTube earnings. Here, the key metrics cards show the estimated revenue, RPM, and the playback-based CPM.
You can find reports on:
The monthly estimated revenue to know the channel earnings over the past 6 months.
The revenue scores for the way you are making money with YouTube.
The transaction revenue for estimating the net revenue from the transactions including the paid content and super chat.
The top-earning videos with the highest estimated revenue for the time.
5 Tools for YouTube Video Analytics
While YouTube Analytics puts many things on the table for you to analyze, you can gain some extra insights using the following tools:
1. Unbox Social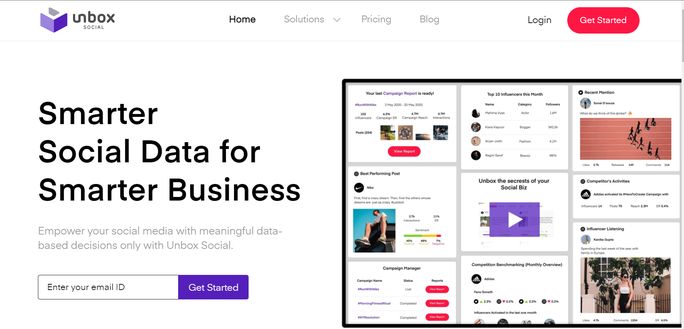 Known as an influencer marketing tool, Unbox Social is one of the most effective analytics tools out there.
It is an incredibly efficient platform for tracking audience preferences and responses to your YouTube videos. Right from helping you discover how fast you gain subscribers to knowing how many people share your video, this tool can help scale your success on YouTube.
By being highly data-driven, Unbox Social is not only used to track YouTube Analytics but also helps in analytics of other social media platforms.
2. Channel Meter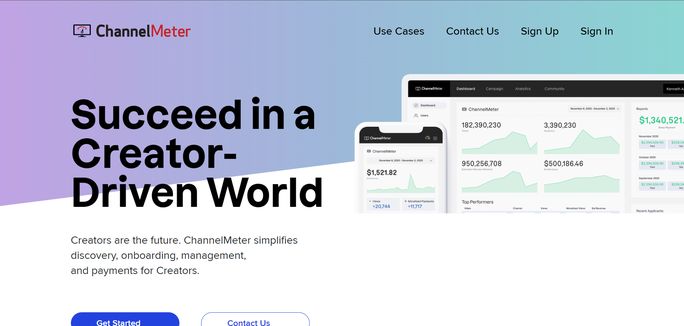 Right behind Unbox Social, we have Channel Meter. This is another analytics tool that can help in gathering data. It uses a dashboard format to exhibit different types of data through graphs and charts for easier understanding.
You can track your growth and performance on YouTube through this. You can also compare your channel's performance with other channels.
3. Quintly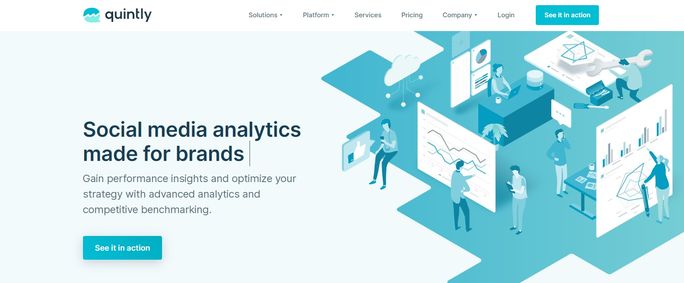 Through quintly, you can get data for multiple YouTube channels at once and manage them easily. Along with data analysis, this tool also gives you an idea of how to improve your content. The interface of this tool is quite user-friendly, with insightful reports.
4. Socialbakers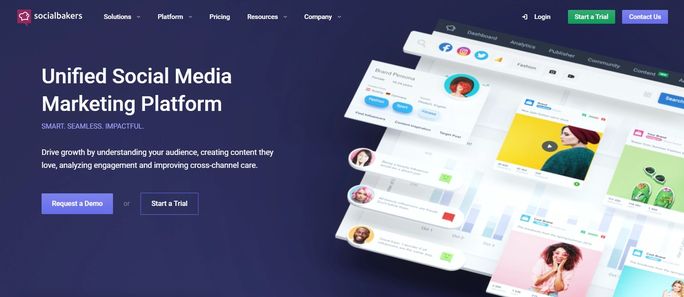 Socialbakers is another great tool for YouTube analysis. It offers the features of content intelligence, social media monitoring, and audience analytics.
Via these features, you can understand when to post your videos, make unique content, and what your viewers prefer watching.
5. Vidyard

By helping you understand your viewers better, this tool helps transform viewers into subscribers. This tool specializes in videos for marketing purposes and tracks the metrics specific to those flawlessly.
Start Analyzing Your Way to Success!
While for some, YouTube is entertainment, for many, it is a career. If you are interested in pursuing YouTube as a career, your action plan should analyze data and metrics on the to-do list.
It is not just engaging content that gets you to the pinnacle; it is a smartly formulated data-backed approach that does.
Another crucial aspect of any successful social media strategy is the use of a robust social media tool. Without one you won't reach your goals as expected. SocialPilot is one such tool that can help you with your social media management efforts.
Try its free trial today to know yourself!