YouTube is loaded with 720,000 hours of video content every day. People across the platform consume over 1 billion hours of video content. It is one of the most preferred video content platforms for over 90% of the audience in the U.S.
But the issue is that YouTube content can only be streamed on the YouTube platform as you are restricted from downloading YouTube content for future use.
But being a serious content creator, you can come around videos that inspire you, and you might want to use bits and pieces of those for your future videos.
But how to download a YouTube video if you don't have any permission to download it?
YouTube suggests you subscribe to its YouTube Premium services to download or save video content for your benefit. But there are tons of other free ways you can download a YouTube video.
We have filtered some of the best and most effective ways for you to download a YouTube video on your computer or any other smart device.
But before we jump onto that, let's discuss why a YouTube business channel needs to download a YouTube video for future purposes.
Why is there a Need to Download a YouTube Video?
Being a content creator on YouTube, you need to always expand your creative mind by watching and scrolling through tons of the latest videos.
You need to be aware of what the world is doing, what the competitors are doing, what's working, and what's not. And for that, you might feel the necessity to download the video for easy access in the future.
Let's discuss some of the key points that may arise the need for downloading a YouTube video:
You need to use some of the clips of a YouTube video
If you like a content piece and want to use some of the clips of a non-copyrighted video, you might want to download the particular video, as you cannot use the clip without downloading it so that you can tweak it in your YouTube video editor tool.
You need quick access to the Content Piece
Going onto YouTube and searching and scrolling for the particular content piece you like might be time-consuming. You might need swift access to the file on your smart devices so that you can use it or show it to anyone anywhere.
You need to escape the Advertisement part
As YouTube ads are one of the key marketing strategies, YouTube consistently shows multiple advertisements before starting any video. If you want to improve your YouTube experience, you can buy a YouTube premium subscription to download the video and view it offline without any advertisements.
There can be multiple other requirements for a particular business to download a YouTube video, but these are important aspects.
Now it is about time to learn and understand how to download a YouTube video to a computer or any other smart device for your benefit.
Keep in mind: Before downloading and using any content from YouTube, you need to be aware of the copyright claims of that particular video. Because using the content of a copyrighted video without seeking the original creator's permission, or without buying the rights to it, is illegal according to YouTube terms and conditions.
3 Ways to Download a YouTube Video
1. Using VLC Player on a Computer
VLC Media Player is a great YouTube video downloader for pc and is free to help you download a YouTube video within a few steps.
Although it was primarily introduced as a media player, it has upgraded its features and added the YouTube video downloader element.
Let's discuss all the steps in detail to avoid any difficulties using the tool.
Step 1
Select the video you want to download and copy its URL to your clipboard.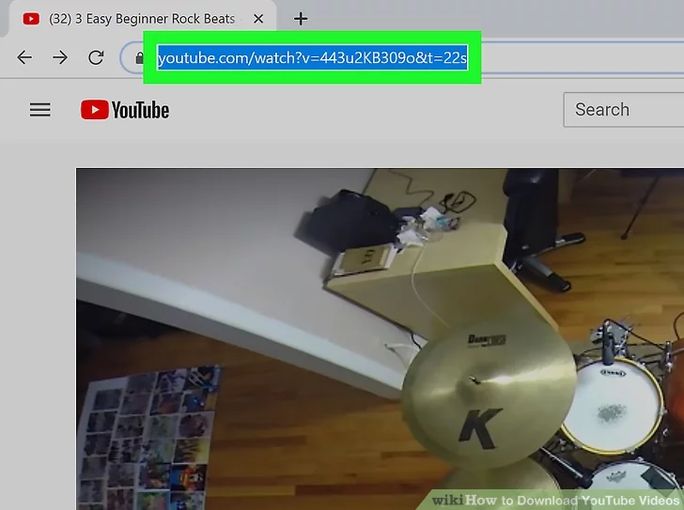 Step 2
Once you have copied the link, open the VLC Media Player and click on the 'Media' option on the left top corner of your screen.
Then select 'Open Network Stream.' It will allow you to play any content from the browser in VLC.
If you are using a macOS, you need to click on the 'File' and 'Open Network' to access the feature.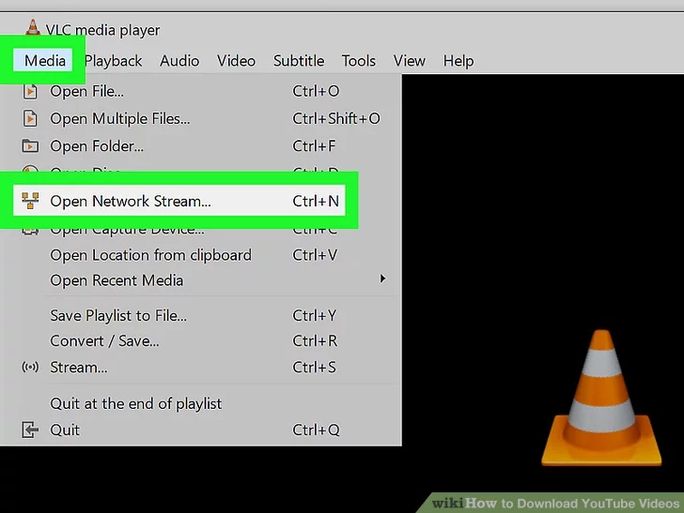 Step 3
Paste the copied URL in the dialogue box appearing in the Network Stream feature and click the play button.
Make sure that you have downloaded the latest version of VLC Media Player to avoid any troubles.
You might be thinking that you need to download the video and not play it.
Once you are done with these initial steps, click on the 'Tools' option and select 'Codec Information.'
Being a macOS user, you need to select 'Window' and click on 'Media Information.'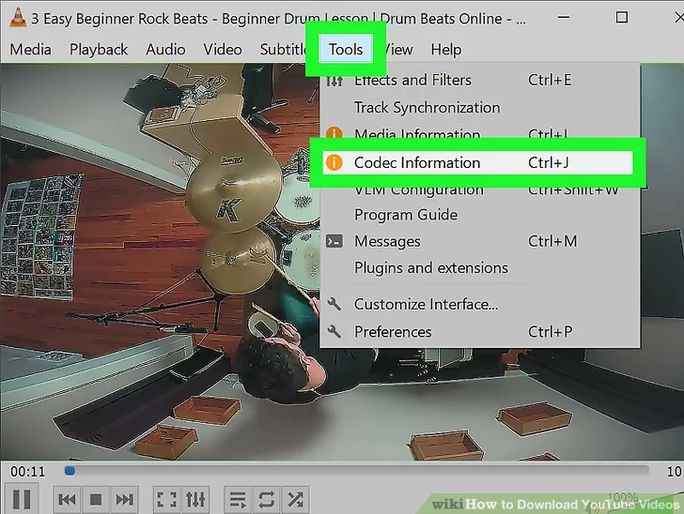 Step 4
Copy the content in the location field and then paste the address in your web browser. Right-click the video that appeared in the browser and click 'Save Video As.'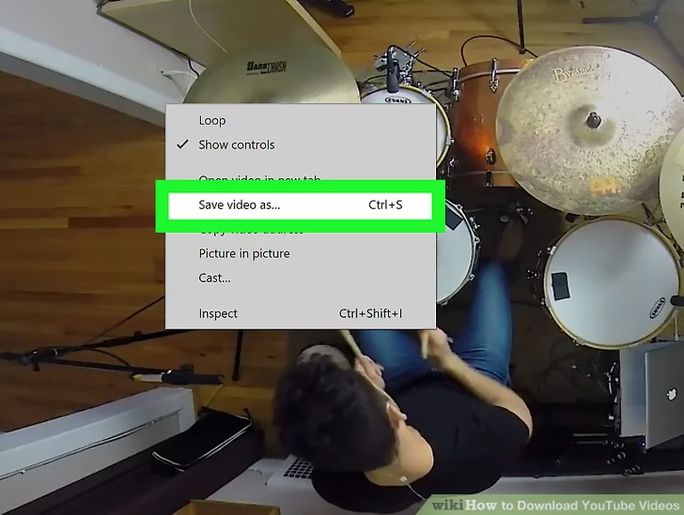 Step 5
Download the video by choosing the location on your device.
You can use this process for unlimited videos and download them on your desktop for offline use.
2. Using WinX or MacX on a Computer
MacX and WinX are a complete suite that can be used to download videos from multiple sources across the internet, and YouTube is one of them.
If you are a Windows user, download WinX, and if you are a macOS user, download MacX to download your YouTube videos.
Step 1
Once you have downloaded the program, click on the "Add URL" option on the top end corner of the application.
Copy the URL of the video you want to download and paste it into the dialogue box appearing before you.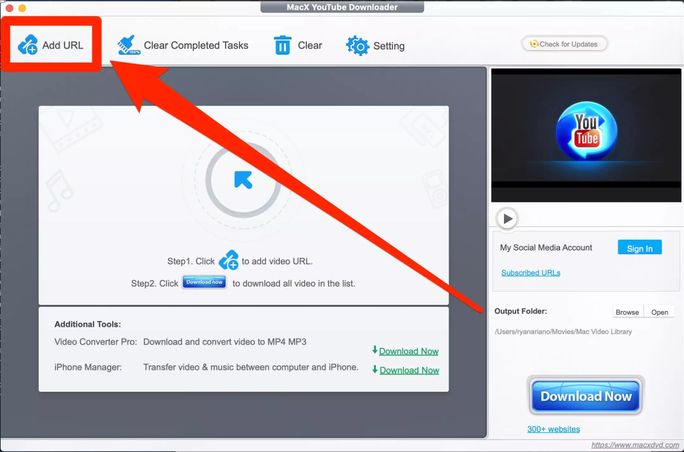 Step 2
Click on the 'Analyze' button. Then the application will check the quality of the video. Once the check is complete, the application will offer you various file types that you can download.
Step 3
Select any version of the file you want to download, and you are good to go. You can even download multiple files of your choice so that you have a variety of options to choose from.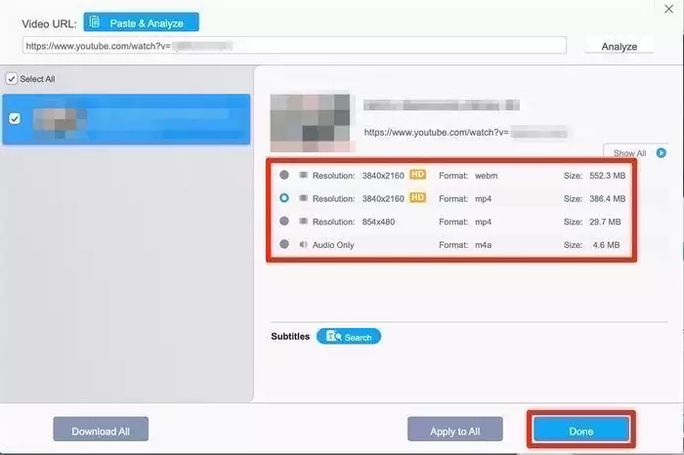 3. Using KeepVid on an iPhone or iPad
KeepVid is an online platform where you can easily download any YouTube video and save it on your iPhone or iPad for future use.
Let's see how you can effectively make use of KeepVid in a few simple steps:
Step 1
You need to download the Document by Readdle application on your iPhone or iPad so that it's easy for you to download YouTube videos because Apple makes it a bit difficult.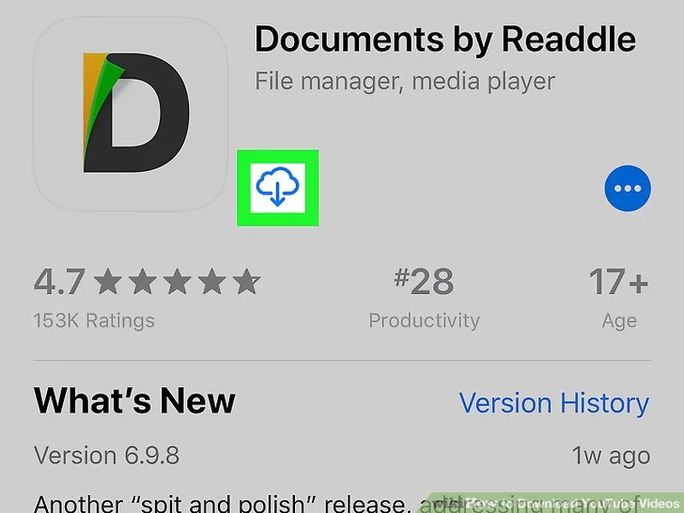 Step 2
Once you download the application, you need to copy the link of the video you want to download and open the blue compass icon in the Documents application.
Step 3
Your browser window will open up, and then you need to type in KeepVid.pro in the address box.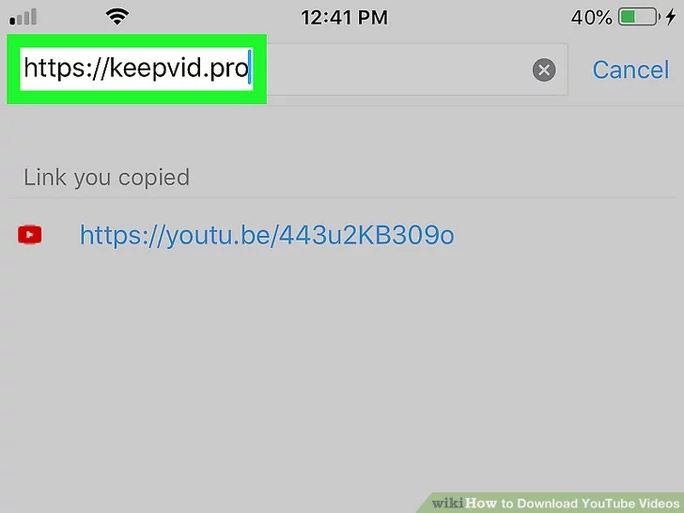 Step 4
Once the website is open, paste the copied link in the 'Enter Link' field and click the download now button.
A few options will appear in front of you where you can select the quality of video you want to download.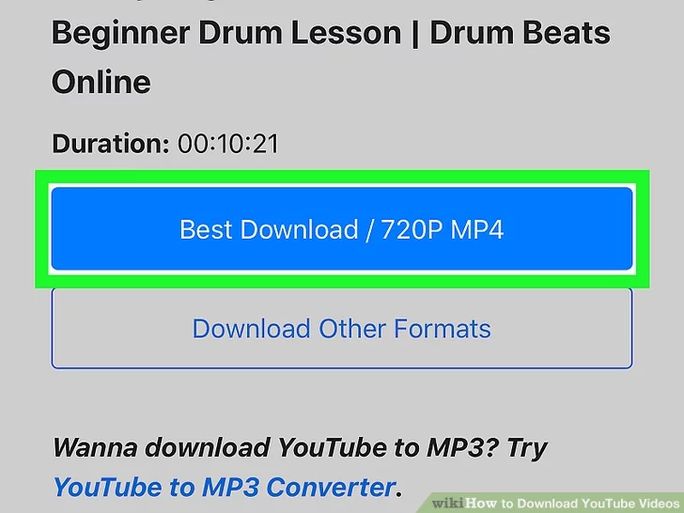 Step 5
Rename the file and download the file you want to view on your device. Once the download is complete, return to the Documents application.
The last step for you is to add a Documents application to the files app. It will make it easy for you to access the downloaded video.
Once the process is complete, you can easily access the video using the Documents application.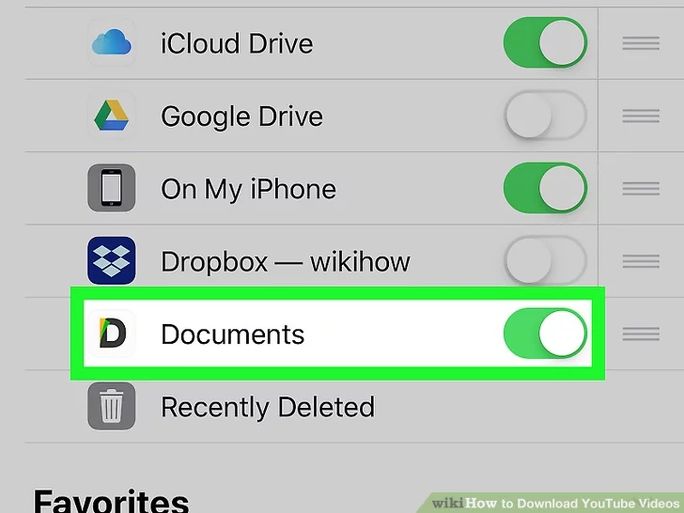 These are some of the top tools and the steps you can use to download videos from YouTube using these individual tools.
But the list doesn't end here; there are multiple powerful tools you can use to download YouTube videos. So without further ado, let's get started.
5 Top YouTube Video Downloaders
1. SnapDownloader
It is one of the most powerful YouTube video downloading tools you can get your hands on. It has the ability to download videos up to 8K resolution.
You can use the free trial version for 24 hours with access to complete features of the tool. They provide you 24×7 customer support and have a smooth UI/UX for a seamless downloading process.
You can easily convert your video into MP4 or MP3 with the feature of downloading multiple videos at once. It supports both Windows and macOS.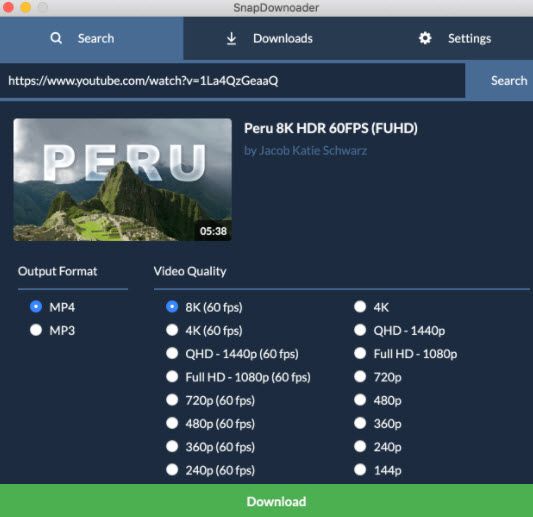 2. 4K Video Downloader
Simple to use tool for faster processing and downloading of video files from YouTube. You can download premium quality 8K resolution.
It even has the feature to download videos automatically from your favorite YouTube channel. Apart from YouTube, you can also download videos from multiple leading platforms.
It supports multiple audio and video formats to download. The process is simple; you can extract the YouTube video to your device by pasting the video URL in the dialogue box.
One thing that lets the app slip away from the rest of the top YouTube downloader applications is that you cannot use this on Android or iOS platforms.
It has three plans starting from $15 to $65, you can check out all the pricing options.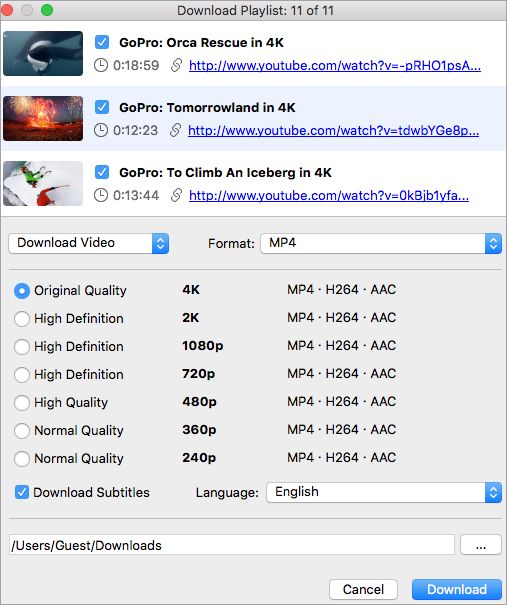 3. YTD Video Downloader & Converter
YTD Video Downloader & Converter has a user-friendly interface and lets you download video across 50+ platforms on the internet, including YouTube.
You can convert videos on iPad or Android platforms for easy accessibility. It supports multiple audio and video formats so that you have numerous options to choose from.
The free version is loaded with tons of features that can entice the user. It provides an ad-free experience and is a powerful tool for downloading videos in no time.
It has two versions in the offering, with free and premium, which costs around $0.99 to $4.99 per month.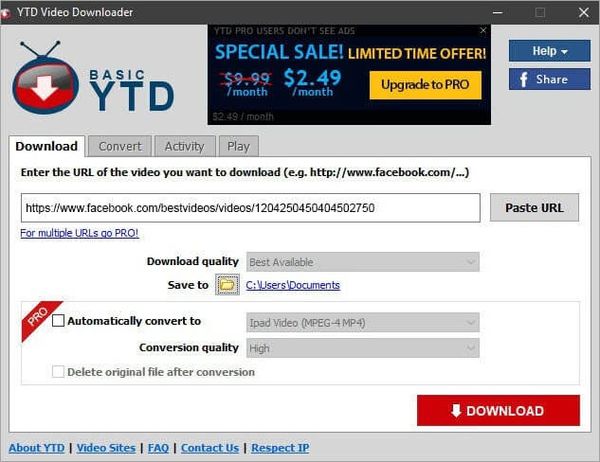 4. ByClick Downloader
It is a great tool to download private videos, complete playlists, and other videos available on YouTube.
Apart from YouTube, you can download videos from multiple sites available on the internet and save them for your future use.
It supports all the top video and audio formats so that you are never out of options. You can even download all the live videos with ease.
The tool is only available for Windows and Android users. It doesn't support iOS and Linux users.
It offers two versions, free and a premium version which costs around $4.99.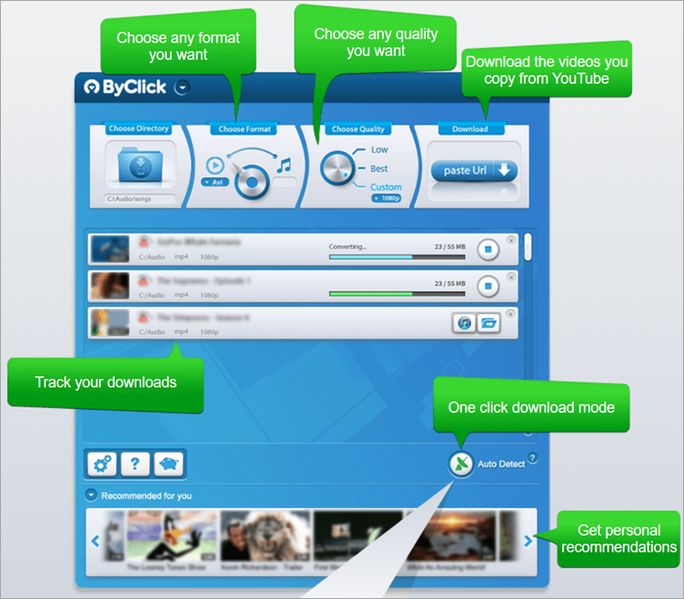 5. Allavsoft
You can download videos using Allavsoft within a few clicks and save a lot of your time getting involved in hectic processes.
You can just convert video files into any format of your choice. Its seamless interface makes it super easy to use the tool and make the most of it.
It also supports multiple audio and video formats, and you can easily export the downloaded files to any other device.
The ability to automatically detect advertisements doesn't download the ads and saves your space and time.
It is available in four versions:
Free trial
Lifetime license: $59.99
1-month license: $19.99
1-year license: $29.99
Kick-start the Downloading Process Already!
We hope that you are clear with how to download a YouTube video most effectively. But don't forget to keep in mind the copyright issue while creating content from a YouTube downloaded video.
Once you start with the YouTube content creation part, there are many things you need to keep in mind about how to take your YouTube channel to success. From having a tailored YouTube marketing strategy to performing powerful YouTube analytics, you need to manage it all.
And in case you want any help regarding powerful analytics of your social media handles or in planning a useful content calendar for your content marketing, you can use SocialPilot to ease some pressure off your shoulders.
All the best for your marketing efforts.