A digital marketing strategy is a must for any business hoping to reach its audience online.
Whether you want to take advantage of social media platforms, use live streaming platforms to promote your eCommerce products, or use your blog to bring in website traffic, you need to have a clear and actionable plan in place.
How do you put together your digital marketing strategy?
We're going to look at
Exactly what a digital marketing strategy is
Why a digital marketing strategy is important
How to develop your own strategy
Let's get started.
What is a Digital Marketing Strategy?
A digital marketing strategy is a plan that you develop to help your company achieve its goals by using a range of digital marketing channels across your owned, paid, and earned media.
Before you start to invest time and money into digital marketing, you need to outline what you're aiming to achieve, such as:
Creating awareness
Generating leads
Guiding leads down your sales funnel
Nurturing your existing customers
Once you know how your strategy is going to support the business, you then map out how you're going to use your digital channels to hit your goals.
There is a range of digital channels that you can harness and the one you pick will be influenced by the goals you set out.
You might choose a pay-per-click (PPC) campaign like the companies in the screenshot below have done.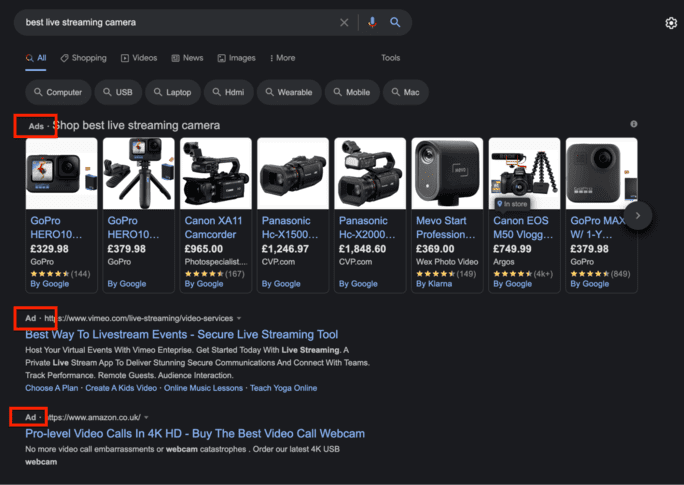 These companies have chosen to target people searching for "best live streaming camera" to generate interest in their products and close sales.
On the other hand, referral tracking software Viral Loops has chosen to use email marketing in its digital strategy, generating brand awareness by sending regular newsletters and demonstrating expertise in its industry.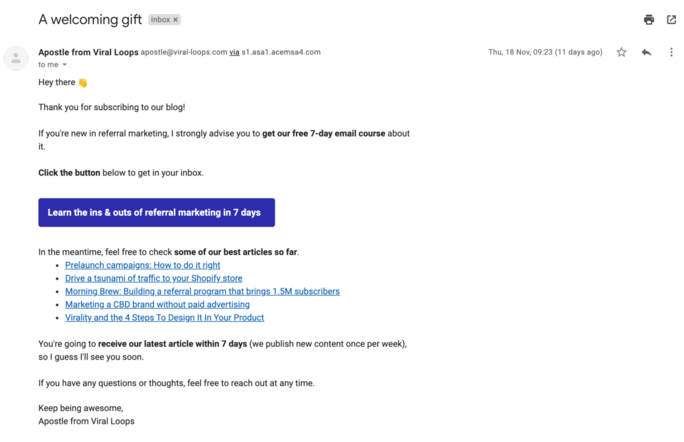 However you choose to reach your target audience, you need to have a plan before you begin.
Why do You Need a Digital Marketing Strategy?
You need a digital marketing strategy to know what you want to achieve, how you're going to do it, and what metrics for success you're going to use.
Formulating a strategy will help you decide which marketing tactics you're going to use and what tools you'll need to monitor the results.
Here's a breakdown of exactly why you need to have a digital marketing strategy in place from the very beginning.
1. To Reach Your Customers Online
It's estimated that more than 30% of all business is done online, up from 21% just five years ago.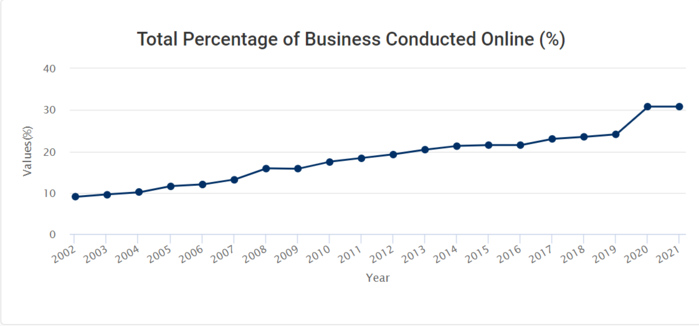 This means that your target audience is likely to be online and keen to work with you there.
One of the new digital marketing strategies being embraced by businesses is influencer marketing—working with influencers to put their products in front of an engaged audience.
It's an effective way for a growing small business to reach more people, half of women have bought a product or service due to an influencer post and 62% follow influencers to get achievable inspiration, meaning they're actively seeking new brands.
Beauty brand Becca Cosmetics harnesses the power of influencer marketing, working with micro-influencers who have small but engaged followings.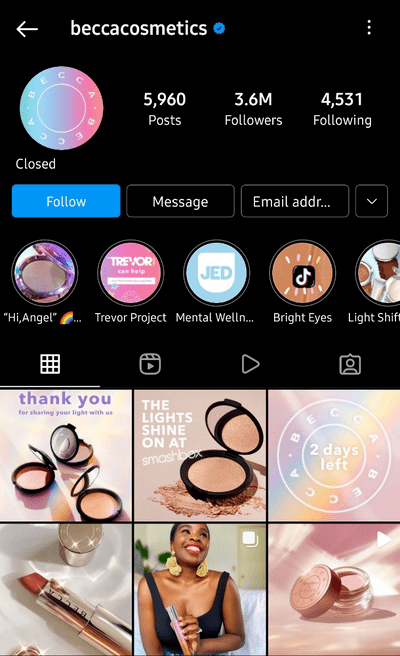 It recently worked with Amber Latrice who has 11,000 followers on Instagram: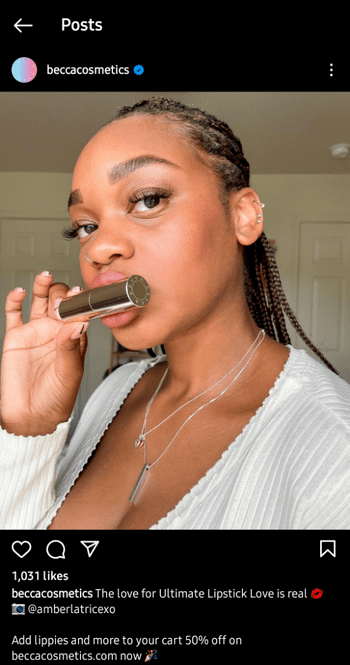 This helps the brand connect with a broader audience and take advantage of the trust that influencers have already built with their audience.
2. Better Insights into Your Online Performance
A strong digital marketing strategy will have a focus on the results it generates for your marketing team and the wider business.
Offline or traditional media can be difficult to quantify—you can't always be sure which advert a new customer saw or at which stage of the customer experience they decided to become a buyer at all.
On the flip side, online activity is very easy to trace.
Marketing campaigns ran online can track which link a person clicked on in a blog, which keyword they searched for that generated an advertisement that they bought from, or which Instagram ad took them to a lead generation landing page.
Here's a screenshot of the analytics and metrics you can get through Facebook Business Suite as an example.

These campaigns didn't have an action in mind, but if there was a desired outcome like clicking on a call-to-action (CTA) or joining a group, it would be tracked under Results and you'd have a clear indicator of how much each result cost you to achieve.
Not only can you see what elements of your strategy are working, but you can also be responsive and tweak your plans if you don't hit the KPIs that were set.
3. You're not Dependent on a Brick-and-mortar Business Model
Although a pandemic might be a once-in-a-lifetime event, it does demonstrate the need for a resilient and adaptive business structure.
Businesses accelerated their digital transformation by up to 7 years due to COVID, according to a study by Kinsey, everyone is now getting in on digital working and digital marketing initiatives.
Chinese companies were fast to adapt to a hybrid model, with executive insight company Gartner citing a mall that engaged in social media marketing and used their sales clerks as presenters. It managed to preserve its sales figures through the pandemic by expanding outside of its physical space.
Even without a wholesale change in the way we do business, taking your real-world business into the digital realm can offer you faster expansion and a wider audience.
London-based fitness center Gymbox has eleven physical locations and have also built a successful online offering.
They have used its detailed knowledge of the type of person who goes to the on-site gyms to build an online video membership site that matches the needs of their ideal customer.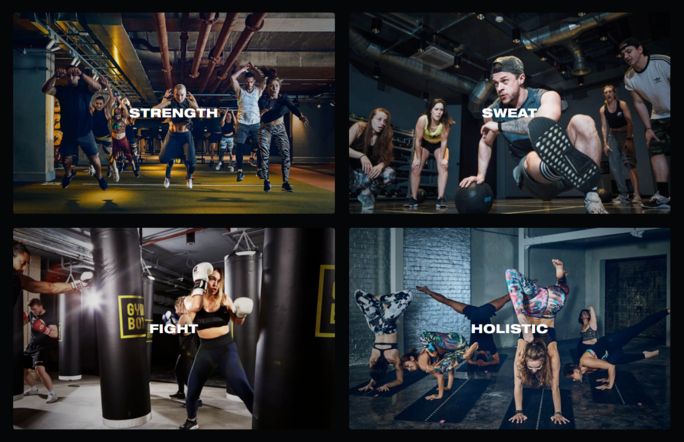 4. Digital Marketing Costs Less than Traditional Marketing
Choosing digital marketing activities can require a lower investment to get going. It's much cheaper to run content marketing and search engine optimization (SEO) with a new blog than it is to have thousands of postcards sent out to a mailing list, for example.
By 2023, it's predicted that over two-thirds of all media ad spending will be spent on online marketing.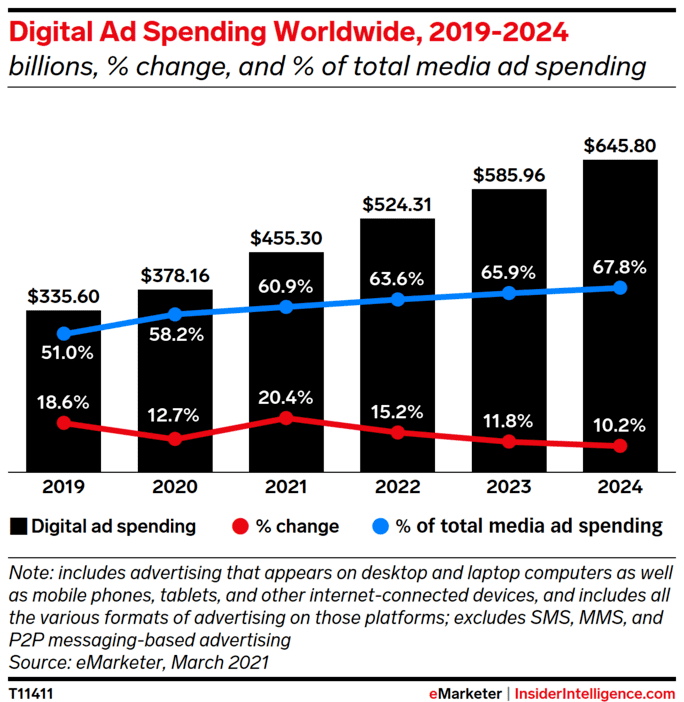 The reason for that is likely the higher return on investment (ROI) you can achieve from digital marketing than traditional marketing.
As an example, TV advertising could give you an ROI of around $4.30 over a 3-year period, whereas using influencer marketing, for example, can give an ROI of $5.78.
Here are 6 steps to get your digital marketing efforts started.
6 Steps to an Effective Digital Marketing Strategy
Now you understand how digital marketing can align with your business goals, you need to get down to some strategic planning.
A lot can go into digital marketing; you may think you need a social media strategy, content marketing strategy, and a plan for running webinars, but you should work on focusing on a limited number of channels where you know your target customer can be reached.
Here's how you can put together a plan for using digital marketing tactics to meet your business objectives.
1. Identify Your Audience Personas (AKA Customer avatars)
In an established business, you will already know who your customer base is and if you're launching a new business, you need to figure out who will want your product.
Your buyer persona will be a detailed description of your ideal customer based on demographics, brands they like, where you can connect with them, and so on.
Knowing who your target market is for your digital marketing will help you understand who you're trying to reach, where to find them, and the emotions you need to connect with.
2. Identify Your Goals and Objectives
Your business will have goals and objectives and you should use your digital marketing strategy to meet them.
Some examples of goals could be
Increase brand awareness
Have the CEO become a recognized industry authority
Increase engagement on your social media channels
Increase the subscribers and open rate of your email list
Boost visitors to your product landing pages
Make your goals specific, measurable, achievable, results-focused, and time-limited, for example:
We want to increase engagement rates on product-led Instagram Reels to 15% from the current 10% over the next three months
3. Conduct Competitive Research (AKA Competitor analysis)
There's no need to reinvent the wheel—you can look at other businesses in your industry and see what they're doing right and replicate their strategy and success.
There are lots of tools available to help with this. You shouldn't copy anyone's digital marketing strategy outright but it's definitely worth looking around your industry to get inspiration, or even learn what isn't working.
4. Define Your Digital Marketing Channels
You should choose your digital marketing channels based on your customer avatar, goals, and what works in your industry.
Different channels will work for different goals, such as
Email marketing can work for nurturing your leads and retaining your existing customers
Social media marketing can drive brand awareness and send buyers to your sales pages
PPC advertising can convert people who are ready to be paying customers
SEO can help educate your potential customers about your product
Affiliate marketing can grow your customer base quickly
Web hosting and domain listing company GoDaddy has chosen to run an affiliate program to drive growth and bring in new business.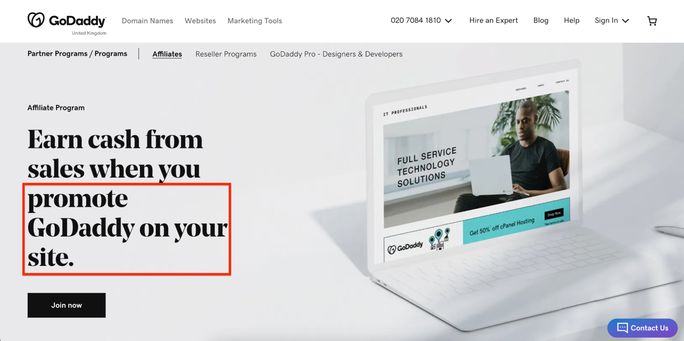 By asking bloggers and other businesses to promote the services on their behalf, they are using the trust that people have in their personal network to gain credibility and customers.
5. Define Your Content Strategy
You may have heard the phrase "content is king", and it's true for all digital marketing strategies.
Your content strategy should join up all the channels you're going to use and ensure that they complement each other.
For example, your email newsletter should link to the week's new blog post and the Reel you post should connect to the YouTube explainer video that gets uploaded the next.
Your content strategy should also define your visual aesthetic and brand voice, including design templates, your color palette, and whether you write in formal or conversational language.
6. Find Ways to Amplify Your Content
This could be through a process of content marketing, which includes building backlinks or asking companies in adjacent industries to refer to your business in their content or share your relevant blog post on their social channels.
You can also use paid ads to boost the reach of your content, for example, you could promote your latest TikTok about a cool product feature.
Working with influencers to highlight your recent campaign can help you gain more attention from their audience and drive the action that you're looking for from your marketing campaign.
Over to You
Now you know how to get started with your digital marketing strategy, there is a whole range of ways you can harness its power.
As long as you have a solid roadmap that gets your business results there are lots of ways to use it.
Following our steps, you should see a strong return on investment and your business move one step closer to your goals and objectives.
While you're at it don't forget to use SocialPilot to help you with your social media marketing efforts. Go for its free trial today to know more.