Marketing professionals love sending emails.
And why wouldn't they?
Email marketing is one of the most popular distribution channels.
However, just sending an email to all of your customers doesn't work anymore.
Customers expect brands to provide personalized content. Emails that are personalized tend to create six times higher transaction rates and revenue.
This leads us to a powerful strategy called 'Drip marketing'.
Drip campaigns focus on sending relevant content to the audience at the right time.
Statistics prove that businesses that excel in drip email marketing can generate more sales by approximately 80%.
And, Drip marketing isn't limited to just emails. Marketers have started using this strategy with other channels like SMS and phone calls too.
Through this article, you will get an extensive insight into what it takes to create a successful email drip marketing campaign.
We have also listed down some popular email drip marketing campaign examples.
But first, let's start with the basics.
What is Drip Marketing?
Drip marketing is a strategy where a set of trigger-based automated emails is sent out to an audience at timely intervals. Also known as life-cycle emails or automated campaigns, drip marketing helps businesses stay connected to their customers.
Here are some key features of this marketing strategy:
It is personalized to cater to a targeted audience
The content is pre-written
The emails are automated and sent out at specific intervals. Sometimes, the emails are triggered by customer action (For example, an email receipt sent after purchase)
Triggers for Drip Campaign Emails
Triggers are events that initiate your drip campaigns. These are pre-set conditions that your audience has to meet. Once they take the expected actions, the drip emails are automatically sent to their inboxes. Triggers may include:
a new subscriber
a new purchase on your online store
an abandoned purchase cart on your online store
an approaching subscription expiry
a subscribed yet inactive customer
Benefits of Drip Marketing for Your Business
Still unsure if drip marketing would benefit you? These are some of the major reasons why you should try out this marketing strategy.
Customer engagement: When emails are sent out based on customers' preferences, they are more likely to read those emails. You can engage better with your audience using triggered emails. You can personalize your content and deliver the information that your audience is looking for.
Nurturing leads: One of the biggest advantages of drip marketing is nurturing prospects. To convert your leads, you have to educate them about your products or services. A drip marketing plan allows you to send automatic communication to your audience.
Saving time and resources: Drip marketing helps you save time and resources yet constantly engage with your audience. Yes, you would have to study your audience and draft the content. However, the messages would be sent automatically when triggered by a customer's actions. This way you can spend more time analyzing and improving the campaign instead.
Brand recall: When you consistently show up in your audience's inboxes with relevant information, you will be hard to forget. Subscribers are more likely to trust you when maintaining regular contact. You can create an email series to create a steady flow of conversation. Send out surveys or feedback forms so that the communication is not one-sided.
Higher conversion with segmentation: Drip marketing relies on audience segmentation that helps you target them better. Through the campaign, you can divide your audience into various user groups. This would ensure that the subscribers only receive content that applies to their scenario. For instance, you wouldn't send out explicit promo emails to leads who are unsure of purchasing. These leads would require emails that outline your brand's offerings instead.
8 Email Drip Marketing Campaign Examples
With the help of some drip marketing campaign examples, we'll discuss when you can integrate drip marketing in your emails.
1. Welcome Emails
Welcome emails are a great way to acknowledge your new subscribers. Notice how Canva gives a brief overview of its features using images. Informing your new audience about your products or services is extremely important. You can guide your subscribers to your website by adding links or buttons to your emails.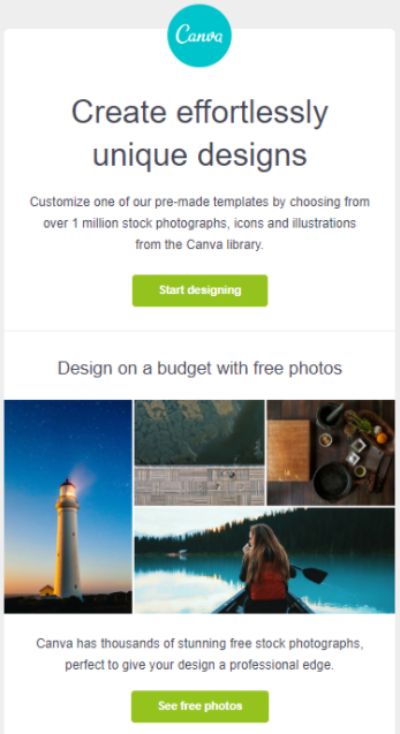 2. Promotional Emails
Promotions or discounts can entice subscribers to invest in your product or services. You can use drip marketing to segment your audience into new or recurring customers.
Encourage your audience to make a purchase just like Billboard. Billboard details how the subscription would benefit their viewers along with the offer's end date.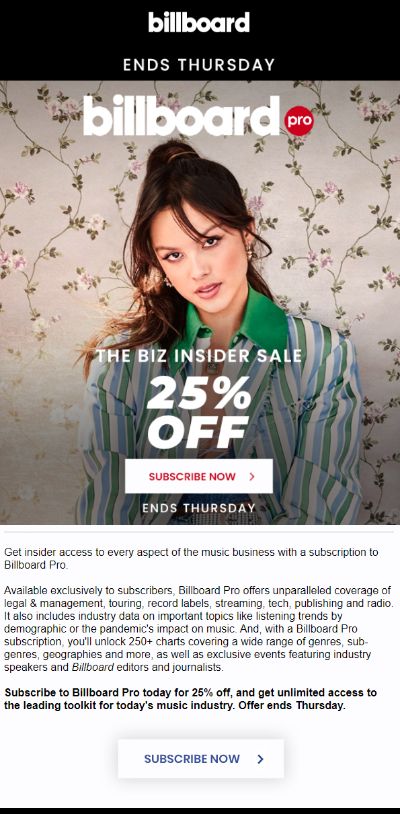 3. Re-engagement Emails
You will find some subscribers have been inactive for a while. Re-engagement emails will let your subscribers know that you haven't forgotten them. Cosmopolitan does a great job of reminding the reader about their email subscription.
They also give a sneak-peak to their new content. Most importantly, their emails still allow the reader to part ways by unsubscribing.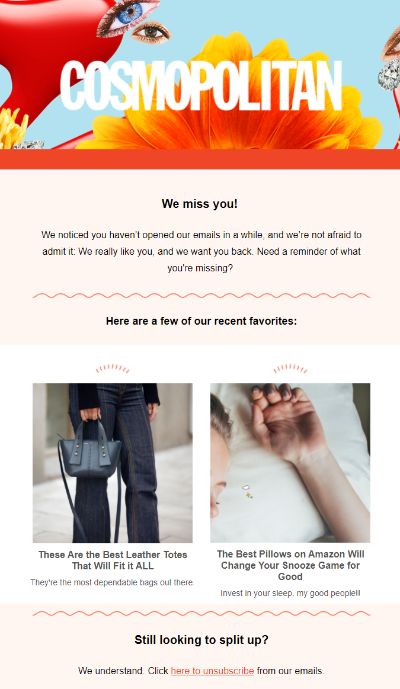 4. Abandoned Cart Emails
Drip campaigns can be used to send automated notifications to customers who didn't complete their shopping process. These emails are good reminders to bring the leads back to your website. You can also notify your audience about ongoing sales or promotions.
Give the customers an option to review and revise their carts before making a purchase. Dyson, for example, does a great job of creating an urgency with the promo and offers support as well. This drip marketing campaign template is quite effective in regaining leads.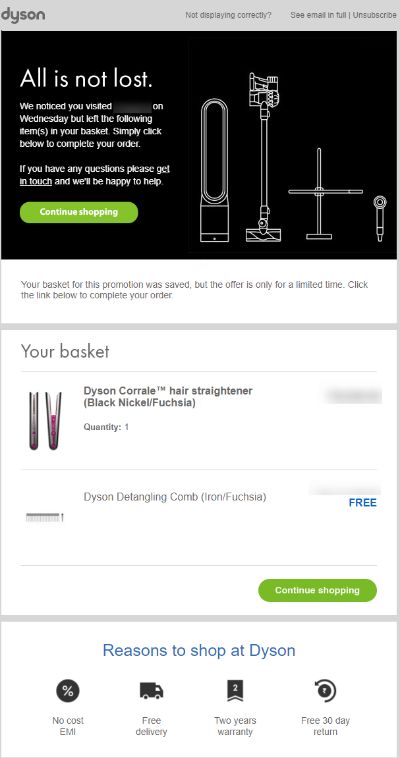 5. Personalized Emails
Custom emails are best to make your subscribers feel special. You can reward your loyal audience by sending them personalized offers.
Marketers also send emails on special occasions like birthdays or celebrating milestones with the brand. Check out Birchbox's email that highlights their custom subscription boxes.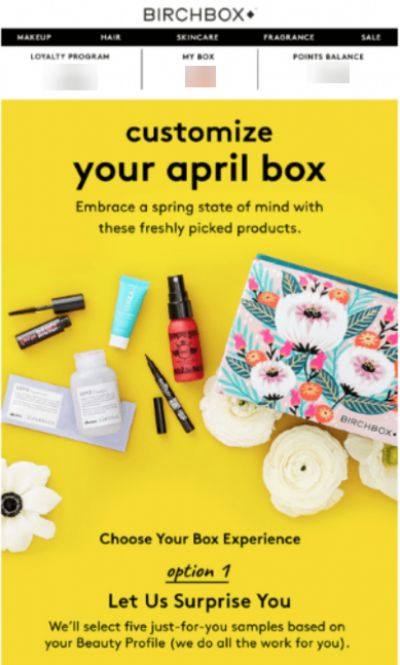 6. Reactivation Alerts
If you have readers on the email list that haven't been active for a long time, email alerts can be a great reminder to help reactivate such leads.
Microsoft creates an urgency by informing the customer about the account deletion. They also provide a clear CTA with a deadline that can't be missed.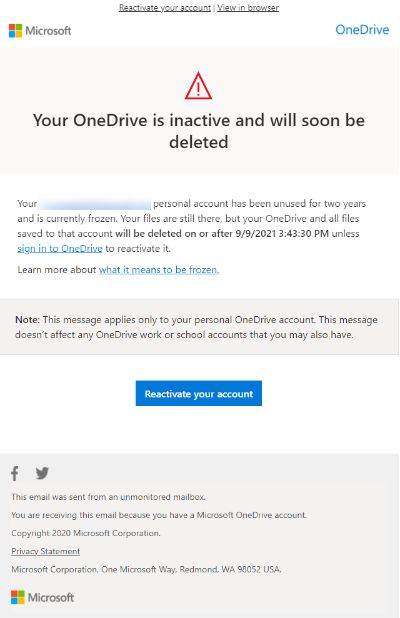 7. Freebie Offer Emails
This strategy works best with informative emails. You can give detailed information about your brand and offer relevant freebies to potential leads. The freebies provide a sneak-peak of your services. This is excellent to enhance customer loyalty as well.

8. Event Registration Emails
You can send out email invites for events or webinars to potential leads. Adobe, for example, keeps it simple by giving an overview for the event and providing a registration button.
They've also added their social buttons at the end of the email. Key tip: Check how they've incorporated a visual that goes perfectly with the event.

That's not all! You can come up with new ways to communicate with your subscribers. You can send them informational content, introduce new products or services and even show gratitude for their support.
Best Practices for Drip Marketing
Now that you know how you can use drip marketing, read these tips to optimize your marketing campaign.
Send relevant content: With triggered emails, you have to make sure that your audience is getting the information that they asked for. Take advantage of segmentation and figure out what type of content your audience needs. Create personalized copies for different groups rather than sending out the same thing to everyone.
Monitor your drip marketing campaign: Use CRM tools and gauge your campaign's performance. There are key metrics like conversion rates, click rates, bounce rates, and open rates that you can measure. You can access most tracking tools through email marketing services or software.
Engage with an email series: Divide your content topic into bite-sized parts and create a series. Additionally, let your readers know what they can expect from the next email. You can keep your readers hooked and increase your brand's awareness at the same time.
Ask for feedback: Email marketing gives you access to communicate with your audience frequently. With the drip strategy, you can send automated surveys and collect feedback. You can ask your readers about their preferable email frequency. If someone unsubscribes, you can send a questionnaire about their reason for leaving. This data can be used to enhance your content or marketing plan.
Be open to experimenting: Identify what email frequency works best for your subscribers. Study metrics like open and click-through rates to determine if your audience is actively reading your emails. Try A/B Test on your campaigns and design mobile-friendly emails.
To Summarize
When optimized correctly, an email marketing drip campaign can do wonders for your business. These campaigns are great to target your audience effectively and build a loyal customer base.
Make the most of our tips and start mapping out your drip marketing strategy now. Let the automated emails ease your work while you focus on creating content for your audience.