Did you know that people worldwide spend 145 minutes daily on social media? That means a worldwide reach at every instant is no longer a far-fetched dream.
Businesses of all kinds are realizing that their digital marketing needs to amp up. But there's one constraint, and that's the lack of time. Believe it or not, digital marketers these days need to handle thousands of responsibilities.
It's so important for any business to have a presence online in totality, be it in the form of blog posts, social media, or advertisements. Digital marketers are now grabbing hold of tools to double their brand reach.
To help you select the best, we have come up with 17 amazing tools for your complete digital marketing plan.
Best Digital Marketing Tools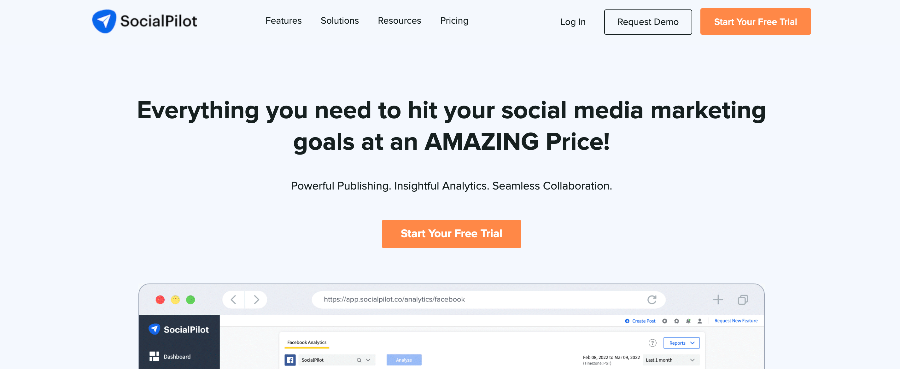 SocialPilot is that digital marketing tool which will make your life so much easier by taking care of everything from publishing posts on top social media apps, bulk scheduling, and content curation backed with power-packed analytics.
It is one of the best digital marketing tools that also helps you with unlimited client management. Not only that, you can easily customize posts for each platform, design posts for impactful branding, and get seen by your audience with flexible scheduling.
The beauty of SocialPilot doesn't stop here. It will serve every platform from Facebook, Google, Twitter, Instagram, LinkedIn, Pinterest, TikTok, Tumblr, and VK. So leave your worries behind and focus more on better results.
Features of SocialPilot
Create customized posts for every social media platform
Document and analyze social media performance with in-depth social media analytics
Strategize, organize, and visualize your content with a social media calendar
Get new content suggestions with the content curation feature
Make use of bulk scheduling and upload up to 500 posts in one go
Create and schedule visually attractive posts
Manage multiple client accounts hassle-free
Access all page conversations in one place by leveraging the power of the social inbox
Set approval workflows in team collaborations for seamless work
Utilize Canva integration in SocialPilot and create the best designs
Reach your ideal customers by targeting the right audience
Advantages of using SocialPilot
It lets you handle up to 50 social media accounts to manage all your clients from one place.
With their scheduling feature, you can ditch the manual labor of posting endless postings at odd times.
The analytics are pretty detailed and insightful, so you can experiment with different digital marketing strategies and pick the one that works best for you.
John R
I have tried and researched a lot of websites that perform the services that SocialPilot does, and I can say without question that SocialPilot is by far the BEST. The competition all falls on one or more of the factors, but SocialPilot shines!
Wendy P
I have a small marketing agency handling social media for about 15 brands. I've used Hootsuite and Buffer but grew tired of not getting the support I needed. A few years ago, I found SocialPilot, so I decided to give them a try. I'm so happy I did. They have a robust platform, and I get more profiles AND all the analytics I need for way less.
Zora Alice Z
Intuitive, user-friendly, friendly price, fast and reliable support. I tried almost all platforms that can be found on the Internet, and here I was thrilled by the ease of use and great support. And all for a good price. So I'm not looking for anything else.
---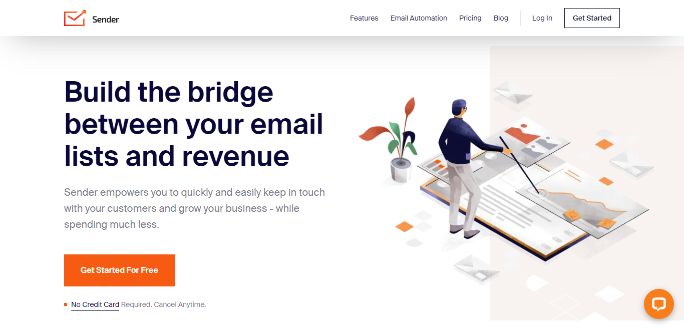 This omnichannel marketing platform, Sender, excels in user-friendliness. All the features were created to be hustle-free yet functional at best. However, having a whole packet for your results-driving Email and SMS marketing, the price is reachable at ease.
Sender allows users to compose newsletters in an easiest manner and automate the campaigns for the most profitable results. Software also grants access to SMS marketing usage and its benefits for your business.
Sender ensures high-deliverability of emails, support availability 24/7 and great interface.
Pros
High Email deliverability
Combination of Email and SMS marketing services
Cost effective
Markus A
Our main objective is solved – we have a reliable email marketing tool which delivers our messages to our subscribers fine. Secondly, great customer support helps us to solve ongoing issues, and provides useful advice when and if needed. Overall, Sender is a great solution for a very reasonable price.
Cons
Some integrations are missing, e.g. Bigcommerce, Drupal
No 2-way function
Mohammed Mehdi S
Template Editor can be more adjustable for right to left languages. I have some issues with numbers there.
---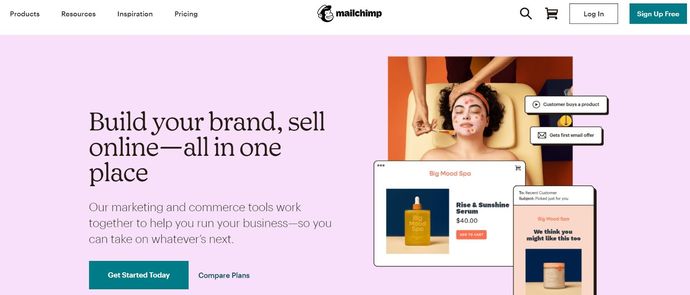 Mailchimp is one of the useful digital marketing tools that is designed to automate and orchestrate email campaigns. It also shows detailed analytics that helps you experiment and improve your digital marketing initiatives in the future.
Marketers can design emails and increase their open rate by adding images, gifs, and personalized fonts. The templates are super easy to use. Keep a tab on all your email marketing campaigns with analytics.
Pros
The analytics feature gives you statistics and figures for gauging audience engagement.
You can create templates that fit your style.
It has a user-friendly and intuitive interface.
Melissa M.
Overall, Mailchimp is a great software to use to send out marketing emails to your clients and/or members. There are lots of templates to choose from, and the setup is pretty straightforward.
Cons
The mobile app of Mailchimp doesn't offer that many features.
As Mailchimp largely focuses on email marketing, you may have to use other tools for your digital marketing initiatives, and thus it'd turn out to be very costly.
The support team isn't that great. So if you get stuck somewhere, it may take a while for your query to be resolved.
Wendy C.
As I was still at a free trial stage, I did try to contact the support team and realized I wouldn't be able to have any help at all, considering that I am not yet a customer. I was quite frustrated with the fact that I had no assistance at all, and it created a bad experience for me as a new user.
---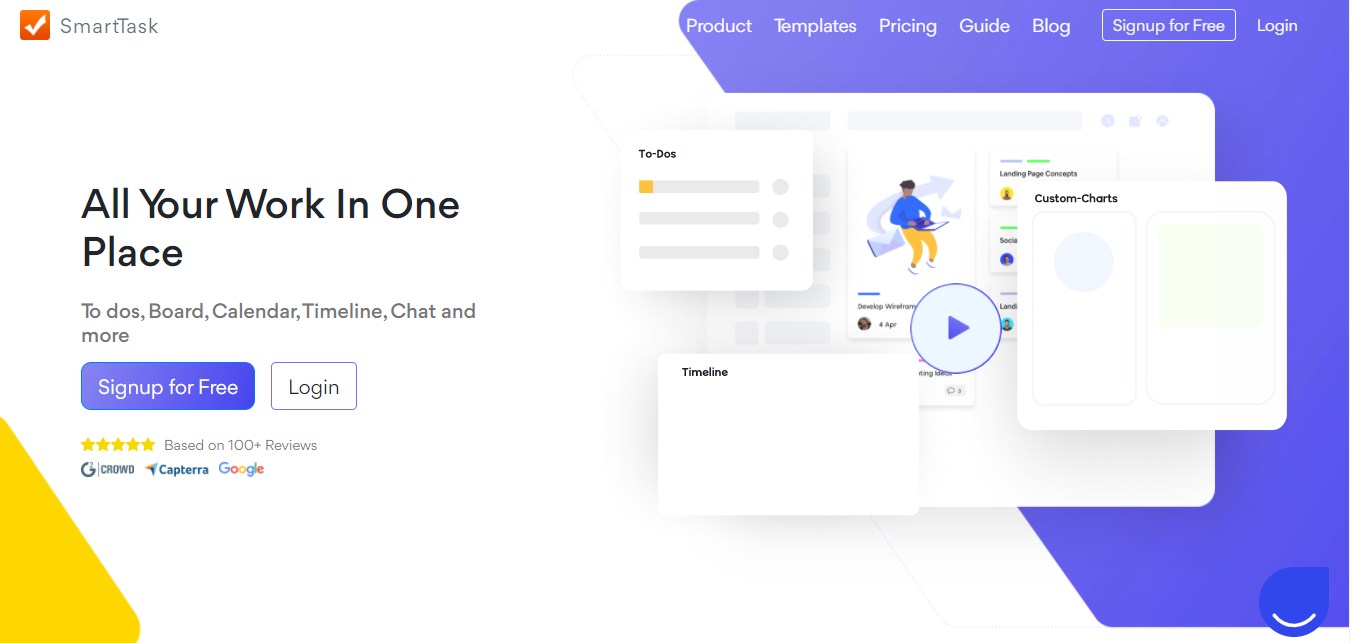 If you're in search of a digital marketing tool that makes working with your team easier, SmartTask is the one for you. There are many tasks a digital marketer has on their plate.
From scheduling posts to getting the blog posts approved by the team, there's a lot to be done. Many digital marketers use SmartTask to brainstorm content ideas, strategize, assign tasks and deadlines.
Pros
The tool has many features such as reminders, comments, and auto-complete, making working with a team easier.
The files storage option makes sure everything is on the cloud. So you don't have to wait for someone to send you the file you need.
The interface is user-friendly and straightforward.
Ivan C
I have finally been able to use a project management tool in my daily life thanks to SmartTask simplicity.
Cons
The mobile application isn't that great.
The user interface, although simple, could be made better.
You'd have to use many other tools for your digital marketing requirements, and the price can steep up.
Verified Reviewer
The UI looks very basic and needs a facelift. Their mobile app is not yet very polished.
---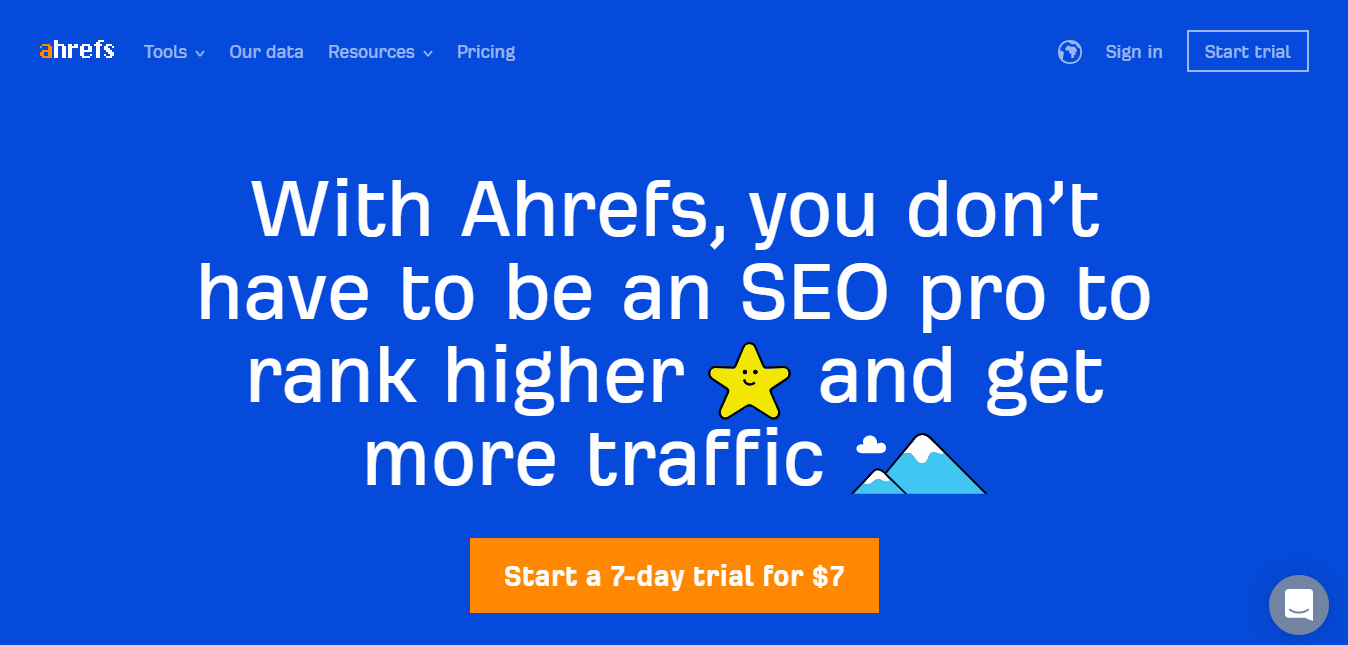 This is one of the best digital marketing tools for analytics. Ahrefs is a comprehensive SEO tool that has data for more than 150 million keywords.
It is also great for competitor analysis as it allows you to check who is linking your competitors, where their content is ranking, what their top pages are and so on. It can also be used for rank tracking and website monitoring.
Pros
Using the Content Gap tool, you can identify the "gap" in your competitors' content and generate better ideas for yourself.
Ahrefs can also be a good digital marketing reporting tool as they give out a detailed SEO report that provides important insights you can capitalize on.
It shows which keywords generated the most visits on your website and offers tips to optimize them better.
Nidhriti B
I love that I can do backlink research so easily and check what the competition is doing.
Cons
The price is too high. Considering that you'd have to use other tools to manage the social media part of digital marketing, the cost will become extremely high.
There is no free trial available, so you wouldn't be able to try the product before paying such a huge amount.
For someone who's just starting out, the tool can seem pretty complicated and difficult.
Max T.
The software is really expensive, the basic price comes in at 99/month, and this plan only offers you a limited amount of refreshes. If you want to implement ahrefs in a smaller (10 employees) web design agency, you quickly find yourself spending $500+ per month.
---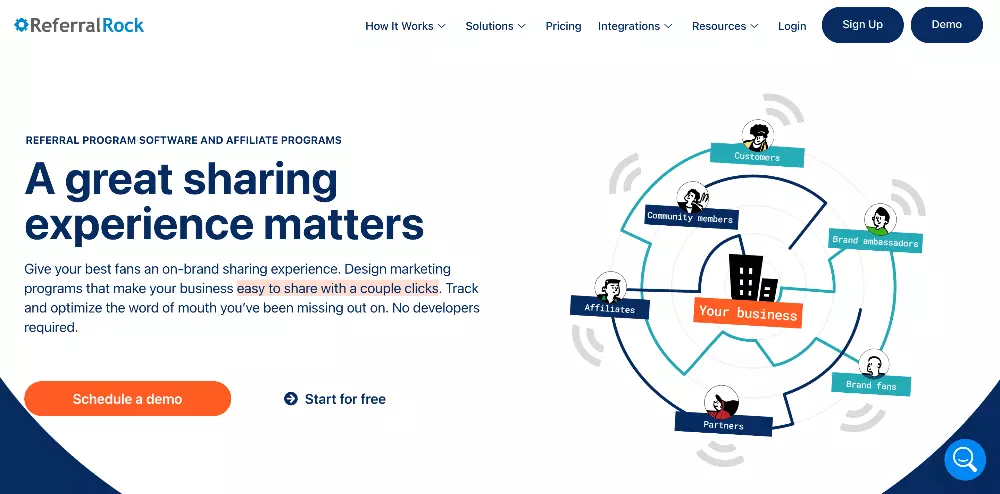 Referral Rock referral program software is a reliable tool to help any business get more customers using the power of their own network. Online and offline businesses can design incentive-based programs, enroll existing customers and referral partners, capture the new leads and sales, then issue rewards automatically.
Referral Rock automates every step of the referral process so a business can scale and consistently measure the success of referral marketing programs. This robust, user-friendly software also has the flexibility to be used for customer referrals, employee referrals, partner programs, and affiliate marketing programs. So, whatever your partnership needs are, Referral Rock has you covered.
Pros
It works for any business and not just eCommerce. It is the only platform that supports multi-touch sales processes and offline purchases.
Its integrations will fit your current tech stack. It is a referral solution easily customized for your existing workflow, with over 25+ integrations, including HubSpot and Salesforce.
Its expert customer support assists you at every step. Its success team has helped hundreds of companies across every industry increase customer referrals.
Emily H
Our account manager was incredible in getting us fully set up and live within less than a week! Referral Rock has every feature you can need in a referral program.
Cons
It is not only for eCommerce platforms. Referral Rock's software comes with many robust features, which you may not need if you're only looking for a simple one-click sales process for an eCommerce site.
It doesn't provide an affiliate network. All members and affiliates in your program are your own. Referral Rock doesn't manage relationships or communicate directly with your members or affiliates.
It doesn't accommodate loyalty programs. Referral Rock is focused on building an effective, automated, customizable, best-of-breed referral program. The company stays true to that mission and shouldn't be confused with loyalty program software.
Haley R
It's a bit finicky when it comes to editing and customizing the dashboard. It's not super intuitive, and I also wish there were more options.
---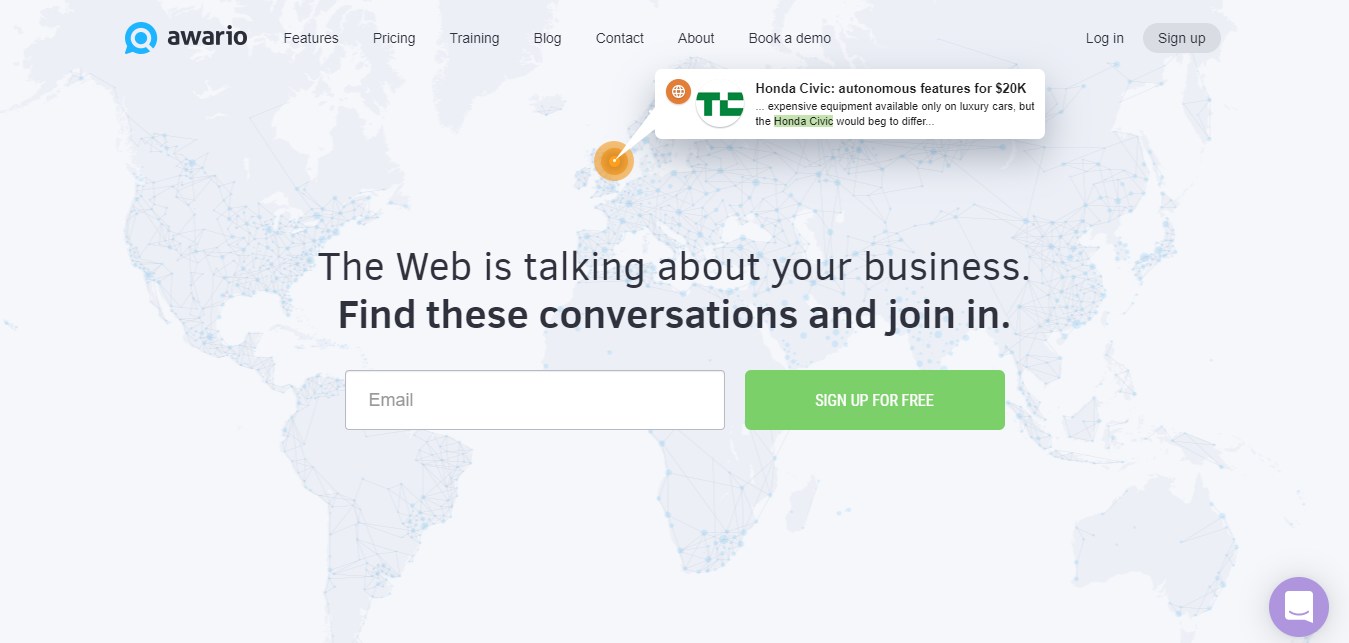 Awario is a social listening tool that gives brands the insights they require. It monitors the web non-stop to find the mentions of your keywords and ensures that you react to those impactful conversations.
Awario also helps in social selling, making it a lead generation mine too. They also have powerful analytics to track the growth in numbers of mentions, measure collective reach, analyze progress, and much more.
Pros
You can filter unnecessary mentions with a simple boolean search.
It helps you sort mentions by reach, so you get involved in the most impactful conversations and prioritize your marketing efforts to reach bigger audiences first.
You can export your data into White Label reports and send those to your clients or colleagues.
Tim M.
It increased our awareness of what people are talking about on the net without us having to do searches each day.
Cons
There are limited filters and information on reports.
Users take some time to get used to certain features of the tool.
The price is too high for the features it provides.
Gary S.
Your first searches may not bring back the results you want. You really need to learn how to use the search tool and boolean searches to get what you need, so there is a learning curve on how to use the tool.
---

Want to make a quick graphic for your social media post? Canva is the go-to place for that. It is a digital marketing tool that allows you to create images using custom pictures, shapes, fonts, and icons.
Canva offers a simple way to design your presentations, logos, social media posts, graphs, banners, and so much more. Optimize your presence on top social media apps with Canva.
Pros
You don't have to worry about hiring an expensive designer. Instead, you can use the collection Canva already has.
You can also create your ads with Canva's creative offerings.
Canva provides you with multiple templates that are quite easy to customize.
Thomas F.
Overall, Canva is a great program, whether using the free templates and graphics or unlocking their super high-quality paid templates and graphics.
Cons
Your work isn't always saved when you're working in the mobile app.
The premium membership isn't cheap, so the amount would be high if used with other digital media tools.
There are some bugs in the program.
Ali K.
When editing images through the browser, sometimes some sections do not work well, and if the page is zoomed with the browser, most times it can not be returned to the previous state, and the page must be refreshed.
---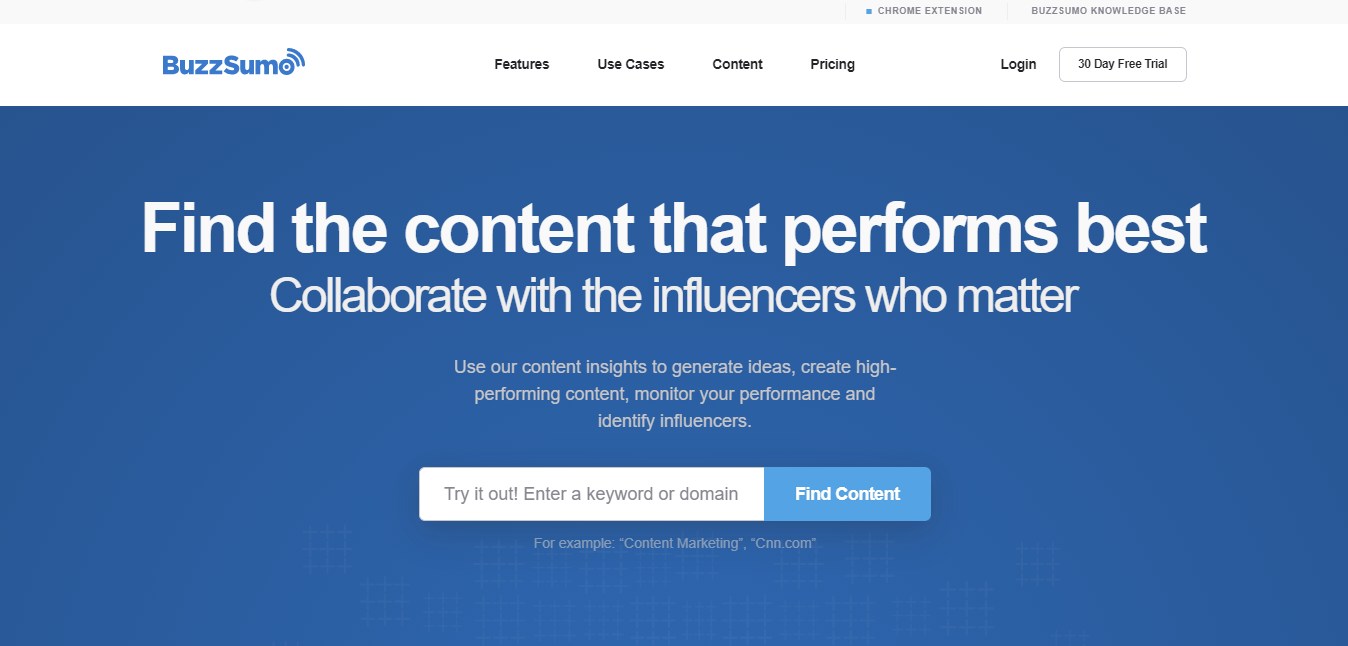 Unsure about what content performs the best? Here is where top digital marketing tools like BuzzSumo come to your rescue. Lookup for trending topics with this tool for promising content strategy.
You can even learn what content is working best for your competitor and identify the gaps where you need to work. Buzzsumo will also help you unravel influencers that can help you gain genuine engagement for your brand.
Pros
This tool helps in identifying top influencers in your industry and enables you to connect with them.
It is easy to use and saves you a lot of time by generating different content ideas.
You can also conduct backlink research with this tool.
Andrew L.
BuzzSumo is a very easy to learn and use tool. I was able to train teams on being self-sufficient with the tool very quickly. It is a great tool to get a better understanding of what is trending and also to see what competitors are up to with content.
Cons
The price is too high, especially for small businesses and solopreneurs.
It doesn't count social shares on LinkedIn, which is one of the largest social media platforms.
It takes some time to get used to the navigation in the beginning.
Andrew L.
The price is high for the data you receive. It was hard to justify the price at times. To unlock certain features that should be standard, you'd have to buy an upgrade subscription.
---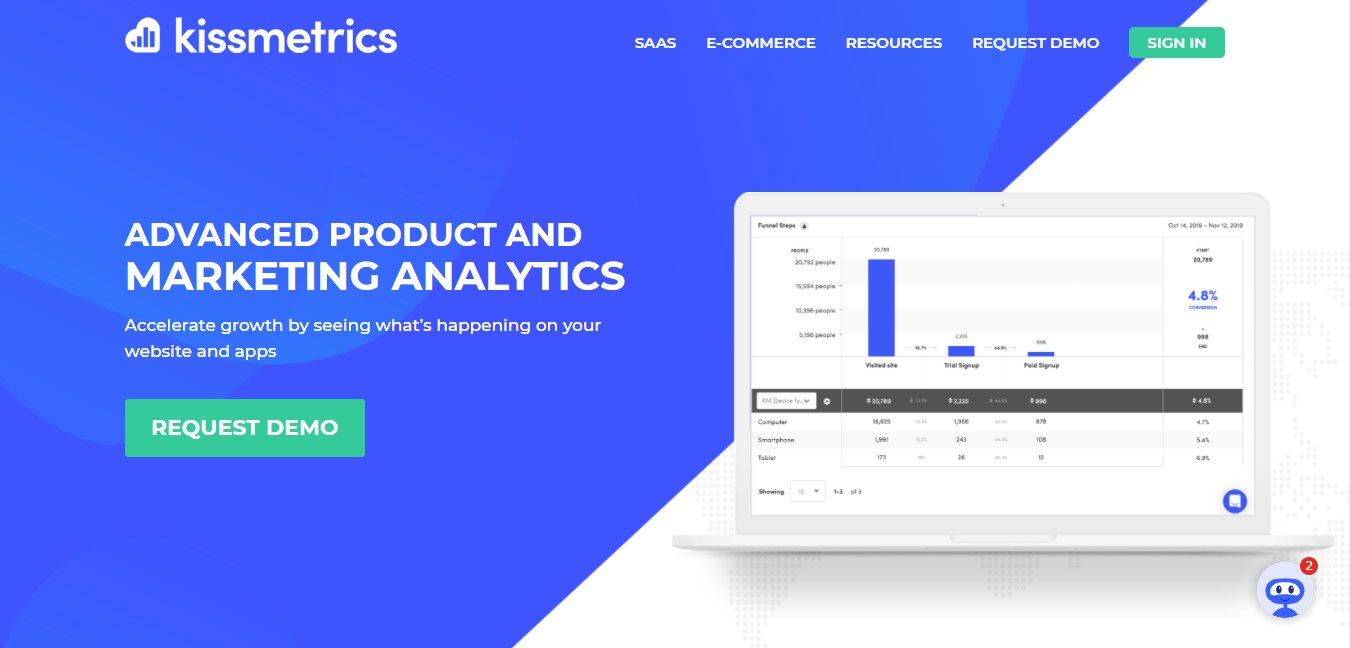 Kissmetrics is one of those digital marketing analytics tools that helps you track, analyze and optimize your digital marketing performance.
With the help of this tool, you can easily see what's working and what's not working across all your campaigns. The platform also tracks your website visitors through their conversion journey and lets you know which part of the funnel you need to fine-tune to get the best results.
Pros
You can easily track what features users are liking the best and why they are abandoning a product.
The user interface is such that it allows you to have quick insights into users, campaigns, etc.
Ben S
Once you figure out how to set up and run reports, you can get valuable insight into all kinds of actions that take place on your site and track important conversion data. Overall, the best thing about Kissmetrics is that it allows us to do data-driven marketing better.
Cons
It may take a long time to implement it correctly, especially if you have a complicated website.
Integration with other tools isn't very proper, and the user interface needs a lot of improvements.
Verified reviewer
The user interface is completely unintuitive. The UI is outdated and every task is so manual it is painful. The integration with other platforms is limited.
---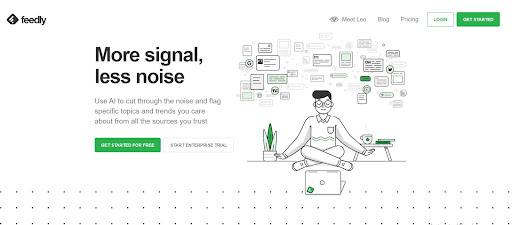 Feedly is a digital marketing tool that will help you check all the content ideas without the information overload that usually comes with this task.
You can choose different blogs, topics, and publications you're interested in, and the platform will aggregate them into a feed that you can monitor easily. You can also see what type of content is getting better results for your competitors.
Pros
The recommendation feature allows you to get similar content recommendations for article topics you like.
You can customize your feed by separating it from different interests like science, entertainment, digital marketing, etc.
It is easy to use, even for someone new to the field.
Keith N
It's not confusing at all to browse around and use the Feedly account. It's visually easy to look at and navigate to the feed that I want. I like being able to find new feeds as well through the categories.
Cons
The filtering and tagging tools aren't as advanced.
The mobile version of Feedly isn't that great.
Sometimes the entire article is not seen on Feedly, and you have to go to the originator's website, which could be frustrating.
Heather R
The biggest dislike would be when I click on a story, and it varies how much of the content shows up. It either shows a majority of the written article, or it will show very few lines. I typically click on the source link, but it can be frustrating when I am trying to gather curated content and have to click on one, and it ends up being useless.
---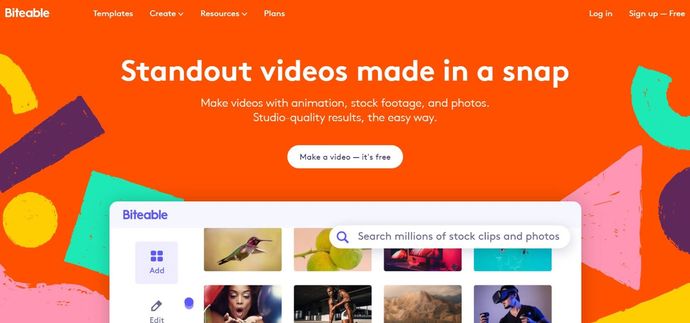 The digital marketing tools list is incomplete without a video editing app like Biteable. Bid farewell to video production hassles and create amazing videos in seconds. Add images with zero compromise on quality.
Get access to beautiful animation and catch illustrations to suit your needs and branding tone. Customize them in any color and size. The best part is it isn't just limited to marketing folks; multiple teams of different departments can benefit from Biteable's studio-quality videos.
Pros
You can make videos in just a few minutes.
It is super easy to use. You don't need to have prior editing or designing experience to use this tool.
Verified Biteable User
I like Biteable for its ease of use. I like the templates, the ability to upload images from Unsplash, the simple interface, and being able to create a video quickly. Overall, I think this is a good tool and a good value for money when compared to similar tools on the market.
Cons
Most functionalities are limited.
The platform isn't entirely intuitive and keeps lagging too.
Verified Biteable User
There are a few limitations, but the main one is that it doesn't offer you the ability to record or even upload a voice-over. The other issue is that while the themes may be different, the style of the video is always the same. It is very difficult to create any kind of informative video using Biteable, it's really just a tool for cheesy marketing videos, and none of them have really gotten any views.
---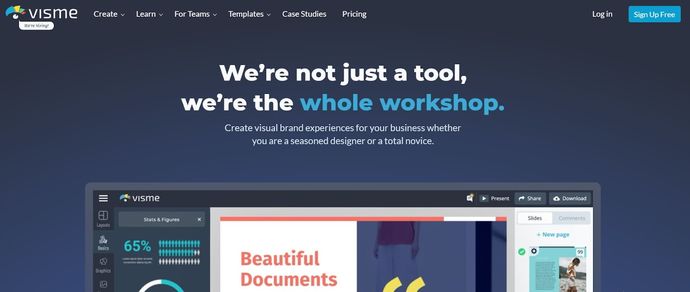 Create presentations, infographics, design, and videos with this interactive tool. With Visme, you can help your brand get the reputation it deserves. Great if you are a pro designer, in case you are not the one, Visme is all you need to have. Easy to use and reliable, it will allow you to get the work done in a jiffy.
Get your presentations, charts, infographics ready with editable templates. With this all-in-one tool, you can even create branded documents, social media posts, videos, and more.
Pros
You can easily create highly engaging and result-driven presentations with its boardroom-ready presentation.
As a great visualization tool, Visme allows you to tell more with its hundreds of infographic templates and enables you to give life to ideas.
With the help of a brand kit, you can create branded and cohesive professional documents, including letterheads, invoices, proposals, or training.
You can customize text the way you want and choose a unique style for your brand.
It is easy to enhance your brand strategy with the Vismes templates that help you create short animations and videos for your website, youtube, or website.
Geriann Wiesbrook
Visme is easy to use and creates very professional-looking unique graphics. I use it repeatedly. I create graphics weekly and Visme makes it easy.
Cons
Only limited options are available on the free plan.
Claudia Pilgrim
I adore the My Brand and Block features Visme has rolled out over the past year. It has vastly improved my ability to go from an idea to a clean and precise branded infographic without having to hire a graphics designer.
---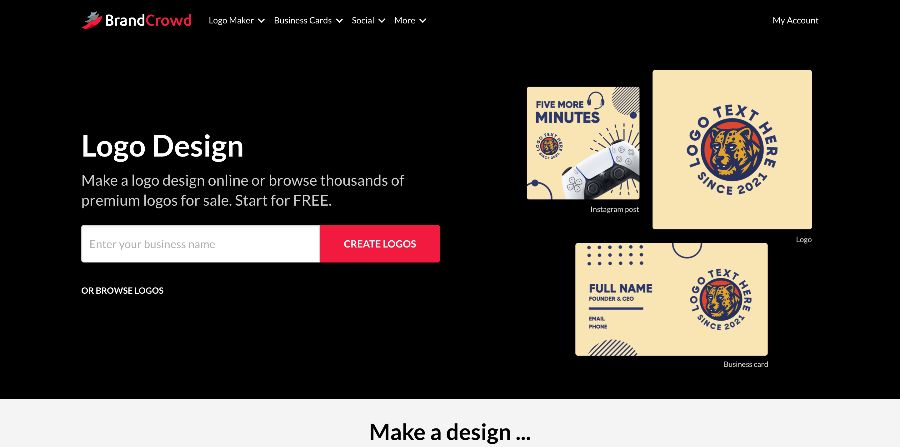 Need a quick solution for a logo? Or maybe you just want to get inspired and learn new creative ways of company branding. BrandCrowd is here to offer logo maker tools regardless of your industry, keywords, and the platforms you want to share it on.
Moreover, BrandCrowd also has solutions for making business cards if you're a local business or global entrepreneur. Finally, you can make other business-related designs such as invitations, flyers, etc.
Pros
You can look for the perfect design in the already-existing ideas and purchase it.
You can browse your industry and see what trends are available.
The design you create is easy to adjust to social media, websites, and other platforms.
Martyn Aryeh Denial
I'm really happy with BrandCrowd – it's a great way to get logos and other promotional materials at affordable prices, plus you can edit your logo designs at any time. I use BrandCrowd for multiple online businesses now, and I recommend it when I'm consulting with people looking to start a new business or rebrand.
Cons
The mobile version might be a little hard to handle.
There might be some bugs.
Crystal G
I'm new to this site and didn't ask for an upgrade but it was done anyway.
---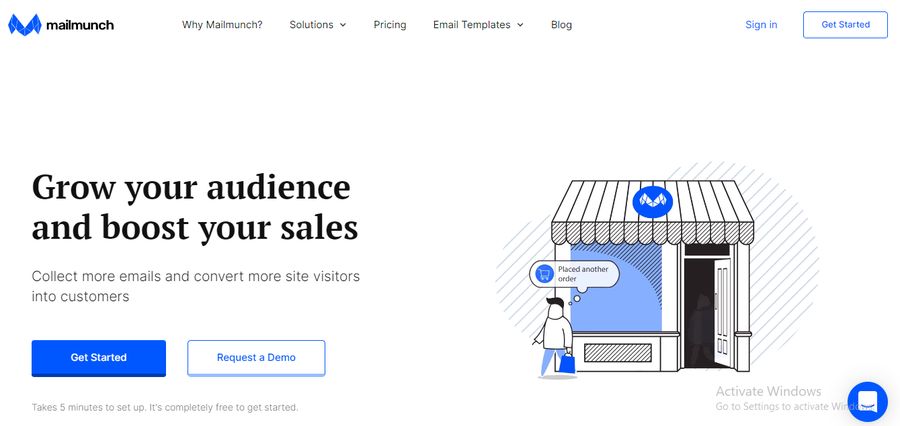 Thinking about using an advanced digital marketing tool to generate leads? Mailmunch is your go-to partner. Not only can you take control of marketing automation using Mailmunch, but you also orchestrate the email designs using the email template library.
It consists of 1,000+ HTML email templates that businesses can use for an effective marketing campaign.
Marketers can create and design emails to increase their open rate and boost conversions. But that's not it. Mailmunch also allows access to marketing analytics to measure the performance of each marketing campaign.
Pros
It has an easy-to-use dashboard.
You can use free email templates to get started quickly.
It has an intuitive drag and drop builder to design emails.
Elisav B
It's user-friendly and does not need much effort to understand how to build a beautiful-looking newsletter from scratch. I have been using Mailchimp for a lot of years, so moving to mail munch was very effortless.
Cons
There is no provision for email split testing.
Verified User
Upgrade fees for everything. The delivery of emails hasn't been working properly. It takes 30 mins to send just the preview email. Blast is not going through promptly.
---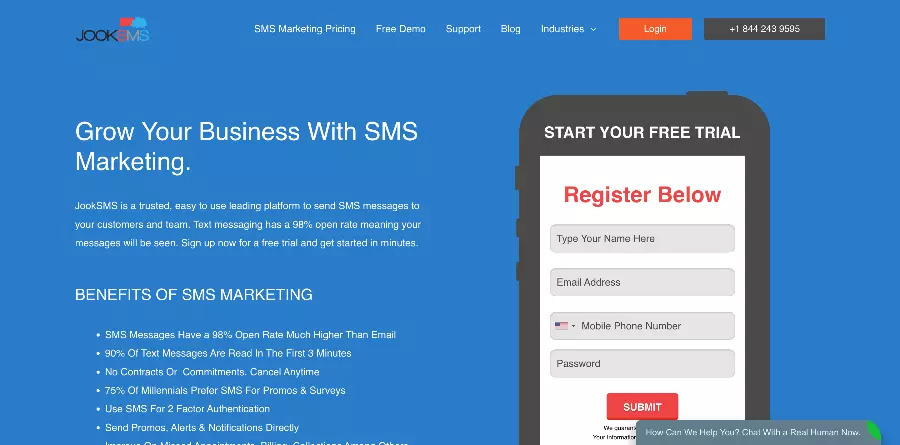 JookSMS is a cost-effective digital marketing tool that focuses on SMS Marketing. SMS Marketing is an important part of digital marketing to provide 360 environmental marketing technologies.
From churches to sports teams, or fast food chains, they all use SMS marketing for different purposes. Sending SMS in bulk requires a substantial amount of capital and planning. But, JookSMS provides a ready-to-go SMS marketing tech to reach out to different audiences based on different demographics.
Pros
Customized price packages exist for different needs. Adjustable SMS triggers and SMS marketing performance analysis tools are provided.
Bulk SMS sending, and receiving, is possible. For developers, there is an API for bulk SMS sending.
Scheduling SMS Messages is possible.
Long-distance numbers are included, and toll-free numbers are provided.
There is live chat support.
Verified User
I love the ease of the user interface and how user-friendly the platform is.
Cons
There is no documentation for the API and developers.
There are no "one-on-one" sales funnels, so you have to fill out a contact form to use the service.
There is no mobile application.
Verified User
There was no mobile app connection to allow me to get notifications about replies to the messages I sent out. I had to log onto my account from my computer to monitor and respond to replies.
---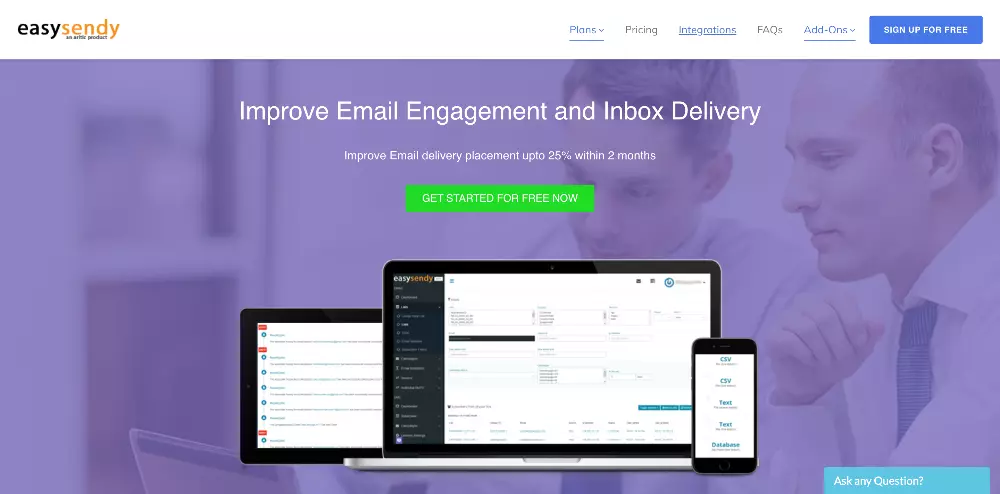 Easysendy is the most satisfactory option for marketers to send marketing emails and drive better results. Easysendy is an all-in-one email marketing solution that allows you to carry all your various marketing channels together and accelerate traffic, a higher conversion rate, and better ROI for online geeks, marketers, small businesses, and startups. In addition, you can easily design email templates for your campaigns.
Increase your sales with Easysendy email marketing solutions across all industries; Easysendy can help businesses extend their reach, boost conversion rates, create a bond with their audience, and increase sales.
It is a very cost-effective offer compared to alternative email marketing platforms — free account if sending to < 2000 recipients, $19/mo for 10000 subscribers.
Pros
It deploys emails through various SMTP relays.
It's easy to build and personalize campaigns.
Easysendy has pre-designed email templates. You can insert HTML templates too.
It has transparent reporting that helps optimize future sends.
Easysendy integrates with hundreds of other helpful software platforms.
Hary W
I love that you can do almost anything you want with Easysendy Pro. You can combine as many lists as you want when you send emails and many other advanced features that professional email marketers need.
Cons
It does not have a free-forever plan.
The plans quickly jump in price with the figure of connections.
Escobar T
I do not like that there are constant errors in the server, and that makes it difficult to see in real-time which prospects of my list have read my emails. They also have few customizable templates, and I would like more variety.
Digital marketers need to be present on every online platform. And the quickest way to do that efficiently is by using a handpicked set of tools. And one of these is indeed SocialPilot.
Social media is now an inseparable part of digital marketing. SocialPilot will help you conquer top social media apps with its smart scheduling and analytics feature. Get faster visibility and increased engagement opportunities at all times.
Are you ready for seamless and hassle-free management of everything from one place? Then activate your 14-day free trial now.