After being worried about Facebook conversions, you start with Facebook ads for a promising result. You wait with clasped hands for numbers to surge.
You somehow mustered enough views and clicks after spending a few dollars. But still, your conversions are not at par with your goal. Where is this loose end, and how to fix this?
Facebook Pixel might solve this conversion issue, flooding your way with prospects. It can indeed unlock your ad success by retargeting your leads that vanished midway.
Sounds like magic?
It actually is.
And if you are looking for an expert aid on how to market on Facebook and revolutionize your existing strategies, grab this fantastic copy of our Facebook Marketing eBook for free.
So let's get back to our magic tool exploration.
What is Facebook pixel?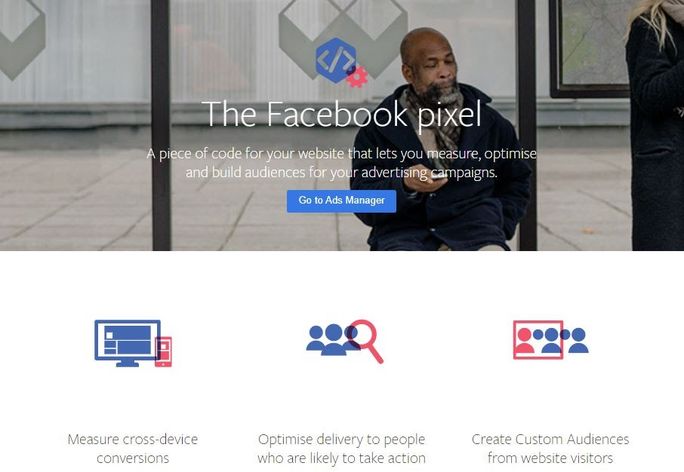 Facebook Pixel is a few lines of code allotted to you by Facebook. This code piece needs to be copied and pasted on to your hosted website from the backend.
Don't worry! You need not be a pro coder with staggering hack skills.
Instead, it's a no-brainer process. Facebook Pixel can be integrated easily with standard hosting platforms like Shopify, and other Shopify alternatives like Wix, WordPress, in just a few clicks.
What Facebook Pixel does next is quite impressive. It keeps track of your website visitors based on their interaction and performed activities like signing up, adding things to the cart, subscribing to your newsletters, etc.
Now once these visitors log into their Facebook accounts, they will encounter your ads. It might sound similar to a cookie but retargeting with Facebook Pixel is highly customizable, with its AI-powered algorithms having a much broader scope.
Benefits of marketing the pixel way
There is one thing we can all agree to without any fuss. Data never lies.
"Facebook Pixel has represented a dramatic shift in how people can advertise on Facebook.
Going back to the early days of Facebook advertising, Facebook was a viable option only for branding and top of the funnel activities.
The release of the pixel for retargeting and conversion tracking has been a huge revolution that enabled marketers to finally go down in the funnel and use Facebook Ads for lead generation and sales with a clear reporting on CPA."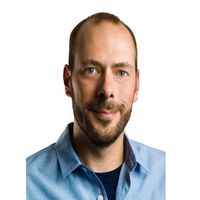 -Massimo Chieruzzi, Breadcrumbs
It reveals a pattern that gets repeated over time, which makes the predictions more reliable and profitable. Facebook Pixel is your track buddy that will keep you ahead in the marketing race.
Here are the top 3 reasons why you need to embrace the Pixel way of Facebook marketing almost instantly:
1. Get more by spending less
Striking a balance between the ad budget and the expected result is a tightrope walk.
You need to set the right metrics and KPI for gauging too. All of these ventures need your constant speculation and vigilance.
But this is not the case if you go for retargeting. As per Signifimedia Reports, retargeting audience results in 8 times cheaper cost per conversion and is half the search ads' price.
Here is when Facebook retargeting pixel sweeps right in to help you. It does all of the trackings for you, be it total conversions or engagement, cost of each conversion, and much more.
Now you can keep a tab on your spending by targeting only the ones who have shown interest in your dealings beforehand.
2. Pouring engagement
Engagement of any kind only comes with relevance. It is prompted when your target audience gets an emotional connection or is in dire need of your service.
Facebook Pixel will let you target only those who have similar interests. If you are a business for pet shops, then your target audience will be the ones who are already browsing for pets online.
Customizing your ads will give your audience an idea about the breeds you have, the discounts in store for them, and so on, increasing your engagements in leaps and bounds.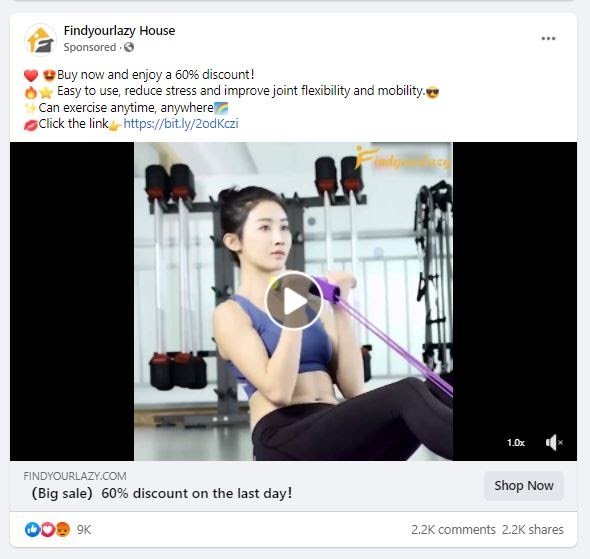 Have a look at Find Your Lazy post promoting their multi-function tension rope at a discounted price. This retargeting ad has exceptional engagement metrics of 9k likes, 2.2k comments, and shares.
3. A quick drive down the sales funnel
Optimizing ads is probably one of the most popular tricks to complete a buyer's journey. How?
You would surely not want your ads to be spammy and scrolled past. Optimizing them would become your secret weapon that will work with your audience.
Facebook Pixel can come in handy at such times. It will let you understand your audience's behaviour to optimize your ads to your favour and their liking.
A wish list hoarder can be shown ads of things they have added in his/her cart but didn't end up buying.
An occasional online shopper can be shown ads of your physical store to complete the rest of the journey. An impulsive buyer can be shown carousel ads with discounted prices inducing a sense of urgency.
And tada! You will have higher conversion rates without being a nosy advertiser.
What is target audience in Facebook marketing strategy?
Marketers that know their target audience in and out are the ones winning the Facebook market. They make the buying decision instantly easy by removing the friction points and cutting down the extra steps.
So what is the target audience, and how to find the ones apt for your business?
A target audience is the set of people who are most likely to be prospective buyers of your products and services. They can be segregated into several demographics like age, gender, location, interests, education, income, etc.
Let's consider a few target audience examples.
Suppose you are selling gym products at discounts. So who can be your prospective buyers?
You may target the ones who own gyms or are planning to set up one at home. Your target audience will be enthusiastic males and females of 20-35 years of age.
Similarly, if you are into cosmetics, your target audience will mainly comprise adolescent girls and ladies.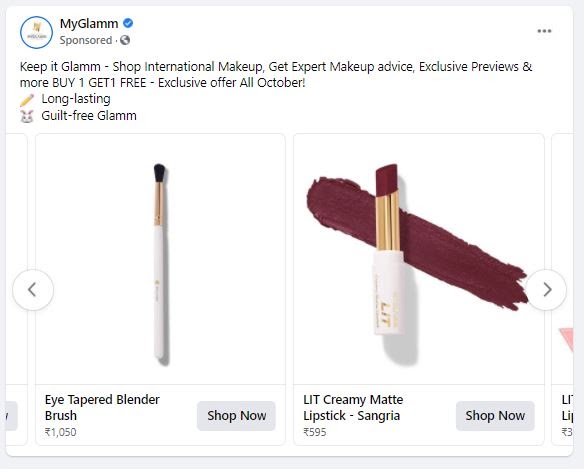 Have a look at this sponsored ad post by My Glamm. The carousel ad displays a wide range of beauty products with price. The Shop Now button will tempt impulsive shoppers to make an instant purchase, thereby escalating the sale process.
So the target audience is pivotal in crafting your ad copies and types, arousing the purchasing intent for this specific set of people, keeping the trend they follow in mind.
Once you know how to install Facebook Pixel, play with the settings to show specific ads to lookalike audiences on Facebook.
Not just this, Facebook Pixel also lets you start dynamic campaigns with cross-device conversions by automatically creating an audience for you.
How is it done? Let's see that next.
"The Facebook pixel has helped personalize ad experiences for customers by serving relevant products and brands based on their browsing experiences.
It has also helped advertisers use precision using multiple data points to optimize their campaigns."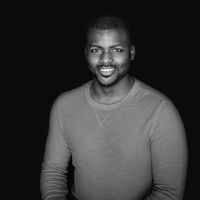 -Philip Ashburne, Ad Assist Agency
How to find target audience with Facebook pixel?
Imagine a potential customer coming to your website after seeing your ad post. He spends a lot of time scrolling through it, switching pages, and also ends up adding few things to the cart.
He adds his payment details too. But due to reasons unknown, he doesn't complete the transaction.
So despite the click, you fail to get a conversion.
Now, will you let the initial efforts of bringing that customer to this stage go down in the drain?
Facebook Pixel will prevent this from happening. It tracks all the activities the person has done so far and displays the ad from that bit of process, which was not accomplished.
Productivity Tip:Display ads to those who visited your website in the past 30 days for better CTRs.
In this case, this person will get the ads of things added to his cart to get back and complete the transaction.
It is essential to know here that Facebook Pixel has just one base code that identifies an ad account. But the targeting based on activities is done through events customization like registering, adding, signing up, searching, etc.
The base code is copied the same in all pages with just the standard event code modified.
Facebook Pixel has 18 standard events tracking. Any of the listed events, when accomplished, is counted as a conversion.
However, you can track further for each of your webpage events with custom conversion tracking also.
Getting Facebook retargeting pixel for your business
Let's know how to install Facebook Pixel for you to get started.
1. Generating Facebook pixel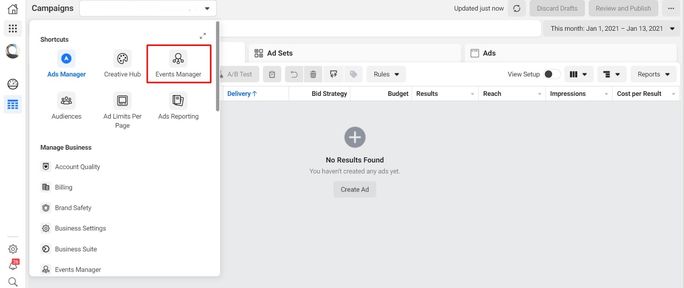 Step 1: Open Events Manager.

Step 2: Click on the add icon of Connect data sources from the left navigation pane.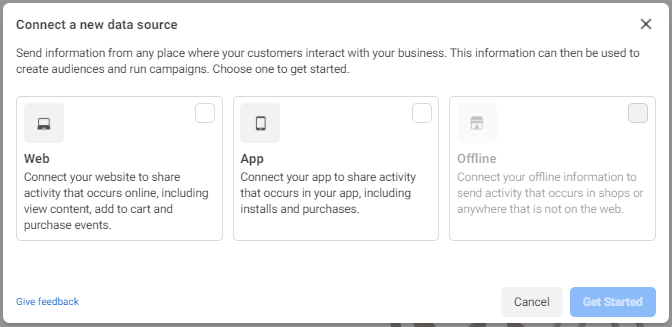 Step 3: Check on the Web option from the dialog box and click on Get Started.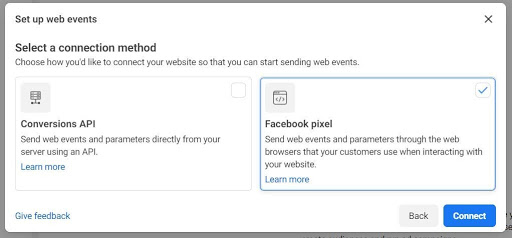 Step 4: Check on Facebook Pixel and click on the Connect button.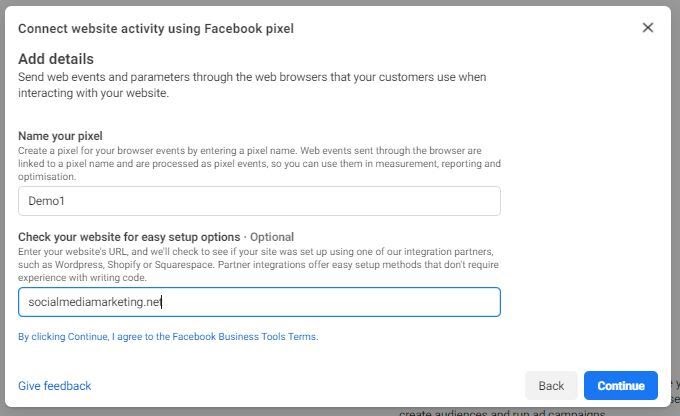 Step 5: Give a name to your Facebook Pixel and add the website URL. Click on Continue.
Note:You can create one Pixel for an account.
2. Getting Facebook pixel on to the website
After setting up the Pixel, there are three ways to add it to your website.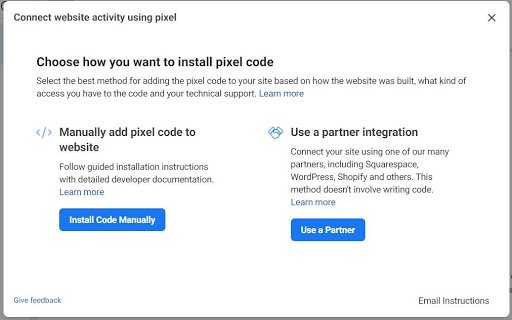 1. Manual addition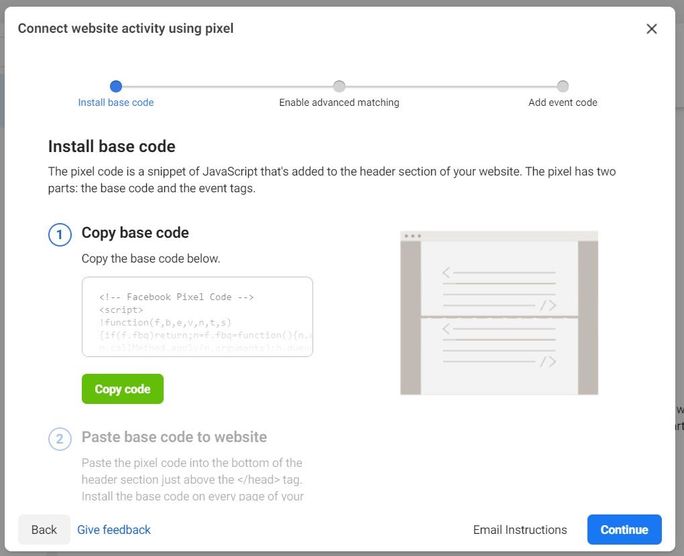 Step 1: Open Events Manager.
Step 2: Click on Continue Pixel Setup.
Step 3: Hit on Install Code Manually button.
Step 4: Copy the base code of Facebook Pixel by clicking the Copy code button.
Step 5: Open your website's header and add it before the closing head tag.
Step 6: Tap on Continue for two consecutive popups.
Step 7: Add events from Event Setup tools or manually.
Step 8: Hit the Done button to complete.
Productivity Tip:Turn on Automatic Advanced Matching to make use of the contact details provided by your customers beforehand.
2. Partner integration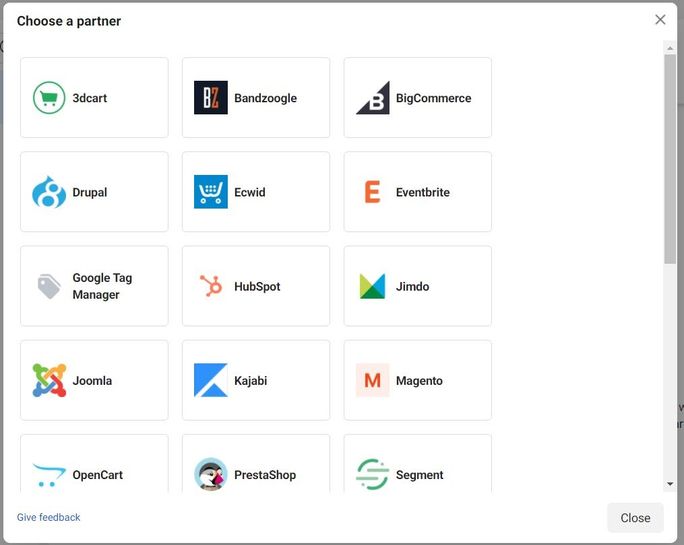 Step 1: Open Events Manager.
Step 2: Click on Continue Pixel Setup.
Step 3: Hit on the Use a Partner button.
Step 4: Choose the partner from the list you are using for setting up the website.
Step 5: Follow the platform-specific guidelines
3. Emailing instructions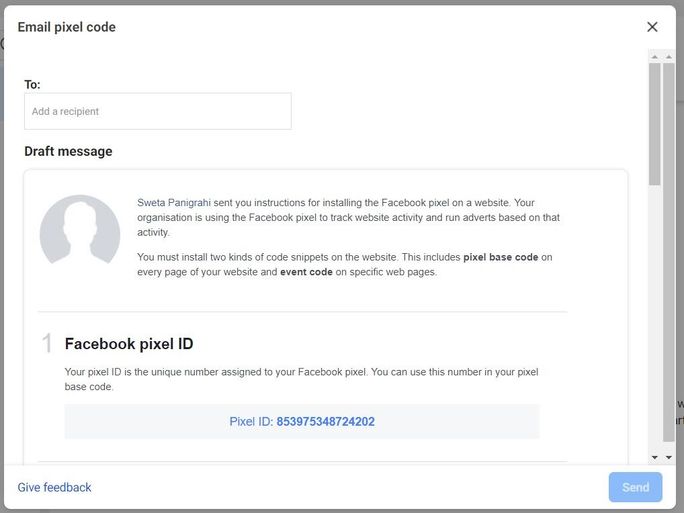 Step 1: Open Events Manager.
Step 2: Click on Continue Pixel Setup.
Step 3: Click on Email Instructions.
Step 4: Type out the recipient's email address. It can be either your developer or website handling professional.
Step 5: Tap on the Send button to mail the step by step instruction.
3. Setting events for targeting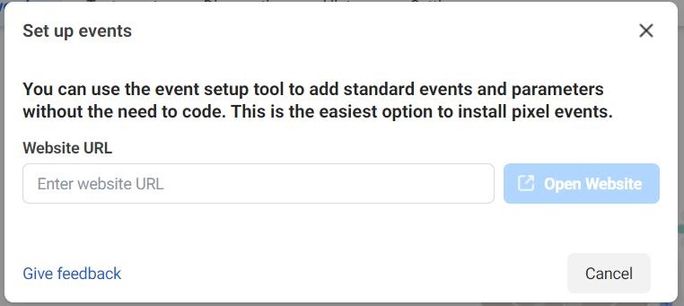 Set up events to measure the conversions that you care about, such as making a purchase, after adding the pixel base code to your website.
You can do this by downloading the code manually or by using the Event Setup Point-and-Click tool.
Make sure your Facebook pixel works properly by using Test Events tools. The webpage with the base code will show active status in the Events Manager.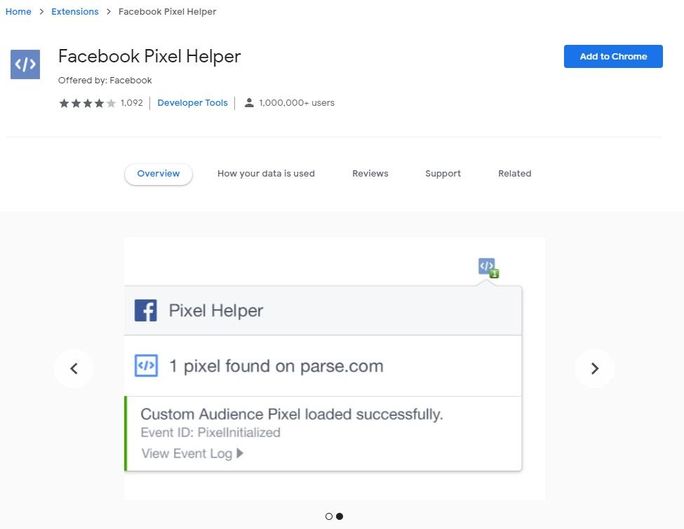 You can additionally download Facebook Pixel helper.
Facebook Pixel helper is an extension for the Chrome browser that will show you if the Pixel is active on your website. The popup lists the active status and the trackable events.
Productivity Tip:Double-check the names of events and where they are added to the base code.
Don't forget to add a popup notification to your website alerting your viewers that their activities will be tracked. Refer to Facebook business terms and conditions for this.
Conclusion
It's pretty evident that running ads are incomplete without Facebook Pixels. You need to set aside a substantial portion of your Facebook spend for retargeting purposes if you need the numbers to speak.
It will definitely payback with a better ROI and pave the way for future ad campaigns.
Every stage is now trackable making your customers jump through the sales funnel faster than ever.
Now you know what Facebook Pixel is, it's time to find out how to market on Facebook like a pro with more hidden tools and tricks.
Get your hands on our free Advanced Facebook Marketing ebook to know more.