Social media influencers have a personal connection with their millions of fans. They can easily introduce a brand to their followers.
For brands, this means quick access to a large, highly targeted audience. Thus, it becomes the perfect opportunity for a brand to partner up with an influencer to host a giveaway.
We analyzed five excellent influencer giveaways to find out how effective it is to use an influencer to promote your giveaway.
To be honest, we were kinda surprised by the results.
Read on to learn more about influencer giveaways and how to scale with influencer and partnership marketing.
MKBHD $1000 Smartphone Giveaway
Marques Brownlee is an influencer who is famous for his excellent, high quality, technology-focused videos. His YouTube channel, MKBHD, has over 11 million subscribers. His content has received more than 1.7 billion views in total.
Marques' specialty is electronic devices, such as smartphones, laptops, and devices that he labels as "dope tech." His expert opinions are found many on platforms such as Instagram and Twitter, where he has millions of followers.
However, his main platform of choice is YouTube. It is also the ideal platform for Marques to host an influencer giveaway with a partner brand.
MKBHD / Dbrand Smartphone Giveaway
Host: MKBHD and Dbrand.
Prize: A new iPhone or Samsung Galaxy Note. 50 phones in total were up for grabs.
Entry Method: Follow both MKBHD and Dbrand on social media.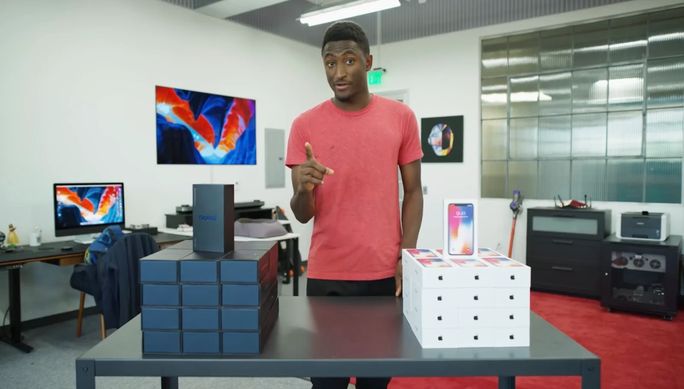 Marques and his channel sponsor, Dbrand hosted a major giveaway on the MKBHD YouTube channel. Dbrand is a phone skin manufacturer and sponsor of the incredible prizes of this giveaway. 50 smartphones!
The giveaway was hosted at the end of November. An excellent time just before the Christmas holidays.
The goal of this giveaway was to generate new Twitter and Instagram followers for both Dbrand and MKBHD. It's the reason why they asked participants to follow them on social media to enter.
Key Takeaways
MKBHD is a perfect match as an influencer for Dbrand. They already have a long-lasting partnership, as Dbrand often appears in Marques' videos. It makes perfect sense for Dbrand to partner with MKBHD for this massive giveaway because of their successful past.
The giveaway was promoted with a short and effective video and YouTube (MKBHD's main network). The short video clearly explains how people can enter the giveaway.
The purpose of the giveaway was to generate social media leads ahead of December (peak retail shopping). Dbrand can effectively nurture their new leads obtained at the end of November during December.
The giveaway is beneficial to both the influencer and the brand, as both parties will receive a boost in social media followers from this campaign.
Complex Travis Scott Sneaker Giveaway
Complex is a lifestyle magazine and online resource for news, pop-culture, and fashion opinions. The Complex brand does focus heavily on sneaker culture. They even have a dedicated Instagram account called Complex Sneakers.
Complex partnered up with Bodega, a Boston based online store, to host an Instagram giveaway.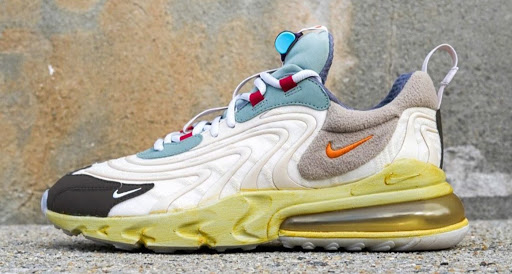 Complex / Bodega Instagram Sneaker Giveaway
Host: Complex and Bodega.
Prize: Travis Scott's Nike Air Max 270 React ENG (New Release).
Entry Method: Follow both Complex and Bodega on Instagram.
Complex teamed up with a partner brand (Bodega) to host their sneaker giveaway.
The rules were simple, follow both brands on Instagram, then leave a comment on a post (by Complex Sneakers).
Instagram users that enter will stand a chance at winning a newly released Travis Scott sneaker.
Key Takeaways
The goal of this giveaway was to increase Instagram followers (for two brands) and engagement (comments and likes) on an Instagram post.
Travis Scott is a massive brand and his line of sneakers is very successful. Complex used the rapper's brand and newly released sneaker as leverage to obtain as many leads possible. It's an excellent example of choosing the right prize for your giveaway.
Complex did not host the giveaway on their own. They partnered up with Bodega, a brand that complements the Complex Sneakers brand. This way, both brands can work together to better promote the giveaway.
Ninja Custom PC Giveaway
Ninja (Richard Tyler Blevins), is a popular video game streamer that is known for playing games like Fortnite and Modern Warfare.
He is considered as a major influential figure in the gaming industry and consistently lands high profile sponsorship deals. The latest deal being with Adidas.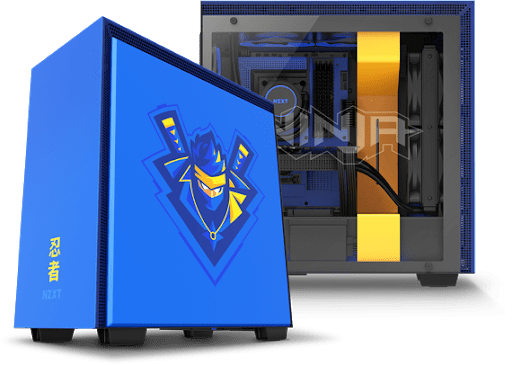 Ninja / NZXT Custom Gaming Rig Giveaway
Host: NZXT and Ninja.
Prize: Gaming PC with custom Ninja branding.
Entry Method: Multiple entry methods. Submit an email to enter, Follow Ninja and NZXT on social media, etc.
NZXT, a peripheral gaming brand, leveraged Ninja's popularity in the gaming world when they hosted their online giveaway.
The giveaway was hosted on NZXT's website and was promoted by Ninja on Twitter and during his live streams.
Key Takeaways
A perfect example of using an influencer to promote your giveaway and generate tons of new leads.
Ninja is an ideal match for NZXT. People who follow Ninja or watch his streams are most likely to have an interest in NZXT products (gaming peripherals like a mouse or keyboard).
The prize is unique. It's a computer that's built by NZXT and features Ninja's custom colors and logo. This is a good example of getting your prize to align with your influencer.
Giveaway was hosted on the NZXT website. This meant that Ninja could direct traffic from Twitter to NZXT's website, instantly boosting website traffic. Also, entrants were allowed to refer friends so they could earn bonus entries to the giveaway, increasing their chances of winning. This is the makings of a viral referral contest.
ZHC's James Charles Giveaway
Zachary Hsieh, also known as ZHC, is a comic book artist and influential YouTuber. He is well known for collaborating with other influencers and for hosting giveaways on his YouTube channel.
One of his most popular collaborations was with James Charles, another mega YouTube influencer.
ZHC / James Charles Custom iPhone Giveaway
Host: ZHC and James Charles.
Prize: Custom iPhones designed by both James Charles and ZHC.
Entry Method: Follow both James Charles and ZHC on YouTube and Instagram.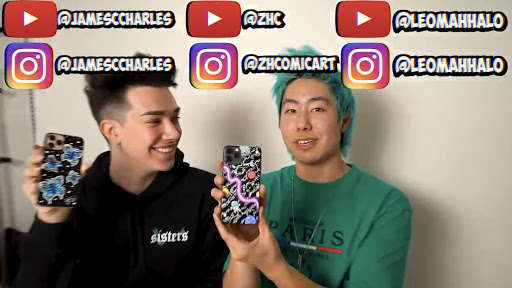 The ZHC and James Charles collaboration was a video of ZHC creating custom sneakers and accessories for James Charles.
ZHC goes to meet James Charles in person to hand over the custom made merch. The video ultimately ends with both influencers customizing two brand new iPhones.
These custom iPhones that were designed by the influencers themselves were used as prizes for their giveaway.
Key Takeaways
An excellent example of how two influencers from different niches can work on the same project together. This is useful if your brand wants to partner with two influencers and target two separate audiences at once.
The influencers filmed themselves painting the customized iPhones. This is proof that the devices were indeed worked on by the influencers. This increases the value and desirability of the giveaway prize.
Everything about this giveaway is visual. James is a makeup artist and Zachary is a comic book artist. The prizes are custom-designed iPhones. Users must follow these influencers on two visually focused platforms (Instagram and YouTube). If your brand is focused on photography, graphic design, or anything visual, then this is the kind of giveaway you should host.
Pewdiepie Clutch Giveaway
If you are someone that's on YouTube a lot, then you would have come across Pewdiepie, the platform's most popular creator.
Pewdiepie (real name Felix) is a YouTube influencer with the most amount of subscribers. He is best known for creating enjoyable satirical content in his room.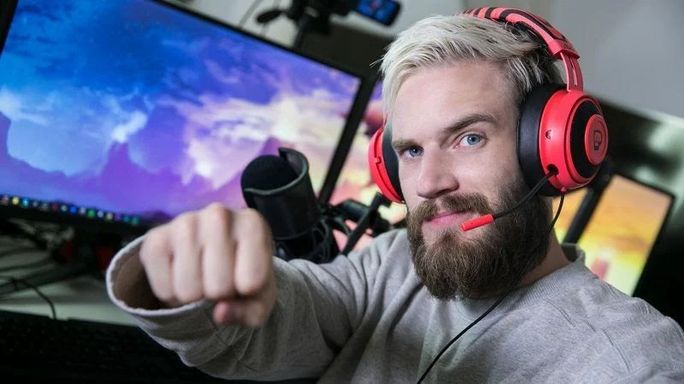 Clutch / Pewdiepie Stay at Home Giveaway
Host: Clutch Chairs and Pewdiepie.
Prize: Exclusive Clutch products (gaming chairs and desks) with Pewdiepie branding.
Entry Method: Multiple entry methods. Submit an email to enter, Follow Pewdiepie and Clutch on social media, etc.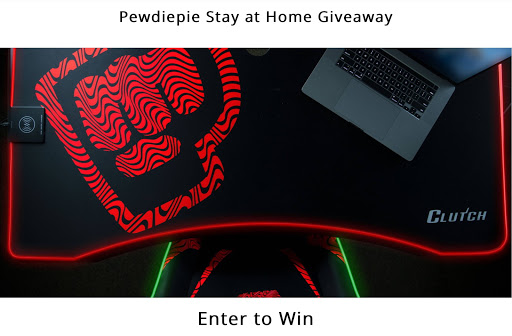 Pewdiepie is infamously known for promoting his chair on his channel. It's a gaming chair that's made by Clutch. The chair is covered in Pewdiepie's signature colors and branding.
Clutch also manufactures high-end gaming desks. They have one particular desk that also features Pewd's famous red and black branding.
Clutch hosted an excellent giveaway on their website. The grand prize package being both a Pewdiepie chair and a desk.
Key Takeaways
Stay at Home Giveaway – A campaign that makes use of a current trend and features relevant prizes (a desk and chair to use at home).
Clutch is a long time sponsor for Pewdiepie. They have already developed a steady relationship between the sponsor, influencer, and audience. People who watch Pewdiepie videos will already have built up a need for his chair and desk (he does speak about these items often). It's a no-brainer to host a giveaway that targets Pewdiepie's fans (that are in the millions).
The giveaway was hosted on Clutch's own website. A perfect opportunity to use the giveaway to generate website traffic. This can potentially lead to a boost in sales.
Clutch states that if a person made a purchase and entered the giveaway, then they would receive a full refund if they won. This is an excellent clause that would keep people buying a product that is also your giveaway prize.
Entrants were allowed to perform "bonus actions" (eg. comment on this post or refer a friend) so they could earn additional entries to the giveaway. Bonus actions are an excellent feature that can assist a brand in achieving social media and referral marketing goals.
TL;DR
An influencer giveaway can be a partnership made in heaven. You, the brand, can sponsor a truly awesome prize. Then your partner, the influencer, will show your giveaway to their followers.
An influencer giveaway can be a total win-win scenario if done correctly.
What is your take on social media influencers? Do you think it's a good idea to work with them when hosting a giveaway? Let us know in the comments below.