Social media experts have been laying their bets on live videos as the hottest content marketing strategy in the coming times.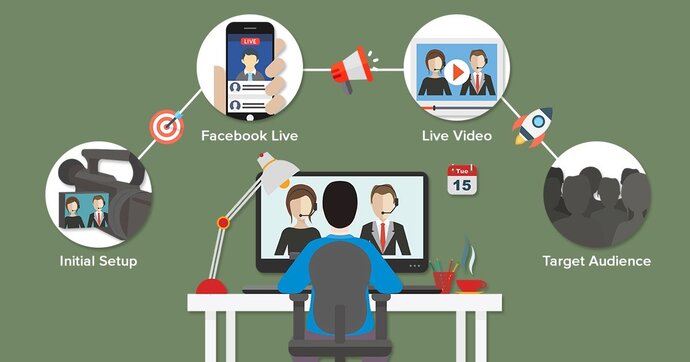 And why shouldn't they?
After all, live videos are the most proven way of 2017 to deliver your brand's message.
Social media has been about building, nurturing, and engaging the audience so that they stay and buy. With Live videos, customer engagement and trust with the brands have augmented phenomenally.
Thanks to Facebook who introduce Live videos. Its futuristic vision – Facebook Live Video, is all set to reign the social media gamut.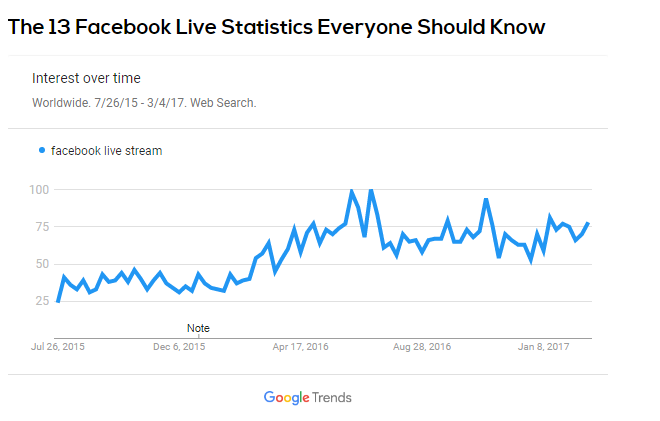 "The popularity of Facebook Live has grown 330x since it was launched in 2015"
And What is the USP (Unique Selling Point) of Live Videos?
It's Live!
With live videos, you cease the moment and connect with your audience right at the spot. Your audience can witness right when it's happening and this makes the beauty of the FB Live video even more spectacular.
No cuts and no retakes.
Brands can reinforce their authenticity by streaming videos live. Viewers like to watch live videos even when they are three times longer than native video uploads.
That's a huge leap!
Indeed.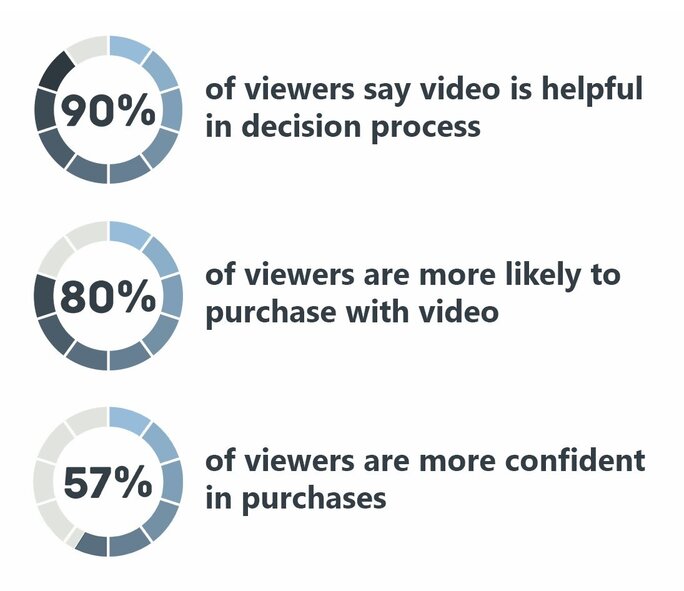 With live video streaming, e-commerce reaches new heights as the content directly reaches the customers. They make the purchase decision on the spot, that too after a substantial live discussion. Brands are employing the best equipment and technicians to live stream videos that look totally unscripted, impromptu, and authentic.
That's a tailored and stylized way to getting back to the basics.
Influencers and product experts give honest reviews about the product which is seen live on screen by everyone and everywhere.
Do you know why?
Because it provokes content conversation.
What is Content Conversation?
The cameras go live and the audiences can ask questions to the brand experts. In a way, the audience feels a part of the show. This is content marketing getting a twist and a vigorous shake to make it a 'content conversation'.
Live videos could be about product launches, talk shows by experts, live product demonstrations and tutorials. It's no longer a pushy advertising experience where the salesperson persuades the customer to buy products. The audience is seamlessly made a part of the interactive session. By the end of the live video (which could extend to three hours or more), the brand consumes the audience's mind totally.
Myth busted?
There is one more.
Of course, Facebook is the one thriving well in live videos. But it is not the only one.
Companies can play live videos on their own websites and platforms to promote their products and services.
Let's have some handy tips on how to get the most out of live videos.
How to Use Live Videos for Marketing?
1. Meaningful conversations are fulfilling
Conversations that have solutions to users' problems in real time is something that goes well with in videos.
This is something you can learn from Flothemes, a group of professional website designers who provide awesome SEO tips through Facebook live videos.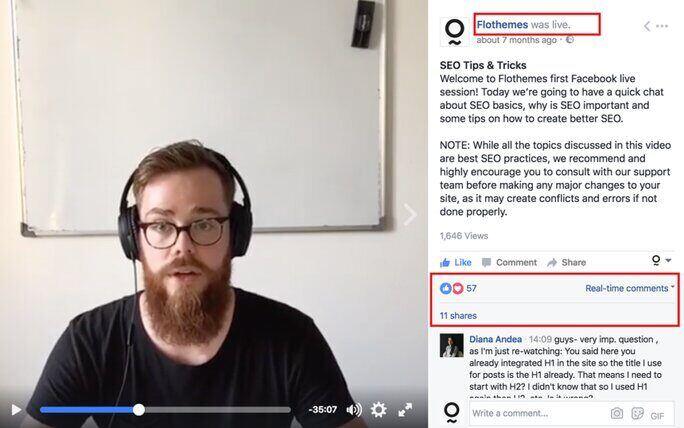 This video has a goal and provide the audience with an enriching experience which they miss when the video gets over.
Win your audience's trust by making the video interactive and purposeful. It should not look like a full-blown star-studded promotional campaign that does not make any sense to the audience.
2. Practice and Prepare
Live videos are about one single take where there is no scope for editing or polishing the video. People in the live chat have to perform extremely well as the onus of the brand reputation is on them. Rehearsals and dry runs must be conducted for a flawless real-time performance.
3. Offers and Prizes Galore
The idea of a live video is involving your audience. Just do that. Provide exciting giveaways and early bird discounts for immediate orders. Conduct questionnaires and make the audience win surprise gifts. The session should be informative as well as fun.
4. Announcement in advance
Whether you want to run a live Q&A session or want to introduce your product, informing your audience in advance is a best way to grab a handful of users.
Just like Ravinia Festival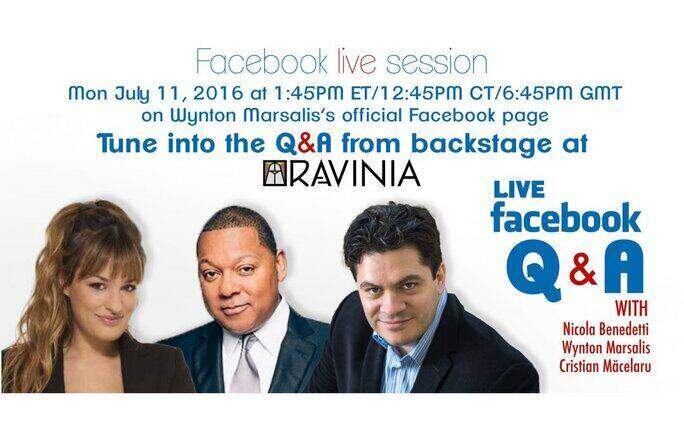 Wynton Marsalis, Nicola Benedetti and Cristian Macelaru host a Facebook Live at Ravinia Festival on July 11th. This information went out to their audience well in advance so that they could catch them at the live facebook event.
Their live video make it sound like an invitation to a party or the most awaited event.
Create a buzz such that the audience blocks the dates of your live streaming. Tell your customers about the celebrity invites and experts who are invited to the talk show. The details about the live event must be explicitly marketed using email marketing, event ads, and information on your website.
Remember: If you regularly engage with your audience and they have subscribed to you/your channel, your followers receive notifications when you go live and they can connect instantly.
5. Behind the scenes
The thought of witnessing the process of chocolate making has always exhilarated me.
How about you?
Viewers love to get a glimpse of behind-the-scenes processes of their favorite products. Live videos give customers the opportunity to get an exclusive sneak peek of how products are manufactured, solidifying their loyalty towards their trusted brands further.
6. Use talented sources
The main element of a live streaming video is your anchor. It should be someone who has an enigmatic screen presence to keep the audience hooked and attract stray viewers.
Employing influencers and third-party experts to discuss brand products and services, is a great move by businesses.
You can follow Kim Garst here.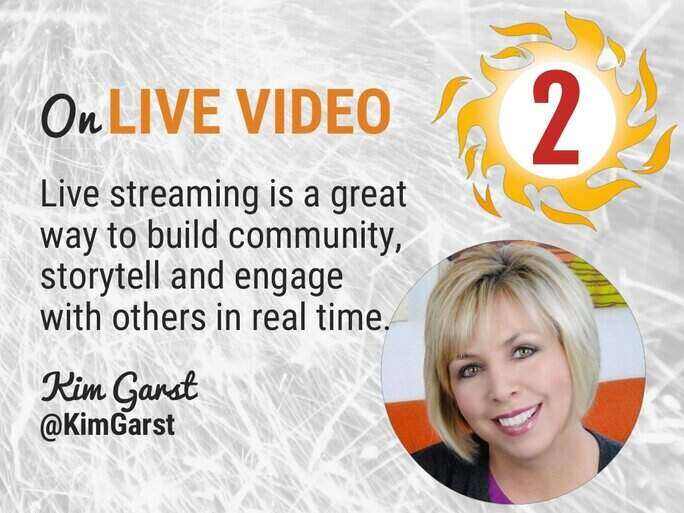 With its nearly 10 million followers, Kim Garst is considerest as one of the top influencers of Periscope. She adds value to her live videos with a direct but simple approach.
Remember: Tune in to using amazing themes, effects, and filters and express yourself just as they want you to be!
7. Live stream your company events
Disney partnered with Airbnb to live stream the premiere of Jungle Book. They live streamed the event on Facebook, showcasing the entire cast at the red carpet event and conducted interviews with the entire crew. The Facebook audience went crazy with excitement and increased their curiosity for watching the movie, even more.
Live Video – Greater Horizons
Live videos have opened an arena of a new marketing experience for budget businesses. Did ever before, local and small businesses ever think of video marketing? The budgets were never feasible.
True.
The web had already started widening horizons for small marketers where their products started traveling out of the local markets. Constraints, however, still prevailed in terms of proper distribution and funding.
Now, no more.
Enter the domain of live videos. Premium quality live videos definitely command a budget, but the resources are much more feasible for the small fish. It provides them the same opportunity as the giant fish in the enormous sea called Facebook. I'm sure you remember Buzzfeed's exploding Watermelon live video.
And yes, though the good-quality equipment is an advantage, a smartphone and some aesthetic knowledge are sufficient. If you understand your audience well and deliver great content with skillful marketing , your live videos will fetch far more engagement than the giant brands.
Cookies, anyone?
And brands use methods like retargeting and in-feed sponsored message to target potential audience.
Any marketing website that you have visited will leave no stone unturned to reach out to you. Live videos add an interesting spice to brand marketing. The warmth and friendliness of individuals in these videos act as a magnet to lure the customers.
Longer Live Videos
Longer videos = boring?
Absolutely not.
While emphasis has been on short and crisp ads to draw the audience attention, live videos follow the inverse proportion. Longer live streaming has chances of generating higher engagement.
One of the most viewed videos,"Countdown to the 2020 Presidential Election" from BuzzFeed, was over three hours long and generated millions of views.
"'In 5 years, most of Facebook will be videos'- Mark Zuckerberg, 2014"
The longer a live video is watched, it is assumed that the audience likes it more.Facebook recommends streaming live videos for at least 20 minutes.
Wrap-up
As per Google trends, 1 in 5 videos on Facebook is a live broadcast.
Facebook recently enhanced the live video feature which aims to give greater weight age to engaging videos as per the 'percentage completion'. Apart from Facebook Live, you can try other live video networks like Twitter Live, Instagram Live, etc. And do let us what worked best for you.