Influencer marketing is not a new term. All walks of business have lionized influencer marketing strategy and leveraged it in their marketing mix one way or another.
We bet you are doing it too.
But something has changed. The influencer industry has reached a saturation point and is now retracing its curve. The size of followers and engagement doesn't seem to go hand in hand anymore.
Why is it happening?
People have started to realize some big paid influencers' underlying crookery and how they are just the brand's paid spokesperson and not the authentic consumer they claimed to be. Remember the Fyre fest disaster?
Also, look at this example, where the influencer had mistakenly copy-pasted the company brief as a caption.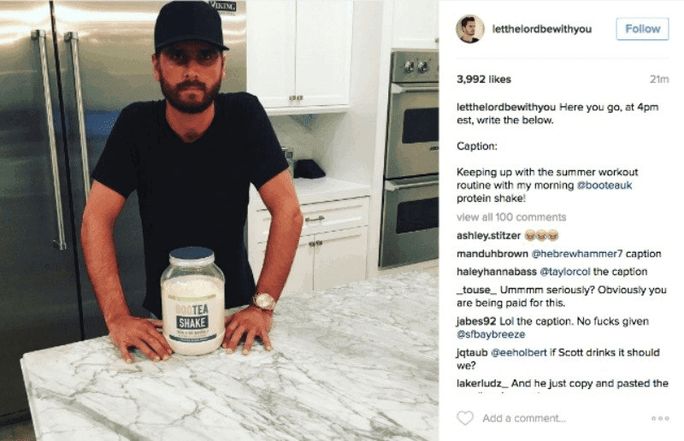 The lack of trust and fake followers and the nosediving conversion rate of the mega and macro influencers in comparison to their prices is a hair-pulling concern for brands.
So, is this a wrap for influencer marketing? No!
While the big Instagram influencers are losing their grip on audience trust, another influencer category shining in, getting more engagement and better conversion rates is "micro influencer."
Who are the micro-influencers?
Micro-influencers stand in the middle of the influencer tiers. They're individuals with a following between 1,000 to a couple of thousand followers.
Since their followers typically fall between 10K-50K, these small influencers receive way better engagement and a balanced reach, typically starting to flatten for a big influencer after the 1 million followers mark.
Based on how much the influencers get paid – micro-influencers charge around $250 to $350 for a sponsored post, which is way cheaper than big influencers.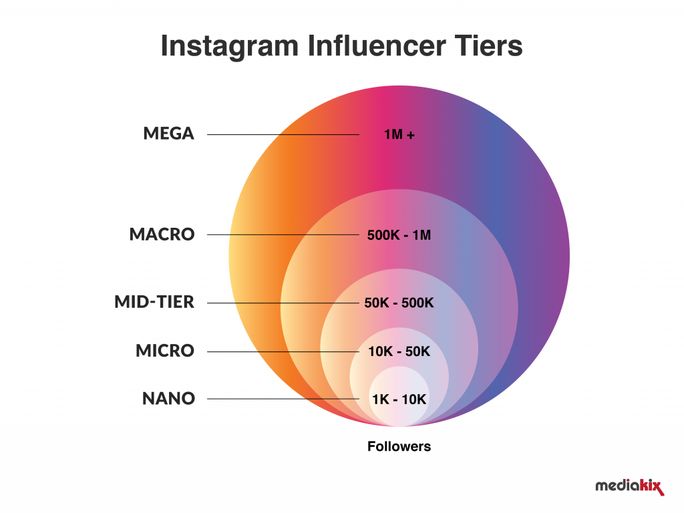 Besides the number of followers and payments, these low-key influencers are defined by their roots and popularity in a single niche.
In a nutshell, micro-influencers are:
Someone with a small following; in thousands
Individuals posting about a specialized interest on their social media handles
Influencers who have a more localized reputation that people can relate to
Now that we know the term micro-influencers, let's see what made this influencer clan establish itself permanently in the market ruled by traditional influencers like Kardashians and Jenners.
Why are micro-influencers the new gods of influencer marketing?
Here are the five reasons that make micro-influencers an equivalent, if not a superior, alternative for the high-budget mega influencers.
1. The engagement rate is pretty slick
engagement rate is one major cornerstone that excites marketers to pivot their influencer marketing strategy at the doors of small influencers.
And why wouldn't they? According to a report by marketing dive, a micro-influencer boasts an average engagement rate between 6.6% to 8.8%, which is seven times higher than a mega influencer's engagement rate.
Their engagement rate correlates with their number of followers. A smaller and concentrated fan base enables them to interact highly with their audience.
Markerly's valuable research shows us the same picture – as the number of followers of Instagram influencers increases, the likes and comments go down.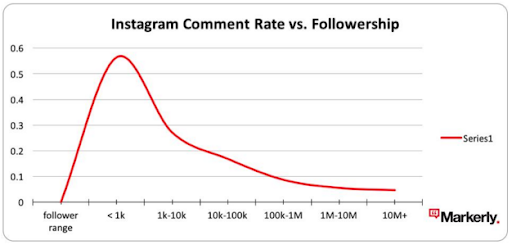 2. Considered trustworthy
So why does a micro-influencer generate this much engagement? Is it just because of the low-follower-more-interaction factor?
Well, there is one more factor that makes them a super engagement magnet – familiarity.
With their humble background and relatable stories, micro-influencers are perceived as "people like us." The familiarity factor makes them less of a celebrity and more of a friend.
Also, they engage on a deeper level with their tight-knit followers in the comment section and offer credible advice compared to a big celebrity's profile, probably managed by a social media manager.
According to a Nielsen study, 83% of consumers trust recommendations from their peers over brand advertising.
So, when a friendly neighborhood influencer decides to back any brand, people are more likely to believe in their advice than a recommendation of a branded profile or celebrity influencers who do not usually consume what they promote on social media.
3. Jack and master of a single niche
In this age of the internet, anyone can express their opinion on social media networks and build a credible following base.
But, that doesn't mean your audience will trust their recommendations.
Because familiarity is not the only check-box on the list to become a credible influencer, the most reasonable and influential recommendations come from the people who are also the experts in that niche.
Here, the micro-influencer wins the game because they only preach what they know the best. In contrast, big influencers, who do not have specific domain expertise, fail to obtain people's trust looking for buying recommendations.
Moreover, since these low-key influencers keep posting around a specific niche, the audience following them is also highly targeted and specific to a particular domain. It opens up doors for brands looking to target niche audiences and achieve higher conversion rates.
4. Churns out higher conversions at a lower price
With their highly targeted niche audience, micro-influencers churn out a 20% higher conversion rate than big influencers at a comparatively lower price.
Let's take an example to understand it.
Say you have set aside $200k for your influencer marketing budget. Now, either you can go with one mega influencer who will promote one post of your product on their profile or hire 20-30 small influencers who are experts in your niche for the same price.
Where will you get more conversions? Let's glance at an expert's findings.
Sarah Ware, CEO & co-founder of Markerly, told Digiday that promoting a weight-loss tea company with Kardashian and Jenner sisters led to many conversions. Interestingly, when they used 30-40 small influencers for the same brand, the conversion results were higher.
It proves that micro-influencers, with their dedicated audience, can help you get higher conversions without squandering away big bucks.
What brand works with micro-influencers?
Generally, when we hear the word influencer, our brain quickly connects them with fashion and beauty products.
Maybe because of the visual appeal of the fashion and beauty industries, it's easier to promote a shiny-looking dress or new sneakers than complicated new software.
Does that mean there is no hope for B2B businesses to generate awareness through influencer marketing?
Luckily, that's not the case!
As long as your audience is present on social media platforms, your brand can find and work with influencers. There is a fair chance you will discover Facebook, Instagram, or YouTube influencers who are passionate about your niche and hold the key to the trust of your target audience.
The key is in finding the right influencer who matches your brands' product and values. We have shared a few essential tips to find the best social media influencer for your convenience.
4 tips to leverage the power of micro-influencers?
Once you find the right influencer for your niche, it's time to set your promotions into action.
But, remember! Influencer marketing inherently doesn't work like conventional brand advertising. The interaction between the influencer and the audience for the product should be authentic.
So, let's take a look at the 4 tips to effectively leverage micro-influencers without coming up too sales-y for your audience.
1. Use hashtags for user-generated content
Campaign and brand-specific hashtags are a great way to connect with influencers already close to your target audience.
One brand that proactively utilizes the power of branded hashtags to connect with small influencers is La Croix Sparkling Water.
The sparkling water brand uses its hashtag #LiveLaCroix as a listening tool to find influencers talking about their brand on Instagram. Whenever an influencer tags them using the hashtag, LA Croix reaches out with the offer to get them featured on the company's Instagram account.
Tapping into the pool of small influencers helps them create user-generated content which is authentic, fun, and user-generated content that resonates with their target audience.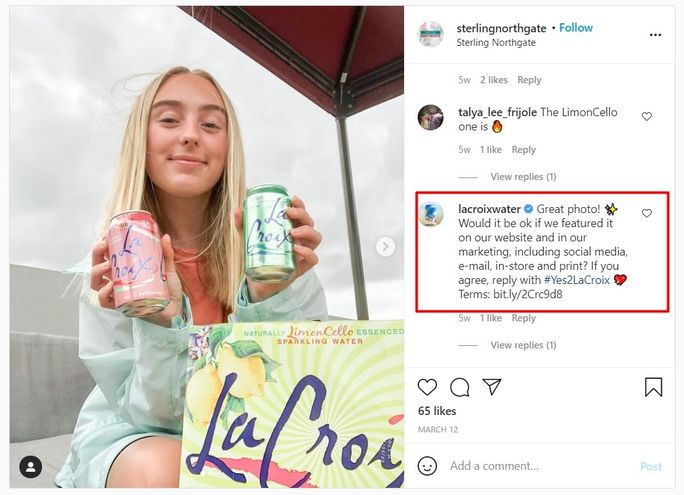 2. Make Sponsored posts
You can simply collaborate with influencers to post about your brand campaign, product, or content on their social profiles using sponsored posts.
It's a straightforward way of getting your brand in front of your target audience and driving more engagement.
When an influencer openly lands support for your brand with a "paid partnership" tag over the post, it impacts your brand's credibility and sends relevant traffic your way.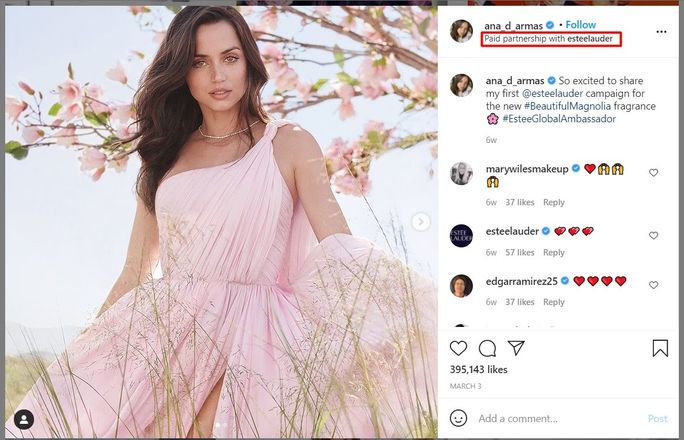 Make sure you don't treat influencer marketing the same way as a conventional advertising channel.
As we discussed earlier, people listen to influencers because they connect with them on a deeper level. So when a micro-influencer backs a brand, its promotion needs to carry the influencer's voice.
To make the content more authentic, share your thoughts with the influencer and provide them the creative freedom to shape content because they know their audience best.
It becomes crucial when collaborating with a big pool of influencers. Trust us; you wouldn't want all of your influencers reading a similar script with a bit of variation – sounding like a car salesperson.
3. Social media takeovers
Another solid influencer marketing strategy is social media takeovers, wherein you allow an influencer to create and post content directly on your social profiles.
It's a fun way to attract the fandom of the influencers you are working with towards your brand profiles. Seeing their favorite influencer posting on your profile in the content language and tone they love and engage in is great to spread brand awareness.
Look at this example,
The Grand Marais Art Colony frequently collaborates with artists to take over their social media handles. Look how Sarah Nelson, an independent artist, shares the takeover news with her followers beforehand to attract good traffic to the organization's profile.
You can also leverage any occasion or relevant trending hashtags for your brand to run the takeover campaign. It will make the campaign look more natural and on-point.
On the other hand,
If you are skeptical about sharing brand credentials with influencers, use social media scheduling tools like SocialPilot.
Using its team and client collaboration feature, you can quickly onboard multiple influencers to schedule and post on your profile without sharing any credentials. You can also assign them roles and limit their access according to your need.

Moreover, it has Instagram scheduling and social media analytics features that can help you gauge the performance of your influencer marketing campaign to make the right decisions and drop the wrong ones.
4. Use storytelling for promotion
Talking about influencing – nothing influences a person more than an authentic story.
Social media storytelling is an essential strategy in captivating your audience's interest in your brand and eventually driving conversions. They allow you to show a personal and human side of your brand.
So when it is time to utilize influencer marketing, don't forget to use storytelling. Backing your brand marketing with stories will set you apart from the crowd blatantly boasting about their products only.
Take a look at how American Express, uses influencers to tell stories that connect with audiences worldwide.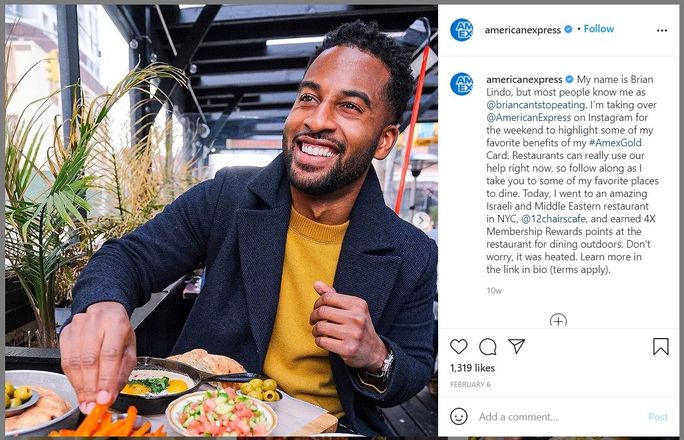 AMEX collaborated with the food industry influencer @briancanteatstopeating to connect all his foodie followers with the AMEX profile and show them the benefits of using their card.
And the influencer didn't just merely say: "Ok, use this AMEX card." Instead, they used a story of traveling around NYC and eating middle eastern food while showing the benefits & convenience of having an AMEX card.
It helps people understand how they can use an AMEX card in their daily life.
So before you start working on your story, ask yourself – who are the listeners? Once you get an idea about your audience, find an influencer who fits your brand image and start creating your story.
Conclusion
It turns out that bigger is not always better, at least not in the case of influencers, and it's good news for brands of all shapes and sizes.
Micro-influencers' epic rise in popularity is an excellent opportunity for small and big businesses to promote their brand, get engagement, and boost their conversions without spending big bucks.
The consumer is savvy. They can spot advertising content when they see one. The best thing you could do is present your brand as authentically as possible.
The "people like us influencers" are your best bet to gain your audience's trust and interact with them on a personal note.