The visual search hub, Pinterest, inspires many.
Millions of people browse through the platform to plan out their future purchases. Unlike other social media sites, Pinterest users are laser-focused on brand offerings exclusively.
Shopping on Pinterest has become easier with features like Live Shopping and shoppable Idea Pins.
Pinterest is not meant to drive website traffic anymore.
It's emerging as a platform for branding and e-commerce. Marketers should pay attention to the below listed Pinterest statistics before planning their marketing and SEO strategy.
Let's see what the stats say.
Pinterest Demographics Statistics
Witnessing the spike to 444 million Pinterest users, it has been the hotspot for identifying trends across multiple industries. Another interesting thing to note is that the platform's popularity is not just in the U.S. alone.
As per Pinterest stats, more than 75% of the users are from outside America. Females dominate the platform, making up more than 70% of the Pinterest users. Here are some more Pinterest stats for better understanding.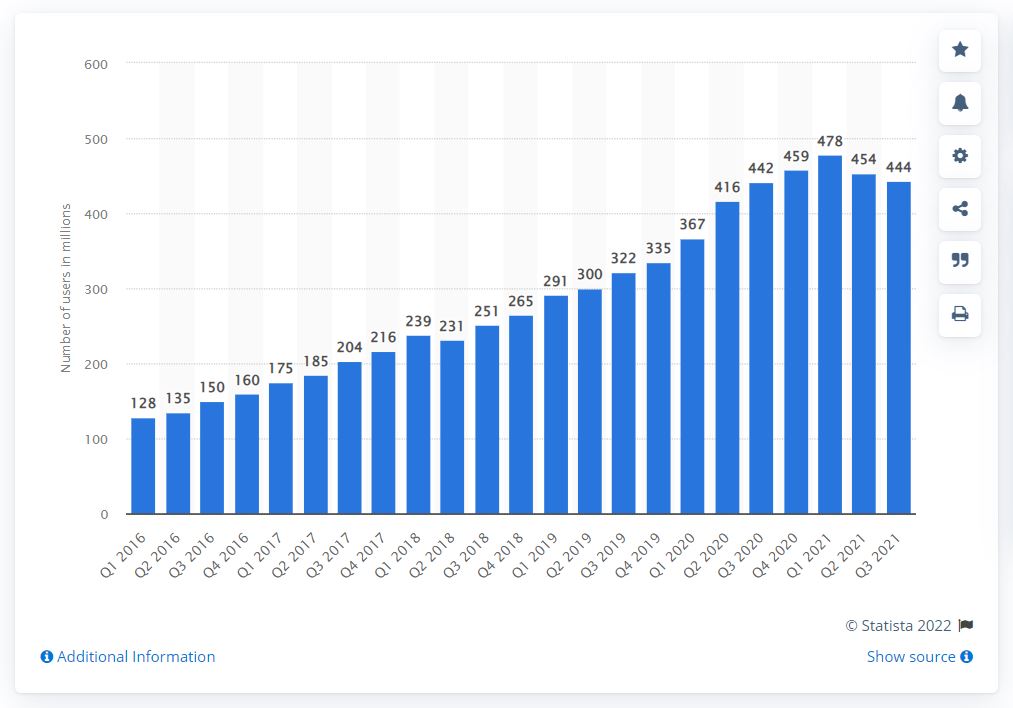 Global monthly active users are 444 million, as per Statista.
Out of all, 90.45 million active users are from the U.S.
38.8% of Pinterest users are in the age group of 25-34.
Pinterest has 78.1 million female users and 21.9 million male users in the U.S.
More than 75% of Pinterest users are from outside the U.S.
Females make up more than 70% of the users on the platform.
19.7% of Pinterest users are in the age group of 18-24.
Pinterest Usage Statistics
Professionals and experts share their top secrets and hacks on the platform and educate their followers to grasp the best ones. Therefore, users huddle up and search more than 2 billion queries each month on Pinterest.
There are also 5 million-plus boards with thousands of pins to spark your creativity. Like other social media, 74% of all Pinterest users use the app aiding in 85% of Pinterest usage via mobiles. Have a look at more Pinterest statistics to get some idea about its usage metrics.
More than 2 billion searches happen on Pinterest each month.
There are more than 5 billion boards on Pinterest.
74% of users use the Pinterest app.
Pinterest users have cumulatively placed over 200 billion pins.
85% of Pinterest usage occurs on mobile apps.
The average Pinterest user types in 8 searches per month.
Pinterest users, in general, spend 29% more while shopping than non-users.
86% of millennials use Pinterest to plan life events.
63% of millennials use the platform to search for products and services.
Over 75 billion pins have been uploaded to Pinterest.
Some 43% of Internet users in the U.S. have a Pinterest account.
High-income households are twice as likely to use Pinterest as low-income households.
Pinterest Engagement Statistics
Thanks to videos, Pinterest is no longer all about just pinned images and link posts. Pinterest stats show that video views have increased by 200%, wrestling in heavy engagement. 55% of Pinterest users use the platform with the intent to shop and buy, generating direct sales for most marketers.
Apart from regular searches, there are also 600 million visual searches via Pinterest lens each month. So if any non-following user stumbles across your product, they can give it a quick scan and purchase the item from you!
How cool is that?
Here are some more Pinterest statistics on engagement to help you create better promotional strategies here.
Video views on Pinterest have increased by 200%.
78% of Pinterest users say it's useful to see brand content on the platform.
55% of people use Pinterest to shop and buy.
89% of U.S. pinners use Pinterest for inspiration in their path to purchase.
98% of the users have tried something they found on Pinterest.
Pinterest is most popular with women—especially moms.
Related Pins account for 40% of engagement on Pinterest.
More than 56 million pinners actively engage with home content.
70% use Pinterest to find accessories, watches, and jewelry.
52% use their platform to develop their knowledge of great food and drinks.
Dads are 3x more likely to have shared boards than the average male pinner.
80% of moms use Pinterest.
Pinterest trends increased to 56%, while the rest of the platforms rose to 38%.
600 million visual searches occur via the Pinterest lens every month.
Pinterest Business Statistics
There's definitely some good news for marketers who have continued to use Pinterest for business. Interactions with Pinterest shopping pins have increased by 44%.
If you are a lesser-known brand, Pinterest can help you kickstart as 97% of the Pinterest searches are unbranded. It's also recommended to go for several pin types like rich pins, product pins, videos, etc.
You can even consider promoting them as 61% of Pinterest users have made a purchase because of sponsored pins. Check out these Pinterest stats for using the platform to boost your business the right way.
Interaction with organic Pinterest shopping pins has increased by 44%.
87% of people on Pinterest have bought a product because of Pinterest, while 93% use Pinterest to plan a future purchase.
76% of pinners save items to purchase later.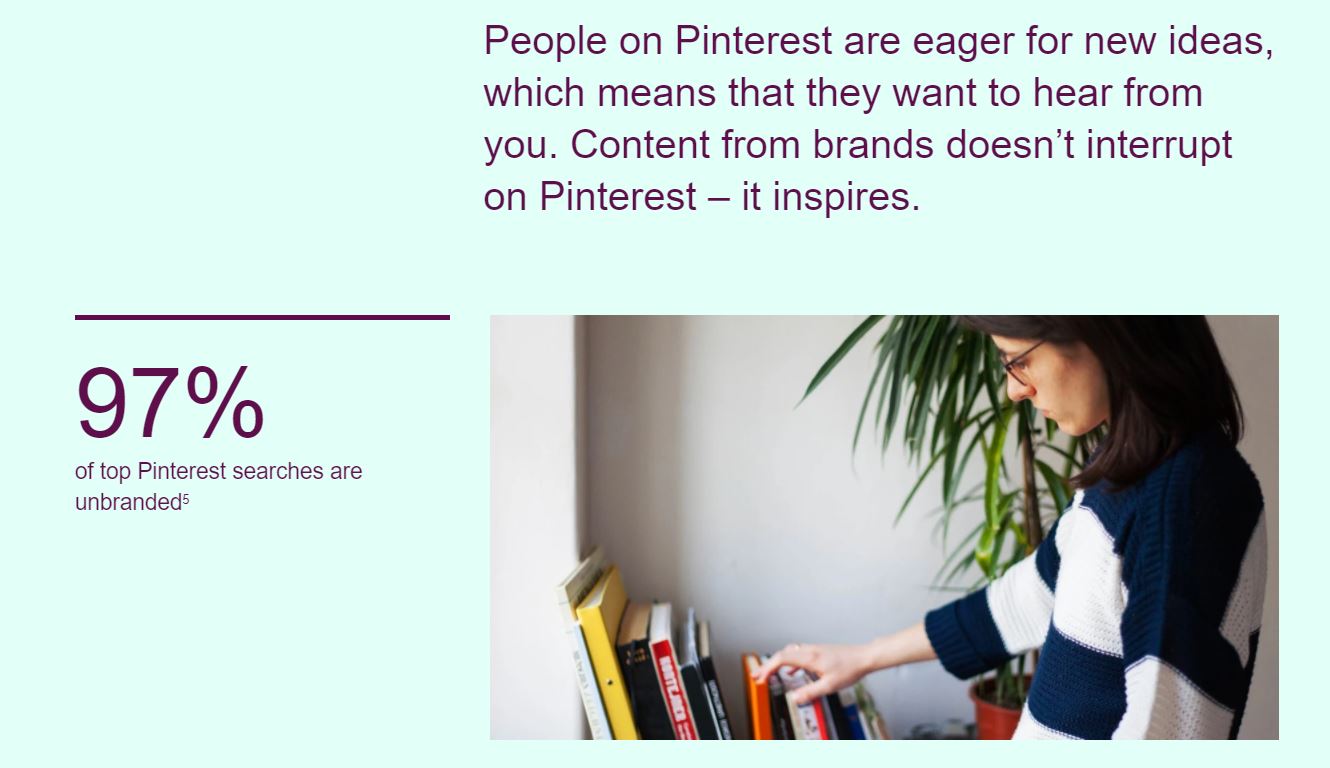 97% of all searches on Pinterest are unbranded.
Pins that show a product or service in action are 67% more likely to drive sales.
Shopping is a top priority for 48% of Pinterest users.
85% of pinners put visuals first when shopping for apparel and furniture.
61% of users have purchased because of sponsored pins.
Pinterest Ads Insights
Pinterest ads can potentially make you reach millions of people, with the quarter-on-quarter reach increase by 4.4%. The best part is 78% of Pinterest users have agreed that branding content, including ads, are very much relevant to their interest, and they would continue to look for them even in the future.
So we suggest pinning almost 5-6 times daily to create a consistent presence on the platform for better branding and reach.
Posting and sponsoring your pins will definitely improve your metrics and help you accomplish your social selling goals faster on Pinterest. Here are a few more Pinterest statistics on ad demographics and performances.
233 million people can be reached with adverts on Pinterest.
77.1% of ad audiences are female, and 14.8% are male.
Marketers can reach 3.8% of the population that is aged 13+ with adverts.
The highest reach ranking of Pinterest is witnessed in the U.S., followed by Brazil and Mexico.
The majority of ad audiences on Pinterest are from the age group of 25-34, which constitutes 38.8% of all Pinterest users.
Quarter-on-quarter change of Pinterest's advertising reach is +4.4%.
78% of users say content from brands is useful, including ads.
Pinterest Top Brands
Want to give your Pinterest profile a makeover? Learn from these top brands who have been consistent on the platform and managed to pull off following in millions.
Observe their boards and how frequently they pin and go live to connect with their users on the forum. Here are our top 5 picks with their Pinterest stats to help you create your Pinterest marketing strategy.
Oh Joy has an extensive following base of 15.2 million followers on Pinterest.
Poppytalk has 10.5 million followers on Pinterest.
Tasty has 10.4 million followers on Pinterest.
Pejper has 6.8 million followers on Pinterest.
Harper's Bazaar has 6.4 million followers on Pinterest.
Conclusion
Pinterest is a valuable source of reliable information for many. Hence, if you are a marketer, leaving out on this platform is a major miss.
Why? 7 out of 10 Pinterest trends predictions have already come true.
While we understand the Pinterest statistics we discussed in the blog are quite encouraging, marketers will step back from committing to frequent pinning as they have too much to manage already.
That's why we recommend using SocialPilot. It lets you plan out your pinning strategy and helps you build a presence on just on Pinterest but on 8 more platforms.
You can plan your posting timings, frequencies, edit them on the go with Canva integration, and keep a tab even on performance with analysis.
Take its free 14-day trial and upgrade your presence on Pinterest hassle-free.