Listen to this blog
Pinterest is the ultimate inspiration hub for millions. The visual search engine is the favorite of every marketer, seller, artist, and more.
But it isn't limited to just a boredom-killing scroll! Pinterest can be an excellent platform for all types of businesses to market their brand.
Here are some statistics to really hammer the claim:
Social media statistics show that Pinterest has more than 2 billion monthly searches. 55% of people use this social media app to shop.
87% of Pinterest users have bought a product because of Pinterest, while 93% use Pinterest to plan a future purchase.
Insane, right, how much impact can proper implementation of Pinterest marketing strategies have?
However, like every platform, you need to follow specific strategies here as well. So even if you are a beginner or an experienced Pinterest marketer struggling to break through, we have something for you.
Here is a list of dos and don'ts for your Pinterest marketing strategy to get you started right!
Dos of Pinterest Marketing Strategy
When it comes to marketing, there is no compulsion for anything that you need to abide by. After all, marketing is all about experimentation!
But, to get the best out of your marketing efforts, we have listed down a few dos we recommend for efficient progress.
1. Complete Your Profile
The first and foremost rule, complete your profile! Describe your business and include relevant keywords that help you reach your target audience.
Next, upload a profile image. Be it a logo or your personal picture, make sure it's a presentable one! In addition, create a minimum of 10-12 boards and pin at least 9 pins on each board.
This will keep your board more active and renew its appearance encouraging the audience to explore your board more.
2. Create your first 5 boards
If you haven't started pinning yet, now is the time! Start with creating your first 5 boards related to the topics that your audience would love. Add a few pins to each board.
Let's assume you own a makeup brand. You can create 5 DIY boards that your audience can replicate using your products or classic tutorial looks that are hard to nail for amateurs.
3. Use a secret board to save content for future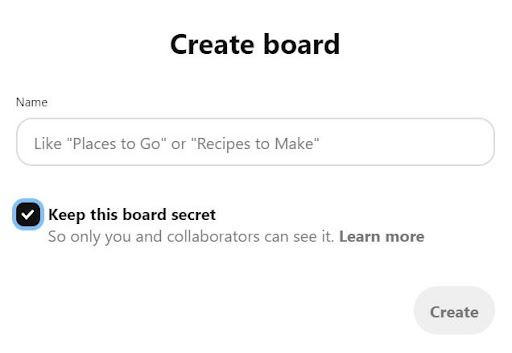 It is always a great idea to pre-plan. Curate all the content you'll need and create a secret board. Next, pin an image to that board and add the original pin URL in the caption. This way, you can go back and re-pin it publicly later. Think of this as a method of bookmarking your pins.
4. Have an awesome cover photo
Your cover photo is your first impression. It is the first thing a user sees when they visit your page. Choose a high-quality image that is attractive and bright for your cover photo. Make sure that it reflects what your page is about.
Pinterest allows you to choose which pin to use as your cover image. So optimize before using them as your cover photos on Pinterest for each board.
5. Active engagement
Maybe you don't have a ton of Pinterest followers to start with. Everybody begins with very few of them. The key to getting more audience is to engage with them!
Direct messaging is an excellent option to go for it. Reach out to people who have liked your posts, thank pinners who have repinned your images, and set up group conversations to boost more engagement on Pinterest.
6. Follow your competitors
Find your competitors' Pinterest accounts. You can discover what they are exactly doing on Pinterest and learn from their actions with a bit of research.
So, if you follow your competitors, it is more likely that they'll follow you back. Cross-promoting and encouraging each other on platforms provides you with a broader audience. Also, by checking what your competitors are doing, you can get some amazing Pinterest content ideas.
7. Share blog posts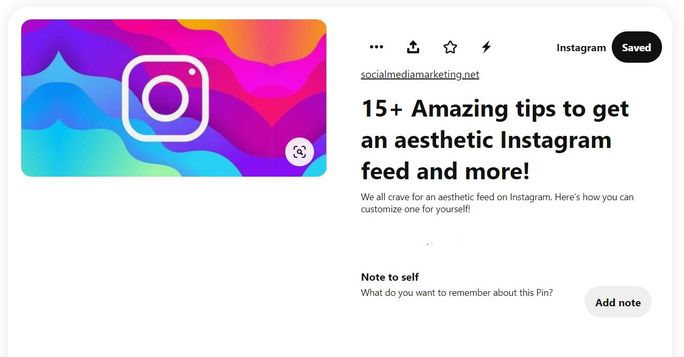 If you come across any interesting blog posts, you can always repurpose them as an infographic and share them on Pinterest. It is basically using the same content but presenting it through appealing visuals. Just put in some more effort in crafting the visuals, and you are all set to post.
PS. Don't forget to give credit to the author!
8. Join Community Board
In simpler terms, a community board is a collaborative board owned by a single person and then adds more creators to post on the board. You can request to join the already existing community boards. If you own one already, you can invite people to collaborate too.
Research for appropriate community boards within your business sector. This way, you will reach a highly targeted audience that you wouldn't otherwise have access to. Also, it is a great place to find relevant content to pin to your boards.
9. Leverage Pinterest Analytics
Measuring your efforts is the most important part of Pinterest marketing. It helps you know what goes down well with your audience. Pinterest also has its own analytics platform. You can use various social media marketing tools to get a better insight into your Pinterest traffic.
10. Include a Rich Product Pin on your site
Rich Pins are pins that include real-time information right on the pin itself. They allow you to provide more information directly on a pin, making it more user-friendly. Rich pins drive more traffic to your website. But you do need a basic knowledge of embedding, schema.org, and Open Graph.
11. Focus on image quality
Pinterest strategy is all about visuals. Therefore, the more interesting the image you post, the more engagement you'll gain on Pinterest. Again, if you share high-quality and attractive illustrations on your blog posts, people will be more likely to pin them to their boards.
12. Use keywords in your descriptions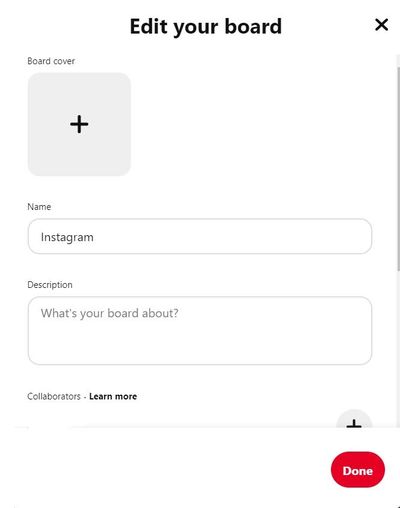 Including relevant keywords helps you reach the right audience easily. Also, the description gives the visitors a brief about your subject and allows them to understand your boards better. So ensure to edit your boards accordingly.
13. Use different images to link back to your site
Suppose you have an old blog post that you would like to promote on Pinterest, and the original article doesn't have a pinnable image. You can easily fix this by uploading a Pinterest-friendly image. Simply click on '+' on your Pinterest page and select 'Pin'.
14. Pin regularly
Pinning consistently helps maximize exposure and customer engagement with your brand. You can use social media scheduling tools to plan and schedule your pins in advance. Scheduling your pins on Pinterest will ensure regular posting and magnify your reach.
15. Cross-promote across platforms
If you have recently started using Pinterest, you should take advantage of other networks to grow your followers and increase social traffic. You can tweet/post about your new pin/board on various social media platforms. This is a great way to announce your presence on Pinterest to your already existing audience elsewhere.
Using the word cross-promotion and regular posting in the same sentence can be scary for some marketers. But, using a scheduling tool like SocialPilot makes it a cakewalk.
With SocialPilot's scheduling capabilities and muti-platform post composer, you can mash two potatoes with one fork. Be consistent by scheduling your pins inside a Pinterest dedicated tab with all the bells and whistles, and then cross-post them on all the other social platforms from the same page. Doesn't that sound easy?
Don'ts of Pinterest Marketing Strategy
We want to keep you far away from the pitfalls! So, here are a few things you'd want to avoid. Even if you create the most pretty visuals and use some of the best Pinterest tools but miss out on a few small things, you'll lose the perfect opportunity to expand your reach.
1. Don't post low-quality images
As everyone knows, Pinterest is a highly visual platform. Therefore, it does no good to post a poor-quality image. Whether you pin your product or a blog post that your audience might find interesting, post an attractive picture. Most importantly, ensure that anything you post is relevant to your brand.
2. Don't ignore group board
Group boards are community boards for invited members to pin on the same topic. Make sure that the boards you participate in are well-curated, have a good number of active members, and moderators who are quick to remove people who violate the spirit of the group board.
3. Don't just pin your own content
You should not pin your own content always. This rule of thumb is important because you want to keep your content fresh and dynamic to keep your readers reading.
Rather than just pinning your own content, pin content related to your business, interesting images, quotes, and mix in your products and articles. Create a different board that covers your targeted customer's interests. This will also allow you to feature your best products beside them.
4. Don't be inconsistent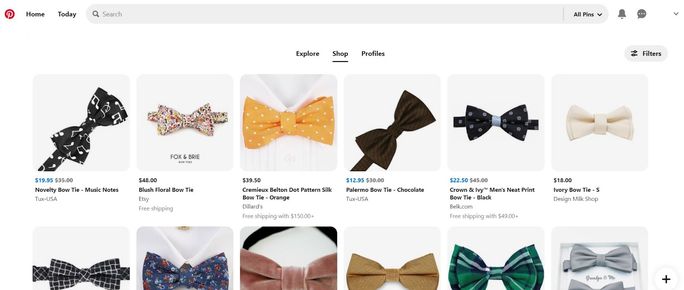 Above all else, your followers want something new from you every day. So, you need to pin consistently every day. You can use some social media automation tools that help you schedule pin images consistently.
5. Don't make your profile hard to find
Add the relevant keyword to your description and keep your profile specific to your company so that everyone can search for you on Pinterest easily. More and more people can connect with you. Hence, you will increase your followers faster this way.
6. Don't leave boards incomplete or empty

No one prefers to follow or connect with you if you have an incomplete profile or empty board. This will affect the Pinterest marketing plan of your brand. So, if you don't have enough content to pin on the board regularly, you can always use a secret board and keep pinning to it. When you have enough pins, you can share them one by one according to your requirements.
7. Don't forget to add a Pin It button to your site
Undoubtedly, Pinterest makes it easy to add a social share button to your website. This makes it easier for users to share your images, and you can also control what images from your site are shareable.
8. Don't use too many hashtags
Most importantly, don't use too many hashtags in your pin description of your profile. Consequently, hashtags on Pinterest don't work the same as they do on Twitter or Instagram. So, use hashtags effectively in social media marketing and keep them relevant.
9. Don't pin anything and everything
Don't make this mistake because pinning everything and anything clutters your pinboards. Disjointed pins can make your boards look unorganized and lack any kind of theme. Pinterest surfers like content to be organized so they can easily find what they are looking for. Don't be afraid to pin interesting content your audience would enjoy, but try to keep them connected to your business.
10. Don't pin all your pins into one board
Instead of pinning all images into one board, you need to pin images into a different board. This way, your board looks appealing and attractive, getting you more followers on your board. Organization is the key, so consider organizing them as per a specific theme for each board.
Conclusion
Harnessing the power of Pinterest can be a game changer for businesses aiming to boost their reach and sales. With a massive user base of 445 million monthly active users, numerous people use Pinterest as a shopping platform due to its visual first nature.
Whether you're a novice or a seasoned Pinterest marketer, adhering to the dos and don'ts of Pinterest's marketing strategy is vital for success. By creating visually captivating content, optimizing keywords, and engaging with the Pinterest community, businesses can unlock immense potential for brand promotion and revenue growth.
However, with the tips we have mentioned above, you can definitely head the right way. Keep pinning quality and consistently using tools like SocialPilot, and you will notice a trajectory in your Pinterest strategy performance for sure. Take the free trial and properly your business to new heights!