Did you know: Pinterest ranks as the 15th most popular social network worldwide based on user count?
But here's the real kicker: it's one of the top platforms for businesses.
Why?
Well, a whopping 45% of its users are based in the USA and boast an annual income exceeding $100,000. These users are not just ready to buy; they're actively purchasing – but they're buying from your competitors.
Now, imagine if you could tap into crucial data about your customers and interpret it accurately.
The result? A significant increase in your market share on this platform.
So, how do you achieve this? Enter Pinterest analytics.
This powerful tool allows you to analyze the effectiveness of your campaigns. By understanding how to interpret this data, you can optimize your Pinterest business strategy effectively.
Whether you're a Pinterest newbie or a seasoned pro, our comprehensive guide to Pinterest analytics is a goldmine. It provides valuable insights into reading and understanding Pinterest analytics. But that's not all. It also covers essential analytics to track their significance and recommended tools for assistance.
But let's start with the basics. Let's begin by…
Getting Started With Pinterest Analytics
First things first, you need to set up a business Pinterest account. If you're unsure about the process, don't worry. We've got you covered with step-by-step instructions.
Accessing Pinterest Analytics Through a Pinterest Business Account
When it comes to checking Pinterest analytics, you have two options: desktop and mobile. The principle is the same, but the design is slightly different. Let's break it down:
On your desktop:
Log into your Pinterest business account.
Click on Analytics in the top left corner, revealing a drop-down menu.
From the menu, select 'Overview' to monitor the performance of their Pins and boards.
To access other analytics, you can click on 'Analytics' and choose the desired option.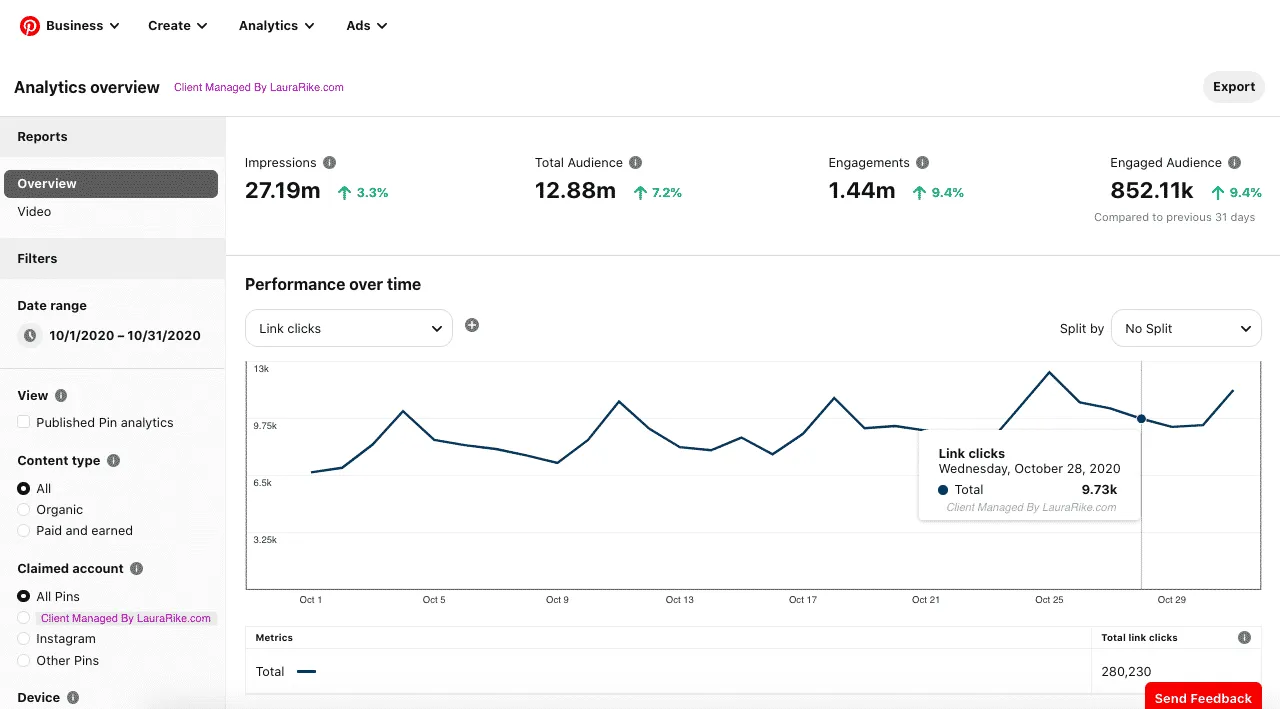 On your smartphone:
Open the Pinterest app.
Tap your profile photo in the bottom right.
Scroll down to your analytics section and tap 'See more.'
From your profile, you can also tap 'Business Hub' to see how your content performs.
Note: The data provided by Pinterest in analytics is an estimate. Some charts require a minimum amount of information to display.
Understanding the Pinterest Analytics Dashboard and Its Features
The Pinterest Analytics dashboard is your command center. It's where you'll find several main menus, including:
Audience Insights: This section provides follower analytics, helping you understand who your audience is and what they're interested in.
Conversion Insights: Here, you can track the performance of your paid campaigns. You'll see how your promoted Pins are driving actions on your website, such as checkouts, signups, and more.
Trends: Want to know what's popular on Pinterest? This is where you'll find it. The Trends section shows you what users are searching for and saving on Pinterest.
Pin Inspector: This tool allows you to analyze individual Pins to see how they're performing. You can see the number of impressions, saves, and more for each Pin.
Profile Performance: This section provides an overview of how your entire Pinterest profile is performing. You can see your total impressions, saves, and followers.
Board Insights: Here, you can see how each of your boards is performing. This can help you understand what types of content are resonating with your audience.
Pinterest Analytics: Key Metrics and Their Importance
Pinterest Analytics is like a goldmine of insights waiting to be discovered. It's a free set of tools available to anyone with a Pinterest Business account, designed to help you monitor key metrics and track your performance over time.
Let's dive into the key metrics you should be keeping an eye on:
1. Impressions
Impressions are a measure of the number of times Pins are displayed on a user's screen. They can appear on the homepage, another user's board, or in search results on Pinterest. It is important to note that a single user may have multiple impressions.
Impressions indicate the frequency with which people view Pins on the platform (similar to views). A high Pin impression rate is considered positive, suggesting that the content is in line with current trends or resonates well with the Pinterest algorithm. Examining impressions of top content aids in enhancing future Pins.
2. Saves
Saves (previously referred to as Repins) are fairly self-explanatory. They provide information on the number of times a Pin has been saved to someone's board.
Saves are considered significant as they indicate the level of resonance your Pins and content achieve with the audience. When someone saves your Pins, it demonstrates their interest in your content, resulting in additional brand exposure as saves appear on follower feeds. This brings a double win for your brand.
3. Clicks
Pin clicks (previously known as closeups) quantify the overall count of clicks on a Pin. This metric encompasses clicks that direct users to both on and off-platform content on Pinterest.
Another click-related metric is the pin click rate, defined as a percentage that showcases the overall click count of a pin, both within and outside of Pinterest, divided by the number of times the pin was displayed on the screen.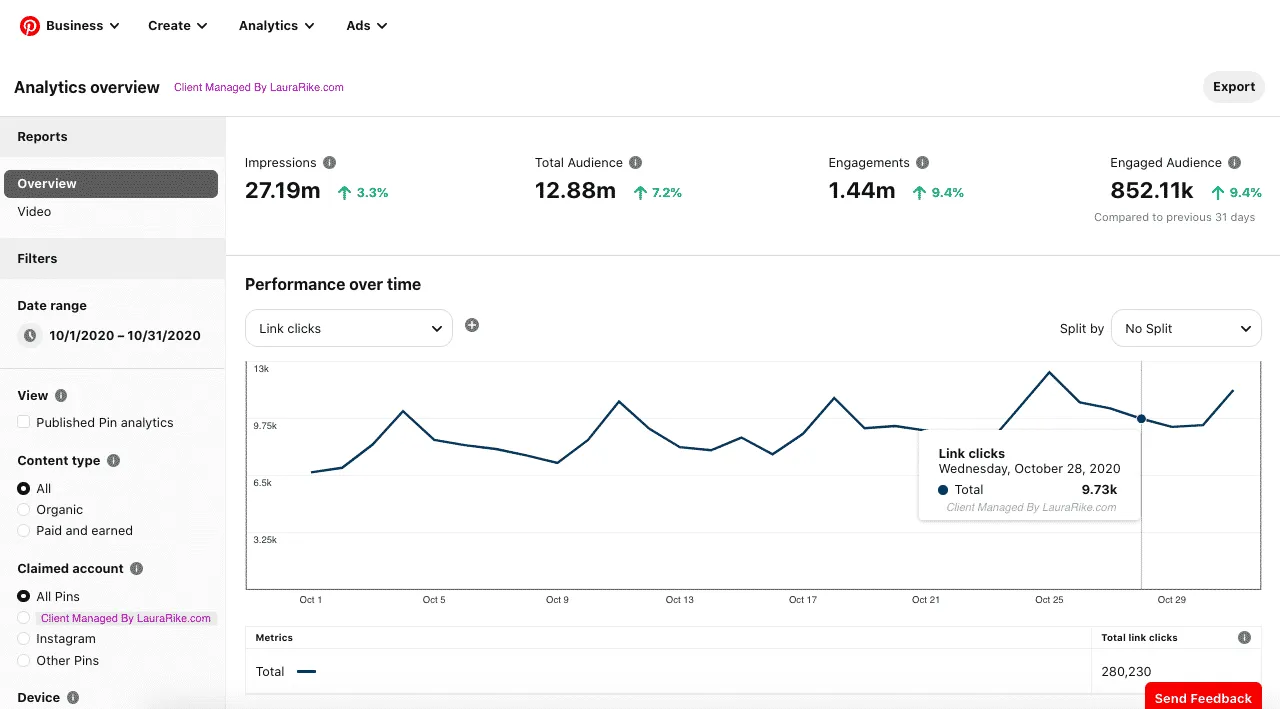 Pin clicks serve as indicators that something in a Pin has caught the attention of the viewer. A high pin click rate indicates that the audience engages with the content upon encountering it, making it a valuable metric for assessing the relevance of your Pins to your audience.
4. Engagement
Engagement is measured by the total number of times a user clicks or saves a Pin. This plays a vital role in social media, making it a crucial metric to monitor.
The numbers associated with engagement indicate the level of connection between the audience and the content. By utilizing this metric alongside the total audience figure, individuals can calculate their engagement rate.
5. Audience Demographics and Interests
Pinterest Analytics audience insights provide a comprehensive range of basic demographic data. These encompass language preferences, gender distribution, device statistics, and detailed information on various categories and user interests.
Understanding the audience plays a vital role in content creation. The higher the understanding, the greater the chances of creating likable content. Utilizing demographic data allows fine-tuning of Pinterest strategies. Such statistics aid in sharing region-specific deals and posting in various languages, enhancing engagement and relevance.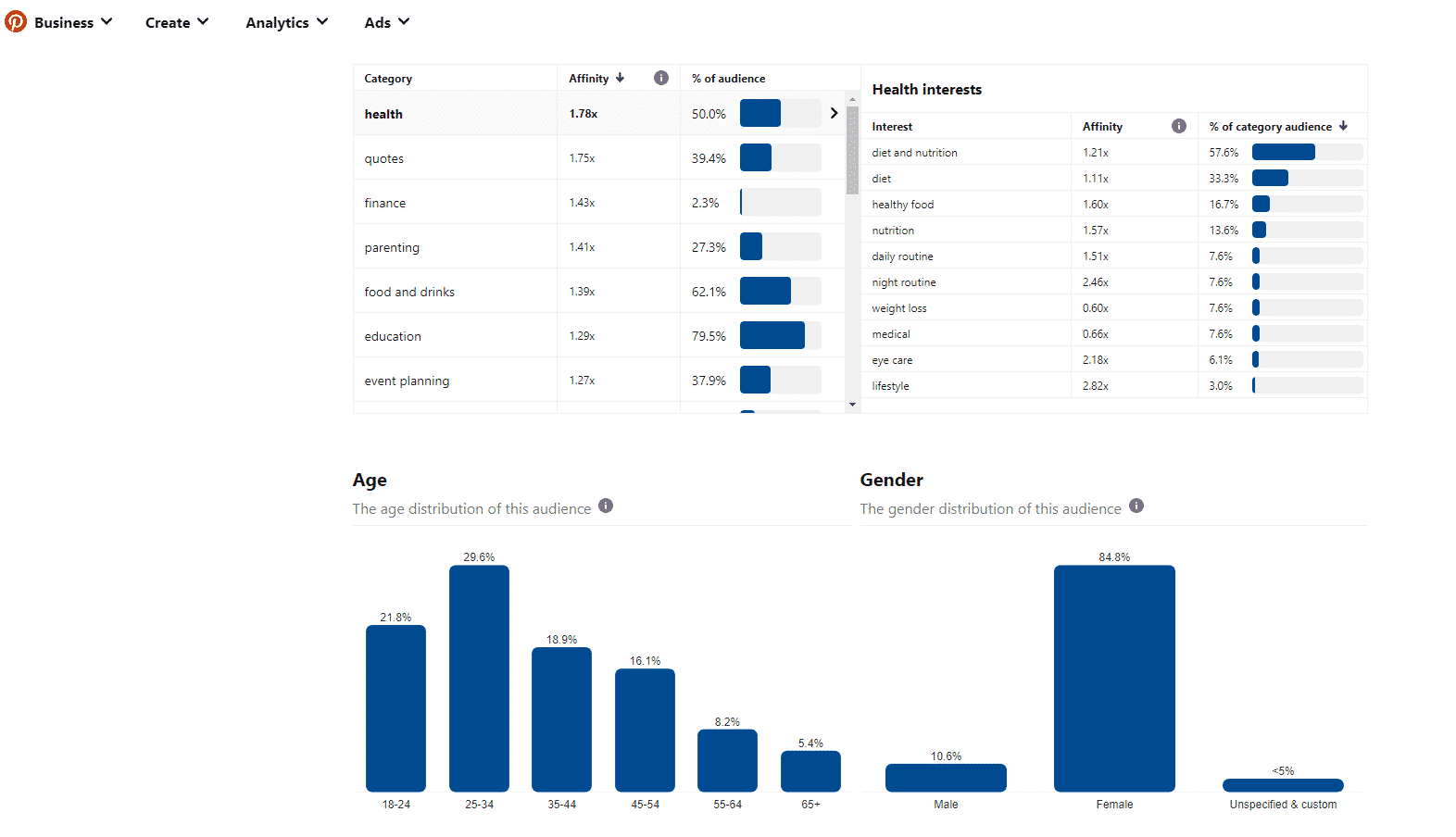 How to Integrate Pinterest Analytics With Other Marketing Tools
When Pinterest is integrated with other marketing tools like Google Analytics, businesses gain a comprehensive understanding of how their audience engages with both their Pinterest account and website.
This approach is highly effective for analyzing user behavior, tracking conversions, and measuring content effectiveness.
1. Connecting Pinterest Analytics to Google Analytics for Deeper Insights
By integrating Pinterest accounts into Google Analytics, users gain access to data-driven insights that aid in improving their marketing strategies.
Tracking metrics such as bounce rate, unique visitors, and time on site enables the identification of high-performing pins or popular categories among the audience. This not only facilitates the evaluation of potential ROI but also provides valuable insights into the type of content that resonates better with the target audience.
Here's how to link Google Analytics and Pinterest:
Google Analytics and Pinterest authentication is required.
Choose one application as the trigger to initiate the automation process.
Select an action from the other application as a result.
Specify the desired data to be transferred from one application to another.
That's it! This allows users to allocate more time to other tasks.
2. Leveraging Social Media Management Tools Like SocialPilot to Streamline your Pinterest Strategy
SocialPilot is a comprehensive social media management tool that can significantly enhance your Pinterest strategy. The platform allows you to captivate your audience on Pinterest, share pins, fill your boards, and inspire thousands of users.
Here's how SocialPilot can supercharge your Pinterest strategy:
Optimize Your Pinning Efforts: SocialPilot allows you to schedule your pins to different boards connected to your multiple accounts on Pinterest. This feature enables you to maintain a consistent posting schedule, which is crucial for gaining more impressions and engagement on Pinterest.
Perfecting Your Pins: With SocialPilot's in-built image editing tool, you can edit your images to perfection before pinning them. You can add website links, emojis, image alt text, GIFs, custom fields, and unique watermarks to create personalized content.

Faster Pin Creation with AI: SocialPilot's AI Assistant can help you create captivating pin descriptions and titles at lightning speed. This feature can help you amplify your boards and maximize your Pinterest presence with just a few clicks.
Visualize Your Pinterest Strategy with Content Calendar: SocialPilot's content calendar gives you a unified view of monthly posts from numerous Pinterest accounts. You can check the daily/weekly/monthly posting of every account and even reschedule specific postings by dragging and dropping them to desired dates and time intervals.
Plan Ahead with Smart Scheduling: With SocialPilot, you can schedule your pins and hit your productivity goals while creating a phenomenal presence on Pinterest. You can even publish as many as 500 posts across different Pinterest profiles at once with the bulk scheduling feature.

Strive for Collaboration: SocialPilot allows you to bring your team and clients under one roof. You can assign roles and permissions to each person for clarity on responsibilities. The team can also collaborate with the help of comments without having to use an external platform for coordination.
By leveraging these features, you can streamline your Pinterest strategy, save time, and achieve better results.
3. Incorporating Data from Pinterest Analytics into Your Overall Marketing Reports
If you're preparing a comprehensive marketing report, you can download data from Pinterest Analytics to your device. Here's how:
Log into your Pinterest account and click on the directional chevron down icon located at the top-right corner of your screen to access the menu.
From the menu, select 'Settings' and then choose 'Privacy and data' from the left-side navigation.
Under the 'Download your data"'section, click on 'Request data.'
Once the request is submitted, the user can check the status of their data request under 'Your latest data request.' The user will receive an email with a download link within 48 hours.
4 Pinterest Analytics Best Practices
Pinterest Analytics can effectively help you fine-tune your Pinterest strategy and maximize your success on the platform. But to truly harness its power, you need to know how to use it effectively.
Here are four best practices to guide you on your journey to mastering Pinterest Analytics.
1. Regularly Monitor and Analyze Performance Data
The key to success on any social media platform is understanding your audience, and Pinterest is no exception.
By monitoring and analyzing your performance data regularly, you can gain valuable insights into your audience, identify emerging trends, and uncover any issues that may be holding you back. Armed with this information, you can make more informed decisions on how to optimize your Pinterest presence and reach your business goals.
At the same time, the audience's interests change, and you need to learn about the trend on your account constantly. The sooner you find problems, if any, the sooner you can fix them and minimize potential harm. The same is true in reverse; the sooner you can identify a trend and enter it, the more you can get an audience from it.
2. Optimize Pin Designs and Descriptions for SEO
Visibility and discoverability are crucial on Pinterest. To boost both, you need to optimize your pins for SEO. This involves incorporating relevant keywords and hashtags into your pin descriptions and titles for better performance.
But SEO isn't just about keywords. Create visually appealing pin designs that are eye-catching and informative. Use bold, bright, and contrasting colors, along with readable fonts and clear images, to make a maximum impact.
3. Identify Top-Performing Content and Replicate the Success
Discovering the key factors that make content successful is crucial in today's content-driven world. By analyzing top-performing pins, you can gain valuable insights into what truly resonates with our audience.
Use these insights to guide your content creation process. If a particular type of pin is consistently performing well, consider creating more pins in a similar vein. This approach allows you to continually improve the quality of your content, creating a powerful feedback loop that drives engagement and growth.
4. Test and Refine Posting Times and Frequency for Maximum Engagement
Want to make your content stand out and engage with your target audience? You can achieve maximum engagement by testing and refining your posting times and frequency.
Use Pinterest Analytics to determine the best posting schedule for your boards and pins. Analyze your data to understand when your followers are most active and what content they engage with the most. Armed with this information, you can create an effective and efficient posting schedule that ensures your content gets noticed.
Conclusion
Tracking analytics on Pinterest is more than just a numbers game. It's about understanding your audience, identifying trends, and making data-driven decisions that drive engagement and conversions.
By leveraging the wealth of information provided by Pinterest Analytics, you can allocate your resources more effectively, improve your campaigns, and elevate your presence on the platform. In essence, mastering Pinterest Analytics is about turning data into action and action into success.