As user behaviors transform into more private and meaningful conversations, engagement rates across branded social media profiles have started to shift.
An engaging social media strategy is no longer reliant on simply publishing content in the open. Customers now seek more authentic interactions from both their own network and from the brands they purchase. This shift towards closed conversations has provided brands with the opportunity to create more personalized social experiences.
Groups and communities have become ubiquitous as customers reinvent the way they use social media. The dormant behavior of sharing information and updates has declined in favor of sharing content within closed communities of like-minded peers.
These communities provide a space where members can host authentic conversations and build meaningful relationships.
As the demand for communities has grown, there's no shortage of social platforms that aim to facilitate community interactions across any vertical. From Reddit to Quora, Facebook groups, and LinkedIn – there's a niche social media community platform to service any need.
But as a brand, how can you leverage communities within your own social media strategy and drive more engagement from your audience?
By prioritizing communities, your brand can become a central part of the essential discussions hosted by your audience.
This article will share some actionable insights to help any brand build or leverage communities within their social media strategy. Whether it be uncovering existing opportunities or understanding how to build your community, you'll learn some practical tips to get started.
Choose your platform wisely
It's vital to first start by researching where exactly your audience comes together as a collective. Like your existing social media strategy, you'll need to understand what platforms your audience uses throughout their day-to-day lives.
If you're a B2B brand, you'll more than likely prioritize LinkedIn groups. If you're working in the B2C space, however, Facebook groups might be your go-to. By dedicating some research time, you can start analyzing what current LinkedIn or Facebook groups are already in existence, as well as what style of content they share.
If there isn't an existing group servicing your specific niche, you could consider creating one to support both your audience and your brand. By creating your own group, you'll have the opportunity to foster a community of your own and take ownership of conversations.
Sharing value
When you begin developing a content strategy for a social community – whether it be a group you moderate or one you're a member within – it's important to prioritize consistently sharing value.
Like any social content you already create, it should aim to serve a specific purpose. Whether it be educating potential customers, providing entertainment, or even solving a problem – this content should add tangible value to those who consume it.
So, let's drill down on some tips for making great content that engages and educates your community.
9 tips to create stellar content for your social media communities
Once you've built or joined a social community, what's the best way to develop the most engaging content strategy?
1. Ask questions
When you're getting started, a simple yet effective way to begin driving engagement is by simply asking questions.
By publishing questions within social groups, members can engage with your brand and share their unique perspectives. This showcases your brand's genuine interest in the topics a community discusses.
Unlike creating longer-form content, questions can be a time-efficient way to drive initial community engagement.
2. Be conversational
The benefit to communities is that they're designed to be a truly social experience. As members are encouraged to engage in conversations, they'll often comment and share personal thoughts across community posts.
As a brand participating in a social community, it's essential to actively contribute to group discussions and become conversational.
It doesn't mean that your brand should comment on every community post, but should instead take the time to leave thoughtful comments that add value to relevant content.
This strategy can help reinforce your brand's values and improve its relatability. Participating in discussions is also an effective way to reduce the amount of new content your brand will have to create.
3. Contribute unique insights
As a brand participating in a community, there may be instances where you can access certain resources or information that members will find valuable. It could be relevant research or industry news that affects your audience. Taking the time to share this content in a community reinforces your position as a thought leader that members can trust.
4. Hosting competitions
Like all social platforms, communities are a fun channel to experiment with different forms of social content.
By hosting competitions inside a social community, you can not only drive engagement with existing group members but also encourage these users to invite other like-minded people from their network. If you run a community of your own, this is an effective way to acquire relevant and trustworthy members.
Note: At the end of the competition, you should take the time to welcome any new members and inform them about the community guidelines.
5. Branded posts
As your brand allocates resources to build, grow, and moderate a social community, there needs to be a strategy in place to gain value back from this channel.
After building a highly-engaged audience around your particular niche, your brand can offer relevant content, products, or services for members.
Unlike organic social posts, promoting branded content within a community requires a unique approach. Any promotional content should generally be shared as long-form posts. These posts should take the time to explain a particular problem you solve that's relevant to group members.
The format of these posts should be personal and highlight why your brand is passionate about creating a unique solution.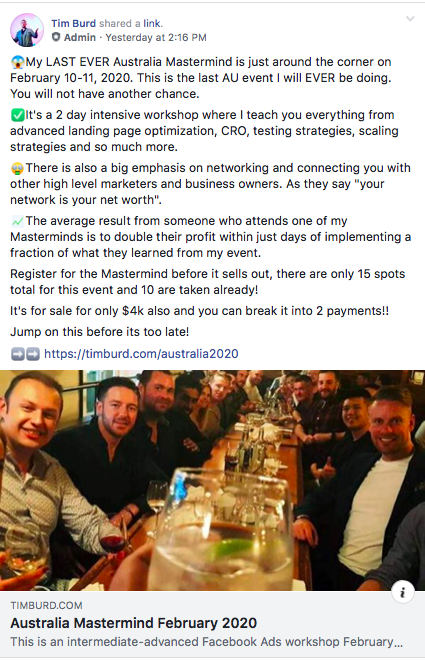 At the end of each post, your brand should encourage users to offer their thoughts and feedback to remain inclusive throughout the discussion.
6. Lead by example
If your brand has built a community group from scratch, it's essential to lead by example each day actively. By having your social media and community team actively contribute and participate in community discussions, members can understand what behaviors are common within the community.
Using a tool like SocialPilot, it's possible to draft, approve, and schedule a backlog of content into a Facebook group.
7. Incentivizing community behaviors
Community platforms like Facebook groups have continually evolved over time. With the arrival of new features, it's easier than ever to drive more engagement from community members.
If your brand is managing a Facebook group, it's possible to leverage the group badges feature to encourage user behaviors. Whether it be rewarding someone for becoming a new member or identifying someone who consistently publishes to the group – these badges are an effective way to incentivize interactions across the community.
Tip You can customize the available badge labels within the settings tab of your Facebook group.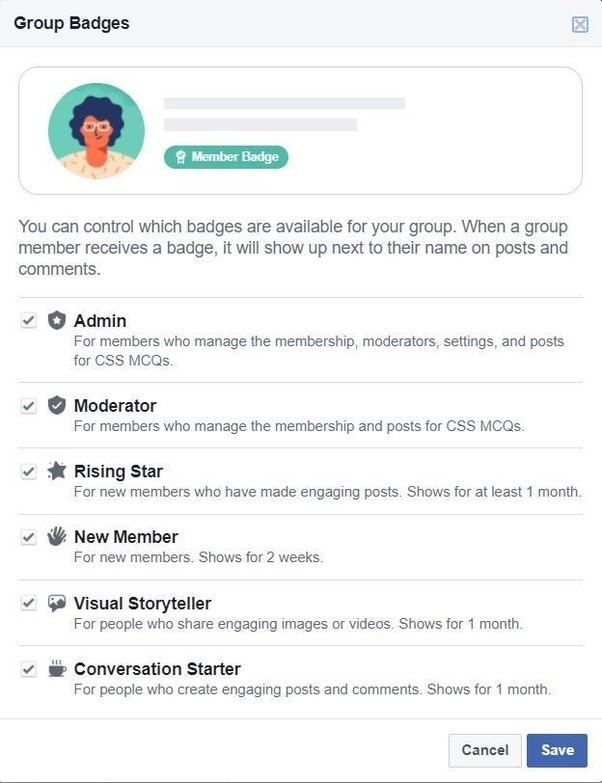 If your brand uses a different community platform, it's also possible to manually post member shoutouts, acknowledging active community members.
8. Repurposing group content
Unlike public social profiles, the content within groups is often gated and exclusive to your community. However, with higher engagement rates in groups, it's important to drive as many potential members to the community as possible.
An effective strategy for community acquisition is to repurpose your group's content as social posts to your existing audience.
Sharing highlights from your group conversations as public social posts can showcase the unique content that your audience is missing out on by not being involved in the community.
When repurposing content, it's essential to always provide a link back to the group, allowing users to join easily.
This strategy can also be useful for promoting your group across different platforms. Let's say your brand manages a Facebook group, but some of your audience frequently uses Twitter. By sharing these posts organically on Twitter, it can drive target users back to your dedicated community channel.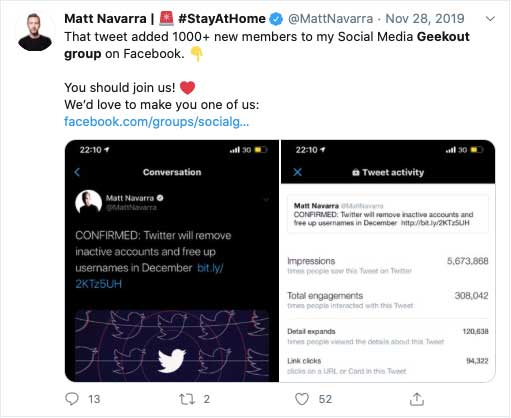 9. Retargeting group members in custom audiences
One of the downsides of using a tool like Facebook groups to create a community is that it's impossible to contact these members outside of the platform.
However, if you'd like to target these relevant users with ads, there is a unique workaround. This strategy harnesses the power of Facebook's video custom audiences.
By publishing a video within a Facebook group, it's possible to create a custom audience of any user who has engaged with at least 3 seconds of the video.
Tip It's also possible to replicate this strategy across Facebook groups that your brand doesn't manage. By simply publishing a valuable video in any group, you can retarget these users who watch this content.
It's time to build your own community!
Communities offer a valuable opportunity for brands looking to grow and interact with a highly-engaged audience.
With dedicated tools and platforms streamlining the process of getting started, entry barriers have continually decreased over time.
If you're a brand that is eager to start building a community on a third-party platform like Facebook, it's important to understand the potential ramifications of using an external provider.
Although these platforms can simplify the process of building a community, there are also downsides to consider. Similar to organic social channels, your content's performance can become subject to changes in rules and regulations over time.
By taking the time to build and host your own community, you can truly own the discussions, rules, and data throughout the experience.
Platforms like Mighty Networks allow brands to own the end-to-end community experience.
Whether you're a B2C or B2B brand, communities are a strategy that will continually become more important as users change the way they use social channels.