Blogging is no longer a muse but a sustainable source of a recurring income. If you are an individual or heading a business, blogging will make its way to your priority list.
But unlike decades back, blogging doesn't mean typing until your wrists ache. It is much more strategic than shoving a few words here and there with an aesthetic feature image.
Top bloggers rely on the best blogging tools, so they never run out of content and limelight. These tools are available for each step of blogging like:
Content curation tools for coming up with the best idea and strategizing around it
Collaboration tools to organize the data relating to the particular idea
Analytics tools to create SEO-friendly content and validate it
Designing tools and checkers to develop attractive visuals and create plagiarism-free content
In this blog, we have considered these stages of content management so you can streamline your blogging efforts right from the start.
Let's assemble the best blogging tools!
Best Blogging Tools to Help You Grow Your Blog
Tools to Ideate Content
The most time-consuming aspect of blogging is coming up with a topic that is in demand. Check out these tools, so you create content that is in need.
1

ShareIt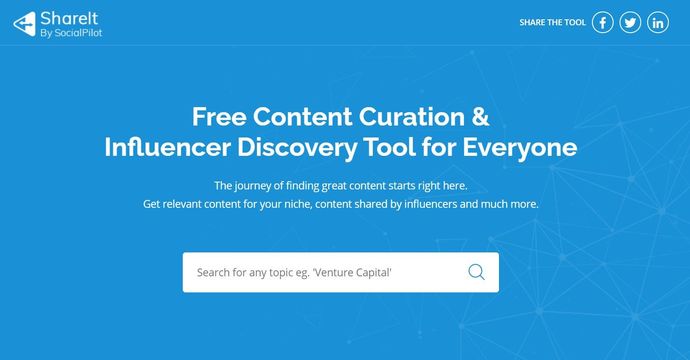 Bloggers and social media teams will benefit from ShareIt, a free content curation, and influencer finding platform. What you have to do is enter a keyword into the search box. ShareIt will compile a list of suitable content items and social handles for you.
These articles are available in a variety of media, including blogs, videos, and more. It contains a separate option for influencers, which displays a list of influential people and popular websites relevant to your search.
ShareIt also allows you to share content instantly to your social media accounts using the social sharing buttons next to each content suggestion.
Why is ShareIt amazing?
ShareIt is completely free.
You can filter articles as per relevance and time.
Get social handles of relevant influencers and access their trending content.
You can share any piece of content quickly on social media.
Vipul Garg
Wonderful platform. I liked the UI.
---
2

Quora
Quora is a question-and-answer platform where people usually go to discuss different topics. It is one of the best blogging tools to get an idea of a detailed blog post. All you have to do is search for the relevant keyword and follow the topic related to it. You will get plenty of ideas to start a new blog.
In addition to giving ideas and answering your queries, Quora is a site that allows you to advertise your product or service on the platform. Since a lot of people visit quora, there is a fair chance that you will get the attention that your business demands.
Pros
Quora allows you to crowdsource ideas.
It gives an insight into the latest topics and trends under discussion.
It has millions of users to read what you publish.
Shadikur Rahman S
Quora has become one of the best platforms for content marketing these days and also to generate backlinks for SEO. Quora looks promising. I may dedicate some of my budgets for ads to Quora and see how they perform.
Cons
It lacks the typical blogging features.
It lacks widgets that might help promote your blog.
Anshika G
Quora isn't a user-friendly application; it is not easy to use. One may find it difficult to access all the options available on the application as there are many options available, and it takes time to get used to it. The website of the application gets really annoying as it very often tells you to download the application, which creates a hindrance in reading the articles.
---
Tools to Organize Your Content
After you know the topic of your blog, the next step is to organize all the content efficiently. Some of the blogging tools that help you organize content are the following:
3

Trello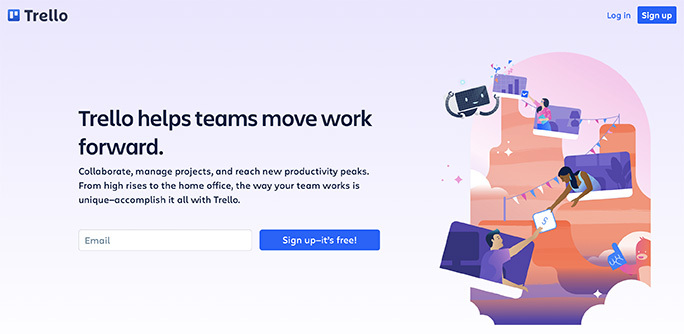 Trello is one of the free blogging tools with the ability to do amazing work. It is a collaboration tool that shares a common perspective to manage all the projects, assignments, tasks, and daily activities.
The tool is very intuitive and simple. All you have to do is log in, join a team and collaborate around. It integrates with 100+ other tools such as Google Drive, Slack, Jira, and others. Trello makes all projects and activities quite transparent and easily shareable.
Pros
Trello offers due dates to keep you ahead of your deadlines.
It has the best task prioritization system to complete important tasks before time.
It has an extensive project map to keep track of things.
Elizabeth N
Trello is great for marketing task tracking and higher-level road mapping, but we do not use it for day-to-day development work because it is not complex enough. Trello makes sharing these tasks and boards easy. The new update with the calendar view is pretty awesome too!
Cons
The commenting feature needs improvement.
Trello offers limited storage.
It is not suitable for larger projects.
Marc V
Feature limiting, with little control of what to do or who does what. It's probably there but difficult to find, at least for us. We were unable to control moving cards from section to section. The butler was good but not great. There seemed to be a lot of add-on plugins, but most of the good ones were free to try and then pay for, which was not great. We would have loved to pay Trello one fee, which would include all these features if needed. If you want the basic package, then there are no dislikes.
---
Tools to Optimize Your Content
Optimization is the key to efficient and result-driving blog posting. A number of blogging tools help you create the best-optimized content. Some of them are as follows:
4

Google Analytics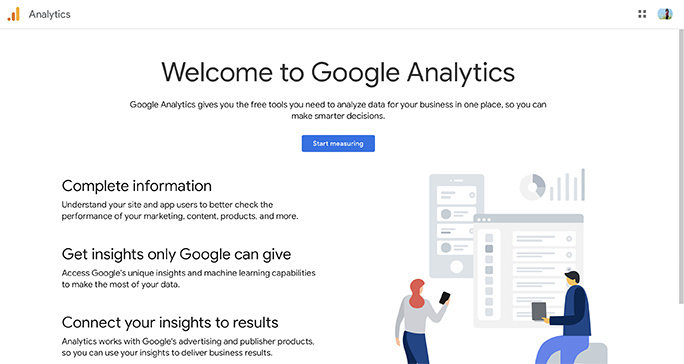 Google Analytics is a powerful yet flexible tool that is quite easy to use. It allows the marketers to find the best channels that might help them in getting the best results. Its main purpose is to give insights about a website, audience, and other marketing sources.
The best thing about Google Analytics is that it lets you have the best suggestions when it comes to optimization, according to Google. It is one of the best analytics tools one can use to figure out what's working for their blog. It enables users to track the audience's behavior and share insights effectively.
Pros
It effectively tracks user demographics and behavior.
You can check the visits, bounce rates which will help you optimize content better.
Google Analytics allows for custom goal creation.
Manidipa K
Google Analytics is used to measure up the traffic on any particular website. So if you are an aspiring Web Developer or Search Engine Optimizer, you may get the exact data by linking google analytics with your website.
Cons
The tool lacks reporting features. You have to create custom reports in order to save any data.
It presents a very overwhelming interface to begin with.
Ahmed S.
It is not easy to install for beginners and a lot of parameters have to be set up correctly in order to get reliable data that can help you make a business decision. The implementation of its codes in your website is not for newbies at all or even a regular user, it needs either a professional or an experienced user to install its provided codes in the places they belong.
---
5

Yoast SEO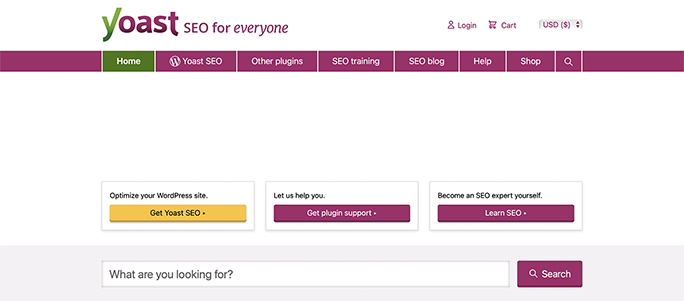 Yoast SEO is the best tool for blogger enthusiasts. It has specific SEO parameters to help you rank up your blogs. When writing in WordPress with Yoast SEO, it provides you the option to fulfill all SEO parameters such as title, keywords, meta description, and others.
Yoast SEO is one of the leading blogging tools that show different dots such as red and green to show how SEO-friendly your content is. Not only does it provide SEO analysis, but readability analysis as well which helps you improve your writing style.
Pros
Yoast SEO provides the best keyword suggestions.
It helps determine long-tail keywords.
It gives accurate SERP rank tracking.
The tool gives efficient competitor analysis.
Yoast SEO also allows for white labeling.
Mohd T
Yoast has made such a complex and tiring aspect of a website like SEO so easy. This is a must-have plugin that you need for your website SEO if you want to rank higher. It has tons of great features that help your website rank up and be seen in the crowd.
Cons
It decreases the speed of the site.
You may put your site under security threats.
It is unable to define canonical URLs.
Rekha Rathi
Not a rich-featured plugin. You need other plugins to comply with Yoast.
---
6

Ubersuggest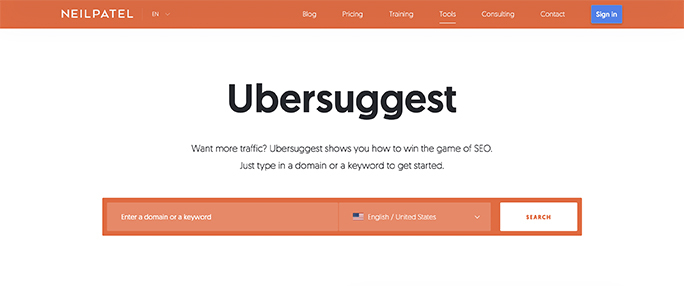 Ubersuggest is among the best blogging tools for beginners that can generate new and relevant keyword ideas. It helps you get extensive data against each keyword, including the search volumes, average CPC, PPC, and SEO competition.
Additionally, Ubersuggest gives out the best related, question-based, prepositional, and comparison-based keywords that help you rank up. Hence, it gives you ideas of different topics that might help to bring in a lot of traffic.
Ubersuggest is an all-in-one tool for beginners who are not very comfortable with other advanced-level SEO blogging tools.
Pros
Ubersuggest provides location-based keyword data.
It offers fast results and simplified metrics.
The tool presents data in the form of charts and stats.
It supports multiple languages.
Jay G
It's a Neil Patel product. What else can I say? I trust him with everything SEO and always will. It's easy and smooth to use, and Neil is upgrading it with all the bells and whistles as time goes on.
Cons
It has limited data on several target niches.
Ubersuggest lacks a mobile app.
Ubersuggest User
It doesn't have the language PT-PT, only PT-BR.
---
Tools to Write Seamlessly
Nothing can undermine the importance of writing when it comes to blogging. Hence, the most important category is writing tools that allow you to do the best blogging. Some of these are as follows:
7

Google Docs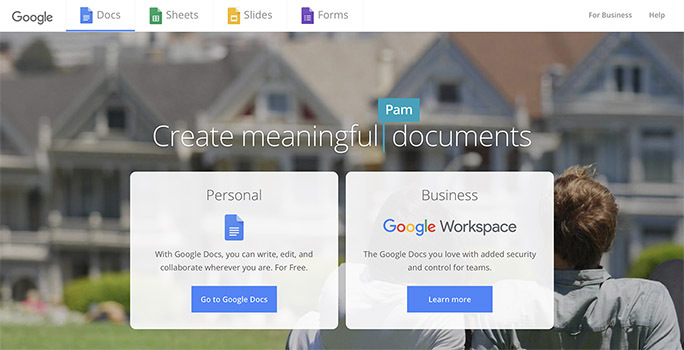 Google Docs is an online writing platform that allows you to write blog posts online in your web browser. It is designed to create, edit, and store documents and spreadsheets. All features such as templates, charting, and commenting are available in Google Docs.
It is one of the best blogging tools for beginners. Not only does it allow for content creation, but sharing and management as well. It automatically saves the content as you are working on it. The saved content stays in your drive as long as you want. You can get a shareable link to share with other people – be it your colleague or employer.
You can add different plugins and extensions, such as Grammarly, code blocks, and others as per your requirement.
Pros
It has an efficient sharing system.
Google Docs has all the features required while writing.
It allows you to install different plugins.
It offers excellent formatting options.
Matteo R.
I LOVE the ability to start to write a document, compile a sheet or a presentation on my phone, and then continue on my Desktop or Notebook. I share documents with my colleagues and clients to keep us constantly updated on modifications or variations. I LOVE the cross-platform ease of use and sharing functions.
It lacks some of the Microsoft Word features.
You can't type on it without a working internet connection.
Keziah M.
Although you can make changes to a document in real-time and the history feature allows you to see changes made to the document and who made the changes. The downside of this is that someone can edit the document as you are presenting and mess with your presentation or confuse your line of thoughts.
---
8

Hemingway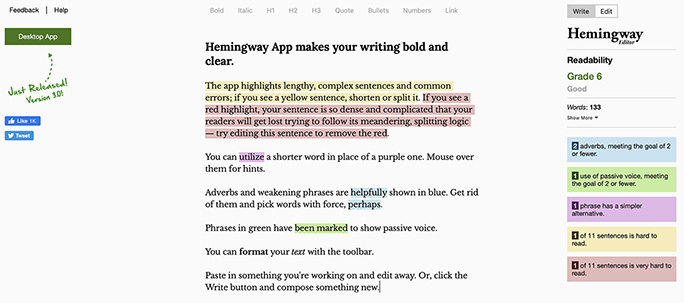 Hemingway is one of those blogging tools that help to make your content more friendly for the search engines. It highlights complex and lengthy sentences for you to break into smaller ones that are easier to rank.
Hemingway shows different colors to indicate a possibly tricky or hard-to-follow sentence. It also highlights the grammatical mistakes to make your content appropriate for posting and publishing.
It gives different score grades according to the ease and readability of your content. It prefers smaller and simpler sentences in blog post content. It is one of the most widely used blogging tools all over the world.
Pros
It shows color-coded writing errors.
Hemingway easily imports and exports documents.
It highlights grammatical errors.
It directly publishes to Medium and WordPress.
It does not require an internet connection to work.
Ankita S
The reason why I like Heminway is because it's simple to use & a powerful tool to correct my sentences and improve my writing. It helps me to identify all my writing errors in real-time by highlighting them in red, yellow, purple, blue, and green color.
Cons
It does not allow adverbs and comma splices.
It makes the writing very drab.
It prefers really short sentences that are not very catchy.
Hemingway User
No widgets for chrome and safari (like Grammarly), and no affiliate programs.
---
9

Grammarly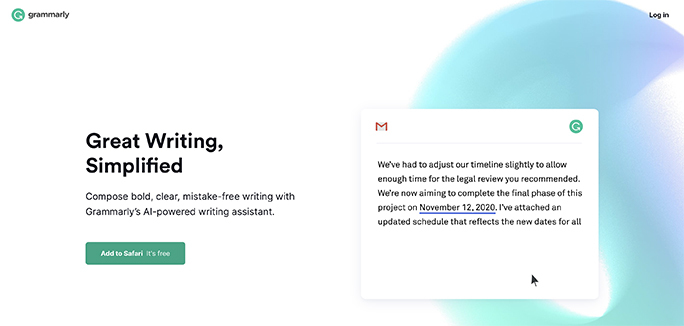 Grammarly is one of the best blogging tools that almost everyone uses in their blogging journey. It has enabled thousands of teams to produce error-free content. Not only does it provide real-time grammatical suggestions, but also allows you to improve word choice, refine the tone of your sentences, and make clearer sentences.
Grammarly works well for writing long blog posts, emails, or articles. Its plagiarism checker is one of the best checkers around. Most bloggers rely on Grammarly for its exceptional features.
Pros
It is available as a plugin for Google Chrome.
It thoroughly checks the document for any grammatical or structural errors.
It allows for tone checking and sentence formatting.
It integrates with different CMS.
Jeheen Mahmood Z.
With Grammarly, my emails, memos, social media posts and even chats became instantly better. But the best thing was, I didn't have to check and re-check my writing for errors. I had peace of mind and could write in a flow.
Cons
It offers very limited features in the free version.
Grammarly does not work for one drive and some other platforms.
Sourav D
Grammarly has its weaknesses despite the accuracy of its monitoring of grammar, rating, and orthography mistakes in writing. Probably the worst disadvantage is the fact that passive words are treated like they weren't in English.
---
10

Canva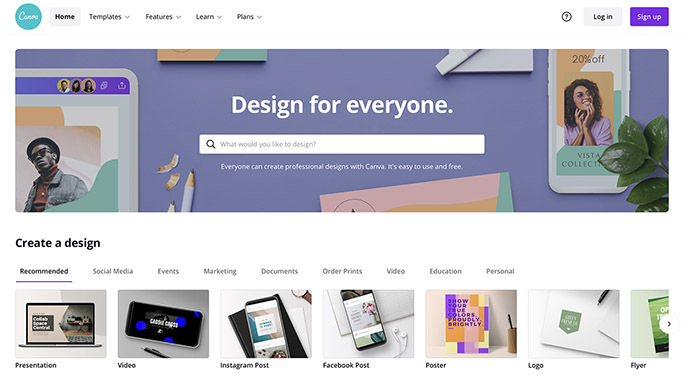 Canva believes that design is for everyone and not for the designers only. Hence, it offers an online platform that allows users to create social media graphics, posters, presentations, videos, and other content that is required for blogging.
It is one of the most commonly used design blogging tools that feature a simple drag-and-drop interface with a vast library of templates, designs, fonts, stock photography, video, audio, etc. Additionally, it allows the inclusion of content from other web sources such as Giphy and Google Maps.
Canva offers designs for different products such as brochures, videos, presentations, and other purposes as well.
Pros
It allows you to create visual content for blogs.
It integrates with Giphy and Google Maps, etc.
It is easy to customize and create content.
It has a vast library to add stuff from.
Rajesh C.
Simply put, Canva has changed my life and career. Being a blogger, I need to design a lot for my content. Especially when it comes to creating the infographic, Canva is unbeatable. You can choose from tons of professional templates and easily shape your imagination. Whether you need to design a photo for Facebook, Twitter, or blogpost, Canva has everything to support you.
Cons
It offers quite a limited set of tools for a free user.
If you'd like to resize your design for a different dimension, you'd either have to upgrade to a paid plan or create a new one altogether.
You can only create or edit designs on Canva with a working internet. They don't have an offline app.
Supratim S.
Canva is great but I don't like that you have to get canva credit for each premium photo. Free assets on Canva are limited.
---
11

SmallSeoTools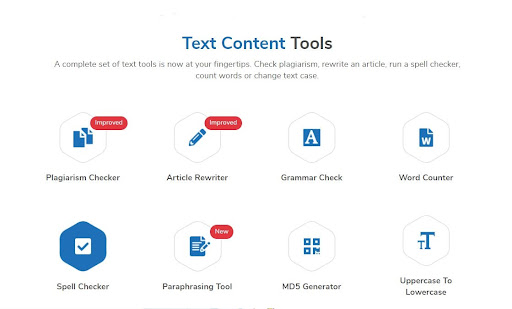 SmallSeoTools is a well-known name in the writers' and SEO specialists' communities. This online platform provides tons of free online tools that help you manage your site's SEO, write high-quality content, and perform other professional tasks.
The tool available on this site is the best online utility that offers you the fastest and reliable duplication-checking facility.
Once you insert your text into the input box for plagiarism check, it scans it, makes a comparison with a massive number of pages from its database, and provides you with all matched results within no time. Using this free and advanced plagiarism checker, you won't feel any convolutions.
Pros
The tool is free and accessible to all.
It aids in SEO maximization and SEM optimization.
It has a lot of useful features like plagiarism checker, spell checker, paraphrasing, and more.
Avishek Maity
The detailed reporting option offered by SmallSEOTools Plagiarism Checker eases out the entire process. What I like the most is the sharing option, using which I can make the students understand their mistakes and get them back on track.
Cons
Ads are distracting.
The database is limited.
Tripti Sircar
I only wish it had a bigger database.
Blogging requires you to always be on your toes. You need to be a designer, an SEO strategist, a writer, and more all at once if you are a blogger. Dedicated tools like the ones we just discussed make blogging a breeze.
Once you hit publish, you also have to vest in equal efforts to promote. And for that, the best platform is social media. SocialPilot helps you here with automated post scheduling and other exciting features.
SocialPilot is a scheduling and marketing tool for individuals and businesses. You can easily schedule your content on different social media platforms such as Facebook, Twitter, LinkedIn, Pinterest, Instagram, TikTok, Tumblr, etc., and track their performance.
Get your free trial and let your content garner the fame it deserves!