If you are a marketer who wishes to attain advantage over the competition, then your answer to perfection rests in three words – Facebook Ads Library.
With 2.85 billion monthly active users, Facebook is doubtlessly one of the most used social media platforms.
Its transparency is owed to Facebook Ads Library. Every ad that sits actively on Facebook falls under its radar. You can even view the inactive ads.
Got any questions about Facebook Ads Library? Fret not, for we have all the answers.
What is Facebook Ads Library?
Launched in May 2018, Facebook Ads Library came into existence for politics and policy-related ads. The core idea was always to maintain transparency.
Presently, extending to all ads running on Facebook, the central notion is to enable people to search ads relevant to their requirements.
You can view active ads, ads on housing, politics, elections, and social issues. You can also check out the Facebook Ad Library report.
Facebook also follows stringent advertising policies wherein if an ad steps out of the policies' specifications – a warning message will pop up before viewing the ad.
Beyond transparency, another important factor behind the formulation of Facebook Ads Library involves the competitive edge that you can gain over your rivals.
With Facebook Ads Library, you can scan through a range of ads and understand the latest trends to make your ads more creative.
Accessing Facebook Ads Library
Delivering consistently creative content is a big struggle. Surely, all the content creators out there can relate to this common woe.
Nonetheless, content is the king!
Scoping out the competitive sphere is of utmost importance when creating the right kind of ad. And in doing so, Facebook Ads Library can act as an indispensable tool. Let us see how:
It is Available to All
This is a crucial feature associated with Facebook Ads Library. It is not like you need some sort of special ID or pay any subscription cost to access this feature offered by Facebook. Anyone with a link to Facebook Ads Library can search for ads.
Ads are Easily Searchable
You got a keyword? A name? A page? If yes, then type it in and search it out in Facebook Ads Library.
Find Exactly What You are Looking for
Facebook Ads Library is just the tool to pull your competitor down or take inspiration from them by rolling out something better than them. Using the "Info and Ads" tab, you can now search specifically for your competitors' ads to understand more about them.
Competitor Research with Facebook Ads Library
No one can deny just how extensive the competition on Facebook has become. Everything comes down to creativity and what the masses like.
And to crack the code to creativity and likeability of the masses is a herculean task. How many times do you come across ads that are simply pictorial or plainly graphical?
With the ever-increasing complexity of advertisements, the demand for the use of the most pleasing graphics and the best quality videos has been placed on a pedestal.
The question at the end is who takes the lead with the best out of the best!
Therefore, it is crucial to do the research the right way.
In a stepwise manner, let us try to understand how you can go about researching your competition through Facebook Ads Library.
STEP 1: Go to the Facebook Ads Library
To commence your research, head straight to Facebook Ads Library. To do that, click here When the page opens, it should look like this.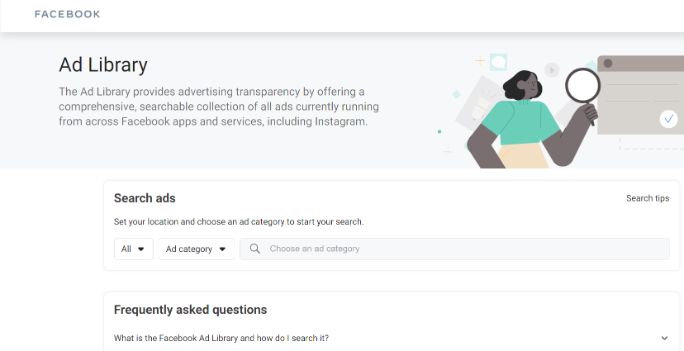 As an alternative, you can also go to your browser and write – facebook.com/ads/library.
Either way, the page you see above will open. Ensure that you select your country before moving further with the research.
STEP 2: Select Your Desired Category
The next step involves you selecting the right category that matches the description of your competition. At the library, you are offered two categories. One reads – Issues, elections or politics. The other reads – All ads
If your competition holds the likelihood of generating a commercial ad, click on the "All ads" option.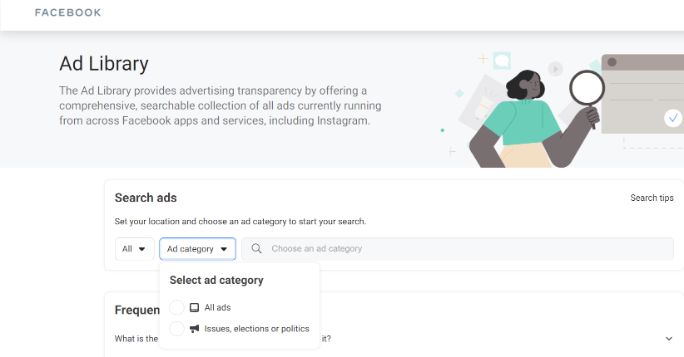 STEP 3: Search Using a Keyword or Advertiser's Name
As a part of the third step, you can simply type in the advertiser's name in the search bar beside the category dropdown.
Before selecting a category, you will not be able to search using the bar. But as soon as your category is selected, you would be able to type in the keyword or the advertiser's name to initiate a search.
For instance, you can type the brand name "Nike", and a list of advertisers will open as given in the image below.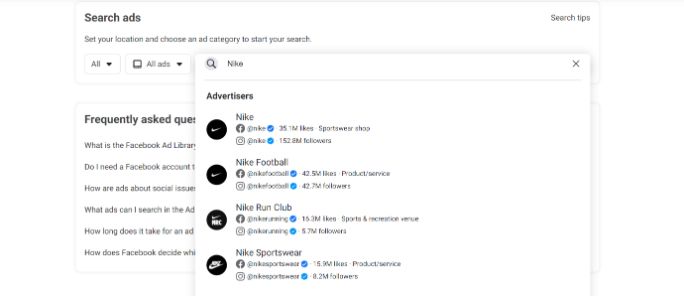 From the drop-down list, you can either directly select the page you want to see or click on the search icon to open another page containing a bigger list with all the relevant keywords-based and advertisers-based searches.
STEP 4: Click on Specific Ads
So, now the page you wanted to open is in front of you. All the advertisements run by the advertiser will be present on the page.
The status of these advertisements will be mentioned on the top. This means that if an ad is currently running, a tag saying "Active" with a green tick will be visible.
A unique ID number specific to each advertisement is also present with the advertisement along with the date of its commencement.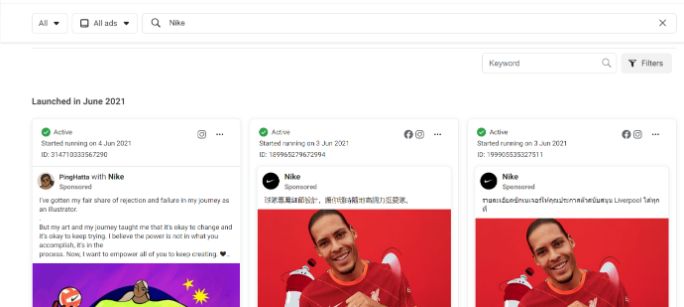 You can now click on specific ads to take a good look at them.
Facebook Ads Library Report
Facebook Ads Library rolls out a report of the library that mentions some crucial details pertaining to it.
The report is publicly accessible and mentions some crucial figures like the total number of ads in the Ad Library. You can select your country and look at the number of ads running in it.
It also mentions the total amount spent. Take a look at the figure, it is mind-boggling.

A column of the report gives an insight into the top searches of the week by keyword.

The report also comprises a "Spending Tracker" via which you can compare how much advertisers are spending on ads.
Under the "Spending Tracker", you can look at the spending on ads for the last day, for the last 7 days, for the last 30 days, last 90 days, and all dates.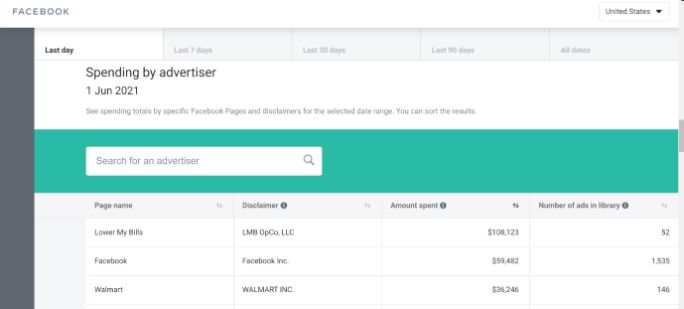 Through this, you can also find out who spent the most on ads.
Location-wise spending details are also present in the report. Simply select a region to find out who spent the most on ads in that region.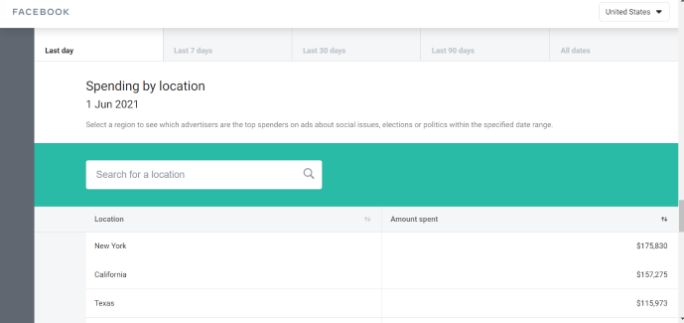 Scroll towards the very end, and you can download a PDF of the report.
Want to read the full report right now? You can do so by clicking here!
What More can You do with Facebook Ads Library?
By now, it is crystal clear that Facebook Ads Library is probably the finest product by Facebook.
But things you can do in the Ads Library are not restricted to just looking at the ads. There are a few more options for you to explore.
One option allows you to report any ad you deem offensive or inappropriate.
Another option lets you copy the URL to visit the page again.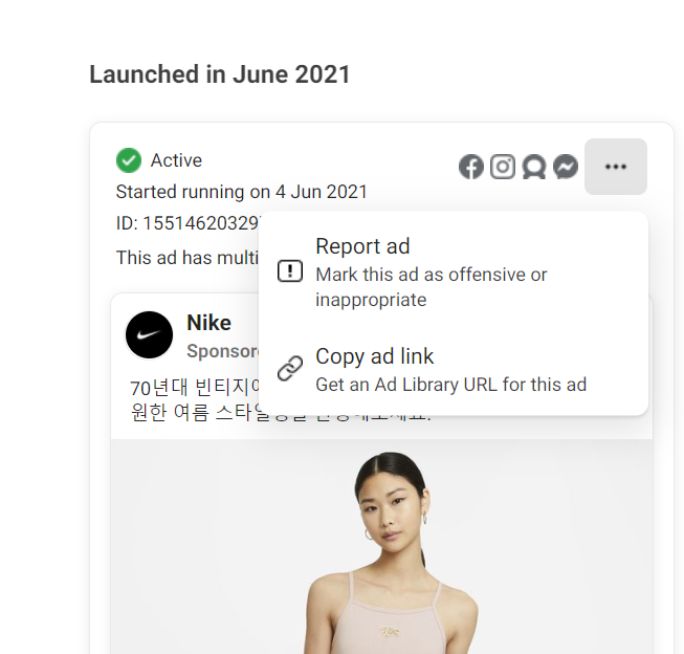 Facebook Ads Library API
Facebook also offers you Application Programming Interface (API) under Facebook Ads Library. Through this feature, you can now do custom keyword searches of the ads present in the library.
Are you good at programming? If yes, then this option is worth exploring.
Follow these steps to use API:
Step 1: Initially, you will have to head over to Facebook.com/ID and give your identity confirmation. The same process is also followed for those willing to run ads on Facebook.
Step 2: In the next step, you must visit Facebook for Developers and create your account. You must agree to the Platform Policy mentioned on the site to proceed.
Step 3: After making your account, head to the Facebook API web page. Once there, select "Access the API" to start making queries. You can also create a new app.
Upon visiting the Facebook API webpage, you will come across technical details about how to use the API to get your work done.
Find Clients
Let us say you are an advertising agency; you can even find clients through Facebook Ads Library.
You come across a target company and see flaws in their advertisement. You think that you can mitigate those flaws easily. The next step is to reach out to them and tell them how you can help them improve. And there, you got yourself a project just while skimming ads!
But that is not where the utility of Facebook Ads Library ends.
You can scope out the competitor's advertisement for trends and if you come across some viral trend, then get in on the action to attract some virality for your brand.
Conclusion
It is safe to say that Facebook Ads Library is not just another "run of the mill" thing out there. It is driven and backed by an army of data. It is no short of an indispensable tool when placed in the right hands.
With its usability, it has garnered immense attention. If it has not grabbed your attention yet, then now is the right time for it! And let's not forget, it is super easy to use!
To excel at your Facebook marketing you need more than just in-built features provided by the platform. There are some exceptional Facebook marketing tools that can ease your Facebook journey.
SocialPilot is one such tool. Try its 14-day free trial to know what it can do for you.