Despite the exceeding popularity of boomers like Instagram and TikTok, Facebook still dominates social media marketing. As per social media statistics, Facebook is the largest social media platform boasting 2.74 billion active monthly users.
This makes it an unparalleled platform for online marketing, offering massive opportunities for marketers and advertisers. Though the platform opens doors to reach millions of users, marketing your products and services calls for precise techniques. And for that, you need specialized Facebook marketing tools.
We have done our drill to help you select the best suite of Facebook tools and have covered them in detail here. You can use these tools for boosting your brand reach with proper content curation, publishing, and analytics capabilities.
Let's explore each of them!
Best Facebook Marketing Tools
SocialPilot is a feature-rich, easy-to-use, and most affordable Facebook marketing tool for agencies and social media marketing teams. It helps you craft, schedule, and publish Facebook posts for various pages from one place. With this tool, you can create optimized posts and publish them at the best time to get maximum engagement.
SocialPilot's scheduling engine enables you to make timely announcements and ensures consistent posting. You can also boost posts or schedule them for later, right from the dashboard. It also allows you to schedule and manage posts for your Facebook pages and groups.
SocialPilot lets you share an interactive story by adding visuals to your posts, such as images, videos, and GIFs. You can even create them right from the dashboard with Canva integration. This helps you build awareness about your services and drives more traffic to your site.
Find popular content using its content curation tool. You just need to enter a keyword, hashtag, or domain name, and SocialPilot will show the top-performing content related to that search.
SocialPilot also provides you with Facebook analytics reports which help you create data-driven strategies. Track engagement, discover influencers in your niche, identify your top fans, and know the best times to publish your posts. The tool allows you to mention fans, influencers, and experts and improves your visibility. The most amazing part is all of these features are available at an unbelievable price!

---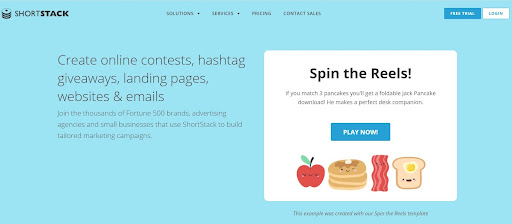 Shortstack is one of the best marketing platforms for contests and giveaways. The tool is designed to simplify building and running engagement-dripping campaigns for Facebook and other social media platforms.
It has a friendly UI and dozens of templates, widgets, themes, and other tools. The platform enables you to build contests, landing pages, interactive quizzes, special offers, custom forms, and more.
ShortStack collects contact information and provides campaign analytics. It also allows you to access real-time insights on traffic sources, views, shares, device types, and more. The platform also makes it easy to embed your promotion on your website and across multiple channels, enabling you to collect more leads.
While ShortStack pricing starts at $99, you might want to upgrade your plans for better campaign features.
---
If you have trouble finding the right content to post, then Post Planner is the tool for you. It helps you find, plan, and post great content on your Facebook pages. It shows you the top-performing content that is relevant to your audience. You can search for any topic, hashtag, blog, or social media account using this tool. Post Planner also shows you the content that is generating the most likes, shares, comments, and clicks.
Post Planner has content suggestions organized by industry. Therefore, you can get articles and content ideas that will resonate with your audience. The tool allows you to automate your content posting with a custom publishing calendar. It helps you to optimize your posts, recycle your best content, and analyze performance metrics.
It's a great tool for agencies and marketing teams as it allows team collaboration too. The pricing starts at $5, but you need to rely on Solo and Business plans to get the most out of it.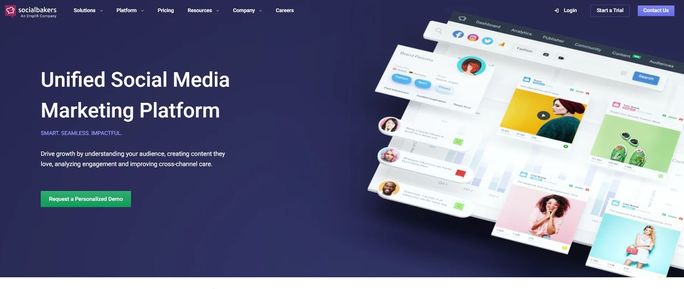 Socialbakers is a social analytical tool that uses artificial intelligence to determine your marketing personas and their interests. It's an all-in-one solution providing effective publishing and scheduling, social media conversation monitoring, team collaboration tools, and analytics. You will receive extensive and in-depth social media analytics both for your and competitors' page.
This Facebook marketing tool also provides insights, top trends, and content ideas. It helps you create relevant and engaging content for your audience.
With Socialbakers, you can discover the right influencers for your business to engage with your audience. Most businesses and brands can massively benefit from this tool.
---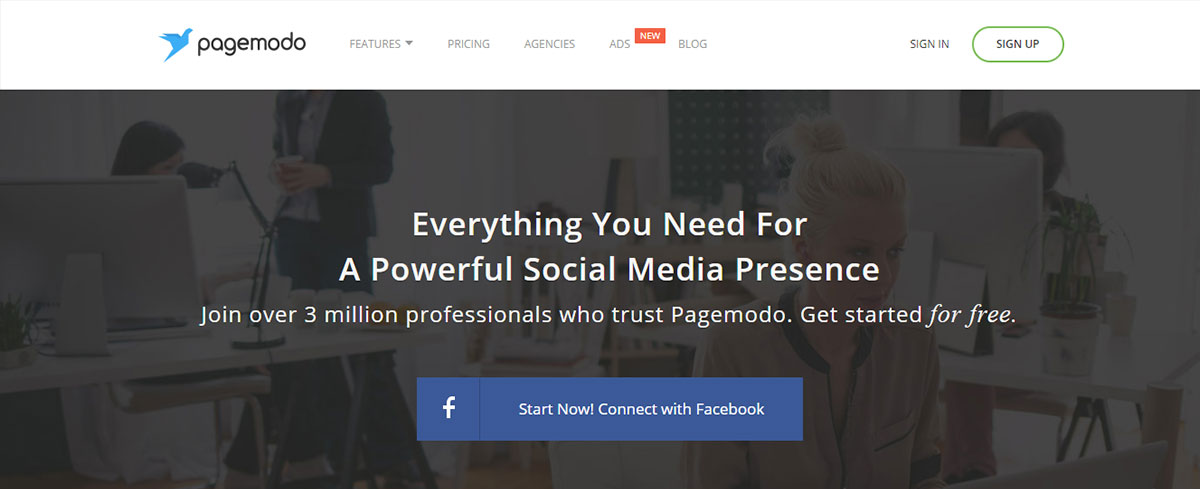 Pagemodo has positioned itself as one of the best Facebook marketing tools for Facebook page customization. Its features for cover photos, custom tabs, contests, and ads are mind-blowing. With customizable templates, you can create a stunning cover photo and a professional welcome tab. It also enables you to design and schedule engaging posts.
Pagemodo is an excellent fit for a business looking to add some functionality to a Facebook page. It provides valuable analytics, so you know how your posts are performing. You can also manage and repeat full-fledged ad campaigns by designing and customizing templates, collaborating with teammates, and measuring their performance.
---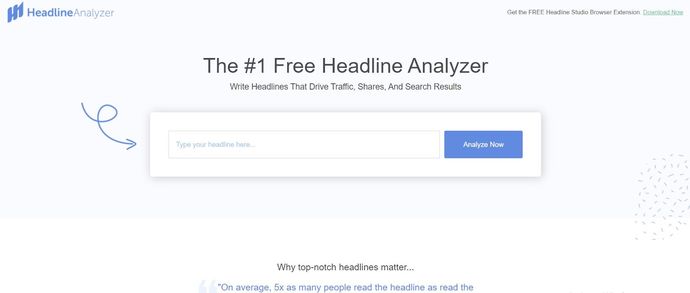 It's vital to get your headlines right because they nudge readers to explore your content. With so many businesses posting on Facebook, it's your headline that can make your post stand out. Headline Analyzer shows you how you can optimize them for your Facebook posts, ads, and blogs.
It analyzes headlines that drive traffic, search hits, and shares. Based on that information, it then evaluates and suggests changes to your post. Headline Analyzer has free signup. Enter your headline, and the tool will analyze the structure and content. It will consider key features that contribute to powerful headlines.
It will then give your headline an overall score, along with a detailed breakdown of the headline's sentiment, structure, and character count. The tool even provides tips to improve them by making them more catchy and click-worthy.
---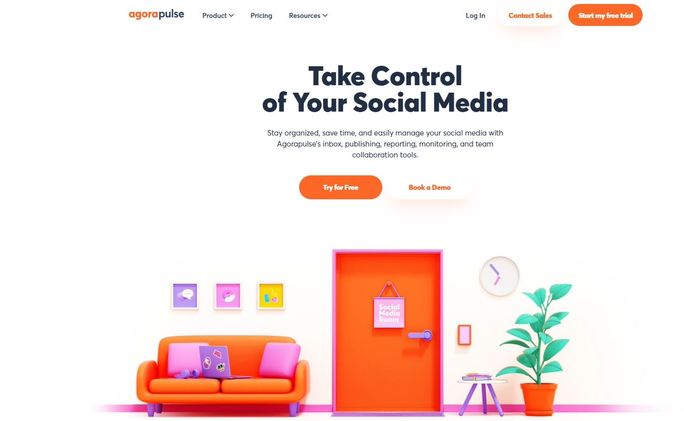 Agorapulse is a comprehensive tool for all your social media monitoring and scheduling. It enables you to schedule and publish posts, manage content and engagement on Facebook. You can also respond to conversations and create powerful interactions with your audience.
The Facebook marketing tool gives you deeper insights into demographics and post metrics, so you know what works for your page. It lets you compare and learn from your competitors. Additionally, it has a free tool that allows you to run Facebook timeline contests from quizzes to sweepstakes to photo contests.
With Agorapulse, you get the features that make team collaboration easy. Therefore it's ideal for agencies and marketing teams. The paid plan starts at $99 per month. You also get a 30-day free trial once you sign up for these plans.
Check out how SocialPilot proves to be a great Agorapulse alternative.
---

Canva is a fantastic design tool that enables you to create stunning graphics to share on your Facebook pages. With this tool, you can easily create Facebook banners and other engaging content such as memes, infographics, cover photos, event covers, and logos.
This Facebook marketing tool boasts over a million images in its database and more than 50,000 pre-sized templates, which are updated frequently.
All you need to do is log in and then select "Facebook Post." Next, choose a layout, add text, and customize colors, background, and elements. You can even add hyperlinks and your brand's logo to images. Canva is free, but some of its images, layouts, and elements come at a small fee.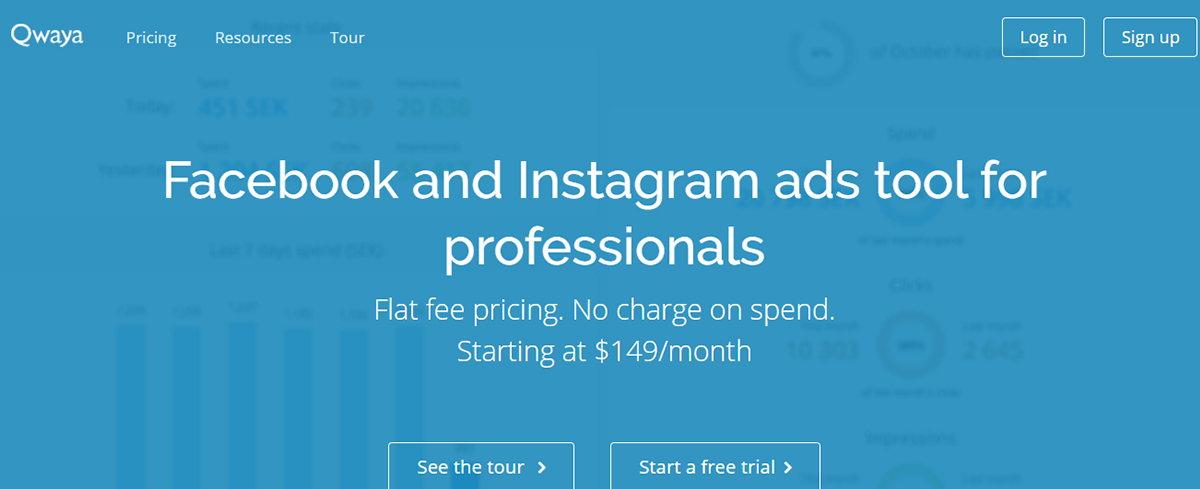 Qwaya is a valuable Facebook marketing tool that provides multiple vital functions to help agencies and marketing teams manage Facebook ads. It has several features to drive traffic to your Facebook page.
The tool provides an efficient ad creation and management workflow. You can automate your ads, schedule the campaign to run at different times, add tracking URLs, and integrate Google Analytics. Qwaya also lets you perform A/B testing on ads. This helps you optimize them effectively. Qwaya also has a multi-user feature to add team members for collaborating and resource sharing.
---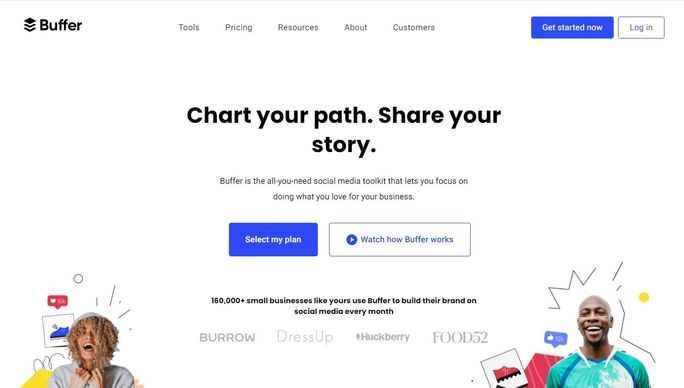 Buffer is an easy-to-use Facebook marketing tool that enables businesses to schedule and publish posts, analyze performances, and manage all their accounts in one place. Once you schedule your post, Buffer automatically shares your content at the optimum time. It's ideal for marketers who want to save time while giving their audience consistent content.
Buffer also provides analytics and insights on posts performance. You can review the data and find the most engaging content, the best time to post, and the frequency.
It also has a browser extension that integrates with WordPress and other tools for finding, saving, and distributing content. You can add content from across the web and share it on your Facebook pages.
Despite all the great features offered by Buffer, many digital agencies find their pricing structure complex. Check out how SocialPilot emerges to be a cost-effective Buffer alternative.
---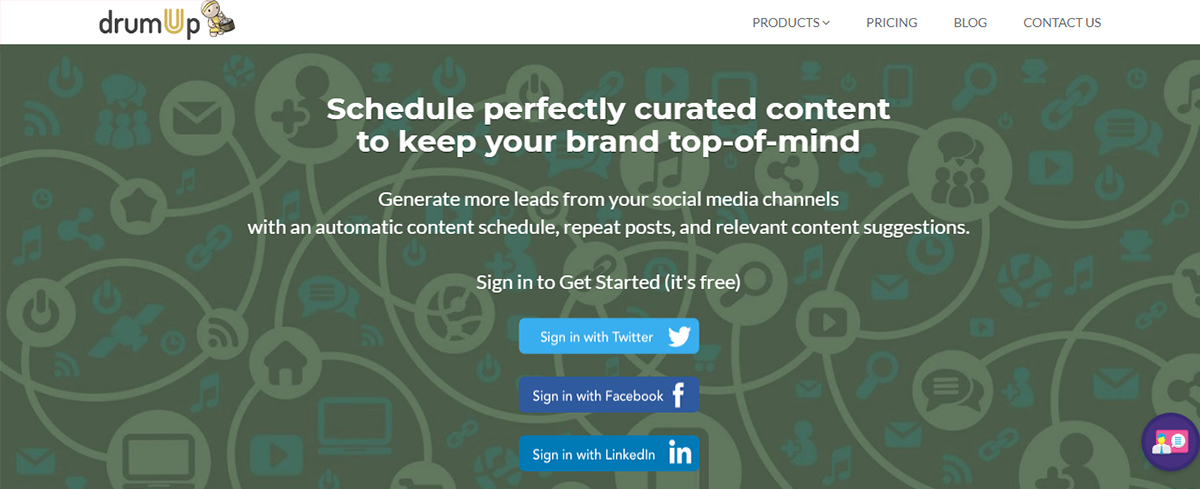 Drum up is another excellent Facebook marketing tool focused on reducing your time on managing Facebook pages. It mines through the web to find the most appropriate and effective content topics that your fans would appreciate.
Its smart scheduling tool allows you to quickly review, create, and publish posts for your audience. You can manage and monitor several Facebook pages from one place. It enables you to reach more people with repeat schedules and hashtag recommendations. It also gives you critical insights into your marketing strategy.
---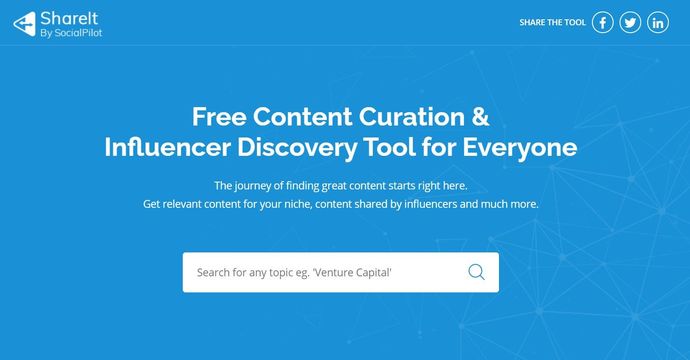 Ever been stuck wondering what to post next on your Facebook page to drive engagement? ShareIt is that Facebook marketing tool that curates amazing content to keep your consistency wheel spinning.
All you need to do is type out a keyword, hashtag, or topic, and ShareIt displays top results. You can filter these results as per relevancy and time and share them directly to your profile. It also suggests related topics, so you continue with your in-depth research.
You can even look for influencers popular in the niches of your interest. The best part is all of these offerings are completely free. You just need to log in with your Twitter account to get endless search results.
Summing it up!
Gaining traction on Facebook can be tricky, but it can be incredibly rewarding with the right Facebook business tools and efforts. The tools listed above will help you handle different aspects of Facebook marketing.
Use them to get a competitive edge for a remarkable Facebook presence. You will efficiently reach your audience and be able to schedule posts effectively to increase visibility. These will also save you time and money. Choose tools as per your preferences and sign up for free trials before sealing the deal.
Frequently Asked Questions
🌟 What do you mean by Facebook marketing?
+
🌟 How can Facebook be used as a marketing tool?
+
🌟 How do I start marketing on Facebook?
+
🌟 How do I change my Facebook page from personal to business?
+
🌟 What are Facebook marketing tools?
+
🌟 Which are the best Facebook marketing tools?
+