Businesses of all sizes need a power-packed social media presence on multiple platforms. But often, small biz owners hesitate to invest in social media management tools and rely on manual posting.
Result? They end up wasting lots of effort sharing erroneous posts with no analytics to quantify ROI. Sounds like an absolute nightmare!
But there are tools that are pretty affordable without any dip in performance. Scaling up and getting more customers on board is no longer a pricey affair.
Now the question of the hour is how do you decide which social media management tool will suit your needs and fit into your budget?
In this blog, we shall zero down 20 best social media management tools to schedule posts, curate content, monitor responses, track buyer journey, analyze performance, and more at real competitive prices.
Ready? Let's begin!
What are the Best Social Media Management Tools for Small Business?
1

SocialPilot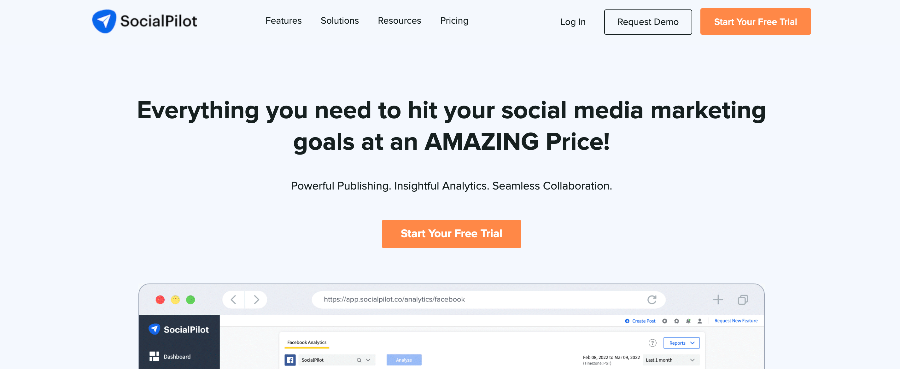 SocialPilot is a simple and cost-effective social media management tool for agencies and small businesses that helps them to strengthen their brand presence across all major social media platforms. It assists in executing a well-planned social media posting schedule with advanced features.
With SocialPilot, you can publish content on LinkedIn, Twitter, Instagram (Direct Publishing), TikTok, Facebook, Pinterest, Google My Business, Vk, and Tumblr. It is popular among small businesses because of its cost-effectiveness, intuitive UI, and exceptional customer support (24×5).
SocialPilot can help you get started with social media management in a jiffy and give you access to the following:
SocialPilot subscription costs $25.50/month (billed annually) and allows you to connect 10 social media accounts and discover curated content.
Hannia F.
What I like about SocialPilot is that it facilitates the scheduling of posts in bulk, and it does not seem automated at all. Its customization and UI are what I love the most about SocialPilot. It's also worth saying that it, of course, saves a lot of time for my digital marketing team and me.
Adam C
My agency has used SocialPilot for over a year now, and we're very happy with the decision. In a sea of many social scheduling tools, SocialPilot stood out to me with their mix of affordability and the number of accounts they schedule. I've mostly been impressed with their customer service. In the times I've needed help, I think the team has gone above and beyond. I also love how easy it is to request a new feature.
Tal T.
What can you NOT DO with Social Pilot? In all honesty, I don't have any clue. The ultimate friendly all-in-one marketing platform, with features such as scheduling, analytics, social calendar, URL shortening, content creation, and many great value tools. I highly recommend any marketer out there to check it out and give it a chance to prove its massive powers.

---
2

Agorapulse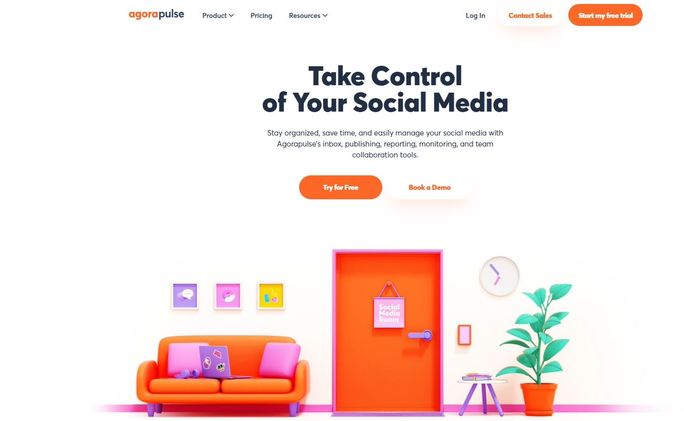 Agorapulse is a robust and powerful social media management tool that helps small businesses with social media profile management, community build-up, and moderation. Agorapulse has a user-friendly interface that can be easily implemented right from the start. It offers flexibility, less learning time, and reputed customer support.
Additionally, it can integrate with all the major social media networks like Facebook, LinkedIn, Twitter, YouTube, and Instagram. The tool can generate complete reports, schedule posts, conduct competitor analysis, and automate user engagement. Its notable features include:
Unified inbox
Customized publishing options
Post publishing
Social standing monitoring
Advanced analytics
Customer engagement
Detailed reporting
Agorapulse offers plans for small businesses starting at $99/month when billed monthly and $79 when billed annually. This plan provides ten social profiles, two team members, up to 300 active ads monitoring, and email support.
Alex F.
Being built like an inbox system, being able to "review" or check off my mentions, posts, etc., to reach Inbox Zero feels rewarding, and I'm confident I didn't miss anything. It's another great feature I enjoy.
What do I dislike about Agorapulse?
Unfortunately, the reporting is pretty weak. We actually use another third-party app to pull .csv files for loading into Google Sheets and Google Data Studio. Agorapulse will allow you to export mostly PowerPoints (which aren't that pretty) and some .csv files for very basic social metrics. I'm also not sure there are any real metrics for paid advertising as well.
---
3

Hootsuite
Known for boosting efficiency on social media, Hootsuite is one of the first social media management tools in the market. It allows you to manage all the associated social media networks from a single comprehensive dashboard.
You can get a clear, holistic view of the activities in your social media accounts. It enables you to respond to users' messages and comments quickly, helping you engage whenever your brand is mentioned socially.
While this social media management tool has been in the market for a long time, it is comparatively a complex tool to use. Therefore we recommend other user-friendly Hootsuite alternatives.
Still, Hootsuite offers a wide range of tools for social media management which include:
Scheduling
Content curation
Content promotion
Advanced analytics
Team management
App integrations
Security features
You can schedule posts ahead of time and get all content ready for a specific time frame in just a single session. Hootsuite also offers advanced reporting that can help you identify which campaigns perform nicely and give you accurate data to calculate ROI.
Hootsuite subscription starts at $49/month and offers 10 social media profiles for one user with unlimited scheduling, bulk scheduling, analytics, and a 30-day trial.
Verified Hootsuite User
I think the most helpful thing is that you can see all of the channels you want to in your streams. Also, the scheduling is super helpful when it comes to planning things out.
What do I dislike about Hootsuite?
I don't like how difficult it is to post sometimes. Also, I have had multiple struggles getting reports over the last couple of months. There is a deep learning curve when using this tool. You must be constant when you want to learn how to use it. I feel it is a bit expensive for the amount of service it provides.
---
4

Buffer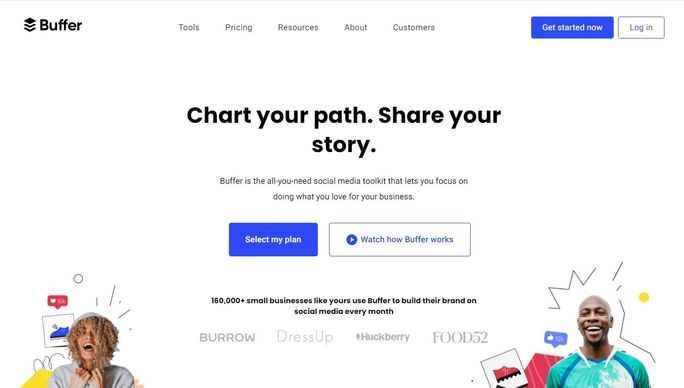 Buffer is a social media management tool to share and manage social media content across popular platforms easily. Though it works prominently as a scheduling tool, Buffer allows you to leverage the social platform by posting content at a time when the members of your target audience are likely to be online. Buffer allows you to log into different social media sites like LinkedIn, Twitter, Facebook, Google My Business, and more all at once.
The Buffer button on your browser helps you in sharing content instantly. You can share the link across different social networks or schedule it down the queue with a single click. It also offers seamless integration with Chrome, WordPress, and other essential tools. Some other exciting features of Buffer include:
Detailed social analytics
Social profile sharing
Profile management
Business planning
Analytics and insights
Team management
iOS and Android support
It gives you the features mentioned above in a well-organized layout that is suitable for small businesses and new entrants in the field.
Buffer offers a free trial and a free version for individuals. Small businesses can get started with Buffer at $10/month per social channel with features like RSS feeds, link shortening, tracking, calendar, and 2000 scheduled posts for each account.
Verified Buffer User
The design is clean and simple, allowing me to focus on the content I'm curating rather than on the platform I'm using to manage it.
What do I dislike about Buffer?
Team collaboration features are lacking some functionality that would help the team be more productive in suggesting, curating, editing, and approving content for distribution. Costs prohibit us from increasing to larger team packages (5 team members is a little too small for our situation).
---
5

Sprout Social
Social media management tools bolster communication between a business and its users, and Sprout Social will help you do that efficiently. It is one such tool that connects you with your users.
With automated posting, engagement, and analytics capabilities, Sprout Social can help you improve your social media profile's activity metrics in a matter of a few days. Sprout Social offers a wide range of tools to optimize your social marketing plans. These include:
Smart inbox
Publishing
Analytics
Monitoring
Customer relationship management
External integrations
Mobile access
Account structure
It can be integrated with the most popular social networks like Facebook, LinkedIn, UserVoice, Twitter, and Zendesk. This tool helps you improve the quality of your work and offers different features like Sprout Social Feeds, Smart Inbox, and Sprout Queue.
Sprout Social subscription starts at $99 per user/month and offers overall social media management, profile monitoring, CRM toolset, content calendar, reporting (profile, group, and post-level), iOS and Android mobile apps for 5 social profiles.
Fernando C.
I like it because I can monitor the posts since the mentions of the social networks can be followed with the aim of searching for publications of certain words.
What do I dislike about Sprout Social?
It is a bit expensive for companies with many workers since the program is per user and its cost too. In addition, the cost rises if you want to have more functions.
---
6

Lately
This AI-based social media management tool can help you turn your content into excellent social media posts. Whether you are working with blogs, videos, podcasts, or articles, you can get amazing social media posts without spending a great deal of money.
Lately can help syndicate the content you create across multiple stakeholder accounts making it one of the advanced social media management tools. It is being used extensively by small and medium businesses from different markets and industries to enhance their brand communications and management, promoting thought leadership. Some other notable features of Lately include:
Calendar management
Data export
Keyword tracking
Marketing automation
Social media monitoring
External integrations
Scheduling
Interactive dashboard
Contact management
This tool can help you reduce reliance on social media agencies and cut down social media content creation and posting time by a whopping 90%. It is best known for increasing productivity exponentially and gets hours of work done in a matter of minutes.
Lately offers a subscription at $200/month and includes all the necessary tools for marketers associated with small and medium businesses.
Nicholas N.
I love how quickly you are able to generate posts from your content. I have been able to schedule hundreds of social media posts in a few hours. This would have most likely taken me days to accomplish this same feat!
What do I dislike about Lately?
I have noticed some features like the queue has tended to be a little buggy for me at times. When I try to reorganize posts, they jump back to the original order.
---
7

eClincher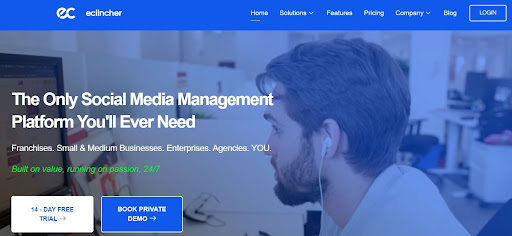 eClincher is a social media management platform that helps businesses increase their social media ROI. eClincher supports all major social media platforms like Facebook, Instagram, Twitter, LinkedIn, Pinterest, Google My Business, and Youtube.
It's more of an enterprise/agency-focused social media management tool with in-depth features to manage your social media campaigns successfully. Other features eClincher plans include:
Smart queues for republishing multiple content pieces
Centralized social inbox
In-built image library
Social media calendar
RSS feeds integration
Bulk scheduling
Monitoring and listening
Social media analytics and reporting
eClincher's premier plan is priced at $119/month, with which you can connect about 20 social media profiles and add up to 3 of your team members
eClincher User
We loved using Eclincher when we first started. The support was great, and we had an easy switch from our previous platform. It was a great tool, gave us a great insight into analytics, and loved using it.
What do I dislike about eClincher?
We loved using Eclincher until we got to the point where we were managing over 50+ profiles. Once we got to that point, the system was always buggy, and the support started to lack. We'd have problems and issues, and support couldn't help us out. Most times, it felt like we'd ask them something, and they couldn't comprehend what the issue was; it was kind of frustrating.
---
8

Sendible
Sendible is a social media management tool that elevates your brand story on social media. Connect with your teams and clients easily with this agency-focused social media management tool.
Sendible supports all major social media platforms and blogging platforms like WordPress, Medium, and Tumblr. Sendible has a unified dashboard that includes the following set of features:
Unified social inbox
Custom social media reports
Team collaboration
Social media calendar
Social media listening
Sendible's most popular plan is priced at $199/month, with which you can connect up to 49 social media profiles and add up to 7 of your team members with access to building 35 custom reports.
Sendible User
Scheduling content in the platform is easy; however, if you own multiple business accounts for different clients, managing all the streams is complicated compared to other tools in the market.
What do I dislike about Sendible?
I don't like the monitor and measure features; I consider them limited. The features are there, but the layout and configuration of the platform are not that user-friendly, especially if you run content for different clients. You can not see the posts that you have already posted and see the engagement live. You have an inbox, though, where you see the comments, but it is not as visual as it could be.
---
9

CoSchedule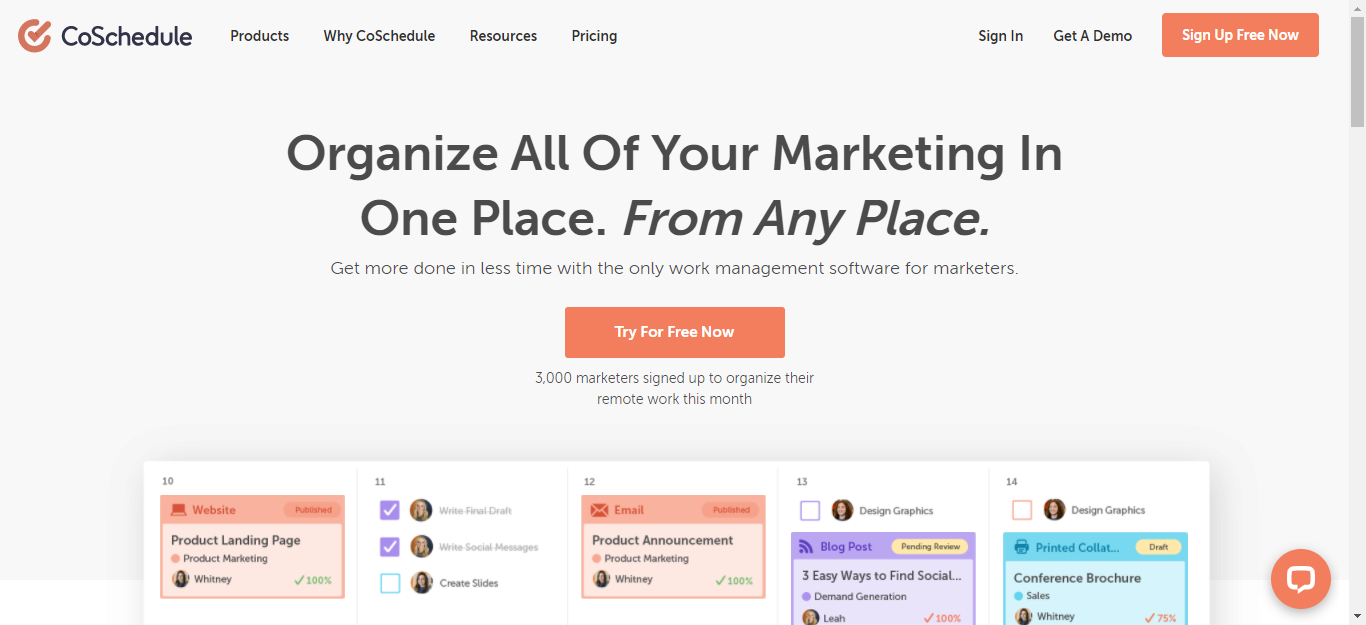 CoSchedule is a social media management tool that gives more importance to content and scheduling, emphasizing its social performance. Coschedule is known for how well one can organize their content with the calendar feature. It has a ReQueue feature that automatically fills the queue with the best-performing posts.
CoSchedule supports Facebook, Twitter, LinkedIn, Instagram, Pinterest, and Tumblr social media platforms. This social media management tool also lets you connect to your WordPress and Hubspot accounts. Other sets of features include:
Custom social media calendar
ReQueue to autofill your posting schedule
Team collaboration
Bulk scheduling
Social campaign templates
Integrates with 9 tools
CoSchedule is a bit expensive when it comes to pricing. You can connect only up to 10 social media profiles with 10 team members at $39/month in their Marketing Calendar plan. If you are an agency with multiple clients, you'd have to opt for their Marketing Suite to manage all in one place.
Jessica H
Its integrated project management and collaboration tools are great for smaller groups. The calendar itself is strong and extremely useful.
What do I dislike about CoSchedule?
The platform seems slow lately, probably as a result of the large amount of data we are entering and the amount of filters we are creating. It is more expensive than the normal content calendar alternatives I have found.
---
10

ContentStudio
If you want an effective content marketing aid, ContentStudio is the social media management tool for you. ContentStudio is a content curation tool that helps discover, plan, publish and analyze your content going out to the social media platforms.
This is one of the best social media management tools as it also helps you with hashtag suggestions and comes with an in-built SEO optimization toolbox. ContentStudio has more features like:
Content and hashtag suggestions
SEO toolbox
Unified social inbox
Team collaboration
Recycle evergreen content
Bulk scheduling and RSS feeds
Customized reporting and omnichannel analytics
ContentStudio lets you connect to all major social media platforms and some blogging sites like WordPress and Medium. ContentStudio is a more content-focused tool that helps publishers and content marketers with easy content promotions. Its small business plan is priced at $99/month, with which you can manage up to 25 social media accounts and 5 team members.
Steven L.
In theory, this should be a good product or a great product. They allow customization per social channel, and my team finds it easy to use. Unfortunately, things simply do not post correctly, or at all, too often. We get false posting confirmation messages all the time.
What do I dislike about ContentStudio?
Their support is now dreadful and has gotten worse over time. It is a damn shame. A week or two can go by with several emails to them, and all we hear are crickets. There is no response sometimes until the third or fourth email.
---
11

Later
An Instagram engrossed social media management tool – Later helps you visually plan your social media postings. It's a visual-first platform built for sharing photos, videos, and stories. You can search for content and hashtags if you are out of ideas. Later only lets you manage 6 social media platforms – Facebook, Instagram, Pinterest, LinkedIn, TikTok, and Twitter.
This social media management tool has a feature where it can help turn your Instagram profile into a mini-website with Linkin.bio. It exactly looks like your Instagram profile but where you can track clicks and engagement effectively. Other Later features include:
Discover content
Hashtag suggestions
Linkin.bio integration (with added cost)
Visual planner
Best times to post suggestions
Instagram story analytics
Later offers an entirely free plan making it the best free social media management tool. Besides this, their advanced plan is priced at $40/month, where one can manage up to 6 social media profiles with 6 team members.
Joe K.
I like Later and everything it brings to improve the management of our digital marketing. Scheduling the publication of visual content couldn't be easier and faster.
What do I dislike about Later?
It's a powerful tool for posting content to the more visual and illustrative social networks like Instagram, Tiktok, etc. But a little less practical when it comes to other social networks that involve more textual content like Twitter, Facebook, etc.
---
12

MavSocial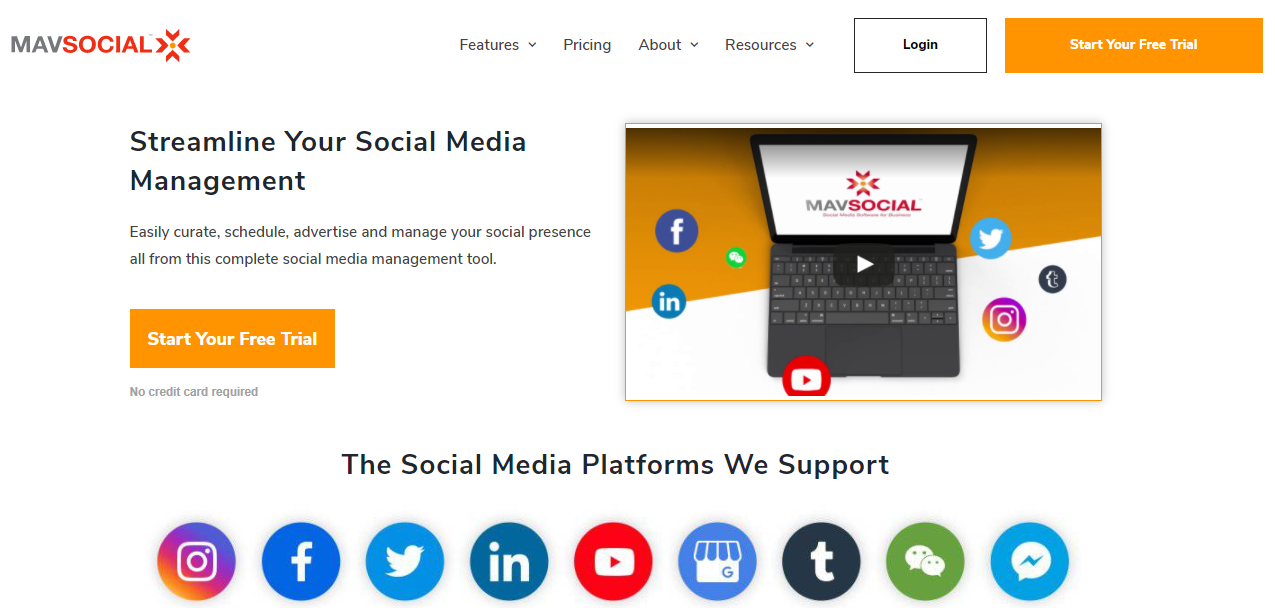 MavSocial is an all-in-one social media management tool that helps you schedule, advertise, monitor, and report all from one dashboard. MavSocial focuses more on visuals having an in-built asset library. You can make your social posts visually attractive with the help of their stock library. It also has image recognition that saves time in managing assets.
This is one of the best social media management tools to understand the industry trends with social media listening. Other features of MavSocial include:
Real-time social media analytics
Team collaboration
Content curation
Digital asset management
Social inbox
Social media ads
MavSocial's pro plan is priced at $78/month, with which you can connect up to 30 social media profiles and add 3 team members. If you opt for an annual plan, it will cost you $65/month.
Joe K.
Social media campaign planning and scheduling capabilities. Also pretty easy to manage account messaging monitoring.
What do I dislike about MavSocial?
Lacklustre interface- very basic, almost cumbersome in certain regards.
---
13

Tailwind
Tailwind is an official Pinterest and Instagram partner making it a visual concentrated social media management tool. You can find the best times to post and use suggested hashtags to drive engagement on your Instagram and Pinterest profiles.
Tailwind has this feature where you set your logo, color palette, and fonts just one time, and it will automatically add your branding to every design you schedule. Other Tailwind features are:
Analytics and reporting
Social media monitoring and trends
Hashtag finder
Tailwind communities
The advanced Tailwind plan for 2 users is priced at $39.9/month, with which you can connect 2 Pinterest and 2 Instagram accounts and schedule to publish about 10000 posts/month.
Stacy F.
It helps me program, pin, improve Pinterest and has helped me grow my brand on Instagram and Pinterest.
What do I dislike about Tailwind?
Sometimes it can be a bit difficult to navigate. Also, the tutorial sometimes starts over when you log in. I would still like to be able to post to Pinterest, Instagram, and Facebook with an image and text.
---
14

Zoho Social
This social media management tool will help manage your brands on social media in the easiest possible ways. You can create custom reports, analyze your social media performance, and monitor what matters with Zoho Social.
With Zoho Social, you can connect Facebook, Twitter, LinkedIn, Instagram, and Google My Business social media accounts. Zoho Social has this special CRM integration with which you can manage and engage with your potential customers. Other sets of features Zoho Social offers:
SmartQ
CRM integration
Automated reports
Monitoring and listening
Team collaboration
Zoho Social introduced a new premium plan priced at $65/month, with which you can manage up to 8 social media profiles and add 3 team members. Zoho Social also offers a free plan making it one of the best free social media management tools.
Vishnu S.
I like the features, e.g., post scheduler, advanced analytics, and integrated message centre, etc.
What do I dislike about Zoho Social?
The biggest con of Zoho social is that you can't customize posts for various social network sites. There are limitations with some social media sites, like Instagram. Customer support is worse because it provides a slow response.
---
15

MeetEdgar
MeetEdgar is a unique social media management tool that does all the scheduling for you. It automatically pulls posts from your content library and sets them on repeat. With MeetEdgar, you never have to worry about filling your queue as it re-shares your evergreen posts.
This social media management tool supports Facebook, Twitter, Instagram, Pinterest, and LinkedIn. MeetEdgar runs mainly on one feature, which is great if you want to autopilot your social media posting. It builds a library of evergreen posts, and if it runs out of new content, Edgar will refill your queue with older ones. Other features this social media management tool offers are:
Category based scheduling
Suggested social posts
Social media analytics and reporting
MeetEdgar is priced at a flat $49/month, with which you can manage 25 social media accounts and 1000 weekly automation.
Dana G.
What I like most about the Edgar Social Media Management software is that it automates our social media to stay relevant and top of mind.
What do I dislike about MeetEdgar?
There are not enough options for posting schedules. It works really well for a daily posting but does not allow for weekly or bi-weekly posting to be scheduled.
---
16

Post Planner
Post Planner is a social media management tool built for reach and engagement. Post Planner is a social engagement solution for small and mid-sized businesses. This social media management tool lets you manage your Facebook, Instagram, LinkedIn, Twitter, and Pinterest profiles.
Post Planner has features that are well-equipped for a small business to increase its brand awareness on social media. They are:
Posting calendar
Discover top-performing posts
Recycle evergreen content
RSS feeds
Social media streams
Library of quotes
Real-time brand mentions
Post Planner is priced at $34/month, with which you can manage up to 25 social media profiles with 4 team members.
Post Planner User
I have nothing good to say about this company.
What do I dislike about Post Planner?
PostPlanner is an extremely non-intuitive, difficult, inflexible, stubborn, and impermeable program that has never left me satisfied after use. Moreover, their customer service and use of "fine print" are more than unethical.
---
17

Loomly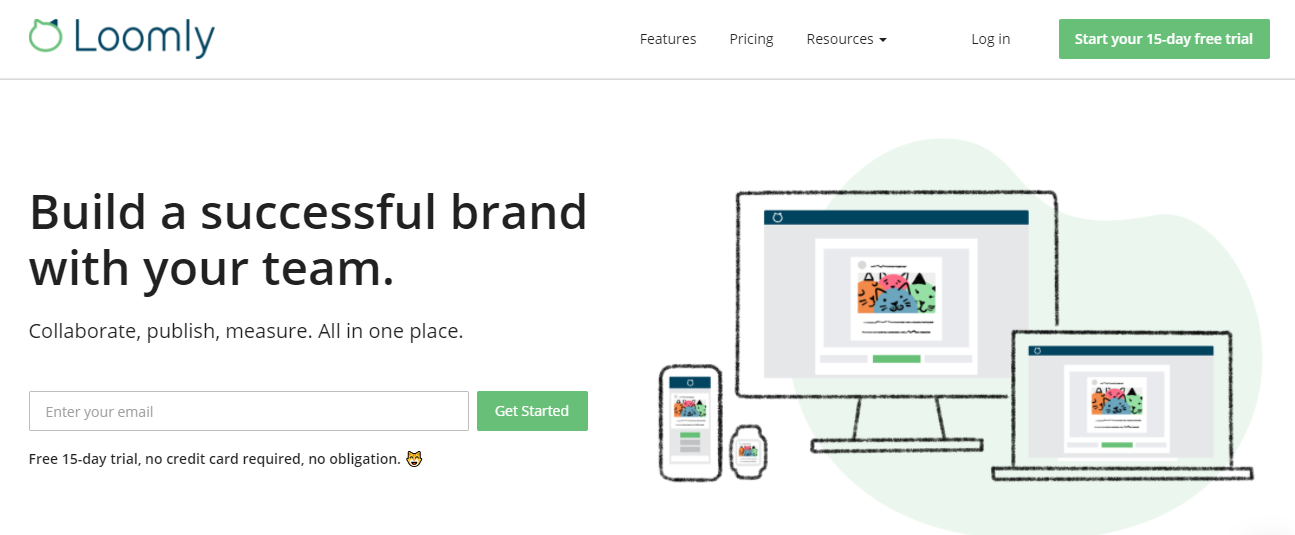 Loomly is a social media management tool that helps you build a successful brand with your team. It's a brand success platform that empowers marketing teams to grow brands online through collaboration, publishing, and analytics features. With Loomly, you can manage Facebook, Twitter, LinkedIn, Instagram, Pinterest, Youtube, Google My Business, TikTok, Snapchat, and more.
Loomly is one of the best social media management tools for small businesses fit for agencies and businesses. Loomly lets you manage all digital assets in one place. You can store images, videos, posts, notes all in one library. Other features include:
Post suggestions
Central library
Ad preview and tips
Team collaboration
Respond to comments and reactions
Social media analytics
Loomly's standard plan is priced at $76/month, with which you can manage 20 social media accounts and 6 team members, whereas if you want to add more profiles, the price goes up to $159/month for up to 35 social media accounts.
Loomly User
I really like how Loomly allows me to map out my marketing content for the month in a very easy and digestible way.
What do I dislike about Loomly?
It is more of a posting platform and less of an engagement management platform. In my view – it is not as easy as other media to reply to comments or like comments or reactions, and I miss having the inbox that alerts you to posts that need replies.
---
18

Falcon.io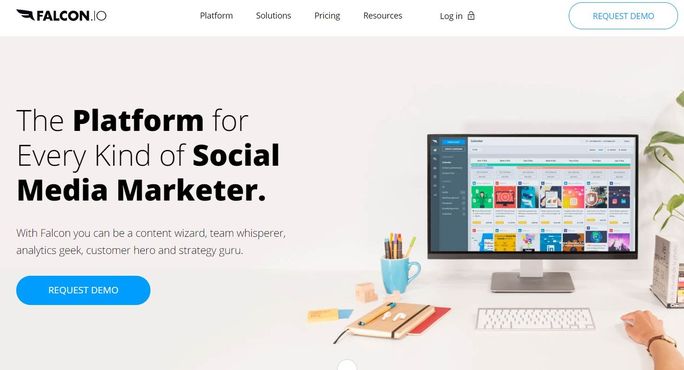 Falcon.io is a cloud-based social media management tool that can push your brand's success. It leverages features like social media listening to make you a proactive brand, so you never miss out on any engagement. Falcon.io lets you manage Facebook, Twitter, LinkedIn, and Instagram.
You can personalize your offerings to clients with its wide spectrum of features. You can also create a social media calendar, design campaigns with in-built templates, schedule posts, and sum the performance with detailed metrics. The customer support is prompt. Other features that Falcon gives its users are:
Scheduling paid and organic posts
Collaborative calendar and workflow
Social media analytics
CRM integration
Real-time chat and tutorials
Falcon's pricing starts at $129/month per seat, which includes 5 social media channels. The monthly price drops to $108 when billed annually for the same plan.
Falcon User
I like that the calendar is clearly visible and fairly easy to manage. I also like that you have access to all/any accounts you manage without having to log in several times. They also have pretty great customer service reps who have helped a ton.
What do I dislike about Falcon.io?
I don't like that you can't post the same thing to multiple channels in one easy sweep. I don't like that there are many missing metrics or they're not just summed up for you. Our channels are constantly disconnecting, which doesn't post scheduled content and doesn't track data for that time until you re-connect.
---
19

NapoleonCat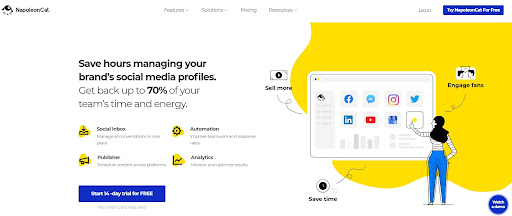 NapoleanCat is a social media management tool to carry out their social media plans. The tool is surprisingly easy to use and demands no rigorous training. You can use the tool to share your posts on popular social media channels like Facebook, Instagram, YouTube, Twitter, and LinkedIn.
The social inbox feature is the heart of the tool that lists all messages from your social media accounts. Be it messages or comments, you can opt for automated replies for quicker responses to your audience. Features of NapoleanCat can be summarized as follows:
Social Inbox
Analytics and Reporting
Engagement Tracking
Campaign Optimization
The Standard plan starts at $27, while the Pro plan begins at $55 for 3 users. If you opt for annual plans, monthly costs for the two come down to $21 and $42 respectively.
Jessica S.
I liked the ability to adapt visuals of up to date algorithms to my project, allowing me to provide backed evidence to my insights. It was very easy to gather the needed information I was looking for to apply to my client's project for a very good cost.
What do I dislike about NapoleanCat?
When using NapoleanCat, some of the interfaces within the platforms weren't universal, and we found ourselves bumping into the wall of NapoleanCat's limitations a couple of times throughout our project.
20

PromoRepublic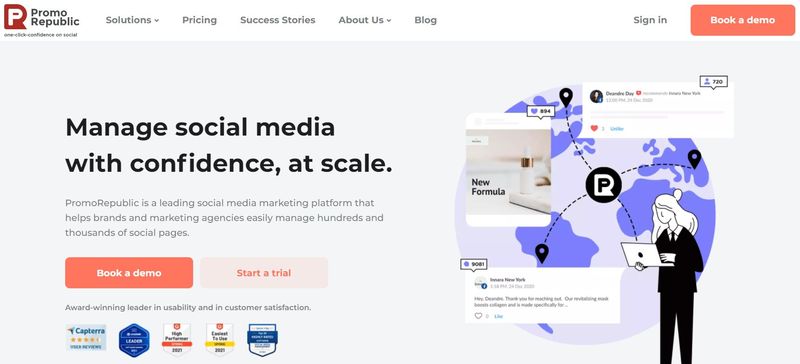 PromoRepublic is yet another social media management tool to post on popular social media platforms. If you want your designs to be pixel-perfect, then PromoRepublic will definitely help you create them without even leaving the platform.
Don't have any ideas for posting? PromoRepublic has some pre-designed post ideas already in store for you. You can also schedule content as per different time zones. Just select the country and set a schedule to share posts at varied timings.
If you have different teams working on multiple social media accounts, then the tool can aid you in establishing smooth workflows with its team collaboration advantages. Features of PromoRepublic are as follows:
Content Discovery
Analytics and Reporting
Workspace and Collaboration
Graphic Editor
The Solo plan starts at $19, while the Expansion plan begins at $199 for 6 users when billed monthly. There are two more plans: Pro and Agency at $49 and $119 per month.
Major H
Its analytics and reports are truly useful and informative. The autopilot is truly effective, I promise. They have an inbuilt media editor. You can easily resize the design dimension in your online editor. Free history pictures and creative possessions. Connect all your diff social media accounts. The mobile application is simple but useful.
What do I dislike about PromoRepublic?
Need to remove a connected account every time I want to add a new account or page. Sometimes the scheduler fails, and this is something that should not happen.
An increasing number of businesses are turning to social media management tools to automate their everyday tasks and focus on what matters most.
They come in handy when you're running multiple campaigns at the same time. You can also track whether your marketing campaigns are successful or not.
This list of free and paid social media management tools will let you choose the one to manage your social media presence effortlessly.
If you'd like to go for an option that is user-friendly, intuitive, easy on the pocket, and lets you manage mostly everything under one roof with support available at all times, you gotta try SocialPilot's free trial today!