Do you want to sell your products across Facebook networks?
Do you want your audience to make use of in-app checkout features without any hiccups?
Do you want the freedom to handle your orders, inventory, and payments on Facebook Marketplace and Instagram Shopping?
If yes, then Facebook Commerce Manager has got you covered.
One of the innovative features that Facebook has introduced into its Facebook ecosystem, Facebook Commerce Manager, is the hub to manage all eCommerce transactions from one place.
Its easy-to-use functionalities and integrated feature to buy and sell across Facebook Marketplace, Facebook Shops, and Instagram Shopping is a must-have for any business.
You might think, but where is the Commerce Manager on Facebook? Or how to make its optimum use. Let's discuss its inside-out in this guide.
What is Facebook Commerce Manager?
Facebook Commerce Manager is a smart way to sell your products and manage your business on Facebook and Instagram.
With the Facebook ecosystem having close to 3-4 billion active users, you need smart and effective tools to establish and scale your online business.
Using Facebook Commerce Manager, you can become a more effective and efficient seller if you have a small business page or a powerful partner like Shopify to manage your inventory.
Being a merchant in the US, you have the luxury to access this powerful feature on Facebook before anyone else across the world.
But how can it help your business?
Let's discuss.
What does Facebook Commerce Manager do?
Facebook Commerce Manager is focused on making sales management easier and faster for businesses using the Facebook ecosystem.
There are tons of features it brings to the table, and some of its most exquisite features include
Checkout Option
You can provide your users with an in-app buyout option so that their experience doesn't hinder. With the help of the in-app checkout, you'll have a greater chance to boost your sales and profits. This is because, now, customers can place their orders without having to leave the Facebook ecosystem.
The leakage in your sales funnel will decrease as all your visitors will have a continuous experience. Once the buyers purchase a product using the checkout, they don't need to re-enter delivery and payment options.
Inventory Management
You have the option to manage your inventory from one place. Facebook Commerce Manager provides an intuitive platform for updating your inventory and providing purchase protection to all buyers.
You can get complete insights regarding your products and sales numbers without accessing any third-party platforms.
Apart from managing your inventory, you have the option to manage your business information and check out all the previous purchases and sales history.
Financial Reporting
You have complete access to the financial reporting of your business. You also have the option to save the reports offline for further personal use. Apart from that, you can also update your tax settings to manage your taxes simultaneously.
Benefits of Facebook Commerce Manager
Secure Checkouts
With online frauds on the rise, Facebook helps you connect with your audience securely, building trust while customers make payments safely.
The checkout feature provides a simple, fast, and secure purchase experience to all your customers. Your customers will be thrilled by the user-friendly experience.
Manage Bookkeeping & Monetary Exchange
Whenever necessary, you can manage and examine all your sales and purchases. You can extract foolproof reports for better financial management.
The tax management is also made easier in the Facebook Commerce Manager as the feature is designed to help out the business ventures operating on Facebook.
Customer Support
You manage all your customer queries, doubts, suggestions with ease. All the concerns related to refund, returns and replacements can be managed professionally using Facebook Commerce Manager.
Facebook also provides business owners with highly valuable resources to help them with better customer service. You'll get suggestions from Facebook to answer all the common and redundant questions that people ask related to your niche.
Control all the Privacy Settings
You have the option to allow certain people to access Facebook Commerce Manager login and manage your business information.
You can secure your Facebook Commerce Manager account with different security features that improve the security levels of your account.
Get Detailed Customer Insights
One of the vital benefits Facebook Commerce Manager brings to the table is detailed customer details.
With these valuable insights, you can better understand your customers and improve your social media marketing efforts for better results and engagements.
All the details are accurate, and you'll be able to easily check and understand the customer details through the insights provided by Facebook.
To avail of all these benefits, you need to set up your Facebook Commerce Manager account. Let's see how that's done.
How to Set Up a Facebook Commerce Manager Account?
Before you integrate your Facebook Shop, Facebook Marketing, or Instagram Shopping profile with Facebook Commerce Manager, you need to fulfill the below-listed requirements and documentation: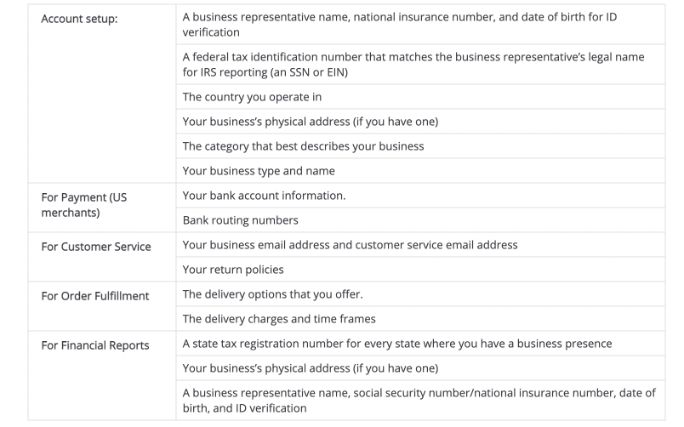 Now there are two official ways you can get on board on a Facebook Commerce Manager:
Directly via Facebook
Facebook Listing Partners
How to Set Up Directly via Facebook
Being a US-based seller, here are a few steps you need to follow:
Step 1: Go to Facebook Commerce Manager and click on the Start Selling option. Next, you need to select Get Start For Facebook and kick-start creating a Commerce Manager with checkout.
Step 2: You need to link your business page and answer a few basic questions to make the buying process easier, like:
Whether you are a US-based business or seller
Do you want to create a new business page or connect your existing page with Commerce Manager
You need to select preferences for shipping options you offer to your audience. Also, you need to enter your email address, catalog and return policy.
You need to select whether you have a building catalog or want to create a new one and add products to it
You need to connect your catalog with your Facebook business page
And then add all the shipping details, return policies, and support email
You need to link your bank account where you can receive all the payments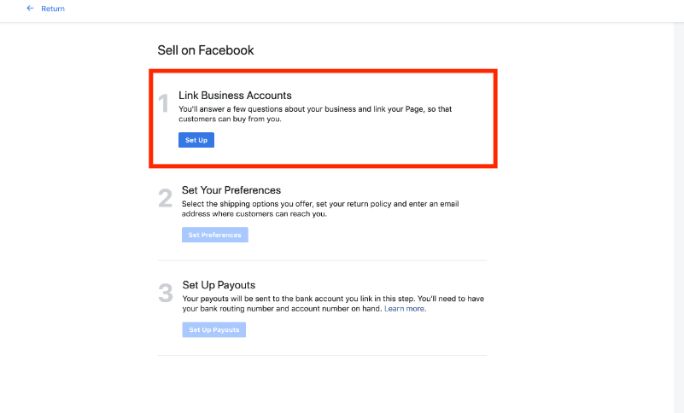 Step 3: Once done, select the send button, and the Facebook experts will receive your Facebook Commerce Manager account request.
How to Set Up via Facebook Listing Partners
You can use Facebook listing partners to easily sell products on Instagram and Facebook using a single platform. You need to configure your Commerce Manager account using a third-party application and set up your Facebook Shop.
Here's how to do it:
Open a third-party application and connect it with your Facebook account
Connect your business manager account
Select your business page
Configure the settings and improve your visibility by tweaking attributes like the material, color of your products
The application will enable you to leverage checkout on Facebook or Instagram.
You can manage your orders, customer support, real-time sync for accurate data, and product uploads to keep your customers up-to-date.
You can also enable Instagram to reach a wider audience on the Facebook ecosystem by simply connecting Facebook Shop with Instagram Shopping.
Instagram will also verify your account, and once the approval is done, you'll receive the notification.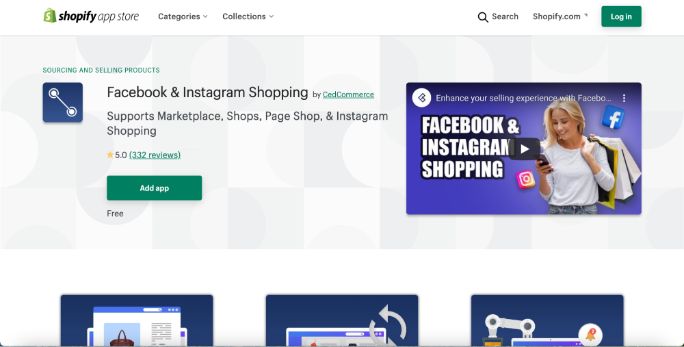 Here's an example of an app that you can use for third-party verification.
Commerce Manager for non-US Sellers
We discussed how you could set up your Commerce Manager if you are a US seller. But what if you are operating from outside the US?
Then you can simply redirect your audience towards your website or eCommerce portal by setting up your Facebook page shop using Catalog Manager or Commerce Manager.
Here's the process to do that:
Select the checkout method on your website rather than on Facebook
Integrate your Facebook business page with the sales channel you want to sell your products (like Facebook Marketplace, Instagram Shopping)
Add on your support email address
Choose a catalog or create a new one
Accept all the terms and conditions to complete the setup
With this, all your payouts will be redirected to your website because Facebook has only launched the in-app checkout feature in the US market.
It's a Wrap!
You can level up your online Facebook business with the help of Facebook Commerce Manager. Being an eCommerce brand, having a powerful tool like Commerce Manager is always a plus point for your team.
Use all the different advantages it offers to your brand and give your customers a breathtaking purchasing experience on the Facebook ecosystem.
Once you get your hands on the different options of a Commerce Manager, you'll start to experience a refined buyer's journey, and you'll attract a larger audience because of some exclusive features.
So don't wait! Outshine your competitors now.
If you need further assistance with your social media management and optimization, you can access SocialPilot, a complete social media management solution with advanced functionalities.
Get your hands on the best to become the market leader.