Your brand will get condemned to oblivion if you fail to alter your analysis based on the tools provided.
Facebook's Insights feature, which offers statistics on the best day as well as the optimum hour to publish a post, and to know which posts are working well, was introduced to assist businesses to leverage the vast quantity of data produced inside the network.
Realizing how all those data connect to your organization and the target demographic might be complicated if you are promoting your brand on Facebook.
But don't you worry!
We've curated this heavily researched article to act as the ultimate destination for any Facebook enthusiast looking for everything about Facebook page analytics features, especially pertinent to a brand's growth.
Read away!
Why Should Businesses Use Facebook?
Analytics tools for Facebook allow companies to get nearly unmatched volumes of insights into their consumers, whether it is about where they reside, their gender, what their age is, in fact, even the device that they use to log in Facebook with most frequently.
While it is up to each company to decide how they want to utilize all the data they glean from Facebook analytics, one of the most popular approaches is to employ analytical data to generate customized advertising depending on activity history and user habits.
Facebook Analytics tools may assist non-eCommerce firms to track social communications, allowing them to boost social engagement and adjust posts based on which posts worked in the past (and which didn't).
How to Perform a Thorough Facebook Analysis?
Although the Facebook Insights data associated with your Facebook company page provides a plethora of information, it is always a good idea to begin your Facebook research by analyzing your rivals.
1. Find Your Business Rivals
You would want to look at three types of posts for this aspect of your Facebook analysis routine: posts about your industrial niche, posts from your industry's rivals, and posts from yourself. If you are unsure about your competitors, use the following techniques as you conduct your research:
Look them up on Google. Look up key terms related to what your business and theirs have in common. If your company isn't local, use search phrases that best represent your industry.
Take a look at who your target audience is following. Look at the other companies that your audience follows on social media and see which ones are the most comparable to yours.
2. Conduct an Analysis of Your Facebook Posts
It is best to look at both reach and engagement data while analyzing the performance of each of your Facebook posts. Here's a rundown of what each metric entails:
Basic post data such as engaged users, impressions, consumption, and video views are shared by Post Reach
Basic engagement statistics such as engaged users, consumption, and negative comments are shared in Post Engagement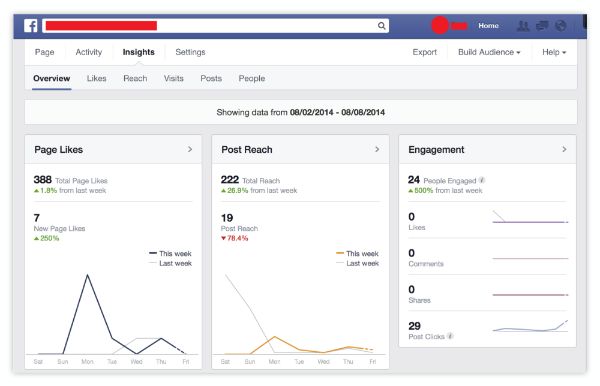 You can make use of the "Overview" tab for this as well. Within Facebook Insights, the Overview section accomplishes more than it claims.
It also provides you with the main metrics for your top five posts and a quick comparative analysis of your Page with comparable Facebook Pages, in addition to the important metrics for your Page (aka Page Summary).
The Overview tab provides insights for three main sections:
Page Summary
The Page Summary area displays critical Page data such as Page Likes, Post Engagement, and Reach over the last 7 days since the publishing of the post. It also displays graphs for the time and indicates the percentage change from the said duration.

If you want to focus on developing your Page, look at your Page Likes and Reach to see how far you've come. If you're trying to increase engagement by uploading more videos, you can tell right away if your plan is working by merely glancing at your views and post activity.
Pages to Watch
This feature is useful for determining how your Facebook Page compares with that of your colleagues and rivals. You can also keep up with what's happening in your sector or develop fantastic content for your Facebook fans by looking at the top posts of those pages.
Your 5 Most Recent Posts
This tab displays the essential details of your most recent five posts, including the date and time of publication, post type, post caption, targeting, reach, and interaction.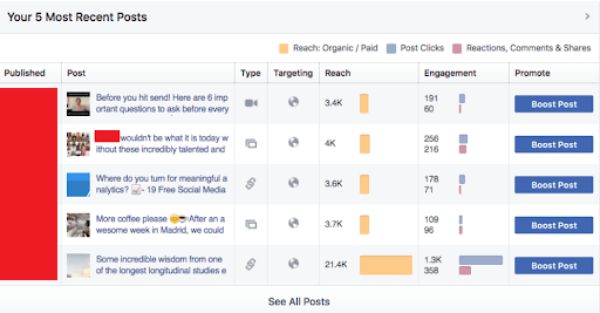 This part is useful for determining how well your most recent posts have performed, as well as which kind. You could see, for instance, that handpicked link posts surpass other sorts of posts. After knowing this, you might try publishing additional link posts.
3. Determine Your Reach and the Factors Influencing it
The Reach section of your Facebook page tells you about the factors and the post categories that influence your brand's Facebook presence. Some of those categories include:
Reactions, Shares, and Comments
Whenever some post earns any type of engagement, the Facebook algorithm shows it to more people since heightened engagement indicates that your Facebook audience is interested in it. More involvement equals better reach.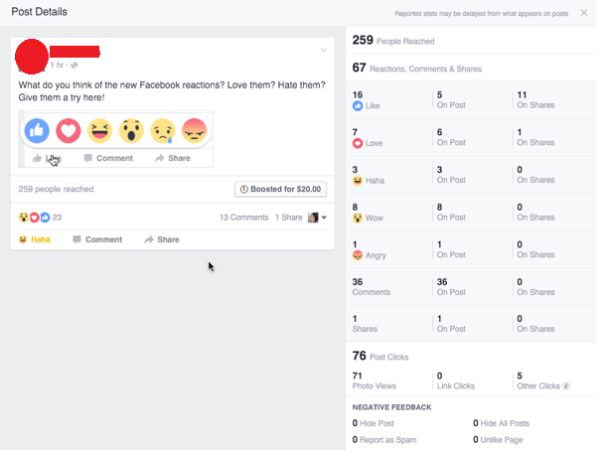 Quick tip: Set aside a date period for comparison of your posts' performances and evaluate the averages. You may choose your data range from the menu present at the top of the screen, just like in the Likes tab, and contrast the averages of each statistic by choosing each of the metrics.
Total Reach
Total reach, on the other hand, refers to the number of individuals that viewed any of your Page's activities, including posts, posts on your page, advertisements, mentions, and verification. It's a wonderful method to monitor how your paid and organic reach has grown, exactly like post reach.

For instance, the graph above depicts a post's total reach for a certain period.
Quick tip: If you prefer text-based statistics to visuals, you may use the Total Reach graph to pick a date range to show your overall, organic, as well as paid reach in a tabular style, as shown below:
Analyzing Negative Reactions
Negative criticism includes "Hide All Posts," "Unlike Page," "Hide Posts," "Report as Spam," and users can utilize them to notify Facebook that they do not want to view a Page's posts. As a result, fewer individuals will see such posts on Facebook.
It is important to keep an eye on this graph constantly since you would want to limit the negative feedback to a minimum.
Parting Words
When done properly, the data from Facebook Insights may offer you a treasure trove of information that might be difficult to go through and comprehend at first.
But, with the detailed guidance provided throughout this article, you should be able to make your way around the initial complications with great ease.
All in all, Facebook analytics cannot be taken lightly, and the more comprehensive your analysis, the better.
Speaking of comprehensive Facebook analytics, SocialPilot is one social media management tool that is well-known for its social media scheduling, post analytics, and on-platform communication features.
Its Facebook Audience Insights feature allows you to analyze your best-performing Facebook content so that you can make more informed decisions regarding your future posts.
What are you waiting for? Go for its free trial today to know more.