Have you ever used Instagram for your business? In the times we are living in, it would be strange if you have not. Today, businesses depend just as much on the communities woven around them as they do on the products & services they offer. For this purpose, social media networks have become their go-to place for nurturing a vibrant community.
Social media platforms started to connect friends and families but have evolved a lot since then, as is evident. There are dozens of social media apps in the market, vying to attract marketers to use their platforms for digital marketing and messaging.
But even with a multitude of such platforms, Instagram stands apart. With over a billion active users and a plethora of exciting features, it helps businesses like yours market their brand and effectively communicate with followers.
What's even more exciting is that 81% of people on Instagram have used it to research the products and services before deciding to finalize their purchase. That's a considerable number. It indicates the vast potential of the platform to draw an audience.
Instagram provides you with a bouquet full of features to leverage its platform's popularity to keep the audience engaged and make them aware of your brand and its products. One such useful feature Instagram offers is the option to engage directly with people through Instagram Direct Messaging or DMs, as people popularly call them.
In this blog, we'll delve into what DM is, how to DM on instagram and how it can be used to promote your brand and develop a loyal following, and an exciting tool to manage your Instgram inbox more efficiently.
What Does DM Mean On Instagram?
Instagram DM, or Direct Messaging, is a chat feature that Instagram provides users for a private conversation on the platform. Like other chat-only apps, it gives the benefits of communication privacy, message traceability, and easy future referral, making it a convenient choice for marketers to stay in touch with their customers and followers.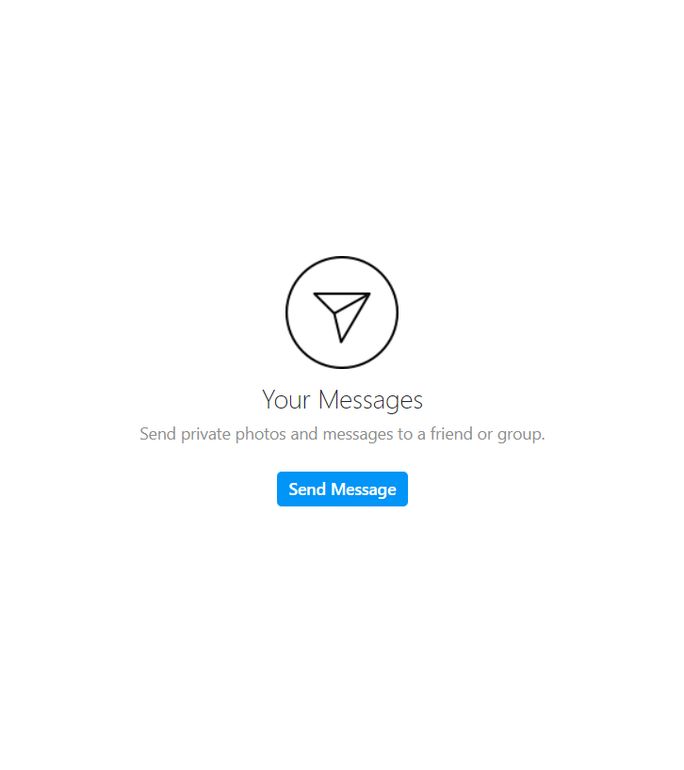 With millions of potential customers in one place and 90% of them following at least one brand account, it is essential for brands to actively use the DM feature to communicate with their followers and provide a more personalized experience to them. Brands can enhance their approachability quotient by promptly responding to DMs, something customers highly appreciate.
The only perceived limitation is that one message is the Instagram DM character limit. DMs on Instagram are limited to one thousand characters. But, that is hardly an obstacle as you can use multiple messages when your content runs beyond the prescribed character limit.
Features of Instagram DM
Even though Instagram DMs might appear akin to other messaging services, it is quite advanced if we list the conversation-friendly features it provides. With so many benefits of sending an Instagram DM online, there are a lot more possibilities inside these inboxes than people usually imagine.
Here are some fantastic features that Instagram throws right at you to give you an impeccable chat experience with your followers.
Not just text – there are pictures, videos, GIFs, voice notes, emojis, and video calls
Hi …
Hmm …
This is what most of the messages look like or would look like if Instagram DMs only supported text messages. You can obviously send text messages with Instagram DM, but that's not all you get with this feature.
Emojis are fascinating graphics that add excitement to conversations. You can use them to convey your emotions effectively, which becomes a challenge with a strictly text-only conversation.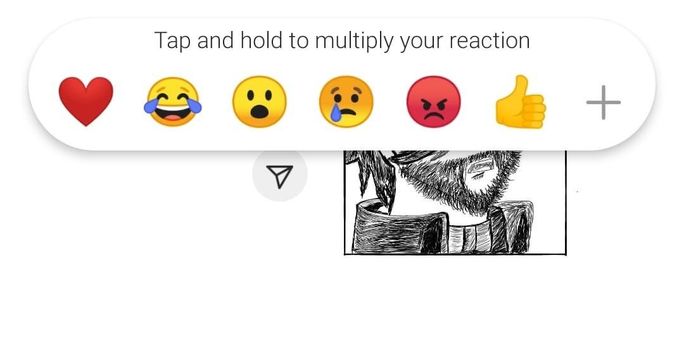 Another adorable feature of DMs is that you can also send pictures.
However, businesses often prefer to share visuals that align with their brand persona. These photos can easily be captioned or followed with a text message to make the conversation a lot more fun and informative.
You can proceed a step further to enhance customer engagement by sending videos. The key in interacting with videos is to keep them concise, engaging, and informative. As a business, you've got to mix information with entertainment to let your customers know that you are interesting.
GIFs are better at this than videos as they are crisp, funny, and offer a great way to show off your brand's creativity.
Then, there is Instagram's Video Call feature. It does away with the need of downloading another application just to get on a video call with someone. Video calls are great to provide a lot of personalization to your outreach efforts as a business. Additionally, it is an effective way to educate and train someone remotely. As the feature is available right through Instagram's DM, you do not need any additional information like an email ID or a contact number.
Recently, Instagram has added a really cool feature where you can send voice notes to people. The feature has turned out to be pretty handy for people who do not like to type a lot.
The biggest shortcoming with texts is that the tonality often gets lost. But the option to send voice notes is the perfect way to clear the air and build a rapport with your followers and customers.
The highlighted mic button in the picture below provides the functionality to send a voice recording.

Unsend, forward, and save
Have you ever sent someone a message which you regretted sending right after hitting Send? Then, frantically searched for options to somehow delete it so that the other person cannot read it?
We're sure you have done both. It happens to the best of us. Well, Instagram's unsend feature is the answer to all of our long unheard wishes.
You need to press and hold the message you want to unsend. That's when the option appears.
Then comes the Forward option. It is a valuable feature if you want to send the same message to multiple people. You can either forward your message or a message sent to you by someone else.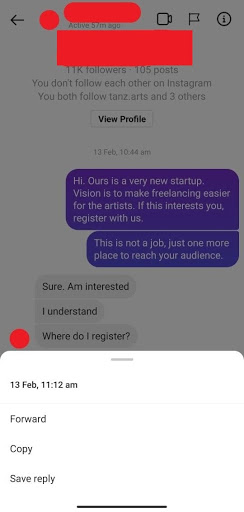 Instagram DM also has the option to save a message in quick replies. The 'save' option lets you save standard responses as templates for repeated usage. Choose a saved reply while replying to people and save your time typing similar responses.
What's even better is that Instagram allows you to create a shortcut to this message. It proves a helpful tool for businesses that often have to send the same message whenever they get enquired.
Group chat
Instagram allows you to create groups to communicate with multiple people simultaneously. It can be a group of friends, customers, clients, or service providers. You can add whoever you want, given the person accepts the invitation.
You can use the group chat feature to categorize your target audience and interact with every group in the manner you feel best. Group chat retains the element of exclusivity that is absent in comments. At the same time, it also saves your time by letting you interact with like-minded audiences together.
Embed posts
Posts and stories are a popular way to share content on Instagram. While messaging has its importance, you cannot replace posts for it. But Instagram allows you something even better. It lets you embed posts or content within a message. That way, you can deliver your content right in their inbox, giving you the option to go for a more targeted shout out for your brand.
Share Location
Just when you might be thinking that it cannot get any better than this, we have another awesome feature to bring to your attention, i.e., sharing location via DM. This is an excellent feature for businesses that have an offline store. You can simply share your location through DM for people to drop by and buy from your store.
How Can You Use Instagram DM for Your Business?
There's a lot more to Instagram and its direct messaging feature than meets the eye. It's not just about uploading posts or videos, there's a lot more you can achieve for your business with Instagram.
About 71% of businesses in the US are already using Instagram to grow their customer base and widen their reach.
Want to know the way to grow your business using direct messaging on Instagram? Well, read along to find out how it can help you achieve your business goals.
Build Connections
We are all talkers; even brands are like that. Instagram DM provides you with an option to listen back effectively from your customers. And when you respond, it lets them know that you are listening and you care. Now that is something that builds relationships.
Instagram is filled with innovative businesses and people. Any exciting business opportunity or collaboration is just a message away. Hence, it would be best if you proactively made connections over DM and promptly responded to the ones who reach out to you.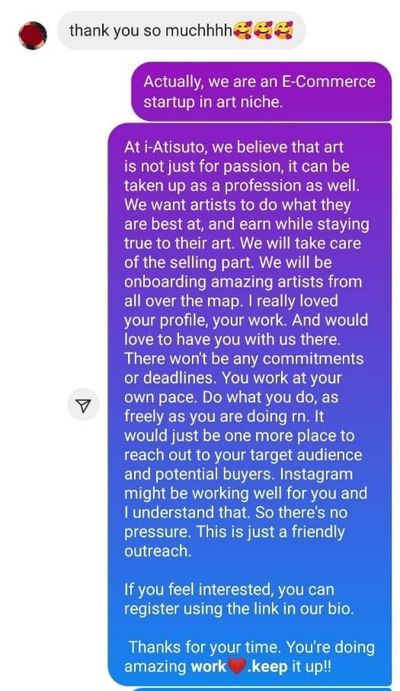 At times, people just want to talk to the personalities they admire. Same with brands they love and are loyal to. The best way to build and nurture this community is to interact with them thoughtfully and make the customers feel special instead of lifelessly communicating like the customer service representative who does not care if the customer ever comes back.
Customer support
Instagram DM is a convenient place for customers to reach out to businesses with their questions and grievances.
They might want to know about the new product that you launched. Or maybe the service guy you sent was not that good. It might be that they cannot reach your phone support service or just prefer Instagram better since they already spend a considerable time on it.
Being responsive on Instagram can actually be good for your customer service game as well. It helps you resolve queries instantly in an informal setting without the need to draft long e-mails. It also improves customer loyalty and retention in the longer run. For 84% of the customers, customer service remains a key factor affecting their purchase decision.
Grow your industry network
Instagram is full of people who are running million-dollar businesses there. If not, they are trying to. Instagram provides a space for like-minded people to come together and support each other in their journey.
People operating in a similar business niche often follow each other, build connections with private messages and collaborate to share and support each other's work. It provides them with a way to discuss their common problems and innovate solutions with creative ideas.
So, if you are stuck somewhere, you can use Instagram to build a network with your industry members who can share their wisdom with you.
Complementing your stories' game
Instagram stories are one of the most popular mediums to reach your potential customers. Over 500 million people use Instagram stories every day.
Adding a proper CTA to your Instagram stories prompts people to engage and respond. Such responses go into your DM inbox. Thus, Instagram DM helps establish communication between you and your client by complementing your Insta stories strategy.
Lead generation and conversion
Every business needs this to survive. I mean, there won't be a business if you are not generating leads and creating sales. Right?
Instagram DM has got a solution for that as well.
You must stay proactive in messaging your regular supporters to generate more and quality leads. The more you appreciate them, the more inclined they are to give you their money.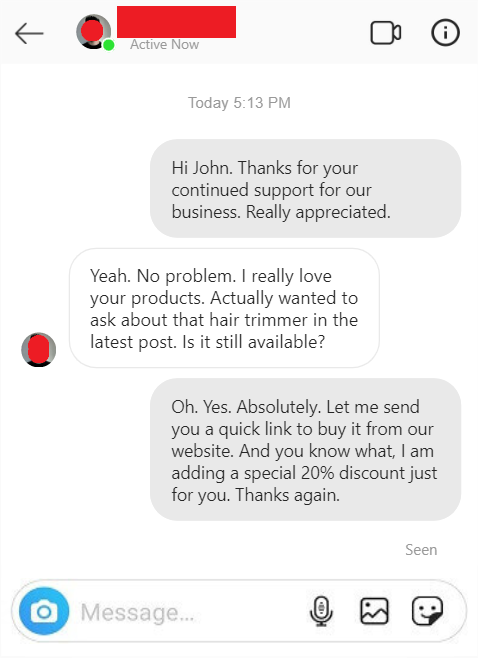 Another stream to generate sales that's gaining prominence is influencer marketing. Instagram has got a lot of influencers in varied niches. You just need to find the one that belongs to your industry and has a personality that aligns with your business. Instagram DM opens a direct line of communication between the influencers and the brands. Many influencers display messages, such as 'DM for collaboration' in their profile to invite brands to work with them.
Customer loyalty
From providing faster and more accurate support to appreciating followers, Instagram DM helps you nurture a loyal customer base that stands with you through thick and thin.
If people can message you just as easily as they can do with a friend, you are on the right track. The only thing that remains is to respond quickly and empathetically while delivering the value they expect.
If you do not want them to forget you, you need to create experiences they cannot forget. For 95% of the customers, customer experience with the business determines their loyalty towards it.
Best Practices To Grow Your Business With Instagram DM
You are not alone when it comes to running businesses on Instagram. Almost everyone is up and running with their Instagram DMs filled with business inquiries, customer appreciations and support requests, marketing reach outs, and whatnot.
The constant pressure to stay on top of the competition often makes it burdensome to handle DMs if you do not have a sound strategy for managing Instagram DMs. But, handling it well can reap exponential benefits for your business.
Here are some best practices to manage your Instagram inbox efficiently:
Appreciate loyal supporters
When someone expresses their support for your brand by following or liking several of your posts, show your gratitude. Welcome them if they are new, and cherish their support if they have been with you for a while. Tell them you are always there to serve, and they can reach out whenever they want.
This helps you build a rapport with them and encourages them to enquire about new products and services. It is the simplest way of turning a visitor into a paying customer.
Encourage feedback
Encouraging your followers to provide feedback is the hallmark of every successful brand. The feedback may be negative or positive, but you should always respond with politeness. If it is criticism, you can explain your perspective, apologize if needed, and assure improved services. If it is an appreciation, be grateful with a promise to keep up your dedication.
However, taking feedback does not mean that you just say what the customer wants to hear and forget to act on it. It rather means that you respond to their feedback through your actions as well.
Monitor performance
Have a set of KPIs for your social media team. It helps to measure their performance against the desired output and helps meet business goals. The essential part is to choose measurable metrics. It can be something like the number of messages replied to in the past one hour, day or week, or the average time to respond to a message once it hits your inbox.
Gift a product for a shoutout
Brands follow this strategy for social media influencers having a considerable following on a platform. It is best to slide in the offer for such collaboration in the DM itself.
It is good to have a pre-designed professional template for the purpose. The template should give a brief introduction of your business and explain why you are approaching the influencer. It is still a nascent stage of the conversation, but you should be a little forthcoming about what you expect from the engagement.
Such an approach is an effective method as people often take their shopping lessons from those who are famous.
Save quick replies
Having quick replies proves helpful when your business is getting a lot of similar queries requiring similar answers. The best way to go about it is to create an FAQ on the website or Instagram page. But if customers are still reaching out for the same things, the quick replies feature certainly helps.
The option can be set from the settings tab. You save each reply with its own shortcut. So, there is less confusion and a lot more customization possible with the feature.
Use Automation
There are many social media channels these days, and people just do not get enough of them. They are literally everywhere; so are the brands that want to become visible to the largest possible audience.
In such a scenario, the social media team often finds itself handling multiple platforms simultaneously. It is hard to manage all of the messages pouring in from everywhere.
Instagram's messenger API has made it easier for social media managers to handle the workload by allowing automated message responses to customer queries. Such integrations help to increase your business efficiency.
Use an Instagram inbox tool
An Instagram inbox tool is another remedy for social media managers grappling with the management of multiple Instagram clients.
Connecting on not one, but multiple Instagram inboxes with customers is a gruesome task. The best way to handle them all is to have a centralized place where you can manage the conversation of multiple Instagram accounts.
And that's what SocialPilot's Instagram Inbox feature is all about.
You can switch between all your Instagram accounts and simply reply to comments, respond to DMs, and Story replies from inside the tool.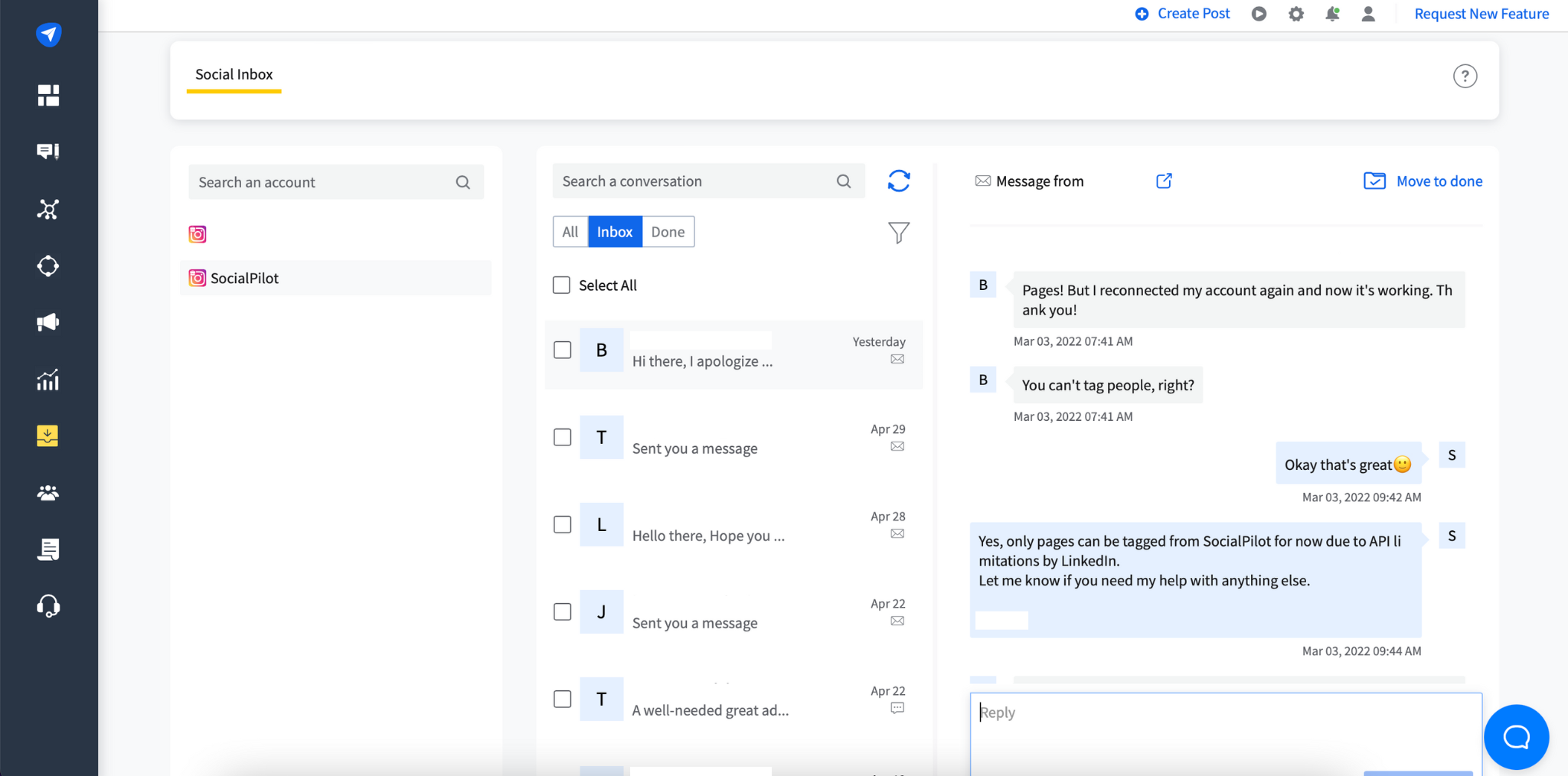 Address customer issues in direct messages only
People often use the comments section of a post to raise their issues with the service provided by a business. But we know DM is a more suitable place for such conversations for it gives an easier way to organize the conversation and follow up.
You should always try to take these customers into private messages to resolve their issues. You can request the person to DM you. You can also take the conversation to DM by dropping a message letting them know that you are concerned about their concern and privacy, and that DM would be the right place to resolve all their concerns.
DM Is The Way Forward
As we leap into the future, the generational shift is affecting customer behavior as well. Customers are no more inclined to visit brick-and-mortar stores. Instead, they are on their phones, scrolling through Instagram and buying whatever they like.
If you are a business looking to thrive in the times we are headed for, you must cater to your audience using Instagram DM online. Although creating posts is the first step, contacting the potential buyers through DM, resolving their queries, and having a little chit-chat is the way forward.
However, approaching your audience and responding to their DMs in time is extremely important. Delay in responses is not something that customers appreciate and doesn't augur well for your brand image.
You can use comprehensive social media scheduling tools to earmark a specific time in your daily social media schedule to undertake DM-related tasks. SocialPilot can provide you with solutions to effectively manage your social media schedule as well as efficiently manage your customers and teams.
Visit SocialPilot to know more about how you can boost productivity with its social media marketing and engagement features!