Instagram has long been one of the most effective social networks for businesses and marketers. Its huge base of highly active users and an interface designed to maximize engagement makes the platform particularly conducive for brands and businesses.
Most brands these days use Instagram to reach out to their audience and fans and as a result, measuring the effectiveness of marketing activities and campaigns become crucial to maximizing the marketing potential of the platform.
Detailed and insightful analytics when coupled with a well-planned social media strategy can enable businesses and marketers to grow their brands and achieve their marketing objectives.
With its latest update, SocialPilot has introduced Instagram Analytics to its platform enabling users with Instagram business profiles to measure the outcome of their campaigns and fine-tune their strategy based on what's working and what's not to effectively utilize the marketing capabilities of the platform.
The detailed analytics reports give users crucial data and insights into audience behavior and demographics, enabling marketers and businesses to better understand their audience and the type of content that derives maximum results.
Audience demographics are only available to profiles with more than 100 followers to present an accurate and insightful breakdown. Users can get crucial data about the age, gender, and locations of their audience base using audience demographics. Along with this, users also see insights about the account and the posts published on those accounts.
Other data available with Instagram analytics include online follower activity heatmap, post analytics, post-performance table as well as hashtag performance. Users can also view their Instagram Story analytics which by its very nature can only be viewed 24 hours after the story is published.
To enable Instagram Analytics in their account, users would have to authenticate their Instagram profiles added on SocialPilot with their Instagram account. On requesting authentication, SocialPilot will match the profiles added by the users to the ones verified by Instagram and present an option to users to replace existing profiles with the verified ones.
Users can then view Instagram Analytics for the verified profiles directly from their SocialPilot dashboard.
Here's a short video showing the process of profile authentication and Instagram analytics.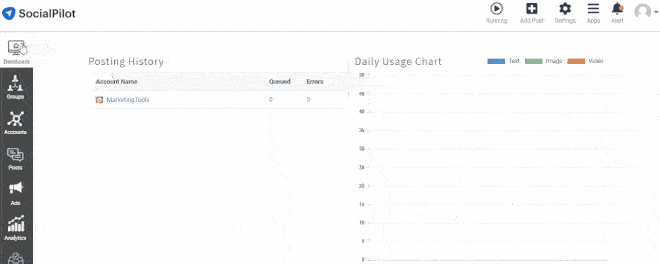 To learn more about Instagram Analytics and how it can help you optimize your strategy for higher growth and engagement, read The Ultimate Guide For Using Instagram Analytics.