One of the giants that are constantly attempting to turn the corner for brands and businesses is, yes, you guessed it right, Instagram.
With over one billion active users, Instagram is a preferred choice for brands and businesses.
According to Instagram, 90% of Instagram users follow at least one business account, 2 out of 3 people admitted that Instagram helps them interact with brands, and 50% of people admitted that Instagram increased their interest in a brand when they saw its ads on the platform.
Phew!
Just having a business profile on Instagram is no longer sufficient to establish credibility.
Besides content, interaction, good reviews, good-quality images, videos, and transparency, there is another crucial element that determines whether users will trust your brand, and that's the Instagram Verification Badge.
Getting that oh-so-coveted Instagram Blue Tick next to their name is one of the long-term goals of every influencer and business profile on the Gram.
After all, this tiny blue tick is a symbol of validation and authenticity, and holds immense value.
The Instagram verified badge indicates that people can trust your brand, products, services, or recommendations if you are an influencer. Precisely for this reason, getting Instagram verification or earning a verified badge on Instagram is not as simple as ABC.
In this blog, we'll cover how to get verified on Instagram so that you can enhance your credibility and get more customers for your brand.
What is Instagram Verified?
Instagram defines a verified account as an account that is the authentic presence of the public figure, celebrity, or brand it represents. The Instagram verified badge does not endorse or recognize public figures or brands. The verification badge appears in the form of a blue tick mark. The blue check can be viewed on the profile or can even appear in search.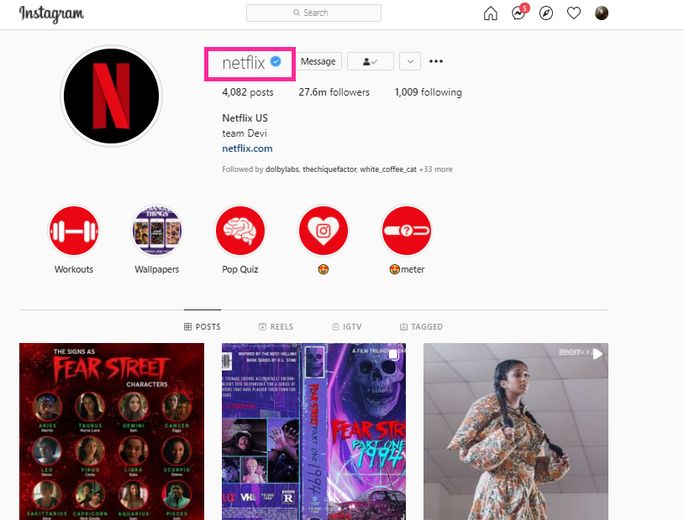 Through the Instagram verified badge, people can discover the genuine accounts of brands, influencers, public figures, and celebrities. The verified badge shows authenticity and not authority or subject matter expertise. Once you earn the verified badge, you cannot transfer the verification to another account or change the username.
What Are the Benefits of Getting Verified?
You need your account verified as quickly as possible to prevent someone from creating a fake profile using your brand name. Let's look at the benefits of having Instagram verified features.
A verified badge distinguishes your profile from those of fake profiles using your name. If someone searches for your profile on Instagram, they'll immediately recognize your real account if they see the blue tick next to it. This will prevent you from losing a potential following to fan-based or fake accounts.
Increases brand credibility. Being verified on Instagram boosts your brand's trustworthiness. Getting a blue check is a key to ranking at the top of Instagram search results for terms related to your account name. Accounts with verified status are always ranked higher than accounts without verified status. Since less than 1% of Instagram accounts are verified, having the blue badge on your profile demonstrates your brand's value and authenticity.
Insta-verification affirms that you are worth following.
Often, verified profiles are granted access to new features earlier than others.
Extends your brand's exclusivity. Being verified for your account makes it exclusive because Instagram doesn't verify all accounts.
What Are the Prerequisites to Get Verified on Instagram?
An Instagram verification request is thoroughly scrutinized by the platform. Several factors are weighed to check if the account complies with the verification yardsticks.
Instagram has officially announced a list of prerequisites your account must attain to qualify for all the Instagram verified features.
Authentic: Accounts/profiles must represent a real person or a registered business.
Unique: Profiles/accounts must reflect the unique presence of the individual or business. General accounts do not get verified.
Complete Profile: Accounts/profiles must have a bio, a display picture, and be active when applying for verification.
Public Account: Accounts/profiles that are public can take part in the verification process. Verified badges cannot be awarded to personal accounts.
Distinguished Profile: Accounts/profiles must be of a person or brand that several news sources mention or are often searched online. In case you are new to the business and want a verified badge, then you need to ensure that your company has mentions in several online media, ranks high on Google results, and has a decent following.
Refrain from using any inaccurate or evasive information to get verified. Should Instagram spot any such discrepancies, it has the authority to remove the verified badge and even suspend your account.
How to Get Verified on Instagram: Step-By-Step Instructions
If you submit a request for a verified badge, it is not guaranteed that you will receive an affirmative response. If your request for a verified badge is denied, you can submit another request after 30 days. Following are the steps to request a verified badge on Instagram:
Step 1: Log in to the account you wish to verify.
Step 2: Go to your Profile.
Step 3: Click on 🖹 this sign.
Step 4: Then tap Settings.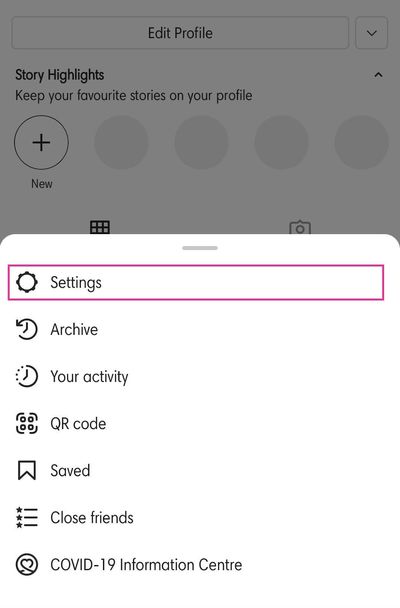 Step 5: Click on the Accounts option.
Step 6: On the accounts page, you will find the Request Verification option. Click on the Request Verification.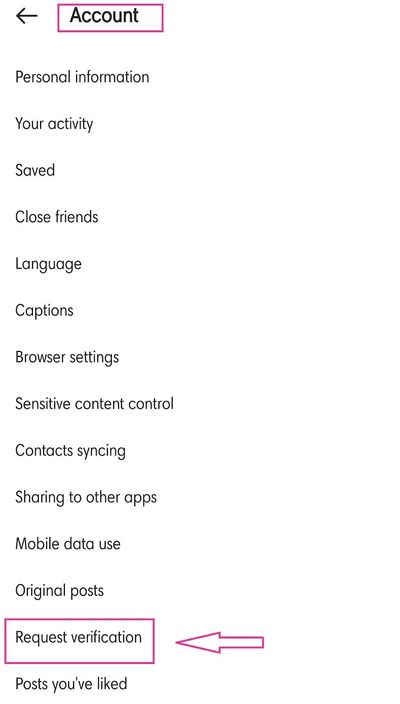 Step 7: This will lead you to the verification page, where you will find a form to Apply for Instagram Verification.
Step 8: Fill in the required information like your username, full name, category or industry, and links to some of your content.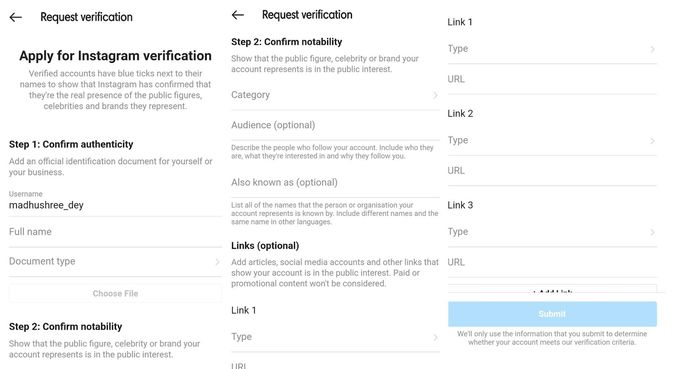 Step 9: Click Submit.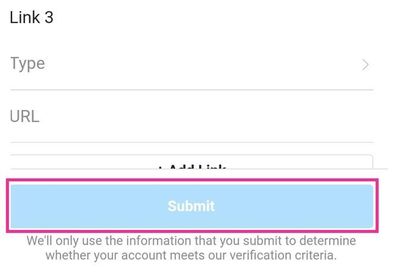 The information will be used by Instagram to determine if your account meets its verification criteria.
What Happens After Requesting Verification?
You might wonder how long it takes to get verified on Instagram after sending the request.
Verifying your account does not happen instantly after you request it. It takes a few days or weeks for your account to be verified.
After the request is submitted, moderators examine your profile or account to see if it meets the prerequisites, and then decide whether to approve the verification badge.
It may take weeks for your application to be reviewed, so don't get discouraged if you don't receive a response within a few days. Because of rising fake accounts and awareness of this issue, Instagram does not send mail regarding verification, nor do they contact you personally.
Within 30 days, Instagram authorities will inform you whether or not your account is verified through a notification in your Activity. The Activity section of the app lets you see notifications. Just tap the heart icon to view the notification.
In case of rejection, a new request can be submitted after 30 days.
Reasons Why You May Lose the Verified Badge
The Instagram verified badge is yours in perpetuity once you're verified. However, there are conditions under which you can lose the blue badge. Listed below are the reasons that can cause your verification to be lost:
Provide false information to Instagram when submitting your information for verification. You will unquestionably be rejected, plus your account could also be suspended.
Try to transfer your verified badge to another account.
Verify your account using a third party.
Promote other services using your profile picture, bio, or name section.
Switching your account from public to private frequently.
Use practices that infringe Instagram's terms or community guidelines.
Hacks to Quickly Get a Verified Badge on Instagram
Here are some practices to ensure you get your verified badge without any delay. Take a look!
1. Honesty Goes a Long Way
Don't feed Instagram incorrect information to get the blue checkmark. Doing so might prove fatal for your brand's Instagram account. Provide your real name along with authentic government documents and information about your business when completing the verification form.
2. It Is Not a Good Idea to Buy a Verified Badge
Instagram is strictly against paid verification badges. This is why Instagram neither charges you for verification nor does it contact you for verification. Therefore, you should be careful if you plan to purchase badges or get them through third-party apps. Also, steer clear of DMs or emails claiming to offer you verified badges for money.
3. Remain Active
Maintain an active Instagram account and make the most of it. Keep posting engaging content that generates interest among your audience. By engaging your audience with your posts and using relevant hashtags, you will appear in the Explore tab, increasing your chances of being discovered by non-followers.
Utilize carousel formats, reels, stories, highlights, TVs, and so on to keep your followers engaged. IG moderators may look for regular posts on your profile.
Juggling content quality and a consistent posting schedule when you are managing multiple social media accounts for clients is not an easy feat. But you can choose to make things easier by going with an Instagram scheduling tool.
SocialPilot fits the bill completely, enabling users to create, schedule and publish from a single dashboard. Customize all your content into aesthetic Posts, Stories, or Reels to be Insta-ready and publish them directly without any hassle.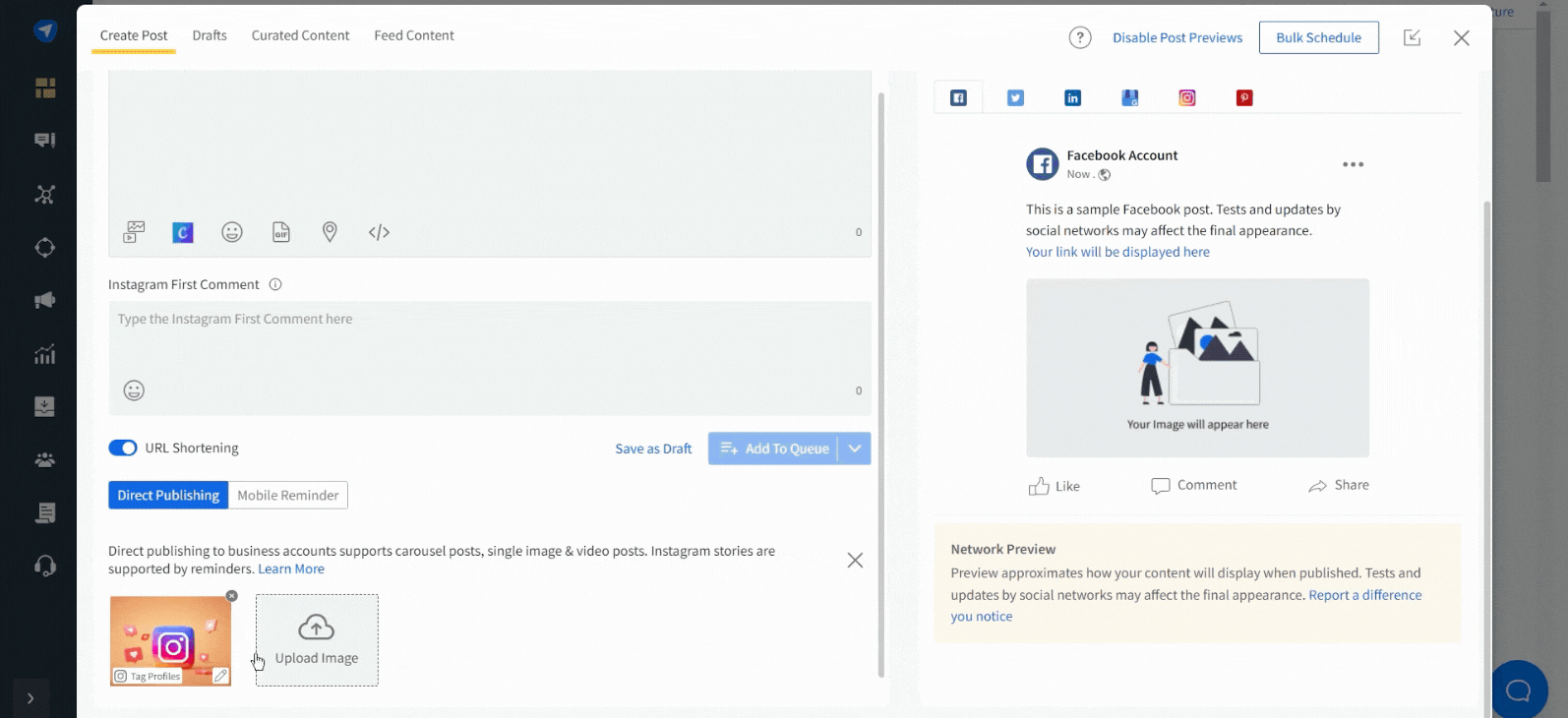 4. Be on the Lookout for Fake Accounts
Social media platforms are dominated by fake profiles that represent prominent personalities or businesses. If you are the real brand or person, Instagram will be delighted to verify your account. Ultimately, verification's stated purpose is to distinguish between authentic and fake accounts.
5. Build up a Good Following
The next part is tricky. Although Instagram has not specified a specific number of followers an account needs to have to apply for verification, the number of followers does matter.
While some accounts can get a verified badge with just 7000 followers, others do not, even with 278K followers. Nevertheless, having a decent number of followers lends credibility to your account. Focus on creating quality content, engaging your followers, and gaining more interactions. Avoid buying followers.
6. Don't Include Other Social Media Links in Your Bio
Providing links to your other social media accounts in your bio is the last thing you want to do to get verified on Instagram. The Gram won't like that. Links to your websites can be shared, but not to other social media accounts.
7. Build Buzz Around Your Brand
According to Instagram, you must be a well-known or well-searched brand or personality to get a verification badge. Though being well-known might seem demotivating for startups and influencers, make sure that you create enough buzz so that you become well-searched online.
Mind you, PR games won't work with Instagram. Instagram carries out its own research, and based on that, you receive the badge.
8. Make Sure Your Profile Is Complete
Complete your profile before applying for verification. This is one of the first things you need to do. Your profile should include a bio and a display picture. Post regularly on the platform and remain active.
9. Don't Give Up
If your first attempt at verification is rejected, you can reapply for verification after 30 days. If you work on these pointers, things will work out for your account. Just double your efforts.
Lastly,
10. Do Not Violate Instagram's Guidelines
This is a no-brainer. If you want to get verification from Instagram, you cannot infringe its terms and conditions or community guidelines.
Wrapping Up
Verification adds more credibility to your Instagram account and draws more users to follow your account. Besides earning the verified badge, it is also important to plan your content strategy and consistently publish posts to grow your Instagram audience effectively.
One way to achieve this is by using a content calendar for planning your content strategy. Content calendar gives a broader picture of your future Instagram timeline and helps you schedule posts to maintain consistent engagement with your followers.
To know more about content calendars and scheduling tools, try SocialPilot and learn how its tools can add an edge to your marketing operations.