You must know of some brands on social media that are doing awesome and have made it to the list of your favorites.
Now, if one day you find an inconsistency in their tone of replying to the comments or the posts they share, wouldn't you find it a little strange?
You might even consider unfollowing the account, right?
That's how dangerous it could be if the collaboration in your social media team is not up to the mark.
A social media team has a lot on their plates. From approving the content, scheduling the posts, having a consistency in the tone or strategy to finding the content in an inbox filled with hundreds of work emails.
Is there a way to make this collaboration seamless?
Absolutely.
With the help of social media collaboration tools, your team can strategize, assign tasks, approve the content, generate content ideas, create a content calendar, share files and do so much more.
Let's look at the best tools for social media team collaboration.
The Top 9 Social Media Collaboration Tools
What if you need to give selective access to some members of your team to work only on specific accounts? Or you wish to create different levels of access such as manager, digital marketing head, content creator and so on? Or that you need to create a seamless workflow to ensure no content goes unchecked?
All of this and so much more is possible with SocialPilot. The best part about this tool is that you no longer need to worry about utilizing different tools for your various social media requirements. SocialPilot has it all so that your team doesn't have to keep juggling between multiple tools.
From bulk scheduling to detailed analytics, this is one of the best tools for social media collaboration.
Managing and collaborating on all your social media platforms like Facebook, Instagram, Pinterest, Twitter, VK, Tumblr, TikTok becomes easier with SocialPilot
Features of SocialPilot:
Delegate everyday tasks to your team.
Grant selective access to analytics reporting and social inbox.
Shorten all your URLs and share them on your social media platforms.
Create customized posts for individual social media platforms.
In-depth social media analytics can be used to analyze and document your social media performance.
Strategize and organize your social content with calendar
Get new content suggestions with the content curation feature
Bulk schedule your content and upload up to 500 posts
Create and schedule visually attractive posts
Manage multiple client accounts hassle-free
Access all page conversations in one place and leverage the power of social inbox.
Set approval workflows in team collaborations for seamless work
Utilize Canva integration in SocialPilot and create best designs.
Reach your ideal customers by targeting the right audience.
Advantages of using SocialPilot:
You can invite interns or freelancers in your team and review the content before it goes for publishing.
You can encourage your team members to add more social media accounts even without giving them full admin access.
No errors and misunderstandings take place as every member stays on the same page through SocialPilot's social calendar
Luis Ignacio C.
Carrying the social networks of several companies at the same time, without the perfect tool, is a task that can end in a complete disaster. That is why, after using SocialPilot, I can say with confidence that it is the best option for small entrepreneurs and for consolidated work teams that seek to offer a better service.
JoAnn J.
I discovered Social Pilot after reaching my frustration threshold with several other social media scheduling platforms. Several were difficult to navigate; some were not responsive. So relieved I discovered SocialPilot!
Laurent W.
Excellent : I tried a few other such tools (buffer, socialchamp) and SocialPilot is the best in terms of how easy it is to schedule posts for 1 or 2 months in advance. I could feel that a lot of thinking was put in making very repetitive tasks easy to perform, which is the most important for such tools.
---
While Slack isn't necessarily a tool for social media management, it works amazingly well as a collaboration tool. It can be used for all of your project needs like adding your social media team, creating different channels to share files, assigning tasks and collaborating. You can also send group messages or personal messages and conduct voice or video calls.
Pros:
You can integrate Slack with over 1000 tools such as Dropbox, Salesforce and Zendesk.
Everything stays in the same place in Slack so whenever you need something, you just have to do a basic search for it.
Teammates can share interesting links to generate content ideas and offer different perspectives.
Akhil
Teams can collaborate and communicate across remote locations. The ease of sharing of documents, code, images, etc is very good. Everyone working in the team can connect their software, services, and tools.
Cons:
There is a learning curve if you need to set everything perfectly, especially for people who are not tech savvy.
The mobile application needs a lot of improvements.
Sometimes, the search function faces a little issue and it turns out to be time consuming especially if you have a large organization.
Dipak K
A little complicated when you use it for the first time. Sometimes the app doesn't show notifications on mobile. Need to open the app and see the updates or any new messages.
---
Do you need to share too many work emails just to get your hands on one edited document? Or has it ever happened that you needed to post on Facebook urgently and you posted an older version document? If yes, then Google Drive is the tool your business should be using. You can store files, documents and images in it.
Pros:
You can access everything from your mobile and even edit something if you don't have a laptop nearby.
You don't have to save things. All the changes you make can be seen by your team in real-time.
Many integrations are available that you can use and tie it to other apps and services.
Somnath B
The integration of Google drive with other Google products such as Gmail, Google Docs makes it pretty resourceful. The ease with which documents and files (big or small) can be shared is much appreciated. Also the encryption and security features makes it even more tempting to use for all the official and personal document storage needs at one place.
Cons:
There is a storage limit so if you have to upload many files, it could turn out to be quite costly.
Apart from storage, no other social media requirement is fulfilled which could be a great downside for your team.
You'll constantly require an internet connection and it takes a long time to download or upload files which could turn out to be time consuming.
Pawan J
One of the facts I dislike about google drive is that it uses a lot of data to upload these files and the speed of upload is very slow if the files are large.
---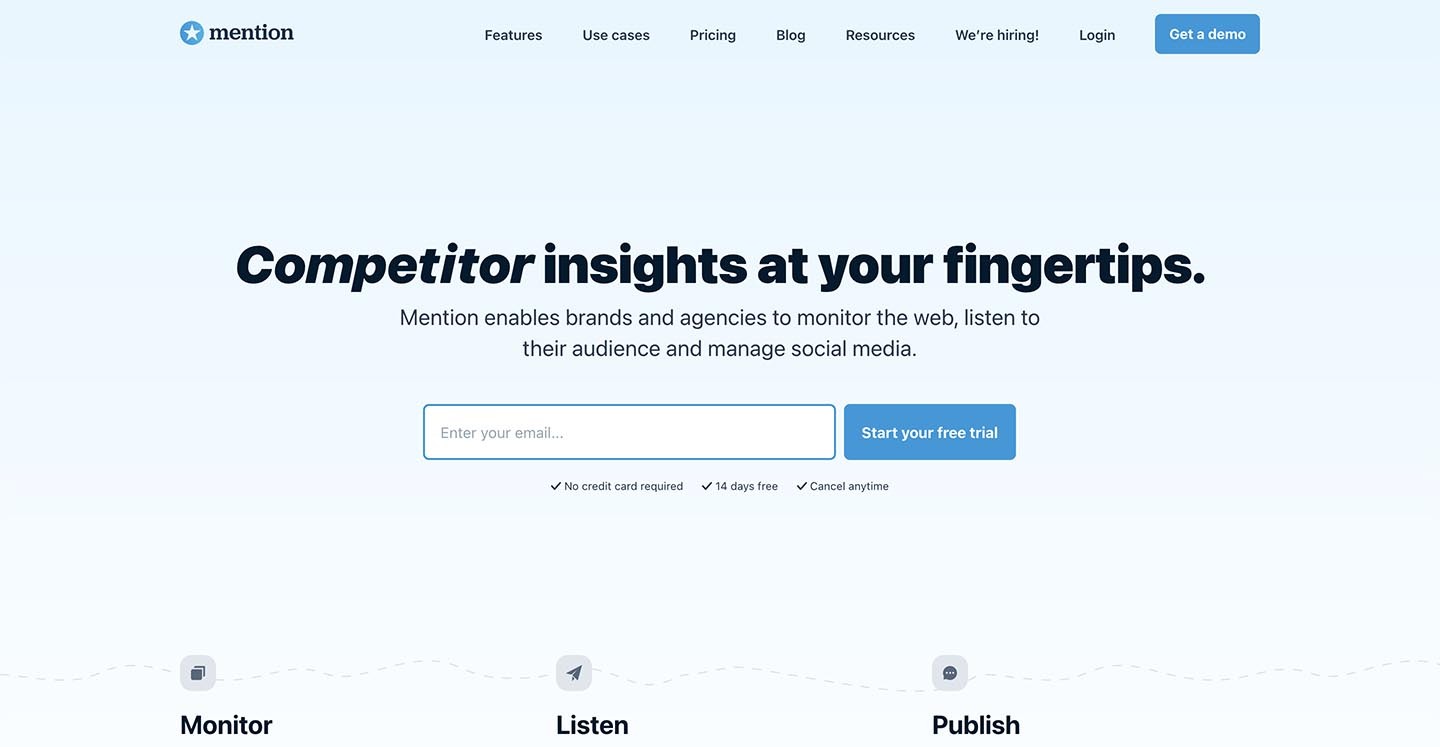 Mention is a unique social media collaboration tool that allows you to listen in on what people are saying about you. It could be quite cumbersome for you to search everywhere your brand has been mentioned and that's why Mention is the tool to have for your social media team. It gives full access to your team members to listen to your brand's mentions all across the internet and then split up tasks accordingly.
Pros:
You can choose to monitor or block specific sources and web pages from your search to get you better results.
It helps in easy collaboration by dividing work responsibilities. For example, someone could take care of all Twitter mentions, some could work on Facebook mentions and so on.
You can also schedule your posts in advance.
Zee G
We used it when we first founded our business and we wanted to track the mentions around the Internet. We really enjoyed it because you don't have to continuously google yourself (or your brand), instead, the mentions (especially when your brand name is somewhat unique) are coming to your inbox.
Cons:
Since they're based in France, some users state that they have to wait until the next day to get a response and the quality of the support isn't that great.
Sometimes, the results shown are not that accurate and you may have to go through a lot of unwanted content.
The price is too high especially for small businesses and businesses that are just starting out.
Verified reviewer
My personal suggestion – never, never turn to their support team. It's an absolute waste of time. Check guides, experiment yourself, you might figure it out. The support team will only get you upset and you'll feel yourself the most unvalued customer ever.
---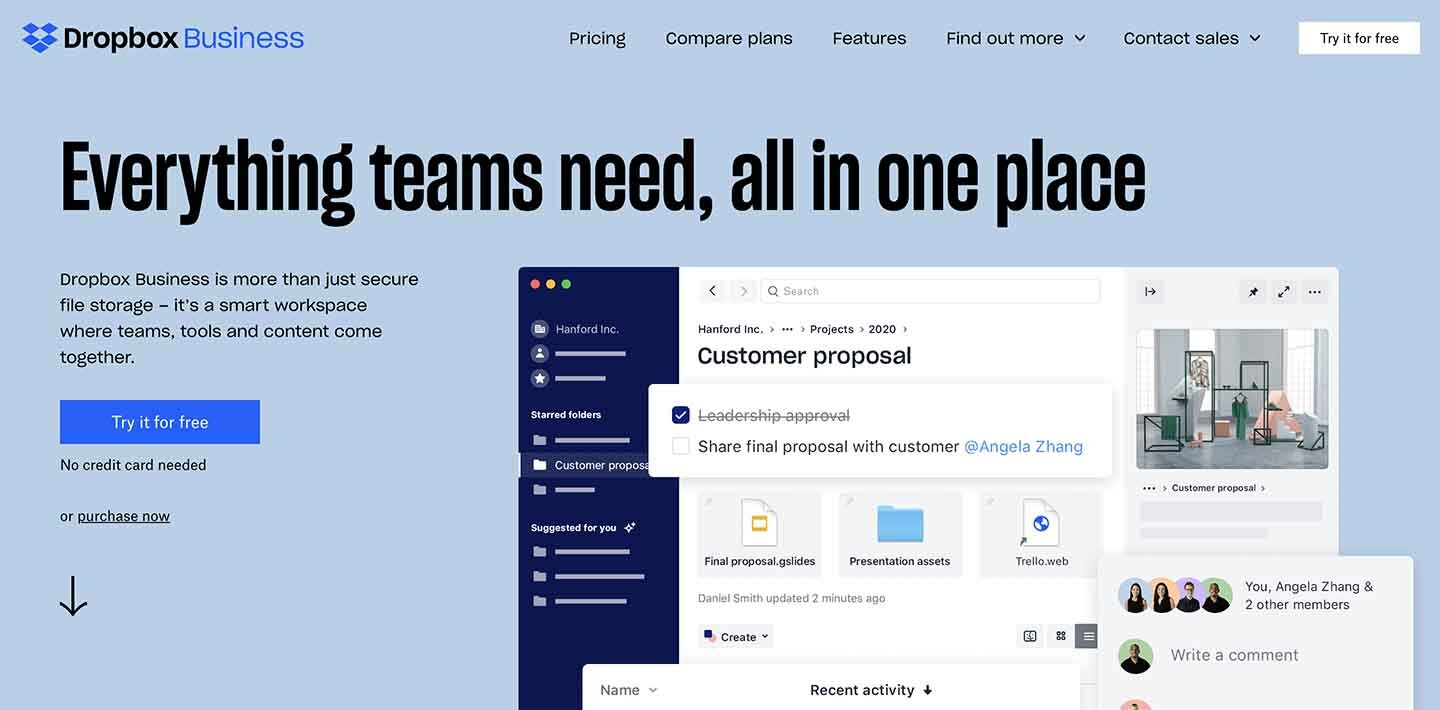 Dropbox is a social collaboration tool that allows you to share large files with anyone, anywhere. You don't need to send multiple emails for that or keep calling someone. You can use it for sharing a plethora of files such as images for Instagram, strategy spreadsheets, videos, presentations and more. The folders and files shared through Dropbox makes you feel as if you and your colleagues are working from the same desktop.
Pros:
You can recover deleted files and also restore previous file versions if needed.
You can password protect your links and set expiration dates to grant temporary access.
There is an insights dashboard which you can use to monitor team activity, audit external sharing activity and view connected devices.
Rachel H.
Overall, Dropbox Business was very helpful for our events. All users of the program could easily access the files, and got the hang of the program quickly. There were hardly ever any issues with the files and we could always share important information with ease.
Cons:
As the price is user based, it could turn out to be quite expensive for big teams considering that no other social media management features are available.
File conflicts have been experienced by users and it takes too long to upload files especially if you don't have a high-speed Internet connection.
There isn't any way to edit files online which could be frustrating.
Verified reviewer
They don't have plans suitable for small business. I used Dropbox for a few years. I had the 2TB plan, but only used 350GB. I asked Dropbox for a smaller plan, but they didn't have a smaller than 2TB plan. I was paying way too much for space I wasn't using.
---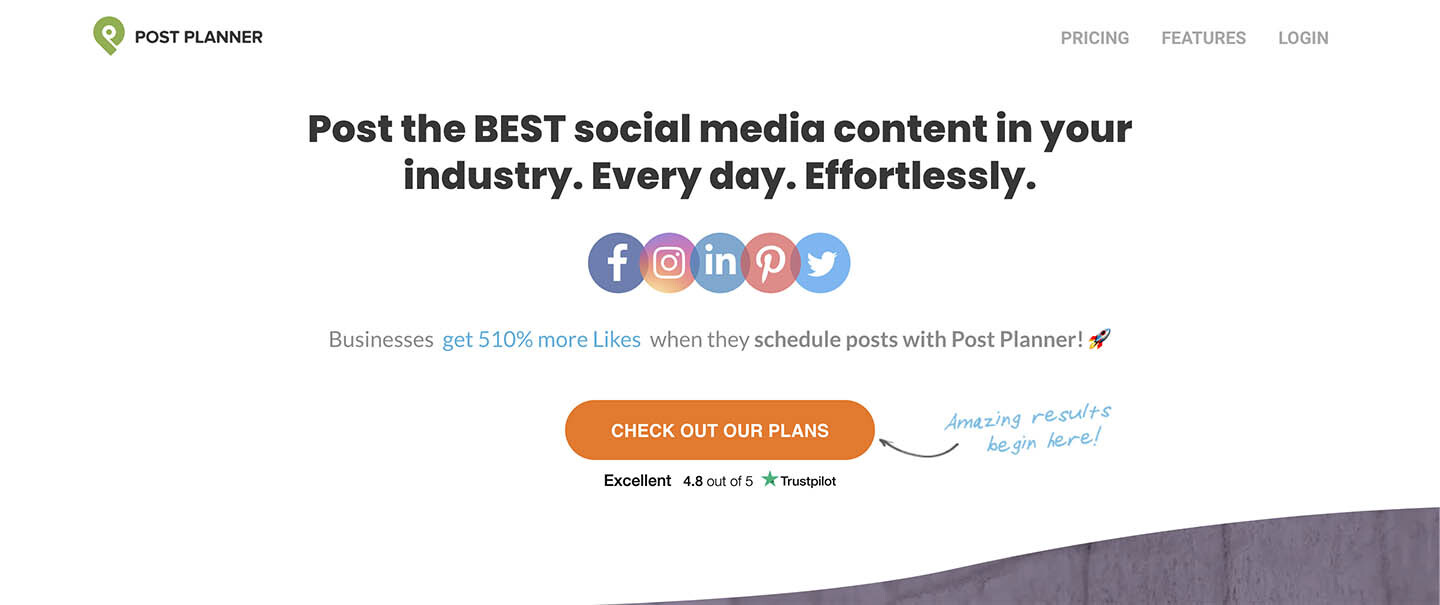 Do you assign post scheduling tasks to someone on your team and still find that sometimes it gets forgotten? Or maybe you are finding it difficult to figure out which kind of posts work best on Facebook? These are the two worries that Post Planner helps you easily solve. They have a content engine where you can find the best content in your niche that will bring the most engagement.
Pros:
They have a full image library to pick from for your social media posts.
You can organize and store your favourite content sources so you can always find new content for your pages.
They have thousands of status ideas pertaining to different categories such as questions, deep thoughts, family and pets, trivia, etc.
Verified reviewer
This simple app has helped our business grow. The search provides us with interesting, relevant new content each day so that we post more, and more widely, with more likes and retweets.
Cons:
The content search feature is limited and it only searches for the content that has the search keyword in the title.
It only caters to Facebook and thus could be quite costly to use for your business.
Many users have faced billing issues and trying to cancel the account because of this issue is tough.
Russ S.
Once they have your credit card they make it very difficult to cancel. The automated cancellation process does not work and even though I cancelled by email they still debited my card a year later and refused to refund.
---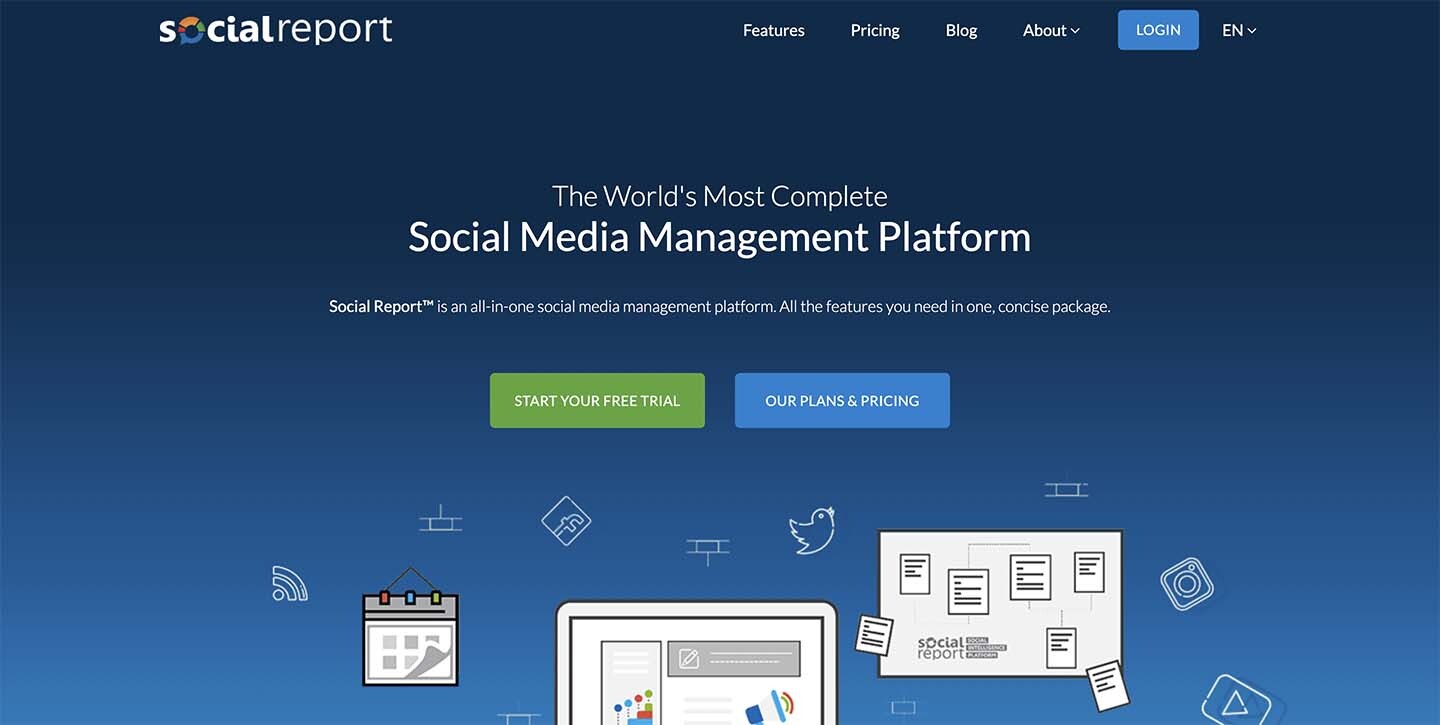 Social Report is an all-in-one social media collaboration tool. It has several collaboration features like adding team members, assigning specific user permissions, setting a publication workflow where you can check others' posts before they are scheduled or published, see how other team members are performing like how many comments they've responded to and so on.
Pros:
You can publish across multiple platforms with customized content for each social media channel
You can design the text, links and media in your posts to make your posts more appealing.
Posting schedules can be designed taking into consideration the platform, content category and frequency.
Colleen T
You can really get ahead on posting to your social media pages.I was able to draft many posts on Twitter, Instagram, Facebook, and LinkedIn well in advance and also at optimal times or times I wanted them to be posted.
Cons:
There is a learning curve involved especially for teams that are just getting started with social media.
The mobile application doesn't have as many functionalities as compared to their website and sometimes, many bugs in the tool are seen.
The support team isn't that great according to many users and your queries may take a lot of time to get resolved.
Verified reviewer
It does the job. I am fine with it, but it definitely isn't the best out there. The system is buggy and customer support is almost non-existent.
---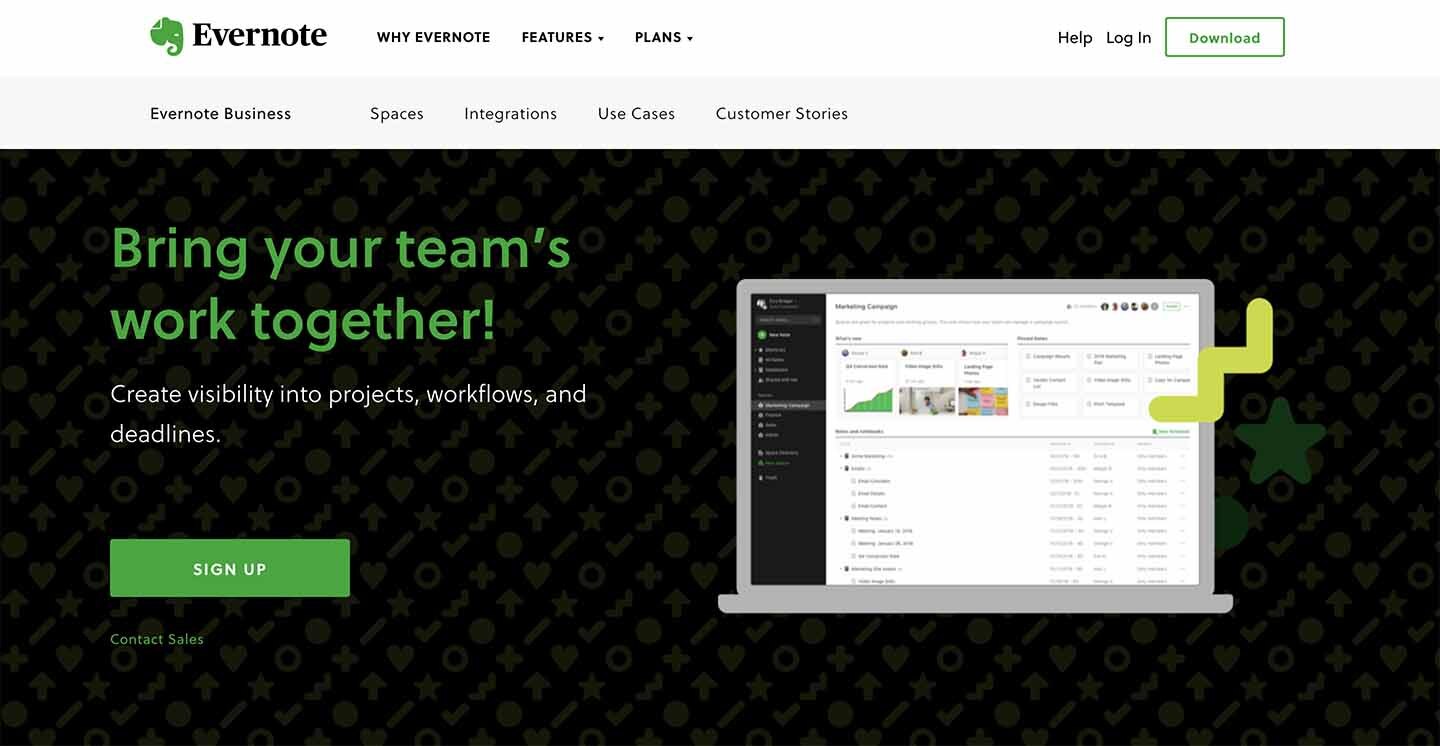 Evernote Business is not the same as Evernote. It can be one of the perfect collaboration tools for social media teams to strategize and share content within the team. You can also collect materials, information and ideas and have it all on a single platform for everyone to see and read. You can also track and manage all your different work projects over here.
Pros:
With many integrations in store, you can streamline your team's work and make sure nothing slips out of notice.
All your documents can stay stored in here and it can become your team's central document hub.
They also have offline access so you can work even when your internet connection has gone on a vacation.
Verified reviewer
I like that this integrates seamlessly with a lot of things. One integration is with Google, where when you are doing a Google search for something, it will look through your notes to see if this topic has been in your notes anywhere.
Cons:
Document editing is available only while using the desktop app.
They do not have many features as compared to the other tools available.
The tool starts getting expensive if you have a lot of members on your team.
Maisarah H.
Evernote Business is not the cheapest digital notepad software in the market, and there are more software that are providing the same feature with less expense.
---
Huddle is a general collaboration software and can be used for your social media collaboration. You can collaborate with anyone from your internal team to your clients and partners. Assigning tasks, setting approvals, automatic version control, comment streams, this tool has it all.
Pros:
The dashboard shows real-time activity stream of document and user activity and thus you can easily check outstanding tasks and approvals.
You can set permissions and access to only include the concerned individuals.
Gregg L.
This certain product helps me to easily make connections with my teammates and also with the people inside my organization. Apart from this it helps me to access all the documents and also to set permissions whether a particular person can view or edit the document or not is now completely under my control.
Cons:
It can be quite overwhelming in the start as it can take a while to get acquainted with all the features and how to make use of them.
The content calendar is something that is lacking in functions and options.
Nikolaj M.
A better calendar functionality to help track partners schedules and an easier way to invite more than one person into the workspace is needed.
"Collaboration is multiplication" – John Maxwell
It's the age of social media and it is quite evident by the fact that almost everyone's mobile phone these days has at least a couple of social media applications in it.
Businesses can make the most out of this opportunity provided they have a team where improper collaboration doesn't ruin the efforts they put in.
That's where social media collaboration tools come in. Not only will they handle the extra work responsibilities for you but they'll also make work fun and not stressful.
SocialPilot is the tool you should try and see for yourself how efficiently your team can handle the many tasks they always have on their plates.
Activate your free 14 day trial period now.