As a digital marketing agency, generating leads is critical to the success of your business. Leads are potential customers who have shown an interest in your services and products, and they are the lifeblood of your agency. Without a steady stream of leads, your agency may struggle to grow, attract new clients, and generate revenue.
With the increase in the digital marketing industry, the challenge to reach out to leads is also increasing. With so many agencies vying for attention, it can be tough to stand out and capture the attention of potential customers.
So, what do you do? How do you attract more clients to your digital marketing agency?
Our comprehensive guide will provide you with actionable strategies and tips that you can use to get more leads for your digital marketing agency.
Let's dive in.
9 Tips on How to Get Clients for Digital Marketing Agency
It is reported that 53% of marketers spend 50% or more of their budget on lead generation.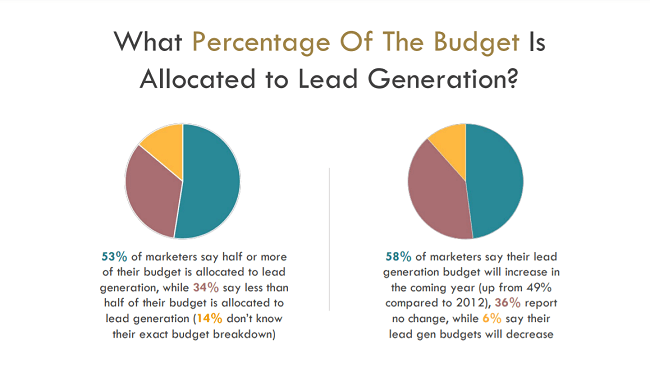 Understanding your competitors' strengths, weaknesses, and overall marketing approach is crucial. This makes it the best mechanism to differentiate your approach and attract more leads.
Competitive analysis will help you identify gaps in the market that your agency can fill and areas you can improve. It will reflect what works and doesn't work well in your industry and inform your marketing decisions.
In other words, by considering the types of clients your competitors attract, you can gain insights into the preferences of your target audience. This will help you tailor your marketing messages to better resonate with potential clients and differentiate your agency from the competition.
With that in mind, let's look at some strategies on how to get clients for digital marketing agency.
1. Know Your Target Market
Every successful marketing strategy starts by defining the ideal target persona. This begins by researching your ideal client based on their industry, company size, geographic location, and marketing goals.
In marketing, everyone tries to do the same thing as you, so catching the right audience's attention requires understanding it first. Market research will allow you to learn about your audience.
Knowing your target market involves creating customer personas, which are fictional representations of your ideal customers.
Create personas representing your target market's unique characteristics by researching your target audience's demographics, behaviors, and pain points. You can then use these personas to inform your marketing strategy, messaging, and content creation to better resonate with your audience and attract more leads.
Once you have defined your ideal client persona and conducted market research, you can create a customized approach that speaks directly to them.
2. Present Yourself as an Expert in Your Industry
As a digital marketing agency, you want potential clients to see you as an authority in your field. By positioning yourself as an expert, you can build trust and credibility with your target audience and increase your chances of attracting more leads.
To present yourself as an expert, you can create high-quality content demonstrating your industry knowledge and expertise.
According to a survey conducted by the Content Marketing Institute, 91% of B2B marketers use content marketing to reach customers, and 86% of those surveyed consider content marketing a key strategy for lead generation. This indicates that creating high-quality content is an effective way to attract leads and generate business.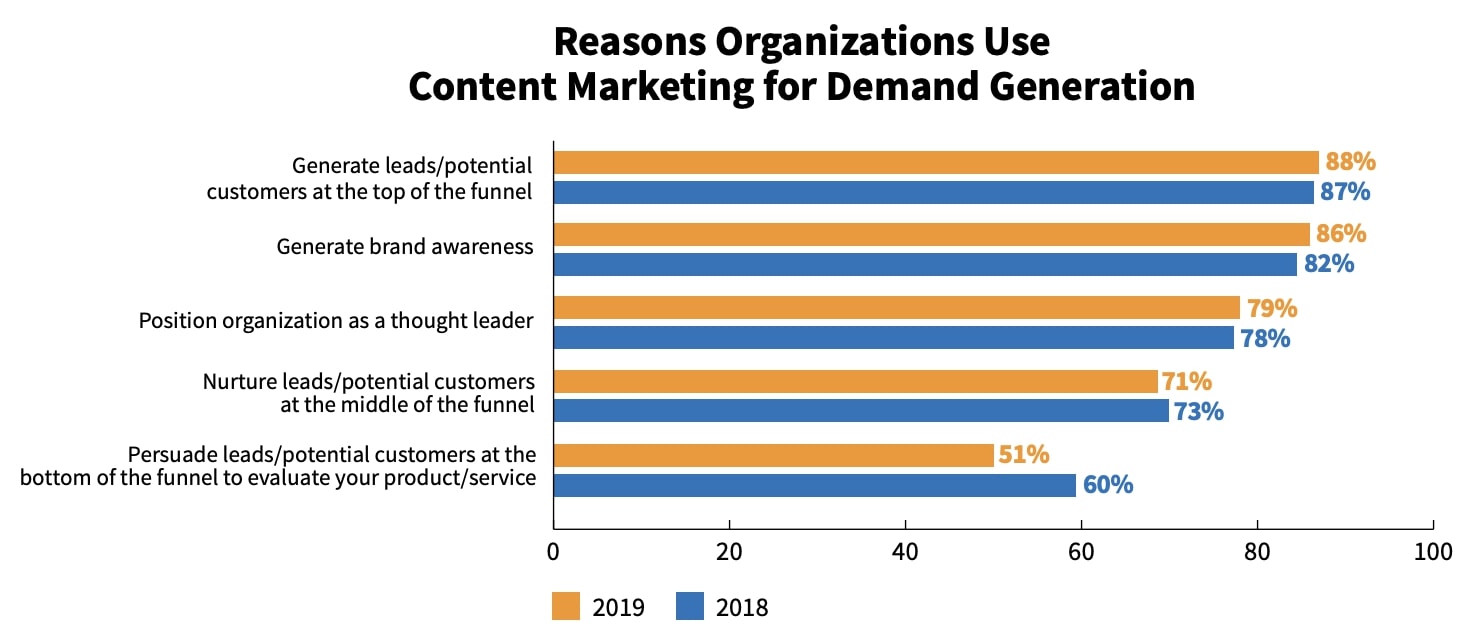 You can start by writing blog posts, sharing them, and networking with industry professionals. Within the first weeks, you will notice an increased engagement and interaction between the audience.
You can also participate in industry events, webinars, and podcasts, where you can share your insights and expertise with a wider audience.
Another strategy that works is joining online forums related to your services to share them with interested and experienced people. Not only can you learn from experts, but you also can get inspired for upcoming projects.
Networking with other professionals broadens your reach and allows you to speak one-on-one about your knowledge in the field. Thus, being active on various communication platforms gives you more opportunities to become a respected professional in the industry.
3. Develop a Strong Social Media Presence
Social media is a powerful tool for reaching and engaging with potential clients. Though time-consuming, a strong social media presence has great advantages and can help you attract more leads and build your agency's brand awareness.
To do this, identify the social media platforms most relevant to your target market. This may include LinkedIn, Twitter, Facebook, or Instagram, depending on the demographics and interests of your target market.
Once you have identified that, start creating and sharing relevant and valuable content with your target audience. Additionally, engage with your followers and other users on social media. This can include responding to comments and messages, participating in industry conversations and hashtags, and sharing and commenting on relevant content from other users and industry thought leaders.
With consistent activity and influential content that resonates with your target market, you can build relationships and connect with potential customers, who can become future clients.
4. Create a Website for Your Agency
A well-structured website is a great way to showcase the agency's professional journey and highlight the successes of previous clients. It also serves as a central hub for your agency's online presence, helping potential clients find and learn more about your services.
In fact, a study by BrightLocal found that 97% of consumers searched for a local business online in 2020, with 87% reading online reviews for local businesses. This highlights the importance of having a website that is easy to find and includes positive reviews and testimonials from satisfied clients.
Here are a few potential benefits of creating a website for your agency:
Increased visibility: A website can make discovering your agency online much easier, and this, in turn, can help attract more leads and potential clients.
Improved credibility: A professional-looking website can help establish your agency's credibility and expertise in your industry, further boosting potential clients' trust in you.
Better lead generation: A well-designed website makes it easy for potential clients to learn more about your services and contact you, which can help increase lead generation and sales.
24/7 availability: A website that is available 24/7 would mean potential clients can learn more about your agency and services even outside of business hours.
Your website can feature client testimonials, project portfolios, certifications, and more.
5. Invest in Digital and Social Media Marketing Tools
Digital marketing tools can help streamline your agency's marketing efforts, increase efficiency, and improve the effectiveness of your campaigns.
According to a study, businesses that use marketing automation to nurture leads experience a 451% increase in qualified leads. By automating the lead nurturing process with tools, agencies can generate more leads and improve the efficiency of their marketing efforts.

Digital marketing tools, like SEO and social media management tools, are a powerful way to drive organic engagement with your business.
SEO tools allow you to analyze and optimize website content, understand how people interact with your website, and track what content drives the most traffic or leads from search engine results.
Social media management tools help businesses post on various social platforms and track performance. With these tools, your business can work smarter, not harder—allowing more efficient use of time.
Speaking of social media management tools, SocialPilot is a great social media management tool for digital marketing agencies due to its user-friendly interface and affordable pricing. The platform allows agencies to manage multiple social media accounts from a single dashboard, providing an overview of all social media activities.
Additionally, it offers content customization, post-scheduling, analytics, and engagement tracking features. SocialPilot also offers cost-effective pricing plans that cater to small and large businesses needs. This reliable and efficient tool can help agencies streamline their social media marketing efforts and improve their clients' online presence.
6. Hold Industry Events and Meetups
Holding industry events and meetups is a rewarding experience for business professionals. These events allow you to network with like-minded people and even possible clients in your field. It provides a platform for showcasing your expertise and sharing your insights with a targeted audience.
They are usually informative and insightful opportunities that can teach you something relevant and new about the industry you're working in. For this reason, many successful entrepreneurs make attending industry events part of their routine.
Furthermore, organizing or participating in industry events and meetups can help position your agency as a thought leader and gain valuable exposure. This increased exposure can lead to new business opportunities and help build relationships with other professionals in your industry.
7. Offer Free Consultations or Demos
Many digital marketing agencies use this strategy to engage potential clients and introduce them to the benefits of their services. Doing so makes customers believe that you're willing to invest time in them before they commit to any purchase and also gives them a sense of what it would be like to work with your agency.
Additionally, offering free consultations or demos can help you stand out from competitors and give you an edge in the marketplace. By showcasing your skills and knowledge, you can convince potential clients to choose your agency over others in the field.
Free consultations or demos can be offered virtually, over the phone, via email, in person, and even over video chat – whatever works best for you and the prospect. This extra step can make all the difference when converting prospects into paying customers!
8. Leverage Referral Marketing
Referral marketing is a cost-effective and powerful form of marketing to attract new clients. It's a known fact that word-of-mouth marketing is very effective, as people are likelier to trust recommendations from friends and family than businesses. By building strong relationships with your clients and delivering excellent service, you can turn them into advocates for your agency.
According to a study by Nielsen, 92% of consumers trust referrals from people they know. This highlights the importance of referral marketing to build trust and credibility with potential clients.
Establishing partnerships with integral businesses is a great way to expand your referral network. You can tap into their existing client base and generate new leads.
For example, if you specialize in SEO services, you could partner with a web design agency or a content marketing firm to offer bundled services to clients. This is a win-win situation for both businesses, as it allows them to provide clients with a more comprehensive suite of services and generate new business through referrals.
9. Cold Outreach
Cold outreach includes reaching potential clients with no previous relationship with your digital marketing agency. It is an effective strategy to target clients you believe could benefit from your services but have yet to show interest in working with you.
To execute an effective cold outreach, it's important to research your prospects thoroughly.
To understand them better, look at their website, social media profiles, and other relevant online information. Once you know their business and needs, you can personalize your message to make it more relevant and confidential. This involves highlighting their needs and how your agency can help solve them.
Did you know: Personalizing email subject lines can potentially increase open rates by 50%.
Following up is also key to effective cold outreach. Remember that just because someone doesn't respond initially doesn't necessarily mean they are not interested. A follow-up email or phone call a few days later can remind them of your offer and increase the chances of a response.
However, it's important to approach cold outreach strategically and avoid spamming potential clients with unsolicited messages. Always focus on personalization and relevance, and tailor your outreach efforts to your target audience's specific needs and pain points.
Conclusion
With so many digital marketing agencies, standing out from the crowd and getting clients is a real challenge.
However, if you start planning now and focus on building a strong foundation based on the tips we have provided above, you will have a higher chance to succeed in 2023.
By implementing a comprehensive lead generation strategy encompassing various tactics, digital marketing agencies can achieve sustainable growth and success in a competitive industry.