As a content marketer, how does your blog publishing schedule looks?
Do you concentrate on writing more content and still not getting enough results?
Well, then it is time to concentrate on evergreen content.
Pros who are in marketing for some time now have known more about evergreen content. They also swear by its vital role in a part of any website in today's day and age.
Undoubtedly, it is a known fact, and many renowned blogs prove it. For example, Ahrefs increased its traffic for up to 200K visitors per month, relying on the evergreen content strategy.
Amazing! Isn't it?
Evergreen articles can be your most significant source of targeted traffic, but only if you choose topics wisely and maintain it properly.
Here I will share with you how to create content that will last long and how to keep it up-to-date.
What is Evergreen Content and Why it is Important?
The specific kind of content that never goes out of date is called Evergreen, just like those trees that never lose their green leaves.
Evergreen articles contain information that stays relevant and useful to readers throughout the years.
But, you should be careful as not all topics that seem to be Evergreen will always include evergreen content.
Let's check a couple of examples.
"How to lose weight" – this topic will always stay Evergreen because people will always search for tips to stay fit.
"Bitcoin price" – this particular one is a trendy topic with high search volume. But will the content you create on this topic be Evergreen?
The answer is "No."
There can be no evergreen article around the "bitcoin price" topic.
People will still be interested in knowing the latest bitcoin prices. Although, the article that you created around this topic a week ago will not be relevant today. Simply because of the dynamic nature of the bitcoin market.
So in our case, we will be talking on creating evergreen content specifically. And it will mostly be centered around the evergreen topics.
The reason why this kind of content is highly significant is simple.
Take a look at this image below: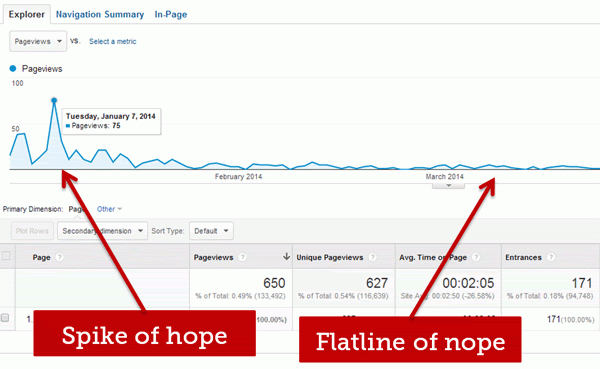 It's the screenshot that Rand Fishkin from Moz shared a long time ago. It shows the "life cycle" of almost any average article.
You see the "spike of hope" the first day when you publish your article and then there's a "flatline of nope" when people lose interest in it.
Evergreen content helps you to overcome this vicious cycle.
It also helps:
Do less work. It doesn't mean that you don't need new posts. But it will save your marketing budget by a lot, for creating content that gets more traffic.
Get stable traffic. Google won't rank outdated content. That's why evergreen content that gets regular updates and shows the most recent and relevant information is your best choice to attract stable traffic year after year.
Picking The Right Topics for Evergreen Content
Remember! Keyword research is the base of good content.
To find topics for evergreen content, you need to focus on keywords that show a stable popularity and traffic trend.
But first, a few words about the searcher's intent.
It's defined as the reason behind a searcher's query. We must understand what a searcher expects to see in the SERP and create the content that perfectly matches those expectations.
But how do you know about your searcher's intent?
Start by exploring your audience on social media groups and online communities.
Ask for their feedback, and listen carefully to what they ask you. Regularly check what they ask in support chats to learn their issues and what bothers them the most.
Here's how to separate the chaff from the grain and choose the keywords that ensure stable traffic flow.
1. Check The Keyword Search Volume
Search volume doesn't equal high traffic, you know.
But it's still a vital metric for evaluating the topic potential. Many people still use Google's Keyword Planner for checking the keywords.
I suggest you not to do it.
Because it is Ads-focused and groups keyword volumes, so it is hard to assess their potential.
Just take a look at the image below: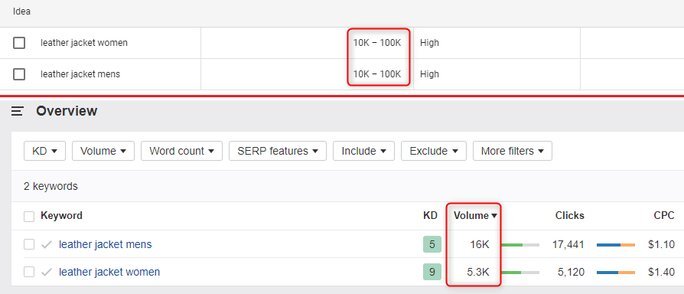 What do you analyze?
Let's dissect the image shown above.
The below image with the heading "idea" is from Google keyword planner. It shows grouped volumes for both keywords (10K – 100K). Does that help?

Definitely, No.
You have to found the exact search volume of the keywords.
By leveraging advanced keyword research tools (I used Ahrefs Keyword Explorer for the screenshot above) you can find their exact values with minimum deviation. (16K and 5.3K respectively).
Here is how it looks?

So use your favorite keyword research tool that shows you the search volumes you can trust and try to figure out their search potential.
What's next?
Double down on this activity, get more keyword ideas, create engaging and informative content, and build backlinks.
End Result – Find your content in the top-ranking pages.
If you notice getting good traffic, this might be the right keyword for the evergreen topic.
2. Check-out Topic Trends
When you have a list of potentially "Evergreen" keywords, it's time to check if it's trending over the internet as well.
Yes, I mean, you can check your keywords and topics in Google Trends to cherry pick and discard:
Topics with a declining trend – discard them
Seasonal topics – don't take your chances
The graph in Google Trends should provide you with a piece of evidence that the topic doesn't lose its popularity over time.
But be careful with so-called "seasonal" topics.
Take a look: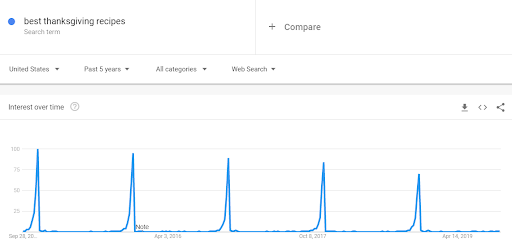 The topics like "best thanksgiving recipes" or "best snow boots" show prominent spikes each year during a specific period.
It's because the popularity of these queries falls for specific dates or seasons only.
You might be getting some traffic to your content on these topics around these dates, but what will you do the whole year after?
Hence, choose the topics that will show a stable trend throughout the year, without abrupt rises and falls.
Check for the declining trends too as they won't bring you as much traffic as they did from the start and may even fade away soon. E.g., you may notice that the trend for "pokemon go" is declining to almost flatline during the recent few years.
Moreover, it might not be the best topic for creating Evergreen content piece.
And don't forget the search intent of your potential reader.
If it's unclear or trends seem to change very often, it's not a good fit for evergreen content.
Although, all metrics will convince you of the "freshness" of your content. Google may read it as irrelevant to what people are actually looking to find and push you down in the rankings.
Let me share a little trick on how to check the topic for stability.
You may check ranking graphs in Ahrefs Keywords Explorer for their volatility which means that rankings will jump around the graph in the "colorful" pattern like that for "dog food" on the screenshot below: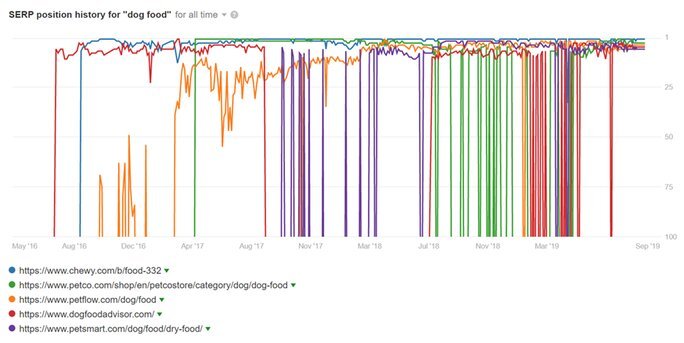 Compare to the "buyer's journey" topic: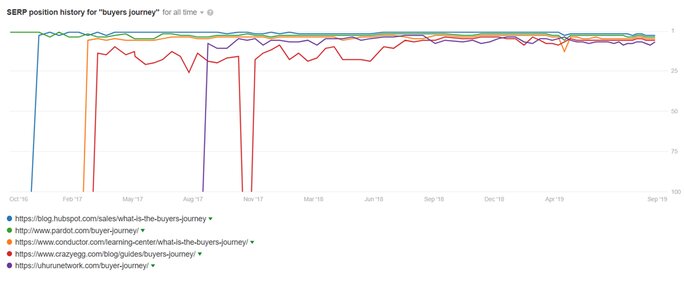 The topic "dog food" has high volatility when it comes to the search intent and hardly fits for creating evergreen content around it.
So when you see such trends for the topics in your list, you might consider some other ideas to target.
How To Create Your Own Evergreen Content
The real-easy step here and the most apparent recommendation, at first sight, is to understand carefully; Google is aiming at users, not marketers.
In short, write for your audience not for the search engine.
Google shows the content that's best for 'Users.' That's why you need to aim to publish only the best quality content.
Furthermore, especially for the Evergreen content pieces, your content should be the best possible choice today, tomorrow, and likely many years from now.
You should choose the type of article that fits your topic the best.
It seems that the most useful types for evergreen articles are:
How-to's: Such articles explain how to do something like a step-by-step tutorial or comprehensive guide. The right way of showing users how to reach their goals with the use of your product/service.
Expert's opinion: If you are not an "expert" in some arena, it's always good to "borrow" expertise from others. Such articles attract users with the level of authority and unique advice that is difficult to find anywhere else.
List posts: It's one of the most common types of content and the easiest to create. However, there's a risk of getting into too many shallow articles and have no real value for users.
FAQs. These articles are must-haves. You can gather the most often-asked questions from your customers and create a few articles upon those cases.
To get and maintain your high place in SERPs, you need to aim at 10x better content than others offer. Thus your chances of ranking on the first page of SERP (or even getting to Top 3) increase 10x.
To be 10x better than other, your content should meet the following requirements:
High quality: It's not only the quality of a written text. Check if it's appropriately formatted, has overall structured, subheadings and bullet lists, quality images to illustrate the points.
Value: Check if your article gives actionable advice that anyone can perform as it describes. Also, make sure your content solves the actual problem announced in the headline.
Authority: You should know the niche and the topic you're writing about with proper data to back-up.
Uniqueness: No one wants to open the guide and read the same old tips that everyone else is sharing on the Web during recent years. Make sure that your content offers something not-so-obvious but practical to your readers.
*Tip* Don't shy away from seeking inputs from your engineering team. At SocialPilot, our engineers share some useful insights in our audience behavior and the way they use our product.
Update Your Evergreen Content
Quality evergreen content keeps getting traffic not just because you've made it that way. It still needs revisions and facelifts from time to time.
Don't just publish it and forget it.
One of the key ranking factors on Google is the freshness of the content.
Even minor changes to your content may be a good signal to Google that your content is fresh.
Thus Google re-crawl your pages more often. Take a look and the Organic traffic graph for this article about the anchor text:

You may notice that it started dropping somewhere in February 2019. But after some updates done in February, the traffic went up again and still going strong.
Here's what you may do in terms of revisions and improvements of your content:
Track the rankings: It's not sensible to check your Google Analytics every morning and take action on every slight drop. Here's the thing: see if there are other keywords that you could use for your content (for new subsections).
Compare your content with the articles that leapfrogged you in SERPs. Why did it happen? What are their advantages, and how can you improve to gain your spot back?
Refresh the contents. Check your article and spot its weak points like old stats, dates, old images, and processes. Also, check for outdated or broken links and remove them or set redirects. If it makes sense to rewrite the title (not the URL slug) and meta-description – do it.
Build links. It's a never-ending activity. Links are admittedly one of the ranking factors in Google, so the more backlinks you've built – the better the content may rank. Try to reach out to more influencers and present your content. But make sure there are people you haven't reach out to with the previous version of the article.
Don't forget to promote the new content with your audience on social and your blog subscribers.
Bottom Line:
Should you consider creating evergreen content?
Well, if you are publishing 10 – 15 blogs per month and not getting enough traction, then it is time you consider creating evergreen content.
Do you know, over 72 million blogs were published on WordPress during June 2020?
I agree, creating evergreen content requires more time and effort. But it also rewards you with more stable and targeted traffic that may result in conversions.
Now, once you are done writing your evergreen article, don't sit back and relax. Your work has just begun. Keep on updating it with the latest information. It is undoubtedly faster and easier to update the evergreen piece than create a new article from scratch and get traffic to it. Keep on sharing it on your social media handles timely to drive traffic. There are plenty of tools like Meetedgar that can help you post your evergreen stuff timely.
How do you create and maintain evergreen content? Let me know in comments.