In the dynamic digital era, establishing a commanding online presence is paramount in the hospitality industry.
Social media has evolved from a platform for casual interaction to a game-changer for hoteliers aiming to skyrocket their occupancy and revenue.
Not only can it amplify your brand visibility, but it also holds the potential to fuel direct bookings and amplify brand awareness.
In fact, as per a recent study by Arrivia, nearly one in three travelers seek their next vacation ideas on social media. Particularly Gen Z and millennials, a whopping 60% and 40%, respectively, turn to social media for travel planning.
So, if you want to attract more guests to your hotel, strategic social media marketing is key.
Dive in to learn how to do hotel social media marketing.
Why Hotel Social Media Marketing is Essential in 2023?
As we navigate through 2023, understanding the importance of hotel social media marketing is more crucial than ever. In this section, we'll delve into why social media marketing is a must-have strategy for hotels in the current digital landscape.
1. Role in Decision-Making
Now, more than ever, the journey to the hotel lobby begins with a swipe of the thumb.
Today's guests are not just searching; they're exploring, imagining, and discerning, all through their social media feeds. They look for a blend of stunning visuals, stellar reviews, and a sense of connection, all forming the heart of social media engagement.
So, hoteliers, it's time to ramp up your social media content marketing game and maintain an engaging presence that entertains and attracts them to stay at your hotel.
2. Direct Communication and Engagement
Social media platforms aren't just a stage to showcase your hotel's charm but a platform for two-way communication. They dismantle the traditional wall between a hotel and its guests, creating an open and immediate line of communication.
The ease of direct messaging allows guests to quickly ask questions, make special requests, and even book directly. This opportunity to interact allows hotels to show off their customer service chops in real time, enhancing the overall guest experience.
Take The Ritz-Carlton, for example; their prompt and personalized responses to guest queries on their Facebook page are a brilliant display of their digital marketing strategy.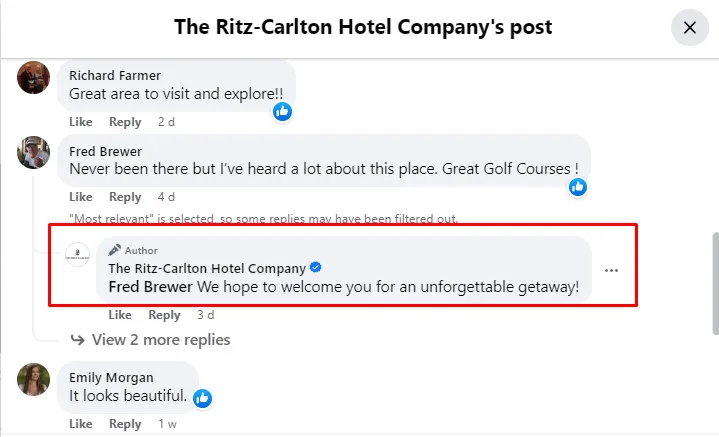 This practice also aids in their online reputation management, making guests feel valued even before they've checked in.
3. Brand Visibility and Awareness
Social media channels are your digital billboards, offering your hotel a golden opportunity to flaunt its brand brilliance to an audience far surpassing the reach of traditional marketing channels.
An engaging Instagram post flaunting your hotel's tranquil spa or a vivacious tweet about your bar's signature cocktail not only showcases your distinctive amenities but also brings your brand's narrative to life.
For instance, check out the Ace Hotel group's strategy on Instagram. They skillfully spotlight their diverse properties by intertwining professional photos and user-generated content.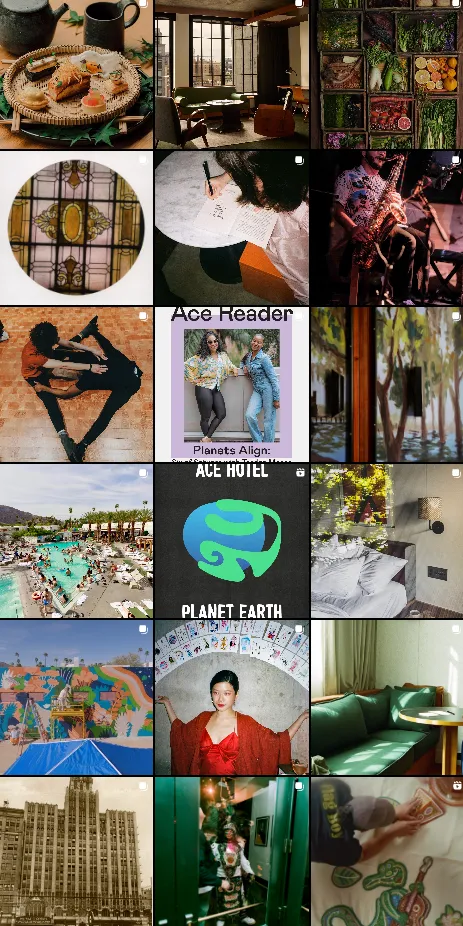 Each post serves as a snapshot of the unique vibe of their hotels and the local culture, crafting a captivating narrative that effortlessly amplifies their brand visibility. It's a digital showcase that hooks potential guests with every scroll.
4. Competitive Advantage
In today's digital age, where travelers are spoilt for choice, a compelling social media strategy is your magic carpet ride to competitive superiority. It's your portal to showcase your hotel's unique charm, engage in real-time conversations with your audience, and transform potential guests into actual ones.
For instance, Marriott's #GoldenRule campaign, which celebrates their staff's heartwarming gestures, helped them stand out, making prospective guests feel valued even before checking in.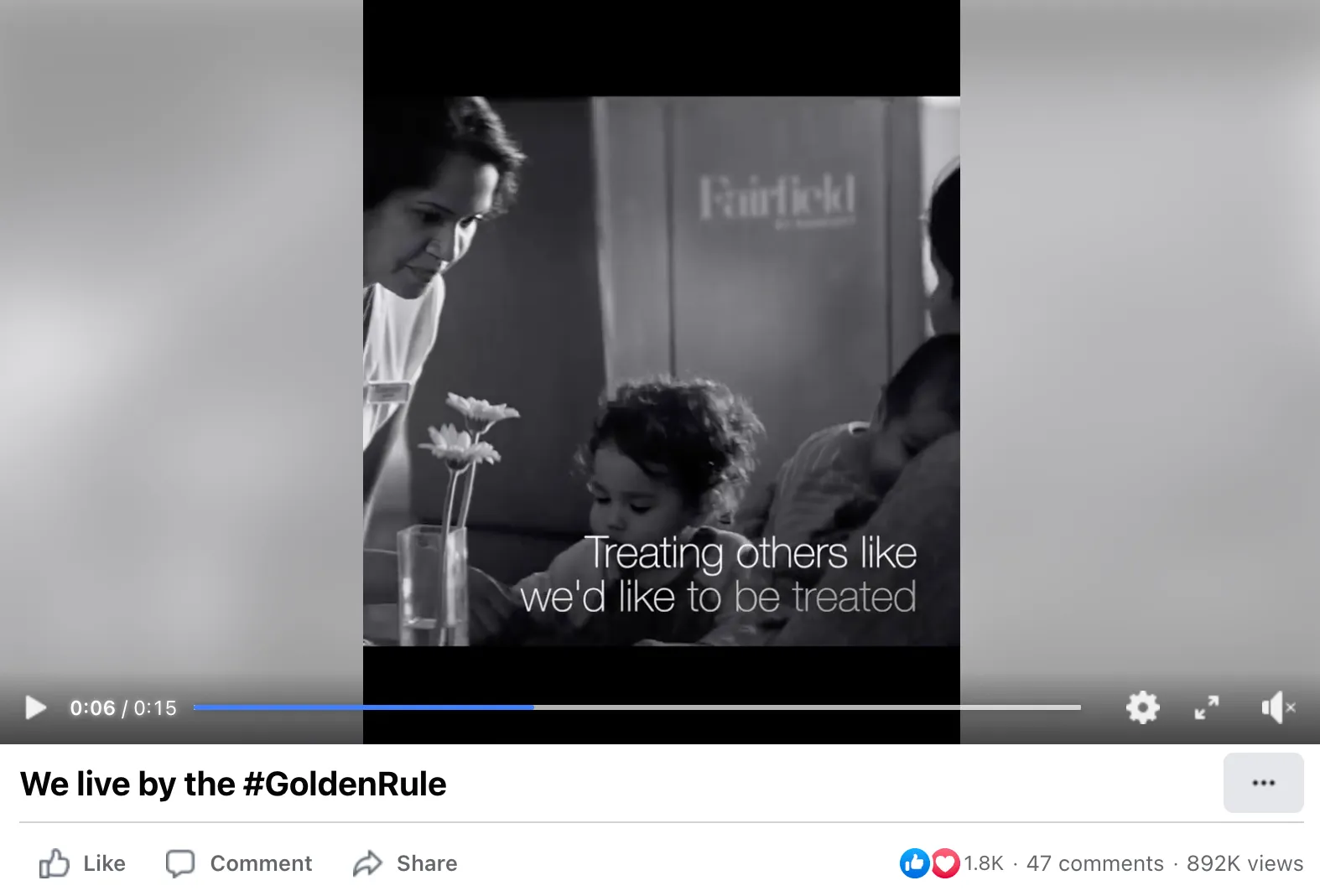 It's not just about having a social media presence but about using it smartly to give your hotel that extra edge.
5 Cutting-Edge Social Media Strategies for Hotels
Let's journey through five essential strategies that will catapult your hotel's social media presence to new heights.
1. Planning Around Seasonality
Crafting a content strategy that aligns with the changing seasons can truly distinguish your hotel.
Whether it's promoting summer specials in tropical destinations or highlighting winter retreats in mountainous regions, your content should reflect the rhythm of the seasons. This approach extends beyond stunning visuals; it's about synchronizing your marketing goals with the calendar.
For instance, ski resorts like Whistler Blackcomb utilize their Instagram feed (@whistlerblackcomb) to showcase their scenic snow-covered slopes in winter and lush green hiking trails in summer.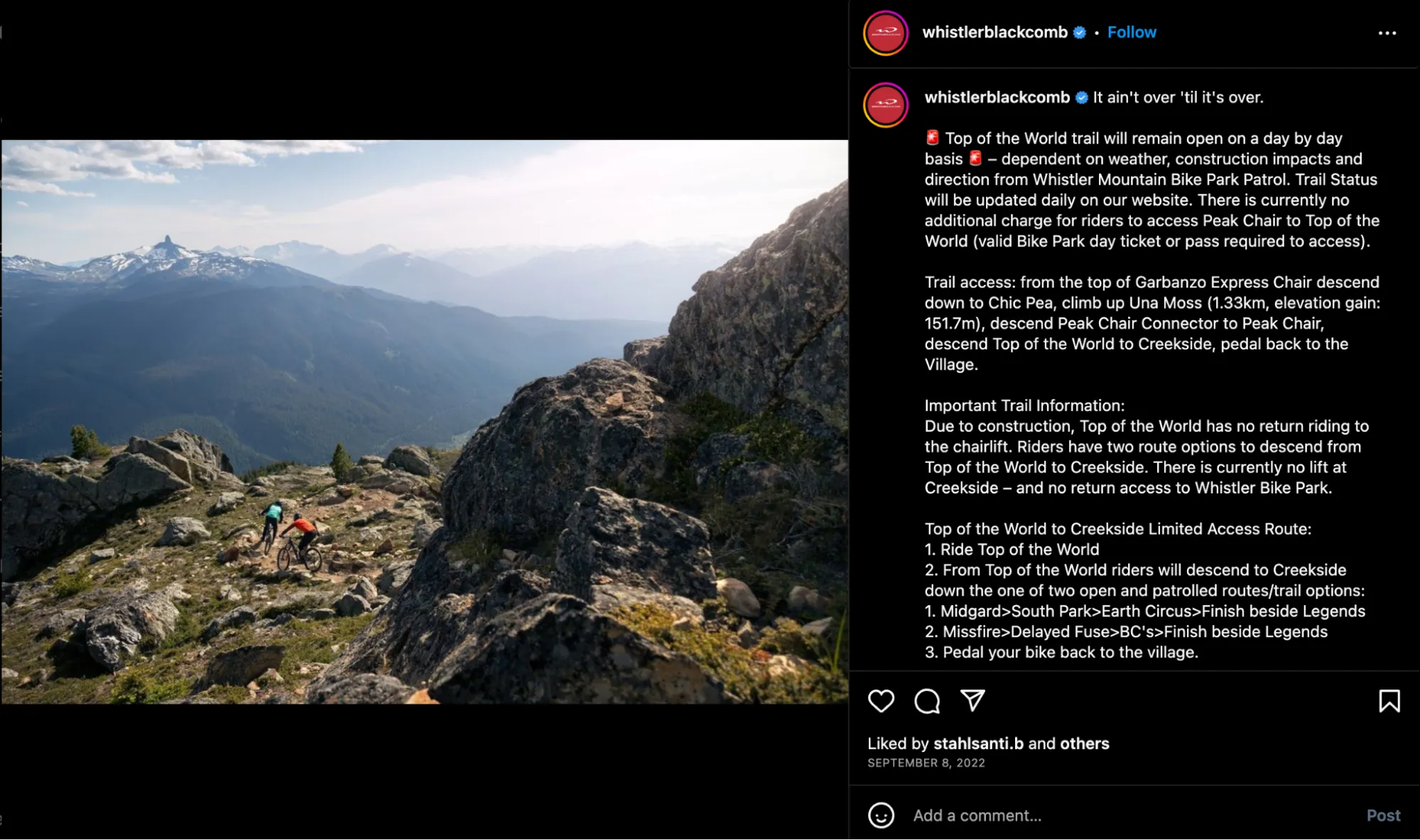 Pairing this seasonal strategy with property management systems to optimize rates and inventory can yield significant results.
2. Upholding Reputation and Pursuing Excellence:
In our digitally interconnected world, every guest review presents a unique opportunity for growth.
Online platforms such as TripAdvisor and Google Reviews offer a wealth of insights into your hotel's performance directly from the guests. Engaging with these reviews, both the commendations and the criticisms, not only humanizes your brand but also showcases your steadfast commitment to guest satisfaction.
Take Hyatt Hotels Corporation, for instance. On their Twitter handle, @HyattConcierge, they demonstrate an active and empathetic approach to customer feedback.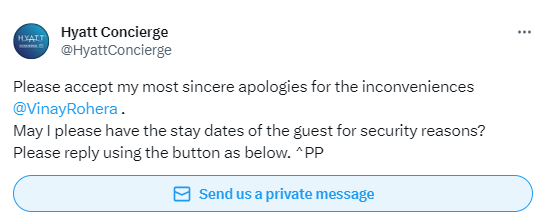 They understand that sharing positive reviews on their social media channels can bolster their brand image while constructively addressing the negative ones can showcase their commitment to continuous improvement.
It's crucial to remember that enhancing guest experience isn't a sprint but a marathon. Your audience will appreciate your relentless pursuit of excellence.
3. Creating a Human Connection
Humans crave connection, and social media feeds that craving like no other. The true power of social media branding lies in its ability to humanize a brand. It provides an avenue to share the faces and stories behind the hotel, making it more relatable and memorable.
For instance, the Kimpton Hotel chain frequently features its staff on Instagram, from housekeepers to chefs, putting a face to the name and fostering a sense of connection and brand loyalty.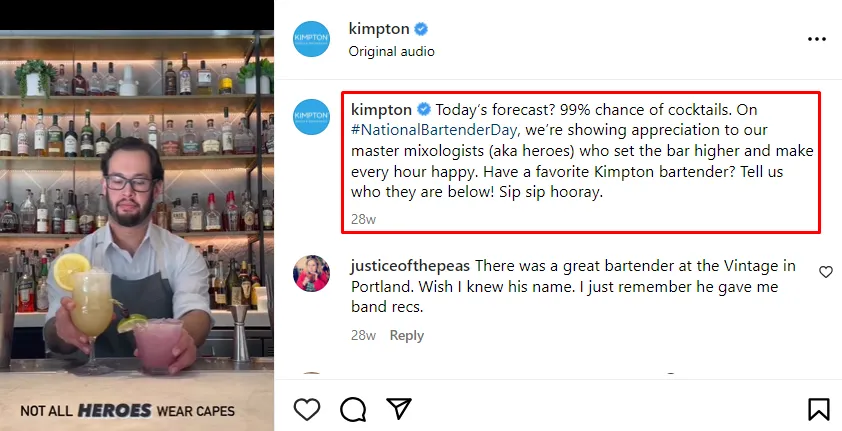 They also engage their followers with regular Q&As, polls, and fun contests, encouraging user-generated content and fostering a vibrant online community.
4. Leveraging Influencer Marketing
Another crucial cog in the wheel of hotel social media marketing is the role of influencers. Influencers have an uncanny ability to turn their followers into potential customers and play a vital part in a hotel's social media campaigns.
They add an authentic voice to the brand and expand its reach to a wider audience.
For instance, check out how a hotel leveraged influencer marketing effectively over a year and a half, leading to a steady 4% monthly growth in traffic to their website, which even peaked at 8% in 2019.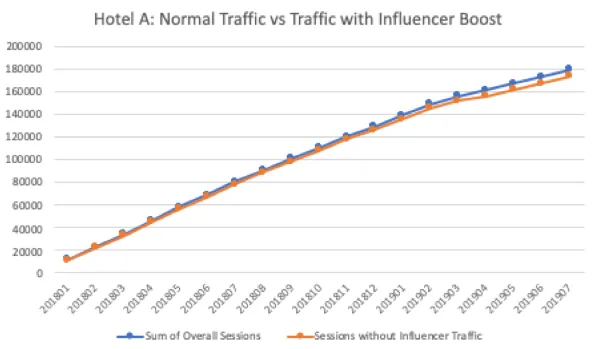 This case validates that when chosen strategically, influencers can enhance online visibility and drive direct bookings, ultimately augmenting revenue by bypassing OTAs' commissions.
This successful approach combines engaging content creation with a target audience perfectly aligned with the hotel's brand.
5. The Power of Videos
Step aside, static images; make way for dynamic videos!Videos have the power to immerse viewers in an experience, and for hotels, they bring the ambiance, services, and local attractions to life.
According to a study by Social Media Today, videos generate 1200% more shares than text and images combined, marking the importance of videos in viral marketing.
Marriott Hotels, for instance, use short, compelling videos on their Instagram handle to showcase their services, events, and the local flavor of their location. This not only boosts their brand awareness but also encourages customer engagement, shares, and, ultimately, future bookings.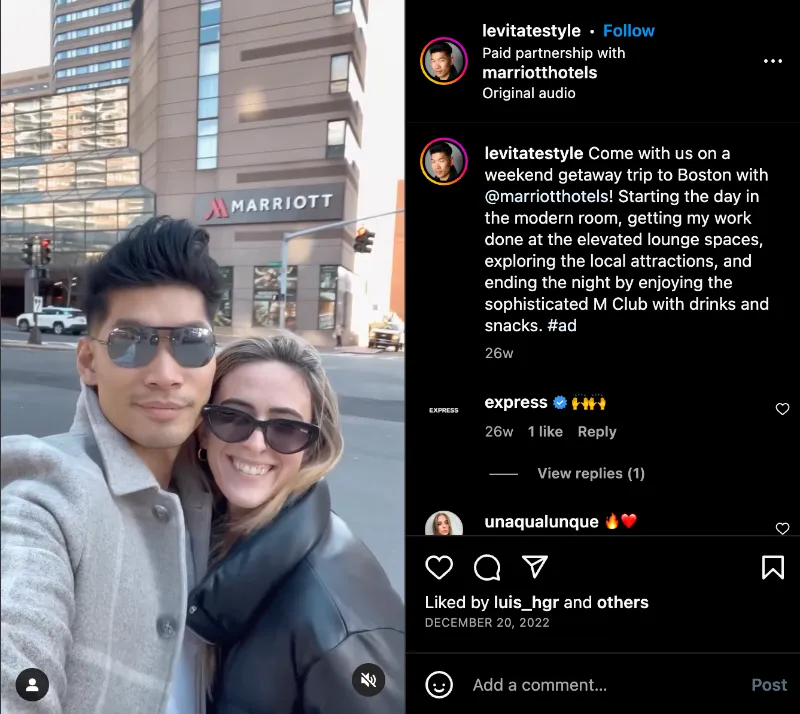 These were some interesting hotel social media marketing strategies, weren't they?
Let's move on to discussing more strategies, but this time, more channel-specific hotel social media marketing strategies.
4 Channel-Specific Social Media Strategies
To maximize your social media marketing efforts, it's crucial to tailor your strategies to the specificities of each platform. In this section, we will dive into four major platforms – Facebook, LinkedIn, Instagram, and TikTok – and explore how to leverage their unique features to boost your hotel's online presence and engagement.
Let's dive in!
1. Facebook
Facebook is a versatile platform that offers a wide range of opportunities for hotels to connect with their audience. Here's how you can maximize its potential:
Engage with Your Audience: Facebook is a platform that encourages conversation. Respond to comments on your posts, engage with user-generated content, and create posts that invite your audience to interact. This not only builds a sense of community but also boosts your visibility on the platform.
Showcase Your Hotel: Use Facebook's multimedia capabilities to showcase your hotel. Post high-quality photos and videos of your rooms, amenities, and unique features. You can also use Facebook Live to give your audience a real-time look at what's happening at your hotel.
Promote Special Offers: Facebook is a great platform to promote special offers, discounts, or packages. You can use targeted ads to reach a specific audience, ensuring your offers reach the people most likely to be interested in them.
Check out how Waldorf Astoria Maldives Ithaanfushi creatively uses Facebook to showcase its guest's unique experiences, hotel highlights, and interactions with guests.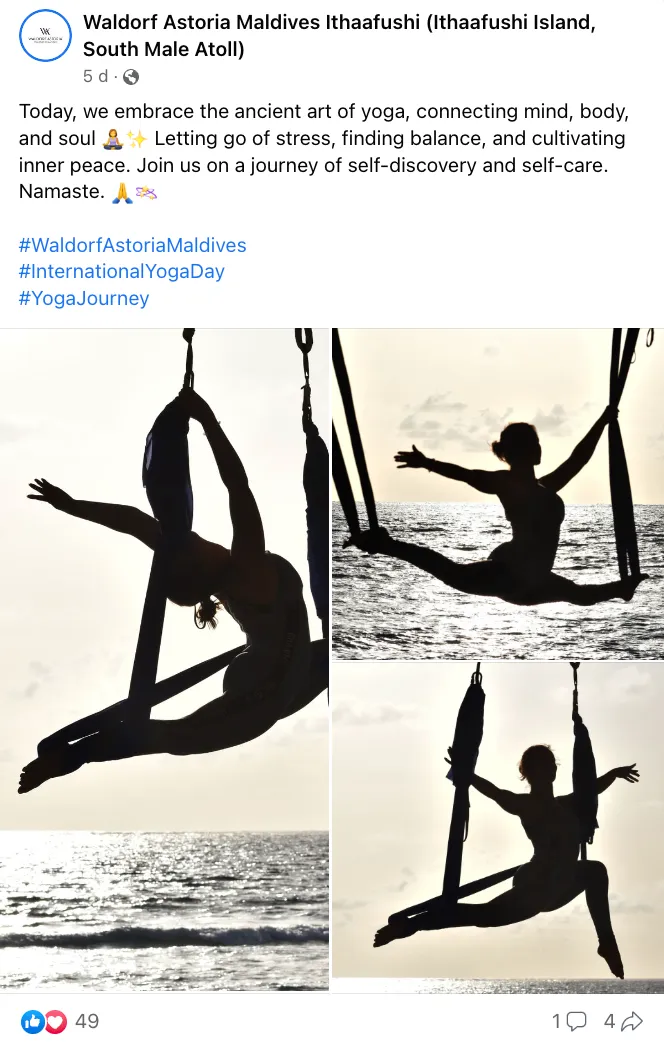 Share Local Insights: Position your hotel as a local expert by sharing posts about local attractions, events, or insider tips. This not only provides value to your audience but also enhances your hotel's image as a knowledgeable local guide.
2. LinkedIn
LinkedIn is a professional networking platform that can be a powerful tool for hotels. Here's how you can leverage it:
Establish Your Hotel as an Industry Leader: Share industry-related news, insights, and thought leadership content. This positions your hotel as a leader in the hospitality industry and attracts a professional audience.
Promote Business Services: If your hotel offers services like event spaces or business facilities, LinkedIn is the perfect platform to promote them. Highlight these services in your posts and use targeted ads to reach a business-oriented audience.
The Four Seasons Hotel is nailing this strategy by showcasing its impressive event venues and corporate facilities. It's also an ideal place to foster business partnerships and collaborations.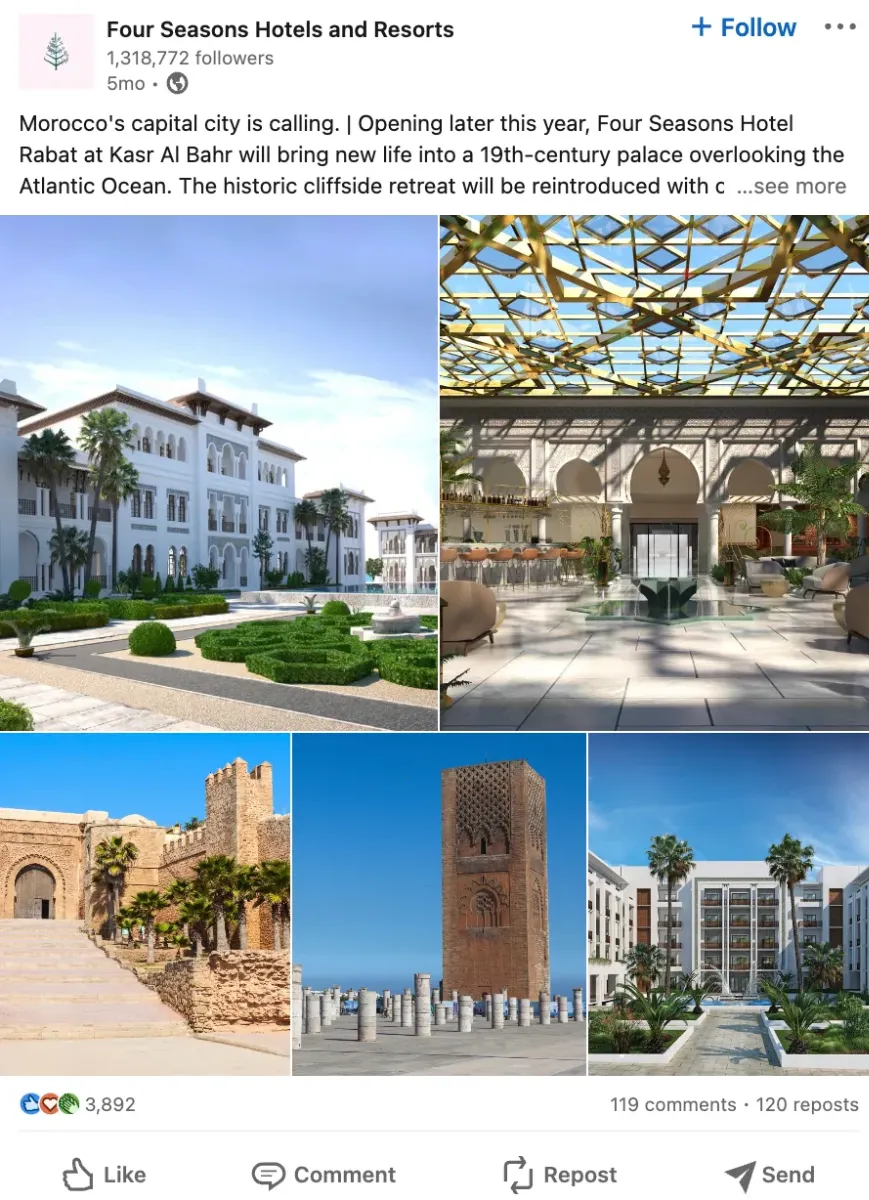 Engage with Other Businesses: Connect with other businesses in your area or in the hospitality industry. This can lead to valuable partnerships and collaborations.
3. Instagram
Instagram is a visually-driven platform that's perfect for showcasing your hotel's aesthetic. Here's how to make the most of it:
Showcase Your Hotel's Visual Appeal: Post high-quality photos and videos that highlight your hotel's rooms, amenities, and unique features. Use Instagram Stories for real-time updates and behind-the-scenes looks.
Take the example of @sheratongrandsydney, and how it excels at showing off its unique features, atmosphere, and the vibrancy of local attractions.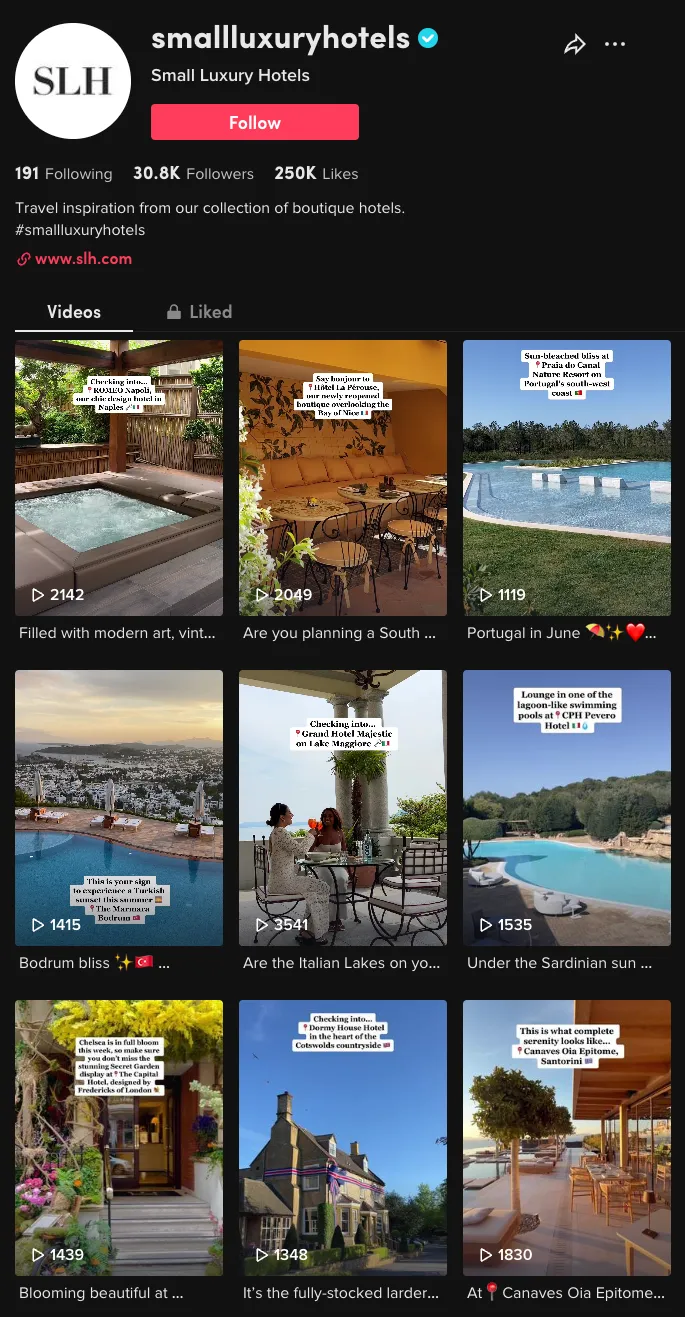 Engage with User-Generated Content: Encourage guests to share their experiences at your hotel on Instagram and tag your account. Share this user-generated content on your own account to boost your credibility and reach.
Use Hashtags Strategically: Use popular and relevant hashtags to increase the visibility of your posts. You can use general travel-related hashtags or create a unique hashtag for your hotel.
4. TikTok
TikTok is a platform that thrives on trends and creative content. Here's how you can leverage it for your hotel:
Jump on Trends: Participate in trending challenges or use trending songs in your videos. This can increase your visibility on the platform and attract a younger audience.
Take inspiration from @small Luxury Hotels, whose strategic TikTok content highlighting various properties garnered hundreds of thousands of views. They embraced trending topics and promoted The Retreat Elcot Park using a 'Bridgerton' tie-in, drawing an 86% new audience of 50,000.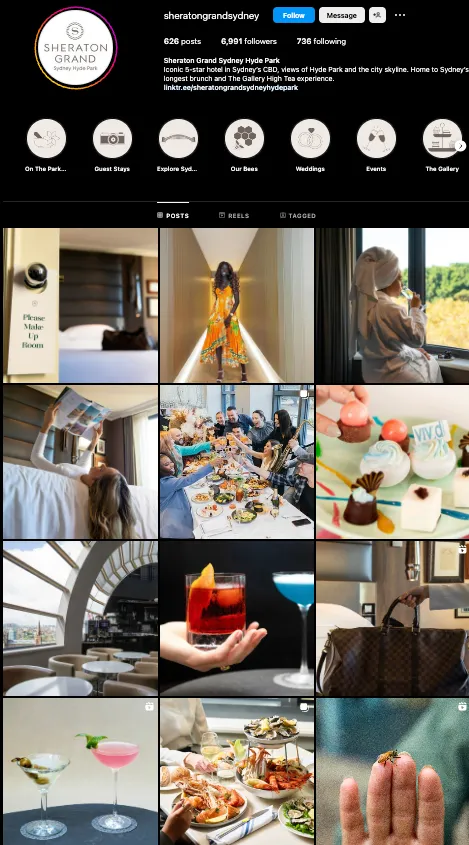 Create Engaging Challenges: Building on the point above, consider creating a unique challenge yourself related to your hotel, like a dance in your lobby or a creative room decoration contest. This can engage your audience, encourage user-generated content, and increase your brand visibility.
Showcase Your Hotel in a Creative Way: TikTok is all about creativity and fun. Showcase your hotel in a unique and entertaining way, whether it's a fun tour of your hotel, a day in the life of a hotel employee, or a creative showcase of your amenities.
Engage with Your Audience: Respond to comments on your videos, engage with user-generated content, and create videos that invite your audience to interact. This not only builds a sense of community but also boosts your visibility on the platform.
Real Social Media Success in the Hotel Industry
The power of social media in the hotel industry is best demonstrated through real-world examples. So, let's dive into two compelling case studies that highlight the transformative impact of strategic social media usage in the hospitality sector.
Case Study 1: Hotel Regina Wengen's Social Media Triumph
Hotel Regina Wengen, a charming Swiss hotel, took a strategic approach to social media that led to impressive results. Their initial goal was to generate interest in their reopening following the Covid-19 lockdown. They achieved a remarkable 13.4% follower growth within a quarter, significantly outpacing the industry's average monthly growth of 1.5%.
Their strategy involved crafting a captivating narrative on Instagram and making purposeful use of video content. This approach led to a 232% increase in engagement and 16.6k video views on Facebook. Furthermore, their unique advertising campaign reached 90,000 people, building a retargeting audience of 10,000.
The Hotel Regina Wengen's social media strategy demonstrates the power of engaging storytelling and the effective use of video content. It underscores the potential of social media to significantly boost engagement and reach. You can read the full case study here.
Case Study 2: Evaluating Social Media Marketing in Four and Five-Star Hotels in Makkah, Saudi Arabia
This academic study explores the challenges and strategies for effectively using social media as a marketing tool in the hotel sector. It highlights that many marketing managers overlook the importance of using social media for customer engagement, such as responding to customer comments and queries, handling negative reviews, and participating in online discussions.
The study recommends a more proactive approach to customer engagement on social media platforms. This includes promptly responding to customer queries, effectively managing negative reviews, and actively participating in online discussions.
Hotels should also harness social media to maintain their online presence, promote brand awareness, and acquire new customers.
The study's findings underscore the importance of active engagement and customer-centric strategies in social media marketing. It also emphasizes the need for hotels to fully recognize and leverage the potential of social media for customer acquisition and brand promotion. You can read the full case study here.
SocialPilot: Measure the Success of Your Social Media Marketing
Social media marketing is a multifaceted endeavor. It's not just about crafting and posting content but also involves meticulous scheduling, tracking, analyzing, and more. It's about ensuring that every action aligns with your social media goals. This is where SocialPilot comes into play.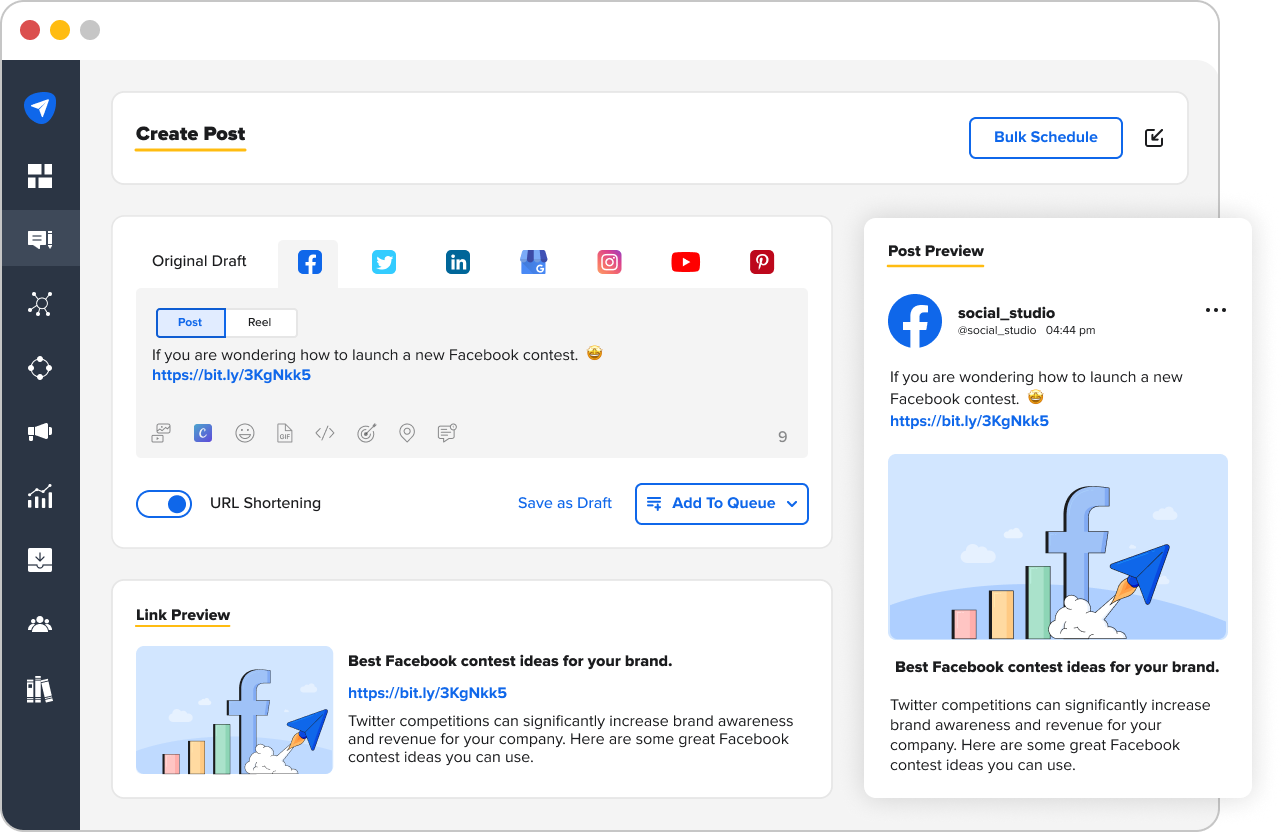 SocialPilot is more than just a tool for posting content; it's your guide to navigating the digital landscape. The tool takes the guesswork out of your social media efforts, providing tangible metrics to measure the success of your initiatives.
For hoteliers, SocialPilot offers a suite of features tailored to your needs. From bulk scheduling and content curation to determining optimal delivery times, it's designed to streamline your social media management. However, the real treasure lies in its analytics capabilities.
With SocialPilot's analytics, you can dive into the nitty-gritty of your social media performance. You can track engagement, likes, shares, clicks, and even conversions. The platform serves as your social media strategy compass, providing clear direction for your online efforts.
With SocialPilot, you're no longer shooting in the dark; you're making informed decisions that drive your social media success.
Conclusion
The future of your hotel's success is firmly rooted in the soil of digital connectivity.
Social media isn't just about showcasing pretty pictures of your hotel; but also an indispensable platform for interaction, feedback, reputation management, and a way to highlight your unique offerings to the potential customers that can truly set your hotel apart.
Every post, click, and like is not just an activity, but an opportunity to attract guests, improve their experiences, and substantially increase your revenue.
So, utilize social media to reshape your hotel's narrative.