"Let's do it. Let's start a podcast." was your idea. Still, then you hesitated and ditched the whole plan because you didn't know how to start a podcast.
So I am saying today – let's do it!
And why not?
The Podcast space is brimming with new arrivals each passing day for almost every niche. The recent data shows that podcast numbers have startlingly grown from 500,000 in 2018 to over 2 million in 2021.
As consumers and knowledge seekers are tuning in to podcasts every day, there has never been a better time to start one for yourself.
So, if you have something knowledgeable to share or a business to scale, podcasts can be an excellent medium for you to explore.
Let's know how to start a podcast!
In your quest to create a superb podcast, you will need to go through multiple steps. Just so you clearly understand each one, we have segregated the process into three stages.
Planning stage
Creation stage
Launch stage

Step 1: Choose a Podcast Topic
So, what will you talk about in your podcast? What would be its name?
Before naming your podcast, you have to go a few steps back and ponder why you want to create a podcast.
A podcast is a great medium to build authority, create engagement, and generate leads for your business.
Selecting a topic will become much easier once you figure out what you want.
However, it doesn't end at the goal, or I can say a goal is the second piece of the puzzle. Firstly, all successful podcasts are born out of inspiration and passion.
Even the famous podcaster John lee dumas started out of a passion for the project.
"I knew that I loved listening to interviews, and I also loved learning how Entrepreneurs had succeeded in their niche. A concept of what I considered a perfect show began to form. A show that would tell the STORY of the featured Entrepreneur. Their failure, lessons learned. Their AH-HA moment and steps taken to turn that moment into success, and a Lightning round of questions each more interesting than the last."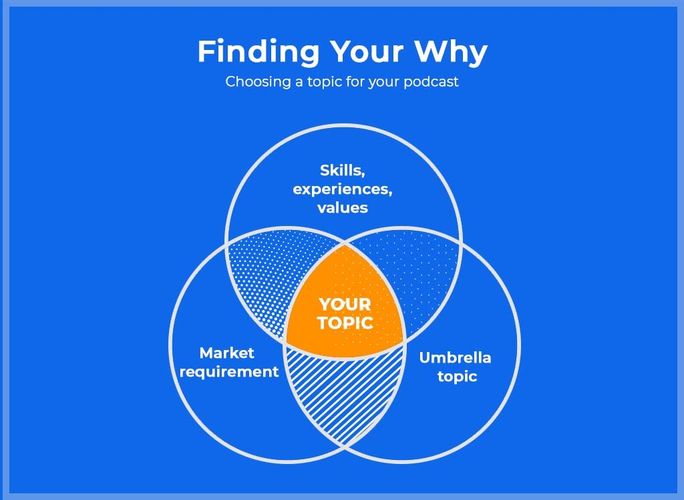 See, podcasting for a long time is not an easy task. If you don't choose the topic and niche you love, the fervor will soon run out.
So, ask yourself
Is this a topic on which I can create 100 episodes or more?
Will I be happy to talk about this topic even after 6 months or a year?
If yes, then congratulations, you have found your topic!
Step 2: Pick a Title for Your Podcast
Next, you have to choose the name of your podcast.
The title is a deciding factor for the audience; If it's enticing enough, they will click on it, or else they will scroll past it for it to be doomed in the thousand others.
Did I make the task too intimidating? Don't worry; we have tricks to nail your podcast name.
Firstly, brevity is the key here, so keep your podcast name short.
In addition to that, think about your content; what is it about? You have got that figured! So, think about a title that resonates with the things you will talk about.
People should get a vibe of what they will get when they listen to your podcast from your title.
Finally, add fun to it to make your Podcast title memorable. Some of the coolest postcard titles are:
Pod Save America
How Did This Get Made?
Office ladies
The Future Belongs to Creators
OMG Books
On the other hand,
For businesses, naming the podcast is relatively simple. Most brands just usually add their names along with the word podcast or something that has a similar meaning, such as radio, show, or studios.
And what about the keyword factor?
Yes, keywords are necessary to make your podcast searchable on Google and other directories like Apple. However, do not go gaga over stuffing keywords in your title.
You can smartly add long-term keywords in the description of your channel and the podcast title, but overusing them may lead to podcast removal.
Look what Apple says here.

Step 3: Decide the Podcast Format
To produce a coherent and engaging podcast, you need to decide what will be the format of your podcast.
Are you going to do a solo podcast, tag a co-host alongside, or be one of those Joe Rogan-like interview chitchat.
Everything is fine. You just need to think about the kind of value you want to deliver to the audience. Choose the way that can get your message across better.
For example, if you are a solo podcaster sharing story series, going solo is the best option. On the other hand, if you want to put forward ideas and opinions of experts in your niche, then choose the interview format.
Here are some of the common podcasting formats:
Interview format
The solo/monologue
Co-host format
Non-fiction/documentary-style format
Scripted fiction/audio drama podcasts
Step 4: Come Up with Episode Titles
The task of naming doesn't end at the title. You need to give an enticing name to each podcast episode to make visitors click.
Caution: Do not keep your episode title as "Episode 1, Episode 2," and so on. Such titles won't provide many details about your podcast content and end up being ignored and unsearchable.
Instead, go for a title that adds value and explains the podcast content in one go.
Similar to the podcast title, the keyword factor in the episode title plays a crucial role in the exposure of your podcast. Google's podcasting strategy provides the same amount of visibility to audio content as it does to text, images, and videos in search results.
Hence, it becomes important to research the right targeting keyword and put it in the title and the description of your episodes.
Step 5: Decide Publishing Schedule and Episode Length
If you are serious about podcasting, then dropping episodes inconsistently will not do. You need to come up with a proper schedule.
Why?
Well, for once, a schedule will tell your audience when they can expect the next episode of your podcast. This way, they can make time for your podcast in their daily life.
But, leave them guessing, and they will get frustrated and will eventually forget you.
A schedule also keeps your efforts on track. Knowing the exact date of publishing will help you manage your task accordingly.
The best thing is to create a podcast publishing calendar. With a calendar, you will manage each episode's ideation, creation, and marketing process effortlessly.
Also, take this opportunity to decide on your episode length.
How long do you want to keep your podcast episode? Of course, you can't have a fixed time for each episode. The idea is to keep a specified time range.
Take any of your favorite Netflix series. They also have a fixed time range.
Your episode length should be as long as it needs to get the right message out to your audience. Your episode time depends on your audience and the content. So, the bottom line is to keep the value and cut down on BS.
Just for reference, most podcasters keep a short podcast under 15 minutes, and big ones (interview podcasts) run as long as an hour or over.

Step 6: Create Podcast Cover Art
Your podcast cover art builds the first impression of your podcast. That's why it needs to be visually appealing and should represent your show and brand at first glance.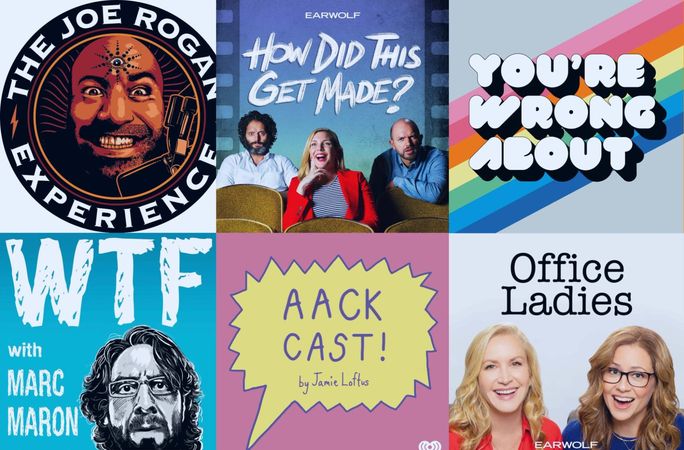 It is also the first thing of your podcast that people will see on every podcast directory, media player, and promotion platform.
So make sure you nail your podcast cover image. Here are a few steps to help you do so:
The artwork should resonate with the Podcast topic
Avoid using too many words on the image
Design a multi-platform size compatible art cover
Keep the branding consistent
Use contrasting colors
Elevate the central theme of your podcast through clever designing
Here is the technical specification for podcast cover art by Apple:
Square Image
3000 x 3000 pixels
Resolution of 72 dpi
PNG or JPEG file types
Colorspace RG
Step 7: Make it Engaging with an Intro, Outro, and Music
It's not etched in stone, but adding an intro and outro with music in your podcast can give it a more professional vibe.
Most podcasts do this; some don't. Some even start talking from the first second and some like to present their brand and topic better with an intro at the start.
It's totally up to you.
Personal opinion: It adds a layer of branding and professionalism to your podcast.
Intros curl up the curtain for your podcast and guide the listeners to your main content. It can do wonders in engaging new listeners. Here, you do personal branding, talk about the podcast topic, the target audience, and then introduce the topic of the day.
Outros, on the other hand, closes the curtain for your listeners, but hooks them up for something more. In your outros, you thank the people for listening and ask them to do something like leaving a like, comment, or visiting your website.
Music breathes life into your intros and outros. Without music, it's hard to differentiate the main content from intros and outros.
However, don't stretch your intros and outros more than 40 seconds or a minute unless you want to annoy your listeners.
Step 8: Create Script for Each Episode
Scripting your show beforehand can make your podcast structured and easily understandable for the audience.
It's important to script down everything you will cover in a podcast on a piece of paper.
Sure, word-to-word scripting might not work for you. But, most podcasters don't prefer it since it kills the conversational feeling of the podcast.
If you are one of them then try:
Creating an episode plan where you don't write the whole script but still map out every talking point deeply to help you maintain the conversational flow
Using the bullet points for jotting down the themes or topics within the episode
You can choose any method you like, but do create a script for each episode and read it out loud before recording so you can know how smooth and conversational it is.
Step 9: Choose Your Podcast Recording and Editing Arsenal
In order to record your podcast, the three bare minimum things you will require are a microphone, computer, and software that will record your voice.
Besides these, you can find tons of other podcasting equipment to make your podcast super elegant. However, I'd recommend starting with a more straightforward and inexpensive setup if you are new to it.
The microphone is the most crucial of all the equipment. Make sure you buy an excellent microphone because everything depends on your sound quality in the podcasting game.
Microphone recommendation: Audio-Technica ATR2100x, a dynamic microphone with USB-C digital output and XLR analog output. It's the best budget-friendly microphone choice for beginners.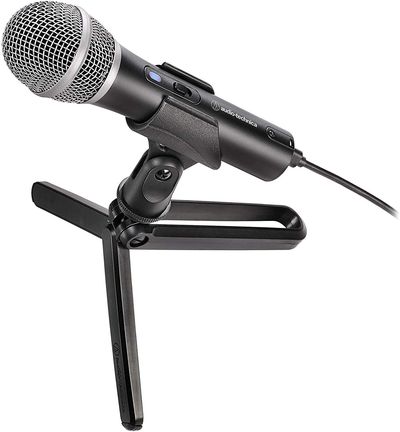 A microphone alone will do the job, but it's advisable to invest in a shock mount and microphone stand to keep your mic in one place and minimize unwanted rubbing and knocking sounds.
Next, you will need recording software on your computer to record and edit your podcast.
Mac users can work on Apple's own Garage band or Logic Pro as a beginner. On the other hand, Windows users can use Audacity, a free and open-source audio editing and recording tool that can run on Windows, Mac, GNU/Linux, and other operating systems.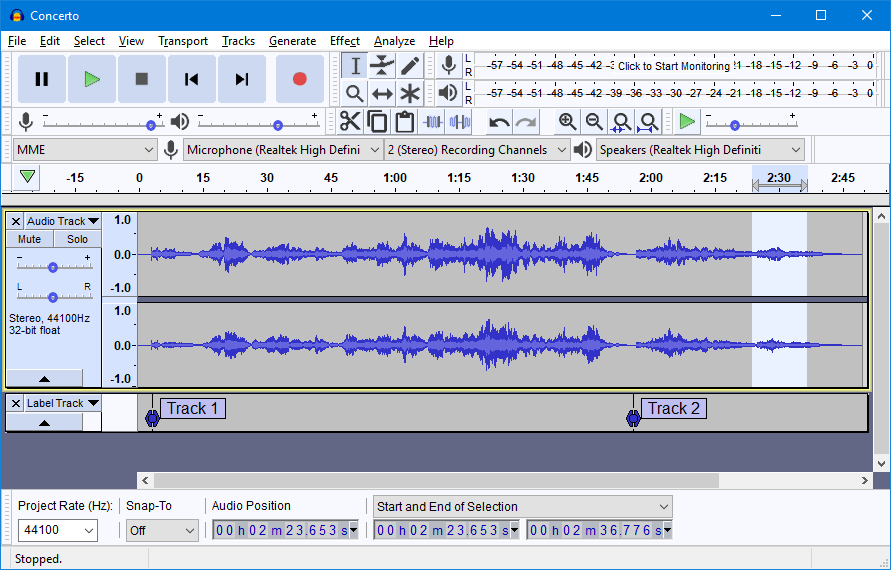 If your podcast is an interview format, you can use web interview-based tools like Zoom or Skype. And if you want a tool with comprehensive features to record quality interview audio, go for Squacast or Zencastr.
Read our list of best podcast tools you need to record and edit a professional-sounding podcast.
Step 10: Hit the Record Button
Now that you have every equipment and tool required to create your first podcast, it's time to hit the record button.
I know it can be scary. Thoughts like "what if I fail? What if no one tunes in?" will be the first ones to come bite you. Guess what? The same was the case with many star podcasters when they first started.
What to do?
Remember, you already have your script in place. A script in hand halves the fear of speaking over a mic.
Another mistake you will make in the beginning is talking over your mic as you are talking to yourself.
The podcast is not meant to sound like a monologue. So, while recording, imagine talking to a single person of your target audience. It will help you make your voice more conversational and remove the flat feeling.
Rest assured, you will not nail your recording in the first take. Nobody can. That's where editing comes into play.
You can always go back and cut out those awkward silences, sentence mistakes, and hissing sounds.
And with time, you will get the groove of recording a podcast.

Step 11: Choose Podcast Hosting
Once you have successfully converted your idea into audio, it's time to share it with the world.
How do you do that?
Most first-timers think they need to upload their podcast on players like iTunes and Spotify separately. However, such is not the case.
Instead, you need to sign up on podcasting hosting services and upload your podcast on them. These hosting tools are connected with multiple podcast directories such as Apple Podcasts, Spotify, Google Podcasts, iHeartRadio, etc.
Get listed on the directory of your preference through the hosting platform. This way whenever you upload a new podcast on your hosting platform they get published on the directories too.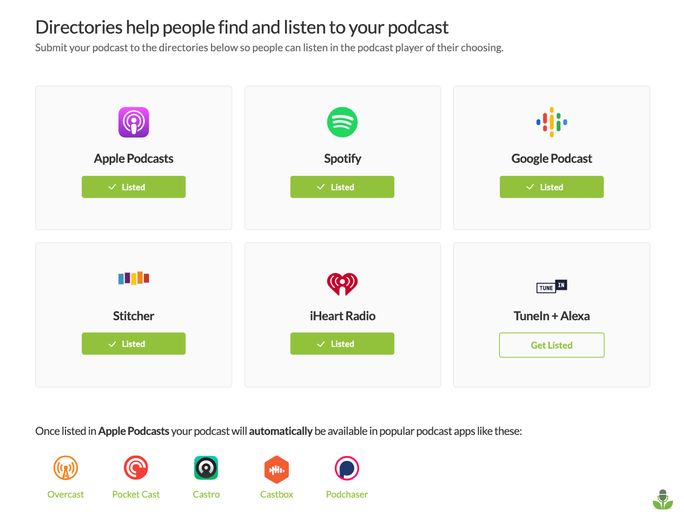 Wait, there is more!
The hosting platforms also enable you to add a podcast player to your website, so people can listen, download, or share the podcast directly on your site. Also, you get a free website to keep your podcasts on if you don't have one.
Here are the best podcast hosting platforms I recommend:
BuzzSprout
Libsyn
Podbean
Captivate
Note: Launch with 3 to 5 episodes, in the beginning, to let your first listeners connect with you more in the first go.
Step 12: Promote Your Podcast
Your podcast is not going to promote itself. You need to figure out ways to put your podcast before your target audience.
Here are some tested marketing tips to attract new listeners and make the most out of your new podcast:
Have a podcast landing page or website
Creating a landing page for your podcast has many benefits. For once, it makes marketing your podcast on multiple channels easier. Also, with a website page, you can optimize your podcast for SEO to make it easily discoverable.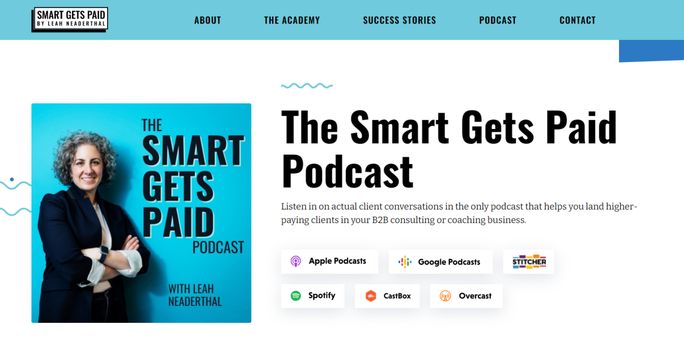 Leverage the power of social media
You can find multiple ways to promote your podcast and reach people through organic and paid marketing on social media.
Here are a few social media marketing tips to promote your podcast:
Use audiograms (It's a video clip made by combining an image, a soundwave, and the podcast audio track)
Capture your video and promote it on social
Pull quotes from the podcast and share them as images
Build a community around your podcast topic
Try influencer marketing
Create hashtags
Run giveaways and social media contests
Run social media ads
Also, don't hesitate to use a scheduling tool to automate your social media posting.
SocialPilot, the best-in-class scheduling tool, enables you to create and schedule multiple posts at once on various social platforms.
It's a surefire tool to win the social game for your podcast.
Use your email list
Email is another powerful channel to promote your podcast. Mostly, all businesses have email marketing going on for them. If you do too, then promote your podcast within your existing subscribers.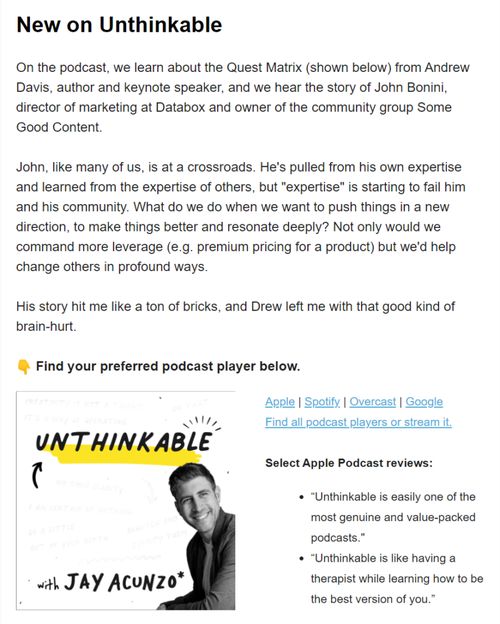 If not, start an email newsletter, build a subscriber list and use it to promote every new episode of your podcast.
Use the community
Indeed, you are not the only one talking about your topic through a podcast. Find and join the community of podcasters who belong to the same niche.
Inviting other podcast hosts on your show and being a guest on their shows is the best way to promote your podcast among an untapped audience.
Step 13: Explore Monetization
Businesses using podcasts as one more medium to connect and attract potential clients to the end of the funnel can skip this part.
On the other end, if you are an individual who wants to turn into a full-time podcaster, let's discuss some of the ways you can make money.
Sponsorship: You can connect with brands that pay you to advertise their brand during the show.
Affiliate marketing: In affiliate marketing, you get paid a commission for every purchase that comes through you.
Premium content: This is a straight transaction between you and your fans. You ask for money in exchange for exclusive offerings, such as additional interviews, behind-the-scenes content, ad-free RSS feed, and early access to new episodes.
Selling products: You can sell merchandise, books, courses, consultations, or live event passes through drop-shipping services or print-on-demand services to earn money.
So, When do You Start?
Starting a podcast from scratch is a tough task. So make sure you start it for the right reasons.
Statistics prove that podcasts are a force to reckon with. They can help businesses create a deep relationship with the target audience.
But, it shouldn't be just about your goals; the topic you choose should inspire you to create more and more episodes.
Well, now you know how to start a podcast. It's time for you to put every step into action and create your own podcast from scratch.
Once you are ready with your first few episodes, don't forget to use SocialPilot to promote it on social effortlessly.
Want to experience SocialPilot in action? Check out its free trial or schedule a demo today!