Social Media has become the pivotal point of digital marketing strategy. Have you tried on improving your marketing strategies?
Giants like Facebook and Twitter have taken over all other forms of online marketing and have delivered ecstatic results for businesses all around the globe.
This has tremendously increased the importance of Social Media for businesses of any size. The importance can be confirmed through the overwhelming statistics.
Over 93% of marketers use social media for business with a few exceptions like Apple which has till now refrained from using social media as a marketing tool.
This belief in social media is due to the fact that most of the consumers of all diversified goods are active online. In fact, 72% of all internet users are active on Social Media. That is in itself a huge market waiting to be exploited.
The importance has increased further more with the mobile revolution.
The smartphone has given the power of the internet to the remotest of users and created a whole new and expanded market for businesses to target.
77% of marketers believe that mobile marketing is the core to their business and rightly so as people spend more time on their smartphones than on laptops or notebooks.
Indonesia has the paved the way for Social Media Marketing by becoming the largest market for the same.
In a way it is the Social Media Capital of the world.
According to this Slideshare presentation, it records twitter users send 6000 tweets per second and has the 4th largest Facebook population in the world. This is just one country so; imagine how big the global scenario would get.
As the importance of social media surges, I present you with 5 social media statistics which will help you create a better and more effective Social Media strategy for your business.
1. Facts About Facebook
Facebook has become the first choice for any business to engage with potential customers. Over here most of them can easily find their target audience and craft campaigns which aim at triggering potential sales.
Post engagement rate on Facebook is 75% in the first 5 hours. Thus make sure to post at relevant times when most of your target audience is active. Also photos and similar posts get 39% more interaction than the others which means that the interest in graphic and interactive content is higher.
Engagement rates on Thursdays and Fridays are 18% higher than the other day which is mostly because people find more leisure time available.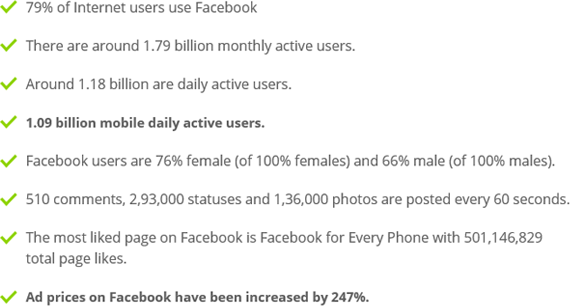 With 2.89 Billion monthly active users out of which 2.2 billion are active on their mobiles, Facebook is a great platform to implement your core social media strategy. Click here for more stats.
2. LinkedIn User Facts
LinkedIn is the best platform for your business to generate more targeted leads and sales. It has a lower percentage of users than Pinterest, Google+, Twitter or facebook with a current base of just over 467 million users.
This means that the probability of your word reaching the users is far more.
Moreover, there are 2 new professional accounts are created every second..
LinkedIn has powerful tools like endorsements and groups which can help you to build a reputation or credibility and quality for your business.
Currently, there are over 1 Billion LinkedIn endorsements which shows the growing popularity of the platform as a benchmarking tool.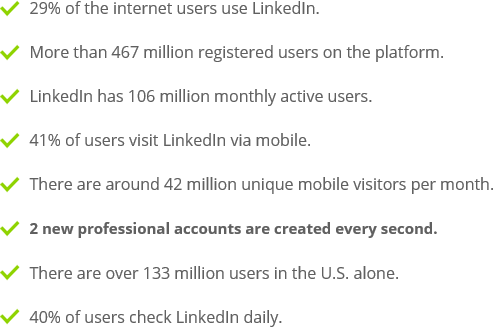 If any business is serious about increasing sales, revenue and business relationships then they need to spend more time on LinkedIn than other social media channels and work on building their professional networks.
3. Twitter Activity
Twitter ranks higher than Facebook when it comes to marketers trying to engage with buyers. Salesforce's survey showed that 47% of marketers use Twitter as the most favored channel for customer engagement, more than Facebook's 74%.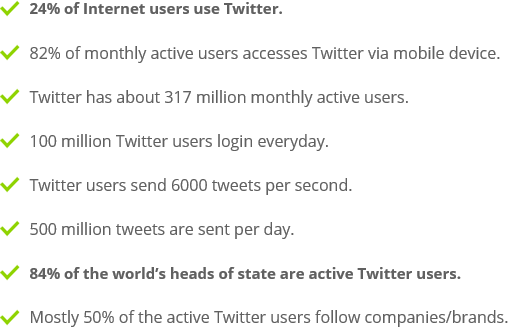 Although 44% of Twitter users have never tweeted but still, the effects of Twitter on Social Media marketing is huge as it is the largest online community and the best option for customer support, direct customer communication, quick engagement and prolonged activity in business.
Twitter also provides one powerful module where business can analyze their each tweet's engagement & impression ratio and its called Twitter Analytics.
4. Social Media Advertising
Social media channels like Facebook, Twitter, and LinkedIn & YouTube allow business to promote their brands through various forms of advertising.
This process has had tremendous success as business are able to base their ad campaigns based on extensive research which is done by tapping into individual interests and inclinations of the users.

51% of the brands prefer Facebook for advertisements.
This is evidently because people spend lot more time on Facebook than any other social media. 68% of marketers think that advertising on social media is very effective for business.
Research from Socialbakers.com and Salesforce indicates a trademark shift in the mind-set of the marketers. 38% of these marketers plan to shift their spending from traditional advertising to digital and online channels for better results.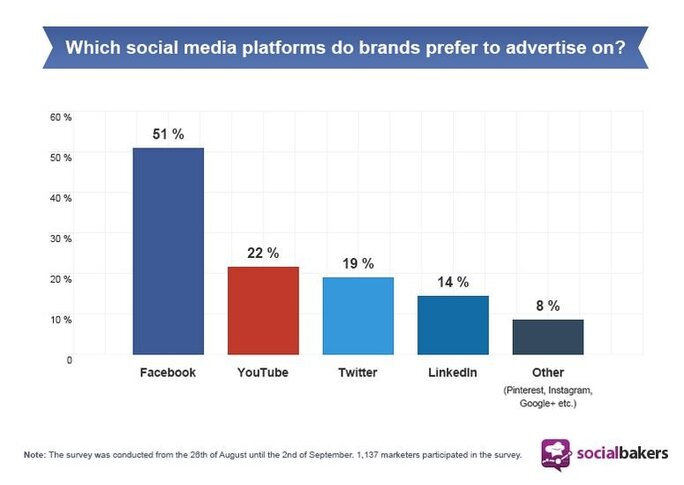 5. New and Rising Platforms
In the recent years, numerous new social media channels have emerged and had a great deal of success with social media marketing and advertising.
This has been possible because these sites have provided the modern internet user with more niches and specialized social options which has made them popular.
Digitalinsights.in conducted a detailed survey and came out with interesting statistics. Instagram is pretty young- 90% of the registered users are under 35 years old. Pinterest has also gained huge success as a social media tool as 76% of top brands and 40% of digital marketers use Pinterest.
Mobile optimization is also a new and rising force in the field of social media marketing. 40% of YouTube traffic comes from mobiles and smartphones.
This shows the sharp rise in mobile penetration into social media.
Google+ is also seeing increasing positive reviews when it comes to interactions between a brand and a user. 53% of such interactions turned out positive.
Blog marketing has seen a sharp rise when it comes to finding leads. According to survey blog marketing generated 67% more leads for B2B Marketers.
These statistics indicate that new and rising platforms, using the best social media tools are a wise investment option if you choose the right platform for your campaigns.