Traditional marketing as we know it, is changing.
If before, word-of-mouth used to be a powerful aid to any given marketing campaign, its potential is now seemingly limitless.
And we can all thank the internet for this unlocked ocean of exciting, new advertising potential.
As time progresses, marketers are getting more creative (i.e., comfortable) with their promotions. From campaigns that make us laugh, to others that make us weep, these savvy marketers know that the best way to reach an audience successfully is by emotionally connecting with them.
But don't be fooled. Creating a successful marketing campaign is not that easy. Plus, marketing promotions aren't usually cheap, requiring time, money, and a thought-out strategy.
Having so much time and money invested at stake, how do you know if your marketing campaign will be successful?
A good starting point is by analyzing past campaigns and understanding what made them successful. Get inspired by campaigns that were a hit and come up with original ideas to replicate that outcome with your own marketing campaign.
Consider things such as
What type of emotions did those campaigns tackle?
What makes the campaign memorable?
How was it able to influence a consumer's buying decision, both directly and indirectly?
In this article, you'll know about marketing campaign examples of 5 established brands that launched incredible marketing promotions (and how you too can implement these tactics for your next digital marketing campaign).
1. Gillette: Stirring up Audience Emotions the Right Way
A different, yet profoundly impacting product promotion.
"The Best a Man Can Be" marketing campaign by Gillette resonates with its primary male audience by addressing a delicate, previously considered misogynistic approach it once had.

The campaign took advantage of the trending #MeToo movement that started back in 2015 to encourage men to shift from what is defined as 'toxic masculinity' standards and evolve into a more gender-fluid future. The idea behind the campaign was to provoke men into joining the movement and fight for what they know is right.
Surfing the #MeToo wave allowed Gillette to understand the impact a campaign can have into shaping the future for a better path. The brand showed a desire to change and be more understanding of both men and women.
Moreover, Gillette humanizes itself by questioning its own slogan '(The Best a Man Can Be'), adding a question mark to challenge its original message. With this simple shift, the famous razor brand directly acknowledges its fault in being part of the problem, giving the steps needed for a more positive outlook.
Gillette was quick-witted into taking advantage of the huge spike in interest towards fighting for equality between men and women. This allowed the campaign to spread like wildfire at a global level.
Key Takeaways:
Incorporate a strong emotional connect within your campaigns
Know what makes your audience tick
Be aware of the current trends that you can take advantage of to enhance your marketing
2. Intel: Powering Creativity (and Conversions!)
Intel marketing campaign video, 'The Champions Sound' showcases how musician, Metro Boomin, ingeniously mixes the sounds of Serena Williams playing tennis to create a customized song.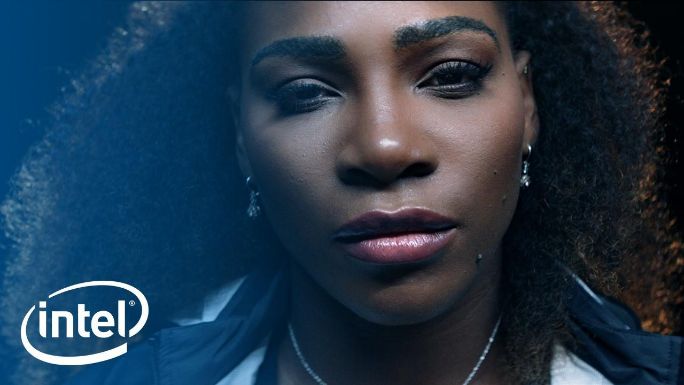 Notice how this promo video doesn't overly rely on Intel's strength as a brand. In a blink-it-or-miss-it approach, Intel's logo is only seen at the end of the video. The video, on its own, instantly captivates your interest with the creative sound and imagery it uses.
For years, celebrities have been a staple of power to quickly spread the word on a new product launch (call them the 'OG Influencers').
Naturally, hiring celebrities comes at a (hefty) price. But another great way (possibly cheaper) to benefit from this impactful power is by working with social media influencers.
For an extra-targeted approach, it's important to carefully select an influencer who has an audience similar to yours. For example, if you're in the eCommerce industry, have a look through eCommerce influencers.
Key Takeaways:
Look for opportunities to partner with influencers or creative experts
Ensure your target audience is familiar with this influencer
Use creative marketing formats like video or music to appeal even more to your audience
3. Spotify: Taking Music to the Next Level
Spotify is famous for more than just music – it's super engaging holiday marketing campaigns.
One famous Spotify marketing initiative was back in 2019 with "Music for every mood." The music streaming giant aimed to deepen its relationship with millennials and Gen Z and realized that the best way to go on about it would be by using memes.
Memes are insanely popular because of their relatability. For a moment in time, it's as if your brands understand you. With this in mind, Spotify chose to highlight how millennials love self-irony by displaying Billboards such as the one below: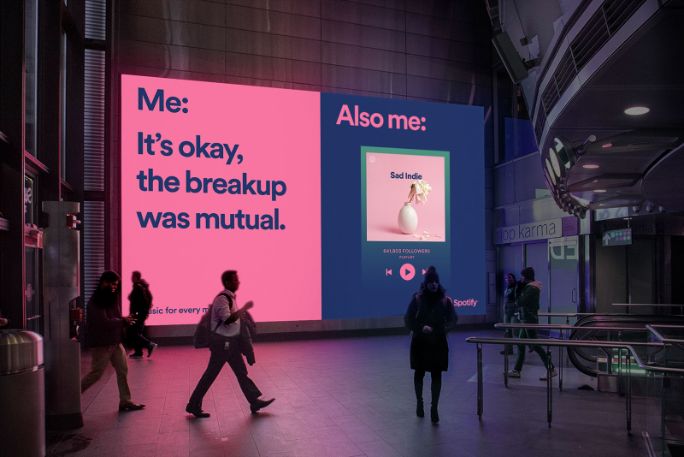 Key Takeaways:
Don't shy away from using humor in your marketing material
Know where your audience is at and use those channels for distribution e.g. billboards
Go the extra mile creativity-wise with your holiday marketing
4. IKEA: Redefining Pinterest Marketing Strategy
IKEA realized that its famous 200-page catalog could have a longer shelf life than the basket inside your bathroom by simply digitizing it and spreading it via Pinterest.
Just like that, the Swedish retailer became one of the great examples of how to use social media in innovative ways to establish a worldwide presence.
The idea behind this marketing campaign is to use the 'power of the Pin' to reach its customers in creative ways, unseen before.
Specifically, the famous Swedish home furnishings retailer uses a combination of researched keywords with Promoted content to reach student consumers shopping furniture, such as dorm room decor.
As Pinterest explains in their own words, "Back-to-school season is big for IKEA. Students are packing themselves into dorm rooms and small apartments (…) hopefully with style and without breaking the bank".
With the knowledge that half of American millennials are on Pinterest and having their ideal customer set in mind for that campaign, IKEA made the most of a seasonal trend ("back to college") to target this specific audience.
The marketing campaign's goal was to increase traffic to its site and promote awareness of its dorm products specifically catered for students.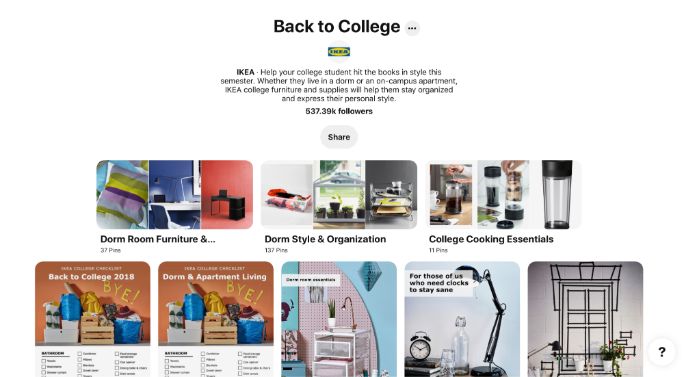 According to Pinterest, with this campaign, IKEA was able to increase its click-through rate (CTR) by 72% in one year. The Swedish retailer also managed to decrease its cost per click by another 37% (that's a big WOW!).
It's important to note that IKEA was the first brand to launch a search campaign through the Pinterest platform. What helped the campaign succeed was understanding what was working, and making changes on the go, such as identifying the best-performing keywords and increasing their bids.
Key Takeaways:
Build in-depth and actionable insights on your ICPs
Do your research on the social platforms your business uses and make the best of its features
Don't be afraid to get experimental and be a first mover in your markets
5. Volkswagen: Making the Best Use of Nostalgia
Timeless and striking. Volkswagen's "The Last Mile" marketing campaign is one that hits the feels (regardless if you ever lived the experience of driving a Volkswagen Beetle or not).
For those who ever owned a Beetle in their life, this short animated clip will be sure to awaken a vibrant nostalgia. The ad grasps the essence of the Beetle, altogether with all the unforgettable memories that it has allowed its owner to experience.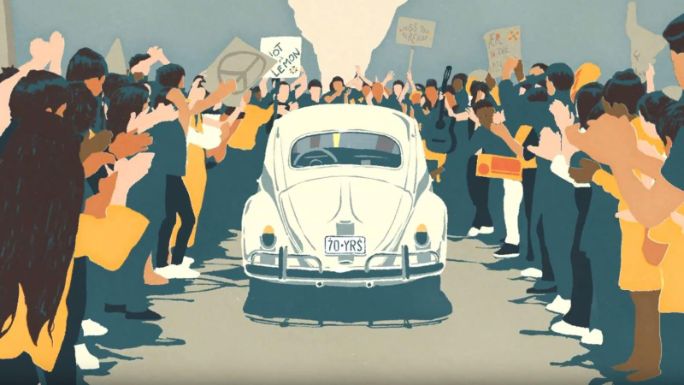 Volkswagen's campaign finds a way to emotionally connect with viewers of all ages (even those who are too young to have a driving license). The video is heart-warming and, when paired with the illustrating visuals, creates an enjoyable experience for every age group.
Adding more juice to this already-touching campaign, Volkswagen created the hashtag #TheLastMile and encouraged Beetle fans to share their own stories of the car. This not only helped spread the message in a meaningful way but also connected its audience of raving fans of the now-retired car.
Key Takeaways:
Know your brand's strengths and traditional value
Create campaigns that drive an emotional connect for all customer types
Encourage user generated content (UGC) through the use of hashtags
Wrapping Up
When looking to create your digital marketing campaign, make it a goal to create truly meaningful, relatable content. Speak to your audience's emotions and strive for lasting imprints in their memory.
People are swamped with clickbait content around the internet, but they still seek a real connection that makes them feel something. More than ever, people want to consume content that enriches their lives and gives them an enjoyable experience.
Thankfully, marketing initiatives are extremely dynamic, and the more innovative a campaign can be, the higher its chances of success.
So go on, let your imagination fly.
And don't forget to use SocialPilot in your social media marketing campaigns.
It is a comprehensive marketing tool for social media management activities, helping marketers at every step of their digital campaigns – right from scheduling, to analyzing posts' performance. Click here to get everything you need to reach your social media marketing goals.