As you are here on this blog post, you (and we) believe that social media is a powerful place. It impacts spans across many kinds of businesses, organizations, big enterprises, and even individuals. Just like Facebook, Twitter, and other social media platforms, Pinterest is also one of the best creative platforms to get more visibility, branding, and traffic for your products and services. Additionally, Pinterest is not only a visual bookmarking tool that helps people to discover and save creative ideas. It is also a haven for small and medium scale businesses to reach to millions of people easily.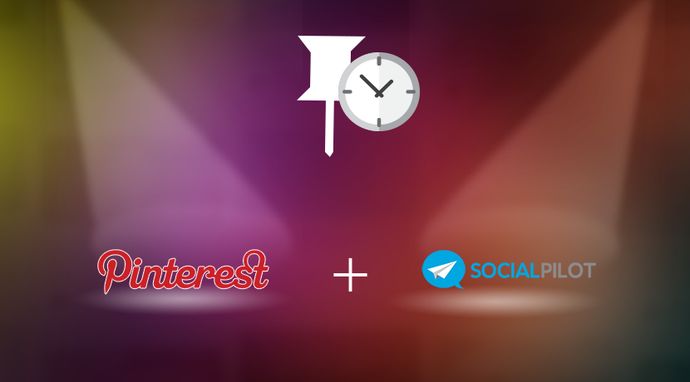 We understand how important Pinterest is in any social media marketing strategy for everyone around the globe. Hence, Pinterest integration with SocialPilot is one of the most demanded features for us in the development queue. Finally, the day has arrived to announce the integration of Pinterest with SocialPilot.

Yes, you read that correctly. SocialPilot now lets you schedule Pins for Pinterest along with your other posts! Also, the good news is that even if you are on starter plan, you are free to schedule pins as per your plan. So, if you are a newbie to Pinterest, you can read our previous blog about how to use Pinterest effectively to get more traffic.
Anyone who is actively using Pinterest to promote their business or services will benefit from this union. It is the overall goal of marketers to draw a user's attention to the branding their products. Knowing this, they are always looking for 2 specific things to make their social media sharing very easy and effective.
A place to manage their multiple Pinterest accounts
A place to schedule their Pin for future sharing
SocialPilot has solved this problem by making things very convenient to their users. As a result, we allow connecting Pinterest boards from multiple accounts and make scheduling very easy and handily expedient.
How can I start?
It's very simple. Just like other the social media platforms which we support, you will need to connect your Pinterest account with SocialPilot. To do so,
Login to your SocialPilot account.
Click on "Connect Account" link from sidebar.
Click on "Connect a Board" under Pinterest icon.
It will take you to Pinterest website to authenticate your account access to our SocialPilot app.
Once you finished authorization, we will list all your boards on our panel.
Select Pinterest board in which you want to schedule and share Pins.
We consider each Pinterest board as a separate social media account just like Facebook and LinkedIn groups connected with us.
How can I schedule Pins?
Now you are ready to start creating the schedule for your Pinterest Board.
Click on the "Create Post" selection from the sidebar and start writing your post in the given box.
To upload images, click on the camera icon and select an image from your computer.
Click on the "Add to Queue" or the "Schedule" button to start creating your scheduled Pins.
Where can I see my scheduled posts?
Once you finished creating and scheduling pins, you can view your whole schedule from the "Manage Posts" page. You can also view your delivered Pins from the "Delivered" Tab.
Are you now ready to start scheduling your pins?