Social media is every marketer's safe haven for branding and marketing.
And why not?
More than 50% of the population is active on social media, and more are signing up with every passing second.
In a recent poll by Hubspot, 79% of the respondents have made a purchase after seeing a paid advertisement on social media.
This isn't just a happenstance.
It's the constant efforts that these brands put behind their dynamic presence on social media, that counts.
But how do they captivate their customers' attention for this long despite the budding competitors?
Well, that's something that we'll reveal in this blog.
We shall assess 3 different social media case studies. All of them are best in their niches. Their game is simple yet effective.
How effective? Let's take a look.
Social Media Case Study 1: Starbucks
Starbucks and social media are a match made in heaven. Being one of the sensational brands online, they are stirring the social media world with their strong presence.
They brew the right content to elevate the experiences of their coffee lovers. But how do they nail marketing with perfection every single time? Let's find out.
Starbucks in Numbers
Starbucks mastered the advertising transition from offline fame to online undertaking. They use each social media with a varied goal to target pitch-perfect reach. Drawing in more customers than ever before, they strike the right balance in content across multiple platforms.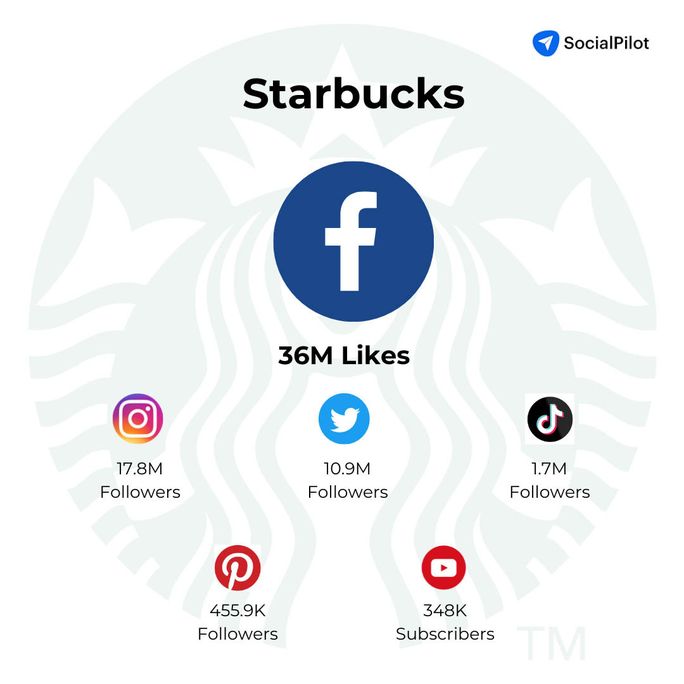 Key Takeaways
Though not every company has a Starbucks budget to promote and spend lavishly on social media marketing, here are some quick takeaways that will undoubtedly help.
1. Chasing Trends
Be it any event, brands must take the advantage to showcase their viewpoints and opinions. Successful brands like Starbucks jump into the bandwagon and leave no stone unturned to make their voice count in the trending list.
Here's one such social media campaign example from Starbucks.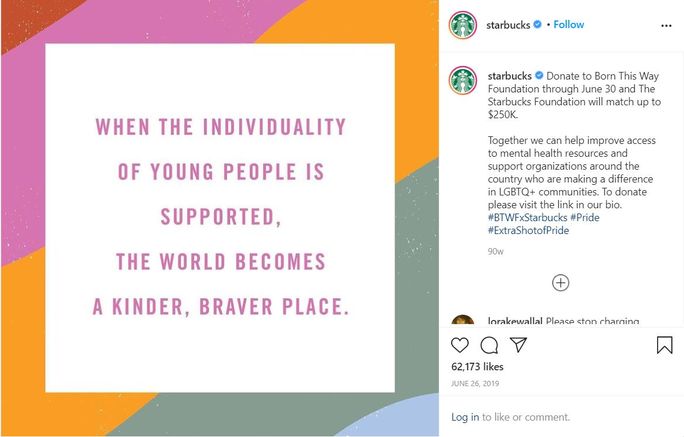 Starbucks is a firm believer in LGBTQ+ rights. When the pride wave surged, Starbucks came forward and reinstated its belief through the #ExtraShotOfPride campaign.
Starbucks joined hands with the Born This Way Foundation to raise $250K to support the LGBTQ+ community. Throughout the social media campaign, they shared quotes and stories of various Starbucks employees cherishing the pride spirit.
2. Less is More
Social media is not about quantity but quality. Starbucks follows the "less is more" principle to maintain the quality standards, even in the caption. Spamming followers' feeds with constant posting is a big no-no. Starbucks shares 5-6 posts per week on Instagram and 3-4 weekly posts on Facebook.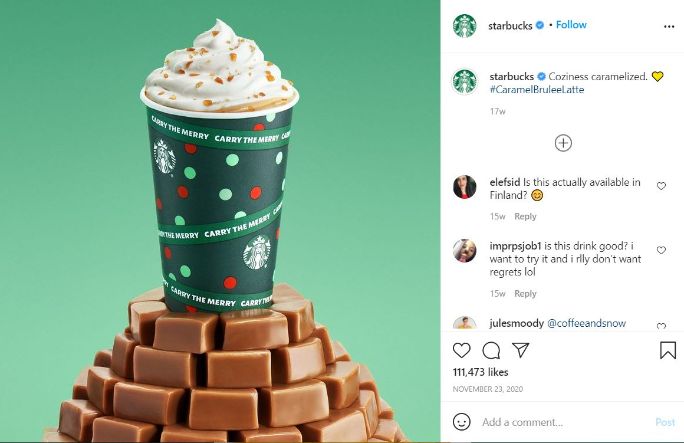 Creative and crisp! That's what defines a Starbucks caption. This post with 111+k likes is no exception. Nothing is better than a minimalist post with a strong caption.
3. User Generated Content is the King
Ditch the worry of creating content every day when you can make use of user generated content. Starbucks makes sure to retweet or post its loyal customers' content. User generated content postings starkly improve brand credibility.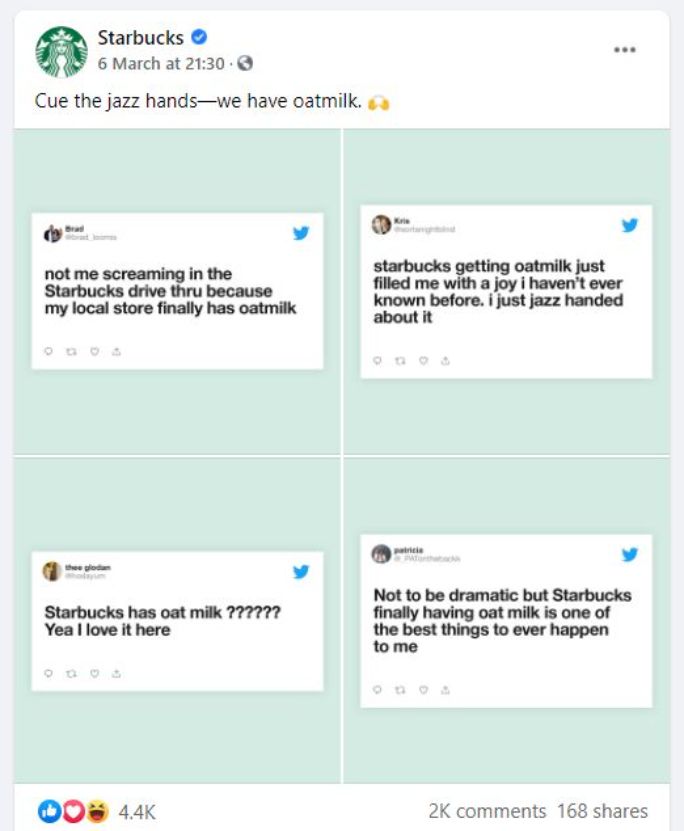 Look at this Facebook post made out of customers' tweets. The new Oatmilk drink got the appreciation shower by some, and Starbucks couldn't resist but share it with others. It saved them efforts on content brainstorming, plus they got free PR.
4. Building Rapport
Building rapport with the audience is an unsaid rule to brand fame. Social media has now taken the onus of dispensing quality service by aiding brands in prompting faster replies.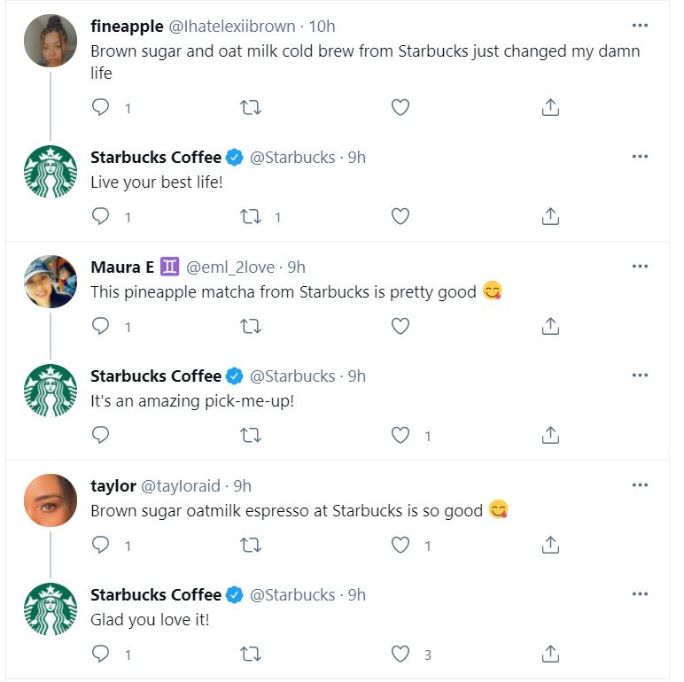 Starbucks is always on its toe to respond to customers actively solving concerns, expressing gratitude, or reposting. That kind of proactive service definitely deserves love and adoration.
5. Loads of campaigns
Starbucks is known for its innovative social media campaigns. Be it a new product launch or any festivity around the corner, Starbucks always turns up with a rewarding campaign.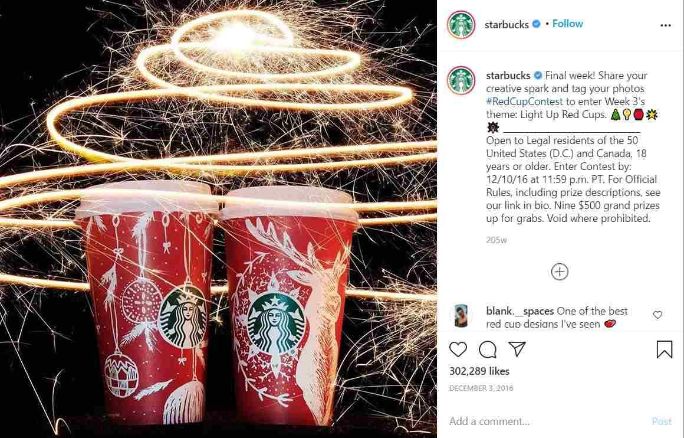 In this social media campaign example, Starbucks introduced #RedCupContest with prizes worth $4500 during Christmas of 2016. A new entry came every 14 seconds.
The grand total of entries was a whopping 40,000 in just two days. Indeed Starbucks knows how to get the most out of the festive fever.
6. Content mix
Last but not least, the content mix of Starbucks is inspiring. They create tailored content for every platform.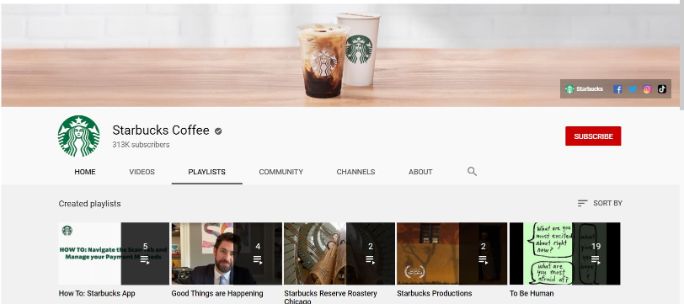 The official youtube channel of Starbucks comprises content in varied hues. From recipes to even series, Starbucks is the ultimate pioneer of experimenting.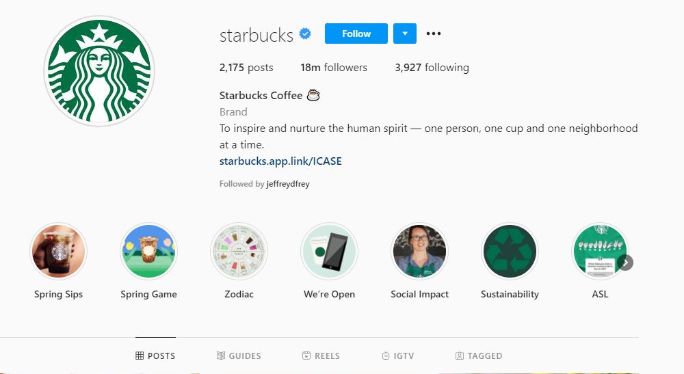 Even on Instagram, they use all the features like Guides, Reels, and IGTV without affecting their eye-popping feed. Starbucks also follows the design consistency for its aesthetic content mix.
Starbucks has proved time and again to be a customer-centric brand with their unrelenting efforts.
Social Media Case Study 2: Ogilvy & Mather
Ogilvy & Mather needs no introduction. Founded by David Ogilvy, the 'Father of Advertising' in 1948, the agency continues the legacy of revolutionizing marketing long before the advent of social media.
The iconic agency helps several Fortune 500 companies and more make a massive impact on their audiences worldwide.
Ogilvy & Mather knows its game too well and never fails to astonish. Not just high-profile clients, Ogilvy nails its marketing with perfection every single time.
But how?
Keep on reading.
Ogilvy & Mather in Numbers
They use social media to target pitch-perfect reach. Drawing in more hype than ever before, they know how to strike the right balance and bring out emotions with their heart-warming campaigns.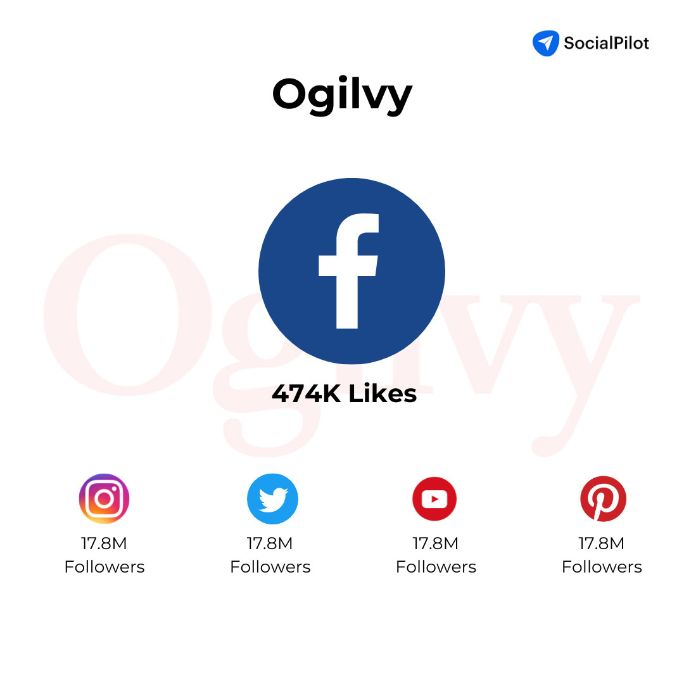 Key Takeaways
Not every company has David Ogilvy's legacy or even affluent clients to boast of, but here are some quick takeaways that will undoubtedly help you become a pro marketer.
1. Integrating Values
Ogilvy stands apart from the crowd, creating trends. They leave no stone unturned to communicate values.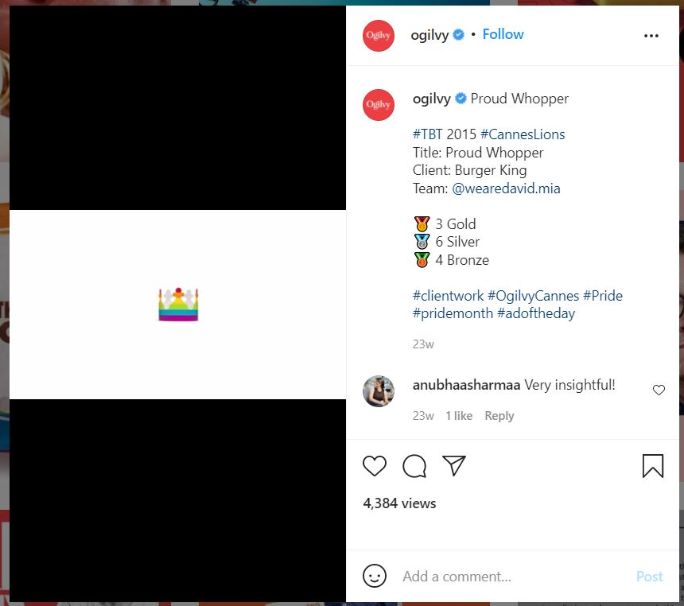 Proud Whopper is one such social media campaign by Ogilvy that was an instant hit on the internet. People were offered whoppers in rainbow-colored wrappers, with a note that said, "Everyone's the same on the inside." This was to reinstate the importance of LGTQ+ rights.
The campaign got 1.1 billion impressions, $21 million of earned media, 450,000 blog mentions, 7 million views, and became the #1 trending topic on Facebook and Twitter.
Ogilvy made a remarkable #Tbt video to honor this momentous event showcasing their supremacy in creating impactful campaigns.
2. Quality over Quantity
Ogilvy believes in the "Quality supremacy" to maintain their high standards, even in post captions.
Arbitrary posting isn't a part of their agenda. They share 5-7 posts on Instagram and Facebook weekly.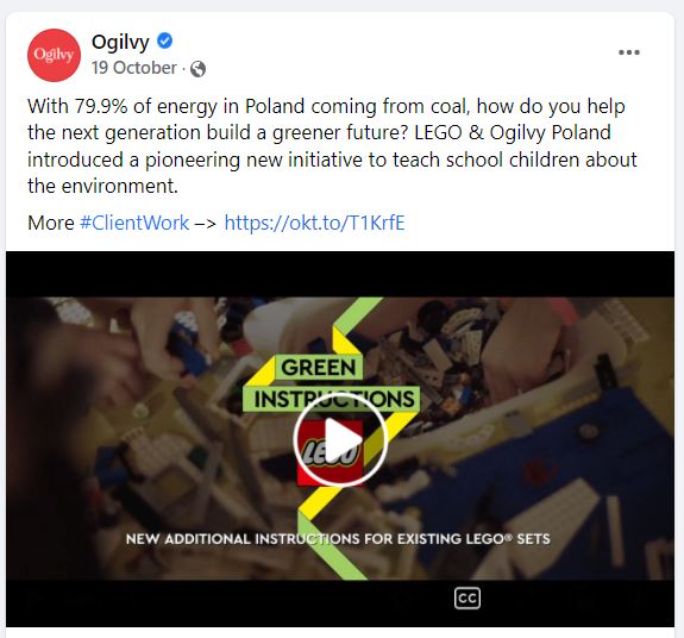 Direct and very precise. That's what defines an Ogilvy caption. This post is no exception. They have exhibited the success of their client work by describing the motive behind the campaign and sharing the ad they created for raising awareness.
3. Adding Credibility
Won awards? It's time to boast! Because that's the most authentic way of establishing trust among your clients. It bears proof of your excellence.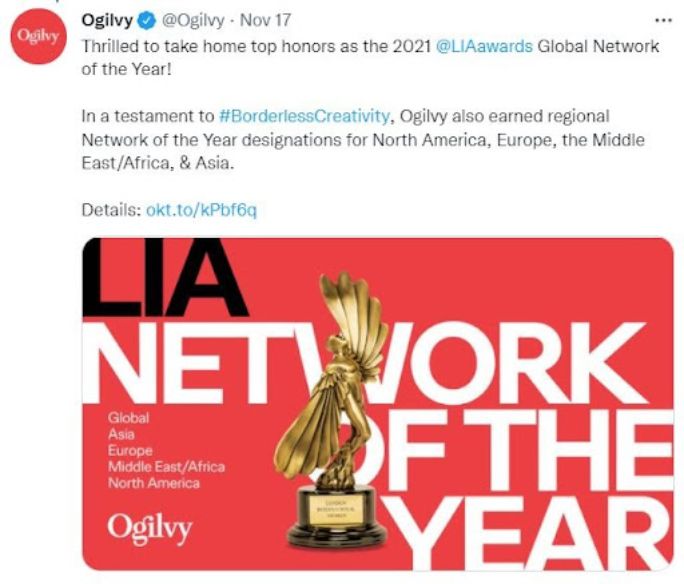 Look at this pinned Twitter post. Ogilvy won the Global Network of the Year by the very prestigious London International Awards. It also earned Regional Network of the year for Europe, the Middle East, Asia, and Europe.
What better than this to give its audience an idea about Ogilvy's roaring success and undoubted potential?
4. Being Innovative
Building rapport with the audience is an unsaid rule to brand fame. And that's why you need to tell stories. Social media has become an indispensable medium to spread your stories far and wide.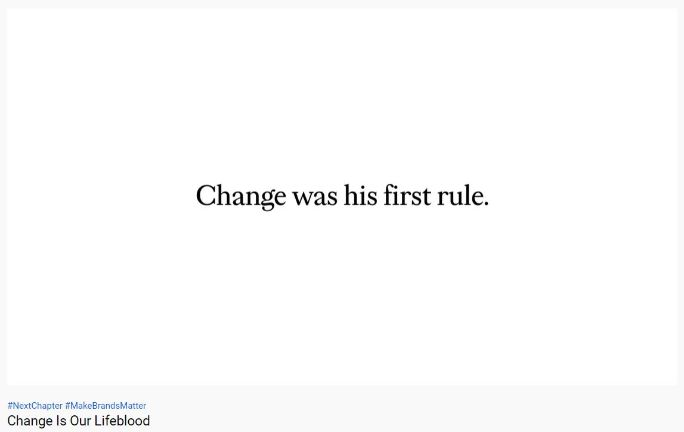 Ogilvy shares its historical tale of existence and how it has adapted to the challenges of the changing world. The team extensively talks about their adaptation to the latest trends to stay on top always.
5. Brainstorming Uniqueness
Being unique is what propels you on social media. People are always looking for brands that do something different from the herd. So your task each day is undeniably brainstorming unique content.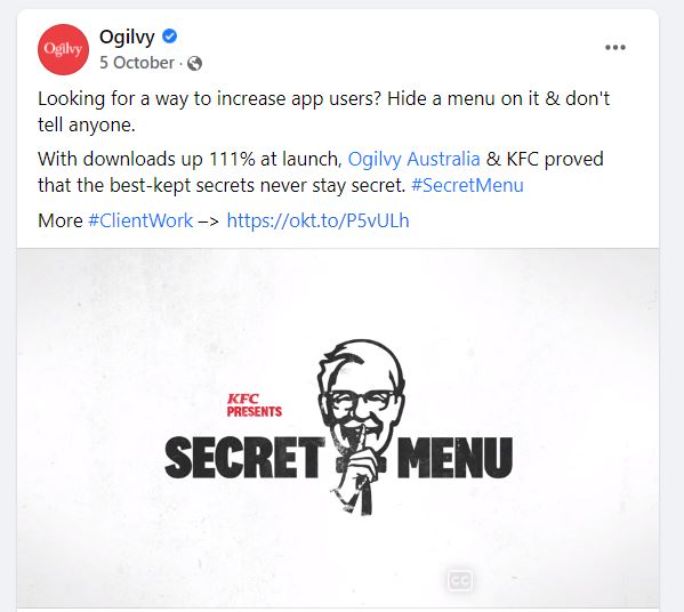 KFC wanted more of its customers to use its app. Well, Ogilvy and KFC decided to hide a secret menu in the app, which was a mass invitation for the download without being salesy at all. Results? Downloads up by 111% at launch!
6. Inspire Your Peeps
Inspiration is everywhere. But how do you channelize and mold it as per your brand guidelines? The renowned brands move their audience, filling them with a sense of realization. Who doesn't seek validation? We all need quotes and inspiration to live by.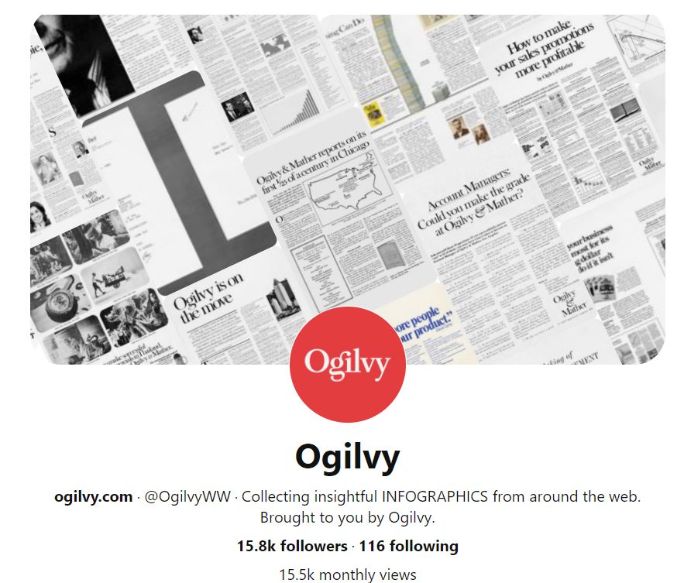 Ogilvy has dedicated its entire Pinterest profile to inspiration. The profile has numerous insightful infographics that encourage you to pursue marketing when your spirits run low. And that's how it brings out the very essence of being the marketing leader: by inspiring its followers.
Got some good ideas for your branding? We have created templates and tools to help you execute them hassle-free. Tread on further and download the Trending Hashtag Kit for 2023 to get into action.
Social Media Case Study 3: PewDiePie
YouTube king with 111 Million subscribers on PewDiePie Channel, Felix Arvid Ulf Kjellberg, has defied all norms. One of the most prolific content creators of the decade, Felix was on the list of World's 100 Most Influential People by Time Magazine in 2016.
Needless to say, he is still relevant to this day and has a massive following on social media. Not just for branding, the Swedish YouTuber leveraged social media to give himself a new identity and opened doors to fame and a successful career.
What was the cause of this extraordinary trajectory?
Let's find out.
PewDiePie in Numbers
PewDiePie likes to keep his social media raw and unfiltered. That's why subscribers love to have a glimpse of his everyday life and follow him on other social media platforms as well. Here's a quick snapshot of that.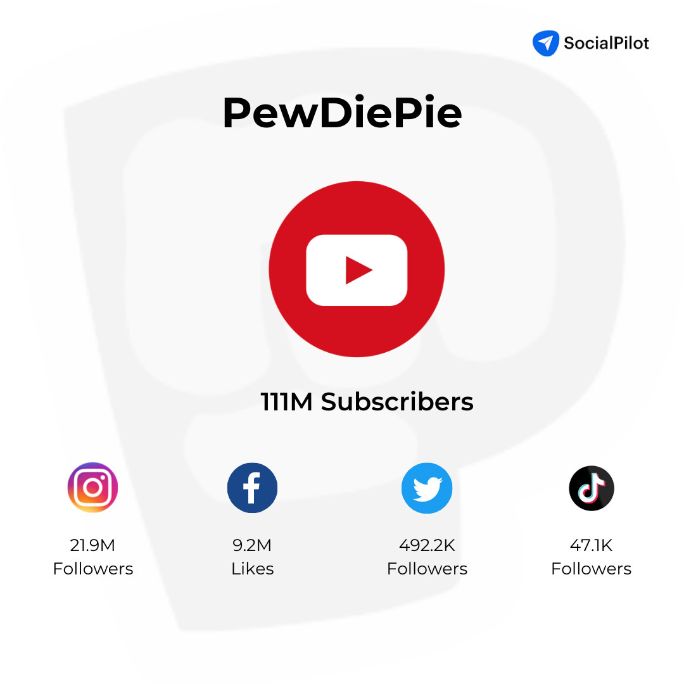 Key Takeaways
Felix took the early bird advantage and started creating content when it wasn't even popular practice. We can't go back in time, but we can definitely learn a lot from his social media success.
1. Start Now
If you are still skeptical about making the first move, then don't. Stop waiting and experiment. It's better late than never.
Social media is in favor of those who start early because then you create surplus content to hold your audience. You quench their thirst for more quality content.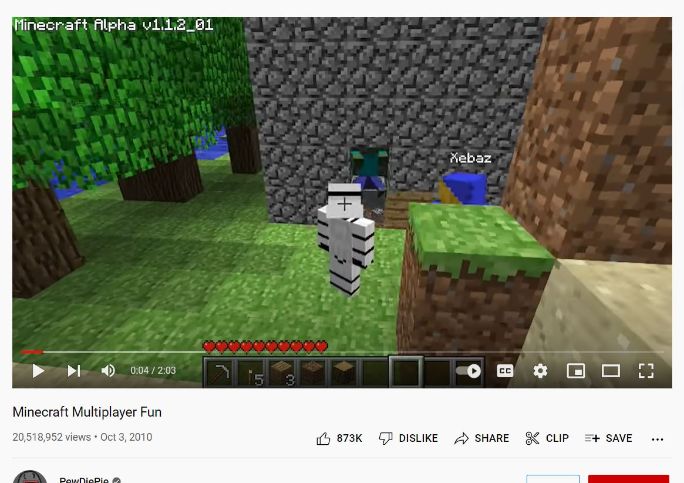 PewDiePie started creating videos in 2011 and live-streamed his gaming sessions with commentaries. It was something new and completely original. Ever since, he has continued to make thousands of videos that entertain his audience.
2. Gather Your Tribe
Being a content creator, PewDiePie knows his act of engaging his audience very well. He strives to build lasting connections and encourages two-way communication. As a result, his followers like to jump onto his exciting challenges.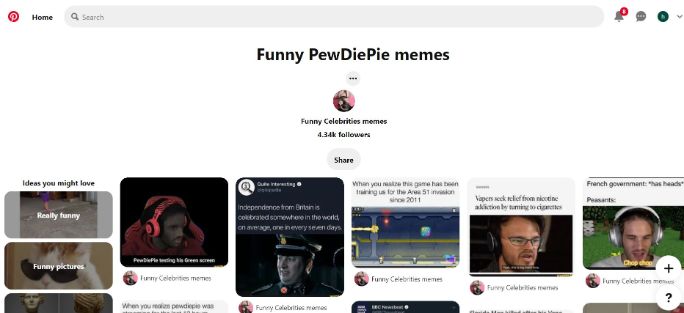 Felix treasures his gaming community. He frequently asks his followers to take screenshots and turn them into funny memes. He gives them tasks to keep them engaged and amused.
3. Collaboration and Fundraising
Once you reach the stage and gain popularity, people want to see more of you with their favorite personalities. That's what Felix does.
He collaborates with multiple YouTubers and brands and puts out exclusive content for his followers. He also goes for multiple fundraising campaigns to support vital causes and social wellbeing.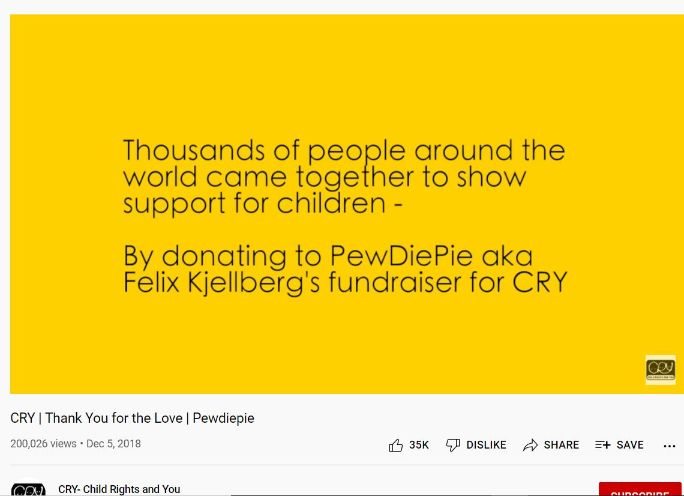 Here's one such social media campaign example. PewDiePie supported the CRY foundation and raised $239000 in just one day to bring a positive impact for children in India. He thanked all for their contribution and taking active participation towards a noble cause.
4. Keep it Real
Felix likes to keep his content fluff-free. You get to witness raw emotions from an unfiltered life. This instantly appeals to the audience and makes the posts more relatable.
Apart from that, he also uses storytelling techniques to narrate his experiences, adding a very personalized touch to each of the videos.
Here's a video of Felix where he and Ken from CinnamonToastKen discuss what can be possibly done with a million dollars around the world. The topic is quite intriguing.
More than 3.8M people have watched it and 216K of them liked it as well, proving that you need not always sweat to create complex content. Even the simplest ones can make the cut.
Conclusion
Social media campaigns are winning hearts on every platform. However, their success rates largely depend on your year-round presence. That's why being consistent really does the trick.
We're sure, you must have learned a few things from the above mentioned social media case studies.
To excel further at your social media marketing, use our FREE Trending Hashtag Kit and fill your calendar with everyday content ideas.
On downloading, you get 3000+ hashtags based on each day's theme or occasion. You also get editable design templates for a hassle-free social media posting.
What are you waiting for? Download now.