Here are some familiar questions for you to answer.
"What are you planning to post this week?"
"Are you ready with the ideas for this month already?"
If you are pulling off a nervous smile when your client or manager bugs you with the same query, then this section is what you need. No matter our procrastination instincts, we have to admit that a social media calendar is every marketer's savior.
As the name depicts itself, a social media calendar is simply a weekly, monthly, or even a yearly planner with dates and content ideas. You can brainstorm on major holidays or plan specific campaigns.
But we'll go a step further and advise you to create a social media hashtag calendar to club all kinds of hashtags together for each day.
You can get ample templates online. They are usually basic excel sheets with 5-6 columns. Adversely, you can opt for a social media scheduler with customizable calendar options.
You just need to upload the assets, tailor the content as per platforms, and select the date and time for the posting. It's that easy and quick!
Beyond social media, you can even create calendars for other publications. Popular brands and media houses like Forbes use content calendars to plan and update their public editorial calendar.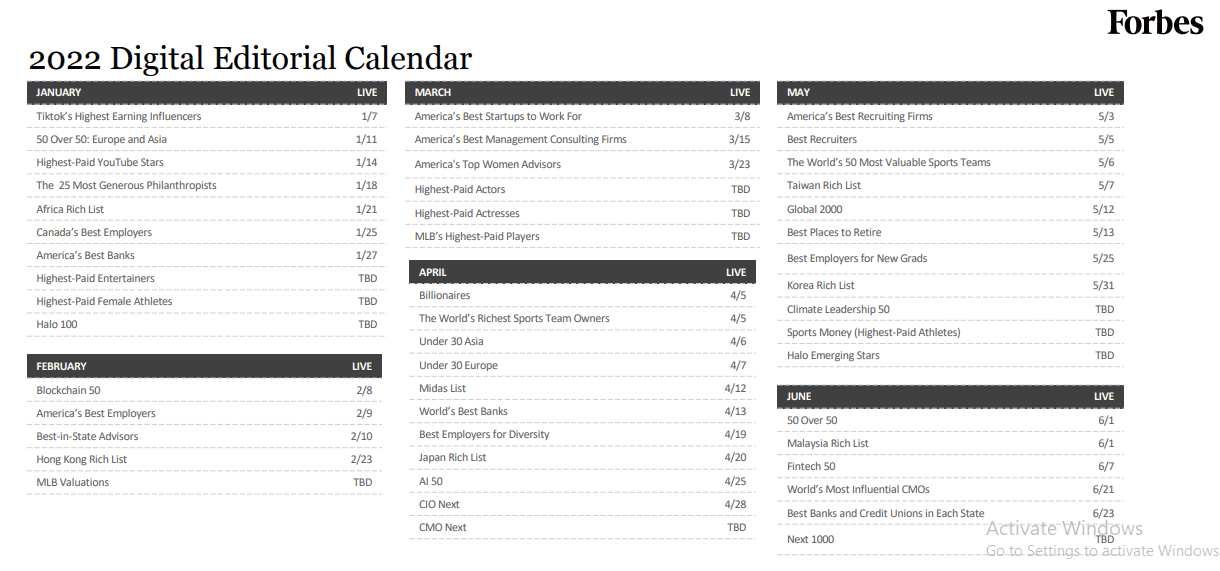 Every year they publish a digital copy of their monthly publications with release dates. It helps them in brainstorming content and design well in advance with adequate time to market.
Top 5 Benefits of a Social Media Hashtag Calendar
Suppose you get a perfect idea for a social media post. You called your copywriter excitedly, conveying your thoughts.
You both brainstormed and came up with a fantastic copy. But to your dismay, the designer denies helping you as he is stuck with other priorities.
Obviously, you could have escaped this ugly situation with a social media calendar planned well ahead of the deadline.
Beyond mending these coordination gaps, here are some more benefits to reap from a social media hashtag calendar for promoting your business.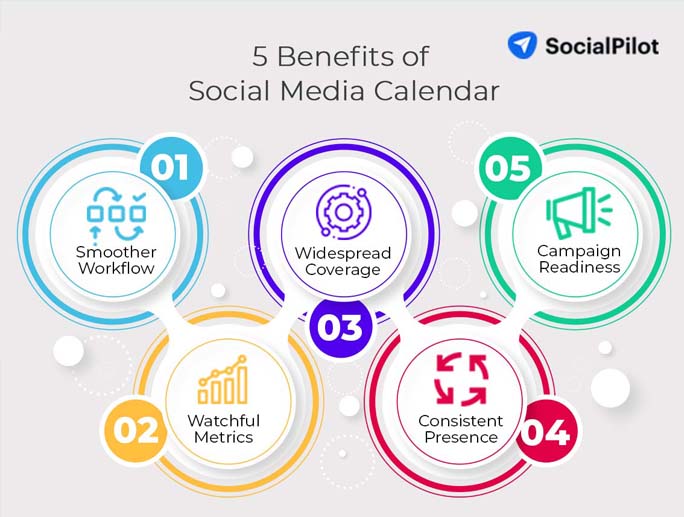 1. Smoother Workflow
A planned social media calendar ensures a smoother workflow to realize the short-term and long-term objectives of both business and individuals. Each dependency performs an assigned task at its own sweet pace. It eliminates the pressure and ensures impeccable coordination across multiple teams.
2. Watchful Metrics
Based on past data, you can get a fair idea of what kind of content goes well with your audience. Such analytics will help you in sharing content that resonates with your target audience.
If you are using some hashtag tracking tools, a social media hashtag calendar will further ensure that you only track the relevant hashtags. This can save you from running out of credits before realizing any ROI.
3. Widespread Coverage
Planning will let you leverage the advantage of trend predictions. You can cover multiple events to build an engaging rapport with your followers on different platforms.
Let's say it's Christmas. You see several Instagram followers are giving excellent responses to DIY Reels and Live Rooms.
While most Twitter profiles are getting dramatic attention when polls of feedback and yearly reviews are being shared. You even witness a new hashtag trending.
So, with planning, you can come up with two variants on similar themes and share them across the respective mediums.
4. Consistent Presence
You need not sweat in the last moment in the name of consistency, creating ill-designed visuals and copies filled with typos. Content calendars save you time producing quality content with lesser edits.
Pro Tip: Create design templates that follow brand colors and themes, maintaining consistency throughout your social media profile.
5. Campaign Readiness
We don't need to mention the plight when a campaign starts – the cutthroat deadlines, the splurge on ads, never-ending edits, timely executions, constant updates, followed by numerous checks on performance.
In this madness, we often miss out on the usual activities, penalizing our daily reach. Not anymore, if you have your social media calendar intact. Just schedule your daily posts and divert all your focus to the campaign's success.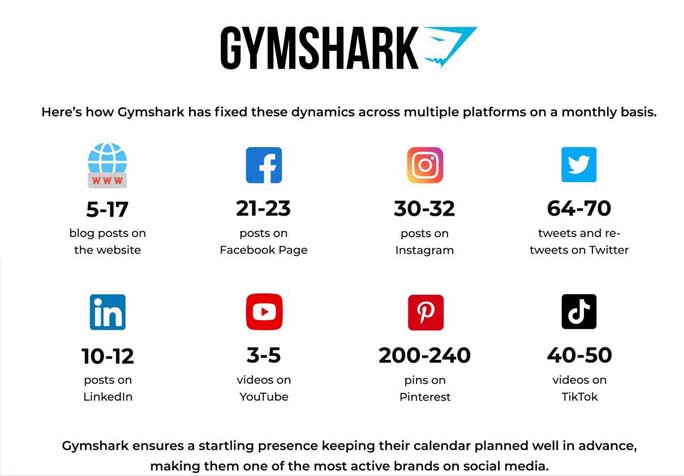 5 Steps to Pre-Planning Your Social Media Hashtag Calendar
So if you are a blogger, marketer, or own an agency or enterprise, a social media hashtag calendar is a must. Depending on your niche, you need to define your objectives.
Here are a few steps to follow before you get started with your social media hashtag calendar.
1. Find Your Target Audience
Finding the demographics of the target audience is a crucial aspect of marketing in general. Being specific on your prospective sets will help you in sharing coherent posts.
The more they relate, the better you sell. Hence defining target audiences is the first and foremost step towards any marketing endeavors.
2. Choose the Right Social Media Mix
Now you have to choose the social media channel that is most popular among your target audience. Suppose you are a budding digital marketing agency, then you ought to go for LinkedIn and Twitter.

Here's a snapshot of the YPulse Survey. If your audience comprises GenZ enthusiasts, you should keep Instagram, TikTok, and Snapchat as your social media priorities.
While if your buyers are in their early 30s, Facebook, Twitter, and Youtube handles will demand more attention.
3. Experiment with Content Diversity
Here comes the tricky part. It is tough at times to maintain content diversity across multiple platforms. The only way out of it is a lot of experimentation.
Keep your audience hooked with content variety. It will save you from being monotonous. Here are a few content ideas for starters:
Blogs
Images with quotes
DIY videos
Polls
Stories
Collabs
Offers
Podcasts
Live Q&A sessions
Ebooks and templates
Memes
Gif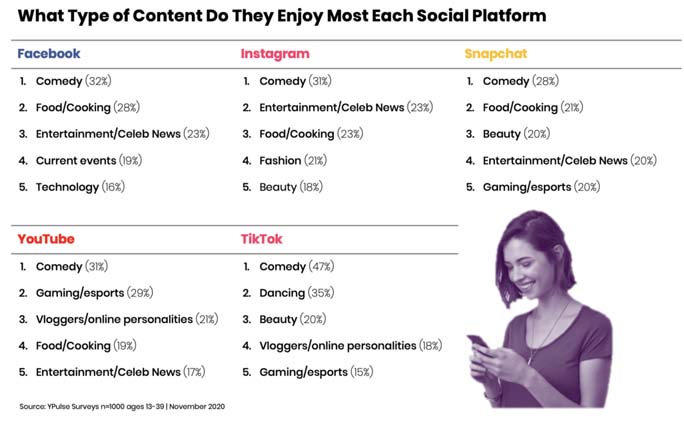 Here are the recent trends captured as per social media by YPulse Surveys. It sums up a popular content niche on each platform, guiding you on content creation for respective platforms.
Is preparing diversified content getting on your nerves? Running out of ideas to prepare content that addresses a diversified audience?
Keep your worries at bay with SocialPilot's AI Assistant. Automate all your content generation processes and give them a tone to hook your audiences. Generate distinctive content for your posts, memes, stories and more. Experiment with the different content types, generate enthralling social media content for different social media platforms and post them from a centralized dashboard.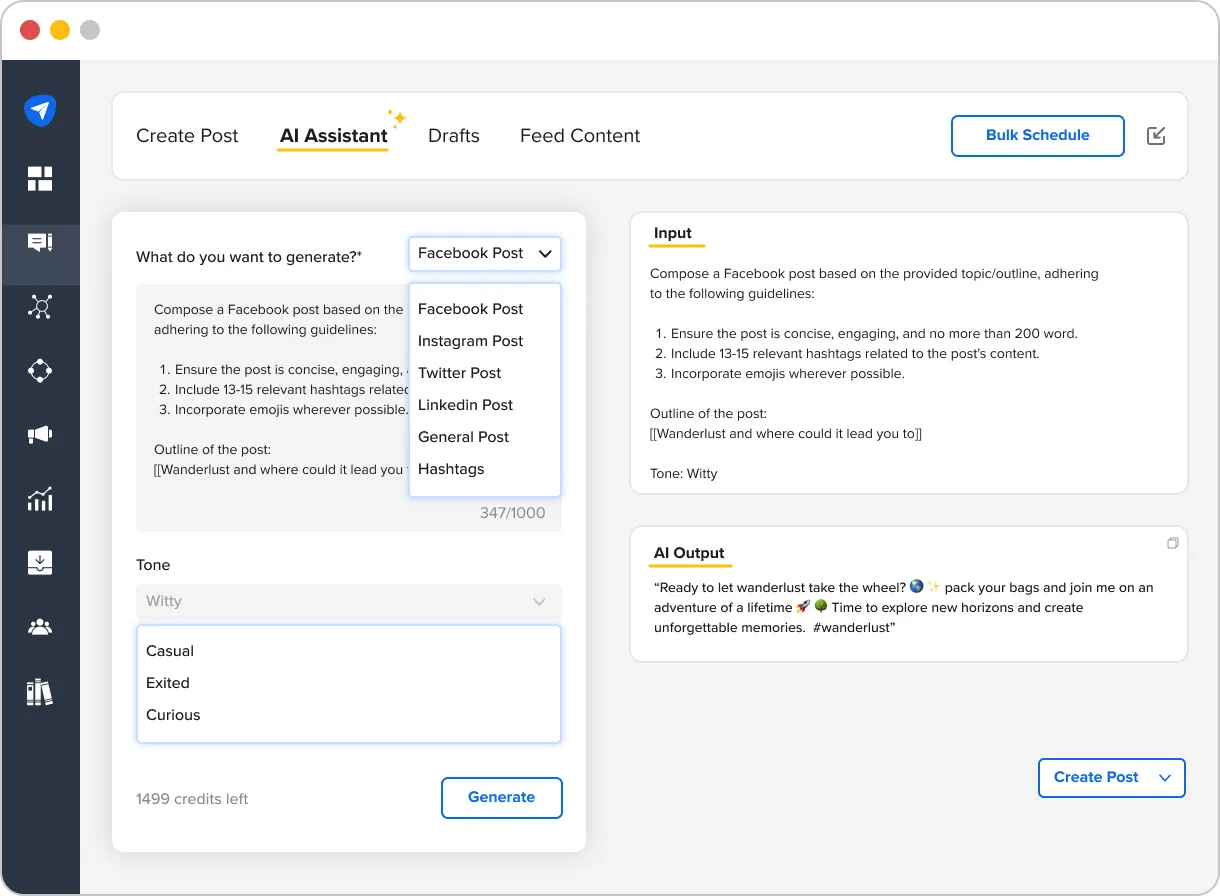 4. Select Your Calendar Type
You have endless options to choose from for your calendar. It can be a spreadsheet, Google sheet, or intuitive social media management tools like SocialPilot.

If you are opting for sheets, consider having the following columns:
Date of Publishing
Title
Description
Content Type (Images, Links, Infographics, Videos, Polls, Q&A, Gifs, Quotes, Video, Story, UGC, Other)
Social Media (Facebook, Instagram, Twitter, LinkedIn, Pinterest, Tumblr, Other)
KPI and Goals (Conversions, Clicks, Leads, Awareness, Website Traffic, Signups, Other)
Status (Started, Working, Pending Approval, Complete, Incomplete, Rejected, Revision, Feedback Shared, Other)
Hashtag Trending
Draft Link
Live Link
Engagement rate (Likes, Shares, Follow, Retweet, Comments, Replies, Repin, Reach, Total Views, Clicks, Video Views, Impressions, Others)
Overall Performance (Poor, Average, Good)
Additional Comments and Feedbacks
You can share the sheet with your team, and they can update it after doing their part. With tools like SocialPilot, everything becomes incredibly easy and fast.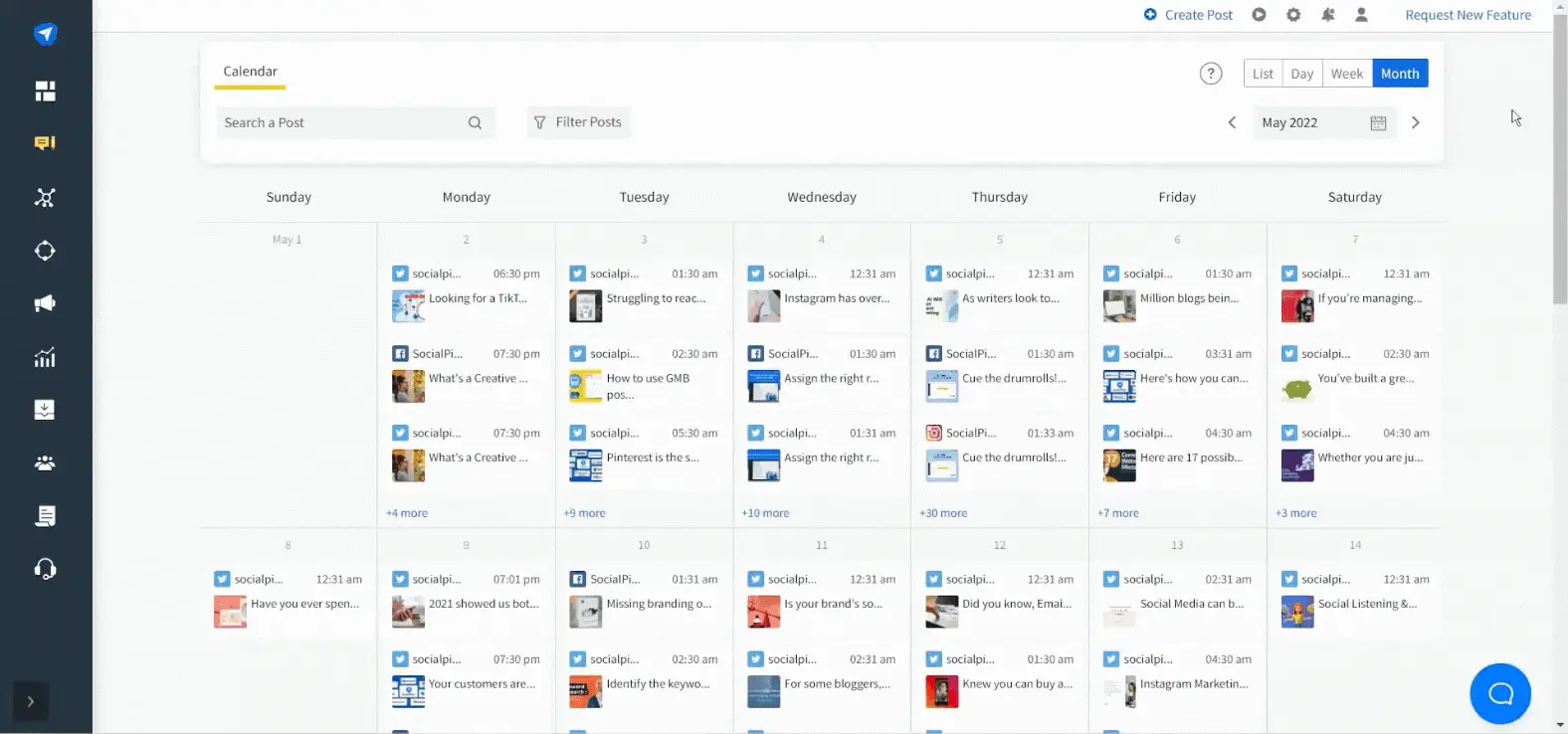 Just connect your respective accounts, type in the post, and schedule them. Access the analytics and get your White-Label reports with ease.
5. Zero Down Important Dates
Special occasions demand special attention. Despite you posting daily, you have to zero down on dates that are important for your brand.
You can start planning your calendar before a month or two to avoid the last-minute panic and reach out to influencers for collaborations and promotional activities. You can refer to the Social Media Hashtag Calendar 2023 to find the dates best suited for your niche.
Conclusion
Social media marketing is a long-term strategy that exhibits a snowball effect on branding. Hence, planning from the beginning is the right way to implement it.
You can easily trace out some engagement patterns and collect essential demographic information that will further push you to create relevant content.
We have created an entire kit with everything you need. It has templates for every occasion and more, the right strategies you need to follow on popular channels, and the 2023 social media hashtag calendar.
Get your copy of Trending Hashtag Kit and be ready to smash all goals!