People and businesses alike are increasingly turning to livestreaming for engaging with their audience. It's just one more novel way of interaction and providing content. The trend is certainly growing. People spend about three times longer watching a Facebook Live video than a pre-recorded video making Facebook live for business a promising engagement medium.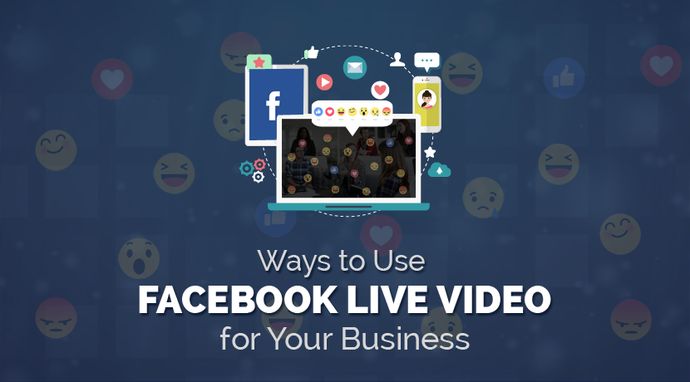 So, how can you use a streaming tool like Facebook Live for business to take full advantage?
How to go Live on Facebook?
Consider these seven methods.
1. Promote Your Upcoming Event
If you host an event, there is just simply no way everyone is going to be able to attend in person. This is especially a given if your company also caters to a remote audience.
To ensure those people aren't left out, start a Facebook live video live stream the event using Facebook Live so they can tune in from their laptops and tablets. Sure, they may not be able to partake in the live activities, but they'll get in on the presentations and lectures, which are the meat and potatoes of the event.
Here is an example of a Facebook Live event hosted by Samsung to promote its VR 360 Camera. It even features a guest appearance from Mark Zuckerberg.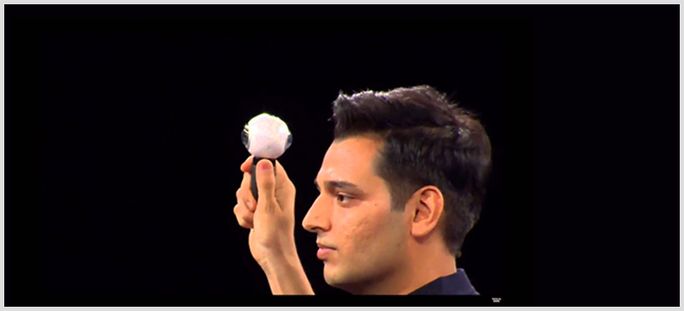 Remember, promoting an event through social media doesn't just entail sending out a few posts and using an event hashtag. Facebook live video streaming has become very much a part of social media engagement.
2. Introduce a New Product
Companies need to consistently introduce new products or services in order to remain fresh in the minds of their consumers. The product launch will obviously need to be heavily marketed. How else can you raise eyebrows besides the usual social network posting?
Facebook Live video can be used to introduce a new product. Instead of just talking about it or sending a few pictures, use Facebook live show it off in a live stream and maybe even provide a demonstration.
Lono Drop is an organization that raises awareness on water conservation. Its latest product is a light bulb-like item hung on a shower head. The bulb changes colors informing you when your shower has exceeded a length of time. The product was introduced using Facebook Live Video.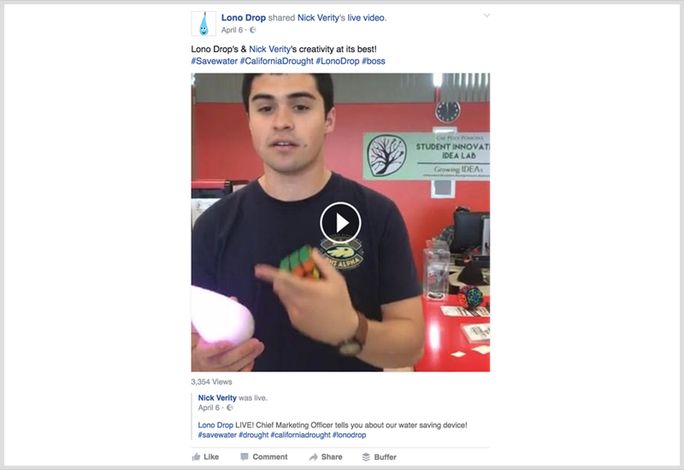 As you can see, the video is very simple and filmed right at the headquarters' office. It's lighthearted in nature and pretty cheesy, but it gets its point across without relying on any fancy gimmicks or expensive editing using Facebook live video.
3. FAQs/Q&A
There are likely questions that your company gets asked all the time. Instead of responding to every inquiry, release a FAQ video where you put to rest once and for all the questions most likely on your consumers' minds.
Of course, you can always include a FAQ on your homepage or in the form of a blog post. However, it has sort of become a trend to do it via live stream. This is a great way to use Facebook live for business and a lot of celebrities nowadays too host Ustreams and ask questions as they come in from social media.
Here is a video from a performer from the musical show Hamilton. In the video, he does a simple Q&A from the back of the rehearsal room and answers questions from his social media followers. You can also use Facebook Live for business and solve customer queries interactively.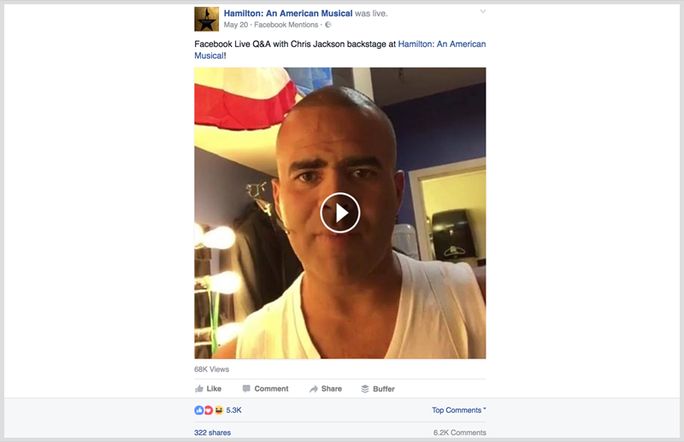 4. Behind the Scenes
Show your audience what goes on behind the scenes. Yes, believe it or not, most of your followers are interested in the daily affairs of your organization. Give them a live tour of the office, warehouse, or the backstage of a venue for an event.
By showing people what goes on behind the curtains, followers will develop a higher appreciation for the inner workings of your business.
Take a page out of the book of Dunkin Donuts. It hosted a Valentine's Day special where it took its audience behind the scenes of its headquarters. The host revealed a stage that included a mock set up of a Dunkin Donuts shop and a look at its special Valentine's Day Donut cake. In this way, Dunkin Donuts provided a fun video that is also somewhat promotional in nature.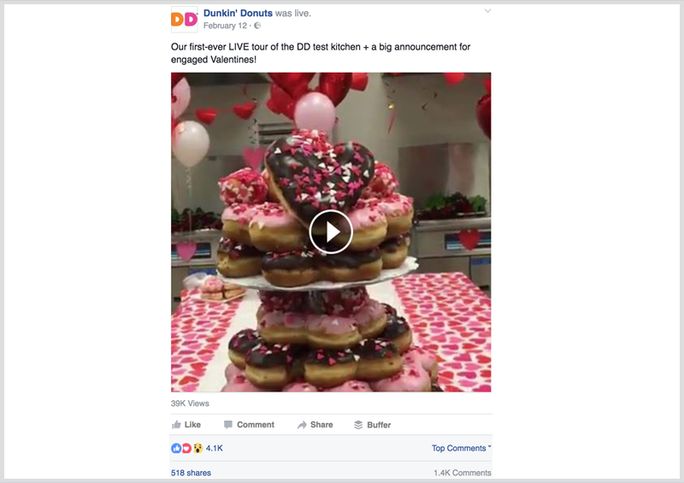 5. Make an Announcement
The easiest way to make an announcement is usually through a tweet or email. Sure, you can do that, but relaying the message via Facebook Live just gives it more of a profound impact because you took the time to say it in person and stream it to your remote audience.
An announcement via Facebook live video stream is exactly what the disaster relief organization Americares did. It sent out a stream where it announced it was changing its logo.
The video also included a behind-the-scenes look at the office and interviews from other members. In this way, it incorporated some of the other ideas discussed earlier.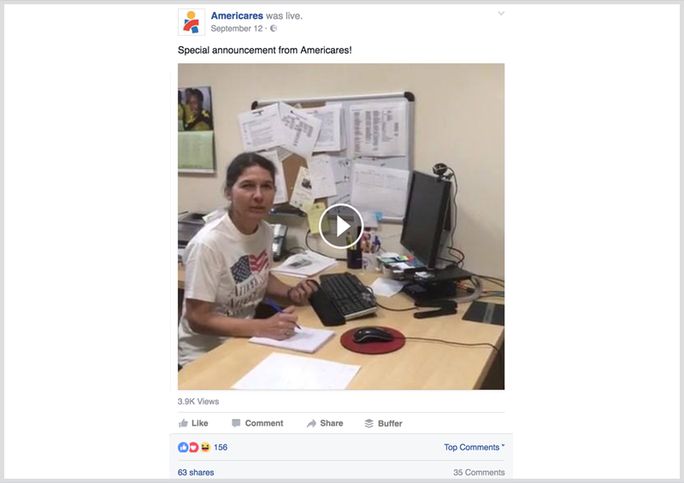 Don't hold a Facebook live video stream for every announcement, though; save it for the bigger updates.
6. How-to Videos
It's a well-known fact that businesses should provide mostly informative content, as opposed to those that are strictly promotional in nature. How-to tutorials are a prime example of informative content that provides useful information to the reader without anything in return. How-to videos can be in text format and submitted as a blog with pictures for guidance.
It can also be in video format via livestream. This was what entrepreneur Brittany Missbfab did with a Facebook Live video on how to start a blog for a business.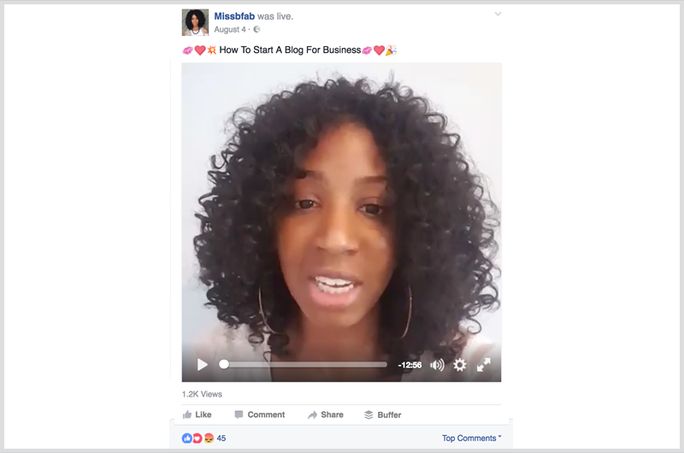 The video she did was very simplistic and just featured a close-up of herself while explaining some tips and tricks. You may, however, mix it up and include images via presentations, screenshots from your laptop, or live demos.
7. Live Classes
Educational content is always useful and helps establish your name and brand as an industry authority figure.
Perhaps you run a private ESL school; you can live stream your class as it's in session. This way, people from around the world can partake in the lesson. Maybe you have a fitness class like this video right here. You can stream it so folks watching at home can follow the workout in their living room.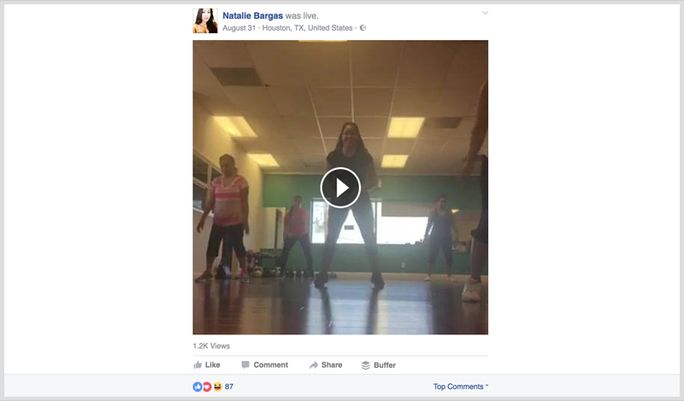 As you can see in the linked video above, there's no fancy editing involved. The camera is set in place with a tripod, and the instructor can forget about it and go about teaching class.
A Facebook Live video is just another one of the must-use tools as part of a larger part of your social media promotion. You can leverage some other social media video tools to make your marketing more engaging. It provides another way from which you can engage and build rapport with your legion of online followers.