Facebook Marketplace has so much to offer when it comes to marketing. As an affordable platform for marketing any product or service without putting a hole in your pocket. The Facebook Ads Library backs up for your Marketplace efforts and gives you the option to research your competitor and track your ad's success through Facebook Pixel.
And best of all, a large number of users sell and buy things with the help of Facebook Marketplace as it is a handy tool when it comes to forging positive buyer-seller interactions.
Facebook Marketplace has so much to offer for leading advertisers to micro businesses.
But are you confused about where to start?
Or want to discover more about how Facebook Marketplace work before you get started?
This article will offer you a complete marketing guide on Facebook Marketplace Ads.
What is Facebook Marketplace?
Facebook expanded to the Facebook Marketplace in 2016. The expansion was majorly aimed to bring sellers and prospective buyers together.
The idea behind Facebook Marketplace is to help buyers and sellers interact, given they are in familiar regions.
But, how is it different from other similar marketplaces like eBay?
Facebook Marketplace comes with the inclusion of social networking. This means the buyers and the sellers can interact over messages.
To understand it in-depth, let us answer these questions:
Where Can You Find it?

To find Facebook Marketplace, you can head over to your Facebook app on your desktop or phone and open the menu from top right. In the drop down menu you will find the Marketplace option.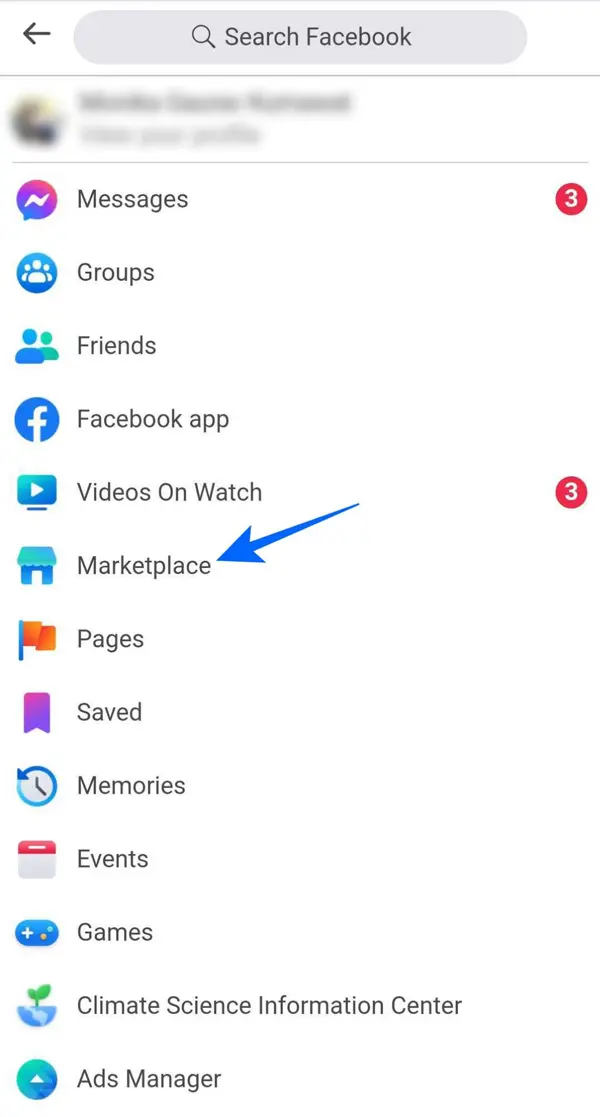 Alternatively, you can also click here.
How Can You See the On-sale Items?

When the Facebook Marketplace page opens up, it should look something like this:
To reach the on-sale items on Facebook Marketplace, you can search in the following four ways:
Search by Category
Under this, you can type in a particular category like "health and beauty", to see products specific to the category.
Search a Specific Thing
For this, simply type the name of the thing you are looking for, like "red blouse". If any relevant items on-sale are there, they will show up.
Search via Location
Generally, Facebook will show on-sale items in a 37-mile radius of your location. But you can change this to increase or decrease the distance. You can also manually change your location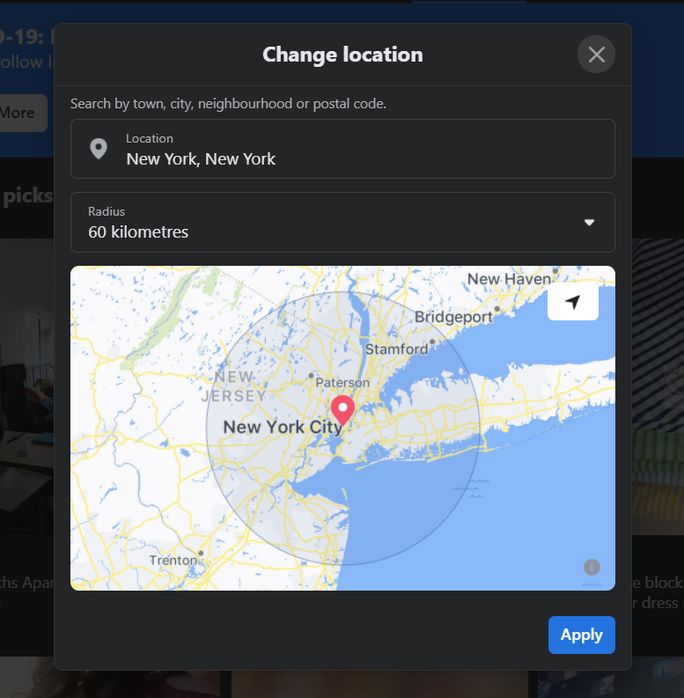 How Can You Sell?
To sell something on Facebook Marketplace, you have to go to the Marketplace and create a new listing.
Here you have to choose the listing type.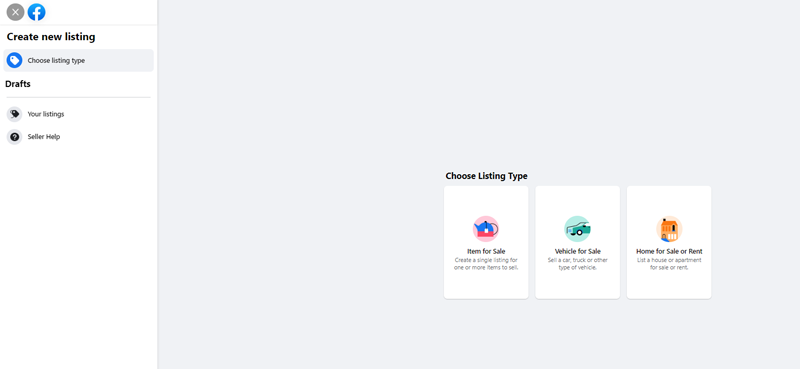 From there, click on any of the four listing types.
Add a picture of the item you want to sell along with all the relevant information like the price and features of the item.
Click on "Next" and eventually "Publish" your post.
How Can You Buy Things?
To buy a particular product, click on it.
You can either click on "Buy Now" or "Buy with Shipping" option.
At times, the option to send a message to the seller asking about the availability of the item is present instead of "Buy Now" or "Buy with Shipping".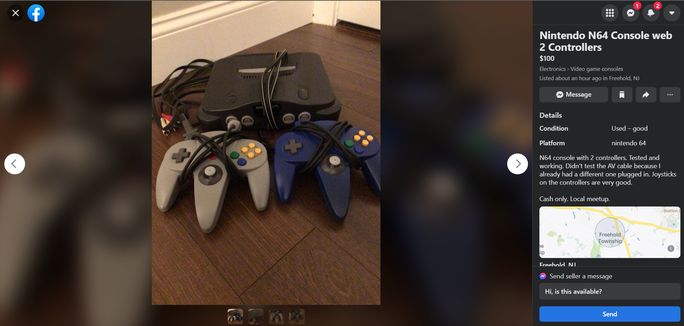 Understanding the Benefits of Facebook Marketplace
Easy Product Listing
The process of product listing on Facebook Marketplace is immensely easy. The listings are mobile-friendly and can be made from desktops, tablets, and smartphones.
You can also add as many as 10 photos of the item you want to sell. You may take pictures from distinct angles. Under the listing, you can mention the detailed features.
Real Time Messaging
See a product you really like? Directly message the seller to know about its availability and negotiate. With the help of the real time messaging option, sellers can optimize the marketplace operations by chatting with the customers to gain their trust.
Real time messaging is an asset when it comes to forging long-term relations with the customers.
Accurate Pricing and Description
In unison with photos, the description of the product holds the power to make or break the deal.
On Facebook Marketplace, you have the option to describe your product in 30 to 5,000 characters.
To make the most out of the description, make sure that it matches with the title and the images.
Do not use hefty words, make the description reader-friendly.
Buyer Targeting via Ads
Facebook Marketplace sponsored ads help in targeting a specific group of people. This is the group that takes an interest in products similar to the ones listed by you.
Facebook Marketplace identifies such individuals and displays the ad to them. Next step, elevated chances of conversion.
Free Listings Vs. Running Ads
When on Facebook to sell items, you have two options. You can either put up a free listing on the Marketplace or run an ad.
Wondering which one suits your needs? Let us try to understand.
What are Free Listings?
Sometimes selling out items by organizing a garage sale can be a handful. To rule out the fuss of the same, you can come to Facebook Marketplace and list your product for free!
To list your product correctly, ensure that you mention the kind of item, the price you want to charge, and the audience you want for the listing.
What Do We Mean by Running Ads?
Other than generating a free listing on Facebook Marketplace, you also have an option to run Facebook Marketplace Ads.
By choosing the right target audience and ad placement, you can easily run an ad for your product to increase the chances of selling it.
You can also boost your listing to increase its reach. This will convert the previously free listing to a Facebook ad.
The Pros and Cons
While there are some benefits associated with both free listings and Facebook Marketplace Ads, there are drawbacks too. Let us see what these are.
Pros of Free Listings
The first and the foremost pro is that they are free! You can reach interested people without having to go through the hassle of organizing a garage sale.
Listing free on Facebook Marketplace is like organizing an online garage sale but with higher possibility of a good reach. You can list a range of products as well, be it an item, a vehicle, or even property.
Cons of Free Listings
The reach would not be as high on a free listing, as it would be on an ad. From the perspective of the buyer, the free listings sometimes mention a very meagre price quote or are even free.
But when contacted by the buyer, these turn out to be highly priced! Many sellers use this strategy to attract customers. This lowers down the authenticity of free listings.
Pros of Marketplace Ads
Facebook Marketplace Ads increase your chances of getting engagement from prospective buyers. It holds the possibility of driving more traffic to the page of product listing. You can also scale your ads using automatic placements to get better efficiency in outcomes.
Cons of Marketplace Ads
The only disadvantage that counts is that of no guarantee of effective engagement and conversions. Although you can always track the success of your campaign.
What Businesses can Benefit the Most from Marketplace Ads?
Marketplace for Businesses
While every business can make good use of Marketplace Ads, there are some that have advantages over others.
Some of the business niches that thrive with Facebook Marketplace Ads are:
Clothes
Furniture
Items for children
Electronics
Why are they flourishing?
Clothes
Sometimes we all end up buying clothes that don't fit us right. Here, the next best measure would be to sell it. This is the core reason why the business of clothing is famous on Facebook Marketplace.
Furniture
When it comes to Furniture, the idea is to sell worn out furniture which can still be used. You can either sell it for a low price in the present condition or refurbish it a little and get a higher price for it.
Items for Children
Children grow up so fast. One minute they are a toddler and the other minute a teen. It does not take long before children outgrow the items you buy for them. Coming to sell such items on Facebook Marketplace is a great idea because many like-minded people are waiting to buy more cost-effective items for their children.
Electronics
The task of buying a new electronic item is a troublesome one. Especially when you are on a tight budget. To buy and sell electronic items that are neither new nor worn out, Facebook Marketplace seems apt.
Marketplace for Retailers
Facebook Marketplace has become a favourite for the ecommerce and retail business.
Why?
There are multiple reasons like:
A good audience reach
Presence of a storefront for the business
Easy collaborations
Easy to obtain order management tools
Well maintained communication with buyers
By listing inventory on the Marketplace, many retailers are investing their trust here.
How to Set Up a Marketplace Ad Campaign on Facebook?
STEP 1: Head to Ads Manager. Once there, choose your ad objective and press continue.
STEP 2: Now, you will be asked to select a destination. This refers to the place where you want to run the ad.
STEP 3: Proceed by selecting your audience. Define the targeting for your ad.
STEP 4: Select either Automatic placements or Edit placements. It is preferable to choose Automatic placements since marketplace is not available as a single ad placement.
STEP 5: Define your budget and schedule your ad.
STEP 6: Select the creative format for your ad. Here you will have to specify the specs for videos and images. Facebook recommends specs for both and you can choose the default or customize it.
STEP 7: Give the finishing touch to set up your ad and publish it by clicking on place order.
Conclusion
Facebook Marketplace Ads are worth it. No matter how big or small your brand is, you can buy and sell stuff with ease.
If you have what it takes to run a catchy ad, making a sale would be a no brainer for you!
If a point comes where you wish to turn back, withdraw your ad.
With heaps of options, and breeze-like ease, Facebook Marketplace Ads is the ride you must onboard to spice up your brand's marketing.
Want more breeze-like options to ease your Facebook marketing efforts? If yes, then SocialPilot is the tool for you. With its auto-scheduling and analytics to social inbox, there are tons of features that can come in handy. Try it today!