If you want to effectively sell your brand on Facebook, you will need to stand out in a pool of 1.9 billion daily active users and 200 million small businesses that already use Facebook's tools.
This is where Facebook search steps in!
Facebook search is an excellent resource for anybody wanting to engage better with their target audience especially when they have similar interests or viewpoints.
Whenever you look for anything on Facebook, you might find certain specific information that individuals contribute to their page's "About" section or post in their public Facebook status updates. You can also discover information about the Pages and groups with which they connect.
To put it simply, Facebook search is a really strong tool and can work wonders for your social media marketing efforts! In this guide, we'll walk you through all the nitty-gritty about marketing through Facebook search.
Read on!
What is Facebook Search?
The search function on Facebook is so designed to make it simpler and quicker for users to locate the most pertinent information when they need it the most.
It allows users to discover all sorts of content types — status updates, posts, photographs, videos, news articles, and much more – just by using basic keywords, much like how a Google search works.
Difference Between Facebook Keyword Search and Semantic Search
Prior to all the upgrades that Facebook's search algorithm underwent, Facebook's Graph Search (beta version) relied on "semantic search." through its keywords.
This means that unless you were looking for particular individuals' identities or company sites, semantic search forced you to perform complicated, pre-programmed search words to find the content you were looking for.
To discover friends who reside in a specific city, for example, you were required to key in something such as "my friends who live in..." to get the result.
It used to be much more difficult if you tried to search for someone or something outside of your immediate network or were trying to perform a business search – for example, "friends of my friends who shop at..." or "images visited or liked by my friends who shop at..."
With recent updates, users are no longer required to employ algorithm-based terms while using keyword search. A simple term or phrase, such as "Shopping Complex at..." immediately brings up all content connected to that search term, as demonstrated below.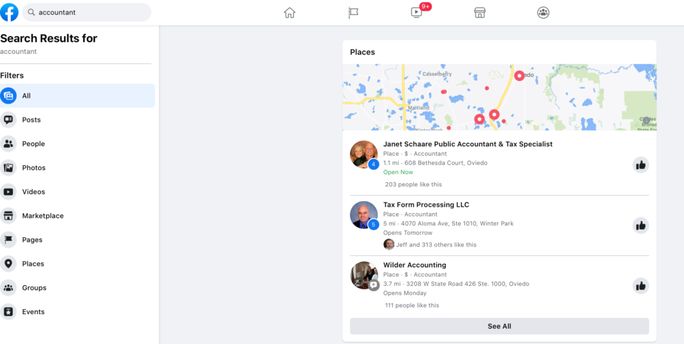 Furthermore, Facebook's keyword search feature is mobile-optimized, permitting users to look for whatever they want through their trusted and most-used app, whenever and wherever they want. This search function already competes with Google, Yelp, and other company review websites.
What Facebook Search Means for Businesses
For owners of brands and businesses of every scale, Facebook's keyword search function offers huge marketing possibilities. Its major advantage is that it makes it easier for potential customers to locate your company.
Facebook users are continually posting reviews about the companies they patronize, as well as the foods and restaurants they enjoy.
If their Facebook friends want suggestions or additional information on a particular business, all they would need to do is simply type in what they are searching for, such as "eateries" or "bike maintenance."
And if your business is already liked by your consumers, you can rely on word-of-mouth to bring in even newer customers.
How to Use the Facebook Search Feature?
Step 1: Visit Facebook's home page and look for the search field bar present right at the top of the page.
Step 2: Enter the phrase or keyword you would wish to search for, then press the search icon present next to the field bar.
Step 3: Enter the keyword or phrase you wish to search for inside Facebook in the search area. Suggestions for persons and Pages are displayed in a drop-down list.
Step 4: Scroll right down to the bottom of the page and you will find a directory of the "Related Searches" section as further options for your direct search query.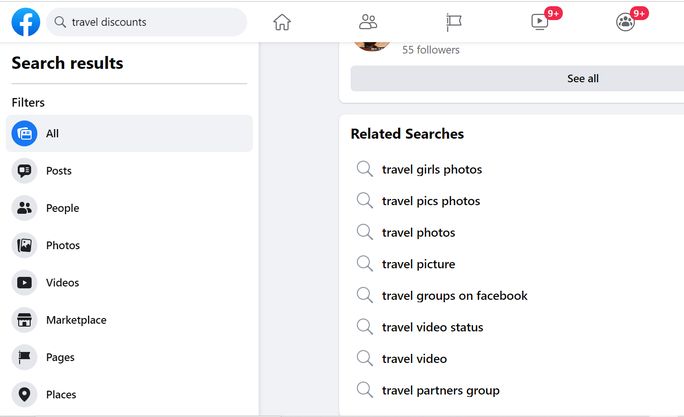 The default filter for Search in the left column is "All Results". Ensure that it is highlighted.
How to Get Featured Organically on Facebook's Search Results?
1. Select the Appropriate Keywords
Begin by conducting a manual and an organic keyword search related to your own industrial niche. Pick the most relevant keywords that receive the greatest Facebook traffic. This increases your chances of connecting with users who interact with your content.
2. Take Control of Your Vanity URL
As soon as you are done creating a Facebook business page, you will be given a dynamic URL that is produced automatically.
However, you will get a huge SEO boost by creating and claiming your "vanity" URL and modifying it to fit your brand's identity. This customized URL should be clear and succinct since its goal is to be recognizable and memorable while providing your audience a general idea of what your company is all about.
After all, www.facebook.com/pages/DesignerOutfits is far more searchable than www.facebook.com/pages/DesignerOutfits/5478569871236.
Your ideal audience would be able to discover you faster on Facebook as well as on other search engines with your memorable and recognizable custom URL. It will also make your company appear more professional and will expose your business to newer frontiers.
3. Unlock the Potential of Backlinks
Backlinks are yet another important aspect of optimizing your Facebook page for SEO. The fact that authoritative sites link back to your page's content indicates that your content is valuable and relevant.
But keep in mind that backlinks from unrelated sources might harm your reputation and rankings. As far as Facebook is concerned, it's vital to note that while it's difficult to create links that direct to your page, it is not entirely impossible, when done right.
One way to improve backlinking to your page is by using an influencer marketing strategy. By finding and connecting with influencers who are ready to provide you guest blogging chances in exchange for including links to your Facebook content and custom tabs in their blog articles, you can enhance your business's chances of gaining further steam.
This approach can assist you in increasing the reputation and authenticity of your Facebook page, apart from creating more high-quality visitors.
You may also include links to your Facebook business page in your own blog articles so that your page is promoted inadvertently every time someone else publishes your blog.
Some Final Key Takeaways
Managing your company's Facebook page so that it appears at the top of Facebook search results is just as essential as including common SEO tactics in your other types of online content.
Fortunately, Facebook's capabilities are designed for marketers that want to build a real-lasting relationship with their audience using their marketing creativity. You can know about your target audience before you post anything by using either Facebook's amazing array of analytics tools.
But if you want far more comprehensive and detailed analytics performance, then get ready to be awed by SocialPilot!
SocialPilot's advanced analytics, real-time communication, Facebook post scheduling as well as monitoring features are the stuff of many social media marketers' dreams!
If you want to create and curate top-notch Facebook posts that are bound to override the ranks of those of your competitors, make sure you check out SocialPilot for Facebook today!