Getting negative or spam comments on social media is not uncommon.
These comments won't affect your Facebook reach or engagement negatively; however, they could influence a new customer. This may affect your brand's conversion or click-through rate.
So how do marketers salvage their brands' reputations when their social profiles are spammed with comments? It's simple – they hide comments on Facebook!
Through this article, we'll discuss what type of comments a marketer should hide, how to delete Facebook comments, and some tips to deal with negative comments on Facebook.
Let's dive in.
What Type of Facebook Comments Should You Hide?
It's essential to figure out if a comment deserves any attention in the first place. There are times when you can simply address a concern in the comments section.
Overusing the hiding feature can also cause issues with Facebook's community guidelines. These are the type of irrelevant comments that you should hide:
Inappropriate language: It's easy to hide behind a computer and post mean comments online. That's why brands have to stay vigilant and get rid of any racist, sexist, or homophobic comments. Any inappropriate remarks can dampen the image of a business profile.
Comments reported by other users: Facebook users have access to report a comment that they find offensive. Some loyal customers might even report content that drags in your brand's name unnecessarily. You can hide these reported comments to acknowledge your audience's support.
Self-promotion content: Some Facebook users promote their services on the Facebook pages of other businesses as well. These users may or may not be your competitors, but they can still affect your conversion rates. Marketers can certainly use the hide feature to hide the promotional links of other brands on their pages.
Spam content: These are comments that may be irrelevant to what you've posted on Facebook. For example, you may have posted about a discount on your services, and someone spams the comment box with broken links.
Spam comments have the potential to ruin the buying experience of customers. If they click on such a link, they'll be out of your Facebook page, never to return again.
Now that you know the type of comments you can hide, let's see the steps involved in hiding comments on Facebook.
Steps to Hide Comments on Facebook
If you've encountered a Facebook comment that you don't want on your post, follow these simple steps to hide it:
Step 1: Log in to your Facebook account.
Step 2: Find the comment that you'd like to hide.
Step 3: Tap on the three little dots on the right side of the comment.
Step 4: Choose the 'Hide Comment' option from the drop-down.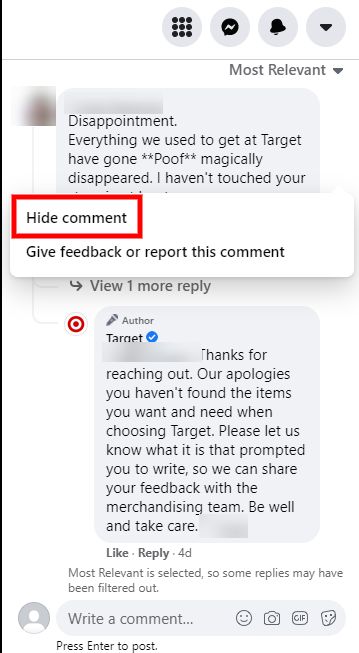 Step 5: When a Facebook comment is hidden, you'll notice that the particular comment is grayed out.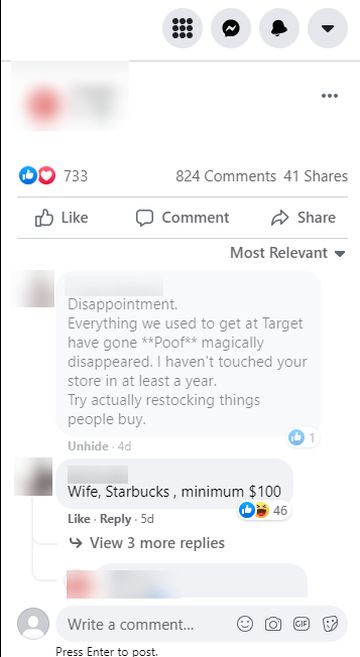 The comment will be hidden from the rest of the audience. However, the poster won't be notified about any changes. However, the comment would still be visible to the poster and their Facebook friends. They would even be able to leave replies to the original comment.
You won't receive any notifications about the replies on this particular comment once it is hidden.
Unhide Comments on Facebook
You can also unhide Facebook comments following these steps:
Step 1: Navigate to the grayed-out hidden comment.
Step 2: Click on the three tiny dots on the right side of the comment.
Step 3: Choose the 'Unhide Comment' option this time.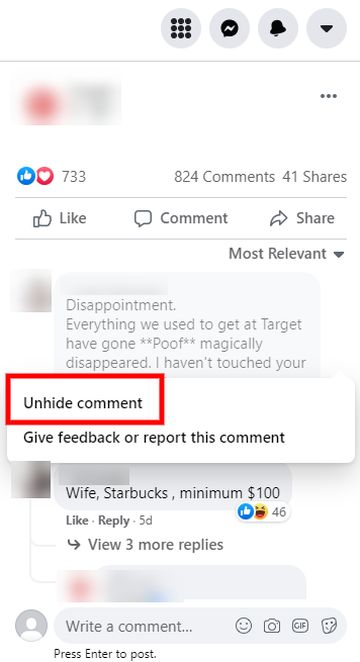 You can regain the visibility of the original comment by unhiding it. The unhide function is helpful if you've accidentally hidden a relevant comment.
How to Delete Facebook Comments?
There could be instances when you'd prefer to delete a comment altogether. Deleting a comment is as easy as hiding it. Here are the steps to delete comments:
Step 1: Similar to the hide function, browse and find the comment you wish to delete.
Step 2: Tap on the three tiny dots on the comment's right side.
Step 3: Choose the 'Delete' option to delete the content permanently.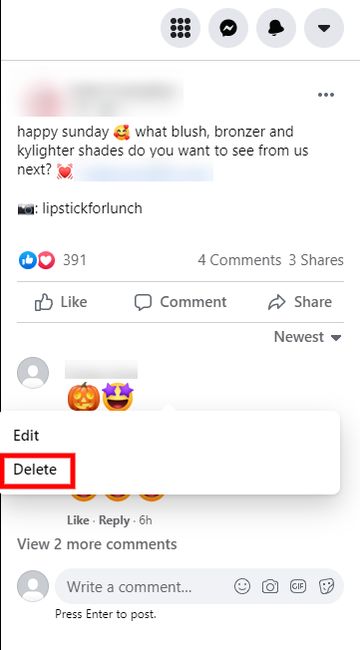 How to Delete Comments on the Facebook App?
Step 1: Log in to the Facebook application and find the comment you wish to delete.
Step 2: Press and hold the comment till a pop-up appears.
Step 3: Click on the 'Delete' option.
You don't always have to deal with comments manually. You can also use third-party services to auto-reply to Facebook comments.
The Difference Between Hiding and Deleting Comments on Facebook
Unlike the hide option, you won't be able to retrieve a deleted comment. The original poster won't be notified about the deletion; however, they would notice that their comment is gone. Marketers can decide if they wish to hide or delete a particular comment. Use the delete function with caution as it may cause a backlash from the author.
When dealing with customer grievances, the hide function is safer to use. Deleting a comment could enrage the poster as they would feel like their concern went unheard. Additionally, you won't be able to go back and track the issue for any possible workaround.
Facebook also allows you to ban users who regularly spam your posts or leave offensive messages. Instead of constantly hiding or deleting comments from such users, you can simply ban their accounts to ensure that they aren't able to comment on your posts again.
How to Disable Comments on Facebook Posts?
You don't have the option to disable comments on a Facebook post. As an admin, you can disable comments on posts added in a Facebook group. Follow these steps to stop any comments on a group post.
Step 1: Find the group post where you don't wish to have any comments.
Step 2: Tap on the icon with three little dots on the right side.
Step 3: Choose the 'Turn off Comments' option to restrict comments on the post.
Best Practices to Deal With Negative Comments
So far, you've read through the steps to hide or delete comments. Here are some tips for handling any negative Facebook comment without breaking a sweat.
1. Don't Leave a Negative Comment Unanswered
Respond to any negative criticism at the earliest. Statistics prove that around 44% of users claim that Facebook influences their shopping preferences.
If a customer is unhappy with a brand's services, they will most likely be vocal on social media. If they're commenting directly on your Facebook page, they're expecting you to take notice and acknowledge them.
2. Address a Valid Criticism with Empathy
If there is a valid negative response, accept it with humility. Always paraphrase to let your audience know that you understand their concern. Then provide a solution by personalizing the message. People don't generally appreciate automated messages. So make sure that you sign the responses with your name.
3. Ignore Some Comments
Sometimes, a poster may leave irrelevant comments that may not affect your brand in any way. You can simply ignore such comments as your audience would consider them irrelevant and move on.
4. Avoid Overusing the Hide or Delete Functions
First of all, you don't want to run into an issue with Facebook for disregarding their community guidelines. Secondly, there are many instances where you can respond to negative comments and solve the author's concerns. When a brand offers solutions or work-around to customers, they are more likely to move on from the mishaps.
To Summarize
Engaging with your audience in the comment box can aid in building customer loyalty. That's why it is essential to figure out if hiding or deleting a comment is helping or hindering your brand's presence.
Whenever you come across posters who question an action taken on their comment, be transparent about it. If possible, respond to negative comments right away instead of hiding them.
Prioritize tools or resources that help you moderate social media content effectively. Check out SocialPilot's dynamic Social media engagement tool. This all-in-one tool allows you to check and respond to comments on multiple Facebook pages in real-time. Use the Social Inbox and personalize your responses using pictures or GIFs.