Having a presence on Facebook through a page or paid ads is a popular way of reaching out to their followers and attracting new ones towards their brand. But while they are able to engage people to an extent, most of the businesses are not able to create communities that have regular conversations.
Why You Should Create a Facebook Group for Your Brand?
Without an advertising budget, it is not easy to maintain interaction on your page. And even if you are getting vanity metrics like more likes, followers, and mentions, it doesn't necessarily equate to people's interest in your brand.
You can fill this gap by creating a Facebook group and boost real engagement through a community of like-minded people who are interested in what your business has to offer. The groups are a brilliant way to expand your customer base, increase customer base, and build strategic relationships for businesses.
This community of like-minded individuals initiates conversations on topics that concern everyone and eventually help in bringing your social media goals to fruition.
In the following lines, we will take a look at the top reasons to create a Facebook Group for your brand. Let's begin.
Mentorship: People who have expertise in the field of your business can help and guide users in your Facebook group with the information they have. By creating helpful conversations and insights to users in your group, you can establish your brand as a credible entity.
Creating Teams: Businesses of all sizes can utilize Facebook Groups to streamline brand communications, initiate projects, and conduct online training. And since everyone is familiar with Facebook, these groups can yield better results than sharing information over email as well.
Networking Opportunities: A business community created using Facebook Group can unite your potential clients with current ones and allow them to interact over a common subject matter. These interactions serve as excellent networking opportunities and prove to be a win-win situation for both the users and the brand.
An Excellent Perk: When selling products online, you can create an exclusive membership to the Facebook Group that can only be redeemed when a customer makes a purchase. This little perk will go a long way in retaining your customers. Group members can receive the brand information before the normal audience and this could be used to create pre-order opportunities at special prices for the group members.
Social Sharing Platform: Small businesses are always looking for creative ways to leverage social media platforms and grow their brands. Communities in Facebook Groups are the most engaging social sharing platforms where the members support each other through likes, retweets, sharing, endorsement and more.
Boost Engagement: Since Facebook Groups are less about brand advertisement and more about the people behind the business, they provide ample engagement opportunities and give a more personal feel to the members.
Customer Service: Facebook Groups can be used to support customers with their concerns when they are interacting with your brand. Resolve their queries in the group and follow a transparent approach to motivate your users to invite more people to your group. With more people, new questions will follow and this will create even more opportunities for interaction.
Creating Brand Ambassadors: An active Facebook Group is home to ambassadors who promote your business in their community out of sheer loyalty. Every time there is a new update in the group, these fans share and retweet about it. Cultivate their loyalty towards the business and in turn, these brand ambassadors will grow your business.
Direction User Attention: If you wish to promote a certain call-to-action it can be done easily by pinning a post at the top of your Facebook Groups. However, use this technique in moderation and do not pin too much promotional content in the group. The essence of a Facebook Group is to create communities that help create relationships and these users might leave if a product is pushed down their throats through aggressive selling.
In a nutshell, Facebook Groups are the perfect close circles of people who like to share their views and keep in touch with like-minded people in a community.
Steps to create a Facebook Group
Login to your account
[Step 1] Go to Explore section towards the bottom left and click on Groups
[Step 2] Click on 'Create Group'
The following lightbox will appear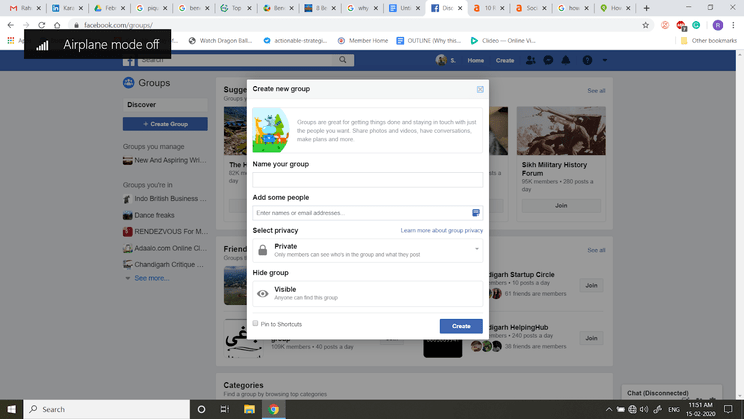 When here, start adding your desired Facebook group details in the lightbox.
[Step 3] Naming Your Group
Find a suitable name for your group. Make sure it is relevant to the type of community you are trying to create.
You may also change the name later but it is always a good idea to create a memorable group name that is easy to remember and searchable.
[Step 4] Adding Members
In order to create a group, you need to add at least 1 friend to it. In case you do not do so you will receive 'Please add at least one friend to your group' error.
[Step 5] Privacy Settings
Finalize the privacy setting you want to have for your Group. Make sure you pay attention to this part while creating your group as the existing settings as they have certain limits to changing down the line.
For example, if you have less than 5000 members then you will be able to change the settings any way you want. But when the number goes beyond 5000, you may only change it from Open to Closed or Closed to Secret and finally from Closed to Secret.
If you are confused about the privacy settings — Open, Closed or Secret, here are a few pointers from Facebook to help clear that uncertainty.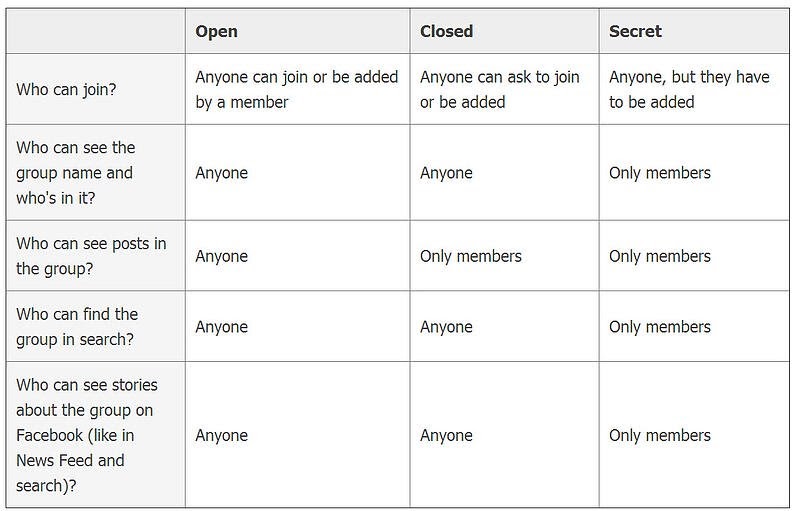 [Step 6] Creating the Group
Once you have finalized the privacy settings, click the 'Create' button at the bottom right corner of the lightbox.
Top Features To Edit For A Personalized Facebook Group
Add a cover image
When it comes to personalizing your Group, you should start with the cover image. You can choose from your existing photos or upload a new one that represents the theme of your group.
In case you have many groups, you should choose images that differentiate them all.

Please Note: The dimensions of a group cover photo are not the same as the ones used in personal Timelines or Business Pages. You must use 1640 x 856 pixels sizes image as your group's cover for best results.
Add a detailed description
Take your time to fill the 'About' section properly. It is the most important part of your Group. Why? Here's why.
It gives a clear idea to your users what the group is all about
You can also use this section to specify any set of rules for the group members
Edit the Group's Settings
Click the 'More' tab and select the option 'Edit Group Settings' and proceed to make any changes in your mind.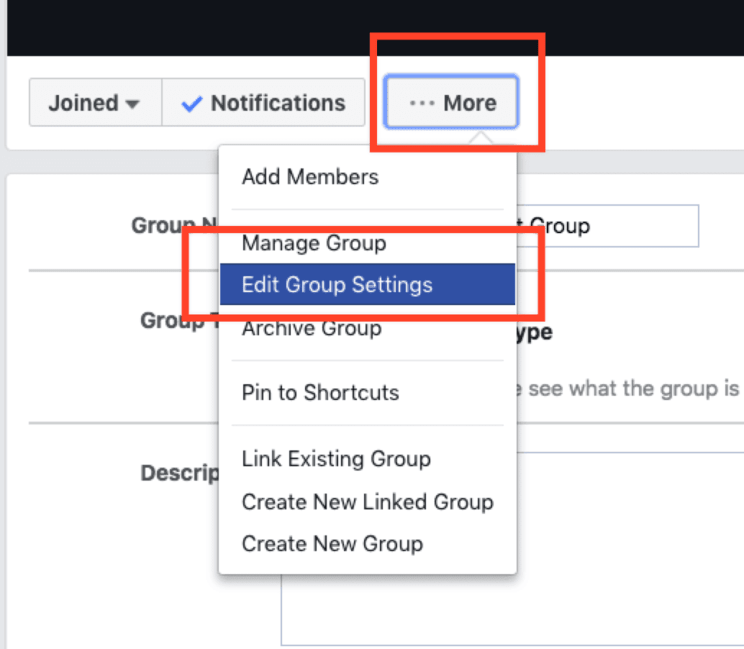 After clicking the option you will see the following lightbox on your screen and you will be able to change multiple options.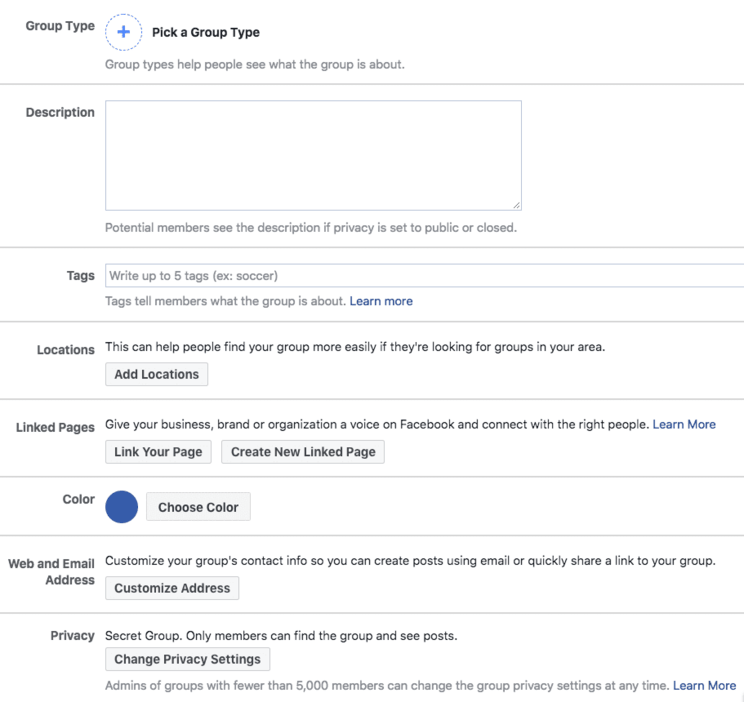 Here is a list of items you will be able to change:
The Group's Name and Type
It's Description
Tags Associated with the Group
Add locations
Other Linked Pages
Privacy Settings
Permissions and Membership Approval –Choose if you want to let everyone add new members or should the power stay with you
Customize Address — Use this option to include a custom URL and email address where members can contact you directly
Edit Description
Modify Posting Permissions — To set who has the rights to post in a group — whether admin only or others as well
Post Approval — Choose if every post needs to be approved by an admin or not
Complete editing the settings as per your preferences and click 'Save'.
And there you go. Your group is up and running. Go ahead and post new updates in the group, add new members and start building a strong community.
More Advanced Features
Once you are through creating a group, you might want to check out a few other Group features.
Notifications:Turn on the notifications to receive all updates in your group, whether it is a new post or comments. Additionally, it is also a safeguard in case somebody tries to spam the group as you can tackle the situation at the right time and respond quickly to the activity in the group.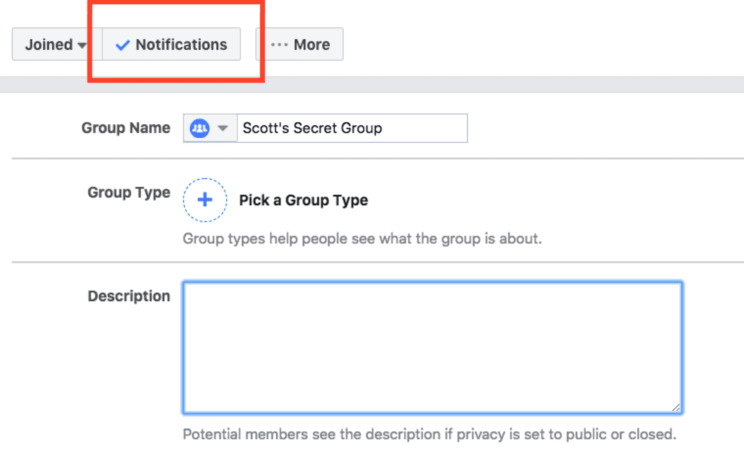 Events: It is one of the lesser-used features in Groups but can be extremely useful whenever you wish to create an event that is exclusive for group members. You can create a new event by clicking the 'Events' tab on the left followed by 'Create Event' and fill in the details in the lightbox that appears.
Chat Messages: This feature is a great way to initiate a group chat with selective or all the members of the group to discuss an important topic or find a solution to a problem. It is also useful at times when you need to make a quick announcement or need certain members to collaborate on something new.
Files: This feature allows you to share files of different kinds and create documents that can be accessed by all group members. It also allows them to collaborate their contributions and help create an independent workspace within Facebook. When used effectively, this functions as a replacement for tools like Dropbox and Basecamp.
In the end, we can say that Groups are a way of tapping into the hidden potential that Facebook has to offer. Building meaningful communities is the direction that will help you in improving your brand's reputation and get more eyes on your brand.
As a business owner, you cannot ignore Facebook Groups because of its lucrative potential. Without regular engagement, a brand is not going to take off to the next level and by having an engaging group in your marketing strategy you can completely transform the way you promote your brand.
Wait! Did we mention that you must establish brand credibility before you expect people to trust you and become a part of your online group or community? It is certainly a daunting task, but you have achieved it, there is no limit as to how many people will advocate for your brand and increase your customer base. Let's explore the ways to build more credibility in the next chapter.